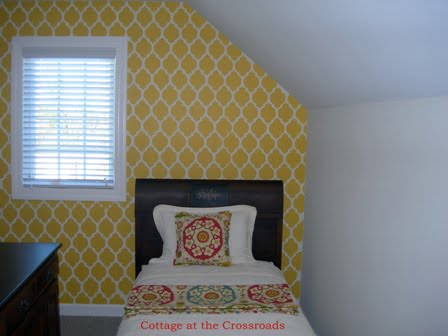 About two weeks ago, my sister-in-law Jean and I started stenciling a wall in her guest bedroom. And we finally finished the project this past Saturday. Now, I don't want you to think that it takes that long to stencil one wall. It's just that we had to stop the project because I got sick for about 5 days, and then my sister-in-law had some out of town company for a few days. Jim and Jean do have another guest bedroom, in case you're wondering if their company had to sleep in a half-finished stenciled room!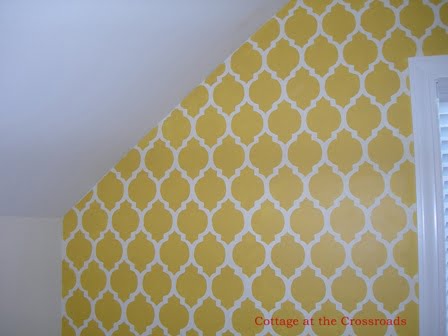 This project came about because this past January I won a giveaway contest on the blog Making It Homey sponsored by Cutting Edge Stencils. I picked out the Casablanca Allover Stencil. When it arrived, it came with a nifty level that attaches to the bottom of the stencil. I highly recommend the level if you order a stencil. It really helps to keep the pattern nice and straight.
This post may contain Amazon or other affiliate links. As an Amazon associate, I earn from qualifying purchases. If you purchase anything through any affiliate link, I may earn a small commission at no extra charge to you. All opinions are my own.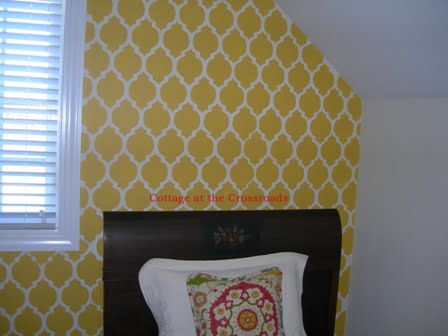 The next thing that we did was to pick out some fabric to make a Roman shade and some pillows. We went with a fabric that had some of the colors that are painted on the headboard of the twin beds in the room.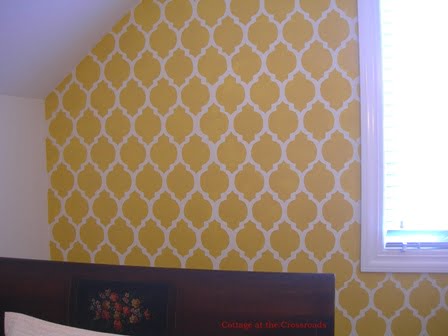 You can see the painted detail a little better in this photo. We knew we were going to work with reds and golds.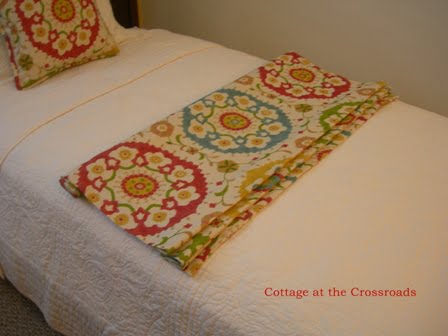 So then we picked out a color for the wall stencil, and we decided to use a yellow-gold that was in the fabric. You can see the Roman shade and one of the pillows that Jean has already had made.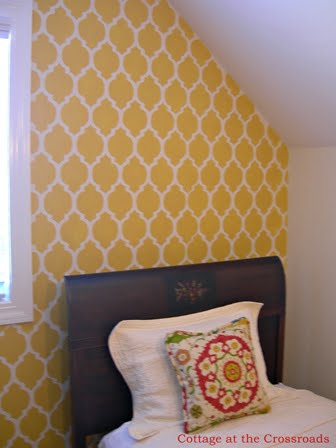 We both love how the stencil project turned out! The color reminds us of sunshine, which is good, because this room has only one window. Working with the angled walls took a little longer than I expected. That's because you have to switch from using the large stencil to using the smaller ones that are included in your order.
We're not finished decorating this room. We plan to paint the chest that goes between the two beds, and we are on the hunt for the perfect rug. We are also looking for some throws or possibly making some coverlets to place at the ends of the beds. Some chairs and a stool need to be covered with fabric, too.
The stencil was a wonderful way to wake up this wall.
If you are thinking about stenciling a wall, visit Cutting Edge Stencils for some major inspiration. Or, if you are on Pinterest, just type in stenciled walls and you will be amazed at some of the awesome projects using stencils.
I'm joining:
Metamorphosis Monday @ Between Naps on the Porch
Cozy Home Party @ Cozy Home Scenes
Wow Us Wednesday @ Savvy Southern Style