In this post you'll find the steps to create your own beautiful Christmas ornament garland in colors to match your decor.
Hello friends! I hope that you had a wonderful Thanksgiving. I am working on getting our little cottage ready for Christmas, and I had to stop to share the ornament garland that I just made.
I have always admired ornament garlands but most of the ones that I've seen have been made with large ornaments. I've never seen one created with small ornaments so I thought that's what I'd use to create mine.
And I am thrilled with the results!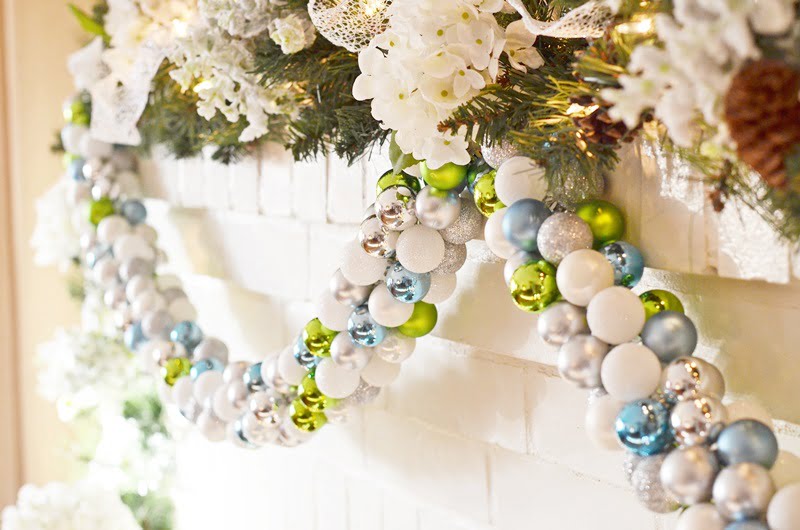 Here is a sneak peek of the garland hanging on our mantel. Since I am using blue and green in our living area, I decided to use those colors in our Christmas decor.
Oh, my goodness! I am in love with the garland! The combination of the blue and green with silver and white is just beautiful!
Now I will be the first to admit that this is NOT a thrifty project. When I told my sisters-in-law what I was planning on making, they told me I was going to need a LOT of ornaments.
Well, YASSS! But when I get an idea in my head, there is no stopping me!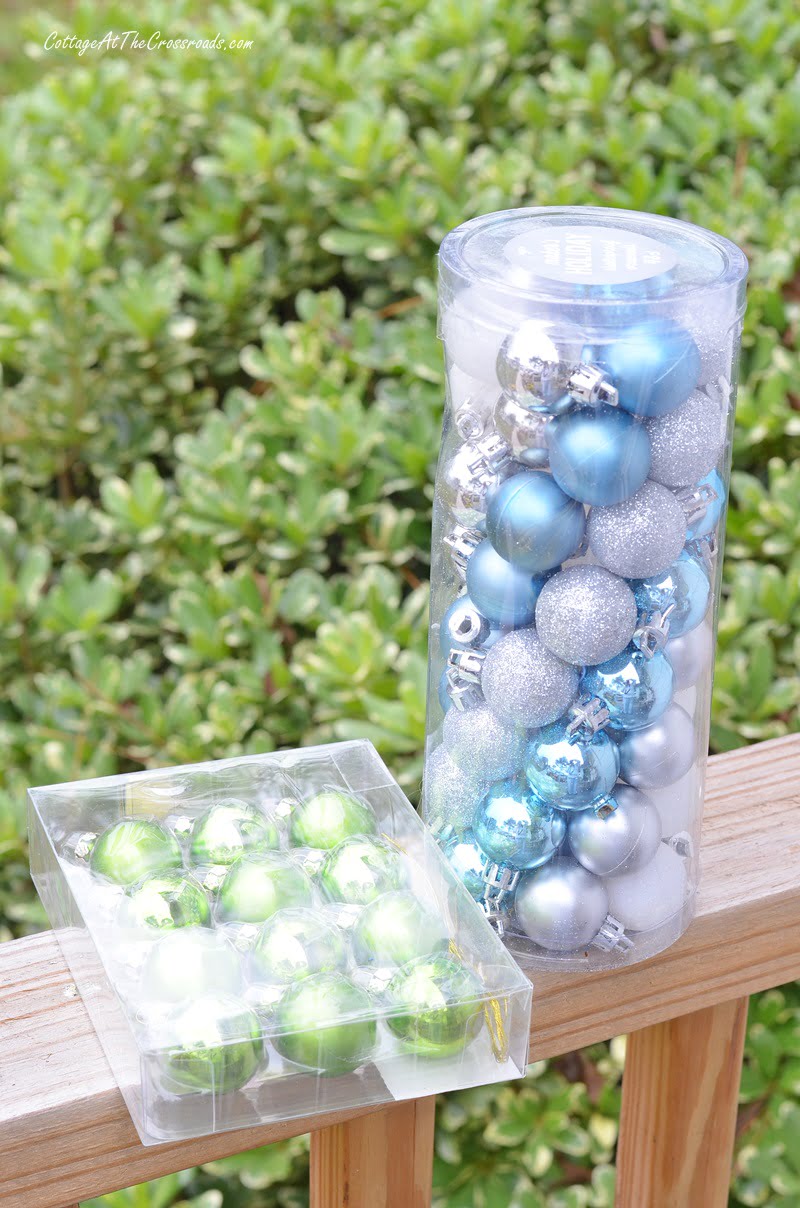 So this past month, I have been slowly buying up the supplies that I knew I would need. I found the tall containers of blue, silver, and white balls at JoAnn's, and not knowing how many balls I would need, I purchased 8 of them. Each container had 48 of the 30mm (1 ¼ inch diameter) balls. Each container cost $5.99 on sale, but I had a 20% coupon on my whole purchase.
In addition, I ran across some pearly white ornaments at TJ Maxx and I bought 2 boxes. Each box had 24 balls. They were $5.99 each.
I really hadn't planned on adding green balls into the mix, but I spotted the same size balls at the Lidl grocery store. A package of 12 ornaments was a little over a $1.00! What a bargain if they have the colors that you can use. I purchased 6 of the green sets and 4 silver ones.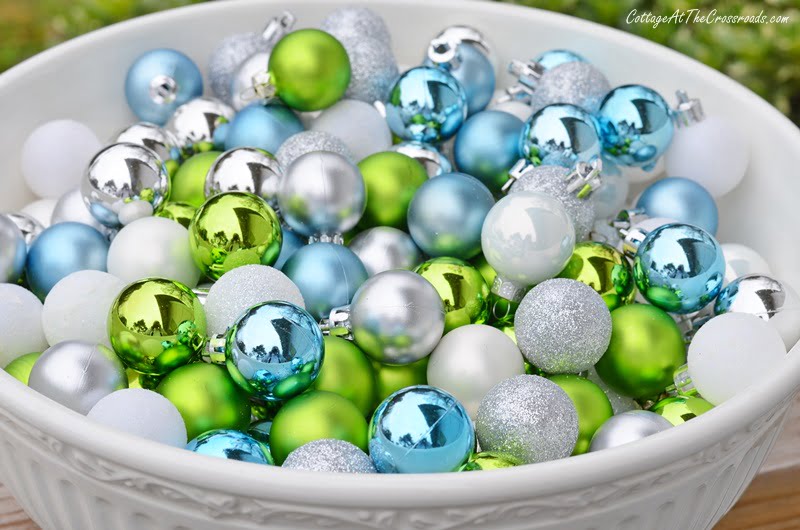 So I figured it up and I purchased 652 balls, but I've used them for more than just the garland.
How much money did I spend on all those balls??? Roughly $65! And I do not regret it one bit!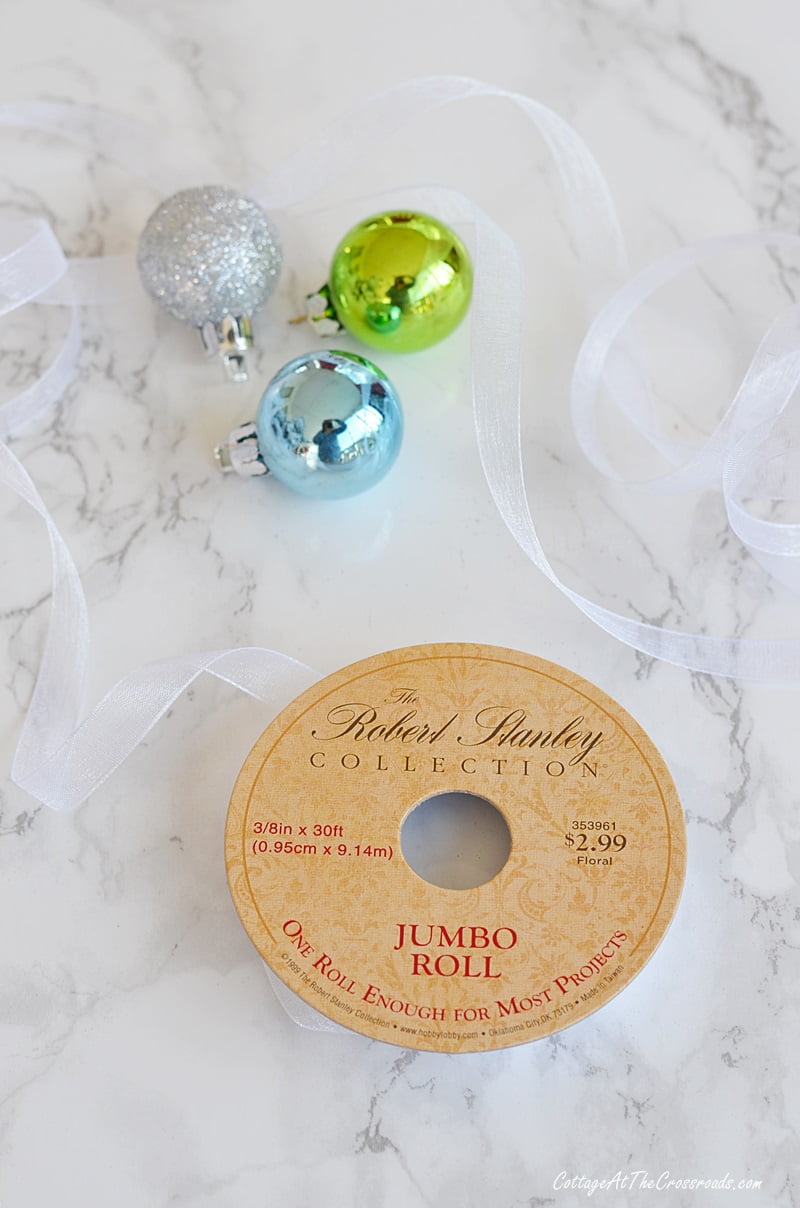 To make an ornament garland, you only need a whole bunch of ornament balls and some ribbon or twine. I used this sheer white ribbon that I found at Hobby Lobby.
Steps in Making an Ornament Garland
Gather your ornament balls and some ribbon or twine.
Measure the length of how long you want to make your garland and cut the ribbon or twine. Allow 10 or 12 inches of ribbon or twine on both ends to use as ties to secure your garland to your mantel. (I made two 42 inch long garlands to drape on my mantel.)
Slide one ornament onto the ribbon or twine and tie a knot. This will keep the rest of the ornaments from sliding off the ribbon.4. If using ribbon, add a bit of transparent tape to the opposite end of the ribbon. Roll it into a point to make the ribbon easier to thread through the hanger. 5. Thread the ribbon or twine through the ornament hangers, pushing the ornaments close together as you work. 6. Keep adding the ornament balls onto the ribbon or twine until you reach your desired length.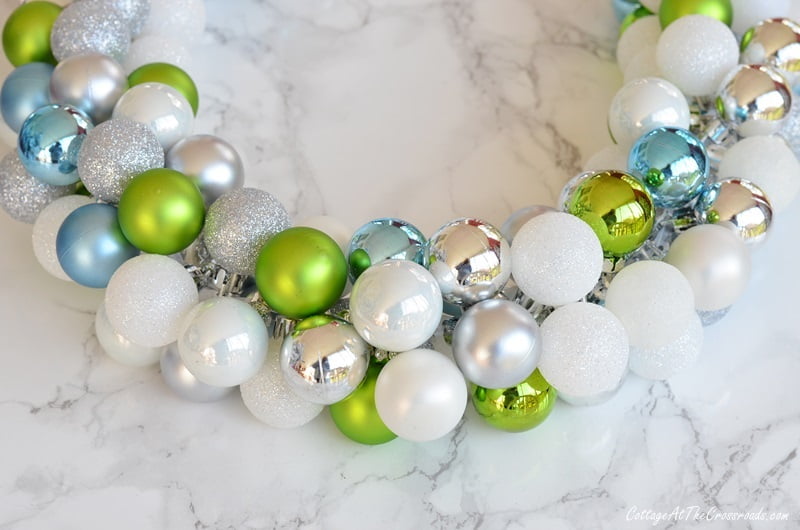 Tip! I actually followed a pattern in adding the balls onto the garland so that the colors would be evenly distributed. (blue-green-frosty white-pearly white-glittery silver-shiny silver-dull silver)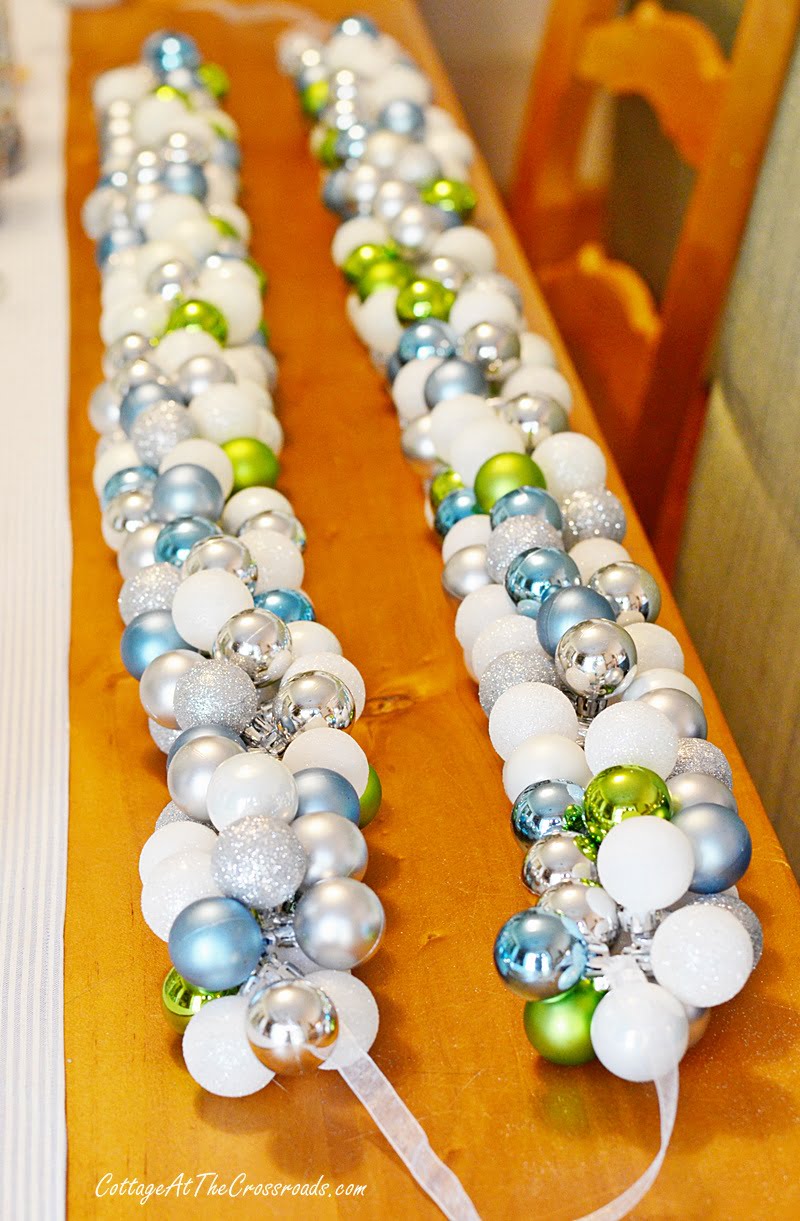 Because of the way I wanted to drape mine on the mantel, I made two 42 inch long garlands.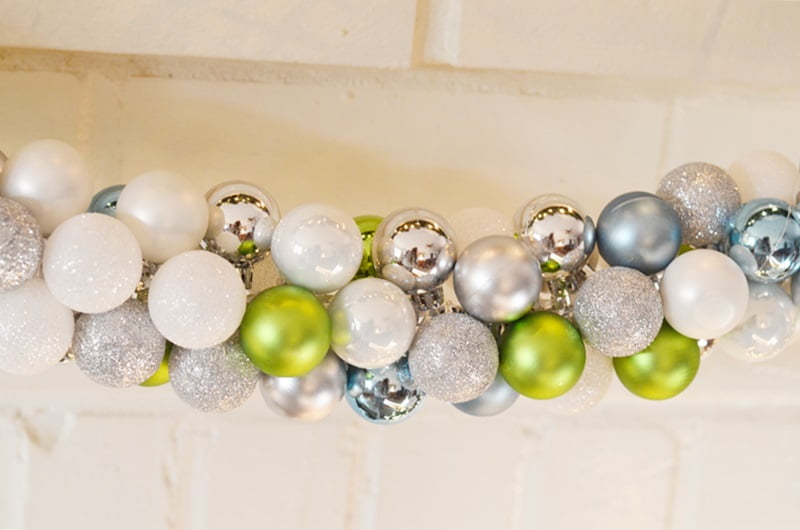 And here they are hanging on our mantel.
I can't show you the entire mantel because I'm on a Christmas tour Monday where I will show the entire mantel.
Be sure you're signed up for our emails because you don't want to miss seeing the whole mantel.
Plus, you can see what else I made using all those balls!
If you liked this project, please do me a HUGE favor and pin this graphic to one of your Christmas boards. Thank you! Thank you! Thank you, in advance!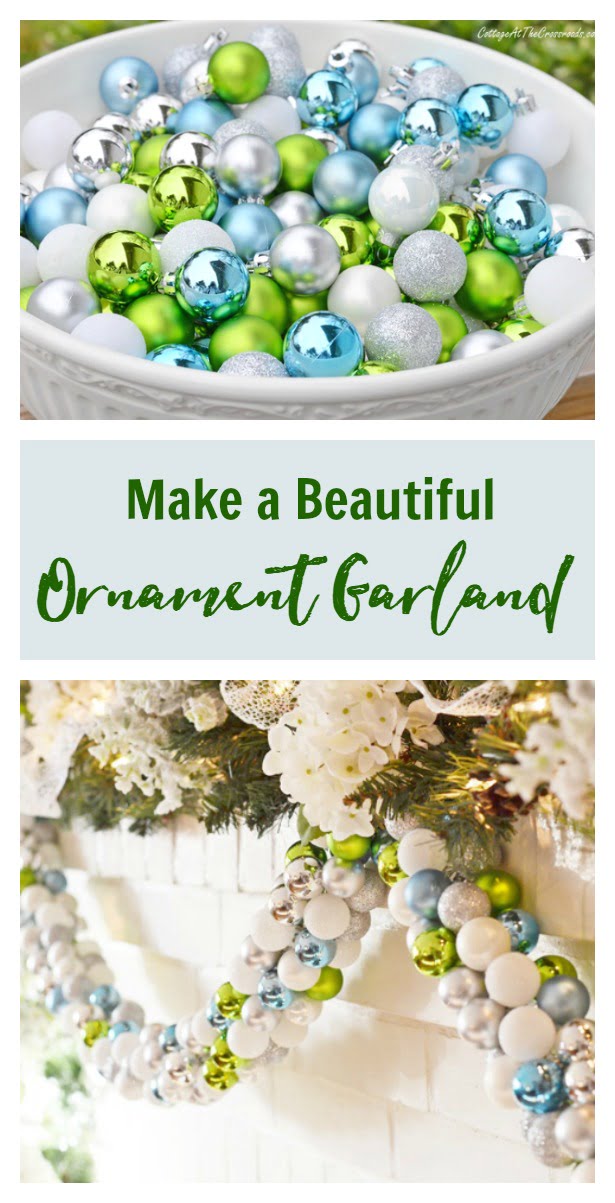 Happy decorating!