This blog is about the journey my husband and I have been on for over 5 years now. You see, we moved to the small, approximately 100 year old house that he had grown up in, located on land that has been in his family since the 1700's. It is called Windham's Crossroads, the place where a state road crosses a federal highway. There are thousands of crossroads across America, but this blog is about our family's Crossroads, a little corner where we have learned how to live a more simple life. Like most everyone else, we have been victims of the economy and have made drastic changes in our lives. Isn't it funny how circumstances make you do the things that you should have done a long time ago.
This blog chronicles the downsizing of our lives, a journal of words and pictures recording the evolution of ourselves becoming more frugal and resourceful, and ultimately, much happier. Come along with us as we garden, renovate, and cook some family recipes at the Cottage at the Crossroads.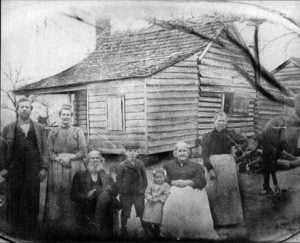 Three Generations of the Windham Family pose for the camera at the old homestead at Windham's Crossroads around 1902. Left to Right ~ Leon Roland Windham, Mrs. Roland Windham, John Windham, Harold Windham, Marie Windham, Emmaline Stokes Windham, Sara Windham (sister of Leon Roland), and farmhand Ira Dorrity on horse Ben.