A photo from Cottage at the Crossroads is in the June issue of Ladies Home Journal magazine!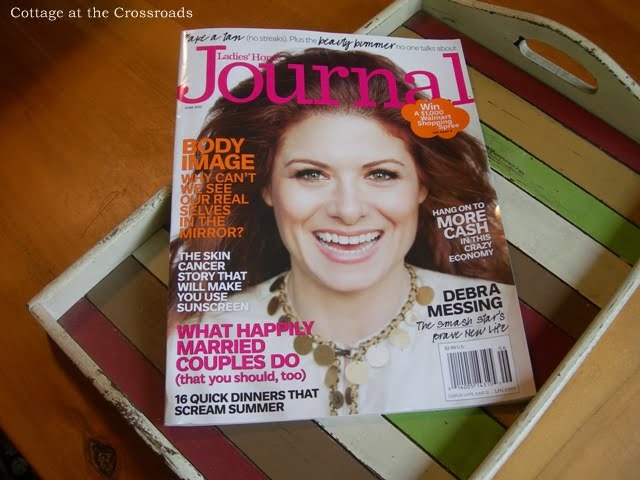 Near the end of February, I received an email from Beth at Ladies Home Journal. She was putting together an article about unusual flower planters, and she had seen our repurposed grill. She was requesting permission to use one of our photos. WHAT? Of course I said yes.
Then I didn't hear anything back from Beth for a month, so I just figured that they could not use our photo. After all, it was taken with my little point and shoot camera.
But at the end of March, Beth emailed me to let me know the photo would be in the June issue. Yesterday I saw the new issue on the stands in Walmart and I grabbed the magazine. By the way, I do subscribe, but my copy has not arrived.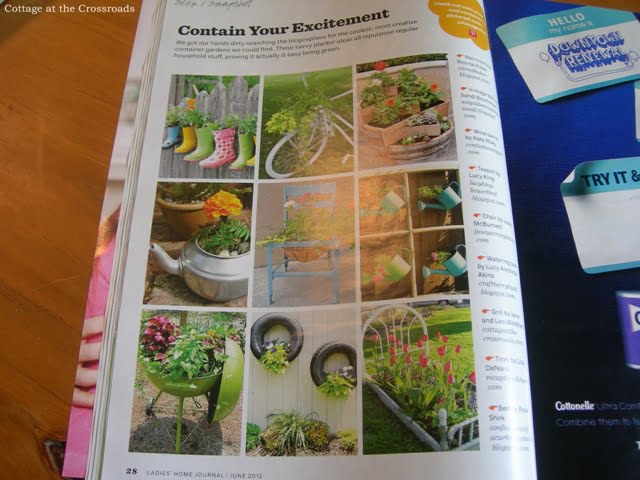 And there it is on page 28 of this month's issue.
I was really pleased with the article which is about bloggers' creative, repurposed planters, like my repurposed grill.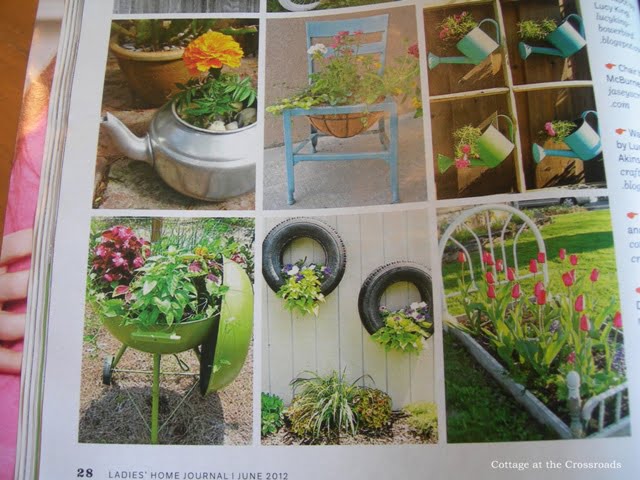 The photo that they used was one that I had taken last year. If you like to see the original post, click here.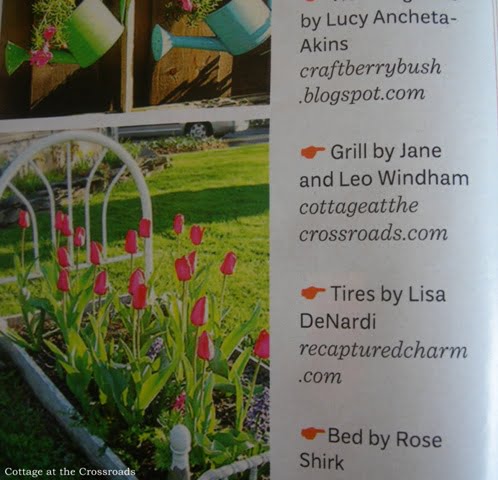 Here's the credit for the photo, and they mentioned our blog.
We're so excited because this is the first time this has happened. It just goes to show that you don't know who is reading your blog.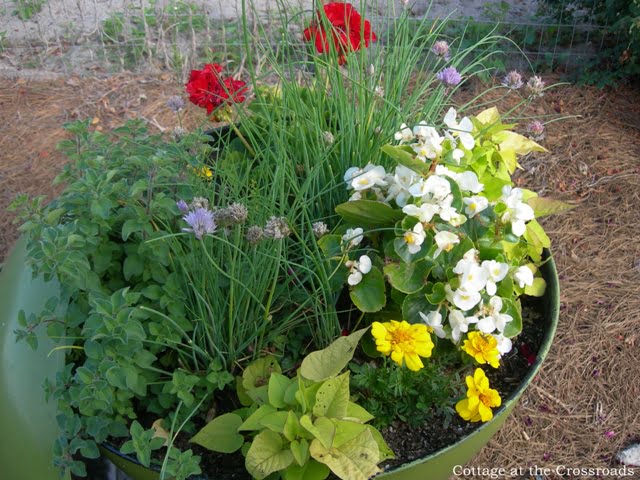 Our repurposed grill is still sitting in our flower bed this year. Some oregano and chives that I had planted in it last year survived the winter. About a month ago, I planted some marigolds, begonias, sweet potato vines, and red geraniums in it.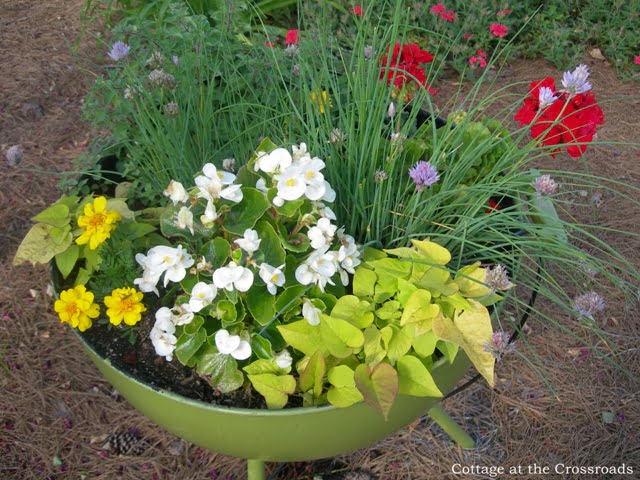 This year Leo added a drip line to the grill so that I wouldn't have to hand water it.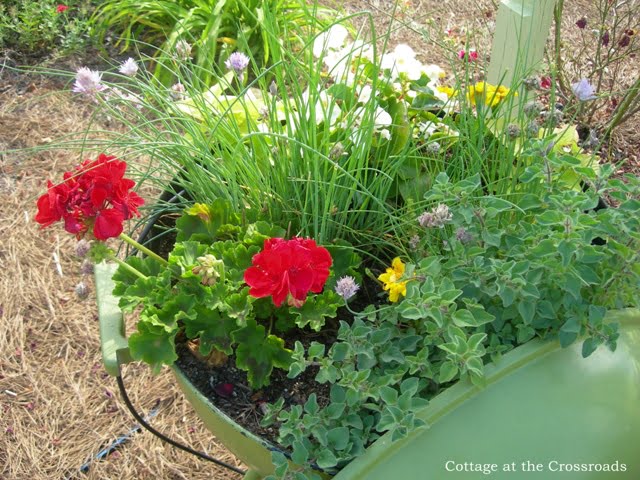 Everything is thriving. An old grill really does make a good planter because the drainage holes are already in the bottom.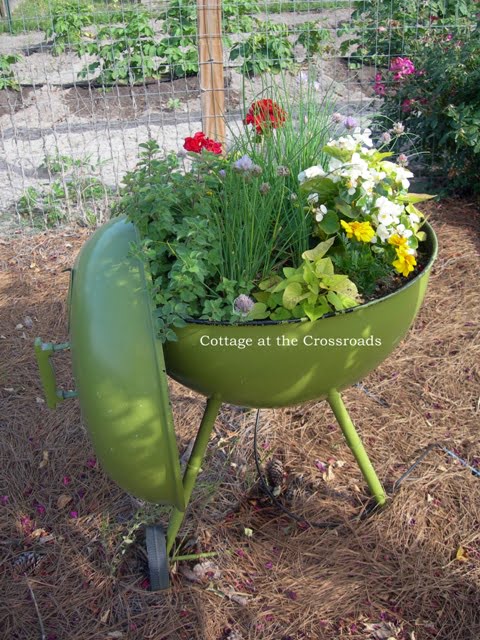 The grill has been repinned many times on Pinterest. That's probably where Beth from LHJ saw the photo.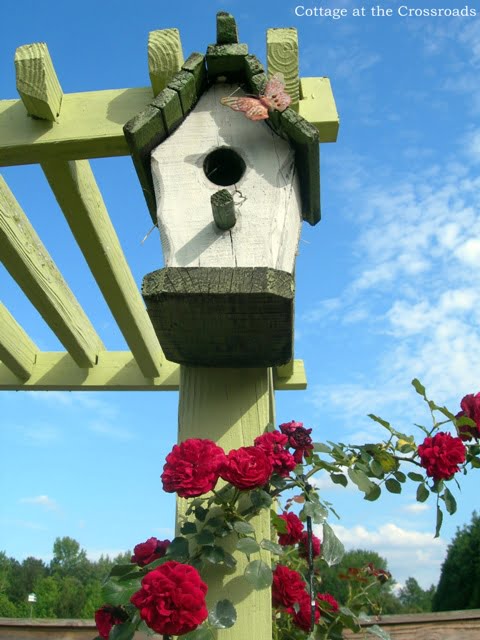 While I was outside photographing the grill this year, I snapped this photo of one of the birdhouses near the grill.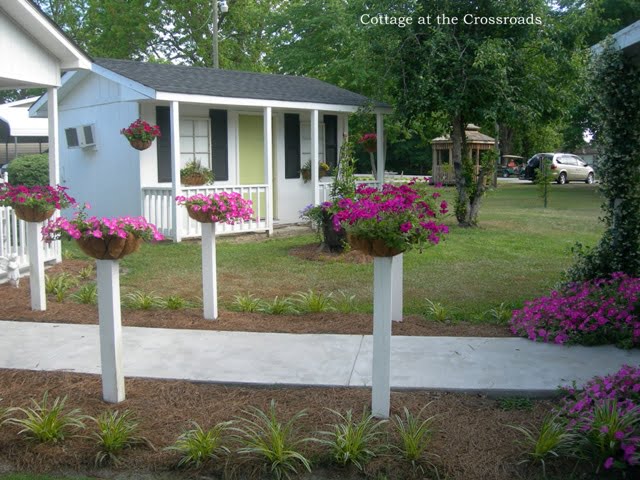 And I thought I'd show you the petunias in the planters on posts that are in front of my mom's apartment in our backyard.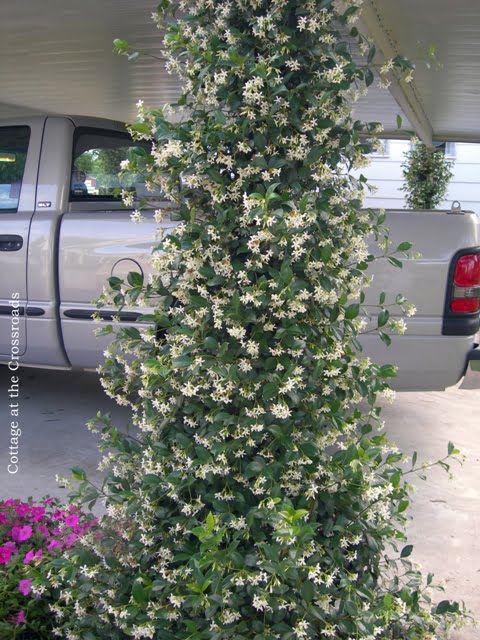 We have confederate jessamine planted around the posts of our carport. It's in full bloom now and its scent is heavenly.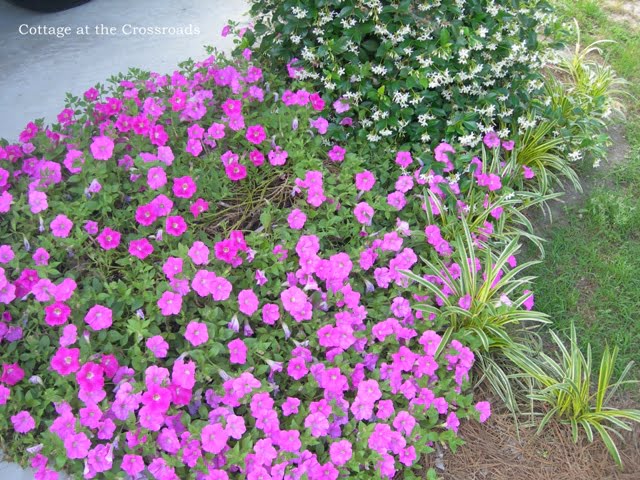 These are Wave petunias that I grew from seed last year. They lived through the winter and are huge now. For some reason, Wave petunia seed is scarce this year or I'd grow some more.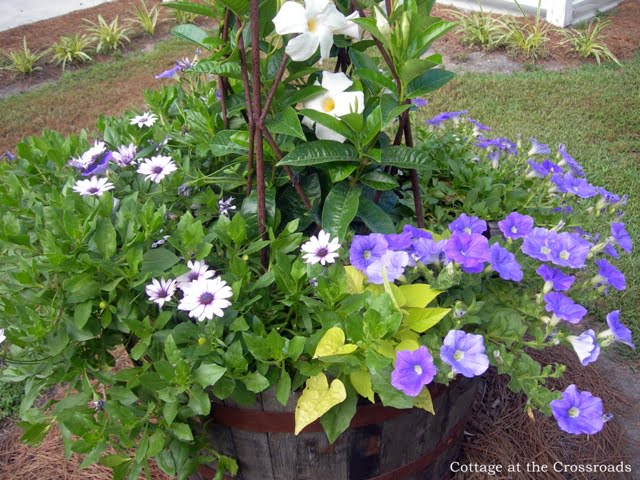 The flowers that I planted in the barrel about a month ago are gorgeous.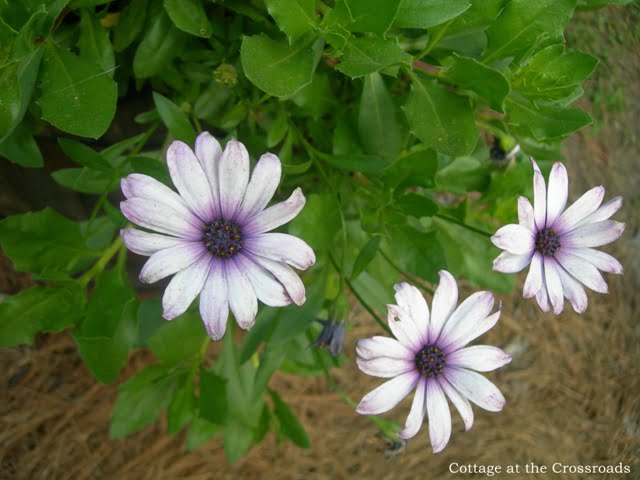 I had some African daisies planted in the barrel last year, and they did so well in the heat that I planted them again this year.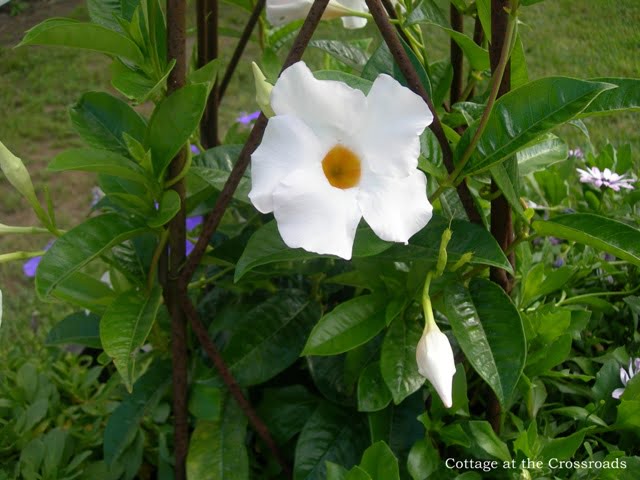 A white mandevilla is growing up the metal piece of yard art that is in the barrel.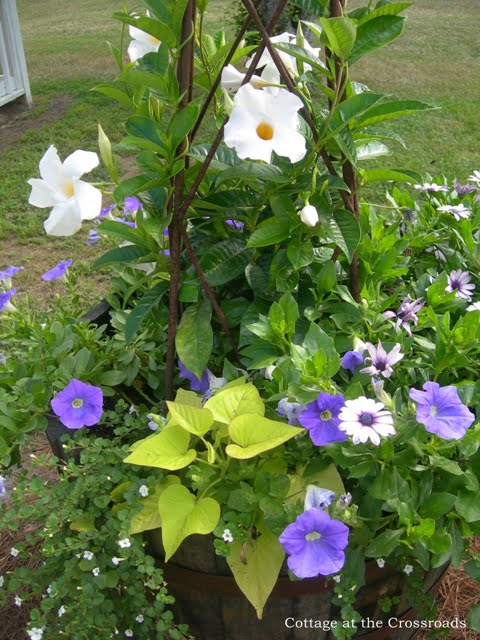 The purple petunias give a lot of color to the mix.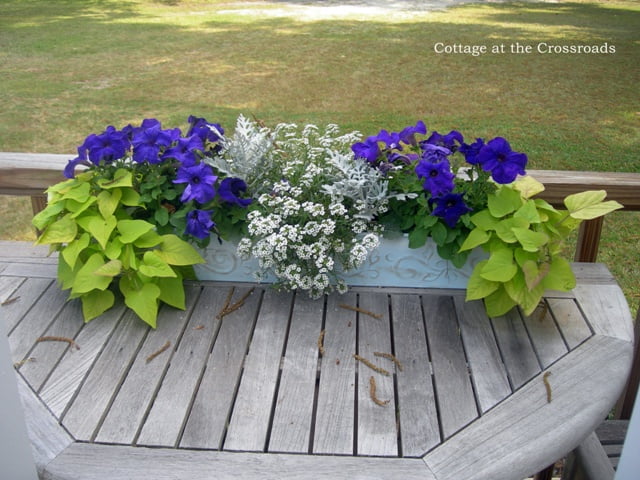 I've never planted purple petunias before, but I'm really liking them this year. This planter is on our back deck.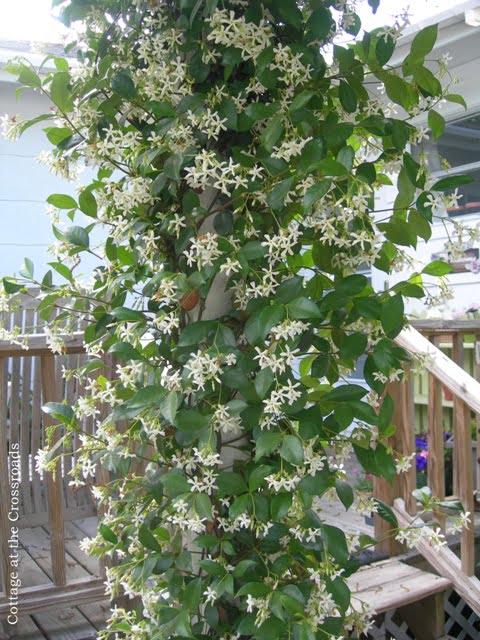 The confederate jessamine greets everyone who comes to our back door.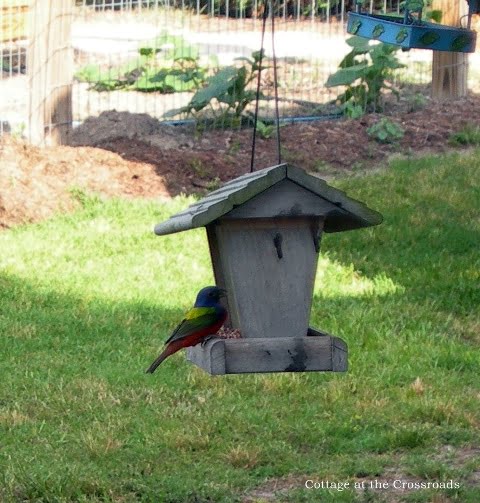 I was thrilled to see this painted bunting at the birdfeeder recently. Their numbers are declining, and I had never seen one until a few weeks ago.
So we're so excited that a photo from our little blog has made it in a national publication. And if you're visiting from the magazine, please let us know.