As I'm writing this post, Jane is shelling a mess of peas that she picked from our garden yesterday. For those of you who don't know, a mess is a unit of measurement frequently used here in the South. A mess of peas will generally feed a nice-sized family.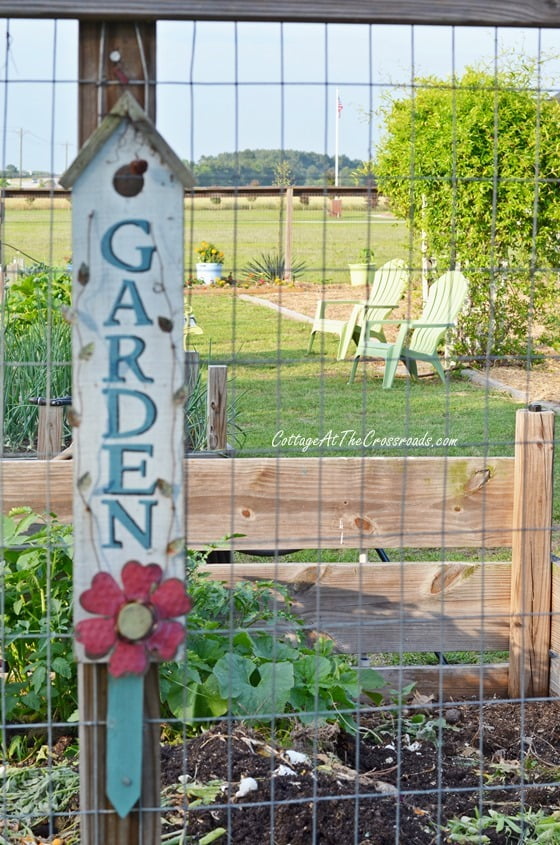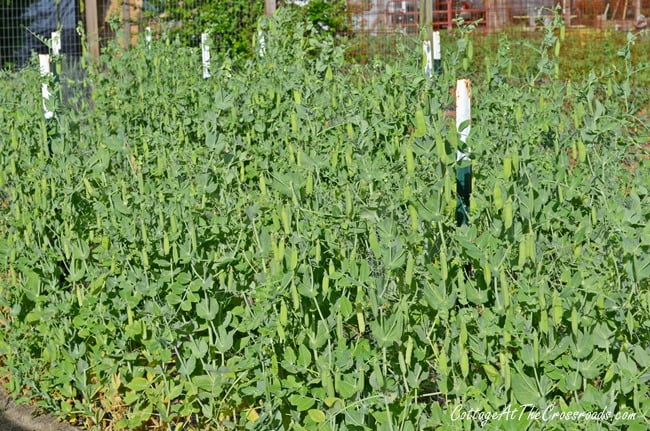 You can pick several messes from these!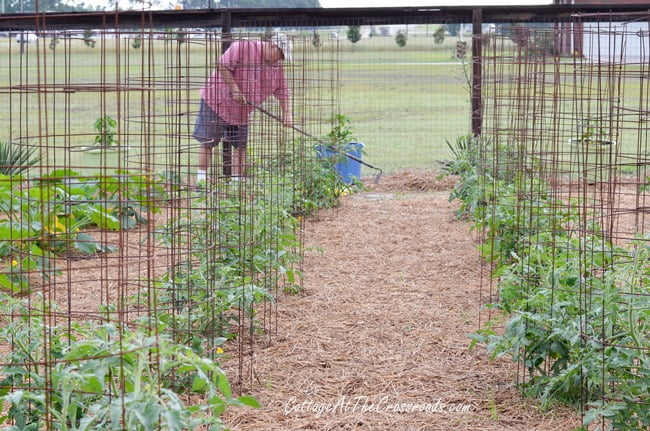 We planted our first garden when we retired and moved back home to Windham's Crossroads. I had no idea how little we knew about gardening and growing our own vegetables. We just knew that we wanted to have some control over what we were eating. After being diagnosed with Type 2 diabetes and taking several nutrition classes, I realized how much unhealthy food laden with chemicals and preservatives and who knows what else I had been putting into my body.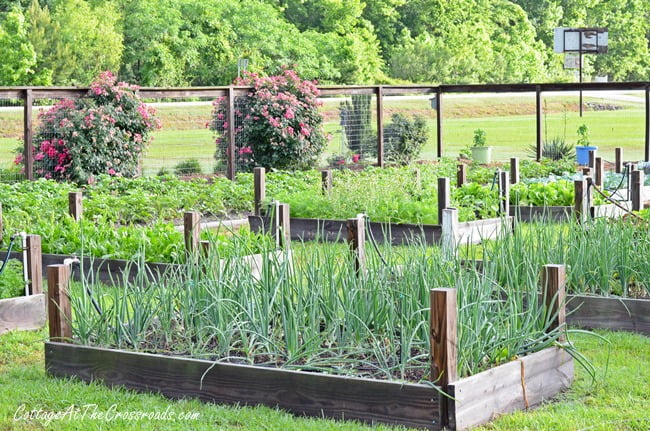 During our first year, our garden looked nothing like this. But despite our inexperience, we were blessed with an abundance of fresh vegetables (and weeds, and insects, and pests, and plant diseases ... I think you get the idea!)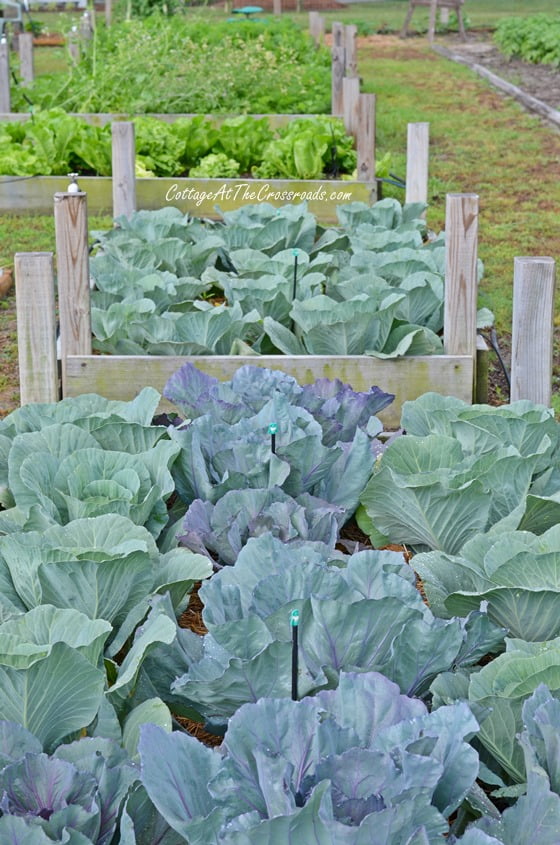 Our garden has truly evolved. Every year is a new and exciting growing experience. We learn from our mistakes and change accordingly from year to year. A good example is in this photo. The cabbages are much healthier grown in the rich soil that we create for the raised beds.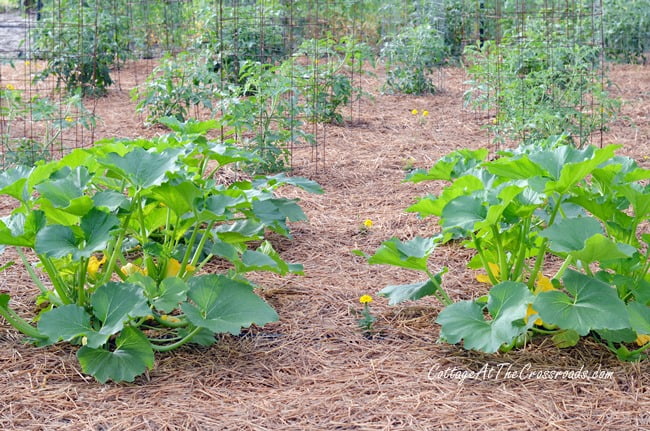 It didn't take me long to realize that controlling the weeds is mind-boggling. This year I put down landscaping fabric in about 80% of our entire garden. We experimented with this last year by putting some under our tomato plants. It not only controls the weeds, but when we cover it with wheat straw, it also serves the purpose of holding in the moisture and prevents the bottom leaves of the plants from coming in contact with the soil. This eliminates some soil-borne diseases.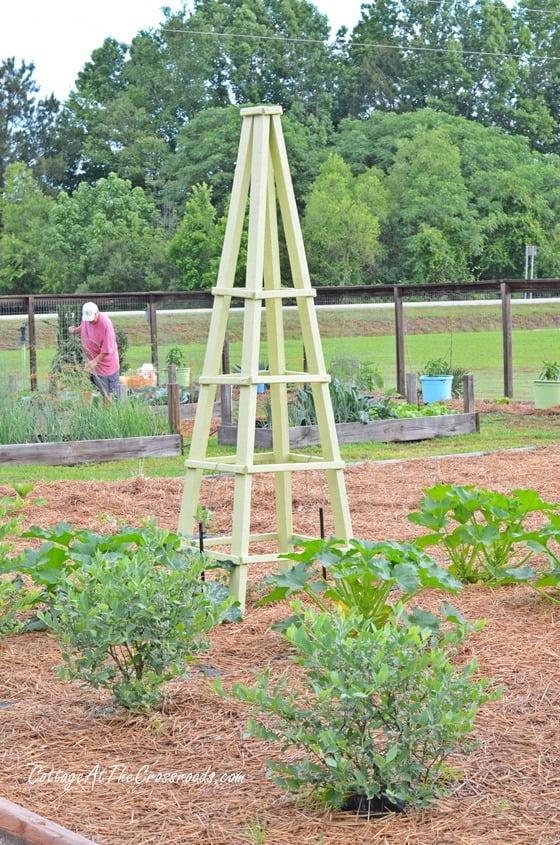 My hoeing time has been cut back considerably! And speaking about cutting back on things, the first year we had the garden Jane and I spent a lot of time hand-watering our plants. That's why I installed an extensive irrigation system as described in my post don't hesitate to irrigate. If it's gonna grow, it has to have water!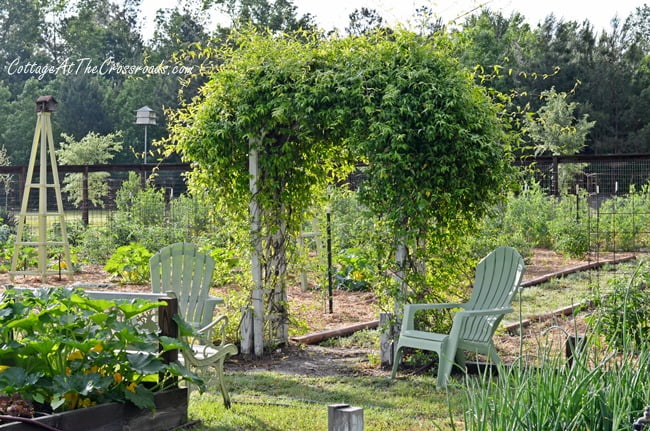 As I learned about growing vegetables, I also realized that since we spend so much time in the garden, we should make it a soothing and pleasurable experience. Jane is just full of ideas on how to pretty up the place which started with the addition of this arbor. We've since added more grass pathways and flower beds.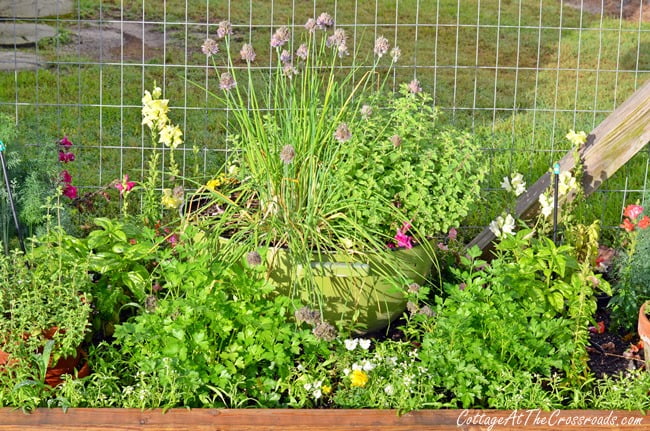 There are even flowers in the herb bed. The flowers not only add beauty, but they also attract the pollinators.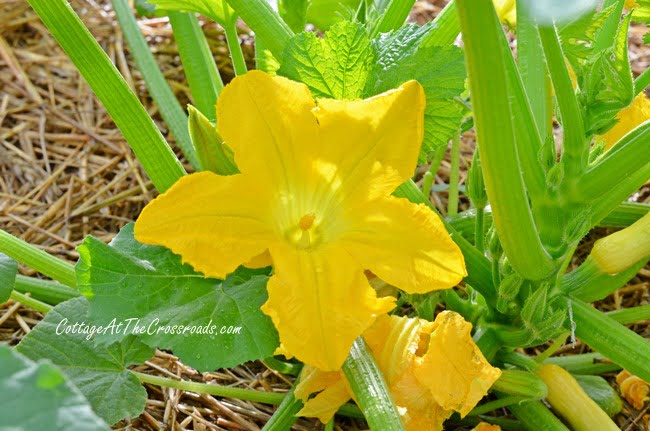 The blossoms of the vegetables are beautiful in themselves like this squash blossom.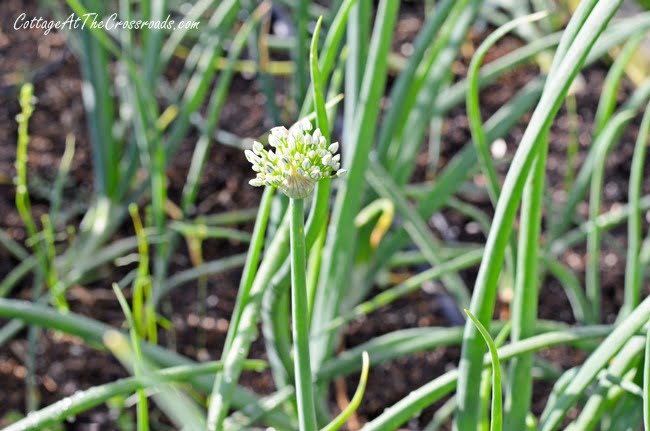 Even an onion is pretty!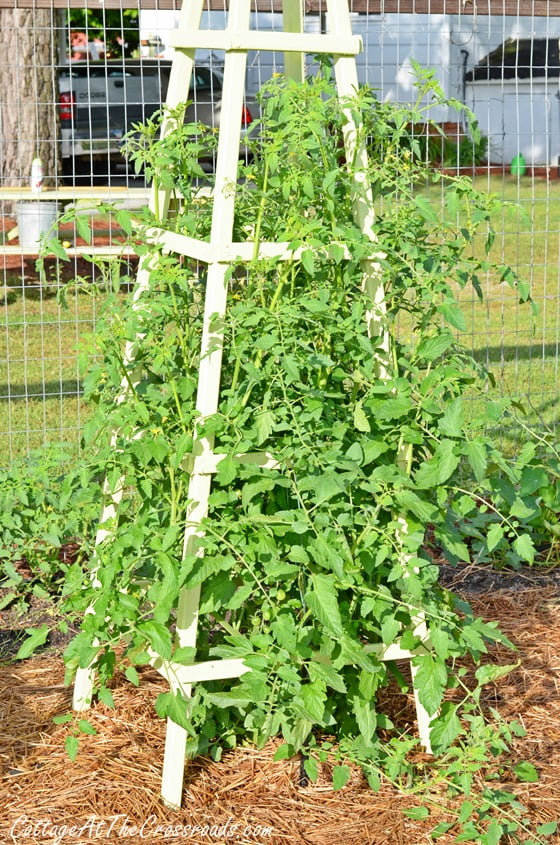 Here's one of the new things we've added to our garden this year. It's called an obelisk and makes a great support for an indeterminate tomato plant. You can get the directions on how to make your own in my post DIY wooden garden obelisk.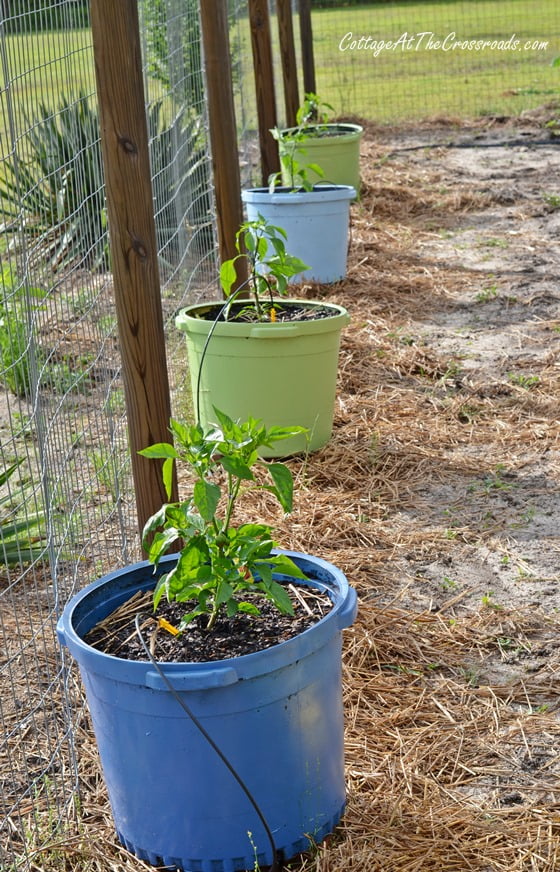 We discovered how well peppers grow in pots.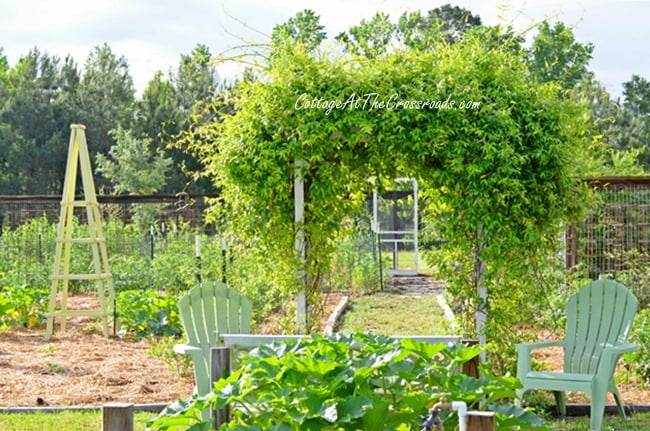 When we replaced the screen door on our front porch, we didn't throw the old one away. Here it is and it's now a trellis.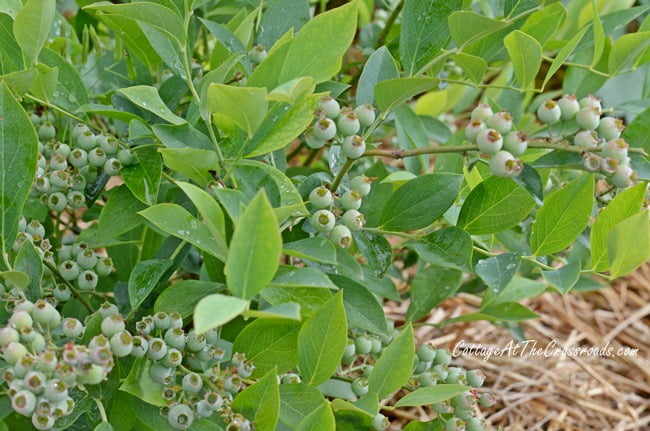 Six new blueberry bushes this year. I'm thinking a blueberry smoothie will taste good in a few weeks.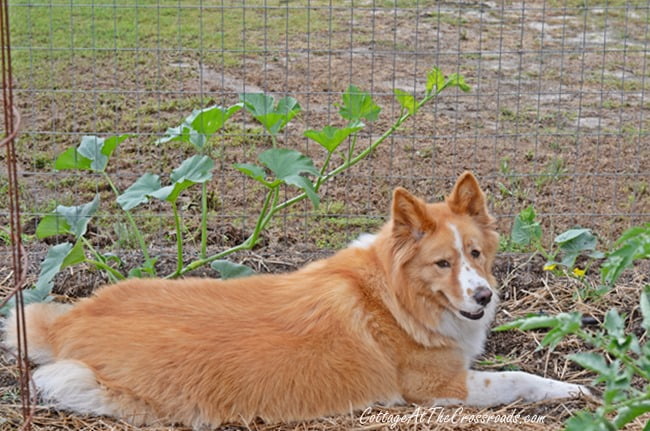 So as you can see, we're learning and our garden is changing. Jane, Lucy, and I have evolved into gardeners. If you think you'd like to give it a try, here are our 5 tips for the first time gardener.