Hi everyone! I hope everyone had a wonderful weekend. We sure did because the weather has been unseasonably cooler with a hint of fall in the air. I thought I'd give you an update on how our white pumpkins are growing.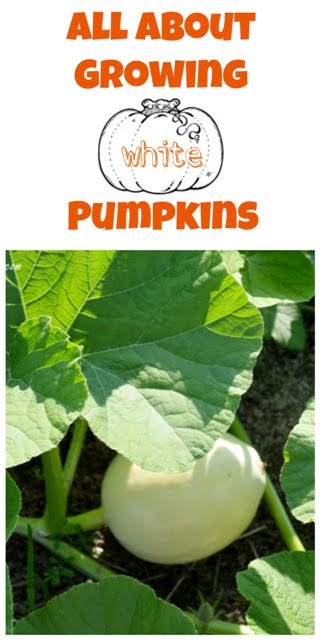 You know, white pumpkins have gotten really popular in decorating but they can be quite expensive and hard to find. So Leo and I decided that we'd try growing our own since we had the space. That's the very first thing you're going to need it you plan to grow some yourself.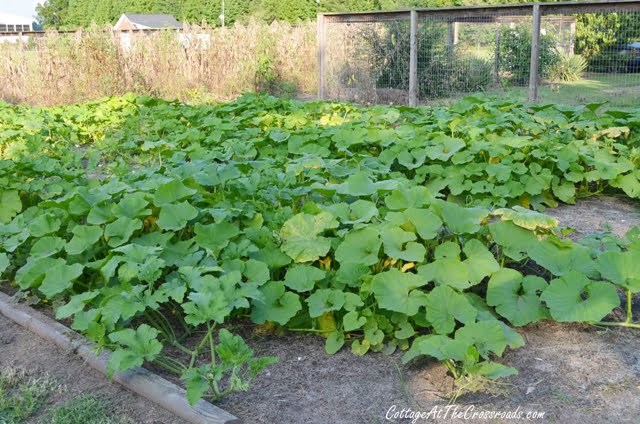 We planted our seeds mid-July to allow enough growing time. Pumpkins need about 90-100 days to reach maturity. You can read more about how Leo prepared this area for planting in his post White Pumpkins for Fall, Anyone?
We planted 3 different varieties of white pumpkins, and as you can see, the vines are sprawling all over the place. One of the things I enjoy most is going out to the garden and seeing the growth that has occurred overnight!
Since the seeds germinated and the plants started growing, we made sure to remove any weeds around the plants. Leo and I have hoed this area several times. We kept meaning to put down straw to suppress the weeds but we never got around to it. And even though we planted the seeds in compost, I side-dressed the young plants with 10-10-10 fertilizer and watered it in carefully to avoid burning any of the plants. ( I actually lost one of the plants by getting the fertilizer too close!)
Pumpkins that are growing need a lot of water and I made sure that they got all they needed during the few times that we haven't had rain this past month. When watering, I avoided getting water on the leaves and I made sure to water early in the day or else the vines may succumb to powdery mildew.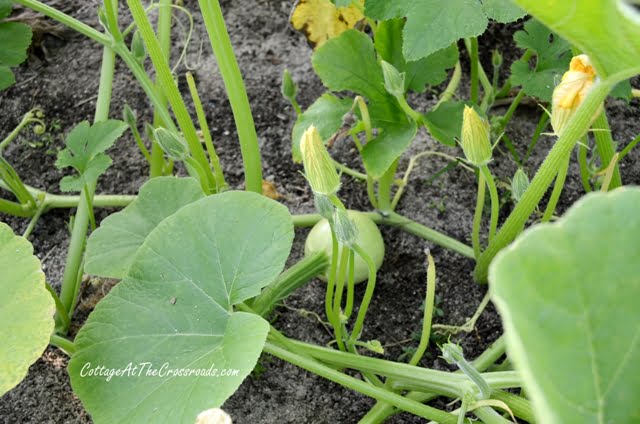 Eventually blossoms started forming and I became alarmed when I saw them falling off without forming any baby pumpkins. I thought the recent rain was knocking them off! But after some research, I learned to distinguish between male and female blossoms. The male blossoms fall off the vines after one day. Female blossoms have a little growth (ovary) at the base of the flower which will grow into a pumpkin IF the blossom gets pollinated by a bee. That's one reason we have flowers in our garden-to attract the bees. I've even let some of my basil go to seed because so many bees are attracted to it. Well, the bees have been doing their work because we have pumpkins growing!!!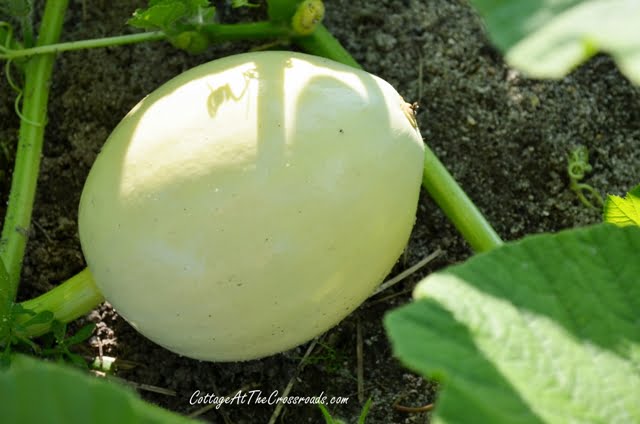 This is the largest one and it's about the size of a cantaloupe. Because we didn't put down mulch, I am going to place some cardboard under each pumpkin that's growing to keep them off the soil. And you would not believe how much this pumpkin grows overnight. I am astounded when I check on its daily progress. Because they are growing so rapidly, I need to fertilize again but this time I'll use a liquid fertilizer that's low in nitrogen.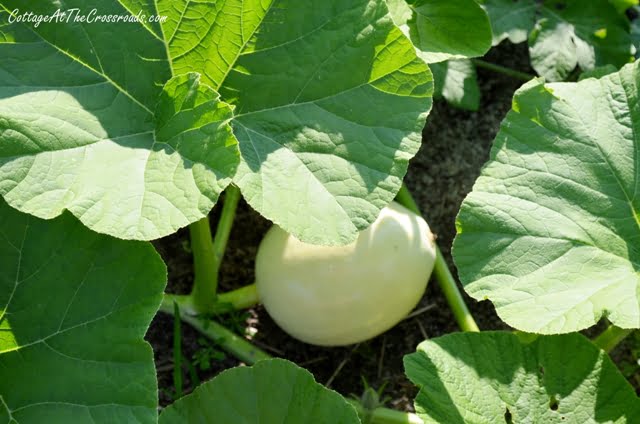 I haven't counted how many pumpkins are growing, but I can tell that we definitely have 3 different types growing by the different shaped leaves and the skin of the baby pumpkins. Some have smooth skin and some ridges are forming on others.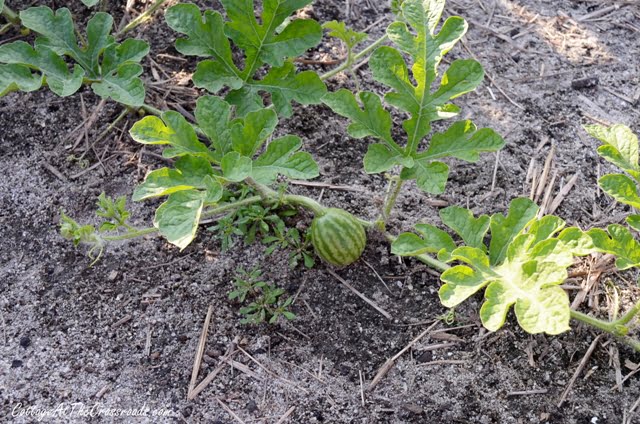 Amidst the pumpkin vines is a watermelon! A seed was in the compost that we put down.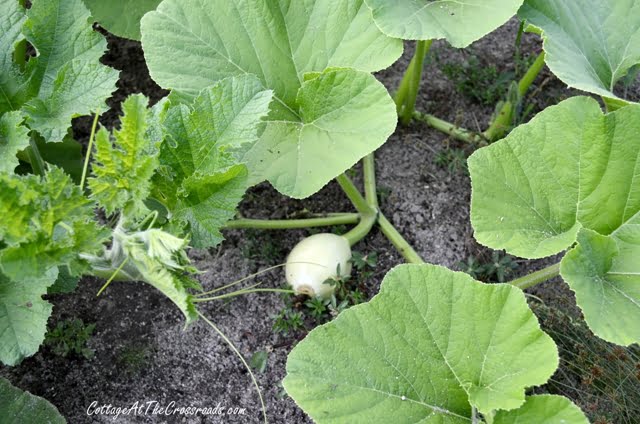 The pumpkins have a lot of growing yet to do. I predict that they won't be ready to remove from the vine until mid October. Just like a watermelon, you judge when it's ready to harvest by looking at the stem. When it starts shriveling and drying, the pumpkin is ready to come off the vine.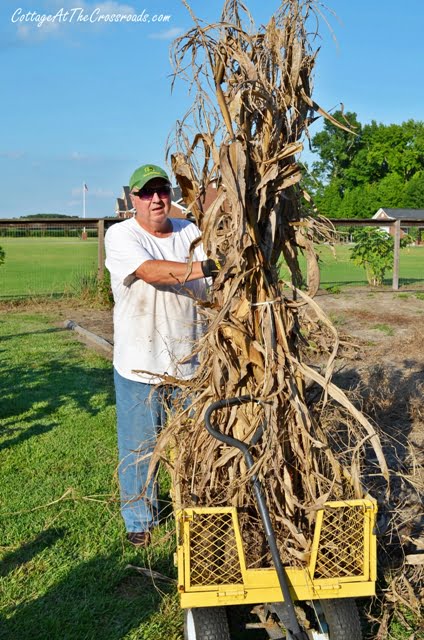 While we were out in the garden this weekend, Leo started pulling up the cornstalks. We tied some of them together.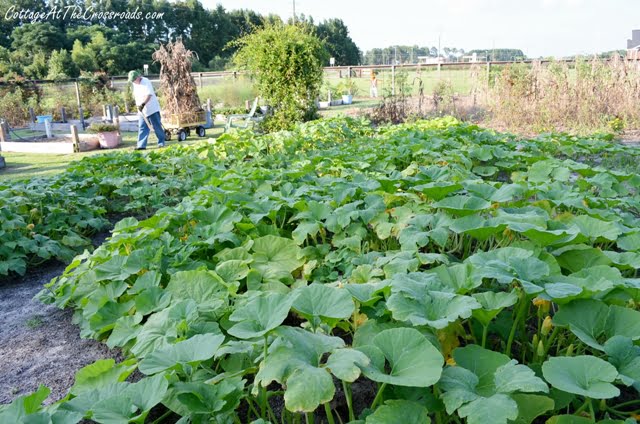 Here he's hauling them out of the garden.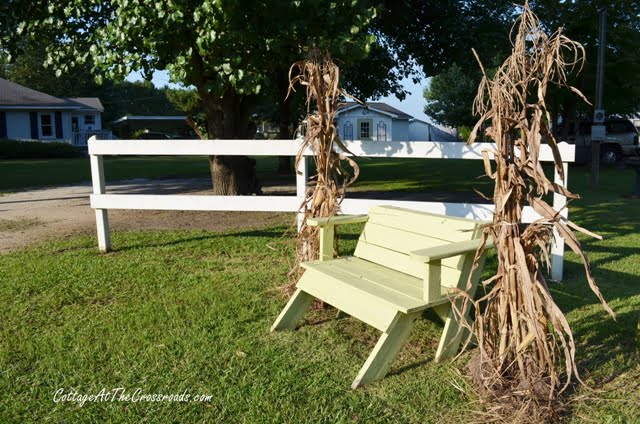 We placed some here beside an outdoor bench.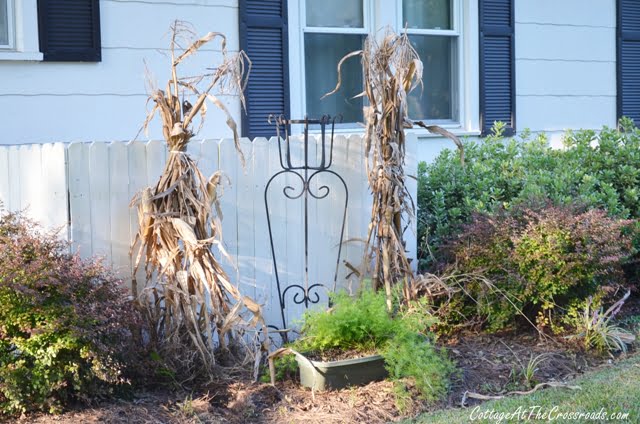 And some here beside this little fence that hides....well, nothing right now. It used to hide an oil tank.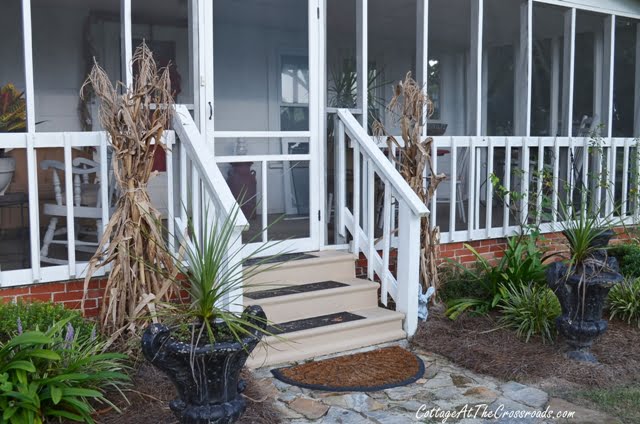 And last, some were placed here at the front of the house. Let the fall decorating begin!