We conducted a little trial in our garden this year by growing cucumbers in raised beds. We had great results so I'm sharing our tips today.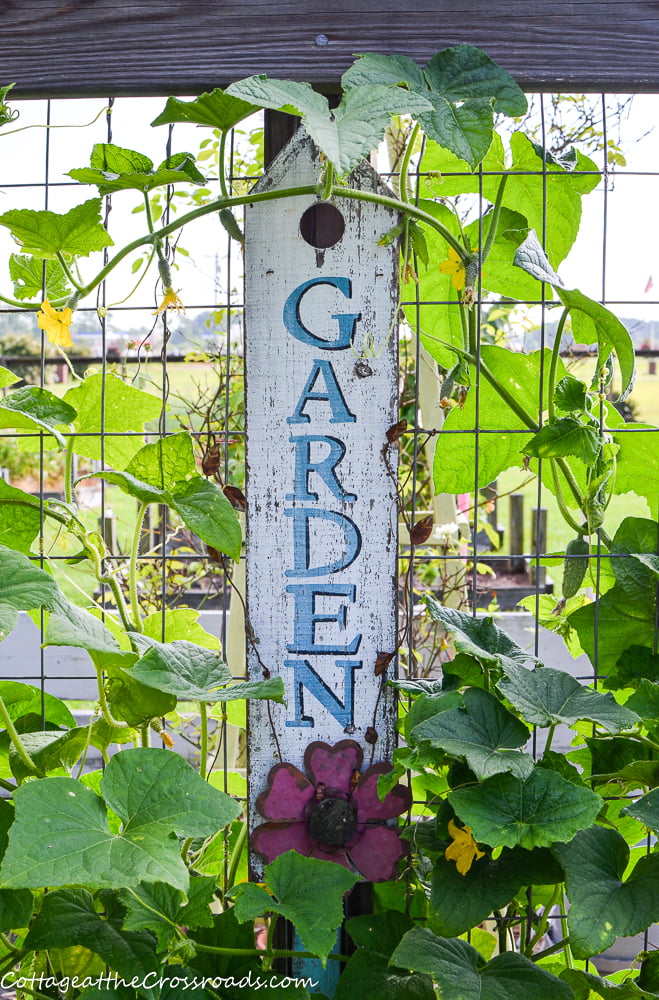 It's a traditional practice for all gardeners to reflect on the past growing season and decide what grew and produced well or not. We have been fortunate to have a bountiful garden this year.
I attribute part of that success to having a mild spring and early summer with regular amounts of rainfall. It has only been recently that the temps here in South Carolina have jumped up into the upper 90s. When that happens, most things stop flowering and producing and begin the whole withering process.
Except for the cucumbers. Oh my goodness. I am still harvesting cucumbers daily.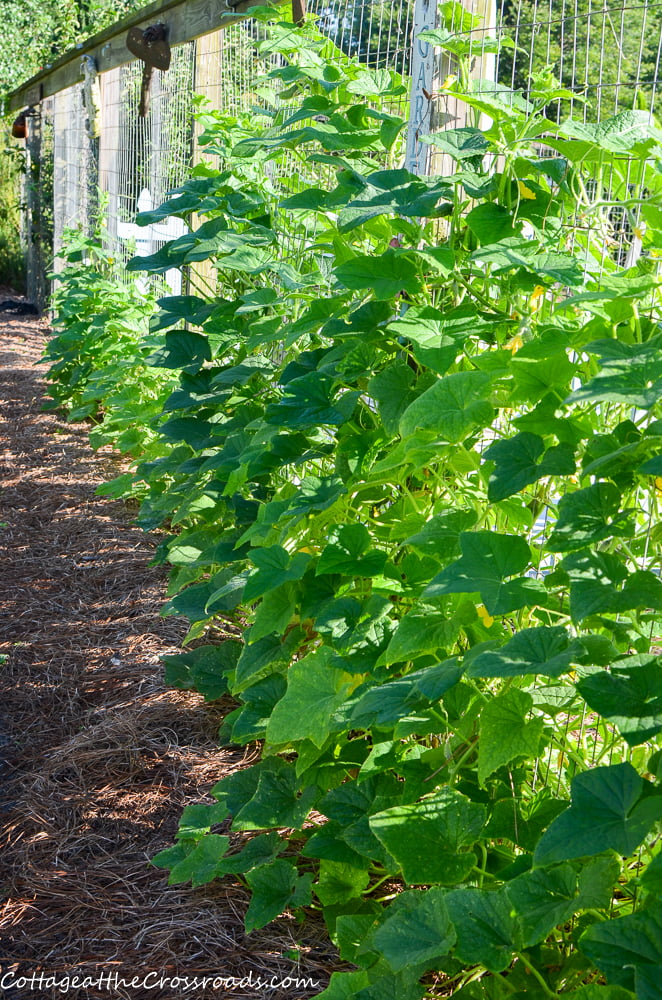 We normally grow our cucumbers along our garden fence because it serves as a trellis for them. And these days we incorporate cucumber companion plants that thrive together.
There are 2 types of cucumbers with 2 types of growth habits.
pickling and slicing
bush and vining
We always grow pickling cucumbers and the varieties that we plant are either Kirby or Boston pickling. Both of those varieties are vining cucumbers that can grow up to 6 feet in length.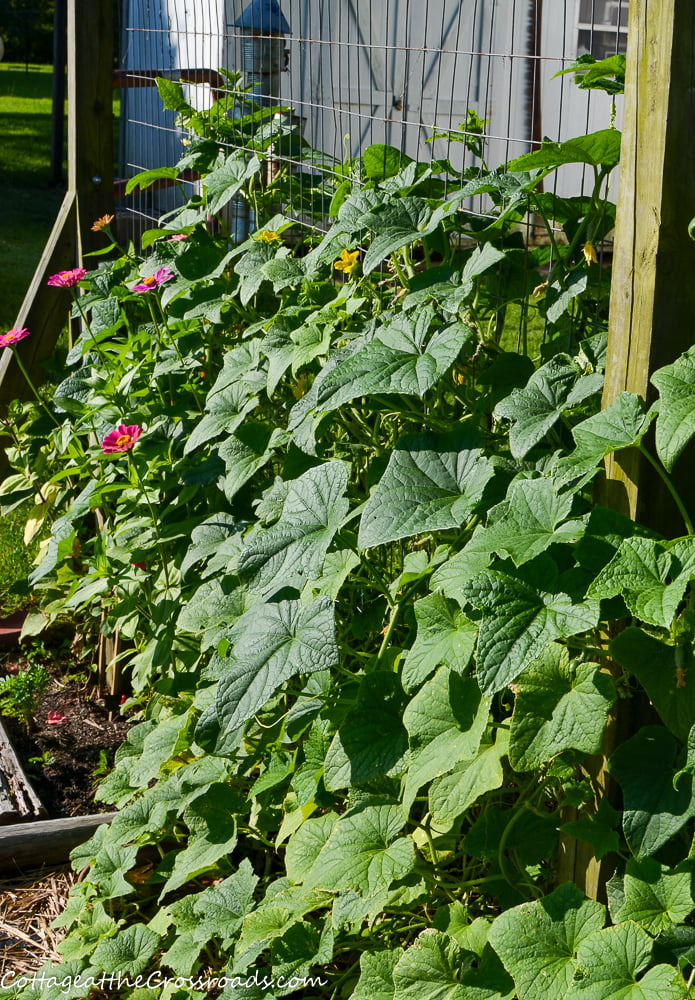 It is not good to allow the vines to grow on the ground because it promotes plant diseases so we use our garden fence as a trellis for the vines.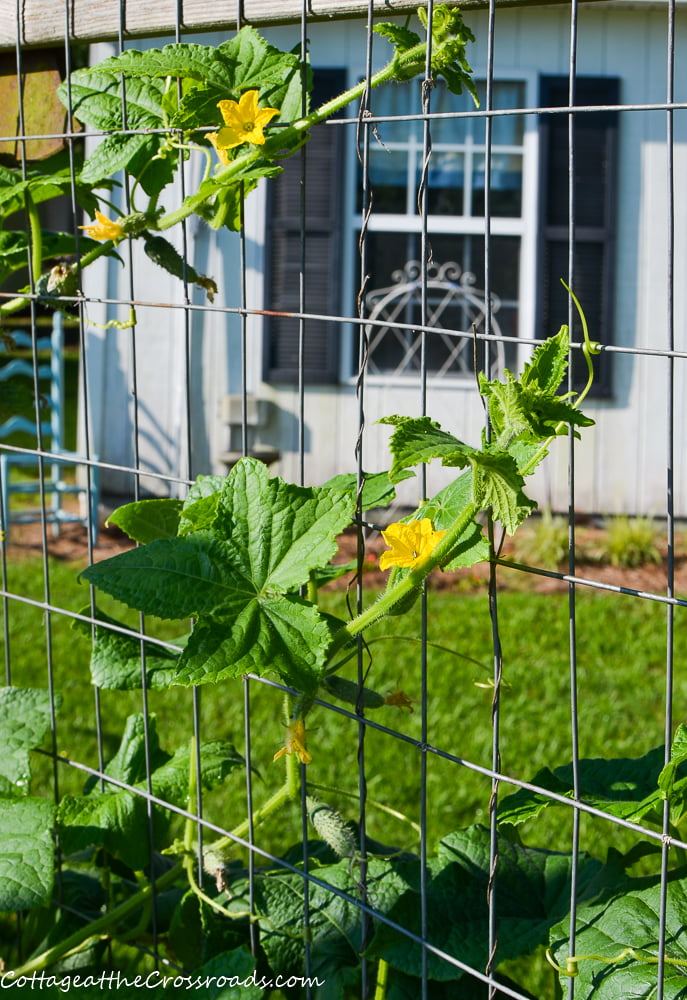 The cucumber plant produces tendrils that attach to the fence to help it climb. I will have to admit that I help the plant along by wrapping some of the tendrils around the fence wire when I see that they are not attached.
Pickling cucumbers are the smaller cucumbers with a thicker, bumpy skin that helps the cucumbers stay crisp when pickling. Of course, you don't have to pickle them.
They are great in salads and other recipes because they are crunchy and mild. Try one of these fresh cucumber salad recipes paired with your favorite proteins.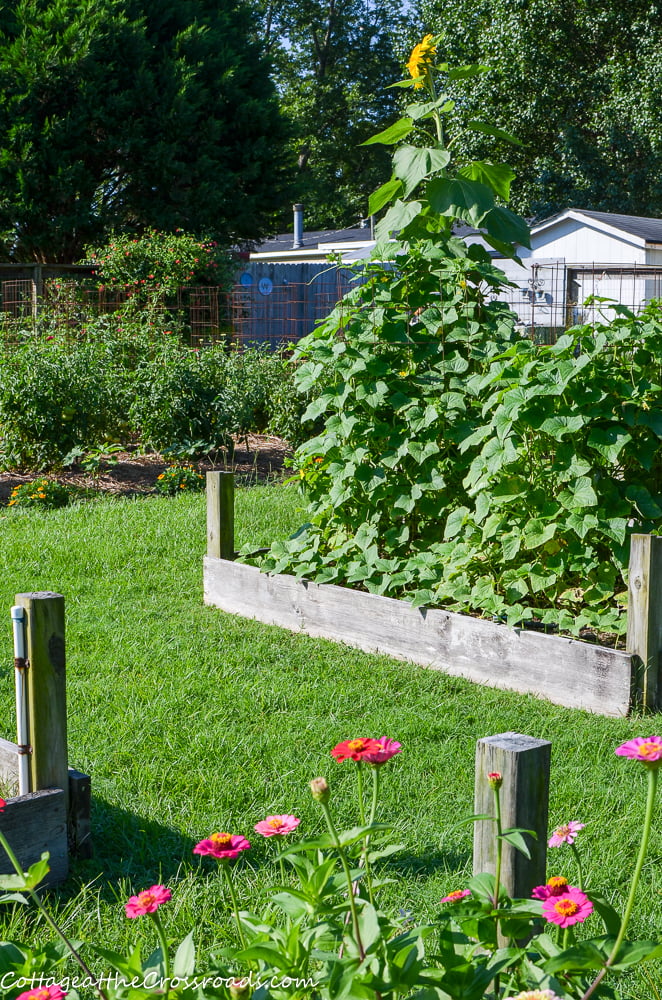 This year, we decided to do a little experiment to see how well the cucumbers would grow in raised beds.
The photo above was taken at the end of March when we planted 16 cucumber transplants in a 4' x 8' raised bed.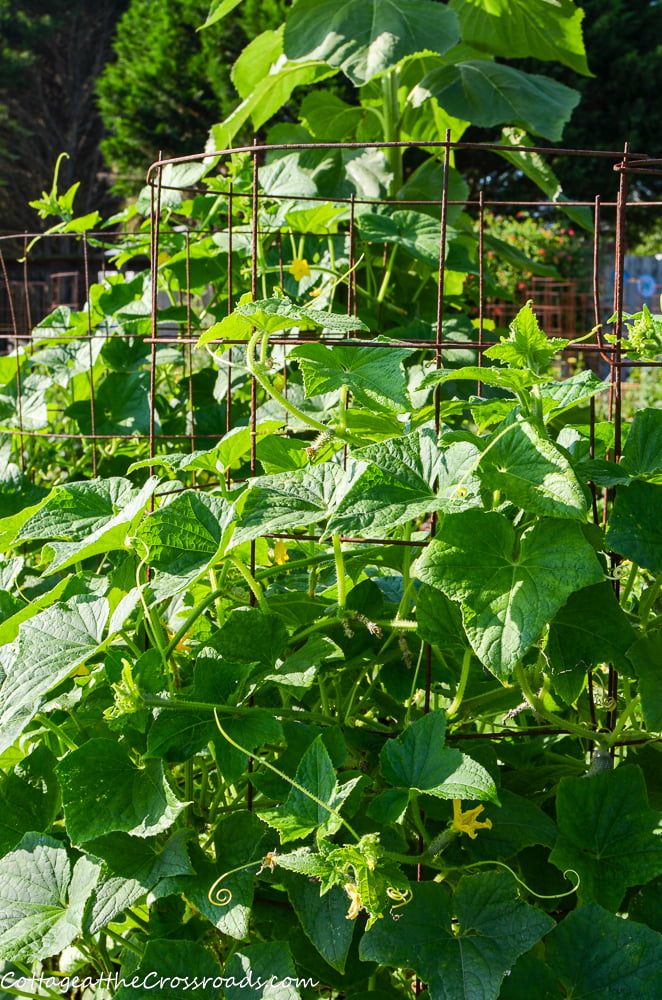 And this photo that was taken a few weeks ago shows how well the cucumber vines grew. We used 2 of our DIY tomato cages to give support to the vines.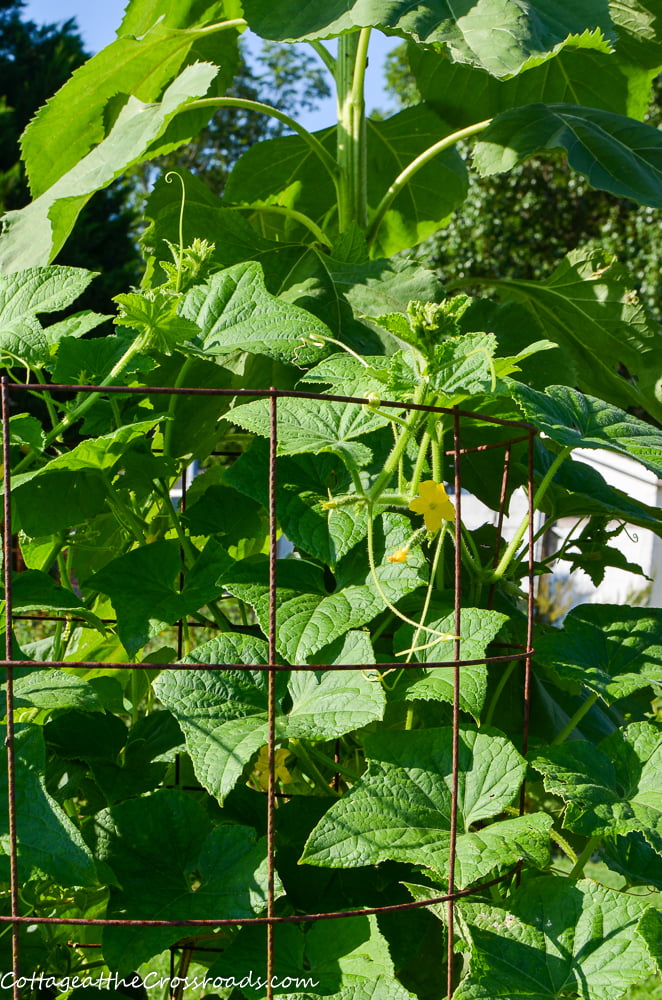 The plants produced prolifically and I will have to say that growing cucumbers in raised beds was a great success. They grew so well that I think we could have opened a pickle factory!
If you have backyard space to create raised beds, I encourage you to do so. You can grow a lot of food in a small space.
Tips for growing cucumbers in raised beds
locate the raised beds in an area that receives a lot of sun
add compost to the soil in the raised bed
test the pH of the soil before planting-cucumbers like a neutral pH (6.5)
wait until the soil temperature reaches 70 degrees F before planting
light frosts will burn or kill tender cucumber plants so plan on frost protection
provide a trellis or other such support for the vines
mulch the soil to help retain moisture
make sure the soil remains moist at all times-regular watering is the KEY to avoiding bitter cucumbers!
fertilize the plants after they begin producing blossoms (I used Tomato-Tone Organic Fertilizer)
harvest the cucumbers frequently and gently
do not allow the cucumbers to grow too large because the plant will think that it's finished its work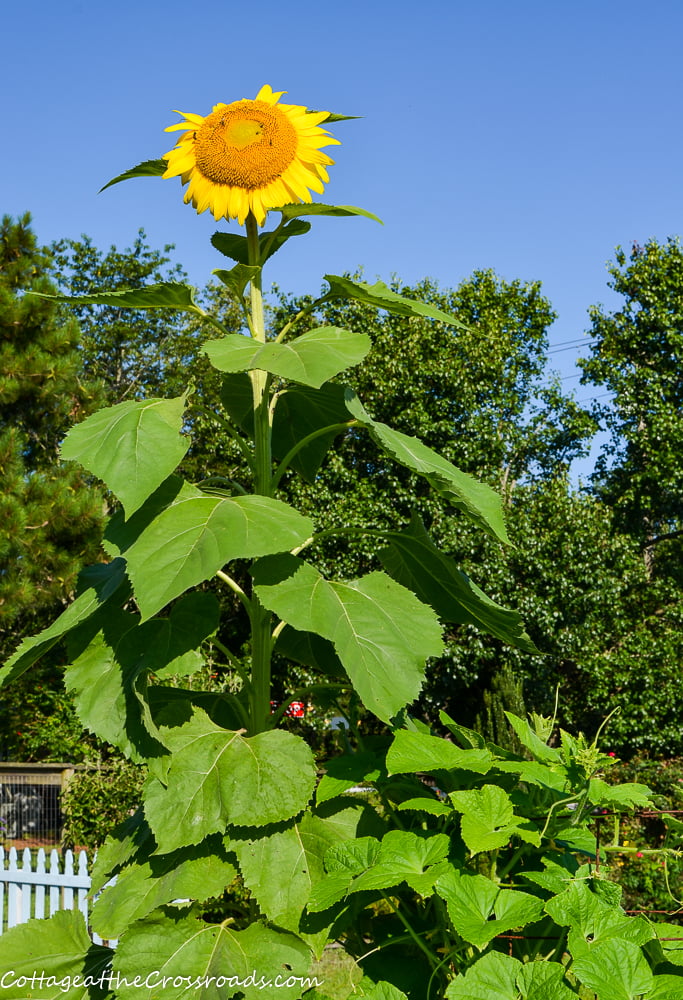 It was happenstance that a sunflower started growing beside the cucumbers in our raised bed. I've always heard that growing sunflowers near cucumbers made them sweeter. I'm not sure how true that is but we've had the best tasting cucumbers this year.
But I will admit that I was diligent with my watering.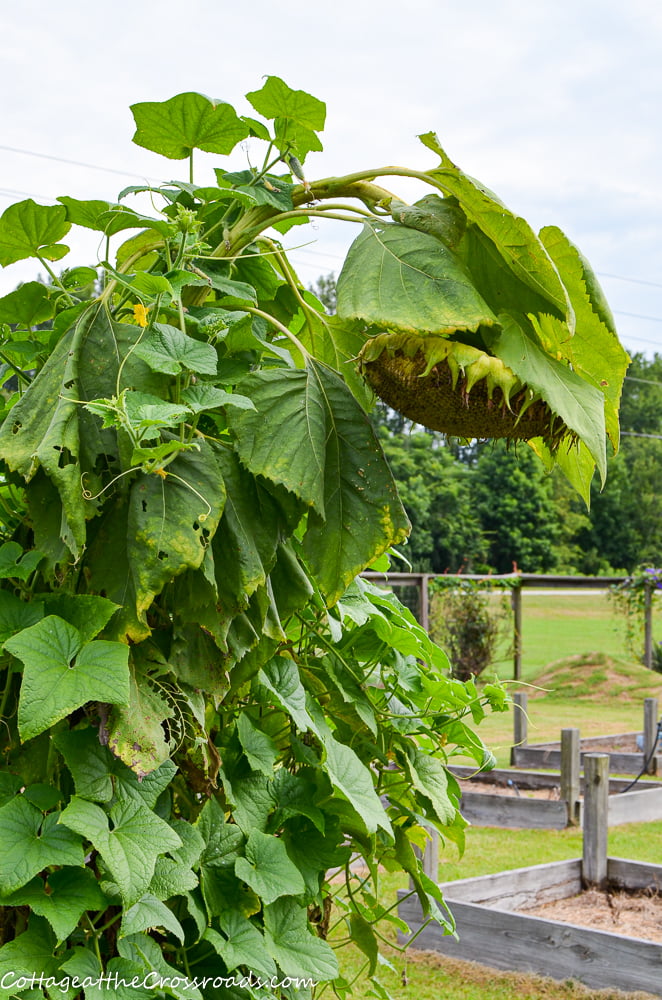 The sunflower is now bowing its head as a signal to the end of our summer growing season. You can see that the cucumber vines climbed its stalk and that they make great companion plants.
Why grow cucumbers in raised beds?
the greatest benefit is that raised beds provide good soil drainage
you can grow more cucumbers in a smaller space
it is easier to control the soil health and the weeds
harvesting is easier because the cucumbers are at eye level
What I do with all of our cucumbers?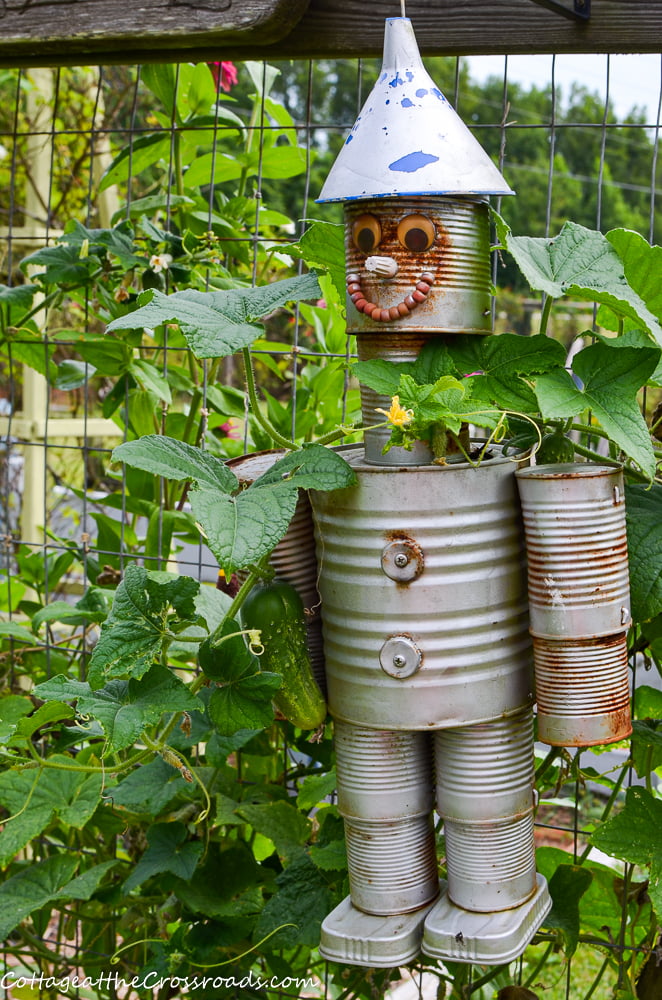 It's probably a good thing that our summer garden season is nearing its end. I don't know how many more cucumbers he can support!