We have an abundance of cucumbers growing in our garden right now, so I made some bread and butter pickles yesterday. I followed the same recipe that I used last year because everyone that tasted them, loved them.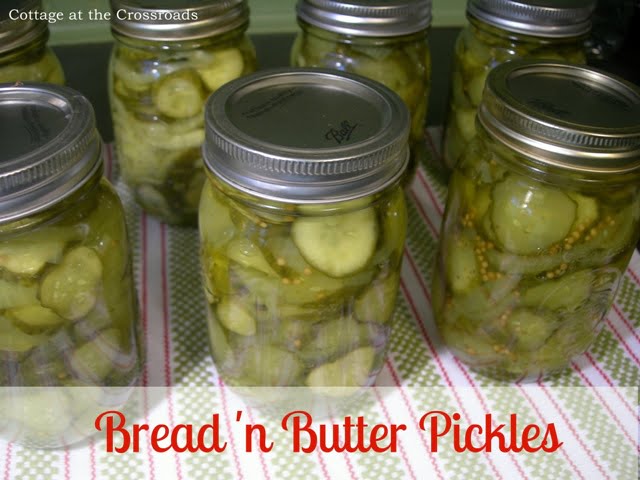 Now I have to admit that I'm no expert on canning because I've only been doing it for three years. But I'm feeling more comfortable at doing it and recommending recipes for you. For this recipe, I used a water bath to process the pickles because I like to have them on hand all year long. But if you don't want to can or don't have the equipment, there are plenty of recipes online for some that you don't have to process. The only negative is that they will only last in your refrigerator for a few weeks.
But bread and butter pickles are worth making, either way you decide to make them. Homemade ones tastes soooo much better than the ones you buy in the store. They have the perfect balance between sweet and tangy.
So I was wondering why they are called bread and butter pickles. Supposedly they got their name because during the Great Depression, they were a cheap staple in households. So people used them in sandwiches of bread and butter because that's all they could afford. I've never eaten them that way, but I'll just have to give it a try.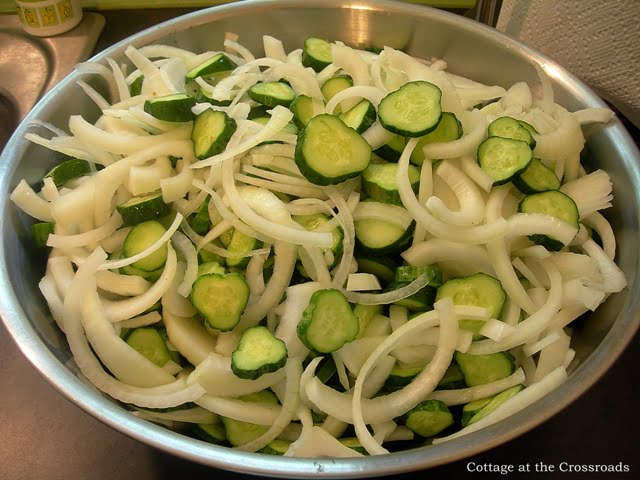 To make these pickles, you will need about 10 cups of sliced and trimmed pickling cucumbers. Make the slices about ¼ inch thick. Also, thinly slice 4 medium sized onions. I used Vidalia onions.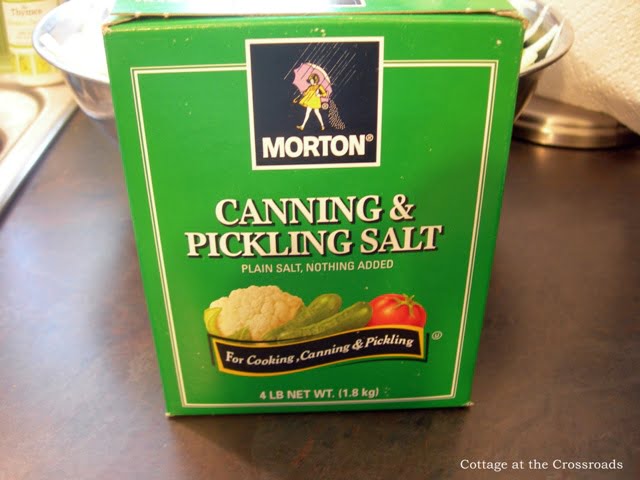 You will need ½ cup canning or pickling salt. Do not use regular salt because it has additives that make your pickle solution cloudy.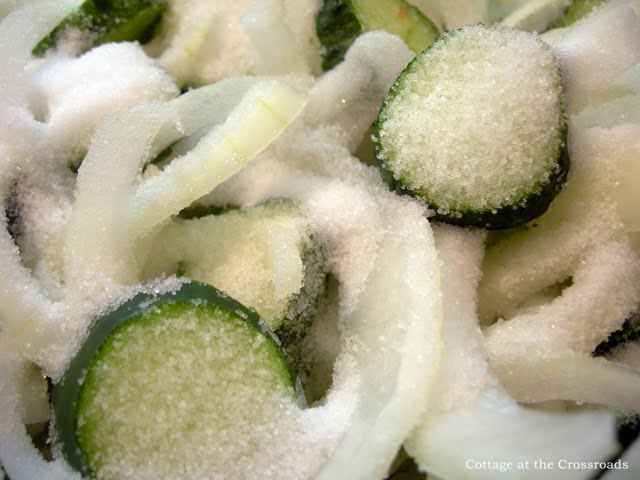 Sprinkle the salt onto your cucumbers and onions.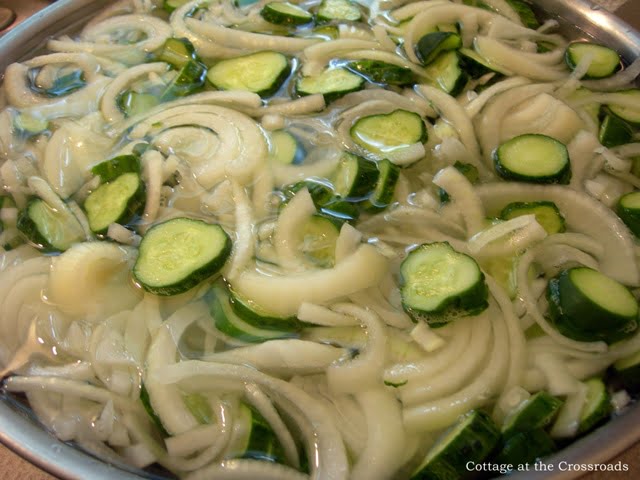 Add enough cool water to cover them and let them stand at room temperature for 2 hours.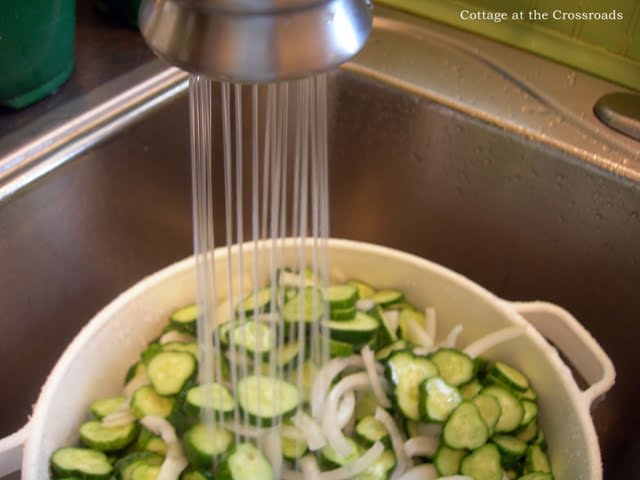 Place them in a colander, rinse with cool running water, and drain thoroughly. Pull out all your canning gear and prepare your jars because you are ready to make your pickles!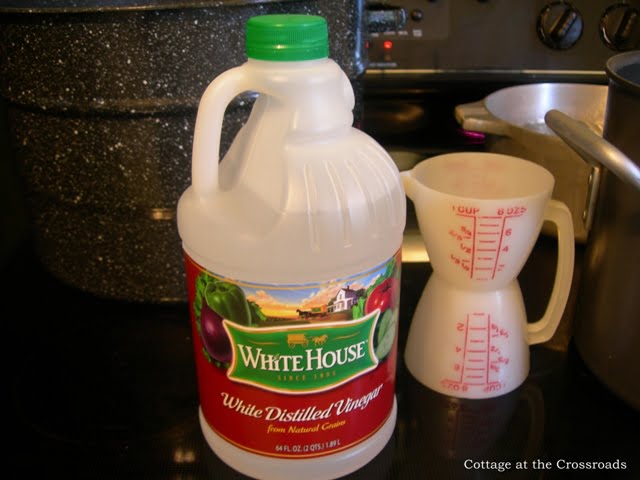 First, place 3 cups of white vinegar in a large stainless steel pot. I've read to check the label of your vinegar to make sure the acidity level is 5%. Most of the labels I've checked lately say 5%.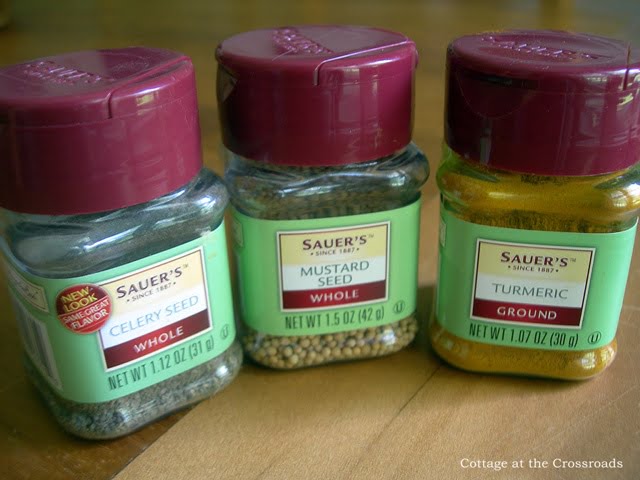 Add 2 cups granulated sugar, 2 tablespoons mustard seeds, 1 teaspoon each of celery seeds and turmeric and heat to a boil. Stir to dissolve the sugar.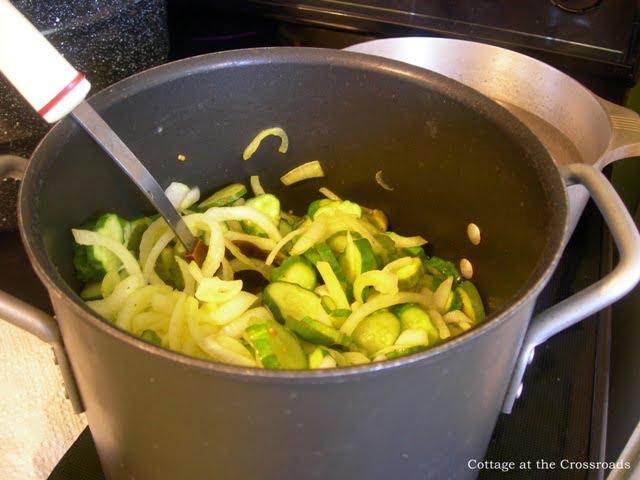 Stir in your vegetables and return to a boil.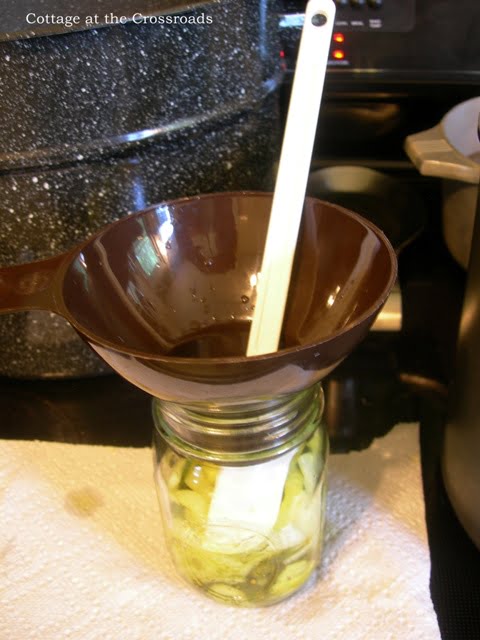 Ladle the vegetables into hot, sterilized jars. I usually fill mine about half full, then I use a thin spatula to push the vegetables down further into the jar.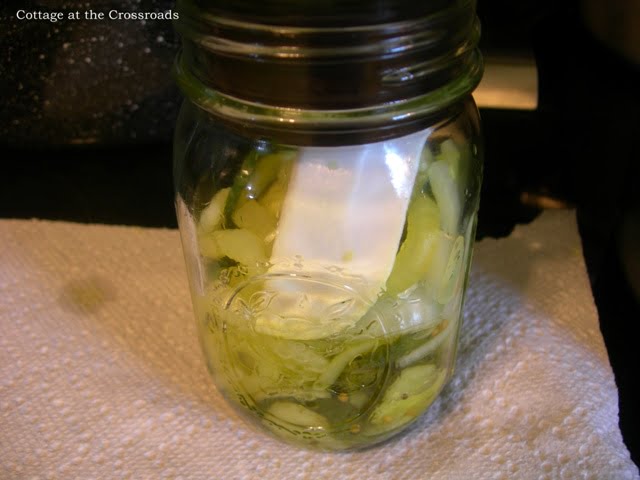 This is called packing the jar. If you don't do this, you will have pickles swimming in liquid! Believe me, I learned from experience!
Finish filling the jar and then pour more of the pickling liquid over the vegetables, remove any air bubbles with the spatula, leave ½ inch headspace, and wipe the rim. Center a warm lid on the jar and screw on a band.
Process the jars for 10 minutes. Remove the lid and wait 5 minutes before removing the jars.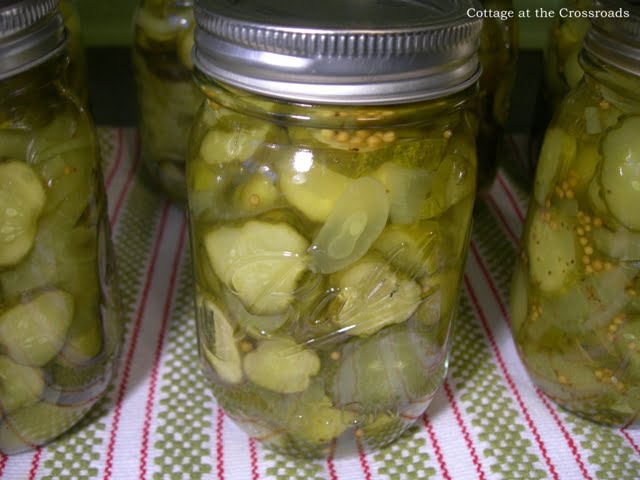 Place the jars on a thick towel and let them cool overnight.
You are going to be a hit at any barbeque that you attend this summer if you bring these pickles!
Fan of canning recipes? Check my best mason jars recipes collection with delicious recipes that you can make at home.
📋 Recipe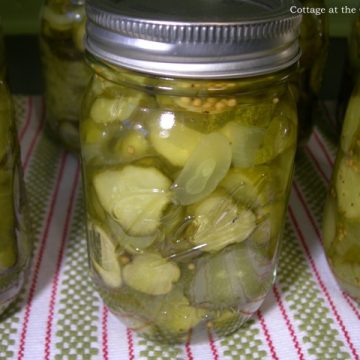 Bread and Butter Pickles
made some bread and butter pickles yesterday. I followed the same recipe that I used last year because everyone that tasted them, loved them.
Instructions
 In a glass or stainless steel bowl, combine cucumbers, onions, and salt.

Mix well, cover with cold water, and let stand at room temperature for 2 hours.

Transfer to a colander placed over a sink, rinse with cool running water, and drain thoroughly. 

Meanwhile, prepare canner, jars, and lids.

In a large stainless steel saucepan, combine vinegar, sugar, mustard seeds, celery seeds, and turmeric. Bring to a boil over medium-high heat, stirring to dissolve sugar. Stir in vegetables and return to a boil.

Pack vegetable into hot jars to within a generous ½ inch of top of jar. Ladle hot pickling liquid into jar to cover vegetables, leaving ½ inch headspace.

Remove air bubbles and adjust headspace, if necessary, by adding hot pickling liquid. Wipe rim. Center lid on jar. Screw band down until resistance is met, then increase to fingertip tight.

Place jars in canner, ensuring they are completely covered with water. Bring to a boil and process for 10 minutes. Remove canner lid.

Wait 5 minutes then remove jars, cool, and store.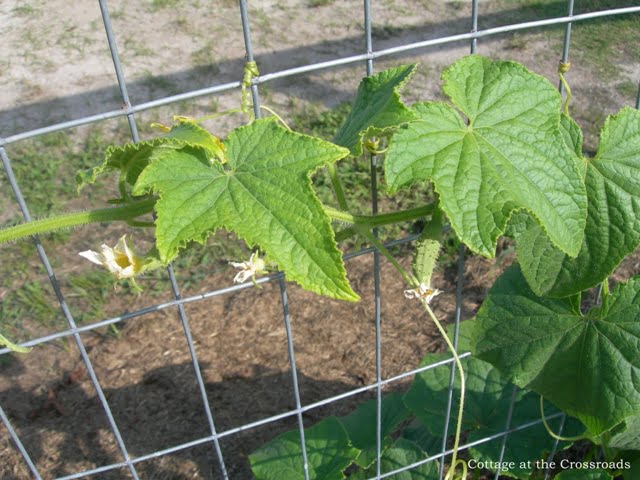 I thought I'd show your our cucumber plants. We plant them along the fence and train them to grow up the fence.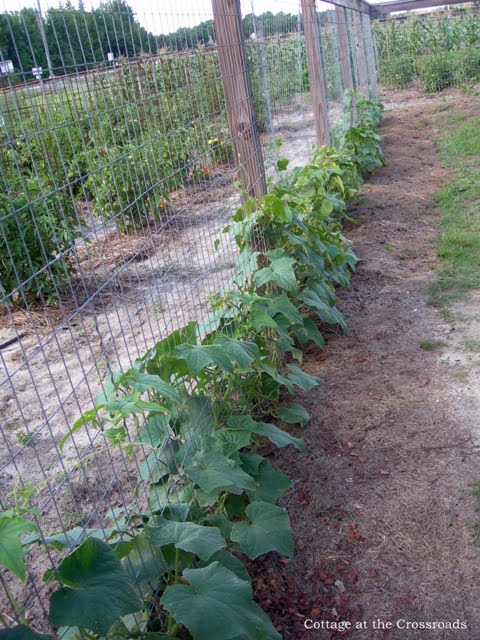 And this isn't all of them. They are planted along another side, too.
Do you think I have more pickle making in my future?
*Update concerning the origin of the term "bread and butter pickles": Two readers have pointed out that a trademark was registered in 1923 by Omar and Cora Fanning from Illinois and was used on their logo. Apparently the recipe has existed for much longer than that because the Fannings used an old family recipe. So the origin of the term is still debatable. I think a better idea is to just make some pickles and enjoy them!