Canning is an ancient art.
Canning fruit was a practice born of necessity. In the 18th century France, a man named Nicholas Appert began making fruit preservatives to sustain the French during the French Revolution when rations were slim.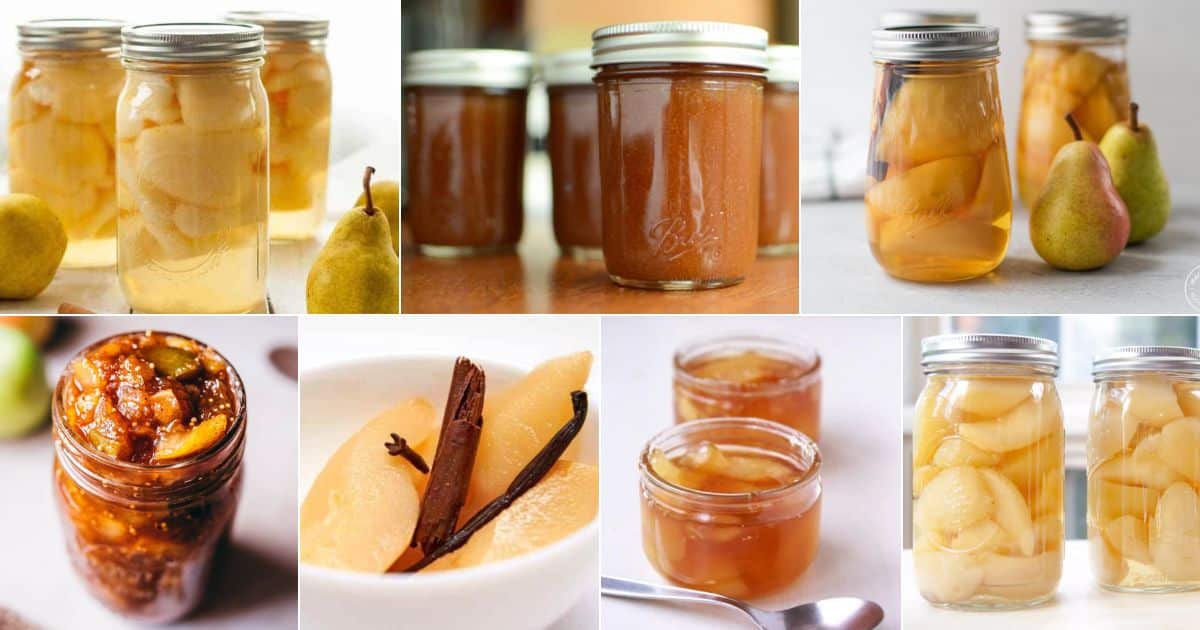 Around the same time, people worldwide began cultivating pears in earnest, prized for their sweetness and soft texture.
Although canning became a commercial endeavor, it is today a widespread practice—and pears are among the most popular canned fruit.
There are a wide variety of delicious pear canning recipes—from vanilla chai pear butter to spiced pears in a mason jar—and you can make them all.
The following pear canning recipes, derived from ancient practices with a modern twist, will bring flavor and sweetness to your kitchen.
Contents
The Best Pear Canning Recipes
Pear canning is a relatively simple process. Follow the recipes below to make the best-canned pears you can imagine!
1. Spicy Pear Chutney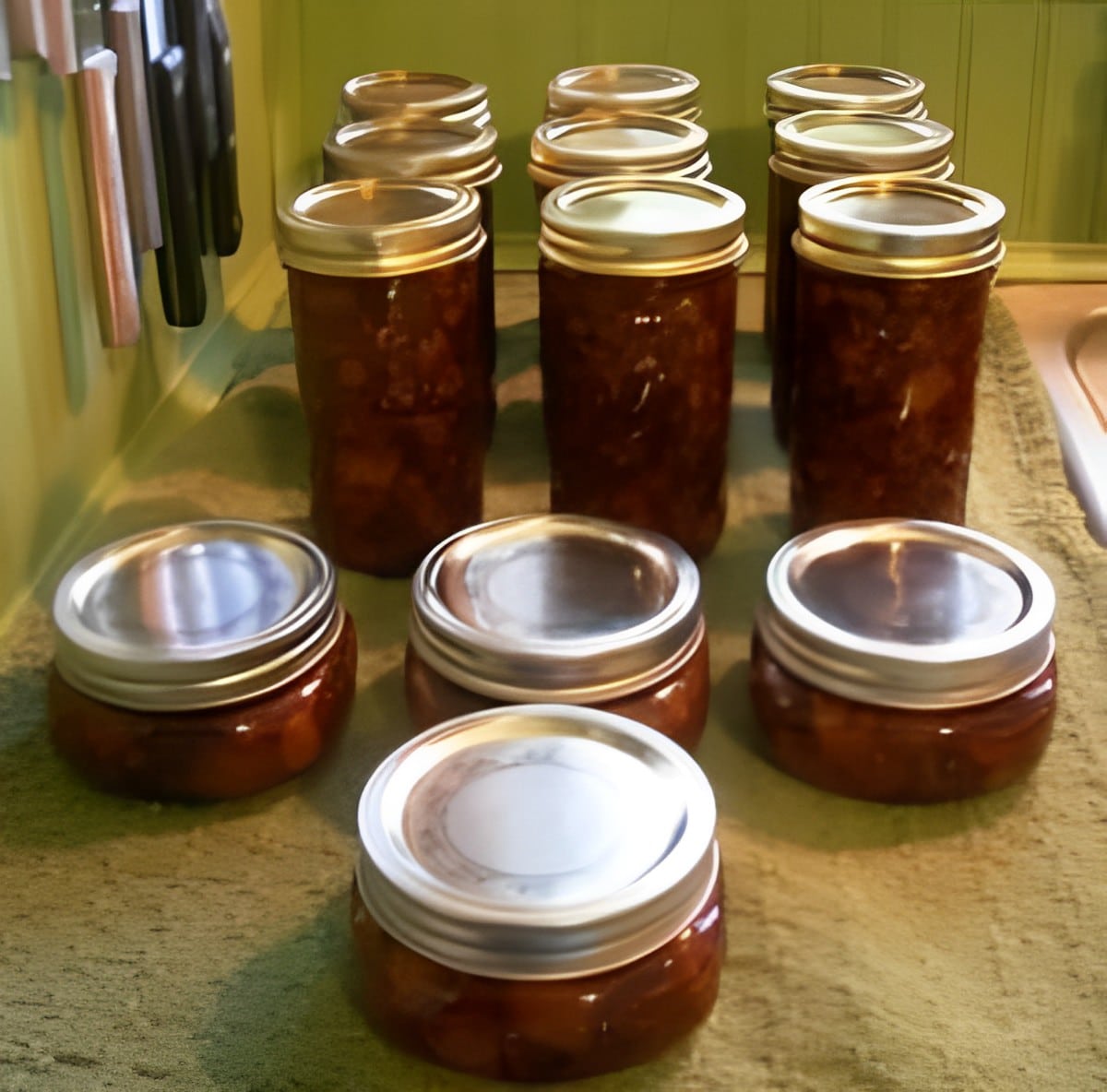 This spicy pear chutney is among the best recipes on this list—if I do say so myself. It combines delicious, sweet flavors like brown sugar, pears, ginger, raisins, and molasses with tangy, salty flavors like garlic cloves, red peppers, and onions.
The final product is a spicy pear chutney that pairs (pun fully intended) with just about anything. Eat it with naan bread for a traditional taste, or spread it on savory meats for a modern twist.
Best of all, this pear chutney is simple to make and takes little time to cook.
2. Simple Preserved Pears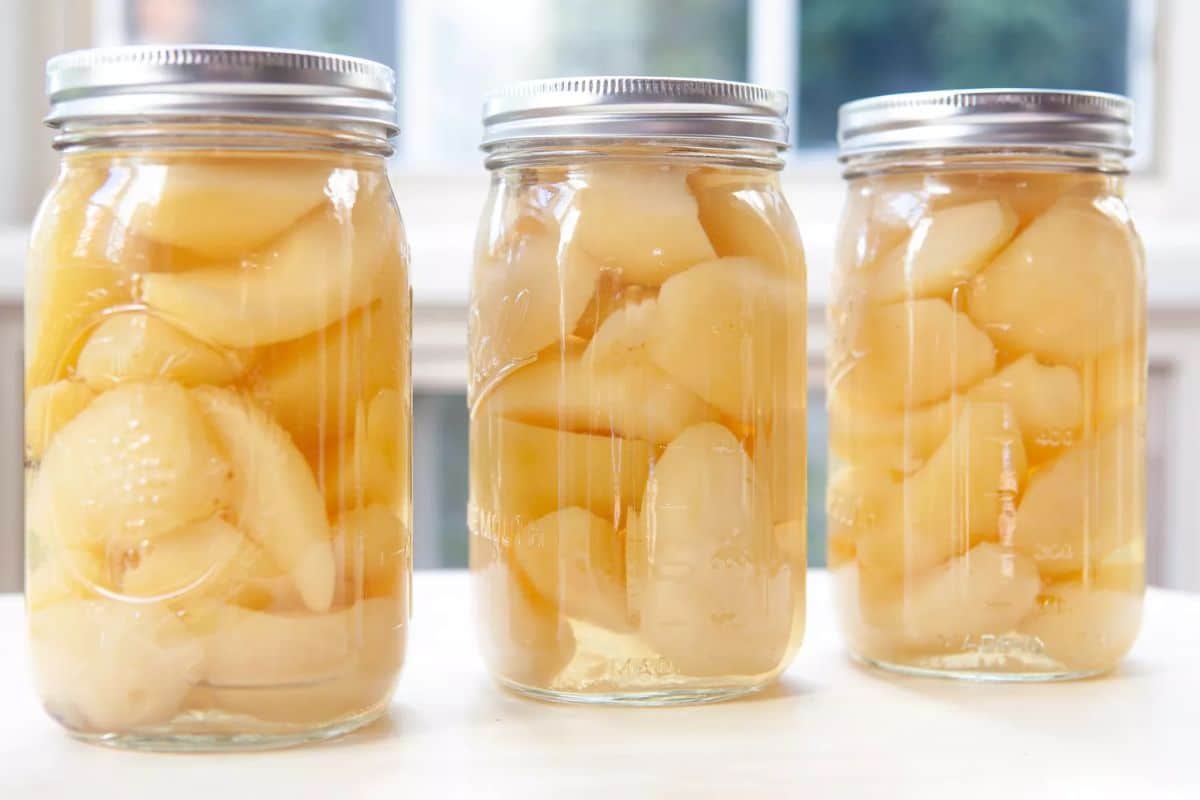 If you've got tons of extra pears and nothing to do with them, consider making this preserved pear recipe.
These pears are made with anise, cardamom, and cinnamon. They only take 25 minutes to prep and 20 minutes to cook, so they'll be ready in no time.
Consider using your canned pears to make a cobbler or gift them to your neighbors to show neighborly love. Kids also love this recipe, so you can ensure they get their vitamins in without elaborate schemes.
3. Cinnamon Pears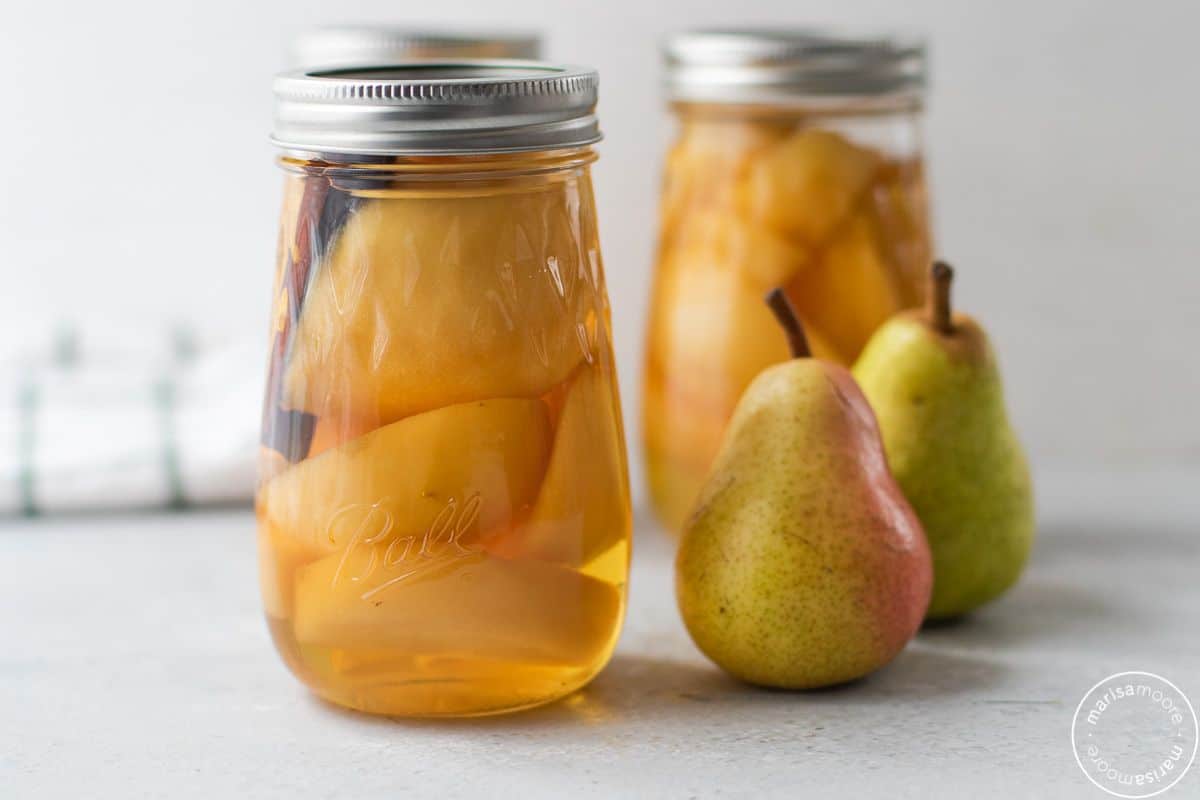 Cinnamon pears are an excellent way to introduce some sweetness to your savory dishes—or to use in a pear pie or peach-pear cobbler.
The wintery taste makes them an excellent addition to any holiday meal, but you can make these pears all year.
The ingredients list is short and straightforward. You need pears, apple juice, cinnamon sticks, and preserving jars. If possible, use a boiling water canner and headspace tool to make your cinnamon pears. The result is a perfect combination of sweet and spicy.
4. Vanilla Pear Jam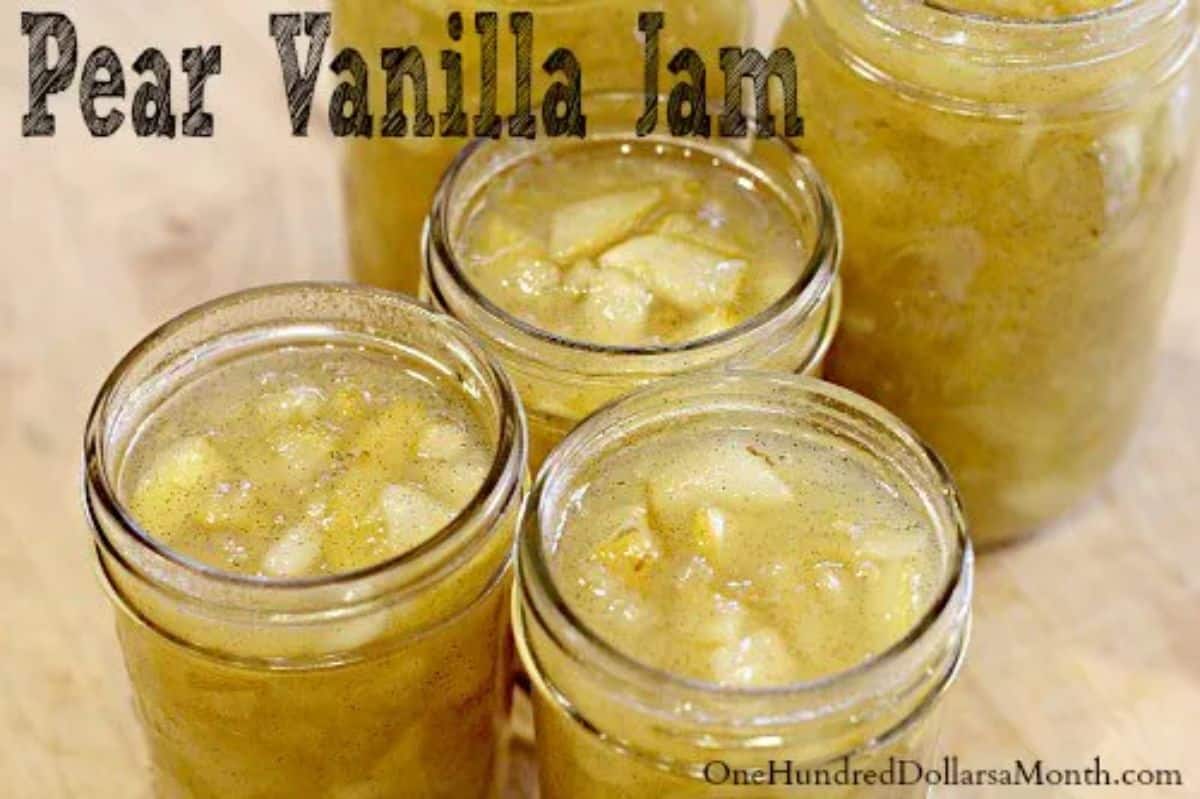 This summery recipe is perfect for warmer weather—it even tastes like spring.
You'll combine eight cups of chopped pears with sugar, vanilla beans, and pectin. The recipe itself is relatively simple to make; you'll simply ladle your jam into mason jars and let them sit!
I made this recipe all summer, which was particularly popular with my kids. Vanilla pear jam goes well with cheese, salad, and anything you can think of!
5. Spiced Pear Jam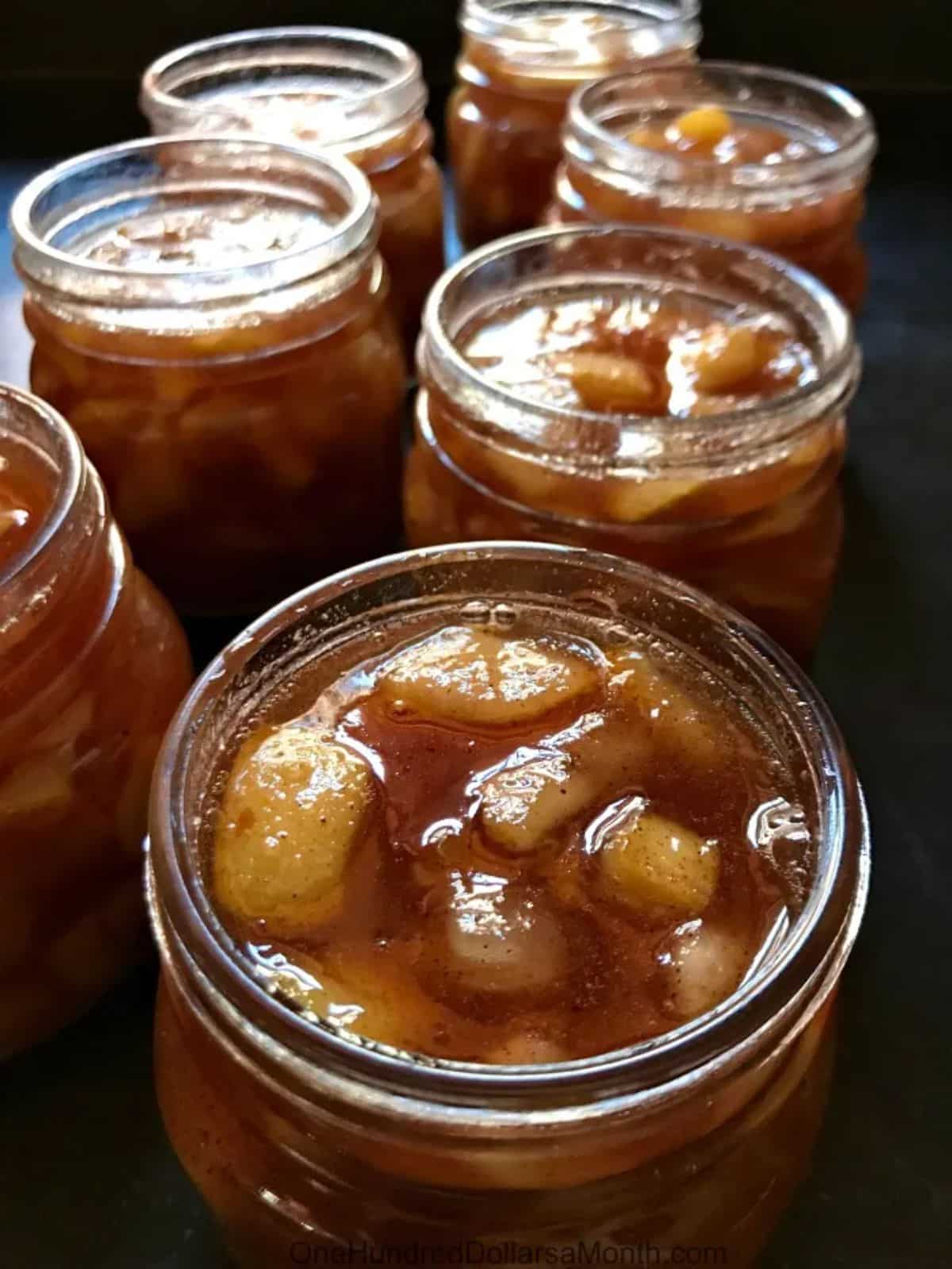 This spiced pear jam recipe will leave you wanting more—every time.
This recipe is appropriate for beginners since it involves little cooking and prep time. You'll combine six pounds of Bartlett pears with sugar, pumpkin pie spice, and pectin power—that's it!
You'll ladle the hot pear jam into mason jars, leaving some space for the air bubbles to escape. Let your pears sit for 24 hours, and voila—spiced pear jam.
This jam goes well with tarts, cakes, and any savory meal. Add a kick to your traditional home cooking with this delicious jam.
6. Vanilla Chai Pear Butter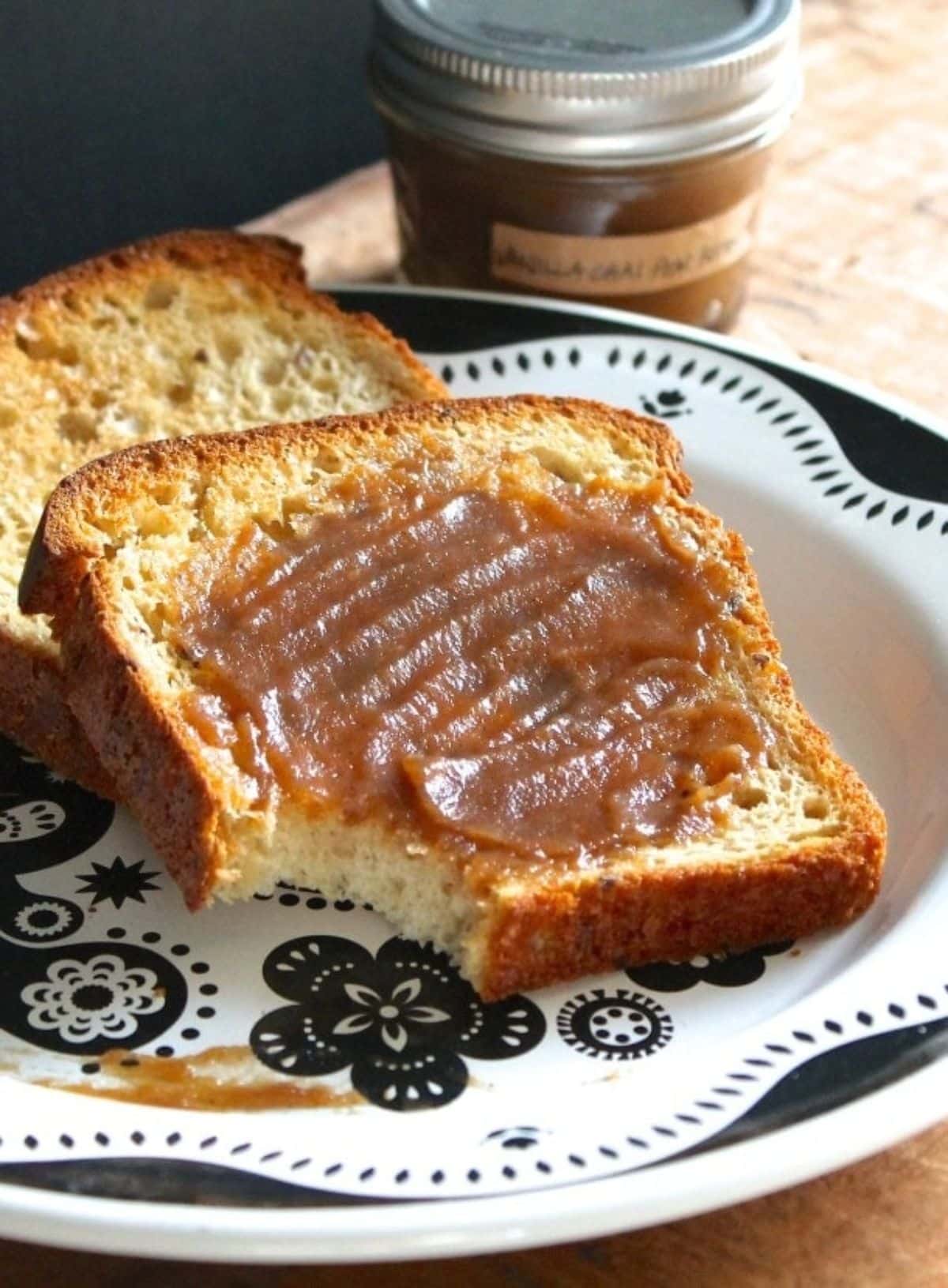 When the weather is cold and spring seems far away, there is no better recipe than this vanilla chai pear butter.
You can spread it on toast, fresh fruit—like apples—or eat in tin oatmeal.
This recipe is relatively simple and takes only 20 minutes to prep and four hours to cook. You'll combine two pounds of ripe pears with organic chai tea and add seasonings like cinnamon, nutmeg, and vanilla.
This vanilla chai pear butter will quickly become a staple in your pantry since it goes well with almost any dessert!
7. Canned Spice Vanilla Pears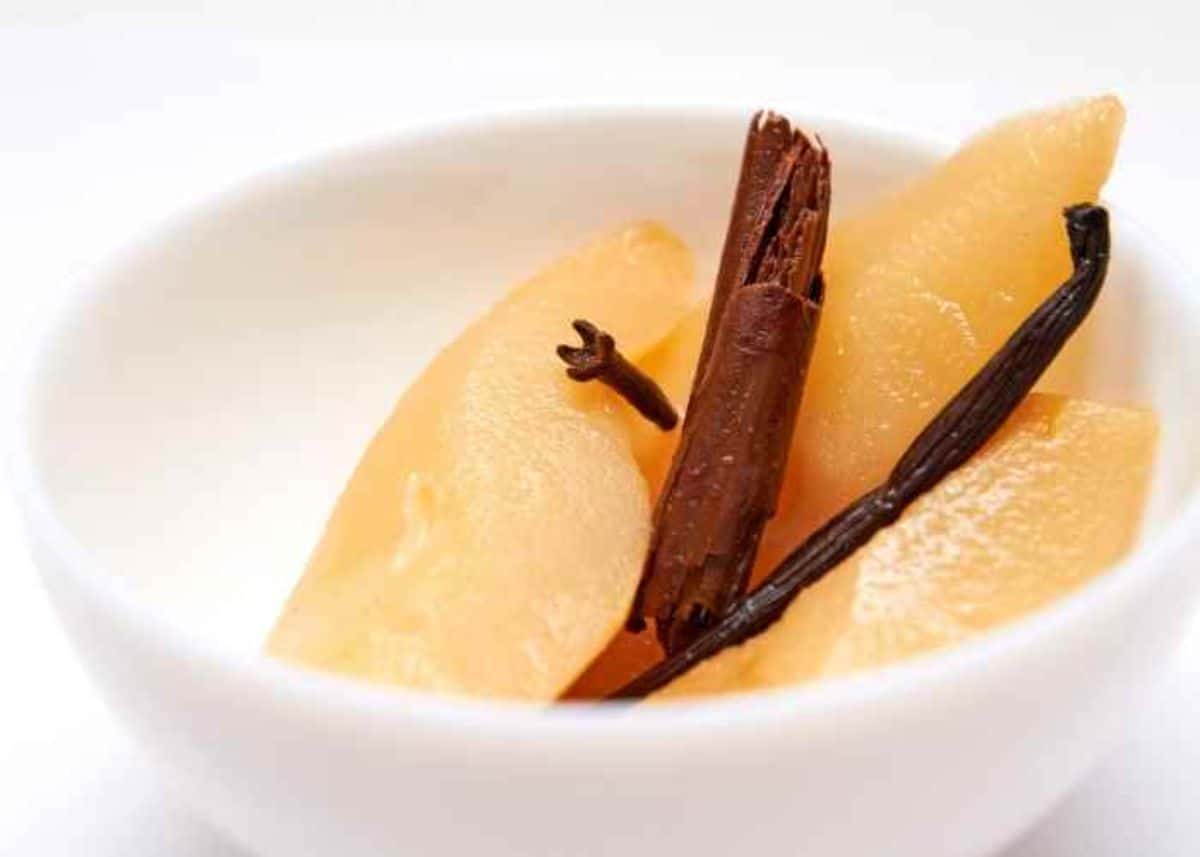 This canned spiced pear recipe is ideal for beginners. Consider starting here if you're just starting your canning journey.
You'll need to use ripe pears—even overripe pears if you have them. Keep an eye on your pears, as the window of ripeness is relatively short. If your pears are too ripe, you might get a mushy texture (that makes excellent pear butter, nonetheless).
You'll need sugar, cinnamon sticks, vanilla extract, cloves, and lemon juice, along with any seasonings you plan to add. From there, the recipe is quite simple. Happy canning!
8. Easy Canned Pears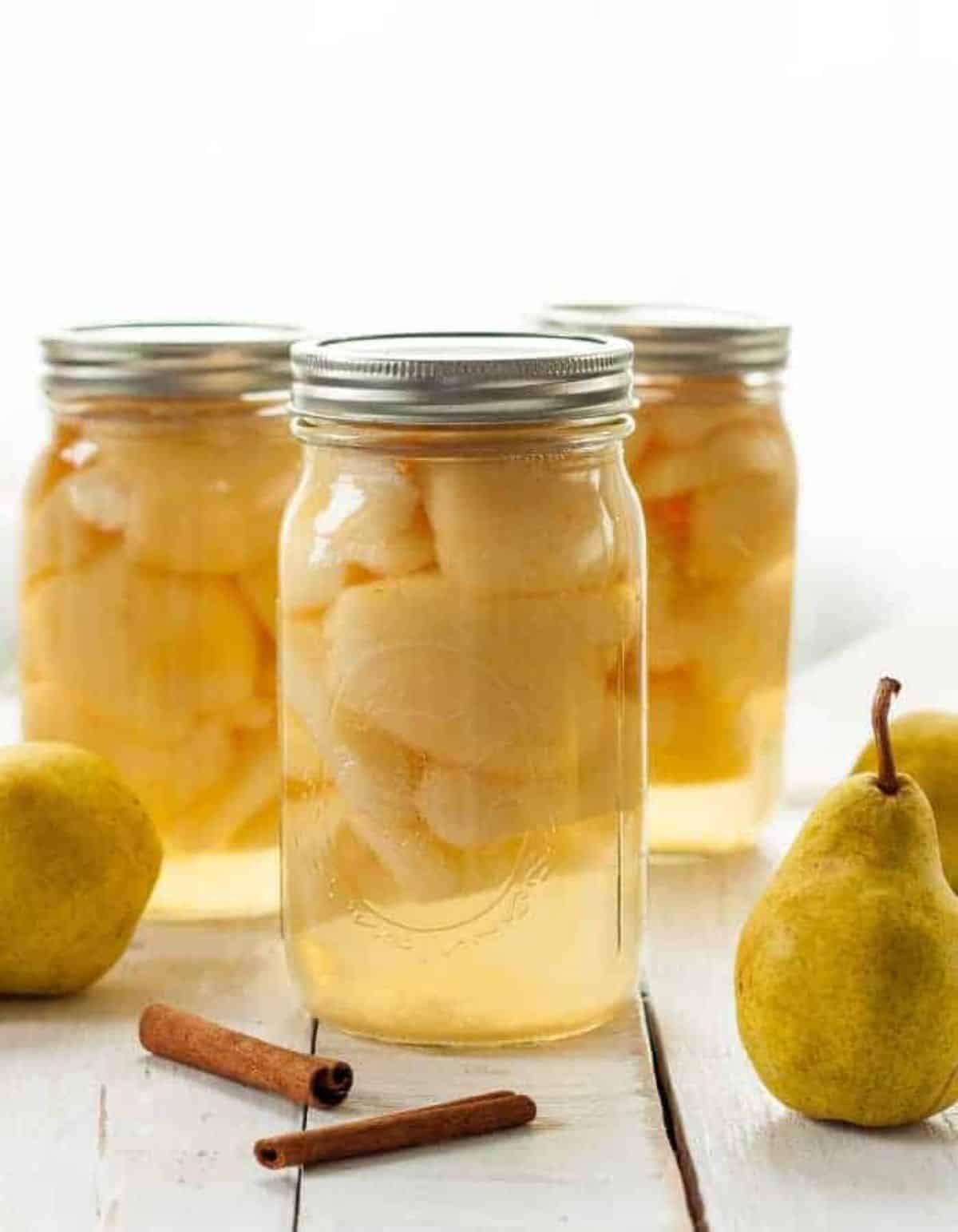 Easy canned pears are a simple and convenient way to preserve the delicious flavor of fresh pears. This method allows you to enjoy the taste of pears throughout the year, even when they're not in season.
With easy canned pears, you'll always have a supply of delicious pears on hand, ready to be enjoyed whenever you desire. Whether you're craving a refreshing snack or looking to incorporate pears into your culinary creations, these canned pears are a versatile and delightful pantry staple.
9. Salted Caramel Pear Butter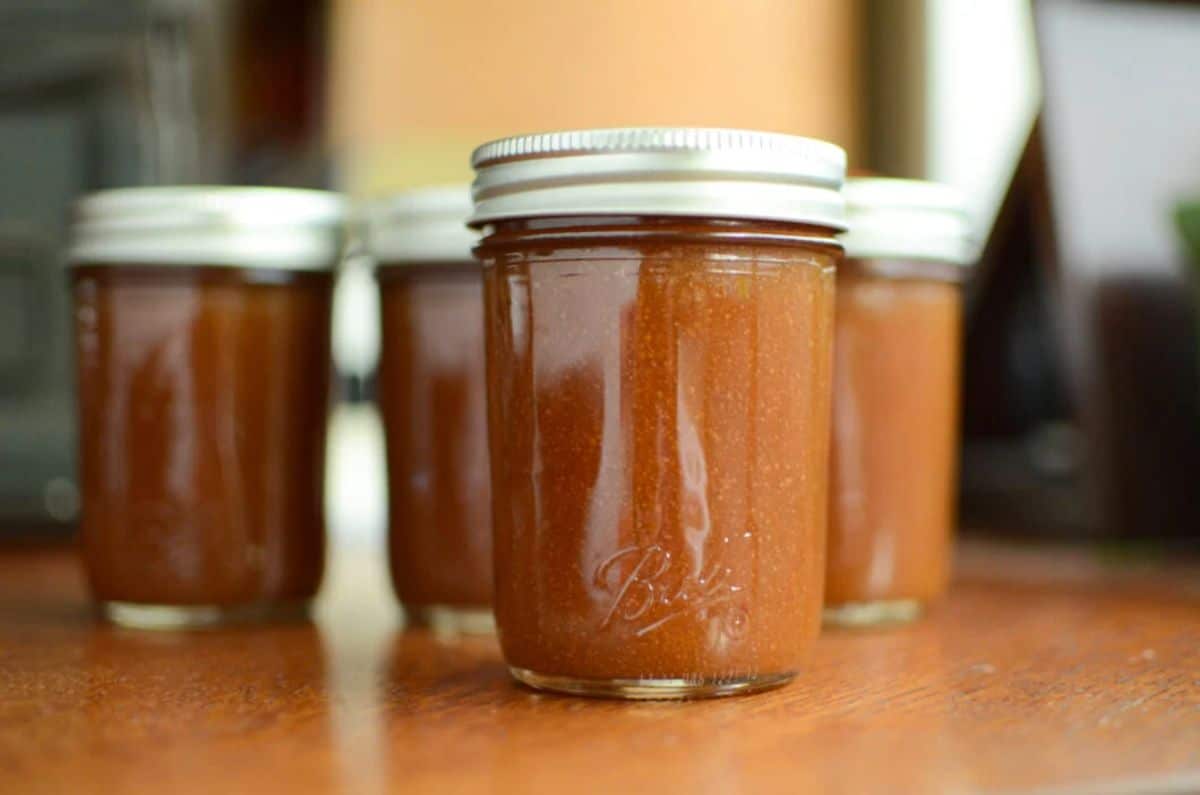 Salted caramel pear butter is the condiment you never knew you needed.
You'll use apple cider vinegar for its tangy taste and lemon juice for additional zing. The salted caramel offers a savory balance to the sweetness of the pears, and you'll let the ingredients simmer for about 40 minutes so they blend perfectly.
This recipe goes well with fresh fruit—especially apples. You can even make caramelized apples with this unique salted caramel pear butter recipe.
10. Pear Jam With Red Tea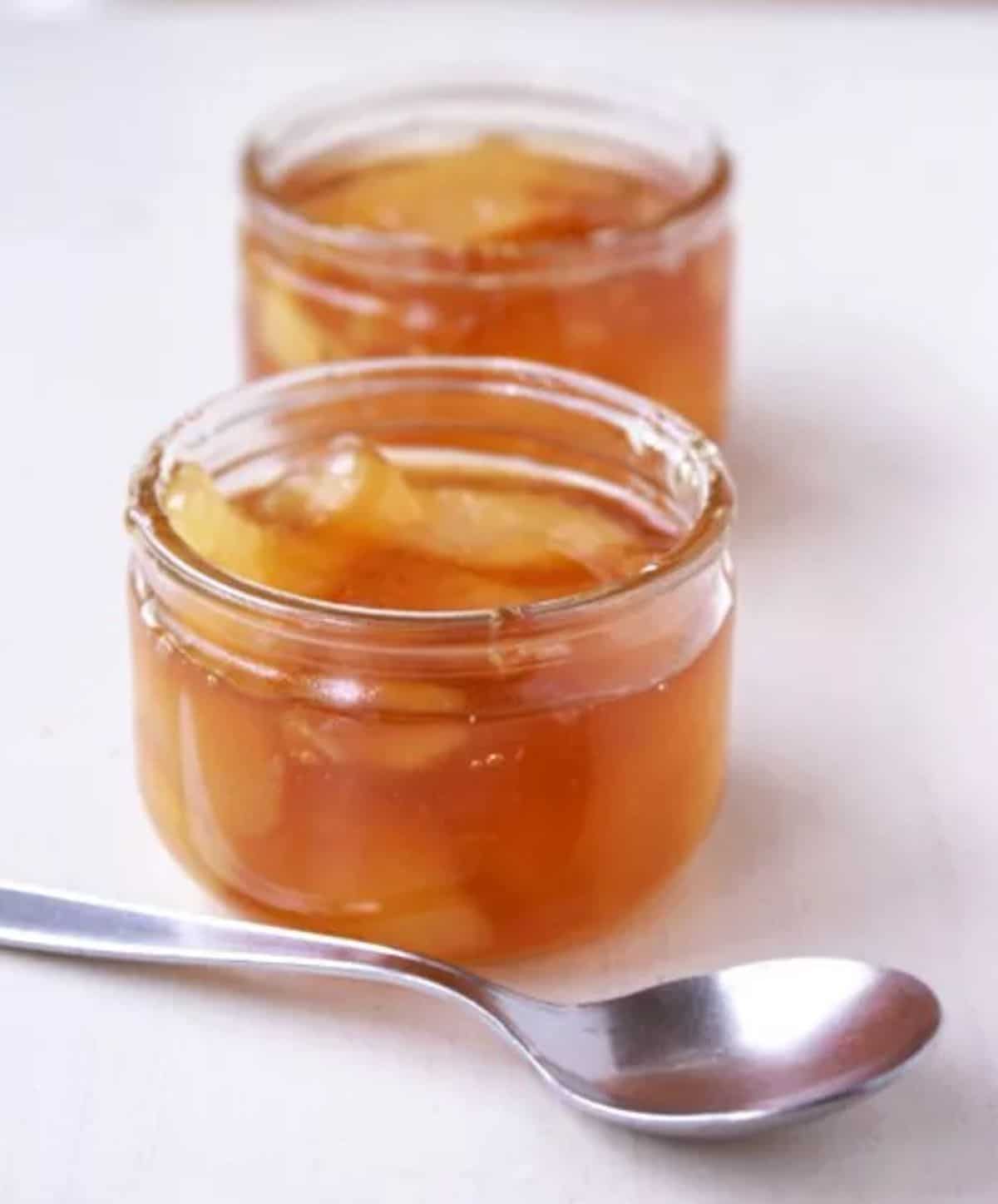 I never thought pear jam and red tea flavors would go so well together—but they do. The tea brings a slightly woody taste to the rich sweetness of the pears, offering a bittersweet taste that makes this jam perfect for breakfast, lunch, and dinner.
You can make four to five jars with just two pounds of pears, red tea, and cane blonde sugar, and the recipe is relatively easy to follow—perfect for beginners.
11. Apple and Pear Chutney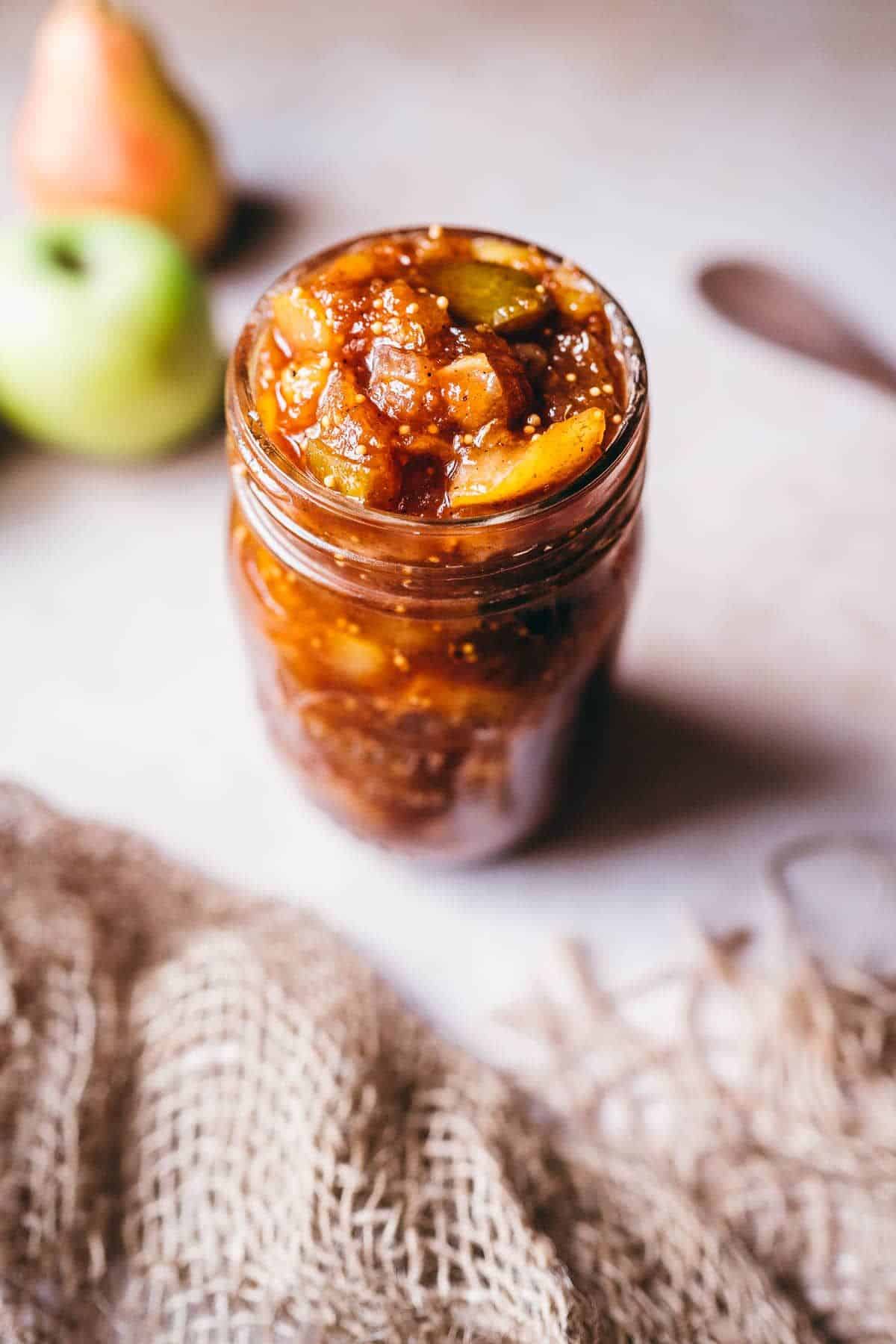 And we're back to the chutney! Chutney is a traditional Indian dish with chunky fruits and vegetables in a sweet and savory base.
This apple and pear chutney is vegan and gluten-free and offers diverse functions as a stand-alone food or a condiment.
You'll need onions, green apples, bell peppers, raisins, mustard seeds, apple cider vinegar, and several other ingredients.
Although this recipe is slightly more complicated than most, it's well worth it.
Add Some Sweetness to Your Kitchen
The above pear canning recipes are some of the best available.
Most importantly, they go well with pretty much anything—so you can make, store, and whip them out whenever you need them.
They've become a staple in my kitchen, and hopefully, they'll become your mainstay!