Learn how to make this delicios spicy pear chutney which pairs fabulous with pork and beef meals.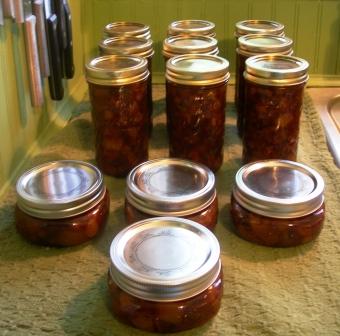 We have a pear tree in our yard at the Crossroads, and it is heavy with ripe pears. I don't know what variety it is, but it produces an abundance of sweet pears. The tree has been here a long time, and it was planted by Leo's mother. I wish she were here to ask what kind of pear tree it is.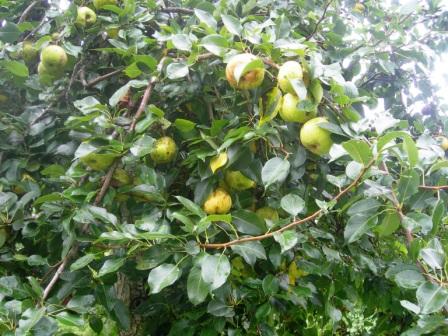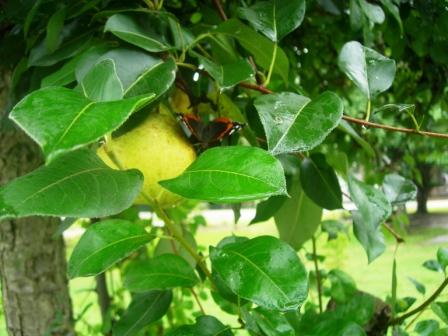 The butterflies and the bees are attracted to the ripe pears. One day this week, I saw a squirrel in the yard nibbling on a pear that had dropped to the ground.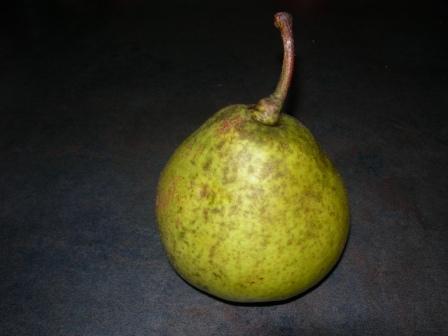 So what do you do with an abundance of pears other than feed the wildlife? Today I made pear chutney. Last year I made pear honey and pear relish, but I thought I'd try something different this year.
Are you a chutney fan? I am. It pairs beautifully with pork and chicken, but we don't do chicken here. Leo is allergic to all fowl. That means no turkey for Thanksgiving at our house!
If you are unfamiliar with chutney, it is a sweet and sour condiment that originated in India. It is usually made with fresh fruit. Sugar gives it the sweet taste and vinegar and onions give it the sour flavor. The ingredients are mixed together and simmered slowly. Additional spices give it an extra zing and make the flavor more complex.
In addition to serving it with meat, it can be used as a quick appetizer. Pour some on top of a block of cream cheese and serve with crackers. Or, spread some goat cheese on some toasted French bread slices and top it with a spoonful of the pear chutney. Or think about how good it would be on top of baked brie!
Since I have so many pears, I canned my pear chutney. If you'd rather not can it, or if you don't have the canning equipment, you can still put the chutney in sterilized jars with lids and refrigerate it for up to 6 weeks. This recipe will make 11-12 half-pint jars.
What you'll need to make Spicy Pear Chutney
Ingredients
10 cups pears chopped coarsely into ½ inch pieces
¼ cup cider vinegar
½ cup water
1 pound dark brown sugar
15 oz dark raisins
15 oz golden raisins
2 onions roughly chopped
1 large red pepper, finely chopped
1 lemon finely chopped
Fresh ginger finely chopped about a 3 inch piece
6 garlic cloves
1 cup honey
3 tbsp molasses
1 cup light Karo syrup
2 tbsp Worcestershire sauce
1 tbsp mustard seed
1 tbsp ground cinnamon
1 tbsp paprika
1 tbsp curry
1 tbsp salt
How to make
Step1
First, you will need about 5 pounds of pears. Rinse the pears and wipe them down. Don't peel the pears. Core them and then cut them into small slices.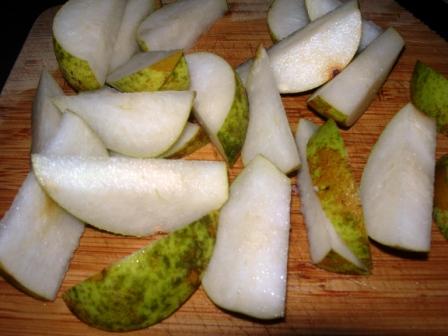 Step 2
Roughly chop them into pieces that are approximately ½ inch long.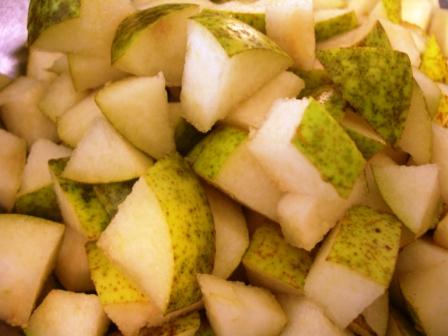 Step 3
Next, put a quart of cider vinegar, a box of dark brown sugar, and ½ cup water in a very large pot. Bring this mixture to a boil, stirring to dissolve the sugar. Add your chopped pears to this mixture along with these ingredients: 1 box dark raisins, 1 box golden raisins, 2 chopped onions, 1 chopped red pepper, 1 chopped lemon, 5-6 cloves of chopped garlic, chopped fresh ginger (a piece about 3 inches long), 1 cup honey, 1 cup light Karo syrup, 3 tablespoons molasses, 2 tablespoons Worcestershire sauce, and 1 tablespoon of each of the following: mustard seed, ground cinnamon, paprika, curry, and salt.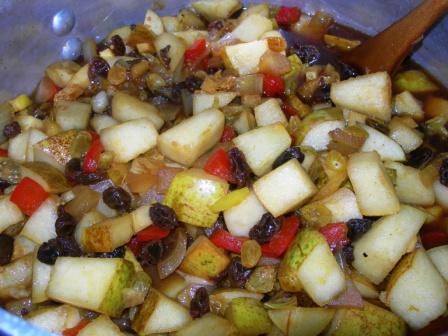 Step 4
Reduce the heat and simmer uncovered for 2 ½ hours. Stir the mixture occasionally.
When it is finished cooking, sterilize your jars and rings. Heat your lids but do not put them into boiling water. Ladle the mixture into the hot jars and add the lids and rings, filling and sealing one jar at a time.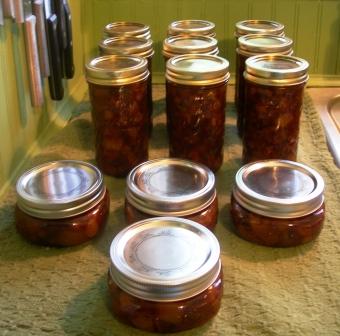 I processed my jars in a boiling water-bath canner for 15 minutes.This recipe made 9 half-pint jars and 4 smaller jars today. Look at these cute little jars.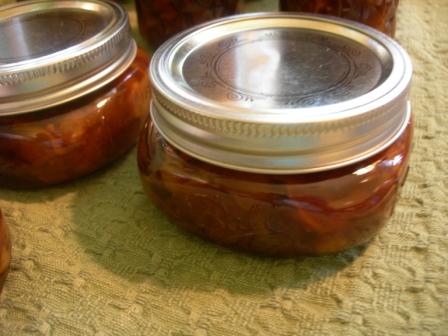 Just the right amount for using the pear chutney as a quick appetizer!
📋 Recipe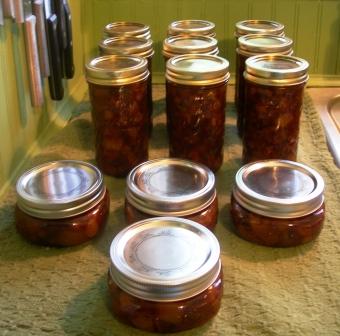 Spicy Pear Chutney
Easy and yummy recipe to use all your pears this fall!
Instructions
Place vinegar, brown sugar, and water in a large pot. Bring to a boil.

Stir to dissolve the sugar.

Add all the other ingredients, reduce heat and simmer, uncovered, for about 2 ½ hours. Stir occasionally.

Remove from heat and pour into hot, sterilized jars, leaving ½ in headspace. Process in a water-bath canner for 15 minutes.
Nutrition
Calories:
431
kcal
Carbohydrates:
113
g
Protein:
2
g
Fat:
1
g
Saturated Fat:
0.1
g
Polyunsaturated Fat:
0.2
g
Monounsaturated Fat:
0.2
g
Sodium:
638
mg
Potassium:
560
mg
Fiber:
7
g
Sugar:
95
g
Vitamin A:
522
IU
Vitamin C:
9
mg
Calcium:
85
mg
Iron:
2
mg