This post contains the step-by-step directions to make your own sturdy tomato cages that will last for years.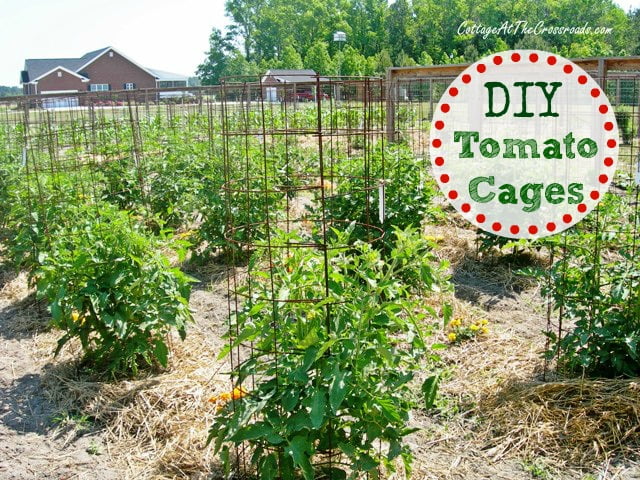 Hello everyone! You haven't heard from me in a while. That's because I've been real busy in our garden. Here is picture of the tomato cages that I built four years ago, and I'm still using them. Read on and I'll tell you how to support your tomato plants with sturdy, do-it-yourself tomato cages that will last for years.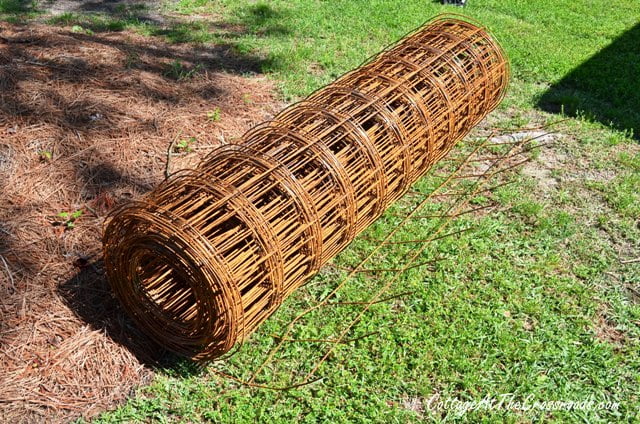 I urge you not to buy those flimsy, expensive tomato cages found at the big box stores and garden centers. I made my tomato cages using concrete reinforcing wire. I found my roll at Lowe's in the concrete section. It's 5 feet tall and 100 feet long. Although some indeterminate tomato plants can grow as tall as 8-10 feet , I've found that these cages will support most tomato plants and the heavy weight of the fruit. Don't be concerned about the wire being rusty. It is not galvanized steel, but it will last for years.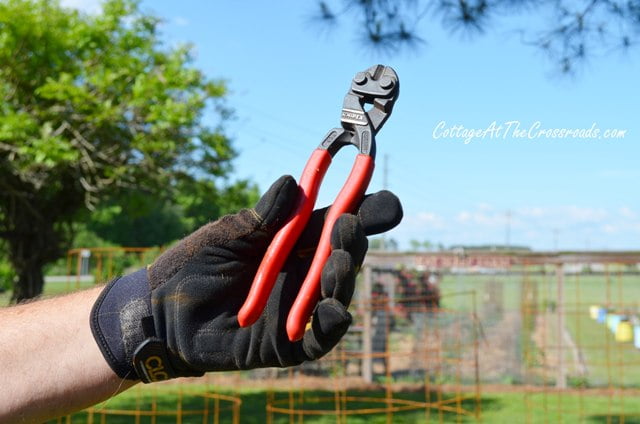 Here are some of the things that you're going to need for this project. I balked at the price tag for these wire cutters, but believe me, they are worth every penny. You can also use bolt cutters. Be sure to wear work clothes: long pants, heavy shoes or boots, and a good pair of work gloves. This is not a job for sissies!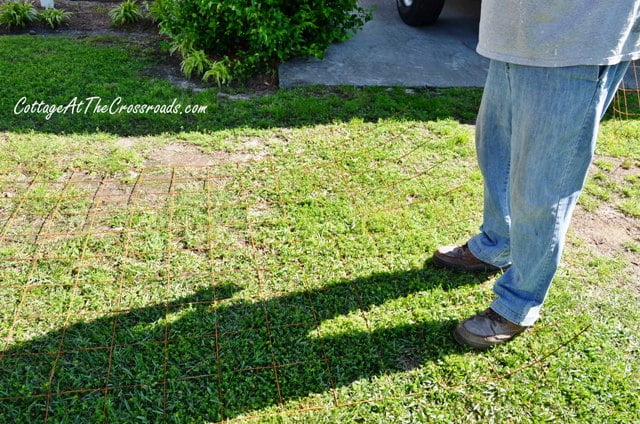 Because the wire is so stiff, when you unroll it, you will need someone on the end to hold it down or you will need something heavy like concrete blocks to hold it down. Just be careful. The wire is stiff and not that easy to work with.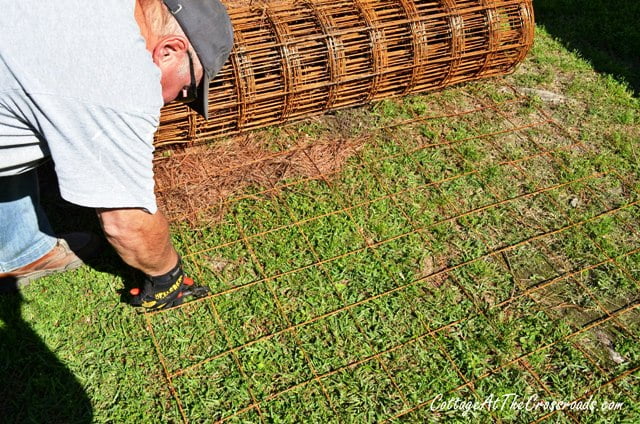 The concrete reinforcing wire comes in 6 inch squares. The squares are big enough to reach your hands inside to pick the tomatoes. Count off 12 squares from the end and cut the wire.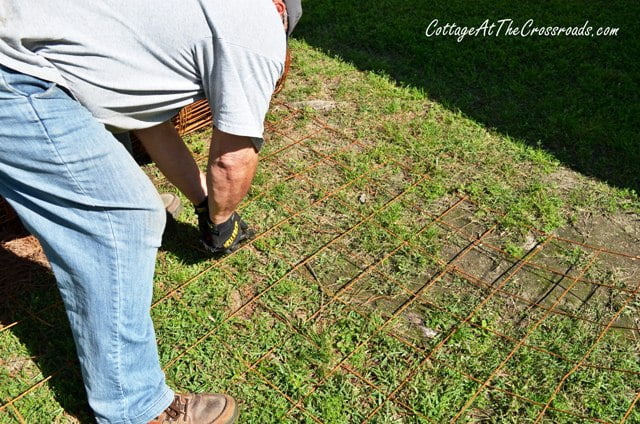 Once again, be careful when you cut the last piece of wire because it will spring back. And no one wants to stab their helper, do they?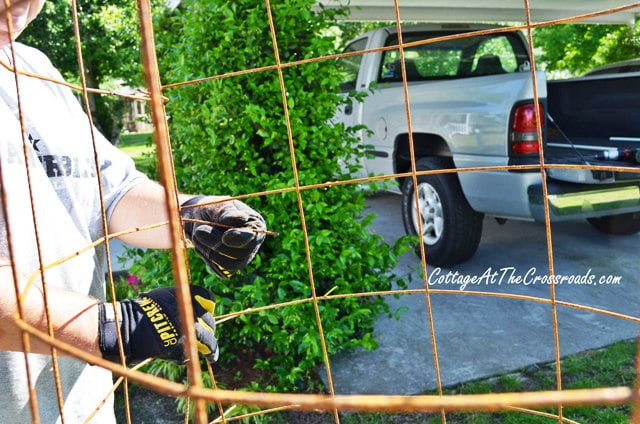 Once cut, stand the wire up and form a circle. Take the loose ends and bend them around to secure the cage.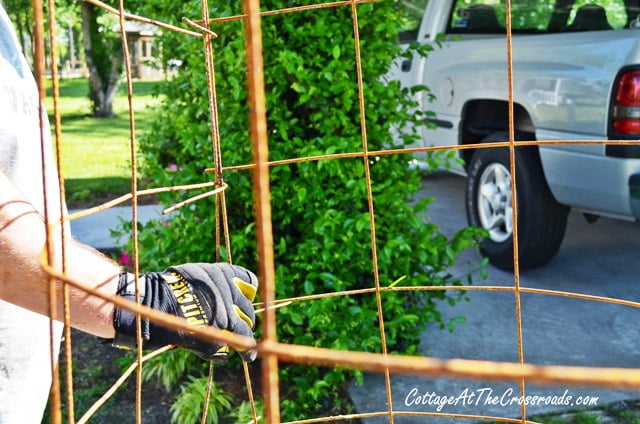 Do it all the way down the length of the cage and this will assure that the cages will not come apart.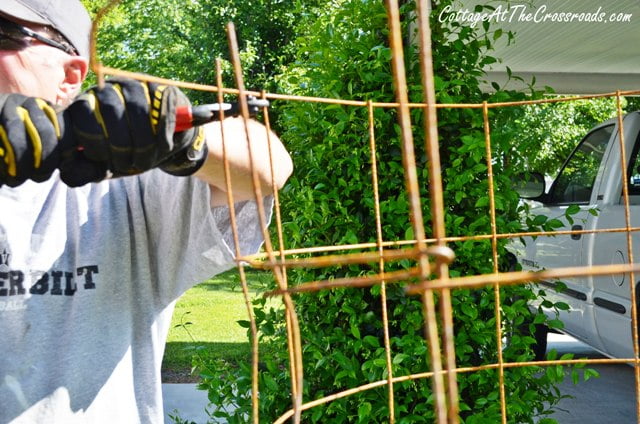 The final step is to cut off the bottom ring of wire. It will leave 12 six-inch spikes that will secure the cage into the ground around the plant. You can use your foot to push the cage into the ground.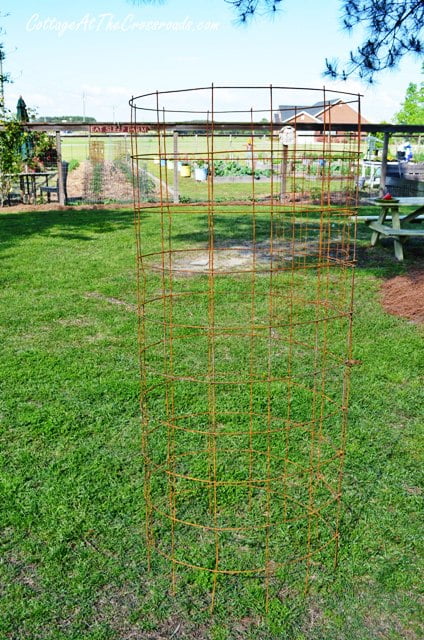 There you have it. A strong, study tomato cage that will last you for years.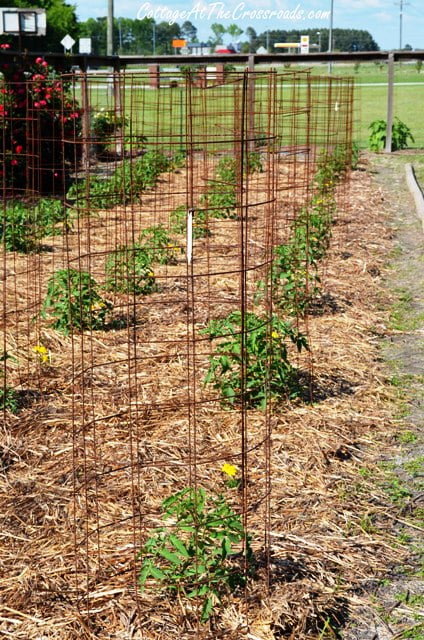 After the growing season is over, you can stack these up in a corner of the garden. The birds love to roost in them. That's free fertilizer, folks!
If you haven't planted your tomatoes yet, you may want to read our tomato planting tips before hand.