Our vegetable garden is filled with flowers this year on purpose. That's because I realize the benefit of Flowers in a vegetable garden. Today I'm sharing the reasons to Plant Flowers in your garden.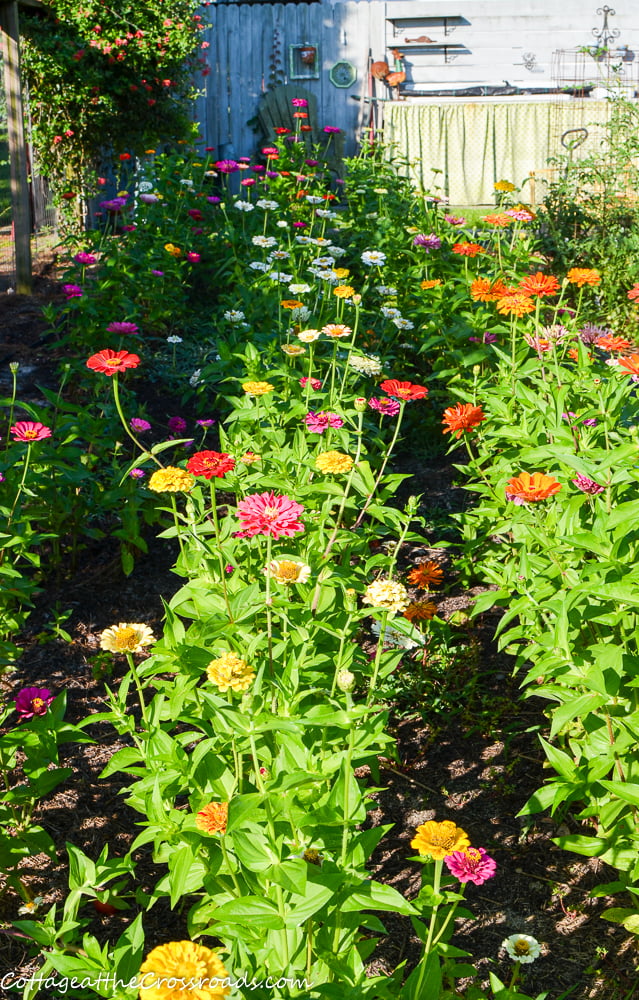 When Leo and I started our vegetable garden over 10 years ago, I never dreamed of NOT growing vegetables without flowers. My grandparents and my parents grew flowers alongside their vegetables in their gardens and I thought that was simply the way it was done.
As a child, I was fascinated with the many hollyhocks that my grandmother had growing in her garden. And my mother grew dahlias and other flowers near our garden.
The first year when we started our garden here at the Crossroads, we planted many rose bushes along our fence. I immediately started planting both annuals and perennials around the perimeter of our garden.
Flowers found their way inside our garden, too.
Through the years, you may recall posts such as Zinnias and Flowers in the Garden and Plant Profusion Zinnias for Color All Summer.
But have you ever wondered why?
reasons to plant flowers in a vegetable garden
1. To provide color and beauty
It is just my second nature to pretty up a space and the vegetable garden is no exception. Flowers just make me smile. I am attracted to their range of color, form, and texture. Seeing flowers is uplifting and they serve as a source of comfort for me.
2. To improve pollination and harvest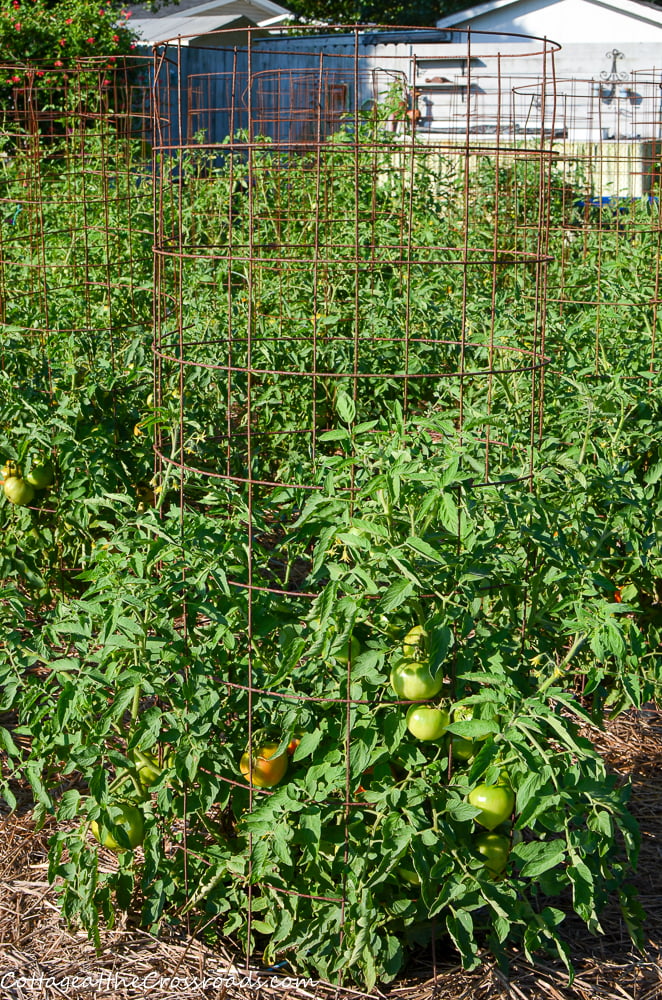 We grow a lot of tomatoes in our garden and they are self-pollinating. But when bees assist in that process, the yield increases significantly.
This summer we have had a bountiful crop of tomatoes, and I believe part of the reason is because I planted 3 long rows of zinnias right behind them.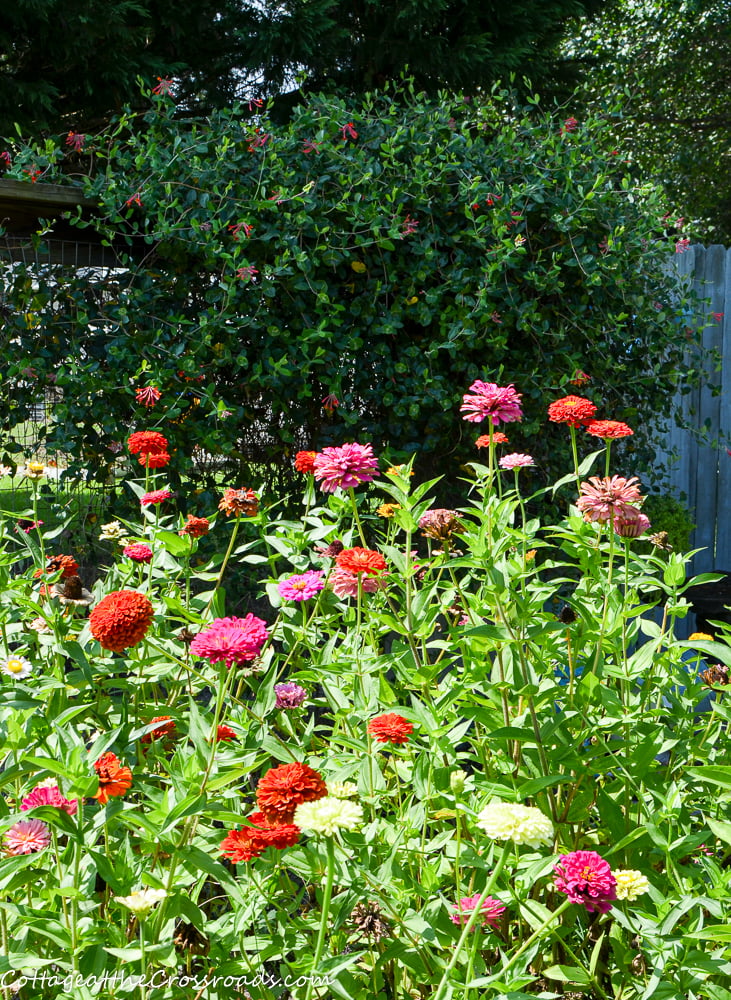 The Major Wheeler honeysuckle vine directly behind the zinnias is a real hummingbird magnet. Hummingbirds are excellent pollinators because they carry pollen as they move from plant to plant.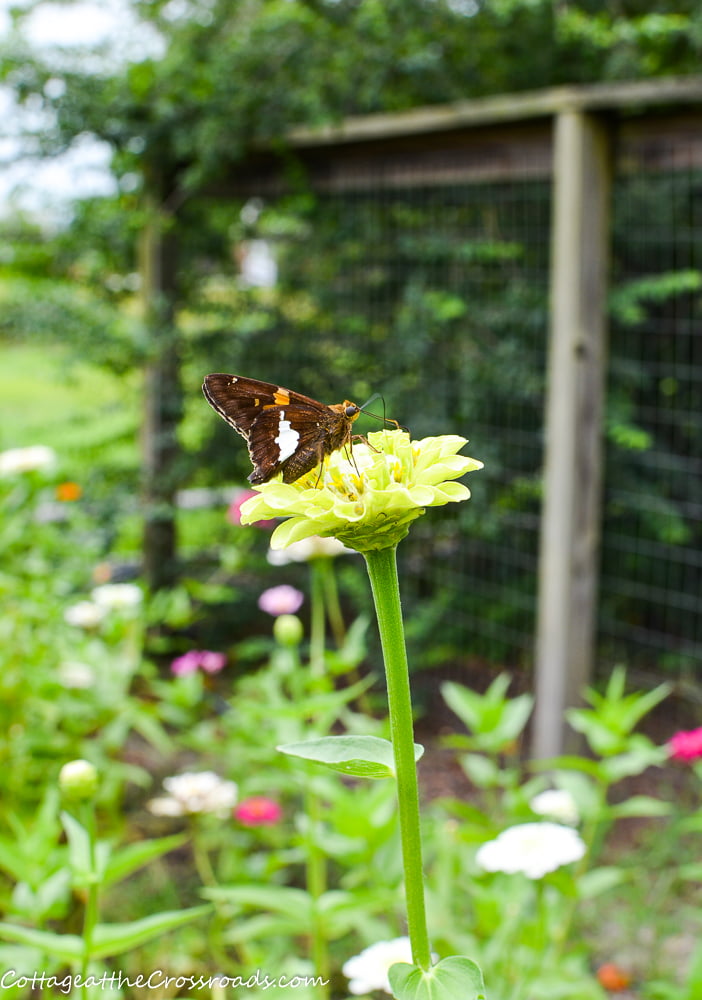 Butterflies and moths flitter around the zinnias and then move over to the flowering vegetables.
If you started a garden this year and you have been struggling with your yield, don't give up. Part of the solution is to plant flowers near your veggies!
3. To help manage weeds
Filling in areas around plants with flowers helps deter weeds, the bane of any gardener! As the flowers grow, they shade the soil and out-compete the weeds.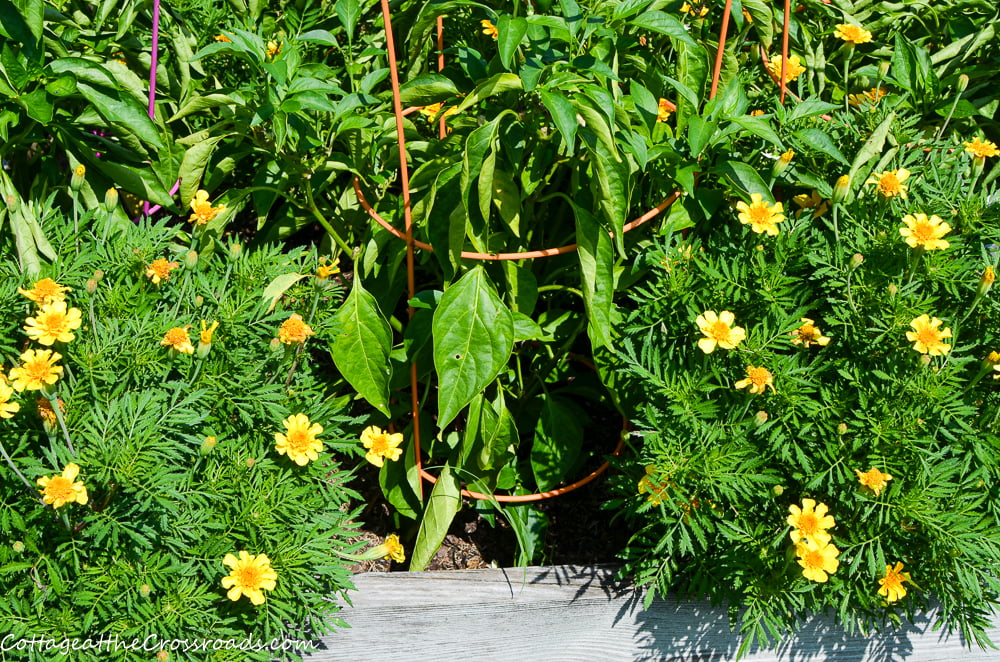 In the photo above, you see marigolds inter-planted with jalapeno and bell pepper plants in a raised bed. I have had to do very little weeding in that bed because of the marigolds.
In the area where the rows of zinnias are growing, the tall zinnias have done the same. At first, we did have to do a bit of hoeing but as the zinnias established themselves, there were fewer weeds.
4. To deter pests and attract beneficial insects
We always plant marigolds among our tomato plants. Their strong scent is a natural deterrent for nematodes in the soil as well as other flying insects. In all the hours that I've worked in the garden this summer, I have only had one mosquito bite. The marigolds keep them away along with other pests such as aphids, tomato hornworms, and squash bugs.
The French marigolds are the very best for keeping harmful pests away.
Nasturtiums are great for attracting cabbage moths and flowering herbs will attract other pests so that they don't bother your vegetables.
When trying to grow food as organically as possible, flowers keep everything in balance. They are a cheap, easy, and chemical-free solution to pest problems.
5. Provide cut flowers for the house
Flowers grown in the vegetable garden provide beautiful cut flowers. I cannot tell you how many bouquets I've made with my zinnias this summer.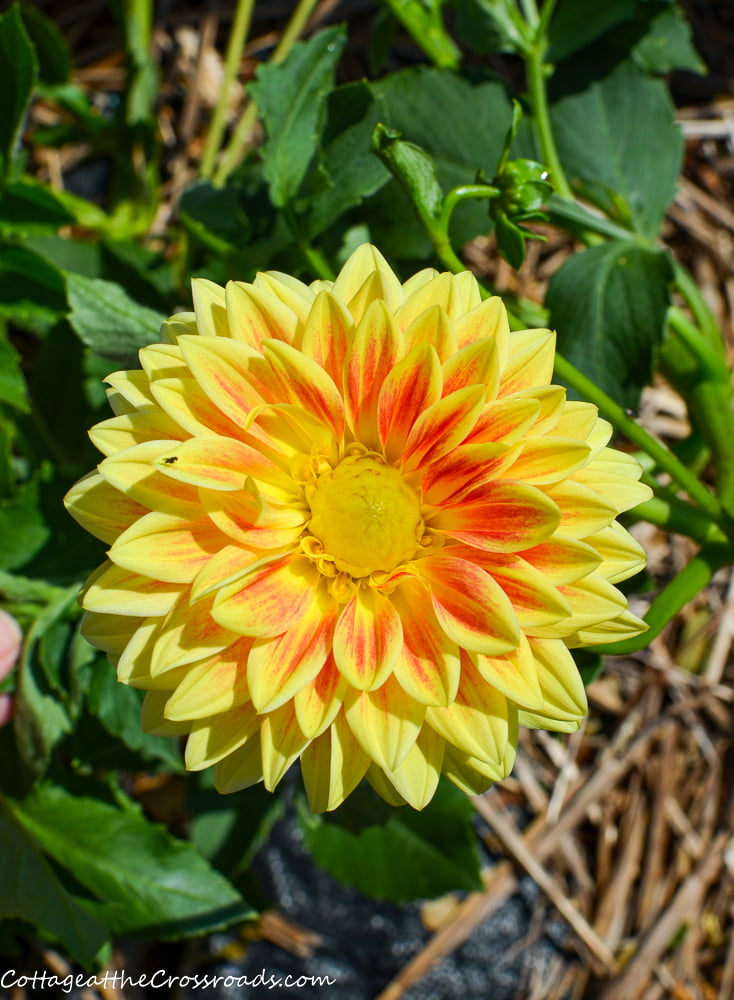 And I've never grown dahlias before this year and look at this beauty. I think I'm hooked on them now although I haven't had the heart to cut one yet.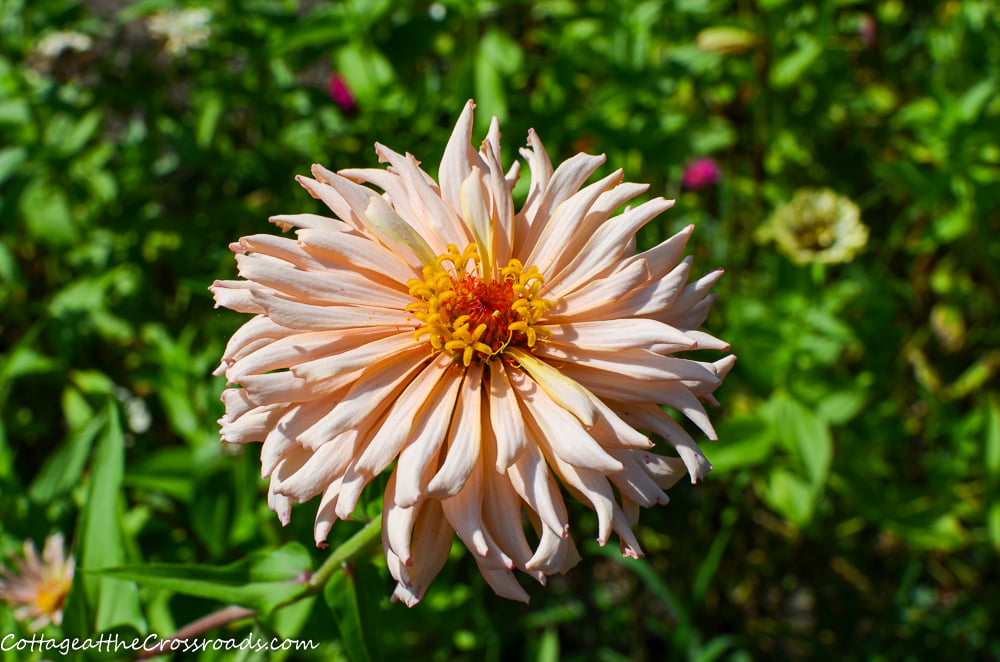 My absolute favorite variety of zinnia that looks beautiful as a cut flower is the giant cactus ones. I just love their ruffled petals and will plant more of them next year.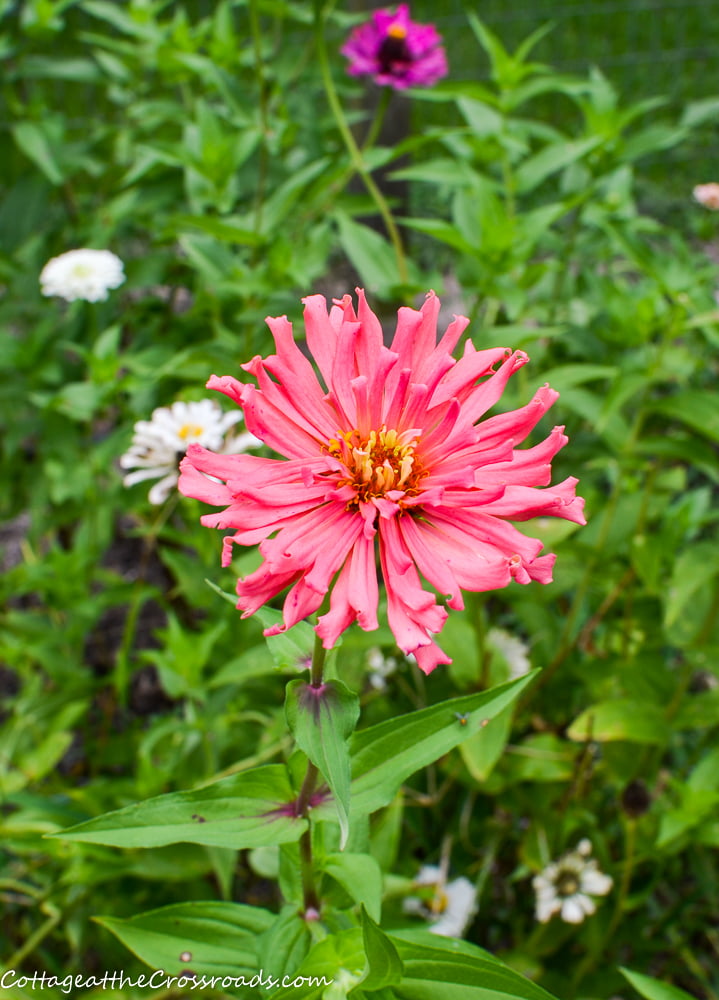 They come in an assortment of colors.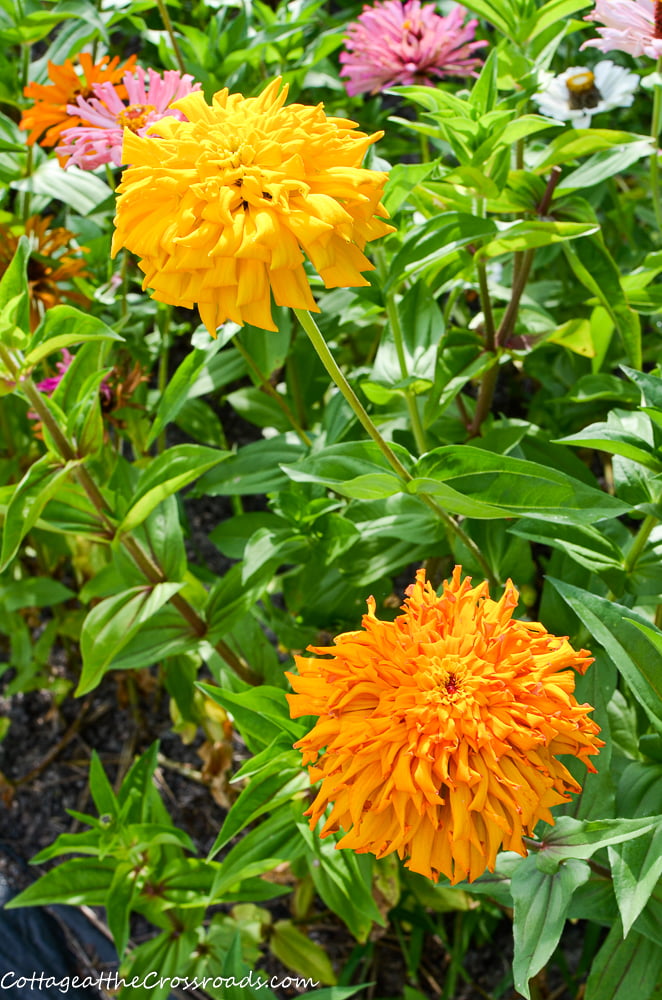 Sorry, I can't help all the photos of the zinnias. They just make me happy!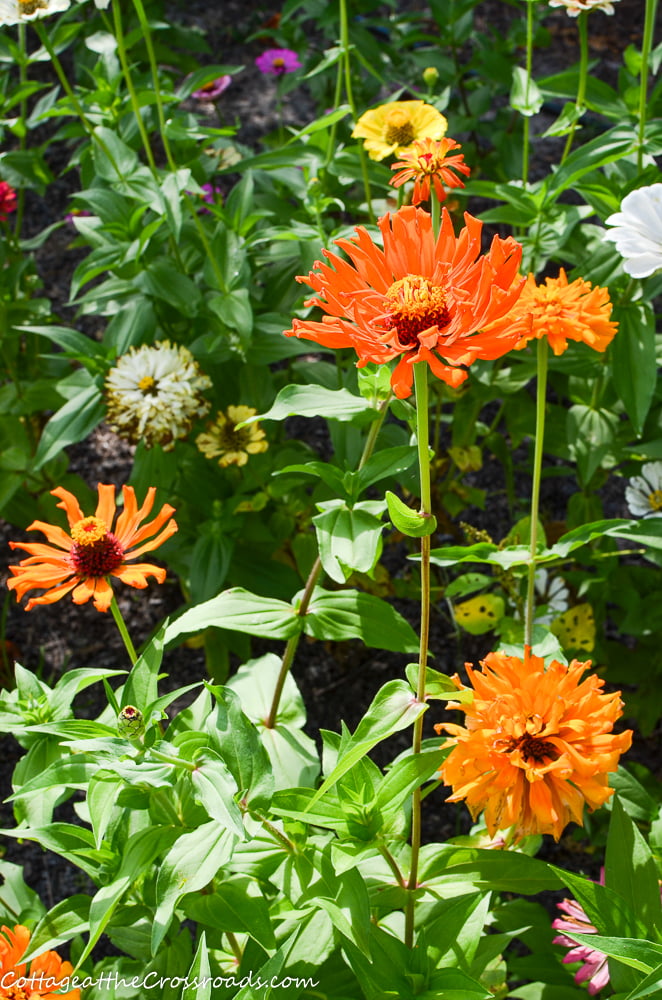 Although I have never done so, I could grow enough zinnias next year to sell because we have the space.
Types of flowers to put in a vegetable garden
Gosh, I think that really depends on the length of your growing season and your plant hardiness zone. We are located in zone 8a. Most annuals and perennials are suitable along with flowering vines, shrubs, and trees. To get a jump on early spring pollination, I plan to grow snapdragons, sweet peas, and other cool season flowers so that the pollinators will already be present in the garden.
But here's my list of flowers that I think are essential or are great additions to any vegetable garden.
French marigolds
nasturtiums
zinnias
pentas
petunias
calendula
chrysanthemums
pansies
snapdragons
sweet alyssum
shasta daisies
nicotiana
sunflowers
sweet peas
And don't forget that many flowering herbs such as rosemary, parsley, dill, and sage attract beneficial insects, too.
Let me know if you have experience with growing flowers in a vegetable garden and which ones are your favorites.