Growing tomatoes from seed might be daunting. I've had gardeners tell me that one of the most challenging things is to plant tomato seeds.
Tomato seedlings come in so many different varieties, from heirloom tomatoes to beef tomatoes to cherry tomatoes, you might be left scratching your head trying to wrap your head around them all.
But growing tomatoes from seed need not be that difficult a task. If you know what you're doing, successful germination is very easy.
Tomato seeds are just like any other plant. They need a decent potting soil or mix, grow lights, correct soil temperature, and small containers.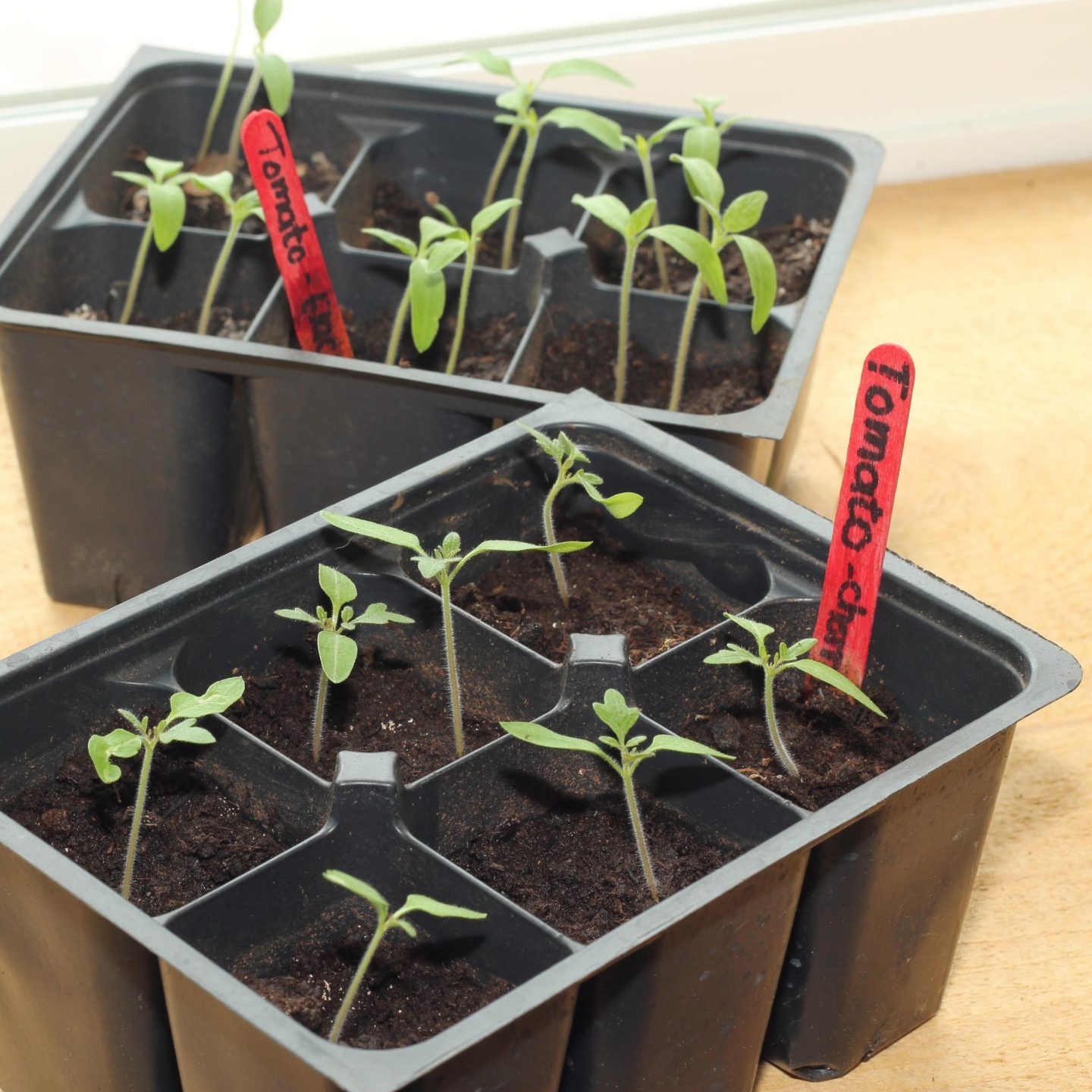 Contents
So how exactly do you plant tomato seeds? What is the difference between growing tomatoes from seed indoors or outdoors? How many tomato varieties are there? How do you get the right seed starting mix?
What are the tomato plant diseases? When will your seeds germinate? And, most importantly, when will your tomatoes bear fruit so you can enjoy your very own tomatoes?
Well, don't fret! I'll be here to guide you through the delicate process of growing your tomatoes from seed. I'll discuss garden soil, grow lights, frost date, plastic wrap, paper cups, and heat mats.
When you're finished reading this article, I can assure you that you'll keep rolling up your sleeves and get started.
So have you got your green thumb ready? Okay, let's talk tools.
What You're Going To Need
We recommend that you gather your basic supplies before you attempt to grow tomatoes. Some of the essentials you need will be the tomato seeds themselves, small containers (either plastic or biodegradable), a seed starting mix, and a spray bottle.
Other items will certainly help you track your tomato seeds' development. Things like plant markers and a germination point will be super helpful in giving your tomato seeds the best chance of growing.
Finally, there is high-end equipment like heat mats and grow lights, both of which are helpful to help grow tomatoes, but they are not essential.
All of the above items can be sourced from your home, and I'll be discussing some DIY options that will save you time and money.
But What Types Of Tomato Seeds Are Out There?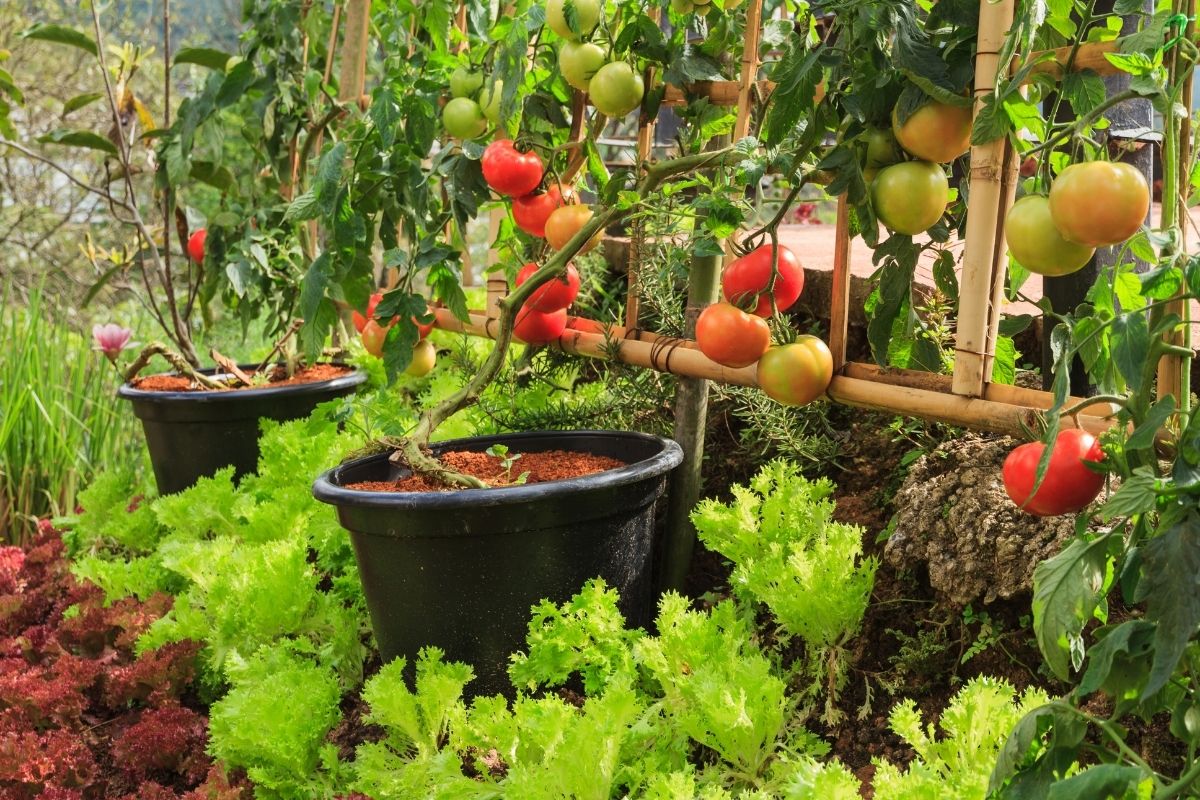 It is worth bearing in mind numerous tomato varieties, as they can develop into a multitude of tomato plants. If you consult a catalog of seeds, you'll see exactly what you have on offer.
Each seed results in different tomato plants, but more or less, all tomato seeds can be grown in the same manner.
Here is a brief list of some of the tomato varieties:
Beef tomatoes
Cherry tomatoes
Grape tomatoes
Plum tomatoes
Heirloom tomatoes
Potato Leaf tomatoes
Tomato Seeds (Heirloon, Non-GMO, Certified)
There are plenty of other tomato varieties that you can grow, too; you need to look at which you like the look of and then buy the corresponding seed packets.
I recommend picking up some heirloom seeds, as these are some of the best and tastiest tomato plants to cultivate indoors or in your vegetable garden. These tomato plants thrive in natural sunlight too.
This style of tomato will give you a large and purple tomato that has a slightly tangy flavor. Because of their size, you can use them in cooking. I put my heirlooms on a pizza, and they elevated the whole meal to the next level!
When you are planting your seeds, you might even want to include many tomato varieties in larger containers to increase your chances of more tomato plants growing.
However, you'll have to give your tomato plants plenty of space to germinate and grow into tomato seedlings.
The thing about tomato seeds is that they germinate at different rates, which is frustrating not printed on the seed packets. This is why planting more tomato seeds will increase the chances of more tomato plants thriving in the long run.
You should always check the date on your seed packet too. You won't be able to plant tomato seeds if they have expired.
Okay, now that we've discussed the varieties of tomatoes on offer, let's look at the seed starting mix.
How To Make A Starting Mix
When you are growing seeds indoors, you'll be looking for the right seed starting mix.
If you are using garden soil, you'll want to make sure that it is completely sterile. Otherwise, this could seriously compromise the growth rate of your young plants.
When I was shopping for potting mix, I found that many of the shop brands contained harsh chemicals. This will also be very harmful to your tomato seedlings, so make sure that the amount of additives is kept to an absolute minimum.
If your soil is too toxic, then you'll notice that your plant will start turning brown just above the soil line. This is called damping off, and your stems will soon start the shrivel up and die.
Getting the right level of the potting mix is the first step in preventing your tomato seedlings from dying before they even get a chance. Avoid overwatering your plants at this early stage, keeping the soil moist rather than soaking wet.
You can also get a soilless seed potting mix, which will provide a lightweight medium that the plants can grow through much quicker and easier. This type of seed mix incorporates coconut coir that will expand and let tender shoots and roots grow.
Organic Starting Mix - Best Options
What To Put In Your Starter Trays
When it comes to starter trays, there are so many different options. You can have basic plastic pots that you can get in most garden stores.
If you are planting many different types of tomato variety, then you should opt for larger containers that often come in rows.
Here's a look at the types of seed containers you can get and which ones might be more suitable for your needs.
How To Make Your Seeds Indoors - DIY Trays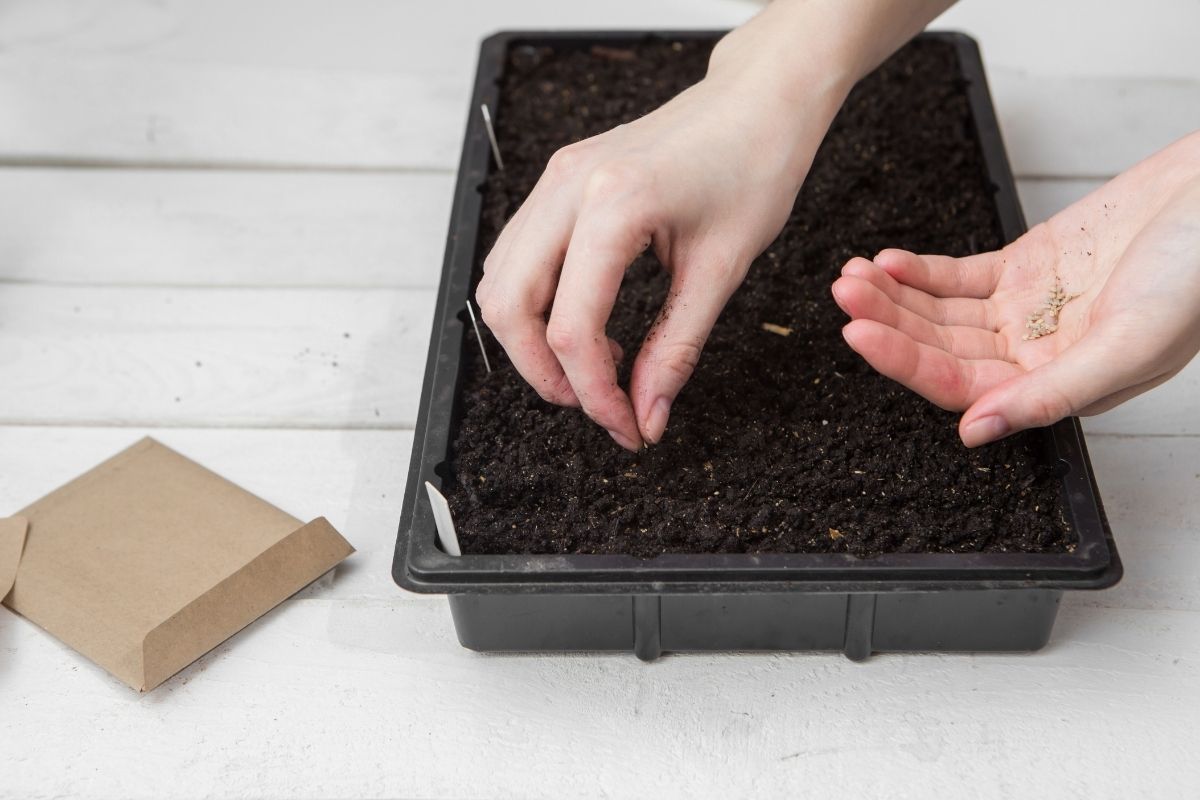 This is for the person who wants to cut back on the amount they'll be spending growing their tomato seeds.
Egg cartons are one quick and cheap pot alternative, so if you have any old egg cartons lying around, we suggest you hang onto them!
All you need to remember for suitable pots is to have drainage holes. This will stop your tomato seedling from damping off, which will quickly destroy your young plants. It is also best to start with two to three seeds before moving them to a bigger container.
Toilet roll holders are also a great alternative to your store-bought plastic trays. However, your young plants will soon outgrow their homes, so you'll need to keep a close eye on them.
Making Seed Trays Using Plastic Cups
One of the main incentives for buying a plastic tray is that it will help the excess moisture dry off quicker than any cardboard or other biodegradable vessel.
However, if you are planting your seedlings outdoors, you might prefer the degradable option.
You can buy plastic pots that come in cells of 6, which will give you a lot of versatility when it comes to growing many plants at one time.
By separating the seeds, you can be sure that if one cell experiences dampening, it will not affect the other seedlings.
Recycling Seed Trays
One of the great things about using plastic containers is washing them out with soap and using them again. This will give you more long-term value, especially if you are thinking about redoing your tomato growing experience.
However, when you are washing out your trays, make sure that you avoid using washing-up detergent with too many chemicals in them. This will cause your roots to become toxic and wilt and die.
Also, you are going to be handling your plants, so this type of chemical cleaning fluid will cause your hands to possibly become irritated, causing rashes.
When growing plants, especially in a larger container, make sure that you use neutral water when both cleaning your trays and watering your seedlings.
Seeds Trays That Save Waste - Biodegradable trays
This is perfect for anyone who really wants to save on waste and maybe is only thinking of planting your tomato seedlings once or twice. These trays naturally compost into the soil, which is excellent if you plant seedlings outdoors in your home garden.
These trays are often three inches deep and come in cells of 6, which will help you cultivate many different styles of tomatoes.
However, the one drawback of biodegradable pots is that they do not come with drainage holes, which might cause your plants to become stunted.
Biodegradable Seed Starter Trays - 36 Pack
How To Use Nursery Pots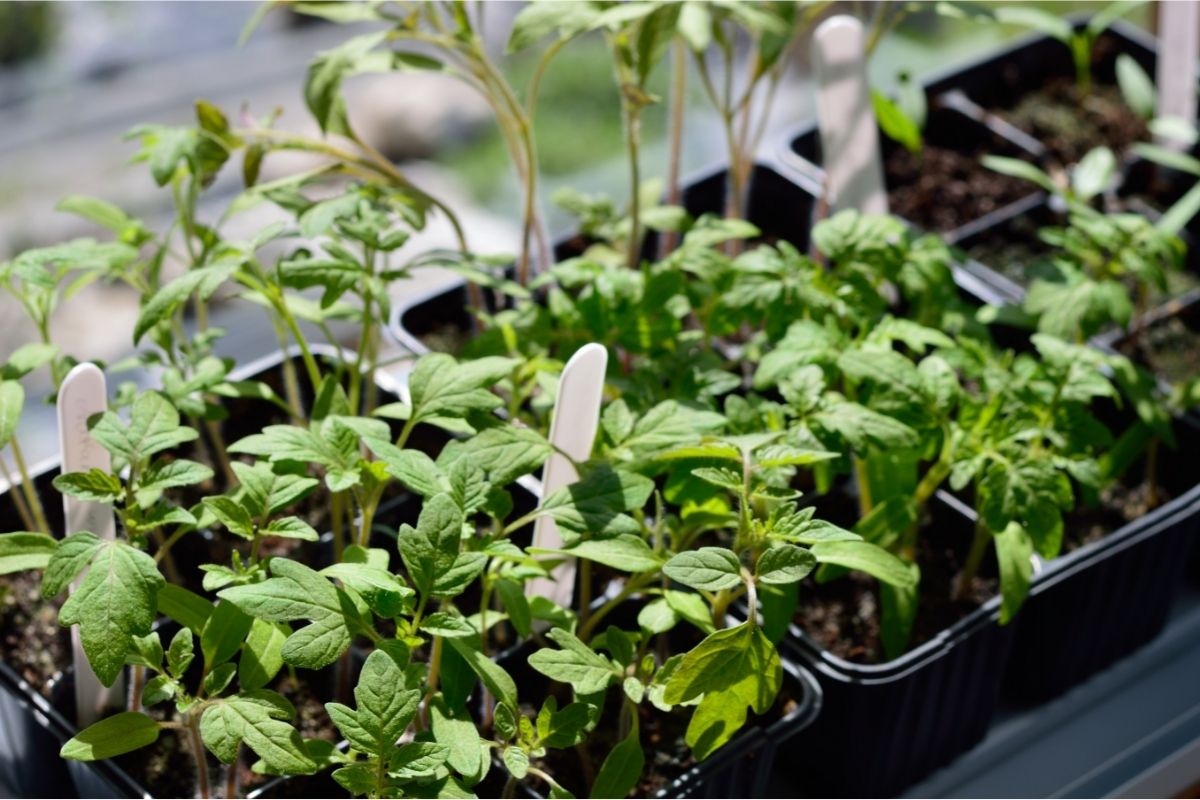 Due to the nature of tomato plants, then you might be looking to repot them quite quickly. This is where nursery pots come in handy, as they are slightly larger receptacles that can help your plant develop.
You can also start to use plant markers at this point to monitor how tall your plant is getting.
At this point, your will notice your seed starting to shoot up, and you will see some seed leaves, so make sure that you are placing them near a sunny window to encourage further plant growth.
We would certainly recommend that you water your plants regularly at this stage.
Setting Up Your Germination Rack
When your plants are starting to shoot up, you might want to house them in a germination station. This is like a greenhouse that will provide your tomato plants with the humidity and warm temperatures that they crave.
If you are creating a small-scale germination station indoors, then you can start implementing a grow light at this stage. This will help your seedling get all the light it needs in a low-light setting.
Use Plastic Wraps
This is how you create a greenhouse situation indoors. All you need to do is wrap some cling film around your seed tray, and, hey presto, you'll have the ideal greenhouse effect, but on a smaller scale.
This is also a great way to save yourself money, as not everyone has access to a greenhouse.
What Are Domed Growing Trays?
This is the option for someone to whom money is no object. These are very deep seed trays, allowing you everything you need to create a greenhouse gas effect.
One of my gardening tips if you want to grow some very healthy seedlings very quickly: invest in a growing tray.
10 Pack Domed Seed Starter Kit - Best Seller
The Terrarium - What Is It And How Can You Use One Properly?
This is a much larger scale greenhouse that will give all your leggy seedlings the light, heat, and humidity they need while also protecting them from any curious pets you might have around.
A terrarium will have much better ventilation, perfect for keeping your plants cool during the warmer months.
I'd recommend less frequent watering for your tomato seeds if you use a terrarium, as the environment will be a lot moister.
Again, I would recommend housing your baby tomatoes near a sunny window.
The Cold Frame - Just Perfect For Outdoor Growing
If you benefit from receiving very warming sunshine during the spring months, then you might want to try a cold frame. This wooden frame will keep the temperature at around 50 and 95 degrees Fahrenheit.
You can make your cold frame out of wood lying around your house, or you can buy one from your local gardening store - the choice is yours!
The Best Kind Of Greenhouse
If you have access to a full greenhouse, this is the best option for your plants.
Not only will you have the ability to keep them nice and warm, but you also have the luxury of space. You can grow any number of tomatoes from seeds and other plants.
A greenhouse will also altogether remove your need for artificial light or a heat mat, as there is plenty of sunlight coming from every angle.
If you want your baby plants to start fruiting sooner rather than later, then this is the greenhouse to have.
How To Mark Your Plants
When you are first growing tomatoes, you'll want to make sure they are shooting up steadily. The best method of doing this is by placing plant markers in your soil and then tracking how much they've grown.
You should also write the date that you planted your tomatoes directly on the marker so that you can keep track of your plant even more efficiently.
You can also include the frost date on your marker to indicate when the plant last succumbed to frost.
500 Plant Markers - Highly Rated
The Spray Bottle - Your Best Friend
This is a piece of equipment that will be invaluable to you in the upkeep of your plants. You can water your tomato plants using many different things, including a teapot, a watering can, and a measuring jug.
However, for the best coverage of the whole of your plant, then we would recommend investing in a spray bottle.
A spray bottle will prevent waterlogging from happening and distribute the moisture evenly across all soil.
You'll want to keep the soil moist but not saturated, and a spray bottle is the best method of controlling the amount of water that your plant receives.
Gently pat the soil with your finger to check that your plant has not been overwatered. If some soil comes away on your hand, then the plant does not require any more watering.
Refillable Spray Bottle - Highly Rated
How To Use A Widger
A widger is a device you can use to remove the seeds from the pot without damaging the roots.
If you see your seeds starting to wilt, it might be time for them to move to a nursery pot. You should also move them when you see them succumbing to blossom end rot.
Seed Sower Tool Set - 13 piece kit
Growing Lights - Your Little Mini Suns
Grow lights are essential, especially if you are growing your plants indoors. If you are placing your tomato seeds near a window but are having trouble getting lots of indirect light, I suggest investing in some decent grow lights.
Grow lights can also be used with various other plants, making them a versatile tool that you can use all year round.
If you place your lights directly above your seeds, then you'll be able to see the plants grow upwards towards the light source, which will result in nice, straight stems.
Easy Indoor Grow Lights - Top Choice
Rigging Up The Heat Mat
The heat mat is considered a luxury item, but it will certainly help maintain the soil at the humid temperature it needs.
You will notice the seed growing a lot healthier with a heat mat. You'll only need to keep your heat mat on for a few hours.
Seedling Heat Mat - Best Seller
Growing Tomatoes From Seed - How To Do It Properly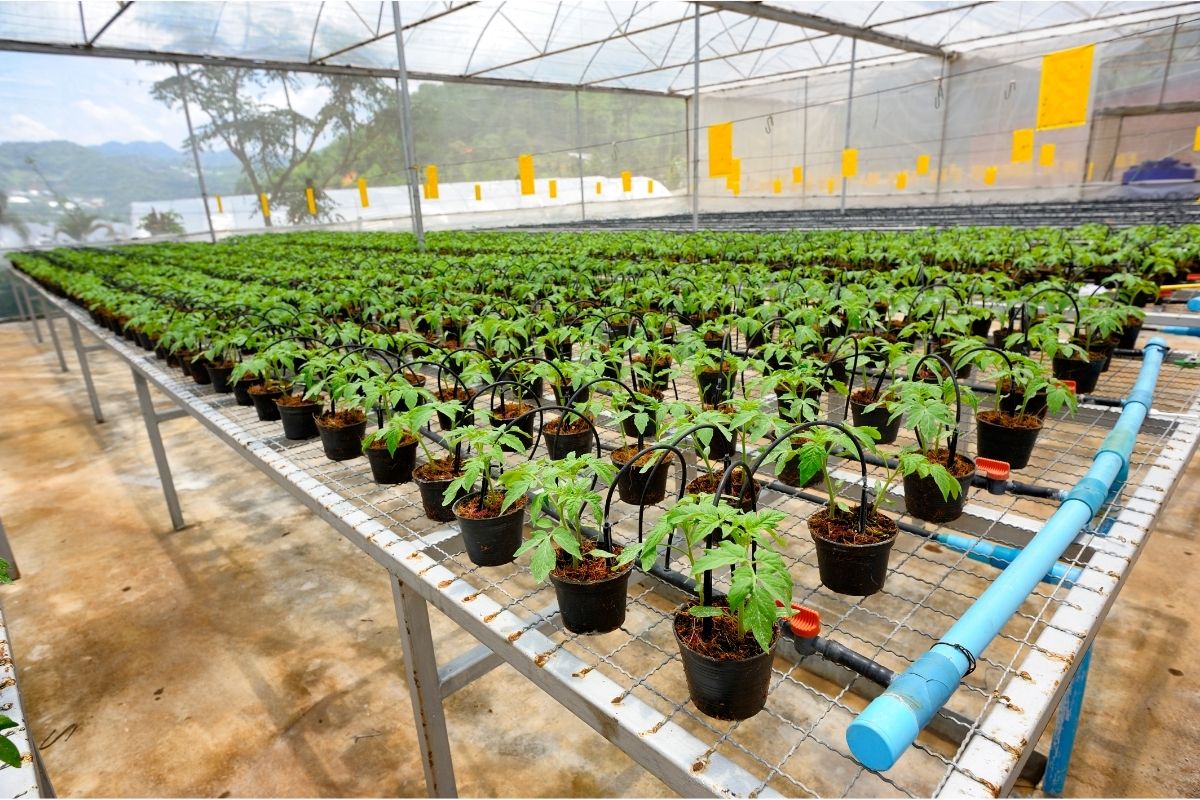 Now that we've given you a complete rundown of what you'll need for your tomatoes, now we'll give you the how-to.
1. Knowing When To Sow Seeds
You'll need to make sure that you know the average last frost date before you start sewing your seeds, especially if you are sewing them outdoors. You can do this by simply doing a Google search of the last average frost date.
Take your last frost date and roll it back by 4 weeks. This is the time that you should start planting.
2. Getting Your Trays Ready
Fill up all the soil in your cells and make sure that they are impacted in the soil by gently patting it with your finger. Make sure that the soil is compacted around the seed for maximum effect.
3. Sewing Your Seeds
To ensure you have vigorous plants, I would suggest only sewing 2-3 seeds per cell. Most seed packets will tell you how many seeds are contained within, so make sure you measure them out correctly.
You'll also need the correct type of potting soil that contains the right amount of humidity and the right level of moisture retention. I would recommend getting soulless potting soil, as it will allow the shoots to move more freely.
4. Watering Your New Seeds
Make sure that the soil is moist but not waterlogged.
5. Give It Plenty Of Light
Whether artificial or natural, make sure that your tomato seeds get enough indirect sunlight. If you put them in direct sunlight, then the chances are your seeds will not survive the first few weeks.
6. Day-To-Day Care Of Your Seedlings
I would recommend watering your seedlings twice a day, although you should always check to see if the soil is moist.
When your tomato plants grow bigger, then you might find yourself switching to a new watering vessel, either a teapot or a watering can.
Provide enough ventilation for your seedlings, as they will not like it when they get too hot. You'll need to make sure the environment is lower than 95-degrees, as this will severely stunt your plant's growth.
7. Pruning Your Seeds
Once your seeds start to grow, you might have to sacrifice some of them for the good of others. This will promote growth in the other plants, so select the healthiest and greenest of the bunch and trim away the paler ones.
At this stage, you should also try and report the seedlings, moving them to a bigger container, which will allow their roots to grow a lot wider.
The best method of getting rid of the weaker stems is snipping them away just above the soil line. Make sure that the stronger stems are moved out of the way so that you do not damage them in the process.
Once you have noticed a few leaves coming off the seedlings, then you can begin the process of reporting and hardening them off.
8. Repotting
You'll need to fill their new containers with fresh potting mix, although you can afford to have some with a lot more soil now.
If you are repotting your plant from a biodegradable cell, you can cut it from the main body and place it directly into the larger pot. I would suggest going from a degradable pot to a plastic pot, as they are much sturdier.
Going from the comfortable environment of the nursery pot to a larger pot is called hardening off.
This is when your tomato plant will take time to adjust to the new climate of the outdoors or the cooler temperatures outside of the greenhouse or terrarium
9. Moving To The Garden
You should move your plants from their terrarium to the garden roughly 2 weeks after hardening them off. You'll need to make sure that the temperature of your outdoor soil is around 60-degrees or higher to cultivate decent growth.
If you are using a biodegradable pot to raise your plant, you can put this straight in the soil outside.
If you are removing the plant from a plastic pot, you should squeeze the sides so that the roots and the soil shake loose.
Then you should tip the whole pot over to the side and allow the plant to slide. This way, it will not damage any of the roots.
Related Tomato Articles
Growing tomatoes is so rewarding. But there is nothing better than preserving fresh garden tomatoes. Check out how to peel tomatoes for quick and easy prep for homemade sauces.
Planning Your Tomato Garden
I'm confident you'll have more tomato seedlings than you'll know what to do with. Planning your garden, and keeping a garden journal, is the best way to keep everything organized, and document you're experience.