For the past two days, I've been canning tomatoes. Today I canned 5 quarts and 12 pints. I did 11 quarts yesterday. Last week, I canned 10 quarts. I love preserving our fresh garden tomatoes and these are sensational in the winter.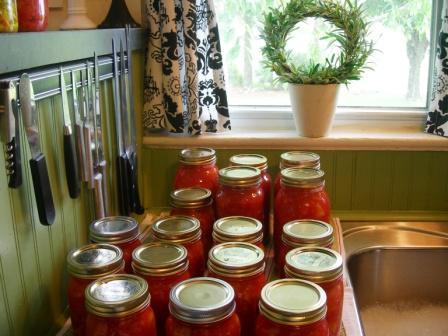 Just look at all these canned tomatoes!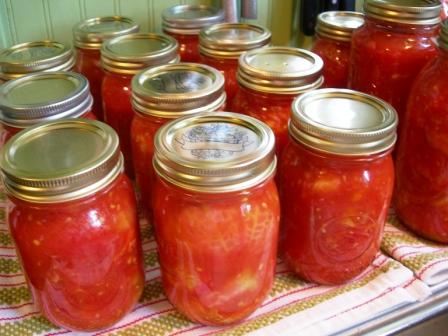 I call these jars "red gold" or "liquid sunshine." That's because there is nothing better in the wintertime than opening a jar of these tomatoes. Worth way more than gold.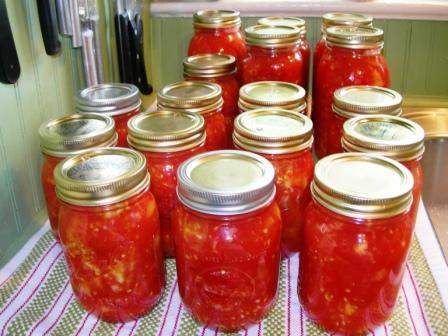 Because the tomatoes are grown in the PeeDee region of our state, they are the tastiest I've ever had. Must be something in the soil that makes them so delicious. When we lived in the Low Country, people would rave about John's Island tomatoes. But Leo and I thought they had no flavor. Whenever we visited Leo's mother here at the Crossroads in the summer, we would take home boxes of PeeDee tomatoes. And we never left the Crossroads without having a good ole 'mater sandwich.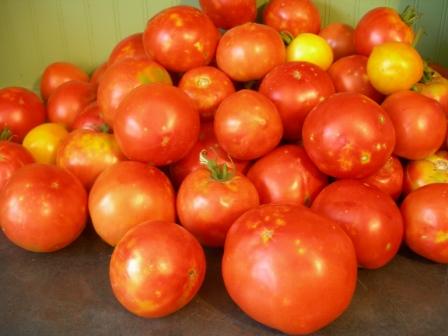 Here are some tomatoes that I didn't get around to canning today.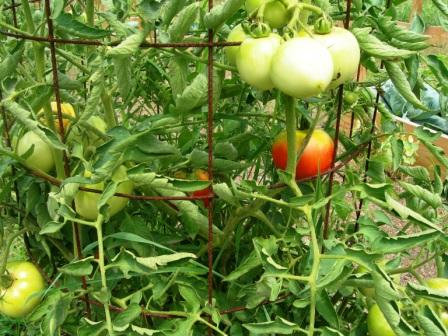 And there are probably that many more waiting to be picked in the garden! We are so surprised that we have so many tomatoes. It has been an incredibly hot and dry June this year. Thank heavens Leo installed a drip watering system this spring. It saved our tomato plants.
Did I tell you that we planted 56 tomato plants? Most of them are Celebrities. We didn't plant those last year, but Leo came home from the feed store with a whole flat of them this spring. We will definitely plant them again next year. They are very disease resistant and have that ole timey tomato taste even though they are not heirlooms. The rest of our plants are Better Boys and Lemon Boys. I wish I had planted more Lemon Boys because they have the best, intense tomato flavor of any I've ever tasted. And they are yellow. They are beautiful when mixed with some reds when making a Caprese salad.
You do know Leo and I are newbies to gardening, don't you? Last year was the first year we've ever had a garden. We try to garden as naturally as possible. When we planted the tomatoes, we put a shovelful of compost into the hole. We've used no pesticides or herbicides this year. We have fertilized the tomatoes with Miracle Grow for Tomatoes twice. And now we have this.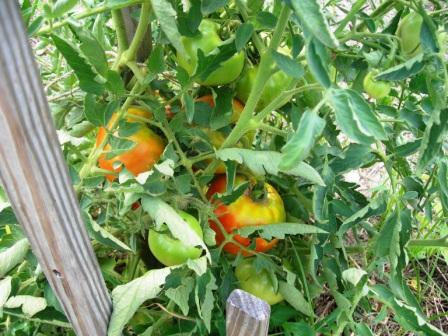 As I said earlier, must be the soil!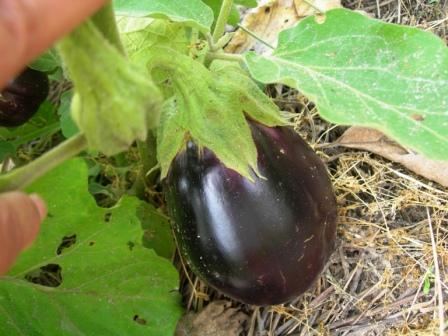 And the eggplant is ready and the okra is blooming!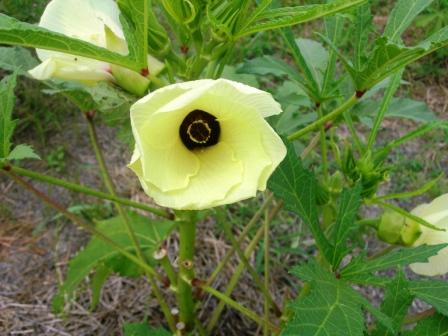 Obviously we have a lot more experience now and recommend reading how to choose the best tomato plants and how to grow your own tomatoes.
And if you happen to plant 50+ tomato plants like we did and you're wondering what to make with all of your tomatoes. Here are a few popular tomato recipes we both love!
Roasted Balsamic Cherry Tomatoes over Angle Hair Pasta