If any of you garden, and if you have a cherry tomato vine that is giving you more tomatoes than you know what to do with, then here is a quick and easy recipe for you! It's my sister-in-law Jean's oven-roasted cherry tomatoes served over angel hair pasta.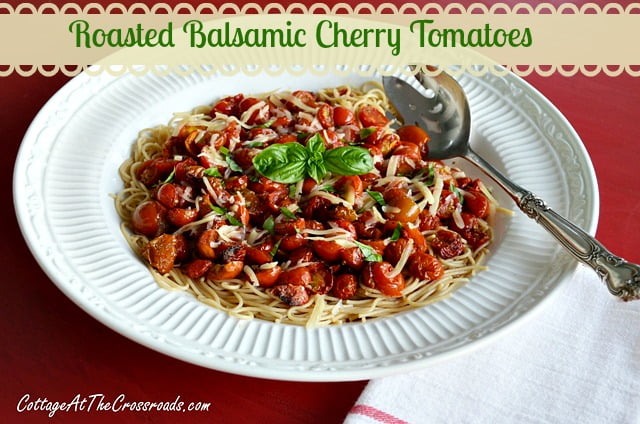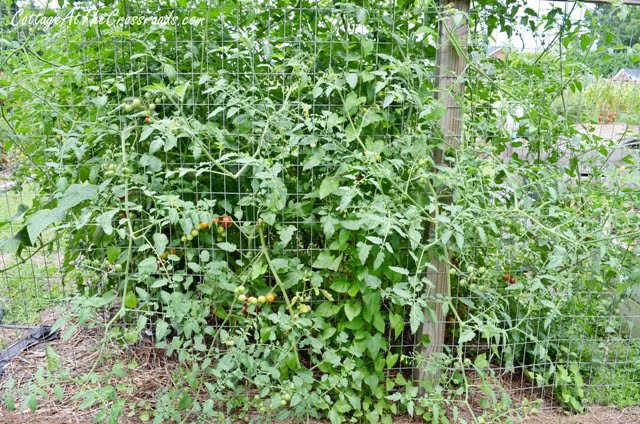 It all came about because we have this Sweet 100 cherry tomato vine that has gotten huge! You see, we planted it in an area where one of our compost bins used to be, and the vine is loving that fertile soil. It is at least 7 feet tall and is sprawling all over the place.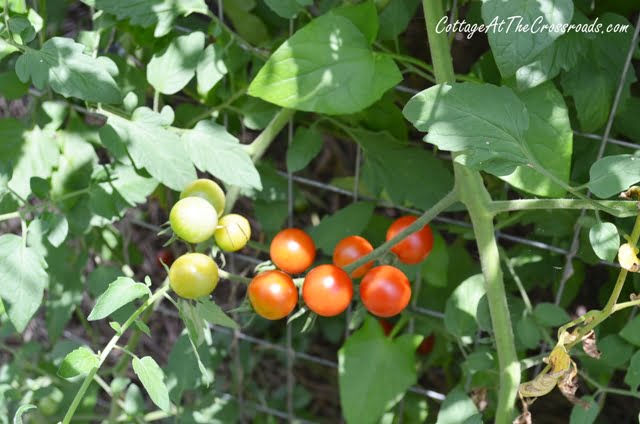 It is giving me hundreds of cherry tomatoes that I must pick daily. In addition to this, my sister-in-law has her own grape tomato vine growing and producing, so we have been thinking of different ways to use these little tomatoes. One day Jean mentioned that she had roasted some of her tomatoes so I perked up and asked her how she made them since I had never roasted any. OH MY GOSH! Roasting cherry tomatoes brings out their natural sweetness and flavor. They are a natural pasta picker-upper! If you've never roasted cherry tomatoes, then give them a try! Roasted cherry tomatoes served over pasta is now a regular on the menu at the Crossroads this summer.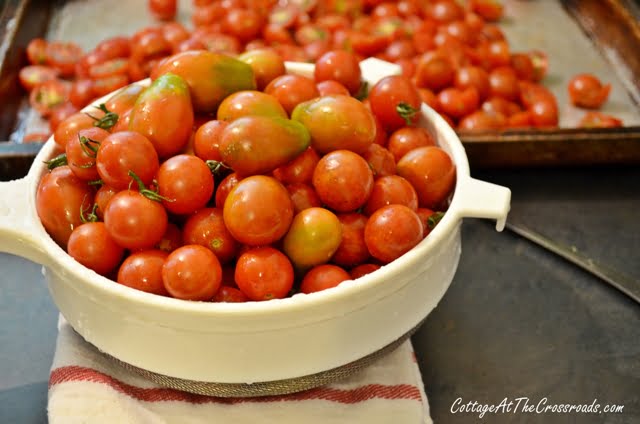 To make this dish, you will need about 3 pints of cherry tomatoes. Rinse the tomatoes and allow them to drain. Remove the stems, cut them in half, and spread them out in a baking pan with a edge such as a jelly roll pan. Preheat your oven to 400 degrees. Now here is where my sister-in-law's recipe and mine differs. (She roasts 2 garlic bulbs in the oven by slicing off their tops, drizzles them with olive oil, and wraps them in foil. I didn't go to the trouble!)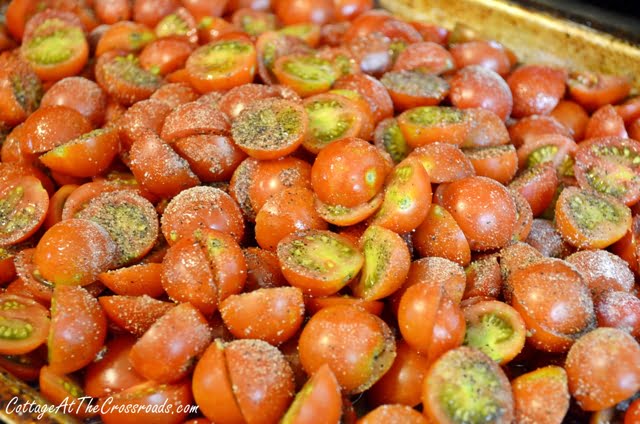 Pour about 2 tablespoons of olive oil over the tomatoes and generously salt and pepper them. I also add garlic salt and a little dried oregano to the mix.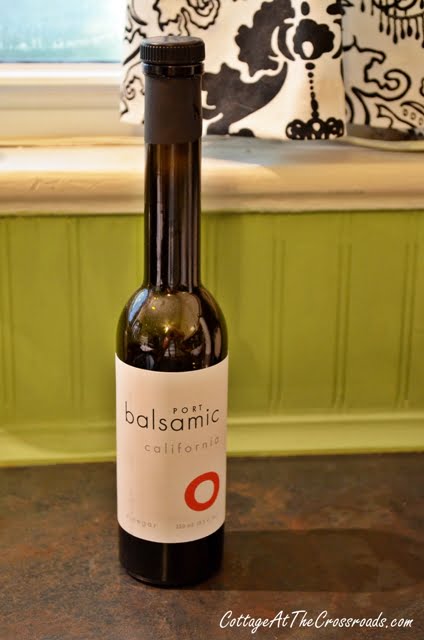 My sister-in-law doesn't add any of this, but Leo and I love balsamic vinegar so I add about 2 tablespoons of this to the mix. Stir everything together in the pan so that the spices and liquids are evenly distributed. Roast the cherry tomatoes for about 20 minutes or until the juices are bubbling and the skins are wrinkling.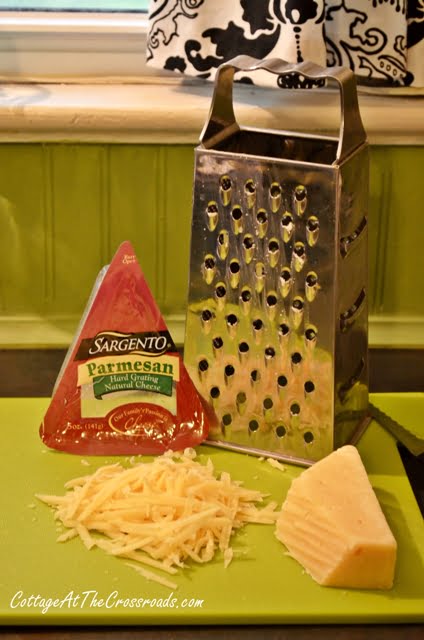 Meanwhile, cook your angel hair pasta according to the package directions and drain. Grate about a cup (plus a little more) of Parmesan cheese. Chop a few fresh basil leaves if you'd like.
Put the drained pasta back into the pot, pour the cherry tomatoes, including the pan juices, into the pot, and add the grated cheese. (Save a little bit of the cheese for garnishing.) Cook everything about 1 minute over medium heat until the cheese melts.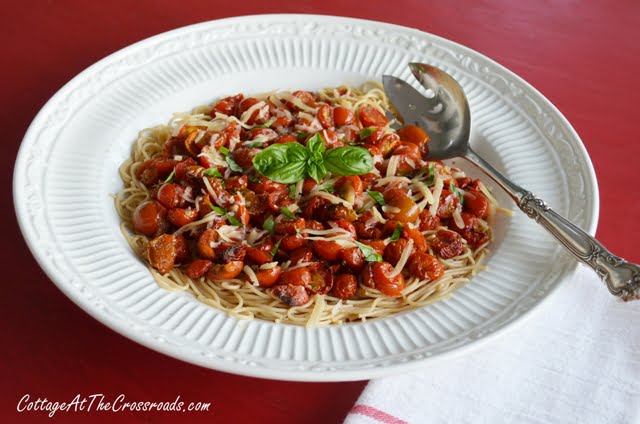 Transfer to a large pasta bowl, garnish with additional Parmesan cheese and some fresh chopped basil, and then dig in!
Sometimes I put some left-over steak on top and sometimes I add some grilled pork tenderloin, but it would be equally awesome with some grilled chicken or shrimp, too.
I have so many cherry tomatoes that I can try it all different ways. And I have to tell you that this is just as good served as a left-over the next day.
Thanks, Jean, for giving me the idea to roast the cherry tomatoes! If you'd like a printable version of this recipe, CLICK HERE.

Looking for more tomato recipe ideas? Check out my collection of cherry tomato recipes and grape tomato recipes. The easiest way to cook them!