Chicken is a versatile protein beloved by cooks worldwide. When sliced thin, chicken breasts provide a canvas for a myriad of flavors, cooking techniques, and culinary explorations.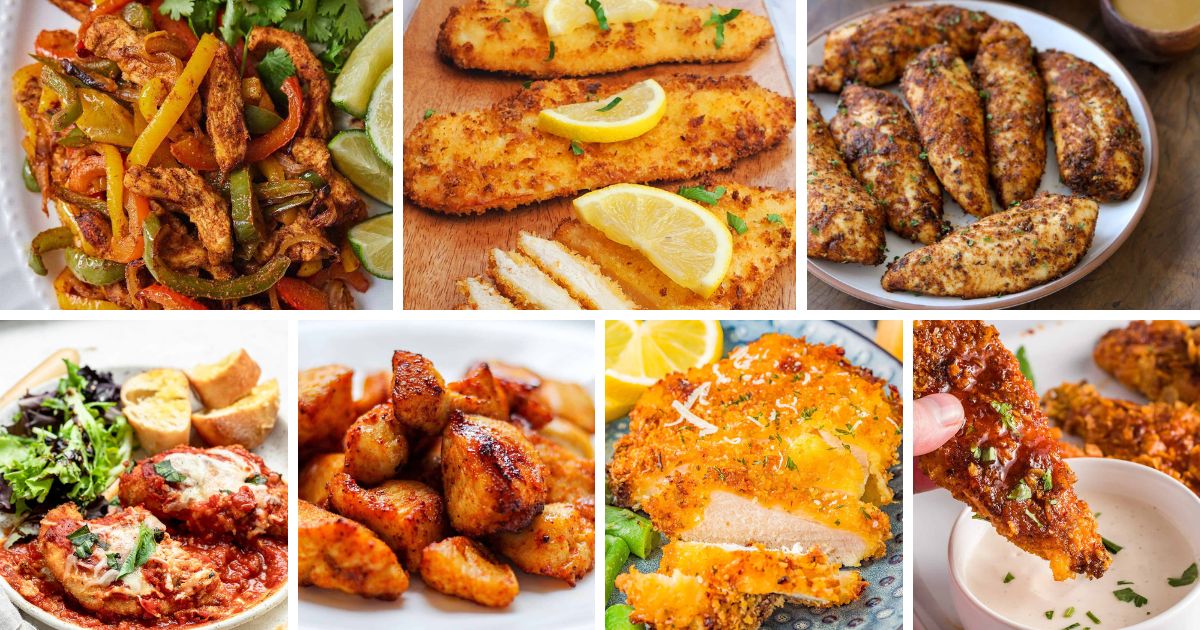 Thin-sliced chicken breasts not only cook faster, making them a boon for busy weeknight dinners, but they also absorb marinades more readily, ensuring every bite is packed with flavor.
These 66 thin-sliced chicken breast recipes will help you embark on a culinary journey that celebrates this lean cut in all its glory. From tangy marinades and rich sauces to simple spices and herbs, each dish transforms the humble chicken breast into a mouthwatering masterpiece.
Whether you're in the mood for an Asian-inspired stir fry, a Mediterranean-flavored treat, or a classic American meal, this collection promises something for every palate.
So, discover new favorite air fryer, stove top, oven, and grill recipes to upgrade your chicken dishes to the next level!
Contents
Air Fryer Recipes
This dish combines the crispy texture of panko breadcrumbs with a unique chicken rub. They're perfect alongside salads or with a drizzle of lemon juice for a tangy twist.
This dish combines the crispy texture of panko breadcrumbs with a unique chicken rub. They're perfect alongside salads or with a drizzle of lemon juice for a tangy twist.
This recipe delivers tender chicken with a garlicky, crispy coating. You can enjoy them with a side of rice or as a filling in wraps.
A classic dish gets an air fryer twist. Stuffed with ham and Swiss cheese, this chicken is a delight with its creamy sauce made from sour cream, chicken soup, and lemon juice.
This dish brings together the spicy kick of jalapenos with creamy filling, all enveloped within tender chicken. It's perfect for those who appreciate a touch of heat in their meals.
These Italian-seasoned cutlets are quick and convenient. They make an excellent weeknight dinner option, especially when served with a side of gluten-free pasta.
This chicken boasts a crust of panko breadcrumbs and parmesan cheese, elevated by minced garlic. Serve it with white wine for a delightful pairing.
If you're in the mood for some kick, these chicken bites, seasoned with Cajun spices, are your answer. They are fantastic alongside mashed potatoes or inside wraps.
This recipe marries the flavors of garlic powder, paprika, and thyme with tender chicken pieces. Perfect for a snack, these bites are both flavorful and easy to prepare in the air fryer.
This recipe offers a tantalizing blend of crispy chicken coated in a rich sesame glaze. This chicken is fantastic for a quick dinner and pairs well with steamed rice or noodles.
Enjoy crispy chicken katsu without the hassle of deep frying. Paired with the tangy katsu sauce, it's a meal that will transport you straight to a Japanese eatery.
Parmesan and panko breadcrumbs give these chicken breasts a delightful crispy texture. Serve it with a side of lemon wedges for an elegant yet simple dinner.
If you're aiming for high protein and nutrition without the carbs, this dish is for you. Chicken breasts, encrusted in parmesan cheese, offer a delicious keto-friendly treat.
Seasoned with Italian spices and avocado oil, these chicken strips are both flavorful and nutritious. They make a perfect quick meal or a protein-packed snack on the go.
These tenders are seasoned with a blend of smoked paprika and onion powder for an enhanced flavor. Without the breaded exterior, you get a pure, juicy chicken experience.
With a blend of bell peppers, seasonings, and thin slices of chicken, this dish brings the sizzle of a skillet fajita to your air fryer. Garnish it with guacamole for a complete meal.
Chicken breasts meet the buttery flavor of Ritz crackers in this simple yet satisfying dish. It's a fresh twist on classic breaded chicken, with added crunch.
This German-inspired dish transforms chicken breasts with herbs and panko breadcrumbs. Paired with your favorite sides, it's a meal that brings European flair to your table.
Diced chicken breast in its simplest form. When you want pure, unadulterated chicken flavor, this is the dish to turn to.
Sliced chicken and bell peppers dance in a mix of spices and olive oil. Whether wrapped in tortillas or enjoyed on its own, it's a burst of savory goodness.
These perfectly seasoned thin slices of chicken are a testament to simplicity. With smoked paprika and oregano, they're an easy protein-packed choice for any meal.
Recreate this oven-baked classic in your air fryer. With a crispy coating and tender interior, Shake n Bake chicken is a nostalgic dish that never goes out of style.
Experience the iconic flavors of an everything bagel in a new way. These chicken cutlets, crusted in seasoning and parmesan, are a savory treat unlike any other.
You'll adore the simple pleasure of these hot honey chicken tenders, with a twist of onion and garlic granules. The hint of honey adds a sweet note to these crispy delights.
These tenders, seasoned with paprika and garlic powder, showcase the juicy chicken. We recommend them to those who prefer flour to breadcrumbs for a lighter crust.
These tenders are a celebration of herbs and spices, from chili to thyme. They're ideal for those seeking bold flavors in their protein-packed meals.
Bite into a crispy exterior of french fried onions, revealing the juicy chicken inside. It's a fun, flavorful twist on traditional breaded chicken.
Relish the zesty blend of lemon and pepper on perfectly cooked chicken breasts. This dish is a testament to the power of simple, quality ingredients.
These crispy chicken sandwiches, seasoned with a blend of spices, are perfect for your next lunch. Top it with pickles and mayo and serve on a toasted bun.
This recipe gives you crispy chicken cutlets paired with a fresh tomato sauce. Melted mozzarella tops the dish, creating a delightful Italian treat.
Tender chicken breasts seasoned with paprika, garlic, and oregano make for a fast dinner. Serve this dish alongside steamed veggies for a wholesome, family-loving meal.
Bite into these chicken tenders seasoned with oregano and paprika. These tenders are perfect when you're in the mood for a fast, tasty protein without the breadcrumbs.
Marinated in a blend of zesty lime juice and aromatic spices, these tenders are pure chicken enjoyment. We recommend them for those who love flavor without the breading.
Delicious thin-sliced chicken wrapped around ham and Swiss, all encased in gluten-free breadcrumbs. It's a classic dish with a modern, allergen-friendly twist.
Stove Top Recipes
Choose between the breaded and unbreaded versions of this versatile chicken recipe. Either way, they're seasoned with sweet paprika and garlic powder, pairing wonderfully with potatoes or vegetables.
These chicken cutlets are breaded with Parmigiano Reggiano and Panko, then fried to perfection. Serve them with a side of pasta or a refreshing arugula salad for a balanced meal.
Pan-fried thin-sliced chicken meets a refreshing arugula salad dressed in a zesty lemon and garlic mix. It's a meal that perfectly balances richness with freshness.
Thin-sliced chicken is pan-seared and simmered in a lemony white wine sauce. Mushrooms and onions add depth to this rich yet refreshing dish.
Chicken breasts are rolled with ham and Swiss, then cooked with mushrooms and garlic in a creamy sauce. The result? A dish oozing with rich flavors and textures.
Chicken cutlets meet a tangy bruschetta topping in this dish. The melted mozzarella and Parmesan add a cheesy twist, making it an irresistible main course.
This dish features chicken slices in a rich sauce of soy, Shaoxing wine, and black pepper. The bell peppers add a splash of color and crunch.
Pan-seared chicken gets a flavor boost from a garlic butter sauce. Enjoy it with a side of roasted vegetables or a simple salad.
Dive into chicken breasts drenched in a luscious garlic-infused cream sauce. It's a perfect dish to impress guests or enjoy on a cozy evening.
If you're in the mood for comfort food, this creamy ranch chicken is a must-try. The blend of butter, oil, and ranch seasoning creates a rich, mouthwatering flavor.
Linguine pasta pairs beautifully with chicken coated in spicy Cajun seasoning. The creamy sauce and Parmesan finish make it a sure favorite.
Tender chicken combined with mushrooms and a Marsala wine sauce delivers an elegant Italian experience. Garnish the marsala with fresh parsley to elevate the presentation.
Experience a fusion of flavors with this spicy chicken dish, complemented by crunchy cashews. Kung Pao chicken is best served over rice, which helps soak up all the delicious sauce.
Juicy chicken strips, sautéed with bell peppers and onions, come alive with lime and spices. Wrap them in tortillas for a fun, hands-on dinner.
Creamy Alfredo sauce envelops fettuccine and seasoned chicken in this classic Italian dish. Grated Parmesan cheese adds the perfect finishing touch.
This Asian-inspired fried rice features chicken, bacon, and colorful veggies. The blend of soy, garlic, and onion flavors makes it a tasty one-pan meal.
Delight in chicken pieces simmered in a flavorful coconut curry sauce. Serve over rice and garnish with cilantro and crushed peanuts for added texture.
Seasoned chicken grilled to perfection is the star in these street tacos. You can top these tacos with pico de gallo and guacamole for a burst of freshness and flavor.
This recipe delivers tender chicken coated in a savory flour-egg mixture, then fried to golden perfection. Paired with a lemon-infused white wine sauce, it's a delightful main course for elegant dinners.
These quesadillas are a tempting fusion of creamy jalapeno sauce and tender chicken, sandwiched between crispy tortillas. This recipe is a great option for those craving a touch of Tex-Mex flair.
This dish features tender chicken cutlets, seasoned with Italian spices, and cooked in a rich garlic cream sauce. Perfect for a fancy dinner at home, it's luxurious with every bite.
Fresh tomatoes, zesty lemon, and fragrant basil come together in this recipe to top perfectly seasoned chicken. Serve this bruschetta when craving a light, Mediterranean-inspired meal bursting with flavor.
A delightful mix of tender chicken tenderloins, flavorful Italian herbs, and a medley of peppers define this scampi. Paired with spaghetti, it's a classic dish for those pasta nights.
This dish blends juicy chicken cutlets with a creamy spinach sauce, making a satisfying meal. Great for weeknight dinners, it's a comforting choice when the weather turns chilly.
The juicy chicken breasts in this one-pan dish are complemented by tangy tomatoes and savory olives. With hints of rosemary and lemon, it's a simple yet elegant dinner option.
Oven Recipes
This sandwich is a harmony of spices, from garlic powder to paprika. Complete the meal with dill pickle slices and a smear of savory mayo-hot sauce blend on the buns.
This recipe showcases the simplicity and elegance of thinly sliced chicken breasts baked to perfection. It's ideal for a light dinner, especially when you pair it with a vibrant salad.
Chicken breasts marinated in Caesar dressing and Parmesan make for a simple yet delectable dish. Consider adding some sour cream for extra creaminess.
Grill Recipes
Tender chicken thighs marinated in yogurt and spices are the stars of this dish. Tuck them into pita bread with veggies and tzatziki for a Mediterranean delight.
Skewered chicken strips marinated in a fragrant blend are perfect for a summer grill. Dip these sticks in spicy peanut sauce for an authentic Thai experience.
Marinated chicken tenderloins tuck into pita bread, complemented by tangy tzatziki and cucumber salad. It's a Mediterranean feast in every bite.
This sandwich showcases grilled chicken's smoky essence, complemented by fresh toppings. A picnic favorite, it pairs perfectly with a crisp salad or tangy coleslaw.
This dish combines tender chicken strips, vibrant veggies, and a delectable Thai peanut sauce. Perfect for a light lunch or a fresh summer appetizer, these wraps won't disappoint.
📋 Recipe
Frequently Asked Questions