Cauliflower, a seemingly humble vegetable, has risen beyond its roots to become a key player in the domain of inventive, health-conscious, and delicious cuisine. Thanks to its capacity to transform into grain-like particles, it provides a low-carb substitute to conventional starchy rice.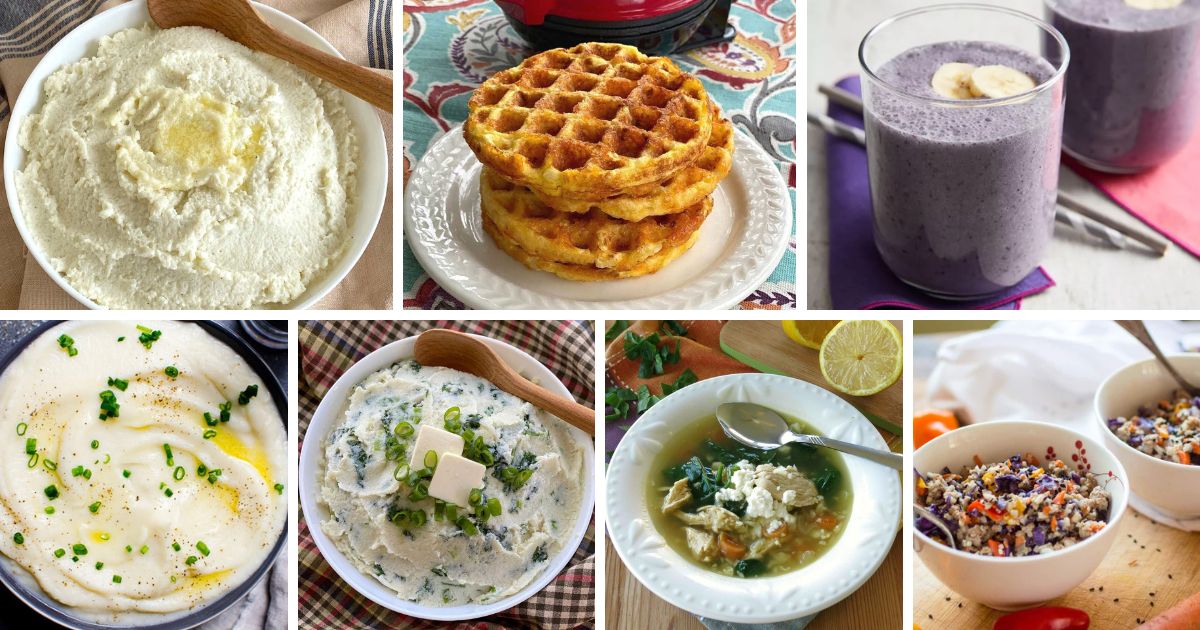 Be it the pursuit of more veggies in your diet, managing dietary constraints, or exploring the wealth of culinary innovations, our array of frozen cauliflower rice recipes is a perfect starting point.
From the classic allure of cauliflower fried rice to the globally influenced concoctions like cauliflower rice bowls and zucchini infused cheesy cauliflower rice, each recipe unveils the versatile potential of this veggie.
The following collection of 50 frozen cauliflower rice recipes invites you to experience the various delicious avatars that cauliflower rice can take, as you embark on a culinary adventure that's as nutritious as it is delightful.
Contents
With sesame oil-infused cauliflower rice and colorful vegetables like broccoli and carrots, this dish offers a healthy twist on classic Asian cuisine. Enjoy it as a satisfying main or a hearty side dish.
This speedy cauliflower fried rice recipe, blending assorted vegetables, fragrant sesame oil, and protein-rich eggs, is a wholesome, well-rounded meal at your fingertips.
This simple and nutritious dish features finely chopped onions, garlic, and olive oil. It's perfect as a stand-alone meal or served alongside grilled meats.
This unique approach to cooking cauliflower rice uses an air fryer to achieve a crispy texture. Try it as a light lunch or dinner, flavored with soy sauce and pepper.
Lovers of the robust, umami taste of garlic and parmesan will adore this garlic-infused dish. A speedy and delicious choice for a low-carb dinner or accompaniment.
This healthy casserole merges riced cauliflower with quinoa, black beans, and a medley of vegetables. It's a fiber-rich dish ideal for dinner with family or close friends.
This flavorful dish pairs riced cauliflower with spicy shrimp, topped off with a creamy avocado sauce. It's a light yet satisfying meal that's perfect for warm summer evenings.
This creation pairs the hearty flavors of ground pork with the lightness of cauliflower rice. A speedy and straightforward dinner solution following a hectic day.
Tofu crumbles add a protein punch to these vegan burrito bowls, while cauliflower rice and fresh vegetables keep it low-carb and nutritious.
This recipe is a healthier spin on a comfort food classic. It combines ground turkey, vegetables, and riced cauliflower with a crispy tater tot topping.
In this take on cauliflower fried rice, shrimp lends a burst of taste. The broccoli florets and bell peppers introduce a crunch, making it a meal rich in texture.
This dish features succulent shrimp marinated in lime and spices, served over a bed of simple cauliflower rice. It's an excellent dinner option for seafood lovers.
Here's a mouthwatering fusion dish combining Korean-style steak, kimchi, and cauliflower rice. It's a unique dinner option that's sure to impress.
This dish brings the flavors of stuffed peppers to a comforting soup, featuring ground turkey, bell peppers, and cauliflower rice. It's a great meal for colder days given its warm and soothing nature.
This smoothie blends riced cauliflower with mixed berries, bananas, and almond milk. It's a quick, straightforward, and nutritious option for breakfast or a snack.
These meatballs unite ground chicken with riced cauliflower, providing a low-carb spin on traditional meatballs. They can be paired with pasta or relished alone for a protein-filled meal.
This dish presents grilled chicken served atop a bed of cauliflower rice. This dish features the freshness of dill, cucumber, and feta, creating a light yet flavor-intense meal suitable for lunch or dinner.
Riced cauliflower adds a nutritious twist to this classic breakfast dish, paired with sweet blueberries and warming cinnamon. Far from basic, you'll want to make this oatmeal over and over again!
This dish puts a low-carb spin on a classic comfort food. The creamy chicken filling pairs perfectly with a unique cauliflower topping.
This cauliflower rice pilaf is uncomplicated yet gratifying, combining cauliflower rice with a mix of vegetables. This pilaf is a flexible accompaniment that goes alongside with just about any meal, especially chicken and fish mains.
Flank steak adds a hearty, savory element to this cauliflower fried rice dish. It's a flavorful meal that meat lovers will appreciate.
This easy recipe uses frozen cauliflower to offer a low-carb swap to conventional mashed potatoes. This mash makes an excellent accompaniment to steak and fish dinners.
This low-carb iteration of the Italian classic is both creamy and packed with flavor. Parmesan cheese and fresh herbs make it a satisfying standalone meal or side dish.
The classic Irish Colcannon gets a twist in this recipe where typical potatoes are replaced with cauliflower, offering a light yet creamy accompaniment. The combination of cauliflower, kale, and green onions morphs it into a wholesome comfort dish.
This dish pairs cheesy cauliflower rice with fresh zucchini. It's a light and satisfying meal perfect for a quick lunch or dinner.
This recipe propels cauliflower rice to new culinary dimensions with the introduction of aromatic curry seasoning. The sprinkling of cilantro and green onions adds a rejuvenating zest, making it an ideal light lunch or dinner side dish.
This dish marries lean ground turkey, chickpeas, and an array of veggies with a creamy cauliflower topping, providing a hearty, healthy alternative to traditional shepherd's pie. Its irresistibly golden crust will have everyone coming back for seconds.
Pamper your palate with this Cajun-style cauliflower rice, teeming with onion, celery, bell pepper, and Andouille sausage. Completed with a homemade Cajun spice mix, it's ideal for jazzing up your weekday dinner routine.
This comforting soup combines cauliflower, carrots, and chickpeas in a savory broth that's given a kick with Frank's Red Hot Sauce. A sprinkling of blue cheese crumbles and green onions completes this warming meal.
Enjoy a Southern-style treat with these cheesy cauliflower grits topped with blackened shrimp. Its unique combination of flavors and textures makes it a satisfying dinner, best enjoyed with a side of green vegetables.
Who claimed pasta can't be wholesome, light, or healthy? This dish showcases a dynamic mix of tomatoes, broccoli, and sun-dried tomatoes combined with pesto-slathered pasta.
These muffins combine cauliflower rice, onions, and cheese into a snack that's both delightful and nutritious. Italian seasoning enhances the flavor, turning these treats into a perfect quick breakfast or an afternoon rejuvenator.
Reimagine classic comfort food with this cauliflower version of mashed potatoes. With butter, garlic, and a touch of seasoning, it's a lighter alternative that doesn't sacrifice taste or texture.
Looking for a creative breakfast option? Try these cauliflower waffles, crafted with egg, cheese, and a hint of garlic powder. Pair them with a sunny-side-up egg or fresh fruit for a satisfying beginning to your day.
Upgrade your bread basket with these cauliflower biscuits, made with garlic, eggs, cornstarch, and cheese. Tossed with chopped green onions, they're a delicious addition to any meal, from breakfast to dinner.
This revitalizing soup merges chicken, lemon zest, and cauliflower rice, yielding a soothing and heartening meal. It's the ultimate comfort food on wet days or when you require a mood booster.
Craving Thai flavors? This recipe is a healthy and tasty alternative to regular Thai fried rice. Packed with colorful vegetables and a hit of spicy Thai seasoning, it's an exciting low-carb meal.
Bursting with sautéed mushrooms, fresh spinach, and cauliflower rice, this recipe curates a balanced, nutrition-packed meal. It's a perfect solution for a rapid lunch or a hassle-free dinner.
This comfort food favorite is given a healthy twist, incorporating cauliflower rice into the classic mac and cheese. It's a satisfying meal that'll warm you up on a chilly evening.
This dish features cod filets glazed with teriyaki and served atop cauliflower rice. Perfectly balanced in flavors and nutrients, it's a healthy choice for a weeknight dinner.
These Cauliflower Breadsticks offer a clever twist on traditional breadsticks. Satisfyingly crunchy and packed with flavor, they serve as a fantastic gluten-free snack or side, pairing wonderfully with your favorite dips.
These healthful bowls come filled with tasty chicken sausage, grilled asparagus, and cauliflower rice, all under a blanket of creamy pesto. They provide a quick, wholesome option for any lunch or dinner.
Relish your favorite pizza without guilt with this cauliflower pizza crust. Topped with your choice of ingredients, it's a delicious and healthier spin on traditional pizza dough.
This bowl, a symphony of black beans, roasted red pepper, and cauliflower rice, is a vegetarian's utopia. Accentuated with chili powder, cumin, and oregano, it delivers a hearty and nourishing dining affair.
Experience a taste of Spain with this seasoned cauliflower rice, blended with onions, tomatoes, and green chilies. A spicy accompaniment that harmonizes well with grilled meats or fish.
This vegan rendition of fried rice includes cauliflower, bell peppers, snow peas, and edamame, all stir-fried in peanut oil. Garnished with roasted cashews, it presents a harmony of textures and tastes.
Brimming with ground beef, spinach, and cauliflower rice, this casserole is a robust, nutritious main course. Crowned with melted cheese, it personifies comfort food.
This decadent dish mingles cauliflower and broccoli with crispy bacon and a variety of cheeses, establishing a wonderful contrast of textures and flavors. Its comforting warmth earmarks it as a fitting centerpiece for a family gathering or a communal dinner.
A reinterpretation of the classic dirty rice, this keto-friendly variant employs cauliflower rice and lean ground turkey, accompanied by a colorful medley of veggies and a bouquet of herbs and spices. The final dish is a visual and gustatory spectacle, suitable for a weekday lunch or dinner.
These novel tortillas utilize riced cauliflower and eggs as their base, underscored by the freshness of cilantro and a touch of lime. They offer a flavorful and healthy swap to conventional tortillas, an ideal choice for those adhering to a gluten-free or low-carb lifestyle.