We're excited to share with you the joy of home-cooked meals - with a touch of innovation. As we delve into traditional and modern Chinese cuisine, these recipes bring forth a delightful fusion of both timeless recipes and innovative cooking techniques.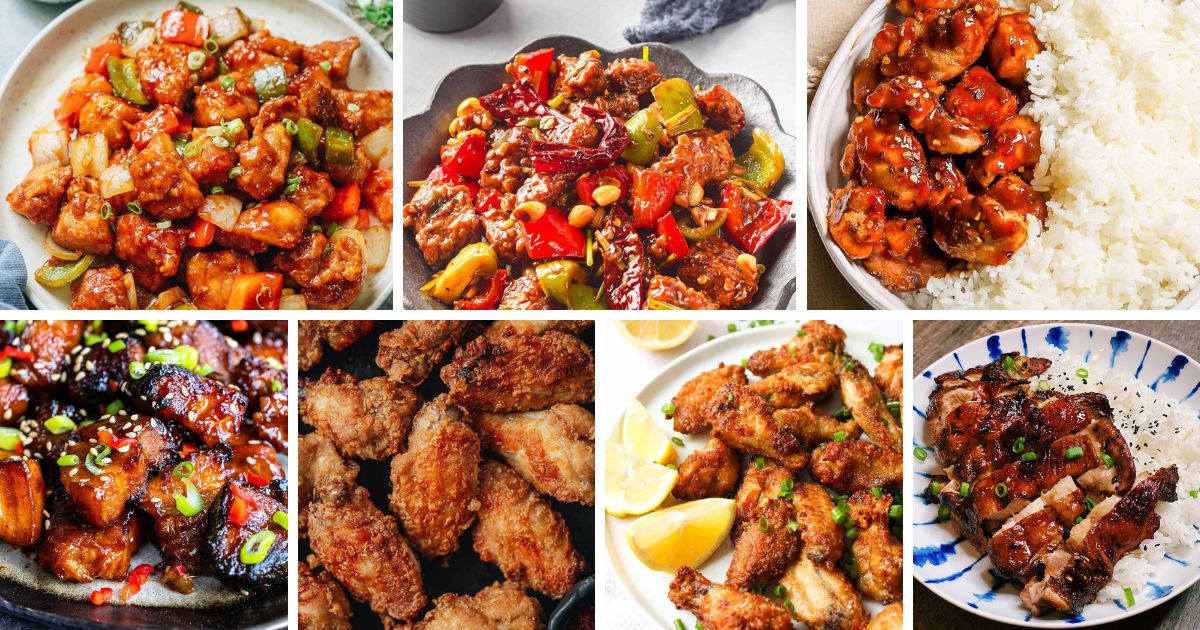 Utilizing the air fryer not only ensures a healthier meal but also guarantees an explosion of flavors with a crispy texture that you will adore. With the following collection, you are set to recreate your favorite Chinese dishes with a healthier twist right in the comfort of your home.
These 29 tasty Chinese air fryer recipes promise not only taste but also convenience. From the ever-popular orange chicken to the crispy garlic ribs, each recipe is carefully crafted to please your palate.
Furthermore, these recipes are a testament to the fact that delicious Chinese takeout flavors can be achieved with simple ingredients and an air fryer. Experience a revolution in your kitchen, bringing restaurant-quality dishes to your dining table with ease and flair.
Contents
This dish combines tender chicken thigh pieces with a vibrant sauce. With this savory delight, you can enjoy a homemade Chinese takeout experience right from your kitchen.
Discover a symphony of flavors and textures with this recipe. Relish the delightful interplay of sweet brown sugar and spicy notes, perfect for a comforting dinner.
Are you a fan of crispy chicken wings? Experience the authentic Chinese flavors combined with a beautiful crunch, making for an unforgettable appetizer or main course.
This recipe offers a harmonious blend of sesame oil and spices, enveloping the boneless, skinless chicken thighs. It's a refreshing take on the classic sweet and sour chicken, bursting with zest and aroma.
With this recipe, you can craft an exquisite meal featuring a soy sauce marinated chicken with a hint of sweetness. You can pair it with your favorite sides for a complete dining experience.
This vibrant dish combines tender chicken with a sesame-seed sprinkled, tangy sauce. You can enjoy a classic Chinese takeout dish transformed into a healthier version without sacrificing flavor.
Enjoy a refreshing side with this garlic-infused green bean dish. Its gluten-free seasoning pairs beautifully with a hearty meat main, offering a balanced and delicious meal.
Relish in the delightful combination of Shaoxing wine and spices marinating the chicken thighs. This dish offers a rich and fulfilling flavor profile, ideal for a cozy weekend meal.
Experience a thrilling taste sensation with this soy and oyster sauce marinated chicken. It's an excellent choice for a vibrant and fulfilling family dinner, promising an explosion of flavors.
Craving some tangy orange chicken? This recipe, featuring orange zest and savory sauces, brings a restaurant-style favorite right into your home kitchen, promising an instant hit.
Relish in the richness of Chinese eggplant with this recipe, a must-try for vegetable lovers. A touch of spice and a hint of sourness create a harmonious flavor palette.
With a tangy orange sauce enveloping the tender chicken breasts, this dish promises a quick yet delightful culinary experience. It's a quick fix for sudden Chinese cuisine cravings.
Are you planning a snack-filled evening? These vegetable spring rolls are an absolute must-try, offering a crunchy texture and an accompanying sweet chili dipping sauce.
This dish brings together crispy tofu and a garlicky punch of flavors. You can enjoy this vegetarian treat that's fulfilling and a burst of flavors and textures.
Looking for a meaty delight? These garlic ribs, marinated in a blend of sauces and spices, provide a gastronomic experience that is both savory and slightly spicy, ensuring a hearty meal.
This recipe combines extra firm tofu with a rich seasoning blend, including white pepper and Sichuan peppercorn. You can enjoy a tantalizing Chinese dish that's perfect for a delightful mid-week dinner.
Experience this Chinese dish's sublime mixture of sesame oil and spicy undertones. It's excellent for outdoor gatherings, especially when garnished with a sprinkle of sesame seeds.
Delight in these savory egg rolls, brimming with ground chicken and coleslaw mix. If you're looking to satisfy your Asian cuisine cravings, toss these ingredients together for a quick, delightful meal.
With this recipe, savor the spicy and aromatic Kung Pao Chicken. It's a fabulous choice for anyone who loves a dish that's a beautiful stir of flavors and vibrant vegetables.
For an exquisite Chinese dining experience, try this Char Siu Chicken. It marries sweet and salty flavors wonderfully, making it a must-try for weekend family dinners.
Relish the crispy chicken wings seasoned with aromatic spices and a hint of Shaoxing wine. They are great for gatherings, where you can serve them in batches, ensuring warm servings for everyone.
Experience this sumptuous dish featuring a tender pork belly immersed in a flavorful marinade. Paired with a sprinkling of spring onions and sesame seeds, it's the epitome of an authentic Chinese dish.
This recipe unveils the secret to creating the classic Mongolian Beef at home. The enticing mix of flank steak and sauces promises a dining experience full of vibrant flavors.
These succulent spare ribs are brought to life with a hoisin and soy sauce glaze. It's a brilliant option for those looking to try a traditional Chinese dish with a modern twist.
Enjoy this Szechuan chicken, a spicy delight featuring peppers and seasoned chicken cubes. It's a delightful dish to serve when you're in the mood for something hot and spicy.
Relish this spicy and sweet tofu dish, where cornstarch gives it an extra crispy exterior. It is great for a weekend snack; this dish will make your taste buds dance with joy.
Looking for a simple yet fulfilling meal? Try this fried rice that combines veggies and rice in a savory stir of flavors, making it a great choice for a quick dinner.
Do you adore a perfect blend of sweet and sour? Then, this chicken recipe is your answer. With a perfect balance of flavors, it's a great centerpiece for a festive dinner.
Discover the joy of tangy, sweet, crispy chicken wings with a hint of lemon. You can purchase fresh wings for this recipe, which promises a flavorful escapade with every bite.
📋 Recipe
Frequently Asked Questions