Looking to shake things up on your regular dinner menu? Bringing the aromatic essence and splendid flavors of Mexican cuisine to your dining table has never been easier.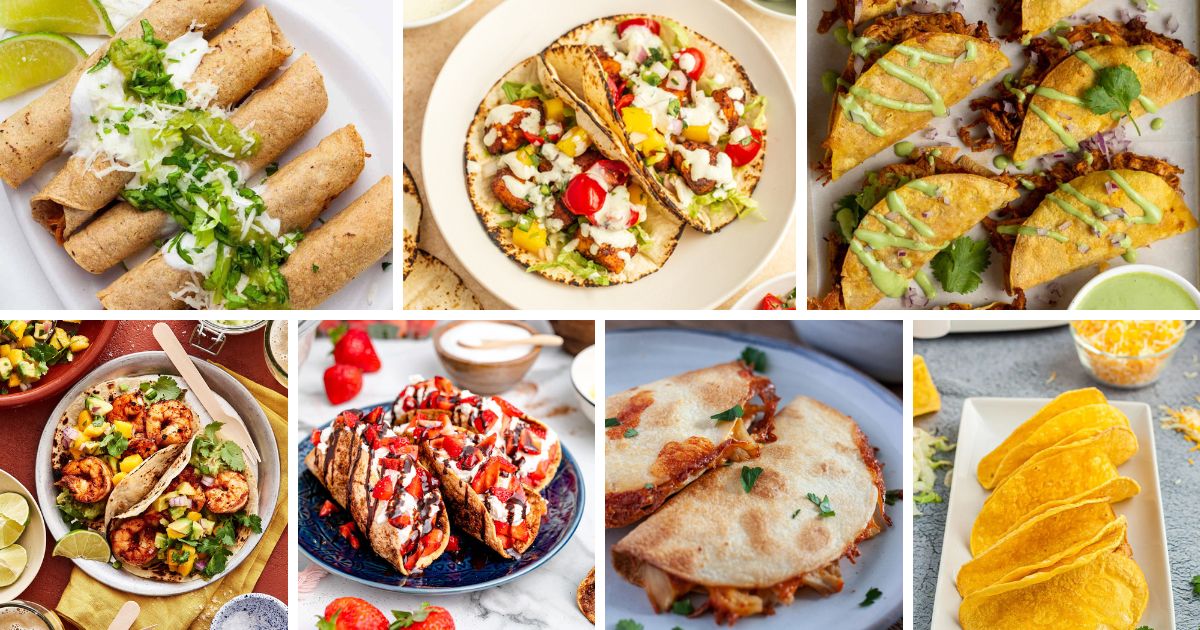 You'll get to create crispy, golden tacos filled with your choice of luscious fillings, right at your fingertips. The tantalizing smell wafting from your kitchen promises a feast that will delight your taste buds and elevate your dining experience.
With the advent of air fryers, preparing this culinary delight at home has become a fuss-free endeavor. This convenient gadget not only ensures a healthier version of the beloved dish but also significantly reduces the cooking time.
These 27 simple air fryer taco recipes promise not just a hearty meal, but a chance to dabble in the rich and vibrant world of Mexican gastronomy, providing a delightful escapade from the routine.
Contents
This recipe combines ground beef and homemade taco seasoning enveloped in crisp corn tortillas. For a delightful meal, you can enjoy its perfect crispness, topped with your favorite taco toppings.
If you're craving something zestful, this dish features chicken marinated in a blend of spices and citrus juices paired with an array of fresh and optional accompaniments. You can savor it with a sprinkle of lime juice.
This crispy taco shells delight, filled with a zesty blend of refried beans, pepper jack cheese, and shredded chicken, promises a burst of flavor. You can pair it with homemade salsa and a dash of hot sauce.
Embark on a gastronomic adventure with this recipe, combining ground beef with a spicy twist folded within crescent rolls. Experience an oven-baked essence complemented well with a sprinkling of cheddar cheese.
Experience the richness of ground beef paired with jalapenos and a sprinkle of oregano in this recipe. You can serve them with a generous spread of Cacique Queso Fresco Cheese and fresh tomatoes.
These simple yet delightful taco shells bring out the natural flavors of corn tortillas, enhanced with a hint of olive or avocado oil. They make a crunchy base for your favorite taco fillings.
In this dish, lean ground beef meets the aromatic blend of homemade taco seasoning. You can enjoy its delicious simplicity, which pairs wonderfully with a side of refried beans or crisp vegetables.
This shrimp taco recipe, marinated with an array of spices, offers a quick and tasty meal option. The freshness of mango avocado salsa and a hint of lime juice add a delightful contrast.
With this recipe, simplicity meets flavor, offering you crispy and fulfilling tacos. They are a blank canvas, ready to be adorned with a plethora of garnishes.
Treat your palate to this delectable dish featuring shredded chicken, black beans, and corn bathed in barbecue sauce. You can enjoy them in corn tortillas, complemented with Monterey jack cheese, for a delightful experience.
Dive into the comforting embrace of this recipe with a filling of instant mashed potatoes and cheddar cheese tucked inside corn tortillas. You can garnish with green onions and a sprinkle of cumin for added flavor.
Discover a world of flavor with these mini tacos featuring a seasoned chicken breast filling and a rich, creamy accompaniment. The crema, made with ricotta and cilantro, brings a refreshing touch to the dish.
This buffalo chicken taco recipe is the perfect blend of heat and creaminess. You can enjoy this dish with a homemade jalapeño ranch sauce for a delightful dinner.
This vegan-friendly recipe presents a delightful combination of spiced russet potatoes encased in mini corn tortillas. You can serve them with a sprinkle of kosher salt and a squeeze of fresh lime, enhancing their natural flavors.
With a heart of seasoned ground turkey wrapped in corn tortillas, these tacos offer a healthy yet delicious meal option. You can pair it with a side of guacamole or your favorite crisp, fresh salad.
This recipe combines the hearty texture of refried beans with the zest of green chilis, enveloped in a warm tortilla. You can savor them with a sprinkle of chili powder for a quick lunch.
Experience the exhilaration of flavors with this Mexican chicken taco recipe. With a tangy-hot sauce and fresh cilantro, these tacos promise an explosion of flavors, perfect for a vibrant family dinner.
Savor these crispy beef tacos, where succulent ground beef meets spicy jalapeño and rich cheddar cheese. They're great for a spicy weeknight dinner, pairing excellently with a cool dollop of avocado crema.
This dish invites you to enjoy tender chunks of steak seasoned to perfection with garlic and spices. You can enjoy it on a weekend evening with a zesty lime squeeze to elevate the flavors.
This recipe delves into the delightful union of spicy salmon and sweet mango salsa. A perfect choice for a summer meal, its freshness, and vibrant flavors are sure to mesmerize your palate.
Indulge in these shredded chicken tacos seasoned with a spicy and aromatic blend. Great for a casual dinner, they pair wonderfully with a tangy pico de gallo and a sprinkle of cheddar cheese.
Delight in this sweet twist on the classic taco with a rich filling of strawberries and creamy textures. It is perfect for an after-dinner treat; they are wonderfully accompanied by a drizzle of chocolate syrup.
This recipe features a vibrant medley of beef, corn, and salsa encased in a crispy crescent sheet. A fun dinner option, these taco pockets can be beautifully complemented with a side of fresh chopped cilantro.
Dive into the vibrant world of Tijuana street food with this authentic taco recipe. It is perfect for outdoor gatherings; you can enjoy it with homemade pico de gallo and a sprinkle of fresh lime juice.
These spiced black bean tacos are a vegetarian delight, boasting rich flavors and textures. This is ideal for a light lunch; they can be adorned with a sprinkle of feta cheese and a squeeze of lime.
Experience the fiery charm of these tofu tacos, seasoned with a robust spice blend. Ideal for a spicy kick on a weekday dinner, they harmonize well with a side of corn and black bean salsa.
This recipe calls for a refreshing combination of creamy avocado and seasoned vegan refried beans. A wonderful choice for a healthy dinner, they go splendidly with a topping of fresh salsa and cilantro.
📋 Recipe
Frequently Asked Questions