Green peas are one of those versatile ingredients that hold a permanent spot in our freezers. Whether used in soups, salads, or mains, they lend a sweet, fresh bite and a bright pop of color to the dishes they grace.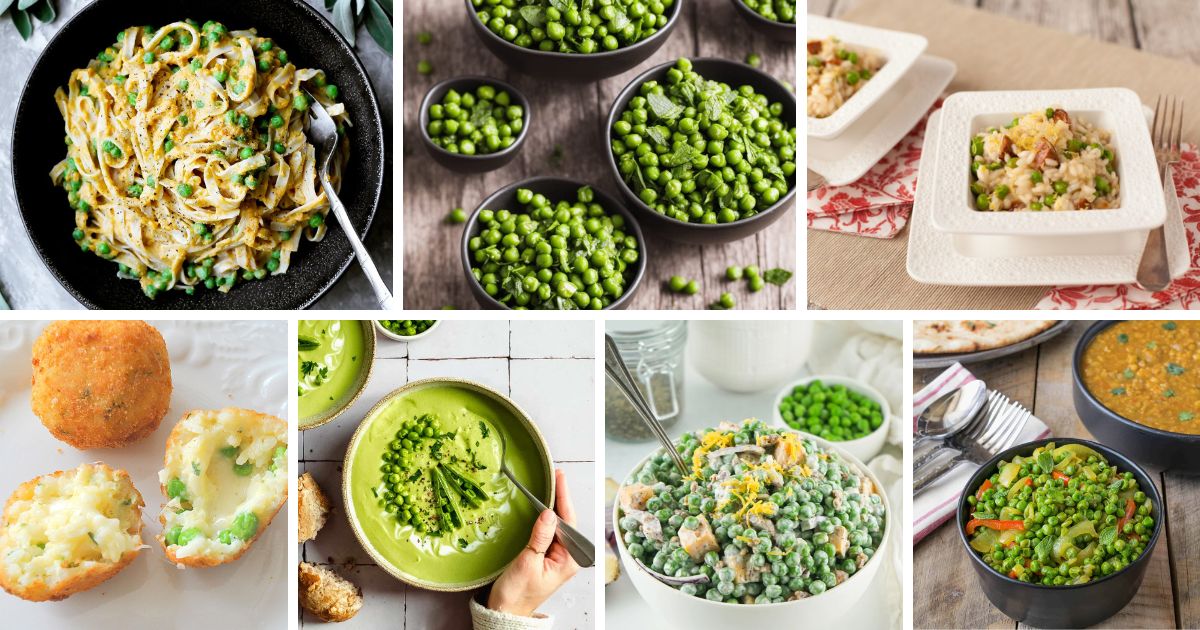 This collection of 52 frozen green peas recipes is an ode to this humble yet flavorful ingredient. The recipes we've compiled encompass a variety of cuisines and styles, providing something for everyone, regardless of dietary preference or culinary skill.
From traditional pea and ham soup to inventive dishes like pea and avocado dip, there's a wealth of inspiration here to get you cooking with frozen green peas in new, exciting ways.
So, why wait? Grab a bag of frozen green peas from your freezer and start exploring the diverse culinary possibilities they offer.
Contents
Butter peas, an ultimate comfort food, blends green peas' sweetness with butter's rich creaminess. This side dish is a perfect companion to a hearty roast or grilled steak.
The simplicity of Italian cuisine shines in this recipe. Featuring green peas in a savory, herby tomato sauce, this dish is great as a side or even a light main course with crusty bread.
Packed with aromatic spices, this green peas curry is a delightful vegetarian dish. Pair it with naan or rice for a flavorful, comforting meal.
This dish features orecchiette pasta tossed in a vibrant walnut and pea pesto. It's an ideal choice for a fresh, light dinner or a refreshing lunch.
In this French-inspired recipe, snapper is served with a luscious pea sauce. Enjoy it for a sophisticated dinner that's sure to impress.
This recipe offers a delightful combination of spicy and sweet in this creamy risotto. Serve it on a chilly evening for a warming and satisfying meal.
Experience a burst of freshness with this salad topped with pea hummus and smoky prawns. It's a delightful option for a light lunch or dinner.
The combination of salmon and green peas in this pasta dish creates a healthy yet satisfying meal. It's ideal for a quick dinner that doesn't skimp on flavor.
The classic pairing of sweet peas and smoky ham in this soup offers an ideal comfort dish. You can pair it with a chunk of fresh bread for a soul-soothing meal.
This tart marries lightly sweet green peas, earthy asparagus, and umami ham hock to create a truly delectable dish. Perfect for brunch, it offers a symphony of inviting tasting notes in every bite.
Seared scallops are served alongside green peas, avocado, and pancetta in this recipe. The taramasalata adds a tangy finish, making this dish a gourmet delight.
Combining peas and ham in a creamy sauce, this pasta dish is an undeniably comforting and tasty meal. It's a particularly delightful option for those nights when you need some comfort food.
This soup incorporates edamame and green peas for a nutritional boost, with crab adding a luxurious touch. This soup is deal for a cozy dinner or a light lunch.
This dish adds a spicy kick to green peas with chili, while mint provides a refreshing contrast. Enjoy it as a side with grilled meats or fish for a satisfying meal.
In this risotto recipe, barley is paired with prawns and a green pea pesto. The resulting dish is a comforting, nutritious meal perfect for weeknight dinners.
This fried rice featuring green peas is a versatile and delicious dish that you'll want to make time and time again. We recommend pairing it with your favorite protein like chicken or shrimp for a complete, satisfying meal.
This pasta meal seamlessly unites the velvety smoothness of butternut squash with the sweet essence of green peas, resulting in a heartwarming and gratifying dish. It's an ideal selection for a comfortable fall evening.
This simple side dish combines sweet carrots and similarly sweet peas. It's a colorful addition to any meal and pairs well with a variety of hearty mains.
The combination of broccoli and green peas in this soup creates a nutritious and warming dish. Enjoy it with a slice of crusty bread for a comforting, light meal.
Parmesan orzo with peas is a cheesy, comforting side that pairs perfectly with a variety of mains. People like to eat this dish with grilled chicken or roasted vegetables for a well-rounded meal.
Pea purée is a vibrant and versatile side that can elevate any dish. Serve it with grilled fish or roasted meats for a meal bursting with freshness.
This couscous salad comes alive with the addition of green peas and a basil vinaigrette, radiating a sense of freshness and vitality. It works as an excellent light meal or a complement to your forthcoming alfresco barbecue.
Chicken, coupled with green peas, immersed in a luscious cream sauce makes this recipe a comforting delight. Ideal for family dinners, it promises a satisfying and hearty meal.
This curry dish brings together ground beef, peas, and potatoes in a stunning roundup of flavors. Serve it with warm naan or rice for a robust and spicy dinner.
This recipe showcases broiled salmon served with fresh spring peas. A perfect blend of protein and greens, it's an excellent option for a light yet fulfilling supper.
This pasta dish combines green peas and ricotta with a burst of lemon. It's the perfect choice for those seeking a fresh, vibrant meal that's easy to prepare.
This salad mingles the smokiness of bacon with the sweetness of peas. Serve it as a side or enjoy it on its own for a flavorful, protein-packed lunch.
Regular hummus is already a winner in our book, but this green pea curry version takes hummus to the next level. Try bringing this one to the next potluck and watch your friends fall in love with it!
Classic spaghetti carbonara gets a fresh twist with the addition of green peas in this recipe. It's a delicious choice for a comforting dinner that's ready in no time.
In this one-skillet dish, chicken and rice are combined with green peas for a hearty and comforting meal. Ideal for busy weeknight dinners, this skillet is perfect for when time is of the essence.
This recipe features quinoa, green peas, and a zesty lemon dressing. It's a refreshing and nutritious dish perfect for a light lunch or side.
This vibrant green peas stir fry is a delightful side dish that's both quick and easy to prepare. You can couple it with your favorite protein for a complete meal.
This comforting tuna casserole uses green peas to add a touch of sweetness and color. It's an excellent weeknight dinner option that brings both simplicity and heartiness to the table.
Experience the savory comfort of Filipino cuisine with this recipe. Ground meat stew paired with green peas and served over rice provides a hearty, satisfying meal.
In this delectable dish, tender gnocchi are tossed in a vibrant pea pesto and topped with creamy burrata. Ideal for a fancy dinner at home, the recipe offers a balance of freshness and indulgence.
This vegetable fritters recipe incorporates green peas, adding a sweet contrast to the savory batter. A versatile choice, enjoy these as a delicious appetizer or a light meal.
Jerk chicken is a staple in Caribbean cuisine, and although it's so tasty on its own, serving it with fragrant coconut rice and sweet, tasty peas makes the complete dish stand out even more.
This recipe elevates the humble crostini with a combination of smashed peas and stracciatella cheese. Perfect as a light appetizer, they deliver a burst of refreshing flavor in every bite.
Savor the comforting blend of basil-ricotta cheese dumplings, creamy peas, and crispy bacon in this inviting dish. It's a lovely dinner choice for those who enjoy meals where every bite offers a myriad of flavors.
Infused with spices, these Indian-inspired green peas offer an exciting twist to a traditional side dish. They are an excellent accompaniment to your favorite curries or can be enjoyed on their own.
This unique salad features crispy pea fritters as the star. Light on the palate yet deeply satisfying, it's a stellar choice for a warm-weather lunch or supper.
Turn dinner into a comforting feast with this chicken noodle casserole featuring green peas. Perfect for a family gathering, it delivers warmth and flavor in each serving.
Arugula pesto pasta is given a fresh spin with the addition of green peas and tomatoes. This dish is a refreshing choice for a quick dinner that's packed with flavor.
These enticing rice balls are filled with cheese and green peas, creating a perfect blend of flavors. Serve them at your next gathering as a delightful and addictive appetizer.
Experience the tangy freshness of lemon combined with sweet spring peas in this creamy orzo dish. It's a light yet fulfilling meal, ideal for a cozy lunch or dinner.
This dish celebrates the simple combination of sautéed green peas and pearl onions. As a side, it adds a vibrant and sweet touch to your meal.
A medley of mâche, chicken, and green peas is brought together with a sweet honey-tahini dressing in this salad. A protein-packed choice, it's great for a refreshing lunch or light dinner.
The savory flavors of pancetta and Parmesan cheese harmoniously combine with sweet peas in this delicious tart. Perfect for brunch, it's a recipe that guests will surely enjoy.
In this enticing recipe, a warm chicken salad is complemented with green peas and soft polenta. The delightful combination of diverse textures and flavors makes it a solid choice for a substantial midday meal or evening dinner.
This strikingly colorful soup blends asparagus, peas, and zucchini into a nutritious and satisfying meal. Ideal for a light dinner, it's a soothing choice that delivers both comfort and nutrition.
This slow-cooker version of Arroz con Pollo features chicken, rice, and green peas. An easy, hands-off meal that provides a taste of Latin cuisine at your dinner table.
This pea and avocado dip offers a refreshing and creamy accompaniment to your favorite snacks. We recommend eating it with vegetables or chips for a light and healthy treat.
In this luscious recipe, linguine is coated in a creamy lemon alfredo sauce and topped with shrimp and green peas. It's a flavorful choice for a delightful dinner at home.