Grab the fresh grape tomatoes from your backyard or nearby grocery store because today you'll learn a range of delicious recipes to make at home.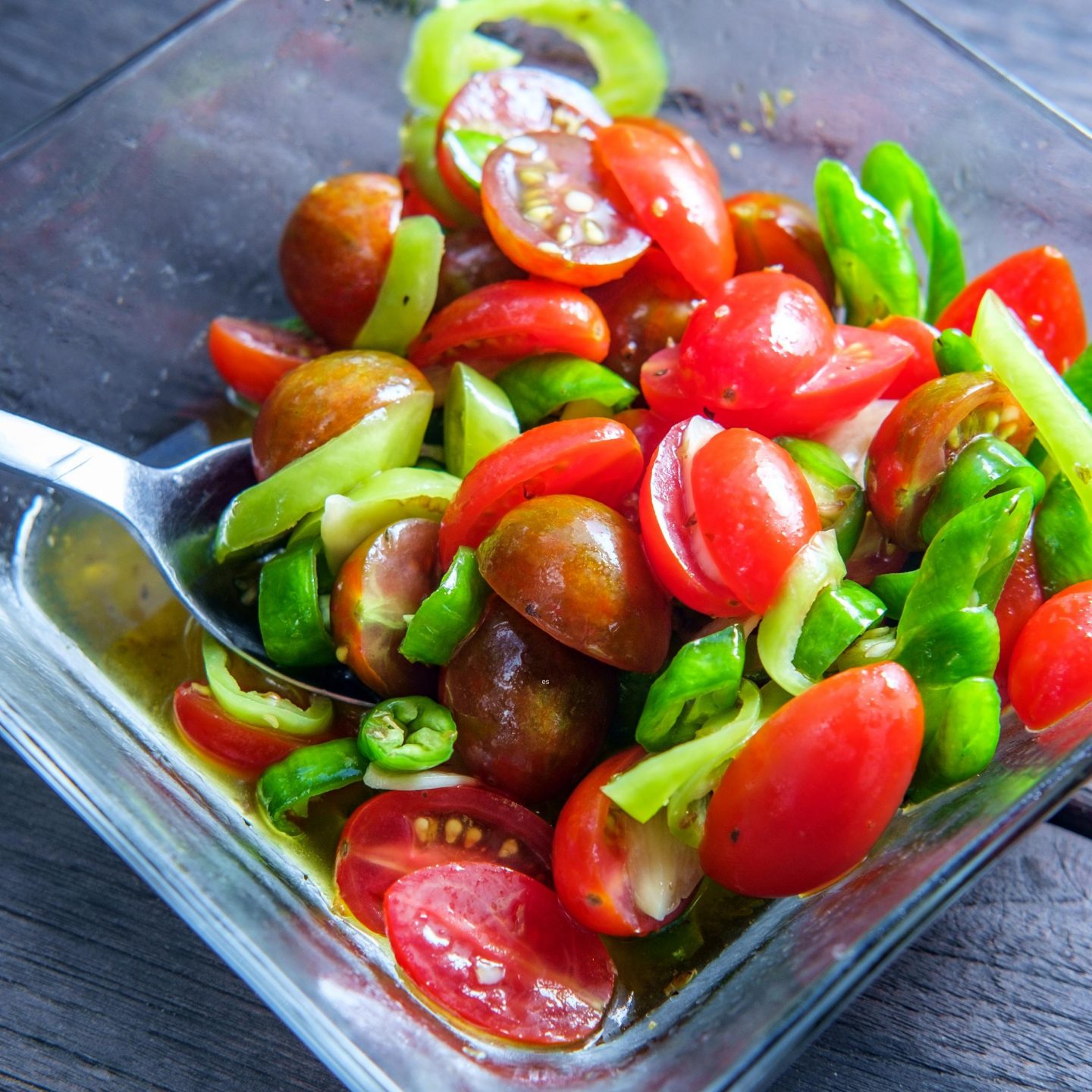 Enhance your culinary skills by preparing these dishes that will even sort your breakfast, lunch, and dinner meals for the whole family.
These flavor-packed grape tomato recipes will surely uplift the mood of everyone on the table.
I have got your back with these 15 healthy recipes using grape tomatoes to make your taste buds go yum!!! The list includes a mix of some amazing sides dishes, appetizers, salads, and sauces made of grape tomatoes to add a fun element to your food.
With a few additions and changes in technique, you can prepare flavorsome recipes with grape tomatoes for your next gathering.
Frequently Asked Questions
Are grape and cherry tomatoes the same?
Even though grape and cherry tomatoes are similar in bite-size, they are different. Grape tomato has a thicker skin and has an oval shape compared to the other. Cherry tomatoes are rounder, juicier and sweeter.
You can switch the tomatoes with one another if required for a recipe.
What vitamins are found in grape tomatoes?
A grape tomato consists of vitamin C, plant-version of vitamin A, lycopene, beta-carotene, and other essential vitamins or minerals.
Besides, these tomatoes are not just are excellent sources of fiber but also provide health-protecting benefits. They act as valuable anti-oxidants and shield against infections.
How do you get all the fiber from the grape tomatoes? Well, this summer grape tomato salad could be a game-changer for you. The tangy balsamic vinegar, sweet grape tomatoes, fresh basil, bite from the shallot could help you soothe the temperature.
Sprinkle pepper post marinating the tomatoes, and your best summer salad is ready. It is one of the best side dishes for your party or picnic and takes around 2 hours to prepare and gobble.
Note: Store this in your fridge for 2-3 days without any trouble. But if you are planning to keep it at room temperature, then don't go past 10 hours.
Are you ready to tempt your guests with this delicious appetizer? You can make restaurant-quality Bruschetta with this simple recipe at home.
Use fresh and ripe tomato variety, toasted bread, basil, and prepare a delicious appetizer fit for any gathering. Ensure to cut tomatoes in half and remove the watery seeds to prevent your dish from getting soggy.
The crunch of toasted bread with the tomato mixture you've prepared will boost its flavor profile. Shred some cheese for the topping as per your serving size.
Balsamic tomato salad is all about vitamins and good health. Diet conscious people are a big fan of this recipe. Fresh tomatoes have extremely low carbs and especially if you are into shredding a few pounds.
Use larger tomatoes for making this diet bowl in just a couple of minutes. A combination of grape tomato, olive oil, black pepper, and balsamic vinegar will make you relish this tasty, wholesome salad.
This is an excellent option if you do not have much prep time as you can prep it in under 20 minutes. So get some sweet tomatoes from your garden and try this salad out.
Now you can make the most mouth-watering garlic pasta in less than 30 minutes. Switch to grape tomatoes instead of cherry tomatoes and make this dish even more luscious.
This meal needs just ten ingredients to become an absolute favorite. Toss your boiled pasta in olive oil and season it with salt and pepper. Garnish the pasta with basil and parmesan once you are ready to serve.
The tomato and garlic pasta looks yummy and is irresistible! If you happen to be a cheese lover, skip the single layer and spread some more.
Roasted grape tomatoes have their flavor and are simple to cook. The melting taste of roasted tomatoes is worth a try.
A combination of olive oil, garlic, tomatoes, salt, and sugar blends in beautifully and gives a unique flavor. You will need to pre-heat your oven and keep the baking sheet ready.
Serve your roasted grape tomatoes with scrambled eggs, pasta, grilled fish, or layer it on your favorite pizza for a delightful experience.
Baked Feta Pasta is a vegetarian dish with a simple recipe. The mix of feta cheese, grape tomatoes, spinach, and garlic gives this excellent dish.
For this recipe, you can choose penne, fusilli, or any other pasta of your choice. Toss the tomatoes in olive oil, add high-quality cheese for that extra flavor. The aroma of roasted whole garlic cloves will take the recipe to the next level.
Non-vegetarians can give this recipe a twist by adding a slice of cooked chicken. Be careful about adding the pasta water in the right amount. Complete the dressing with some herbs and eat your baked feta pasta.
Throwing a party this weekend at your home? This is your go-to dish when you wish to give exceptional food services to your party guests.
The vibrant and colorful vegetables with the company of mozzarella pearls tossed with garlic and Italian herbs create a fantastic delicacy. For this simple salad use grape tomatoes and not cherry tomatoes for a better combination of taste.
You will also need mozzarella salad pearls, virgin olive oil, red or white wine vinegar, honey, and pepper for a final touch-up! Get ready to receive appreciation for this flavorful grape tomato dish.
If you're looking for a perfect grilled tomatoes recipe, your search ends here. Grilled tomatoes are healthy and bring a fresh savor with some simple ingredients.
The recipe requires only a spoon full of olive oil to toss the half-cut tomatoes. Let them cook for a minute or two, stirring occasionally. Your delicious grilled tomatoes are ready to serve with your favorite chicken, fish, or pasta casserole.
So try getting fresh tomatoes from a nearby garden and prepare a sumptuous meal tonight.
One of the best oven recipes for roasted grape tomatoes that you can't ignore. We recommend using grape tomatoes in place of cherry tomatoes for better results.
It's one of the most unusual, favorable recipes and is excellent for the dinner table. Get a tender and juicy relishing experience and mix your roasted grape tomatoes with a homemade pizza or a plate of veggies.
Are you ready to make your way to the kitchen for trying this roasted grape recipe? You are definitely going to enjoy this savory dish post all the hard work.
Grape tomatoes on bamboo skewers with a touch of basil, mozzarella, and vinegar could add a lot of magic to your dinner.
We can call it salad on a stick and label it as the best appetizer for any occasion. Skip cherry tomatoes and go for grape tomatoes for a delicious catch, and there will be no sign of disappointment.
Try drizzling on some ground black pepper for an additional flavor profile. Prepare Caprese skewers for dinner and stun your guests.
Apart from dietary needs, you can use salads in various ways. Like this one! It's a simple dish with a green sign for your healthy regime.
This salad with a grape tomato, avocado, cucumber, mozzarella, and red onion is a perfect recipe for spring. Combine lemon juice with basil pesto for an enhanced flavor.
Serving this item with grilled meat, pork, chicken, or roasted lamb is suggested. Try this today at home!
This four ingredients recipe is perfect for all weathers and is ready in just 15 minutes. Cook the grape tomatoes till they burst open juicy in the pan.
The leftover grape tomato from the backyard can be put to some good use this way. Warm olive oil, aromatic herbs add a twist to the saucy tomatoes. You can also sprinkle some red pepper flakes on this.
You can also store a jar of grape tomato sauce in the fridge for your lasagna bowls, pizzas, and pasta.
Packed with flavors, this combination of spaghetti, chicken, and tomatoes is a must-try at home.
The ripe tomatoes added with basil will give anyone a mouth-watering craving. For variations, you can use shrimp in place of chicken or add extra vegetables like mushroom, spinach, onions, etc.
After eating this distinct spaghetti once, you'll love to prepare this recipe again and again. You can also switch to zucchini noodles for spaghetti if you desire.
This chicken recipe demands a minimum effort from your end. The blend of chicken breasts with a seasoning of salt, pepper, and garlic powder is going to satisfy both your tongue and belly.
Place the buttery tomatoes with chicken in the pan and wait for the mesmerizing aroma. Fry the breasts well until they are brown on both sides. Relish eating garlic tomato chicken.
Alternatively, serving this recipe with garlic bread, pasta, salad, or rice is also a great way.
All you need is some basic ingredients from your kitchen to satisfy your appetite. The tomatoes, spinach, and juicy shrimp pasta can be made in just 30 minutes. Don't forget to add red pepper flakes for a spicy touch after preparing the pasta.
Top the prepared mix over the spaghetti. Or pair up with freshly baked garlic bread or salad without regret. Try cooking this delicious item on the weekend and enjoy it to the fullest.
Make sure to use in-season tomatoes for this recipe.
Looking for more tomato recipe ideas? Check out my collection of cherry tomato recipes and the easiest way to cook them!