These 30 best cherry tomato recipes are a delicious way to take advantage of your garden's bumper crop or a buy-one-get-one-free sales at the farmer's markets. Learn the best ways to cook them with this amazing list of cherry tomato recipes.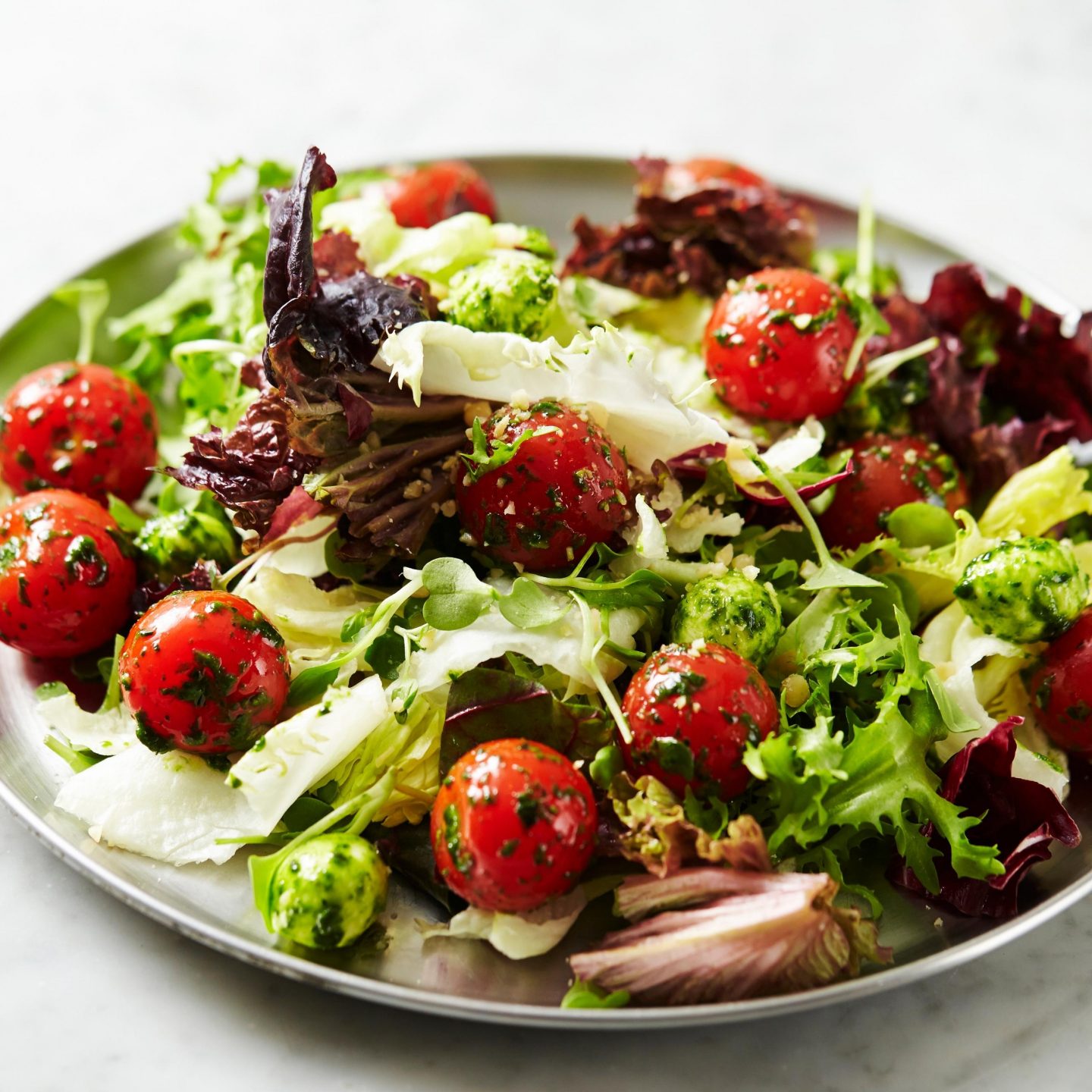 These gorgeous and juicy little fruits are endlessly versatile thanks to their powerful punch of concentrated tomato flavor and sweetness.
You can use these beauties to add flavor and a bright pop of color to your salads and grilled meats. Roast until deliciously tender and slightly charred and crown them on pizza and crostini.
These tomatoes also collapse deliciously into a sauce and jam to dress up your pasta dishes, burgers, hotdogs, sandwiches, etc.
As you can see, there are plenty of ways you can use these glorious cherry tomatoes and that's why we're incredibly excited about this list of our best cherry tomato recipes.
We've got entrees to appetizers and everything in between. All these dishes are sure to put a smile on your family's face.
Want to enjoy these juicy ripe cherry tomatoes all year long? Learn how to can 'em and find best jars for canning and bring back summertime memories.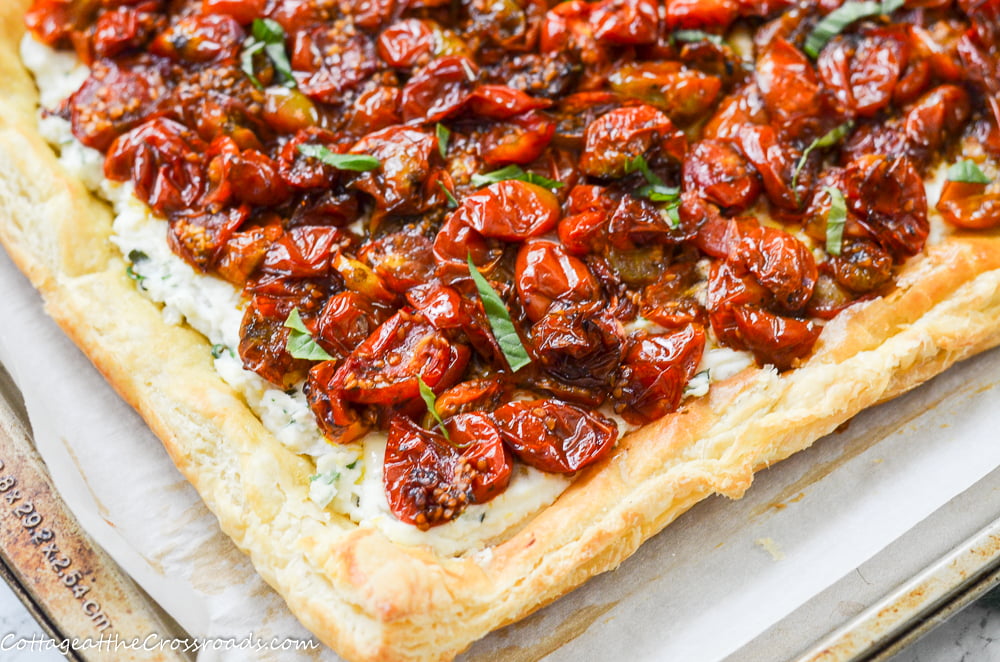 Packed with unbelievable flavor, this delightful summer tart recipe is going to please everyone around the dinner table.
Crisp puff pastry is topped with savory herbed goat cheese spread and full of flavor roasted tomatoes.
A little sprinkling of fresh basil and a drizzle of balsamic vinegar before serving really takes this dish over the top. Don't skip!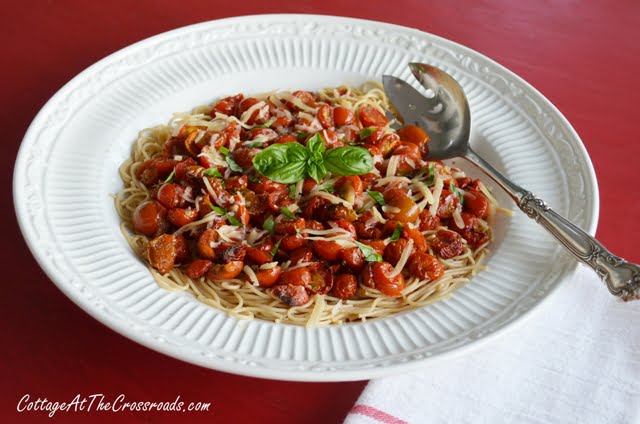 This recipe keeps it simple, which allows the subtle flavors of each ingredient to really shine through.
Balsamic roasted cherry tomatoes combine with pasta and cheese, then garnished with a few basil leaves and additional cheese.
It's seriously good and quick, too. You should definitely add this pasta dish to your weekly dinner rotation.
The flavor combination of this shrimp pasta cooked in white wine lemon butter sauce simply can't be beat.
Lemon juice adds a bright, tart flavor to the dish; white wine gives it a robust and rich flavor, while fresh cherry tomatoes and spinach add extra texture and a pop of color.
And the butter olive oil combo adds an interesting dimension to the dish, making it totally irresistible.
This simple, no-cook sauce comes together in just 10 minutes in a blender or food processor.
It features sweet cherry tomatoes, fresh basil, garlic cloves, Pecorino Romano cheese, olive oil and almonds. They create so much flavor and depth you'll want to make a double batch.
Use it over spaghetti, in your favorite pasta dish, meatballs, or serve with your favorite crusty bread.
Give a classic Greek salad an upgrade with the generous scoops of roasted grape tomatoes and crispy chickpea.
Alongside feta cheese, veggies and tangy lemon and red wine vinegar vinaigrette, this elegantly simple salad will be a great addition to cookouts and parties.
No list of cherry tomato recipes would be complete without a classic roasted tomato soup.
This bowl of comforting deliciousness is rich and velvety and makes a tasty accompaniment to crusty bread and a grilled cheese sandwich.
It's also super easy to make with basic pantry staples!
Take your French toast game up a notch with this easy recipe. Thick slices of Italian bread are dipped in a mixture of Romano cheese, eggs, half and half, then pan fried to gold brown perfection.
It's topped with melt-in-your-mouth cherry basil butter for an unforgettable breakfast or mid-day snack.
Make sure you have warm slices of crusty garlic bread on hand to mop up every last drop of the juicy tomatoes and the creamy and luscious feta off your plate.
You won't able to get enough of this.
Seasoned with cinnamon stick, garlic, ginger, smoked paprika and lemons, this one-pot vegan pilaf recipe will fill your house will unbelievably amazing aroma.
Plus, it's incredibly easy to whip up and ready on the table in less than an hour. This is a perfect meal for busy weeknights or to serve a crowd.
Of all the cherry tomato recipes, this has to be my favorite. It's light, creamy, refreshing and has fantastic flavors and texture. And it's ridiculously easy to put together.
Serve as a side dish for your next cookout, backyard BBQ, or potluck party and wait for rave reviews.
This simple, luxuriously creamy recipe made with roasted cherry tomatoes and creamy burrata shows just how a handful of ingredients can transform into something decadent and downright delicious.
The whole family is going to love this and it might just become a new favorite!
Plus, the dish is ready in 30 minutes or less - the perfect meal to have up your sleeve on a busy or lazy day. It's a delightful option for company, too.
Small batch jams are the jam! Brightened by cider vinegar and fresh tomatoes and sweetened by brown sugar, this tomato jam is an irresistible blend of sweet, savory and spicy flavors.
It works perfectly on sandwiches, burgers, pizza and more.
This cherry tomato recipe is sure to make your tastebuds giddy. Pan-seared cod fillets alongside cherry tomatoes are cooked in lemon garlic white wine sauce.
It results in a deeply flavorful dish and no one will ever guess it was made in just 10 minutes!
Pair it with grilled/roasted veggies or your favorite salad for a gourmet-style weeknight dinner.
Tender and crispy green beans and cherry tomatoes are simply roasted with olive oil, salt and pepper, then drizzled with balsamic vinegar and a sprinkling of parmesan for a classic side dish that just can't be beat.
It pairs wonderfully well with roast beef, chipotle-honey glazed tilapia, grilled beef tenderloin, or steak.
This spin on the classic Caprese salad plays with sweet, savory and tangy flavors of peach, cherry tomatoes, lemon zest, salt and pepper.
Right before serving, drizzle some olive oil and balsamic glaze for an extra burst of flavor. Serve as an appetizer, light lunch, or side tomato salad for warm summer days.
This recipe is guaranteed to deliver maximum satisfaction and flavor. Roasted cherry tomatoes and risotto add a ton of flavor to this creamy dish, but the real game-changer is the pesto.
It adds so much depth and dimension to the dish that you'll love.
There's something about tomato season that makes me want nothing more than to make batches and batches of cherry tomato salsa.
It's not only delicious on just about anything but also comes together pretty easily and quickly.
This roasted cherry tomato recipe is tangy, smoky, and garlicky with just the right amount of heat.
The recipe yields about 2 cups, but you can double, triple, or even quadruple the batch if you prefer.
This is one of my family's favorite cherry tomato recipes. After all, melt-in-your-mouth burrata makes everything better.
Oozing with cheesy, creamy goodness and gorgeously juicy sautéed cherry tomatoes, this sweet and savory vegetarian dish is the perfect appetizer to jazz up your dinner party.
Need a main dish that's sure to impress and easy to make? This pan-seared salmon fillets bathed in a creamy, garlicky parmesan sauce recipe is an instant win.
It sounds fancy, looks fancy and tastes fancy but only takes 30 minutes to come together.
Creamy ricotta, tangy goat cheese and zesty crumbled feta, who can say no to this combo? Certainly no one I know.
This creamy blend gets a flavor boost from basil, lemon juice and roasted cherry tomatoes. It's pure deliciousness and will literally melt in your mouth.
This is a great appetizer to serve at a dinner party alongside some toasted bread, crostini, or baguette.
Juicy cherry tomatoes burst open in garlic, basil leaves and smoked bacon lardons creating a chunky, bacony, luxurious sauce that comes together in mere minutes.
The two kinds of cheese add a final blast flavor. Kids will love digging their forks into this delicious pasta bake.
It's now evident that most of my favorite cherry tomato recipes involve roasting as you get a lovely concentrated flavor.
Add fresh herbs, onions, garlic and olive oil to the roasted tomatoes and you have yourself a rich, intensely flavored tomato sauce. You'll want to slather it over just about anything.
This sauce freezes well, too, so you can double the batch and enjoy summer flavor for the rest of the year!
Looking for quick and easy yet delicious cherry tomato recipes? Look no further than this chicken skillet recipe.
It whips up in just 15 minutes, uses a handful of ingredients and packs so much flavor.
Serve with a side of mashed potatoes and roasted veggies for a perfect dinner treat the entire family will love.
Tired of the usual creamy avocado toast? Try this is roasted cherry tomatoes recipe.
Roasted tomatoes, fresh basil and thyme tuck in nicely underneath a blanket of melty, gooey mozzarella cheese, then drizzled lightly with balsamic vinegar for extra oomph.
Every bite is crispy, tangy and cheesy. Kids will absolutely love this! These toasts are also fantastic for holiday parties or any special occasion.
Made with homemade dough, creamy filling, rich cheese, bright red cherry tomatoes, fragrant fresh chives and basil, this meatless quiche will have everyone coming back for seconds, even hardcore meat eaters.
The best thing about this recipe is that you can customize it however you like.
If you're pressed for time and need a quick meal, use store-bought dough.
You'll savor every bite of this Mediterranean-style salad. It's loaded with toasted pearl couscous, crispy cucumbers, creamy feta, roasted cherry tomatoes and olives.
The zesty honey-lemon dressing is the key to this pearl couscous salad. It infuses it with so much flavor and brings all the flavors together.
Pile Italian roasted cherry tomatoes, fresh mozzarella and spinach on top of pre-made naan flatbread, bake until ooey-gooey, then finish it off with a sprinkle of fresh basil.
Just like that dinner or appetizer is ready to devour. It's amazingly delicious as-is, but feel free to load it up with your favorite pizza toppings.
Full of fresh veggies, this nourishing and refreshing cherry tomato pasta salad will steal the show at your next dinner or barbecue party.
The pepperoni adds a nice crunch to the dish, easy-to-whip-up Italian dressing gives it a nice zing, pasta adds extra texture and the two kinds of cheese deepen the flavor. What's not to love?
You'll make this crowd-pleaser cherry tomato recipe again and again.
It's loaded with all the good stuff - incredibly flavorful chicken thighs, whole grains, veggies, creamy tzatziki sauce, extra virgin olive oil and crumbled feta.
Bite-size roasted sweet potatoes, halved grape tomatoes, fresh herbs and punchy sherry vinaigrette make cherry tomato salad so flavorful.
It's a perfect platter to serve with kabobs, fish, and anything hot off the grill. This will quickly become a favorite at picnics and cookouts.