Well, it's tomato planting time here at the Crossroads, and we thought we'd pass along a few of our tips about planting tomatoes. Leo and I are not experts by any means, but we have been gardening for a few years now and we have learned a few things along the way. Growing great tomatoes doesn't just happen, and we're glad to share what has worked for us.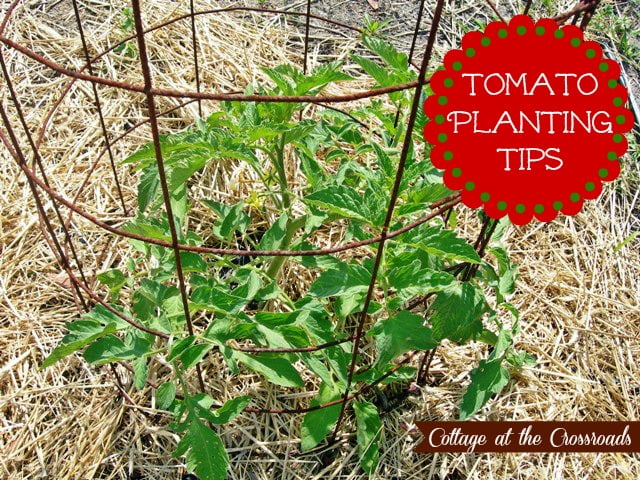 First, you must select a nice sunny area to grow your tomatoes because they need at least 7 hours of sunlight. The next thing is that you must prepare your soil. This area has had a layer of leaves sitting on it this winter, and Leo tilled them under in January. See those black piles sitting on the ground? That's a mixture of our homegrown compost and a commercial compost called Black Kow.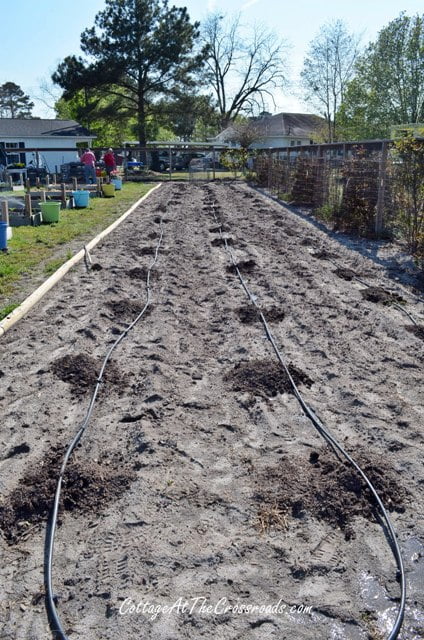 You should have seen the earthworms in our compost scrambling to go underground, and that's a very good thing! These piles of compost sat on the ground for a few days at the places where we were going to dig our holes.
The first year that we started our garden, we just planted our tomatoes into our soil without adding any compost. The plants produced some tomatoes that year but not anywhere near as many as we get since we've been adding compost.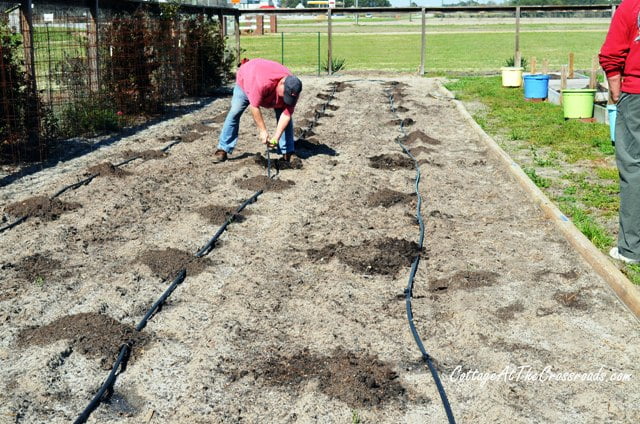 Another tip is that you must water your tomato plants regularly and consistently. Our first year, we had a lot of tomatoes that split open because we didn't understand the importance of consistent water.
When they looked dry, we gave them a whole bunch of water and then we wouldn't water again for a few days. And when we got tired of watering with a hose, we turned on a sprinkler!
At that time we didn't know that watering overhead splashed soil born diseases onto the leaves. Yikes! So in the above photo, Leo and his brother Jim are attaching the drip heads to the irrigation hoses that we've started using in the garden. This system gives the plants water at their roots. You can read more about installing a drip system in Leo's post don't hesitate to irrigate, which turns out is very important.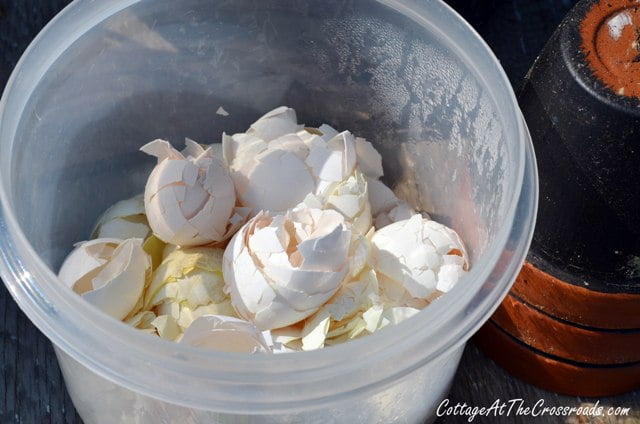 Another tip that I can give you is to add crushed eggshells in your planting hole. We have been adding eggshells all along to our compost, but I started saving some separately for a few months now. The purpose of adding eggshells to the hole is to provide the tomatoes with calcium. The first year we planted tomatoes, we were plagued with blossom end rot. I cannot tell you how many tomatoes we had to throw away that first year because of it. But since we've been using compost with eggshells added to it, we've had no blossom end rot.

As we were digging our holes to plant the tomatoes, the piles of compost got added into the soil, but here's another secret.
Along with the eggshells, we added dead fish. Leo's brother Jim likes to go fishing and he froze some fish just for this purpose. We added fish to our holes last year,  and we had more tomatoes than we knew what to do with! The fish supplies additional calcium for the plants. If handling dead fish is not your cup of tea, then you can always add some fertilizer that has trace elements in it.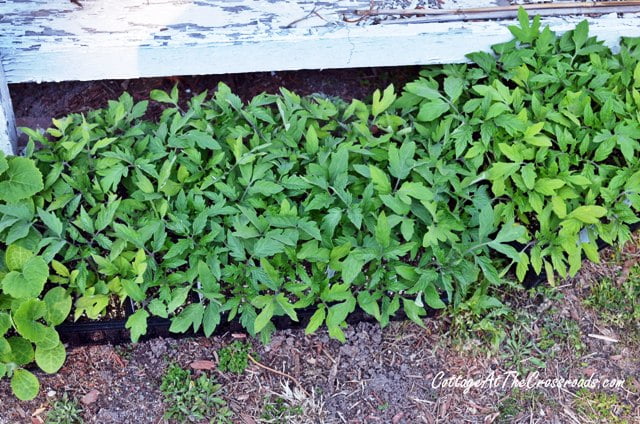 When we plant tomatoes, we use transplants. We are fortunate that we live near J&W Greenhouses where they are grown locally. Here's another tip. Do a little research about what variety of tomatoes you want to grow. This week we planted Celebrity and Better Boys. Both are hybrids that have stood the test of time and are very disease resistant. Planting varieties such as this will ensure that you will get some tomatoes! Next week, we will also plant some heirloom varieties.
It's also important to note what kind of tomato you are planting. Tomatoes are classified into two main groups-indeterminate and determinate. Knowing what kind of plant you have will help you decide how to support the plant once it gets growing.
Here's how I remember it. Indeterminate plants go IN a cage because they will grow tall (up to 6 feet) and will need a strong support system. Leo made our cages using some concrete reinforcing wire. I'll see if I can get him to do a post explaining how to make them.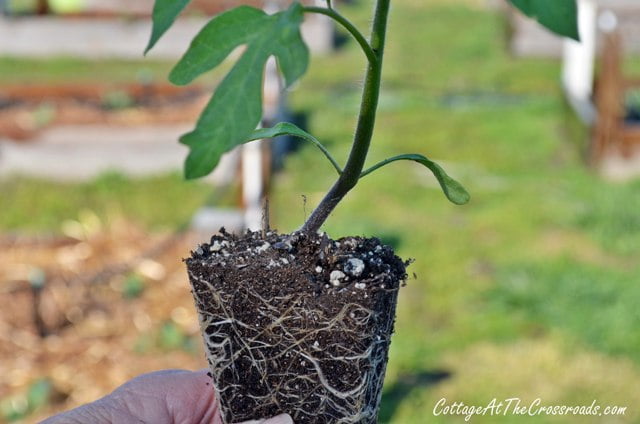 See those bottom two leaves on the tomato plant?
Snip or pinch off those bottom leaves. The reason that you want to do that is so that you can plant it deeply to encourage new roots to form along the stem. You'll have a much stronger plant if you do.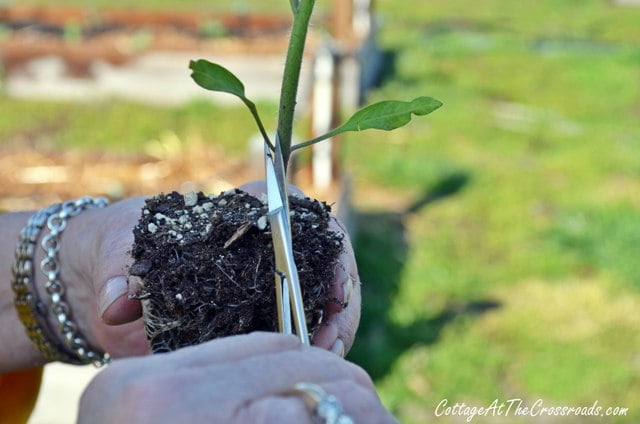 Another thing that you need to remember is to allow plenty of space between each plant. We usually allow about 3 feet. Once you add your tomato cage, you have to have room to walk around it to harvest the tomatoes.
In our first garden, we planted our tomatoes too closely, and I had difficulty getting around the cages without scraping against them.  In this photo, you'll notice that we have planted French marigolds between the tomatoes. Their purpose is to protect against nematodes that are in the soil. Now what exactly is a nematode, I do not know, but it isn't good!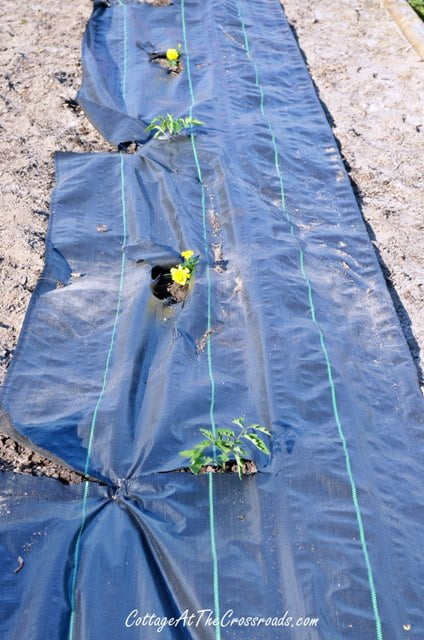 We started placing landscaping fabric around our tomatoes last year. Since we plant so many tomatoes, weeding becomes a never-ending and tiresome chore. Last year, we cut circles out of the landscaping fabric and placed them around the plants which helped tremendously with the weeds. But this year we thought we'd just roll it out like this.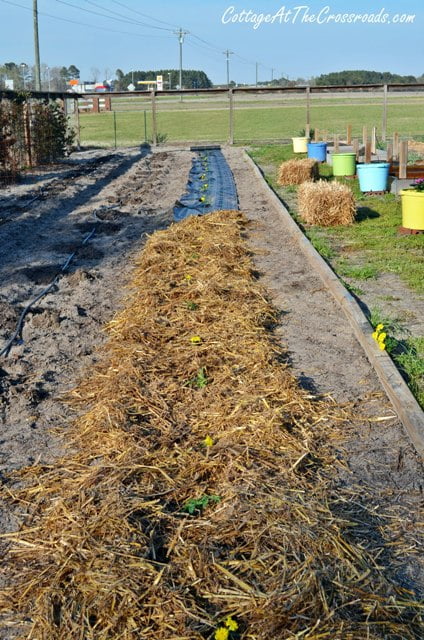 You will want to mulch around your plants to help retain moisture. We use wheat straw.
So far, we've planted about 50 tomato plants. Why so many? You can read about why in my post i've been canning tomatoes. And if you follow most of our tips about planting tomatoes, I'll guarantee that you'll be enjoying a fresh 'mater sandwich before you know it!