Today I'm sharing a cucumber sandwich spread that's perfect for making pretty finger sandwiches for any occasion or to simply to stave off hunger until dinner is ready.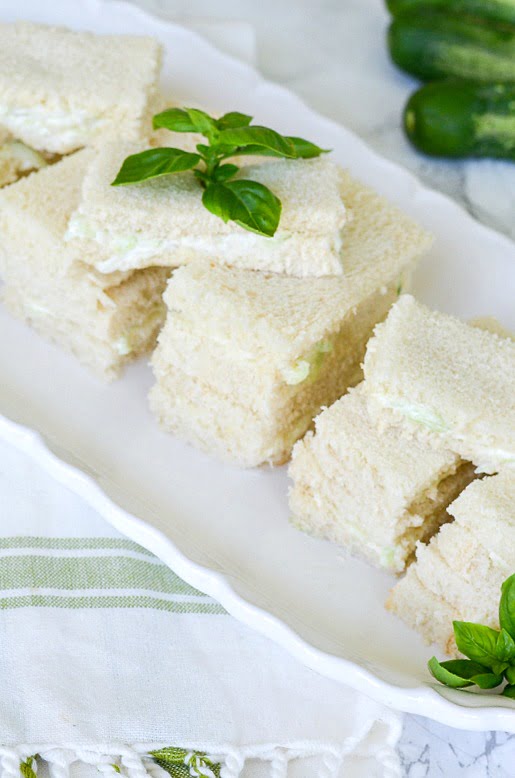 Leo and I have eaten a lot of these refreshing cucumber sandwiches this summer. Our cucumber plants produced lots of cucumbers so I had to get creative with ways to use them.
So one day I mixed up this simple cucumber sandwich spread, and we decided it was a real winner!
The spread is full of flavor and so yummy and refreshing.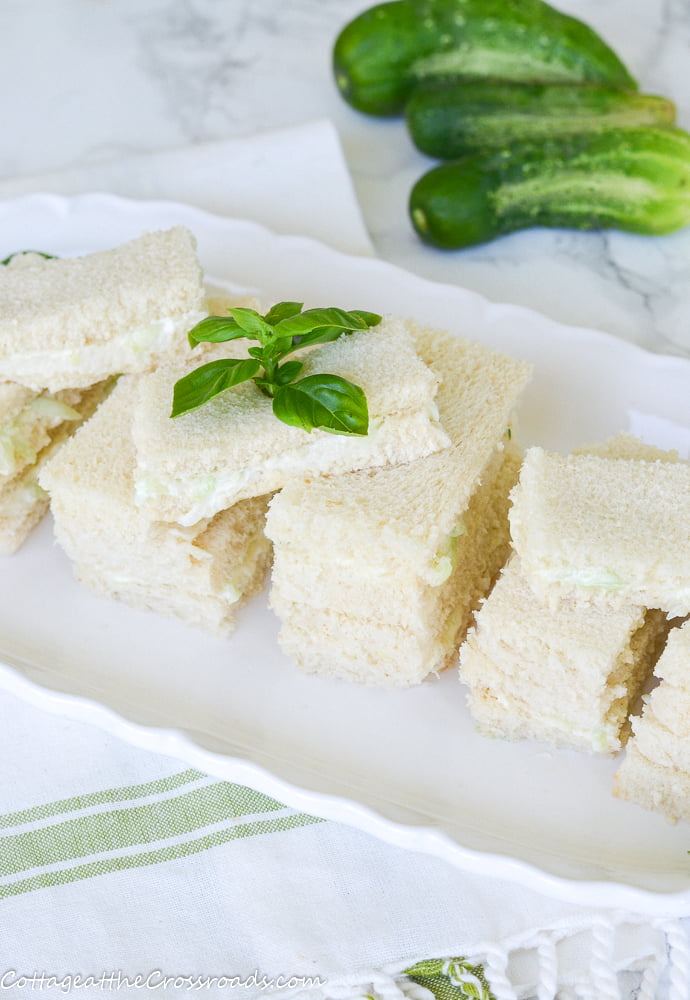 I could eat this stuff day after day and not get tired of it, which is pretty much what I did this summer!
Not only are they great for a light summer lunch, they would be perfect for an afternoon snack with tea. Here in the hot south that would be iced tea, but cucumber sandwiches are a staple served at British afternoon teas.
Although I used small pickling cucumbers from our garden, you could make the spread anytime of the year using a hothouse English cucumber.
How to make Cucumber Sandwich Spread
Learn how to make this quick and easy cucumber sandwich spread with my step-by-step instructions, detailed photos, and helpful tips.
Step 1
Wash and peel 3 small pickling cucumbers.
Step 2
Using a box grater, grate the cucumbers. In the same bowl, grate half of a small sweet onion. (I used a Vidalia onion.)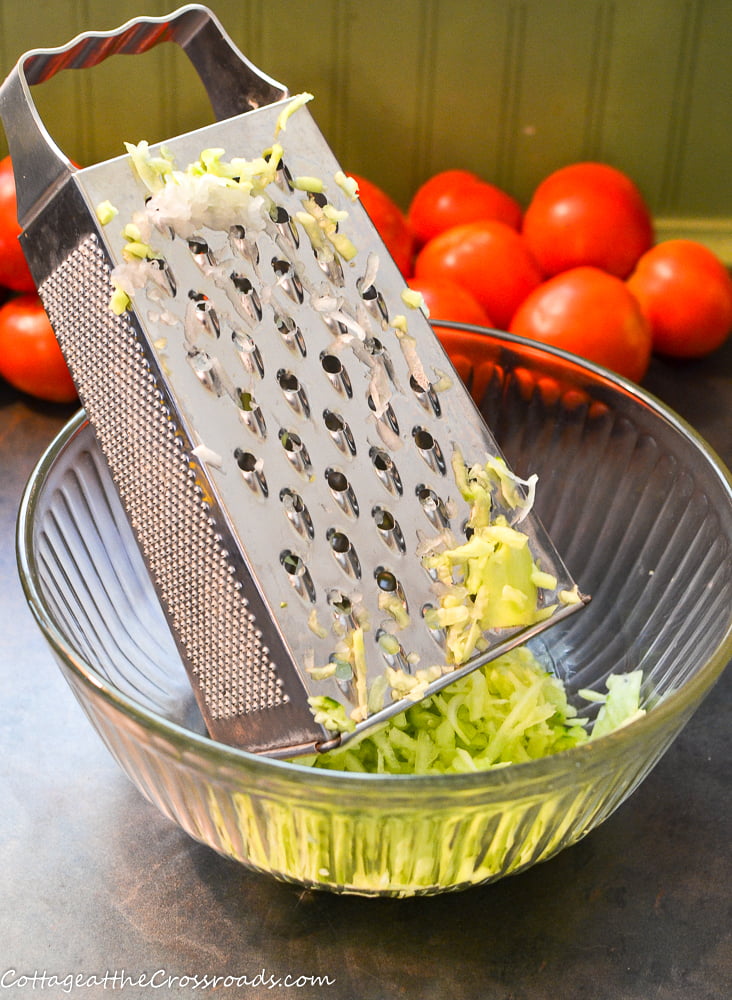 Step 3
On top of the grated mixture add 1 block of cream cheese along with a small amount of mayonnaise, salt, pepper, garlic powder, and sugar.
Important Tip
Don't be tempted to leave out the sugar because I've made this mixture with it and without it. The little bit of sugar makes all the difference! Trust me!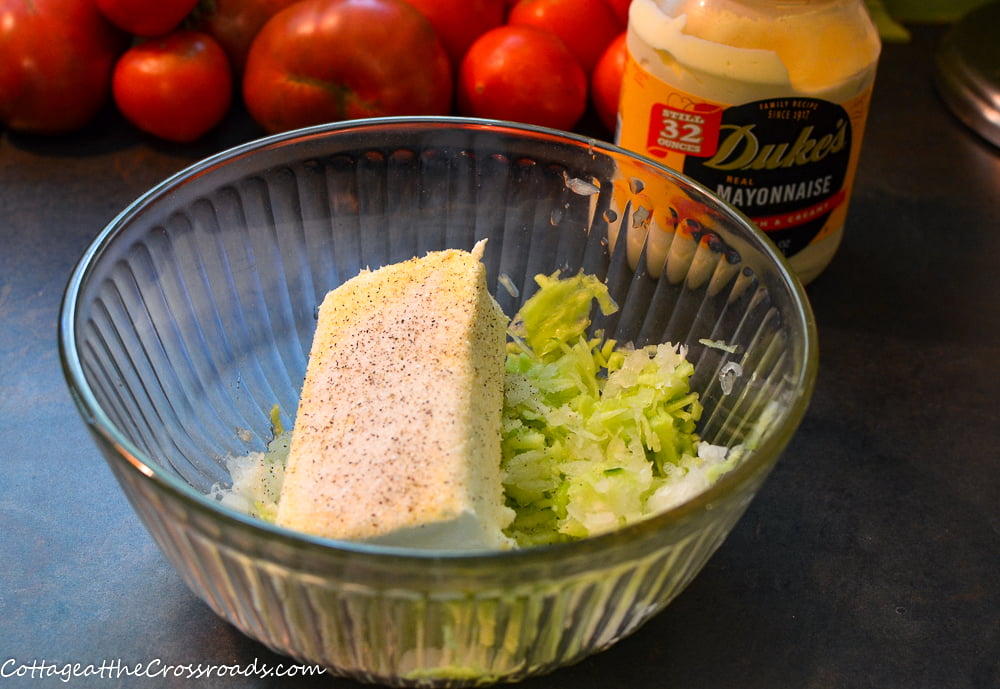 Step 4
Use a fork to blend all the ingredients together.
Your cucumber sandwich spread will look similar to this because the juices from the cucumber and the onion will be released into the mixture. If you want to firm it up a bit, put it in the refrigerator for a short while but I didn't find it necessary to do that.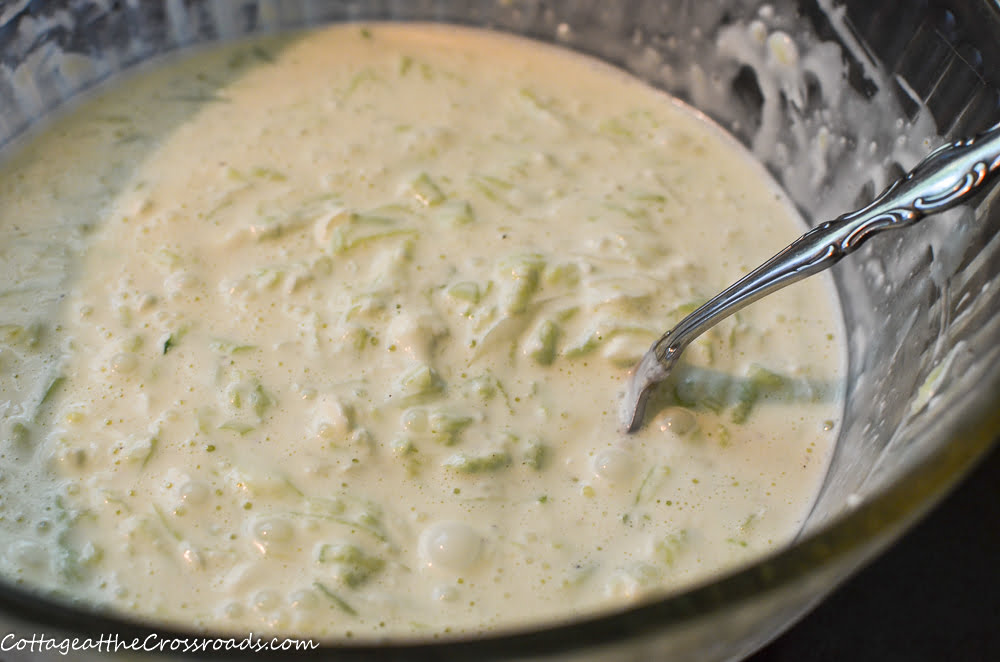 This cucumber mixture tastes great as a dip on crackers, by the way, but my favorite way to use it is to make finger sandwiches.
How to make Cucumber Finger Sandwiches
These tasty cucumber sandwiches are perfect snack, appetizer, and even work as a light lunch option.
Step 1
First, you will need a loaf of white sandwich bread. Trim the crusts from the bread.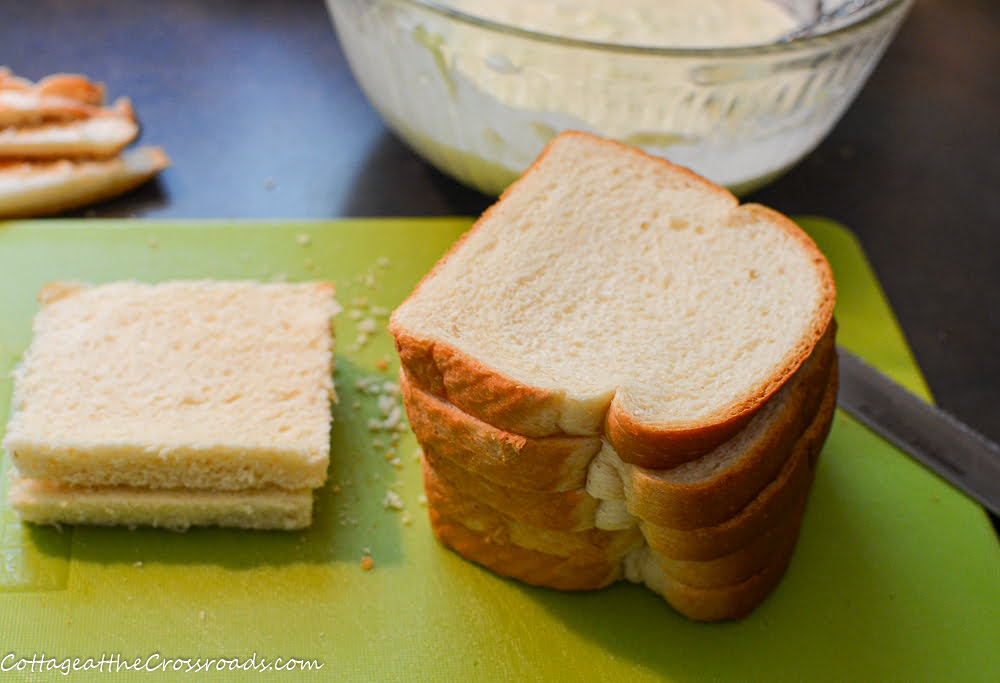 Step 2
Spread the cucumber sandwich spread on one piece of bread and then place another piece of bread on top. Then cut the sandwich in half.
That's all there is to it! SIMPLE!
Quick Tip
You could, of course, cut them in a triangular shape or get out a biscuit cutter and cut them into rounds. But for some reason, I prefer the dainty, finger shape!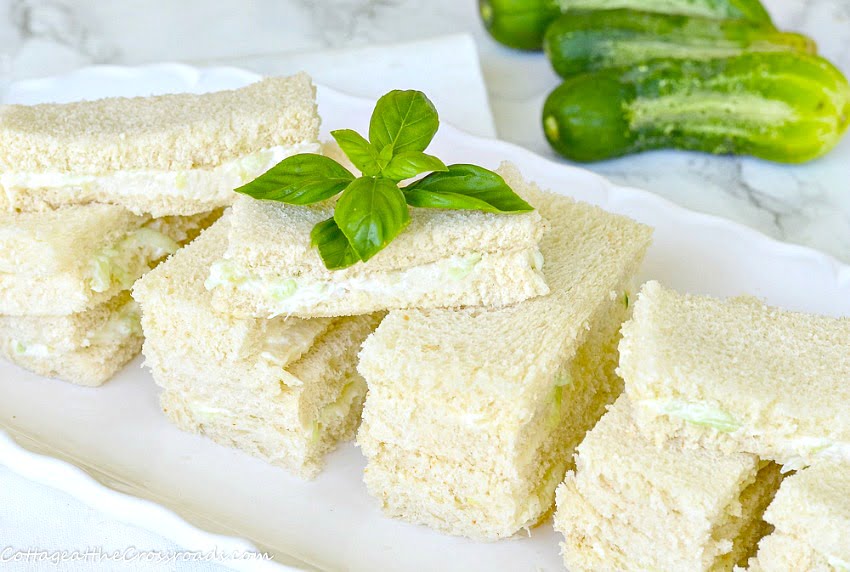 Serving and Storing
These cucumber finger sandwiches are best eaten right away or within a few hours of making them. If you are concerned about them becoming soggy, just spread some softened butter on the bread before making them.
And, if you are taking them somewhere, construct the sandwiches, place them in an airtight container, cover with a layer of wax paper and then place a damp paper towel over the wax paper. Cover and refrigerate until ready to serve.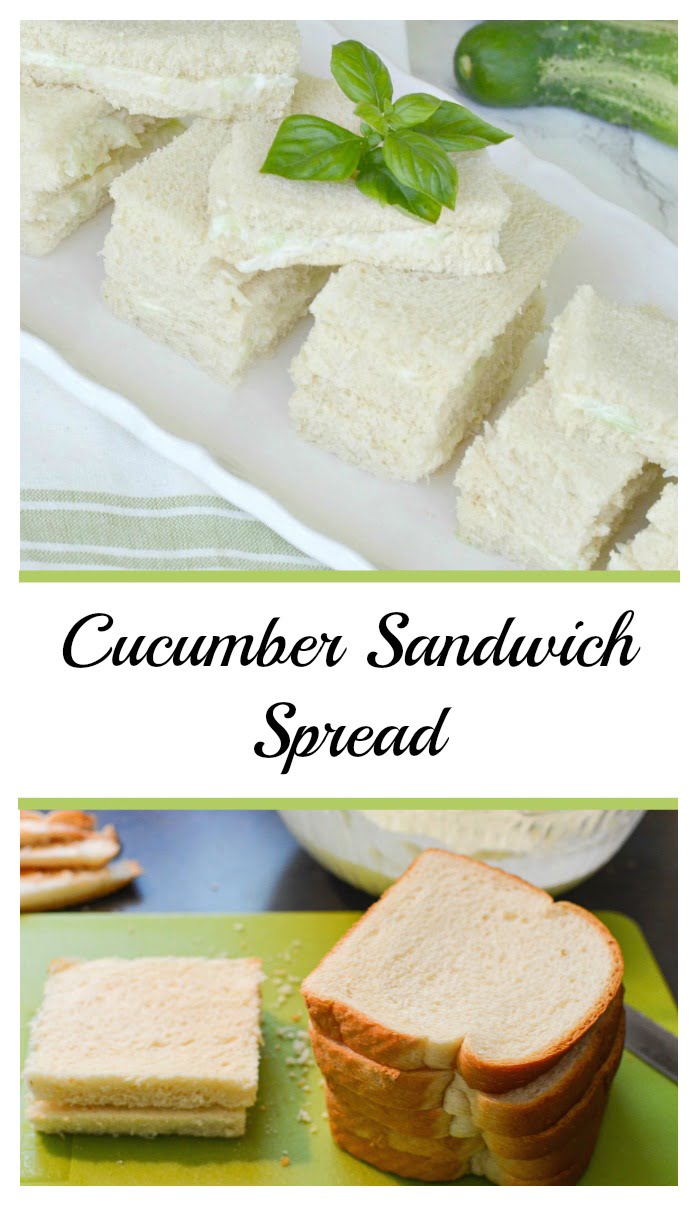 Related Cucumber Recipes
If you're looking for more sandwich ideas for a party or other social occasion, check out my pretty layered ribbon sandwiches.
Cucumber Sandwich Spread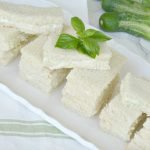 This cucumber sandwich spread is flavorful and makes the best refreshing finger sandwiches that are perfect for any social occasion.
3 small pickling cucumbers (washed and peeled)
½ small sweet onion (peeled)
8 ounces cream cheese (softened at room temperature)
⅓ cup mayonnaise
¼ teaspoon garlic powder
¼ teaspoon salt
¼ teaspoon pepper
1 tablespoon white granulated sugar
Using a box grater, grate the cucumbers and onion into a medium sized bowl.

Add the softened cream cheese, mayonnaise, salt, pepper, garlic powder, and sugar to the same bowl.

Using a fork, mix it all together until the ingredients are thoroughly combined.
The nutritional calculations are for the spread only and do not include the bread that you would use in making sandwiches.
This spread is best used when made or within 2-3 hours.
If you are concerned about the sandwiches getting soggy, spread some softened butter onto the bread before adding the cucumber spread.
To prevent the sandwiches from drying out, assemble the sandwiches, place in an airtight container, cover with a layer of wax paper and then a dampened paper towel. Cover and refrigerate until ready to serve.
The spread is equally good used as a dip.