Doesn't matter whether you call them tea sandwiches, finger sandwiches, or pick up food, these pretty layered ribbon sandwiches deserve to be at your next social occasion.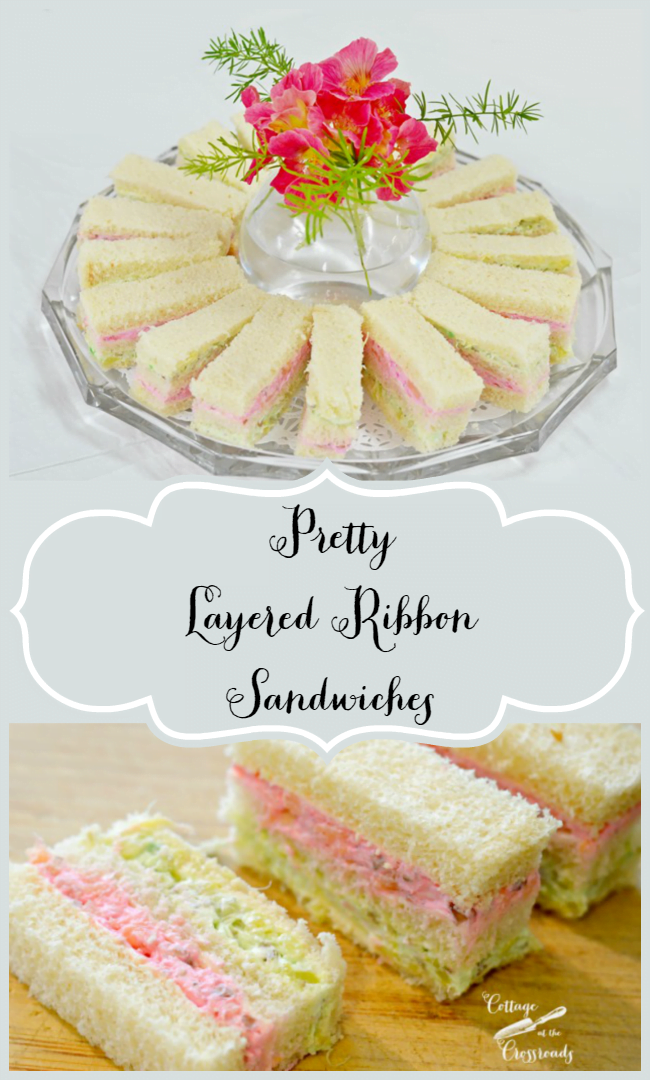 A few weeks ago, I was asked to make some ribbon sandwiches for a retirement reception at our church.
I said that I'd be happy to provide them if someone would tell me how to make them.
You see, the word "ribbon" was throwing me. I had never heard them called that. And I figured that if someone had to tell me how to make these pretty layered ribbon sandwiches,that I should pass along the info to all of you!
Their name comes from the festive ribbons of colored filing, and I have eaten plenty of these dainty sandwiches.
But I've always called them finger or tea sandwiches.
But no matter what they're called, they are seriously the best little sandwiches!
But I have to fess up and admit that I've never made them until this past weekend.
What you need
To make the ribbon sandwiches, you will need some cream cheese, crushed pineapple, pecan pieces, and butter. Yes, I said butter! These sandwiches are FAR from healthy or diet food, but they are so good as a treat for a special occasion.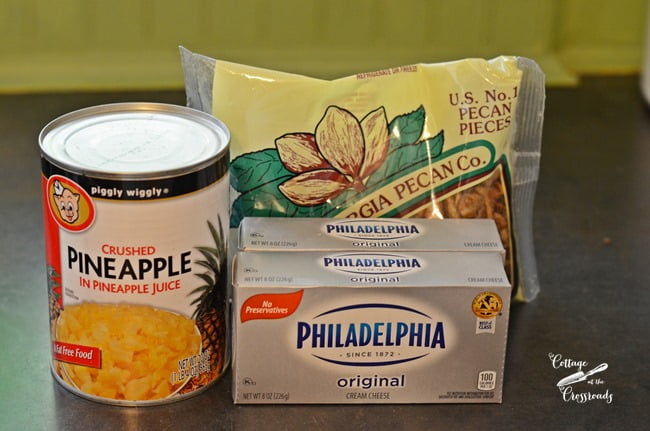 And you will need one or two loaves of square sandwich bread, depending on the number of ribbon sandwiches that you want to make.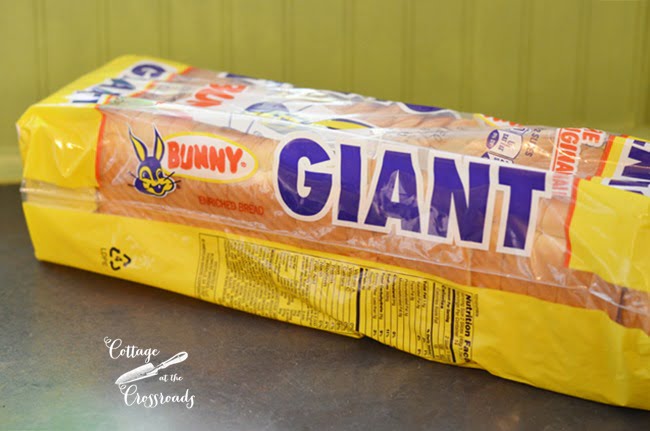 How to make ribbon sandwiches
Step 1
Allow the butter and cream cheese to soften at room temperature. Chop the pecan pieces very finely.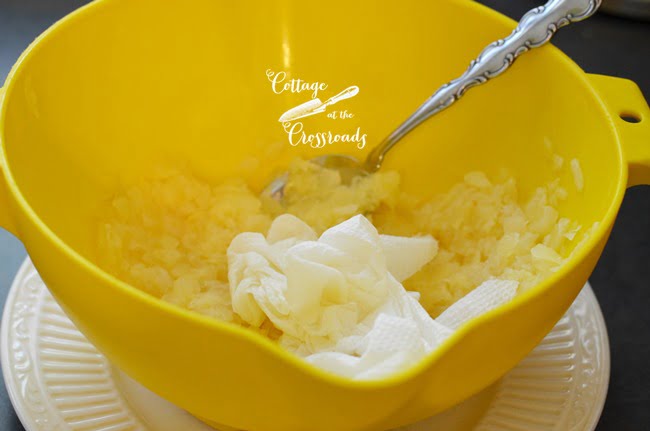 Step 2
Open the can of crushed pineapple and allow it to drain. Then press even more juice out of the pineapple by pressing on it with the back of a spoon. And when you think you've removed all the juice, take a paper towel and press down on the pineapple. You'll be surprised at how much juice is still in there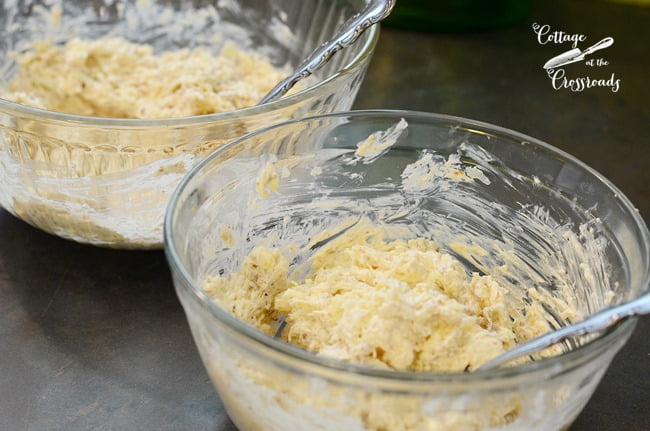 Step 4
Divide the cream cheese, crushed pineapple, and pecans between 2 bowls. Mix thoroughly.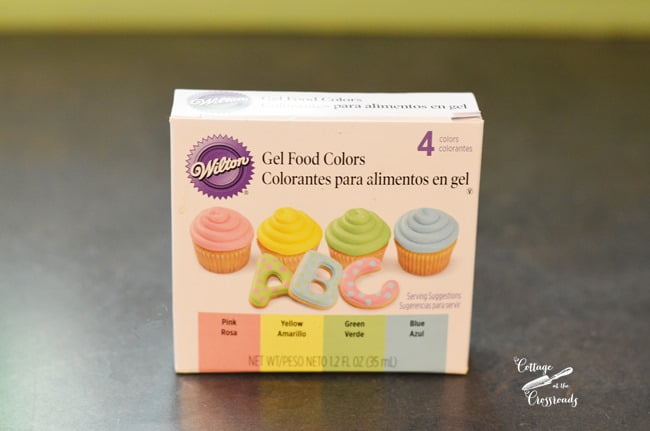 Step 5
To make the colored filing, you will need some food coloring. I haven't used food coloring in years, so when I went to purchase some, I found gel food colors. The gel is so much easier to work with and control! They are such an improvement over the liquid ones.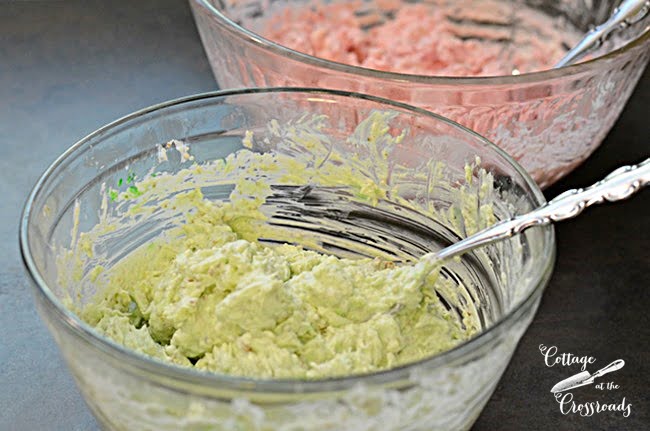 Step 6
After adding a few drops of gel coloring, I had some pretty pink and green filing.
The next step is to whip some softened butter using a mixer. (I whipped 2 sticks but had to whip some more to finish my sandwiches.)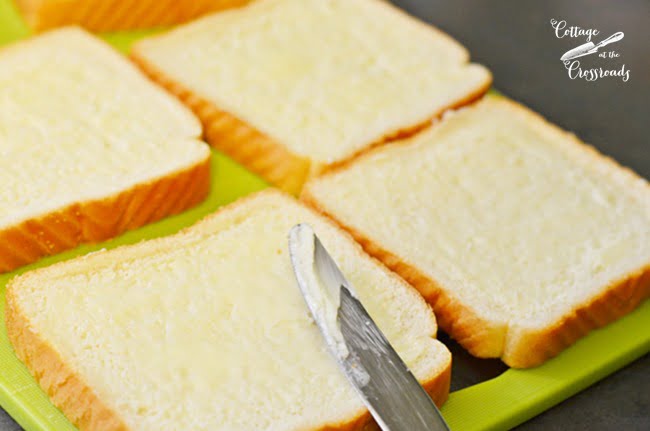 Step 7
Spread a very thin layer of whipped butter on one side of the bread.
Quick tip: The purpose of the butter is to prevent the sandwiches from getting soggy from the filing. I found that it was easier to work in stages. I buttered 6 slices of bread at a time.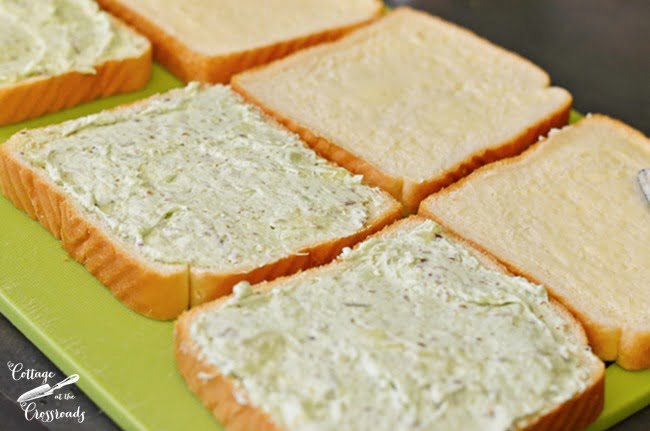 Then spread the filing over the butter.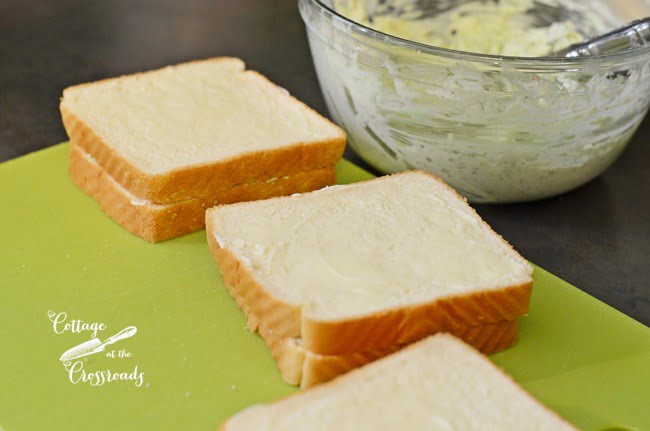 Step 8
Butter another side of slice of bread and place it down on top of the filing. Then butter the top of that slice. Add the different color of filing on top of that slice, and then butter another slice of bread. Put it buttered-side down on top of the filing.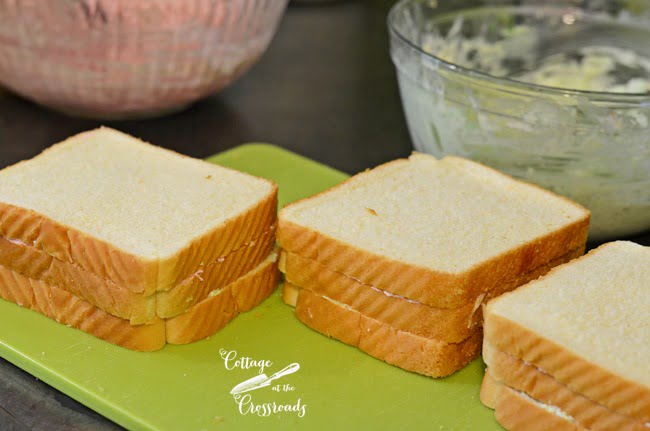 So you will end up with a stack that looks like this. You will need to concentrate a bit to get all of this buttering of bread down pat. Ask me how I know!!! Lucy, our dog, was eager to eat any mishaps.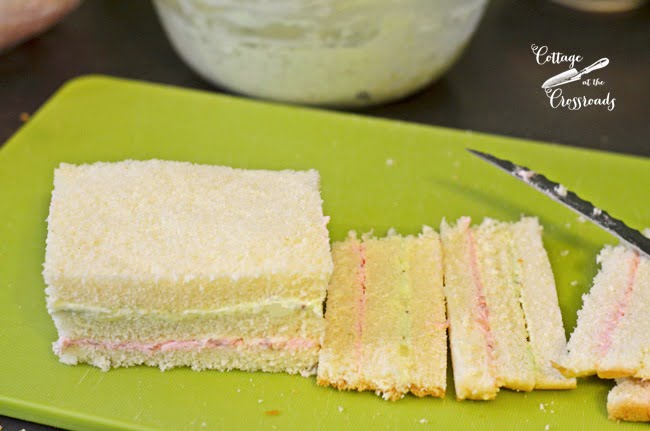 Step 9
When you finish making all the sandwich layers, it's time to cut the crusts. Using a sharp, serrated-edge knife really helped with the cutting. As I was working with the sandwiches, I placed a slightly damp paper towel over them so that the bread wouldn't dry out. At this point, I put them in a closed container and placed them in the refrigerator until it was time to cut them into smaller pieces.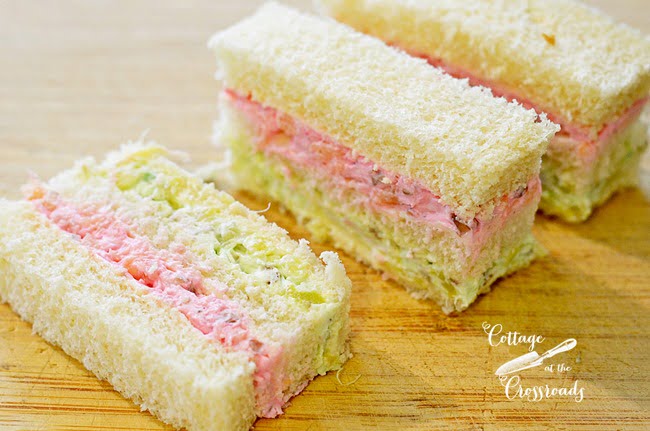 Quick tip: I cut each sandwich into 4 "fingers" so named because you cut them about the width of a finger! And here's a tip that my sister-in-law Jean gave me. She said to wipe the knife each time you made a slice which helps to make nice, clean cuts.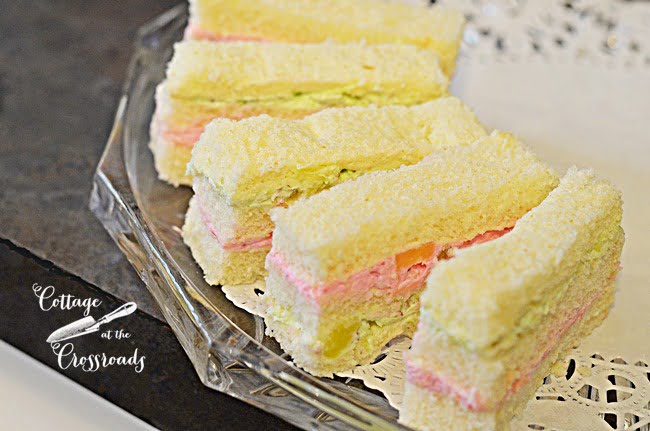 I placed them on a glass plate with a dainty doily and as I was arranging them, I had an empty circle in the middle.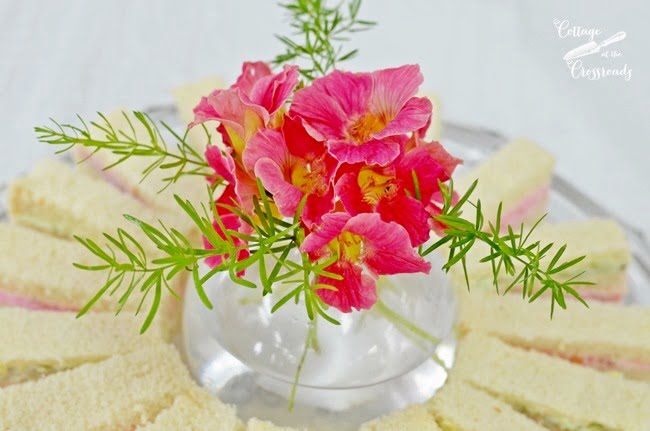 So I went out to the garden and gathered some nasturtium blossoms and a little asparagus fern.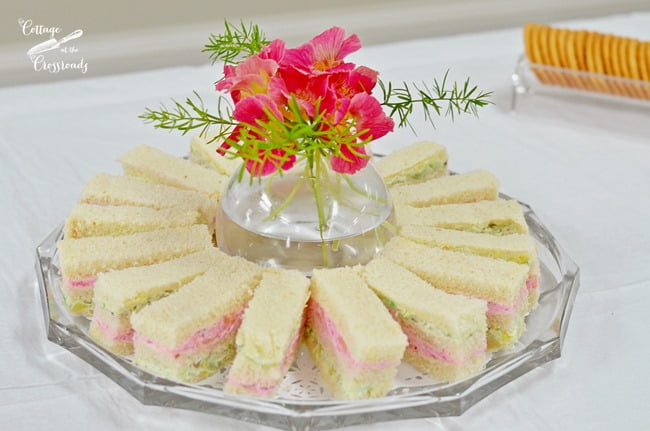 I'll have to admit that they were a pretty addition to the table at the reception.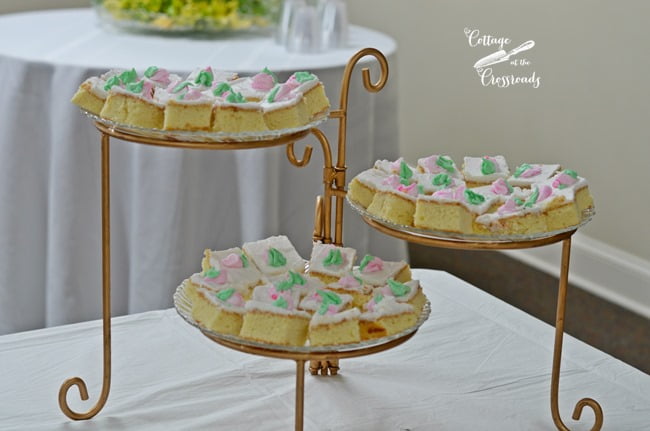 They matched the pink and green decorated cake squares that were nearby.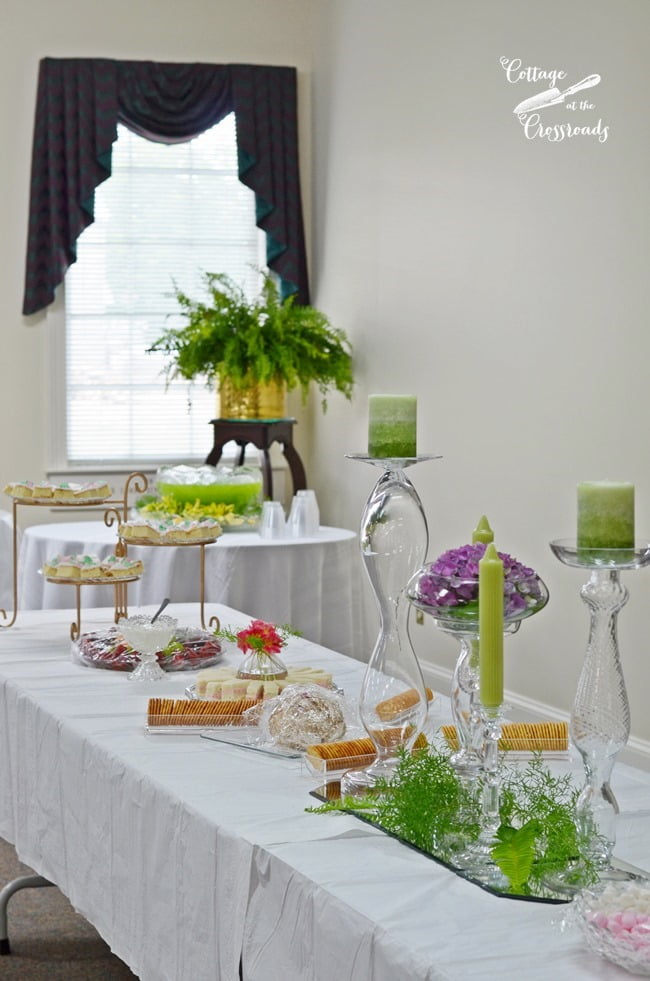 The refreshment table held other yummy items and a pretty centerpiece.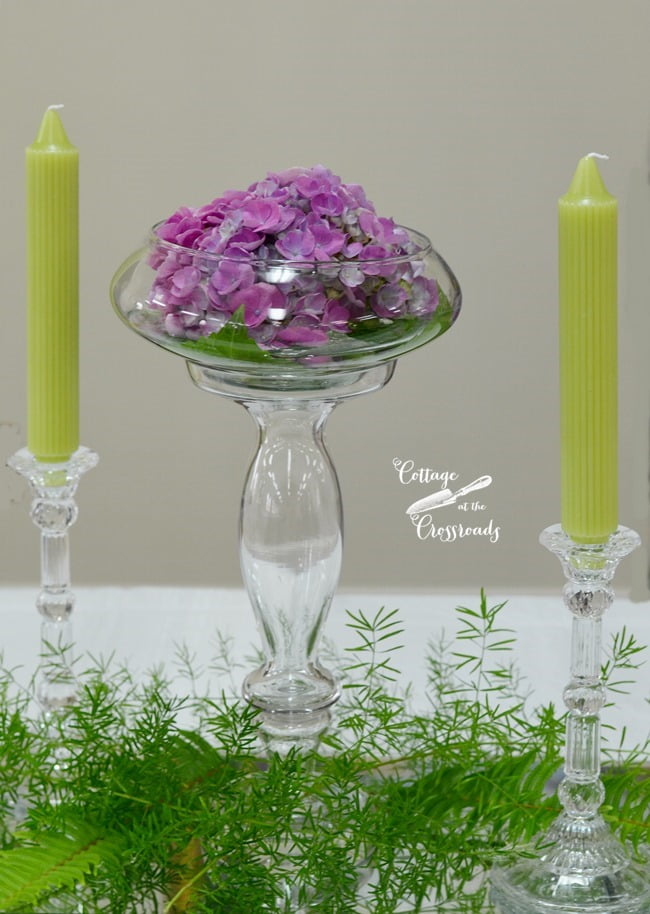 I thought this was a spectacular way to display one, single hydrangea blossom. It was sitting in a shallow glass bowl which was placed on top of a glass candlestick. So simple and elegant.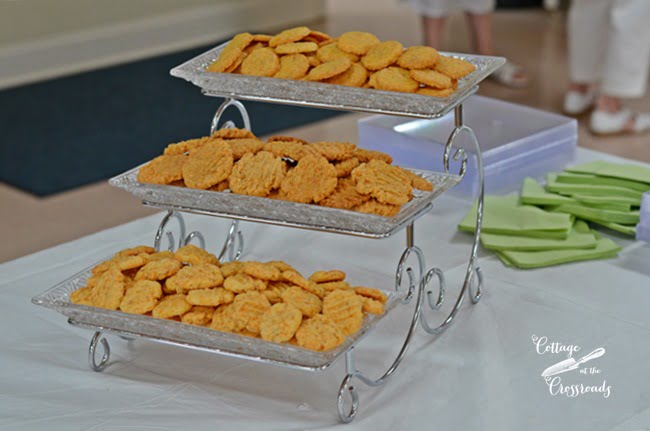 And you simply cannot have a Southern social event without cheese wafers, can you?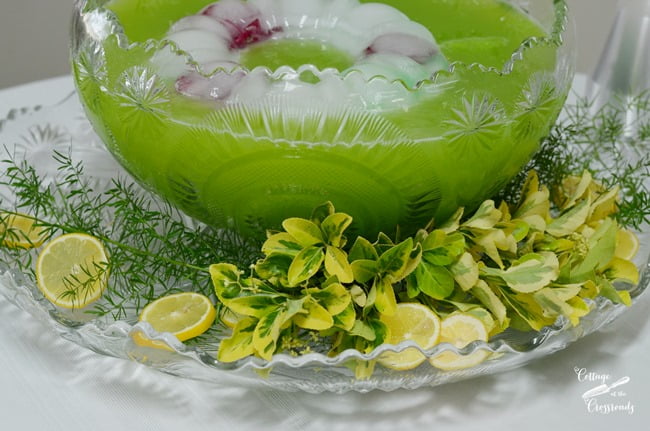 The lime punch was very refreshing. I should know because I had about 4 cups of it!
And here's the complete recipe for the ribbon sandwiches. They are the perfect finger food for any social occasion.
📋 Recipe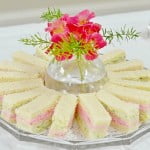 Ribbon Sandwiches
perfect finger food for any social occasion with lovely, colored layers
Ingredients
20

ounces

cream cheese

softened

2

20 ounce cans crushed pineapple, drained

1

cup

pecan pieces

chopped very finely

3

sticks butter

whipped

2

loaves of white sandwich bread

pink and green food coloring
Instructions
Divide the softened cream cheese, drained crushed pineapple, and pecans between 2 bowls.

Mix together with a fork.

Add a few drops of food coloring into each bowl and stir thoroughly.

Spread one side of each slice of bread with butter.

Add a layer of colored filing.

Spread one side of another slice of bread and place down on top of the filing.

Add butter to the top of that piece of bread and add the next layer of filing.

Butter another slice of bread and place down on top of colored filing.

Trim crusts from sandwiches.

Cut each sandwich into 4 fingers about 1 inch wide.

Cover with a slightly damp paper towel and plastic wrap until ready to serve.
Notes
Use a serrated knife to cut the fingers and wipe the knife between each cut.