Frozen mixed berries are a delicious and versatile ingredient that you can enjoy year-round. They are a good source of vitamins and minerals, and people use them in a variety of recipes, from sweet to savory.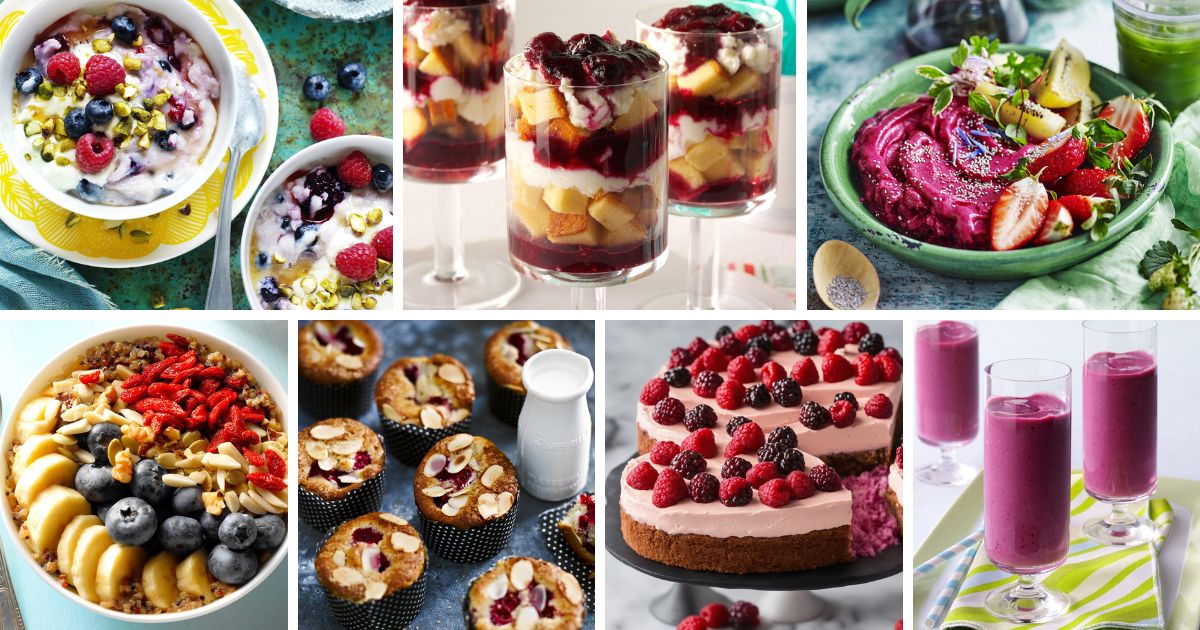 In this post, I'll share 33 of my favorite recipes that use frozen mixed berries. There are recipes for breakfast, lunch, dinner, dessert, and snacks. So whether you are looking for a quick and easy breakfast smoothie or a decadent dessert, I have something for you.
Each recipe is carefully curated to celebrate the unique flavors of frozen mixed berries, proving that they can shine in both sweet and savory preparations.
Contents
This compote bursts with the vibrant flavors of various berries, creating a luscious and sweet-tart sauce. It's a versatile treat, perfect for topping pancakes, waffles, or ice cream.
This berry crisp recipe promises a delightful treat that's both effortless and scrumptious. The crisp topping adds a delightful crunch to the juicy berries. You can enjoy it with a dollop of vanilla ice cream.
With a luscious blend of berries and a sweet topping, this dish is the epitome of indulgence. Enjoy them as a sweet brunch or dessert option that's sure to satisfy your sweet tooth.
Frozen berries steal the spotlight in this delectable dessert. The chewy oat crust and crumbly berry filling create a delightful texture contrast, perfect for serving at potlucks!
The combination of sweet and tangy flavors creates an explosion of taste in this delightful dish. You can delight your guests with these exquisite bonbons served as an after-dinner indulgence.
This delightful dessert bursts with the goodness of berries enveloped in a flaky crust. This classic pie is a treat for all occasions and pairs beautifully with a scoop of vanilla ice cream.
This delicious smoothie makes for a satisfying breakfast or energizing afternoon snack. The vibrant colors and creamy texture will leave you feeling refreshed and rejuvenated.
In this simple and quick recipe, the bursts of berry goodness create a delightful surprise in every bite, making them a hit for kids and adults alike.
This creamy frozen yogurt, paired with the sweet tang of berries, makes for a delightful and guilt-free treat. Savor it on warm summer days or whenever you crave a wholesome indulgence.
This decadent dessert is easy to make and visually stunning. The blend of raspberry and white chocolate atop a buttery crust creates a heavenly flavor combination.
This dessert is as beautiful as it is delicious. The velvety smooth cheesecake paired with a medley of berries creates a symphony of flavors that will leave you wanting more.
The crunchy oat crumble on top adds a lovely texture to this sweet treat's warm, sweet filling. This comforting dessert is ideal for chilly evenings or a comforting treat anytime.
The mousse infused with the natural sweetness of berries makes for this elegant and satisfying dessert. It's perfect for summer gatherings or a delightful centerpiece at any celebration.
This delectable dessert is perfect for the "health-conscious." The natural sweetness of berries shines in this delightful mousse, making it a guilt-free treat for any occasion.
The delightful blend of choc, berry, and banana lends a unique twist to traditional pancakes. These sheet pancakes are perfect for brunch or a delightful treat on lazy weekends.
You can quickly cool down with this refreshing concoction of frozen berries and creamy ice cream. It's a fun and delicious treat, perfect for a hot summer day.
The ultimate indulgence of this dessert showcases the goodness of frozen berries enveloped in a buttery oat crumble. The blend of sweet and tart flavors makes it an irresistible treat.
You can beat the heat with this refreshing frozen dessert made with frozen berries. The creamy and fruity combination offers a cooling sensation on hot summer days.
This warm and comforting dessert showcases the natural sweetness of frozen berries. The tender biscuit batter adds a lovely crunch to the juicy berry filling, making it an irresistible treat.
This blend of oats and frozen berries creates a delightful texture and flavor combination that's both satisfying and nutritious. Prepare it the night before for a hassle-free morning meal.
This breakfast casserole is bursting with berry goodness. The combination of fluffy French toast and juicy berries creates a delightful symphony of flavors. Serve it with a drizzle of honey!
These delightful treats combine almonds' nutty goodness with frozen berries' sweetness. The cakes make for a delightful dessert or afternoon snack.
You can enjoy the taste of summer with this classic British dessert made with a medley of frozen berries. Serve it with a dollop of whipped or vanilla ice cream for a delightful contrast.
This fruity and healthy treat is perfect for warm mornings. The blend of frozen bananas and berries creates a creamy and satisfying sorbet that will keep you cool and energized.
This delectable dessert pairs the sweetness of blueberries and the rich and flavorful Wojapi sauce. The combination of cake and sauce creates a delightful contrast of textures and flavors.
This warm and hearty breakfast option features the goodness of frozen berries. The creamy and nutty porridge is a delightful way to start your day on a satisfying note.
This dessert blend of frozen berries and creamy yogurt creates a delightful, healthy, and delicious treat. Enjoy it on warm days or whenever you crave a light indulgence.
This dessert is perfect for your sweet and tangy cravings. The burst of blueberries adds a refreshing twist to the classic cheesecake, making it a show-stopping treat for any occasion.
This healthy breakfast option combines vegan almonds and frozen berries. The baked oats' delightful crunch and natural sweetness are such a plus.
The individual trifles in this creamy dish are visually stunning and delicious, making them a perfect dessert for entertaining guests or indulging in a sweet moment.
This rhubarb and raspberry crostata is a true indulgence for your taste buds. The crust cradles a luscious filling of tangy rhubarb and sweet raspberries, creating a perfect balance of flavors.
This comforting berry slump is a rustic dessert that captures the essence of ripe, juicy berries. The unique "slumped" appearance adds a touch of charm to the dish.
This quinoa breakfast bowl is a powerhouse of nourishment and flavor. Nutty quinoa forms the base, with a colorful medley of fresh fruits, crunchy nuts, and seeds.