The often-overlooked frozen spinach is an essential element in many kitchens, serving as a reliable source for quick and healthful dishes. This unpretentious green vegetable is rich in vital nutrients and preserves well in freezing conditions, making it an advantageous choice.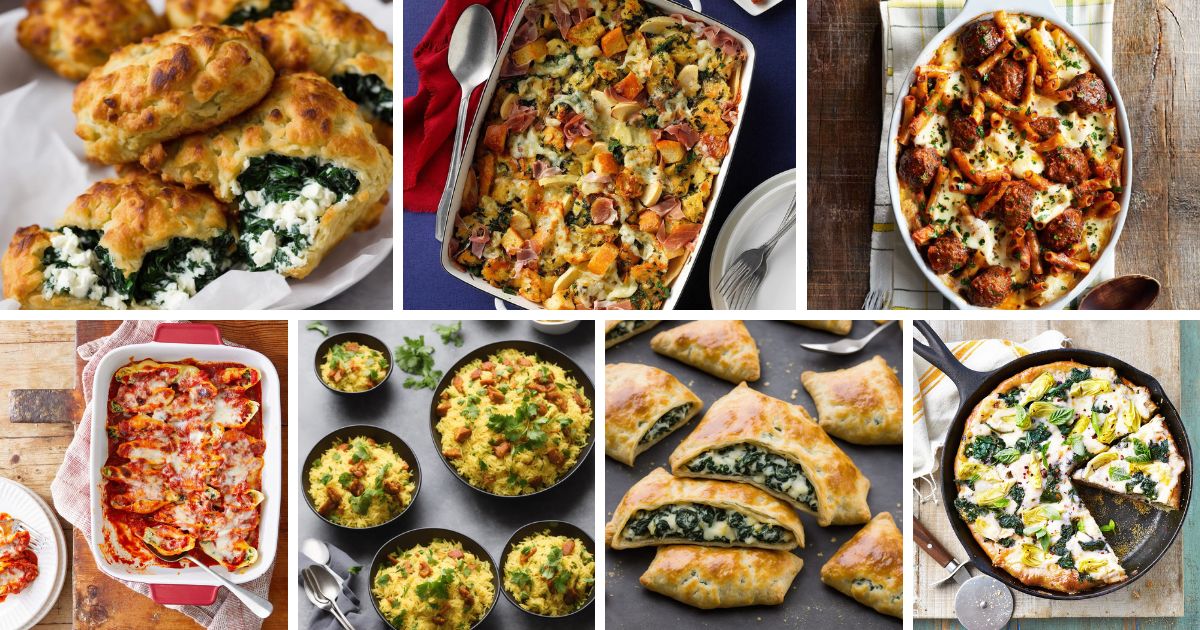 Furthermore, its versatility ensures it can effortlessly play a starring role or serve as a supportive sidekick in an array of dishes. From traditional sautés and creamy dips to gourmet pizzas and hearty pastas, the potential of frozen spinach is only limited by one's imagination.
In this compilation of 50 frozen spinach recipes, you'll find an array of dishes designed to showcase this unassuming ingredient. Each of these culinary creations illustrates how you can use frozen spinach to enrich both the flavor and nutritional value of a dish.
Whether you're aiming to create a morning smoothie, a cozy casserole, or an enticing starter, this recipe collection is brimming with inventive ideas!
Contents
This dish is a simple, yet flavorful, way to enjoy spinach. Pair it with grilled chicken or fish for an agreeable, balanced, and nutritious meal that the whole family will enjoy.
You can experience the smooth and creamy delight of this classic dish by starting with frozen spinach. It's a perfect side for steak or roasted meats, adding a touch of elegance to your meal.
Garlic lovers will rejoice in this easy sautéed spinach dish. The sharp, savory flavor of the garlic pairs perfectly with the natural earthiness of the spinach.
Enjoy this traditional Indian dish at home with a side of naan or chapati. The combination of spinach and potatoes in a fragrant blend of spices makes it a comforting, vegetarian option for dinner.
You'll automatically add a bit of gourmet flair to your meal with this creamed spinach dish, topped off with Parmesan cheese. It's a sophisticated side dish that pairs beautifully with any main course.
Kickstart your day with this nutrient-packed spinach smoothie. It's a refreshing, healthy breakfast option that can be whipped up in minutes.
This spinach and artichoke filo pie is another amazing way to get your day started in a nutritious and delicious manner! You can prepare it in the evening and take a slice to go in the morning.
If spinach and artichoke pie is one of your favorites, this spinach and artichoke dip will win your heart. Ideal for family dining or potluck gatherings, this dish is bound to garner admiration.
Light and refreshing, this lemon and spinach rice dish is a burst of Mediterranean flavors. Topped with feta, it's a delightful accompaniment to grilled meats or fish.
Who claims Mexican cuisine cannot be healthful? These spinach-filled enchiladas offer a vegetarian delight, ideal for a substantial yet guiltless evening meal.
Satisfy your Italian food cravings with this classic yet riveting cannelloni. Filled with earthy spinach and salty feta, it's a comforting dish that's perfect for a family dinner.
Craving pizza? This white spinach pizza presents a scrumptious and straightforward choice. The fusion of creamy white sauce, cheese, and grounding spinach results in a tempting dish that's hard to resist.
Breakfast just got more interesting with these spiced spinach eggs. This dish offers a nourishing, protein-rich start to your day and go swimmingly with bacon on the side.
For a quick, delicious dinner, you can't go wrong with this spinach Alfredo pasta. It's a creamy, cheesy option that's fantastic for a cozy evening in, especially with warm rolls on the side.
These spinach and goat's cheese puffs make a perfect appetizer. Their savory flavor and delicate puff pastry make them an elegant addition to any family meal or friendly gathering.
If you're seriously craving comfort food, this easy spinach lasagna delivers. It's a hearty, vegetarian-friendly dish that's easy enough to whip up even on a busy weeknight.
Ideal for a picnic or lunch on the go, these cheese and spinach pasties are a tasty handheld treat. Their rich, cheesy filling is balanced by the fresh taste of spinach.
Save money without compromising flavor with this budget kedgeree. The combination of rice, spinach, and fish makes it a filling, nutritious meal.
If you're craving comfort food with a nutritious twist, consider this spinach, feta, and rice casserole. You can serve it on a cold night for a satisfying dinner.
Bring a taste of the Mediterranean to your table with this Greek pasta bake. The combination of spinach, pasta, and Greek flavors makes it a winning choice for any meal.
This simple Catalan dish is packed full of flavor. The combination of spinach, raisins, and pine nuts makes it a tasty side dish or light lunch.
Feel free to indulge in this hearty Florentine spaghetti bake for dinner. Loaded with spinach, cheese, and pasta, it's a comfort food classic that's perfect for large family gatherings.
This bright green smoothie is a powerhouse of nutrition. The sweet flavor of banana and the creamy peanut butter perfectly balance the spinach, making for a refreshing breakfast or snack.
Make snack time more exciting with this baked spinach dip loaf. It's a great appetizer for parties or a delicious treat for a movie night at home.
This stew redefines a comfort food classic with a wellness-oriented spin. The partnership of chickpeas and spinach culminates in a hearty, nutrient-dense meal, perfect for warding off the chill.
Looking for an indulgent brunch idea? Layers of prosciutto, egg, and spinach come together in this delectable strata, perfect for a slow Sunday morning.
Start your morning on a flavorful note with these scrambled egg pitas, packed with spinach and crumbled feta. Ideal for a quick breakfast or a light lunch.
A hearty combination of squash and spinach fills this comforting casserole. Consider this your new default choice upon the changing season from summer to fall.
If you're a fan of Italian cuisine, you'll relish this dish of spaghetti intertwined with spinach and adorned with a creamy sun-dried tomato sauce. It's best enjoyed with a fresh salad and a glass of robust red wine.
Transform the usual spaghetti and meatballs with this recipe. Chicken Florentine meatballs, laced with spinach, make for a satisfying dinner that will become a family favorite.
Cold nights call for a bowl of this hearty Italian wedding soup. Spinach, meatballs, and pasta meld together beautifully, creating an inviting blend of flavors in each spoonful.
Who can resist plump tortellini in a rich tomato and spinach cream sauce? This tortellini is fantastic for those weeknights when you crave something comforting yet simple to prepare.
Want to impress your dinner guests? This skillet chicken, infused with garlic and accompanied by creamy spinach, is sure to be a hit.
Gnocchi's soft, pillowy texture is wonderfully complemented by creamed spinach in this recipe. It's ideal for a romantic dinner at home.
Spinach and cheese stuffed shells are a timeless favorite. Pair this dish with a crisp salad and some garlic bread for a satisfying meal.
Experience the joy of lasagna in soup form. With layers of flavor from the spinach, cheese, and pasta, it's a warming meal that's perfect for a cozy night in.
Upgrade your standard pasta night with this incredible seafood dish. Salmon and creamed spinach fettuccine is a delightful combination that's sure to impress.
When the weather heats up, turn to this refreshing salad. Tortellini and spinach come together to create a light meal that doesn't skimp on flavor.
Brunch has never been so easy or so delicious! These individual egg bakes, filled with ham and spinach, are sure to be a hit.
Potatoes get a healthy upgrade with this recipe. Spinach mashed potatoes are a colorful and nutritious side dish that pairs perfectly with any main course.
A twist on the classic deep-dish, this pizza is loaded with spinach and artichoke. It's the ultimate comfort food for those cozy movie nights at home.
Health-conscious eaters will appreciate these turkey burgers, packed with spinach and feta. They're a guilt-free option for barbecues or easy weeknight dinners.
Craving a hearty pasta dish? Try this baked ziti, filled with meatballs and spinach. Ideal for family gatherings or potlucks, it's sure to satisfy your craving for comfort food.
This traditional Spanish creation merges garbanzo beans with spinach, resulting in a protein-loaded, vegetarian-friendly meal. It offers a healthful dinner option that doesn't compromise on taste.
Love spices? Then this curried spinach and lentil bake is for you. It's a hearty vegetarian dish that's perfect for a cozy night in.
Add a healthy spin to your dinner with spinach-stuffed chicken breasts. A side of roasted vegetables like broccoli or cauliflower makes it a complete meal.
Celebrate special occasions with this impressive leg of lamb, stuffed with spinach and pine nuts. Serve it with mashed potatoes for a show stopping feast.
Snack time can become much healthier with these herbed spinach and kale balls. They're great for those mid-afternoon cravings or as an appetizer at parties.
It's a great idea to start your day with a serving of protein and leafy greens. These chickpea spinach muffins offer a portable breakfast choice that's high in nutritional value.
This recipe transforms simple ingredients into a sophisticated brunch dish. The layers of bread, spinach, and cheese meld beautifully as they bake, resulting in a dish that's perfect for leisurely weekend mornings.