I'm sharing this delicious warm turnip dip with a bread ring that I cook in a skillet. If you make it, people will be so surprised to find out that there are turnip greens in the dip. I found this in an old Southern Living recipe. Except Southern Living did NOT cook it in a skillet nor did they put a bread ring around it!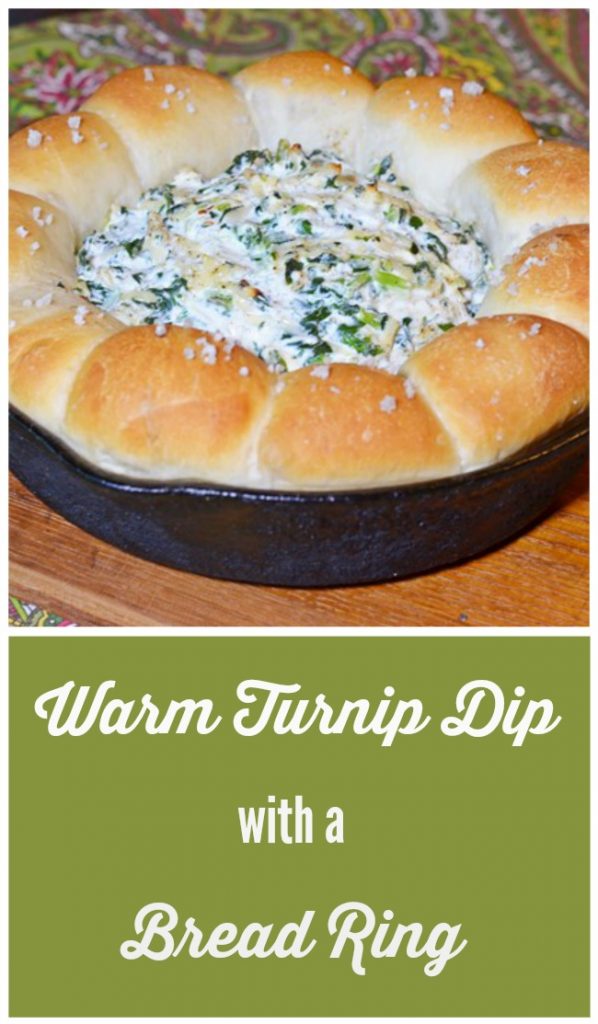 The creamy dip tastes similar to a spinach and artichoke dip but better, in my opinion. So if you like that dip, then you are going to LOVE this! It's perfect party food because it looks so pretty with the ring of bread, but the combo of the tasty dip on the warm bread is a match made in heaven!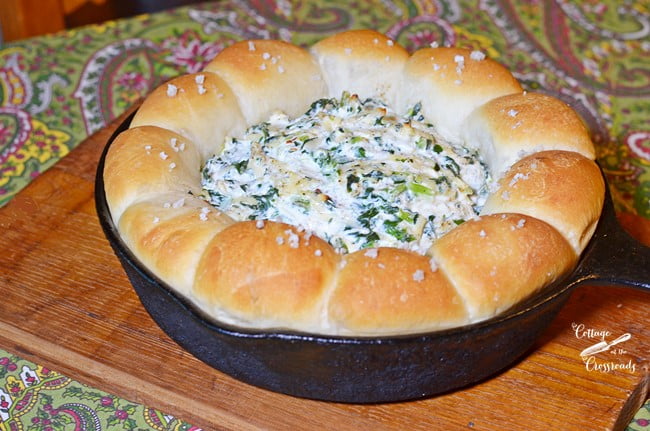 How to make a Skillet Turnip Dip
Step 1
Now, back to this recipe! To make the bread ring, you will need a package of Rhodes frozen dinner rolls. I can only find these at my local Walmart, and be sure to get the ones in the orange package. You won't use all the frozen rolls for this recipe. I take out what I need and then put a rubber band around the opening and stick the package back in the freezer.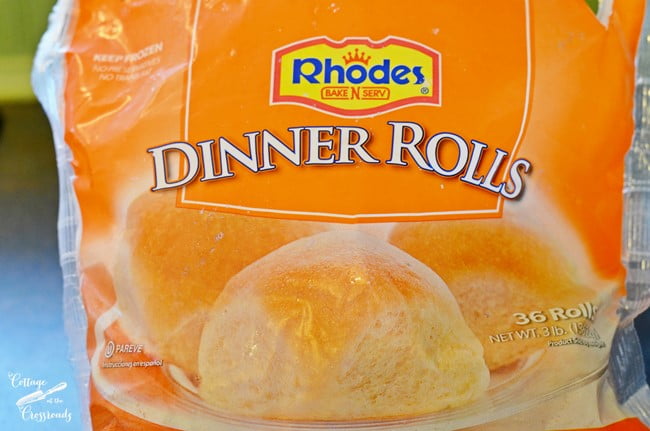 Step 2
Pour 1 tablespoon of olive oil in a cast iron skillet and use your fingers to coat the bottom of the skillet as well as the sides. I can fit 11 frozen balls of bread dough in my 9 inch skillet. Leave about ¼ inch of space between each ball of dough.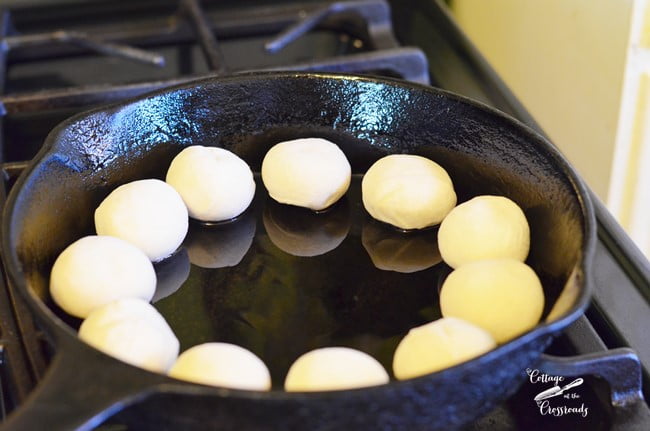 Step 3
Place a tea towel over the top of the skillet and allow about 3 hours for the dough to thaw and rise.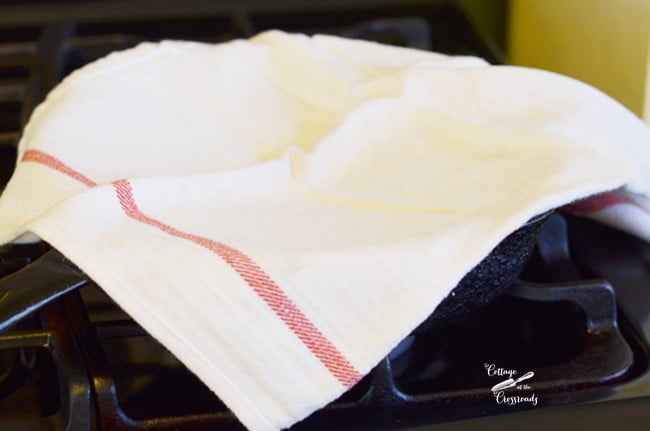 Step 4
This is what they look like after they have thawed and risen. So pretty and puffy!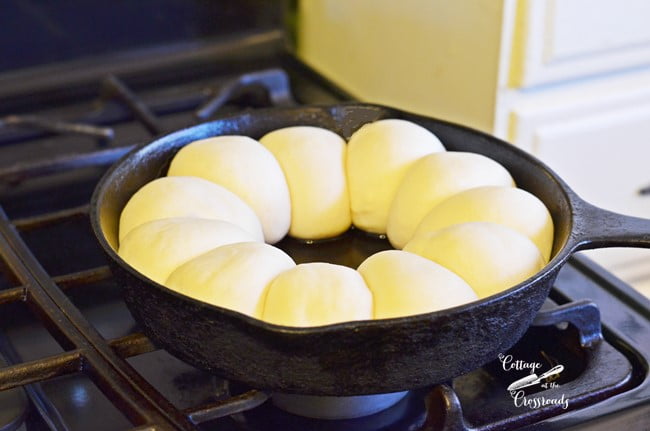 Step 5
Preheat the oven to 350 degrees Fahrenheit (177 degrees Celsius), melt 2 tablespoons butter, and brush the tops of the risen rolls with the butter.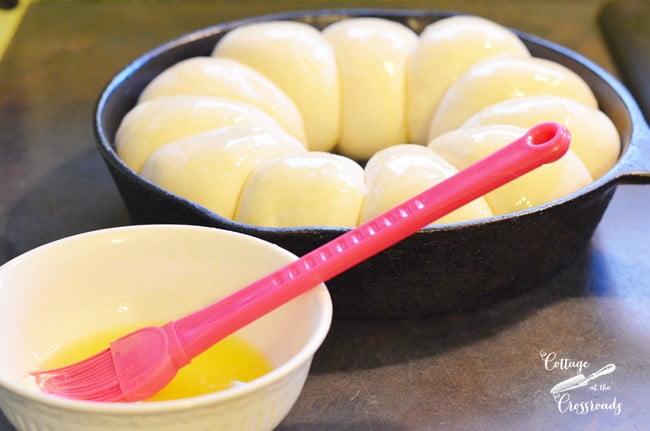 Step 6
In the meantime, mix up the turnip dip mixture according to the directions below and spoon it into the center of the ring of rolls. If you are not able to get all the mixture into the center of the ring of rolls, just put the extra in a small baking dish.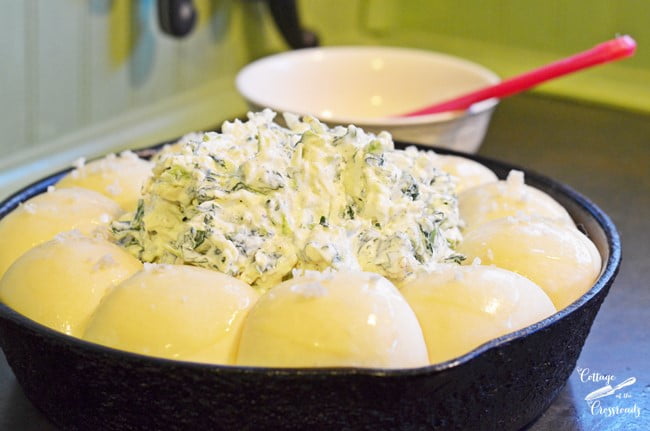 Step 7
Now here is my secret ingredient! Sprinkle 1-2 tablespoons of sea salt on top of the buttered rolls. Don't be tempted to omit this step because the salt makes such a difference in how the rolls taste. Doesn't really matter what kind of sea salt you use but just make sure that it's labeled "sea salt."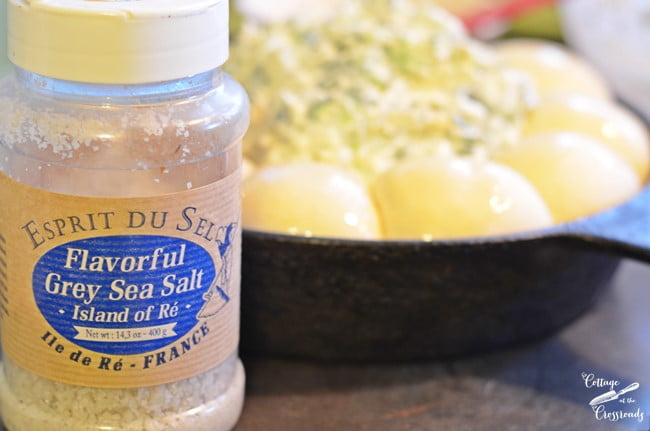 Step 8
As soon as you pull this out of the oven, everyone will congregate around it, I guarantee it! If you run out of rolls to serve with the dip, just use some crackers, flat bread, pita chips, or Fritos. It's good with all of those!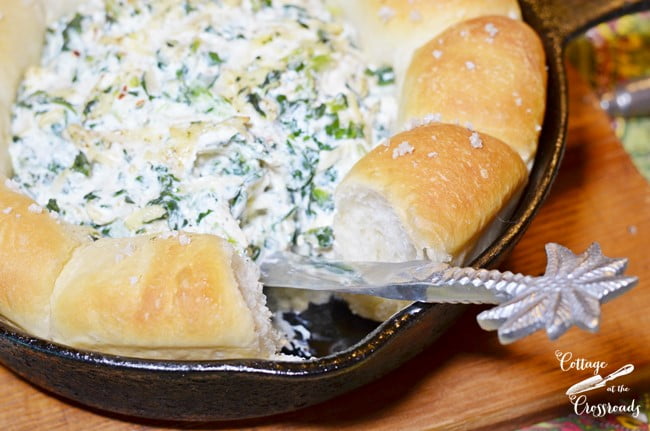 You'll find all the details on how to make this delicious dip below.
And don't forget to visit all the links below to find more awesome party food recipes!
📋 Recipe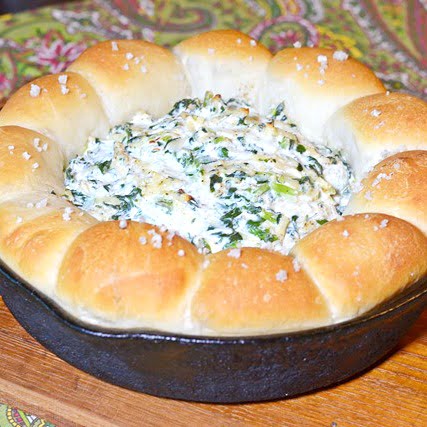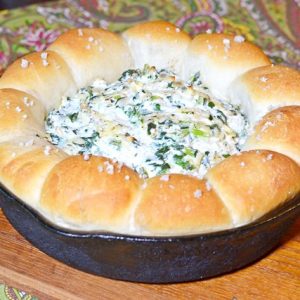 Skillet Turnip Dip with Bread Ring
A hearty, warm dip surrounded by a bread ring
Ingredients
For the turnip dip
5

bacon slices

chopped

½

medium sized sweet onion

chopped

2

garlic cloves

minced

¼

cup

dry

white wine

1

16 ounce package frozen chopped turnip greens, thawed

12

ounces

cream cheese

cut into pieces

1

8 ounce container sour cream

½

teaspoon

dried crushed red pepper

¼

teaspoon

salt
Instructions
For the bread ring
Spread 1 tablespoon on the bottom and sides of a 9 inch cast iron skillet.

Place 11 frozen dinner rolls ¼ inch apart in the skillet.

Cover with a tea towel and allow the rolls to thaw and rise for about 3 hours.

Melt 2 tablespoons butter and brush over rolls.

Sprinkle 1-2 tablespoons sea salt on the rolls.
For the dip
Preheat the oven to 350 degrees.

Cook bacon in a Dutch oven over medium high heat 5-6 minutes or until crisp. Remove bacon and drain on a paper towel.

Saute onion and garlic in 1 tablespoon of hot bacon drippings in the Dutch oven.

Add wine and cook 1-2 minutes, stirring to loosen particles from bottom of Dutch oven.

Stir in turnip greens, next 4 ingredients, and ½ cup Parmesan cheese.

Cook, stirring often, 6-8 minutes or until cream cheese is melted and mixture is thoroughly heated.

Remove from heat.
For the complete dish
Pour the turnip mixture into the middle of the rolls in the skillet.

Bake at 350 degrees about 15 minutes, remove and add the bacon pieces and remaining ¼ cup of Parmesan cheese on top of the dip.

Cook for an additional 5-10 minutes or until the rolls are golden brown.

Serve immediately.
Notes
If your rolls have risen a lot, there may not be room for all the turnip mixture to fit in the middle of the rolls. Just add the extra to a small baking dish.
When the rolls run out, serve the dip with flat bread, pita chips, Fritos, or crackers.
Adapted from from Southern Living