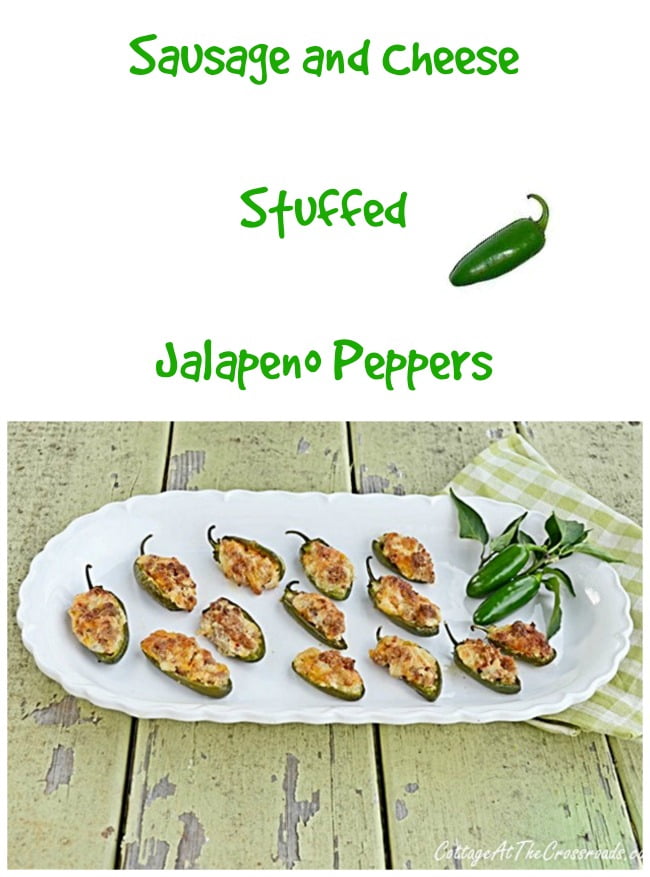 Are you looking for an appetizer with a little kick? These sausage and cheese stuffed jalapeno peppers are so savory and are plain addictive. Every since our friend Lisa showed up here at the Crossroads with some of these, we've been making them since.
The difference between these and the more traditional cheese stuffed jalapeno peppers wrapped with bacon is the sausage and cream cheese combination. Take it from me, these are oh, so good. And if you make these for your next social gathering, they will disappear fast! Even folks who shy away from hot and spicy foods will love these. The cream cheese tames the flames!
This post may contain Amazon or other affiliate links. As an Amazon associate, I earn from qualifying purchases. If you purchase anything through any affiliate link, I may earn a small commission at no extra charge to you. All opinions are my own.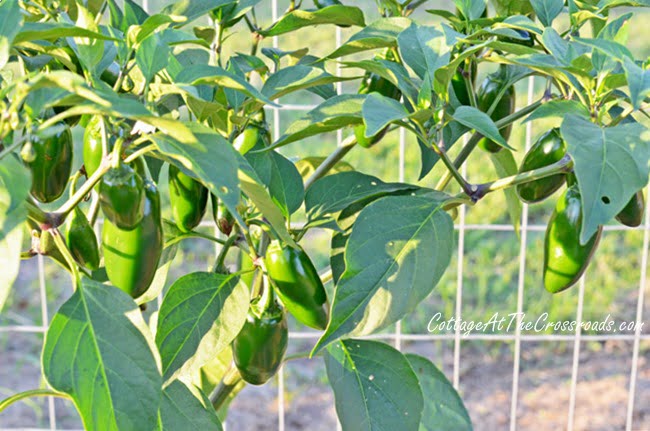 It just so happens that we have 3 jalapeno pepper plants growing in our garden, and they have been giving us lots of peppers all summer. We have ours growing in large plastic pots, so even if you don't have space for a traditional garden, you may want to plant some of these plants next year after you taste these stuffed peppers! That's how good they are!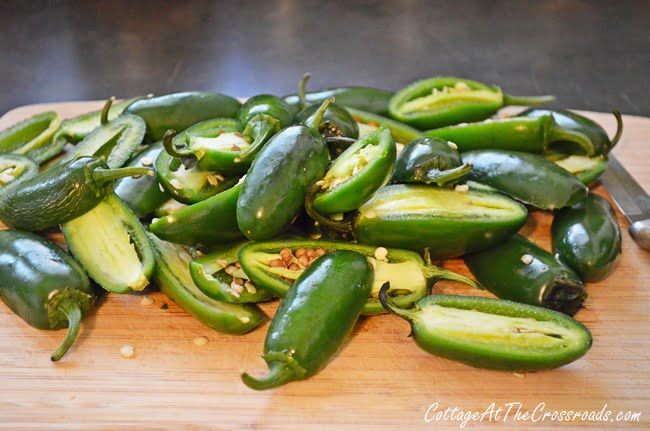 On the day that I'm going to make these, I go ahead and wash my peppers and then cut them in half lengthwise. I use about 25 medium sized peppers.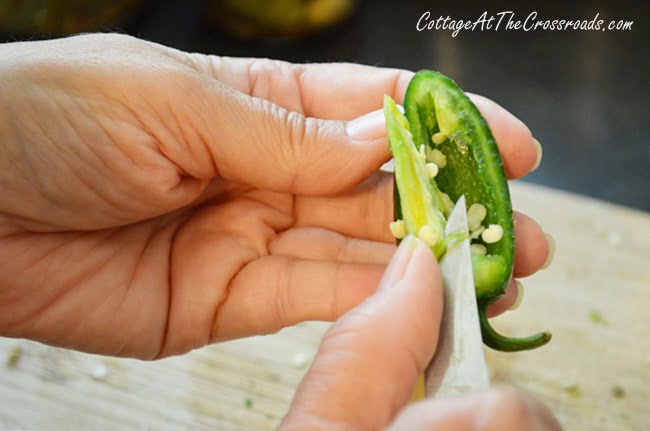 Then I remove the membrane with a paring knife and scoop out the seeds with a melon ball scoop. CAUTION! You really should wear disposable plastic gloves when you handle jalapeno peppers, and don't touch your eyes or your mouth for hours! (I don't like to wear the gloves, so I'm extra careful!)
At this point, you can stick your prepared peppers in the refrigerator to stuff later in the day, or you can continue on with the recipe.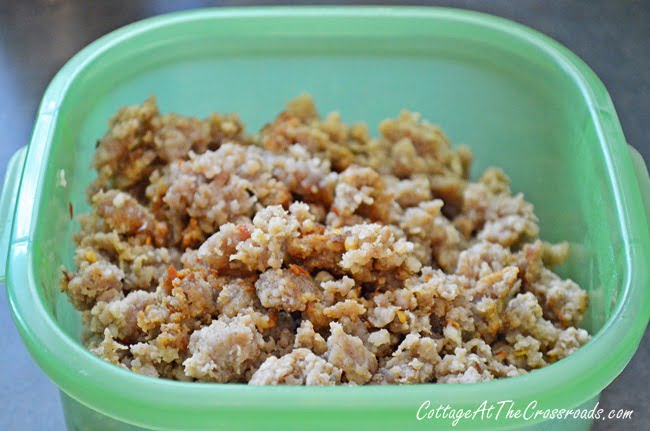 You will need to cook and drain a package of ground pork sausage. This is some that I had cooked the day before and refrigerated.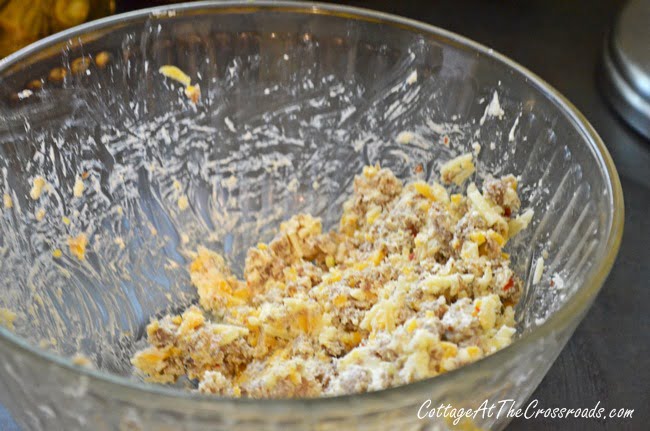 In a medium sized bowl, mix together 1 (8 ounce) package of softened cream cheese, 8 ounces of shredded cheddar cheese, 8 ounces of shredded Monterrey Jack cheese, and 1/2 cup grated Parmesan cheese. Add in the cooked sausage and mix it all together thoroughly. (I use my hands!)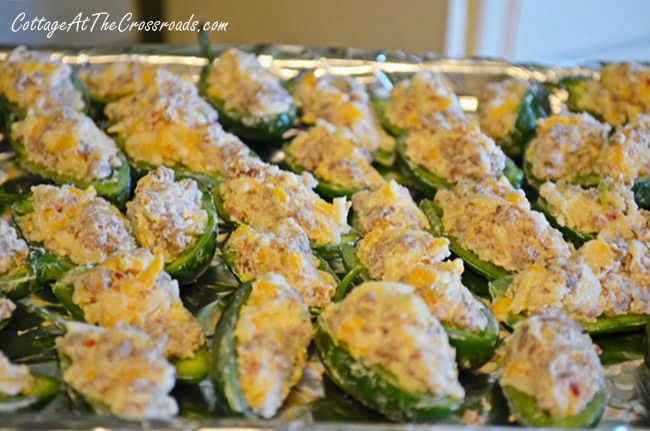 Fill each pepper with a generous portion of the sausage mixture. Mound it slightly above the top edges of the peppers and arrange them on a foil lined baking sheet.
At this point, you can put the stuffed peppers in the refrigerator and bake them later, or you can freeze them. But at our house, we can't wait to eat them so I pop them in a preheated 425 degree oven! Bake for about 15 minutes or until the filling is slightly browned. Cool for about 5 minutes before serving.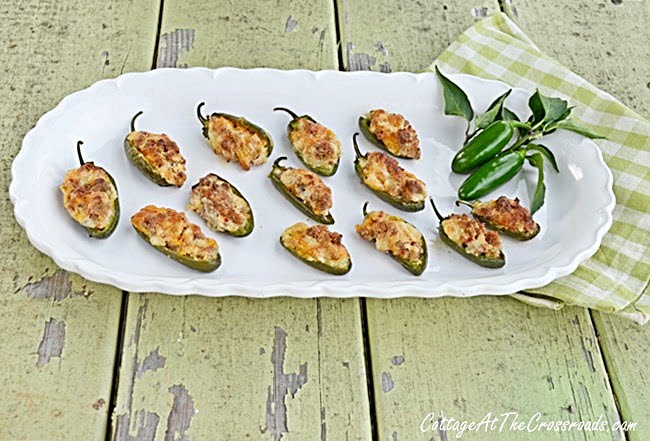 Oh my word! These disappear fast! Leo is always asking me to make these, and the great thing is that this is a very low carb recipe! Woot! Woot!
If you'd like a printable copy of this recipe, click HERE.
If you liked this recipe, you may want to follow my board on Pinterest called FRESH FROM THE GARDEN, or better yet ,I'd love for you to follow all my boards on Pinterest.
Sharing at:
Wow Us [email protected]Savvy Southern Style