Do you love traditional bread and butter pickles but wish they had a little more kick to them? Well, here's my recipe for delicious zesty bread and butter pickles.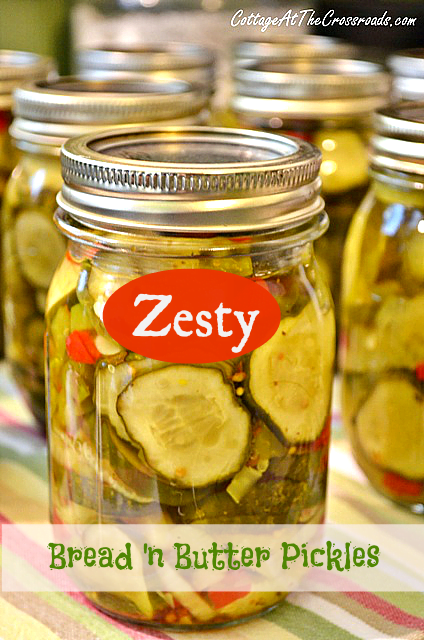 I've been making a lot of pickles lately since our garden is giving us lots of cucumbers. So I thought I'd share with you this recipe for bread 'n butter pickles with a little kick! If you're a fan of that spicy-sweet combination, then I think you're really going to like these.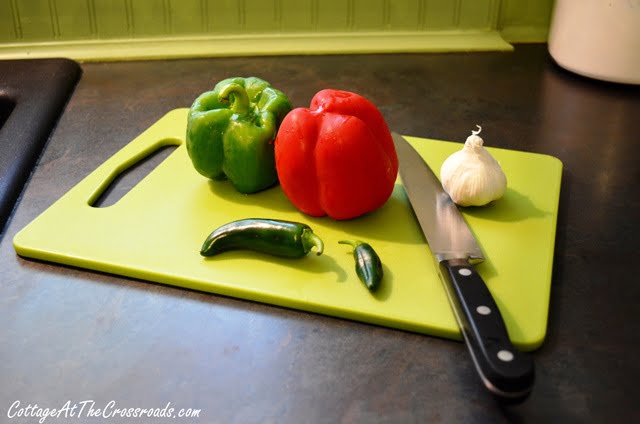 This recipe differs from a traditional bread 'n butter pickle recipe because of the addition of peppers and some spices that you don't add to the traditional ones.
To make these pickles, you will need: 25 pickling cucumbers, 6 onions, 1 red pepper, 1 green pepper,1 banana pepper, 2 jalapeno peppers, 6 cloves of garlic, ½ cup pickling and canning salt, 3 cups cider vinegar, 5 cups sugar, 2 tablespoons mustard seed, 2 teaspoons celery seed, 1 teaspoon whole cloves, 2 tablespoons red pepper flakes, and 2 teaspoons ground turmeric.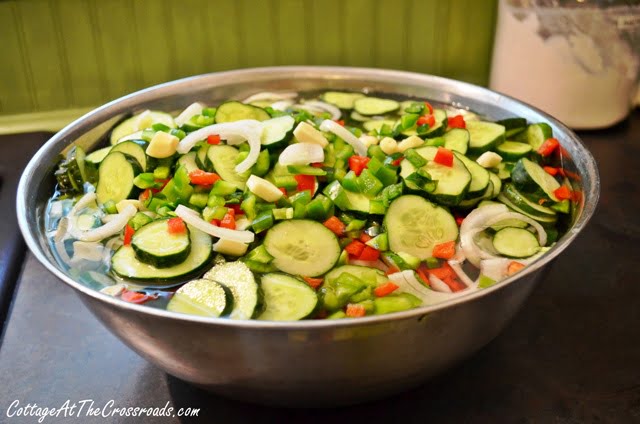 Remove the ends of the cucumbers and cut them into ¼ inch slices. Chop all of the peppers (remove the seeds from the jalapenos!), cut the garlic cloves in half, and slice the onions. Mix them all together in a large bowl and pour ½ cup of pickling and canning salt on top. Add enough water to cover everything.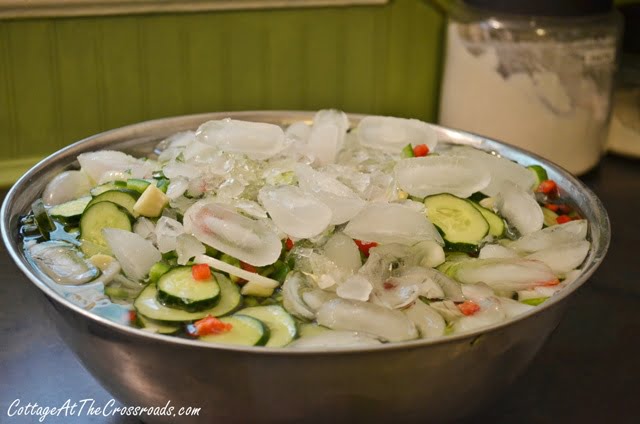 Add ice to the top of the bowl (it's supposed to make the pickles extra crispy) and let stand for 3 hours.
When you are ready to make your pickles, get out your water bath canner and wash and sterilize at least 10 pint size jars. In a large pot, add the cider vinegar, sugar, and spices. Bring to a boil. Rinse and drain your cucumber mixture and add it to the boiling vinegar solution. Remove from the heat just before it returns to a boil so that you don't cook your cucumbers.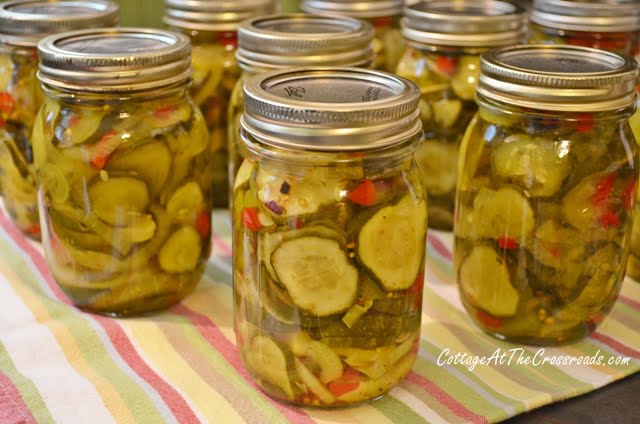 Put your cucumber mixture into warm, pint sized jars, wipe the rims, add the lids, and screw on the bands. Process the pickles in a water bath canner for 10 minutes. Remove and let cool for several hours. If you have never canned anything before, you may want to read my instructions in the post Homemade Dill Relish.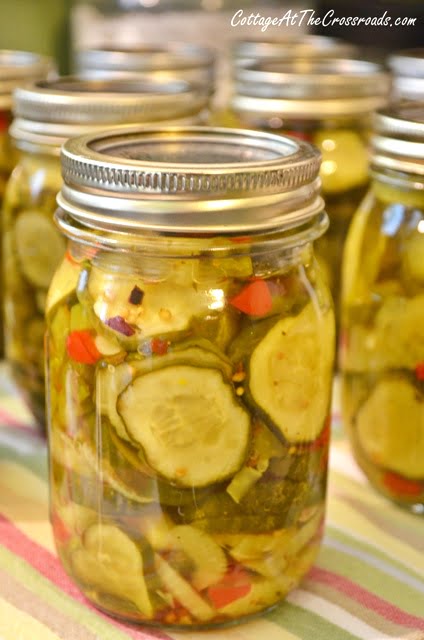 For best flavor, don't eat the pickles for at least 2 weeks, if you can wait that long!
Looking for more canning recipes? Check my best mason jars recipes collection with delicious recipes that you can make at home.
📋 Recipe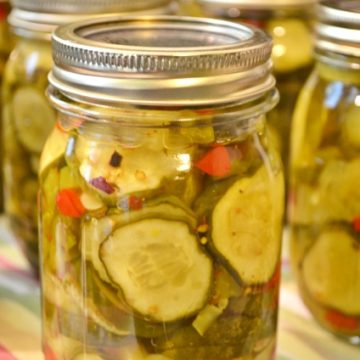 Zesty Bread and Butter Pickles
This recipe takes traditional bread and butter pickles up a notch!
Instructions
Mix sliced cucumbers, peppers, onions, and salt to a large bowl. Cover all the ingredients with water and add ice to the top of the bowl. Let stand for 3 hours.

In a large pot, bring vinegar, sugar, mustard seed, celery seed, red pepper flakes, cloves, and turmeric to a boil.

Rinse and drain the cucumber mixture and add to the hot vinegar solution.

Remove from the heat just before boiling so that you don't cook your cucumbers.

Fill sterilized, warm pint jars with the pickles leaving ¼ inch headspace, wipe the rim of the jars with a paper towel, add the lids and screw bands.

Process in a water bath canner for 10 minutes.

After 10 minutes, remove the jars from the canner and transfer to a towel lined countertop. Let cool for several hours or overnight. Check rims for proper sealing before storing in a cool, dark place.
Notes
For best flavor, don't eat for 2 weeks in order to allow the flavors to develop. 
And if you have a lot of cucumbers like me, you may want to make some traditional Bread 'n Butter pickles and some homemade dill relish too!