Welcome back, friends! We have some amazing, thrifty DIY projects to share with you today for a special Father's Day edition of the Thrifty Style Team! I'm sharing a refurbished wooden stool project that Leo and I completed recently.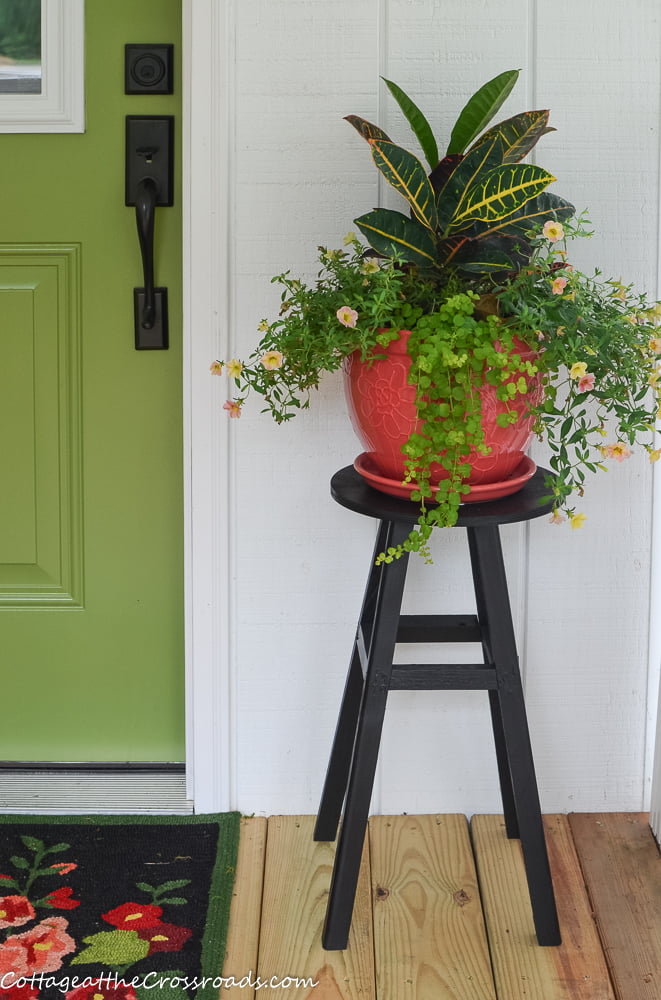 REFURBISHED WOODEN STOOL
Yep! Here is our little refurbished wooden stool made over to serve as a plant holder on our new covered deck!
The Thrifty Style Team decided to include the hubbies in this special Father's Day edition. Some of the projects were completed entirely by the guys and others were completed as a team. You can find all those awesome projects below.
This project, though, is a simple DIY project mostly completed by myself and I'll explain why in just a minute.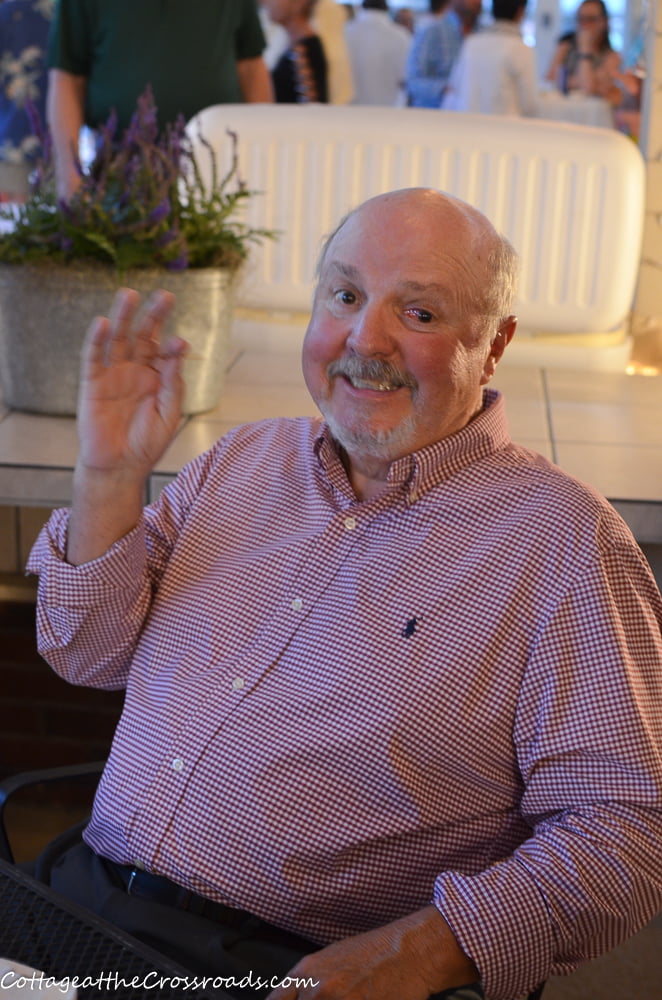 This here guy has not been able to complete any major DIY projects this spring. Our home renovations were hired out because they involved structural, electrical, and plumbing work that is way beyond our ability to complete.
It's a good thing that we hired out the work because right in the middle of those renovations, Leo had to have 2 eye surgeries to relieve high eye pressure. Valves were placed in each eye and luckily, they are working well and doing their job.
But these surgeries required a much longer healing period than other types of eye surgeries. With the last one that was done in April, Leo had almost no vision in that eye for 3 weeks! His doctor had assured him that the vision would return but that was a very scary period of time before it came back!
Leo has always played an important role in almost all of our DIY projects on our blog. Some of our most popular posts were ones done by him. But I chose this simple project because he's not up to any major DIY projects just yet, and I needed a plant stand on our new deck.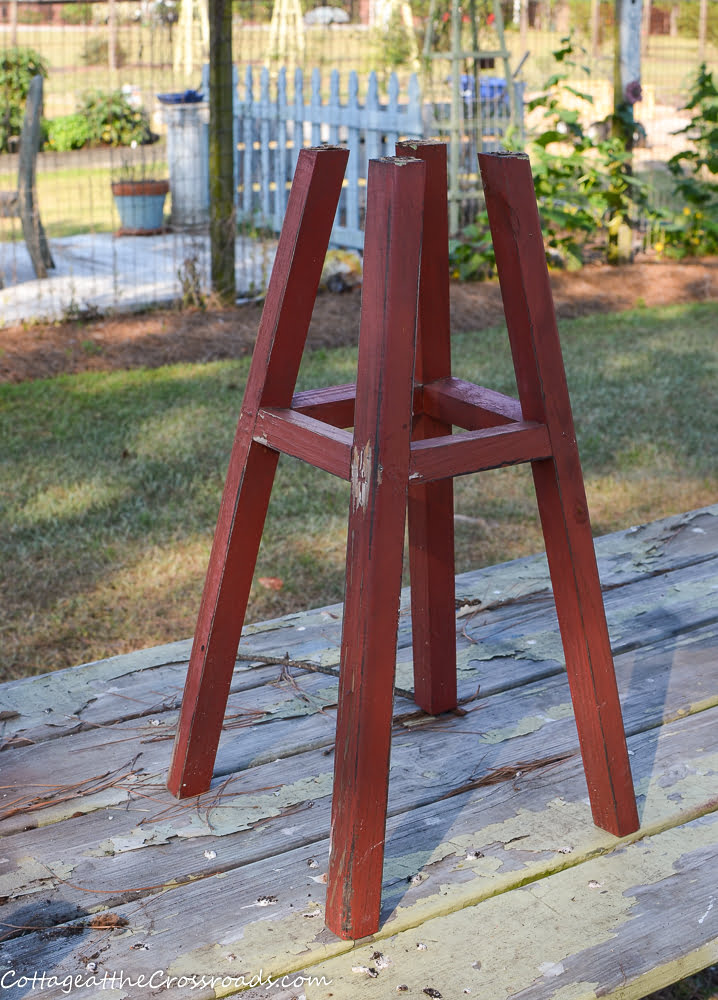 Now, I could have just gone out and purchased a new plant stand but being the thrifty person that I am, I went rummaging around in our storage building and found an old stool.
It had a top on it that had gotten damaged from being on the front porch many years ago. Although the legs of the stool were solid wood, the top had a cute flower design that was made from particle board. You know what happens to that when it gets wet, right?
I should have taken a photo of it but I was in a hurry to see if the top could be easily removed. Yep, a hammer took care of that part!
So I showed the legs to Leo and told him that I wanted to makeover the stool to use as a plant holder. He suggested that we replace the top with a round piece of wood.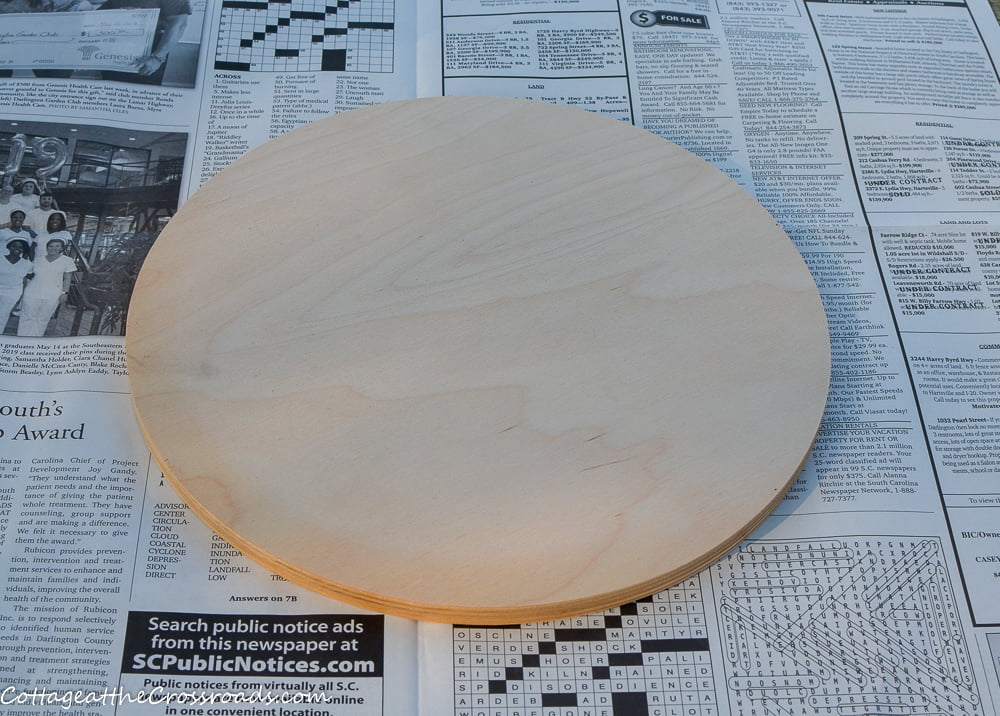 So off to Lowe's we went. We decided on this thinner top rather than a traditional stool top with rounded edges because this one was cheaper!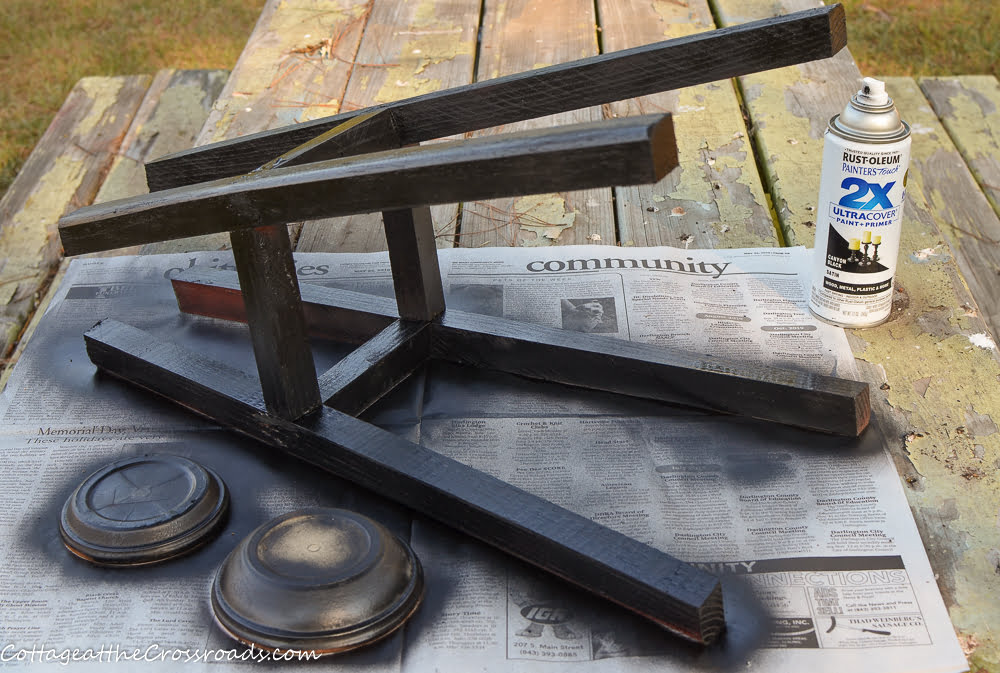 I promptly got out some black spray paint that I already had and painted the legs.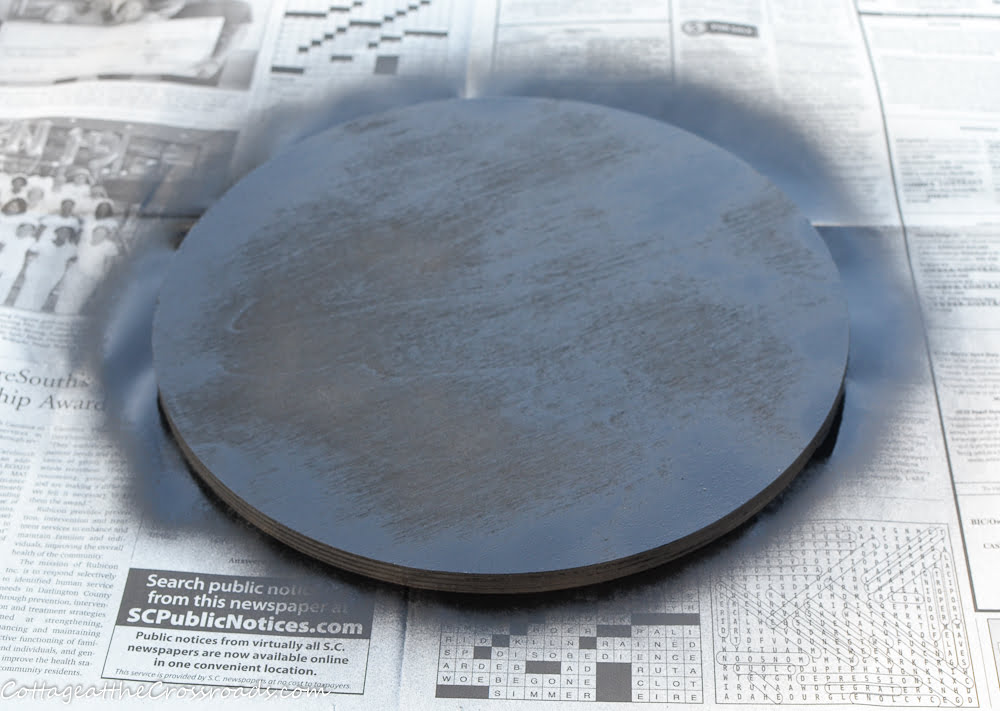 And the top got several coats as well. (I always do the painting parts of our projects because Leo HATES to paint!)
I didn't use any sort of sealer since the refurbished wooden stool was going to be in a covered area, and the pot that I was going to use on top had an attached saucer.
Next, we had to decide how to attach the top to the legs. I suggested that we screw it onto the legs, but Leo thought glue would work.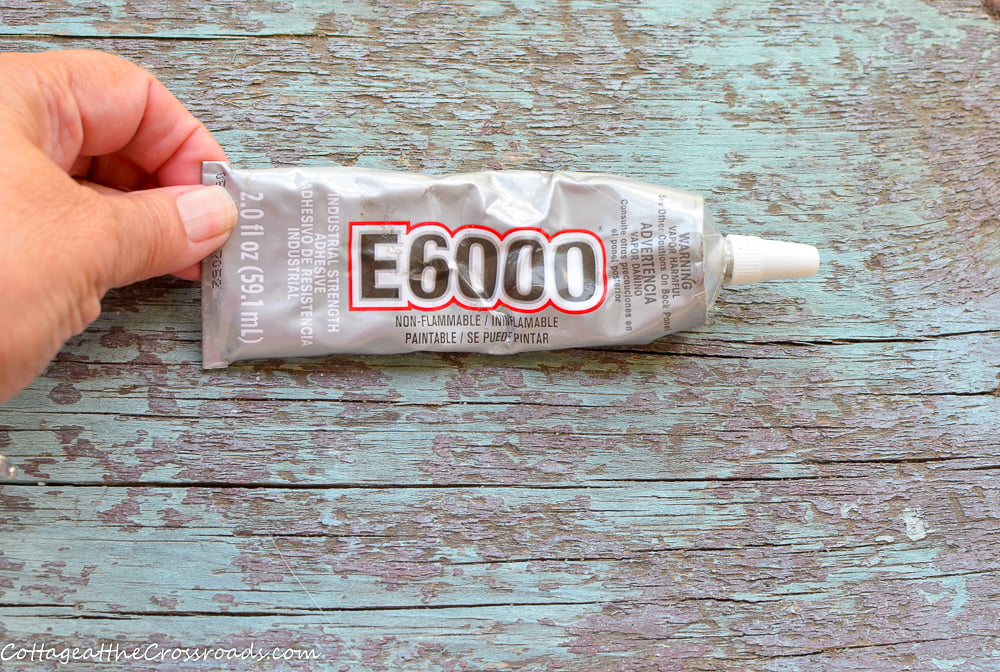 We used this E6000 adhesive to glue the top to the legs. Have you ever used this glue? It's great for so many craft and DIY projects. You can get it (affiliate link) HERE.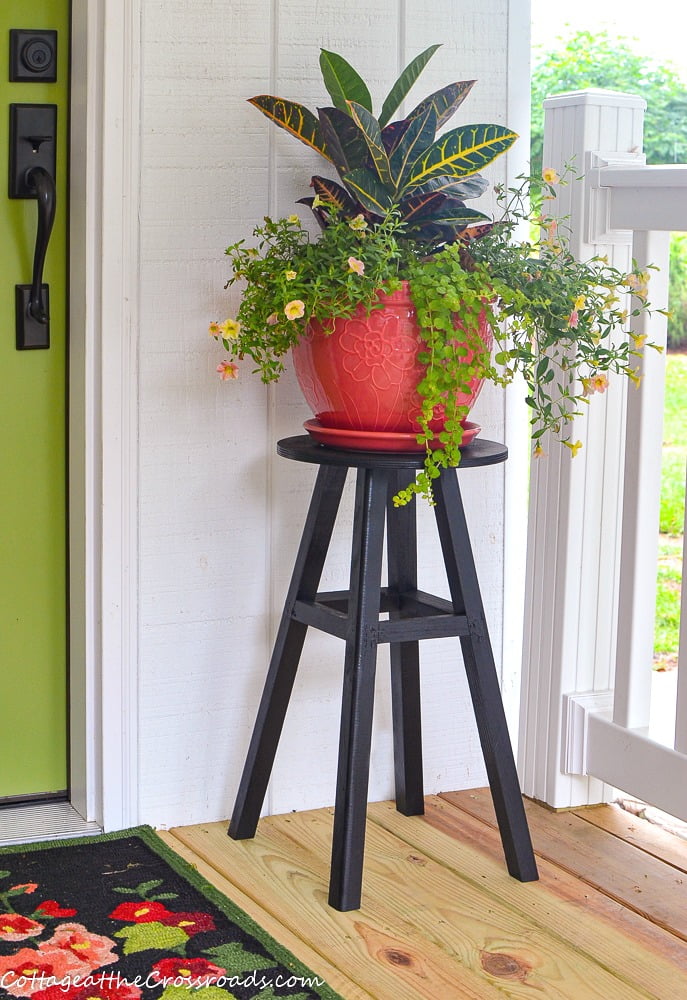 Although this was a quick and simple project, the refurbished wooden stool has a BIG impact at our back door!
So if you run across an old wooden stool at a thrift store or a garage sale, snap it up!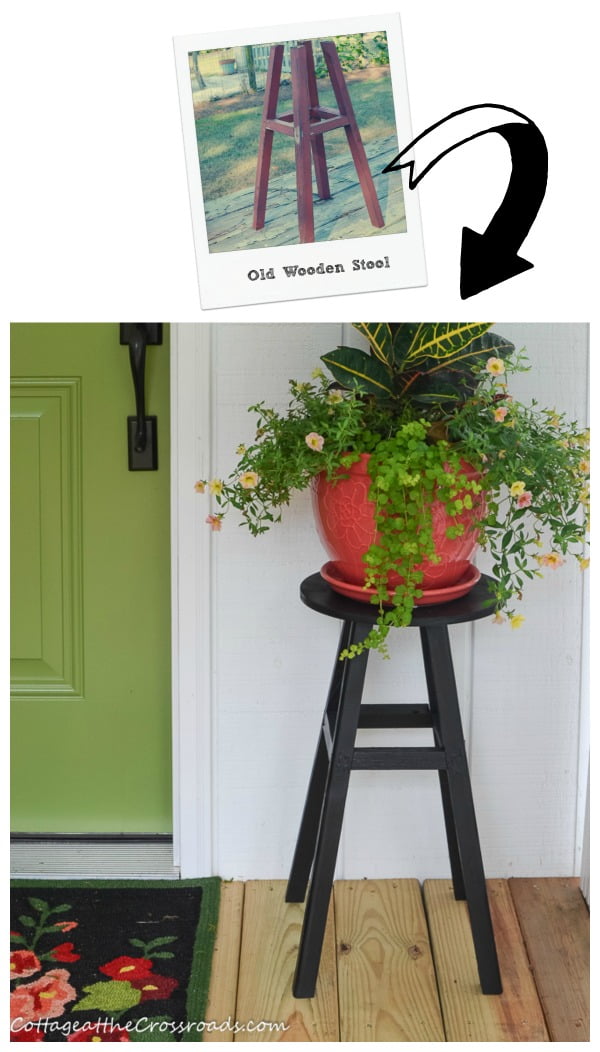 Now it's time to check out all the other hubbies' projects! Click on the links below to check them out!