In this post, you'll get some ideas of how you can turn cast-off indoor wooden furniture into outdoor pieces by reading about my green painted outdoor table.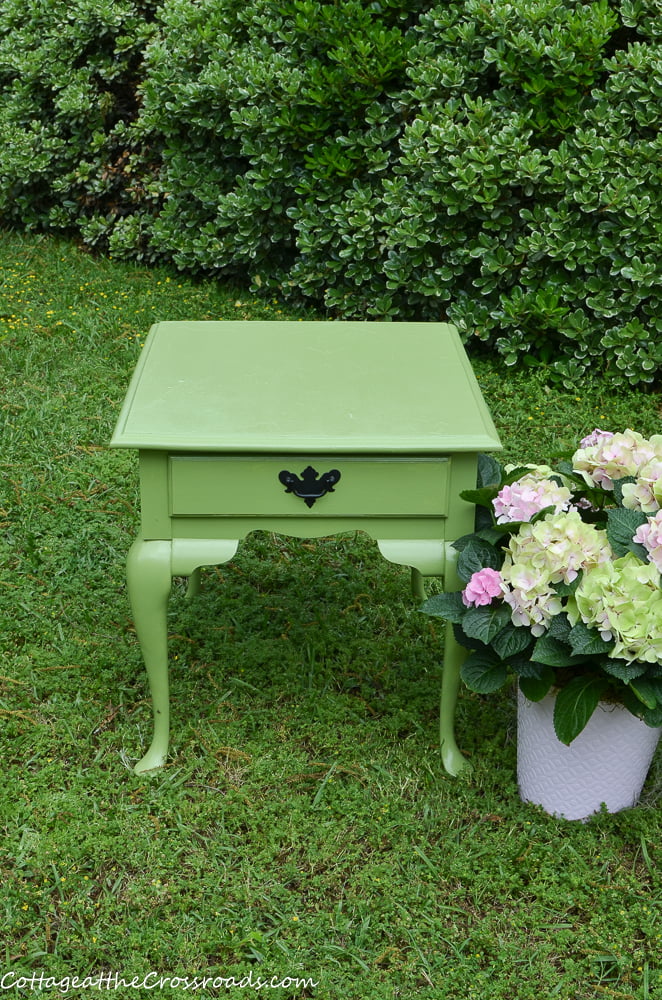 GREEN PAINTED OUTDOOR TABLE
Hi friends! We've been busy, busy, busy around the Crossroads! So busy that I haven't had time to stop and blog about all that we've been doing until today. I have so much to show you but today I'm sharing how I revived an old wooden end table to use on our new covered deck.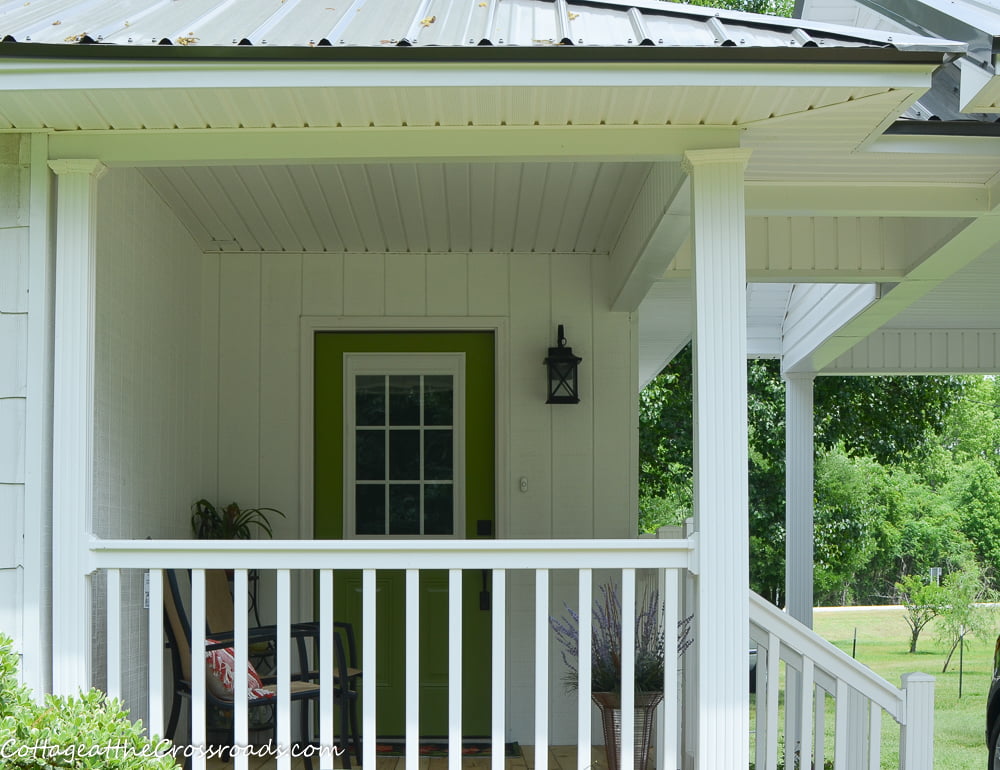 Here is a sneak peek at our new deck! It's all finished except for the decorating which I have just begun. You can see that we painted the back door green and that we have 2 chairs on the deck.
We've been enjoying sitting on the deck because it is now covered and shady, but we needed a table to put between the two chairs.
I happened to think about a table that I had in the storage building that we had used on our front porch for years.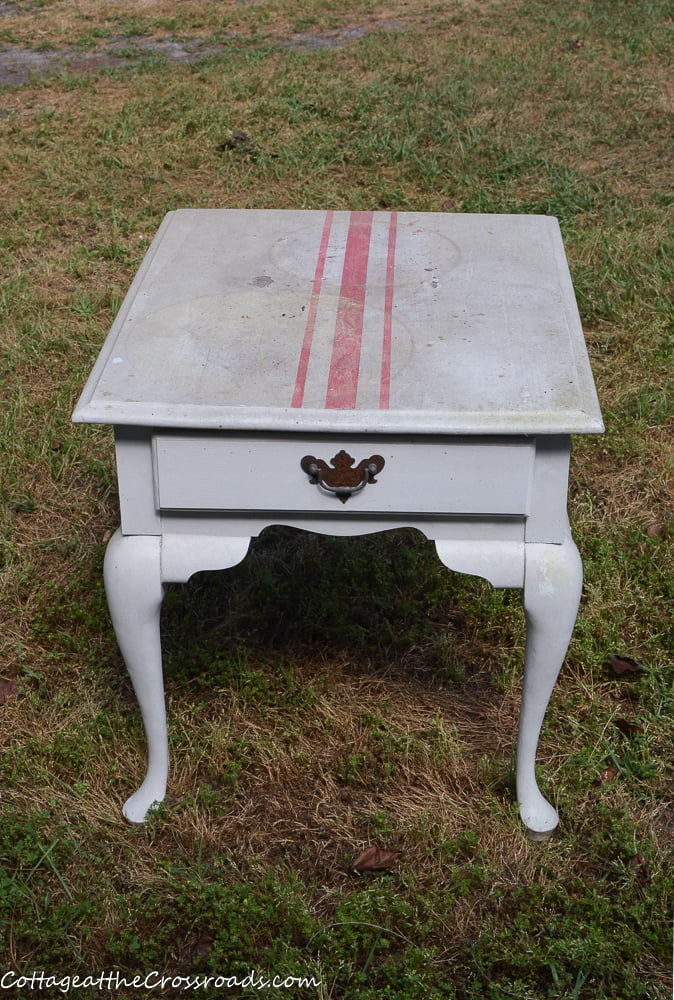 Originally, this was an oak end table that I had painted white many years ago. At some point, I added the red stripes to simulate a grain sack, but the table needed a new paint job.
Since I had some leftover paint from the back door, I decided to paint the table the same color.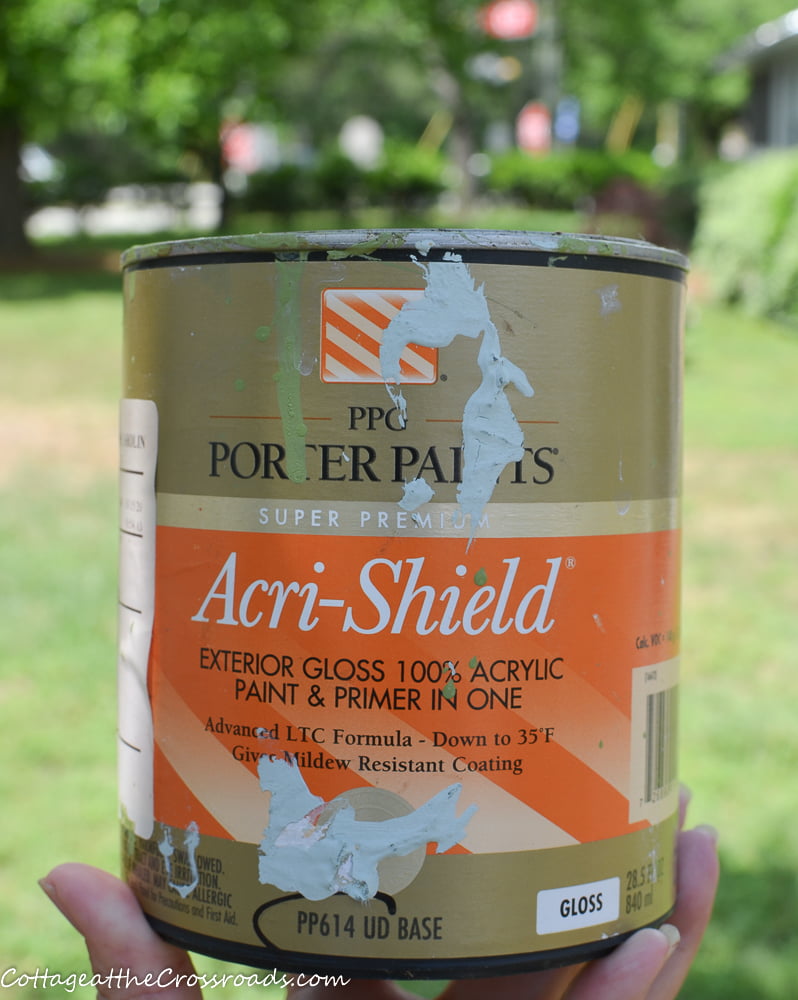 Our painter used this Porter Paint Exterior Acrylic in a gloss finish on the back door.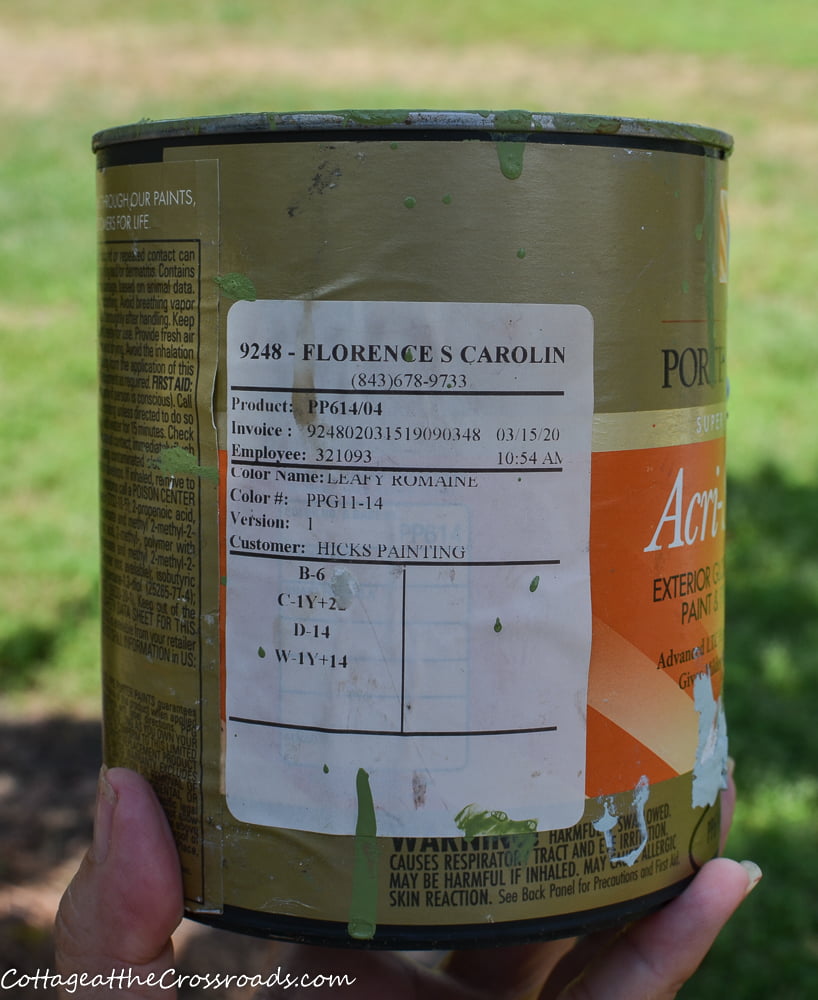 The shade is Leafy Romaine and I absolutely love the color! It is a beautiful yellow green and now I want to paint everything this color!
Just in case you're needing an outdoor table and you want to go the thrifty route, look around for a piece of indoor furniture that can be painted. It's not hard to make it look new again!
STEPS IN PAINTING WOODEN FURNITURE TO USE OUTDOORS
First, clean the surface with an all-purpose cleaner and let dry.
If the piece has a stained finish, use a primer to avoid any bleed through of the stain and for better adhesion of your paint.
If the piece has been previously painted, scrape off any large pieces of existing paint and smooth the surface with 100 or 120 grit sandpaper.
Apply one coat of exterior acrylic paint with a brush and allow to dry completely.
Apply additional coats if necessary; allow each coat to dry thoroughly before applying another.
Seal the surface with a polycrylic protective finish
*Tip: Don't paint in direct sunlight which can cause the paint to blister.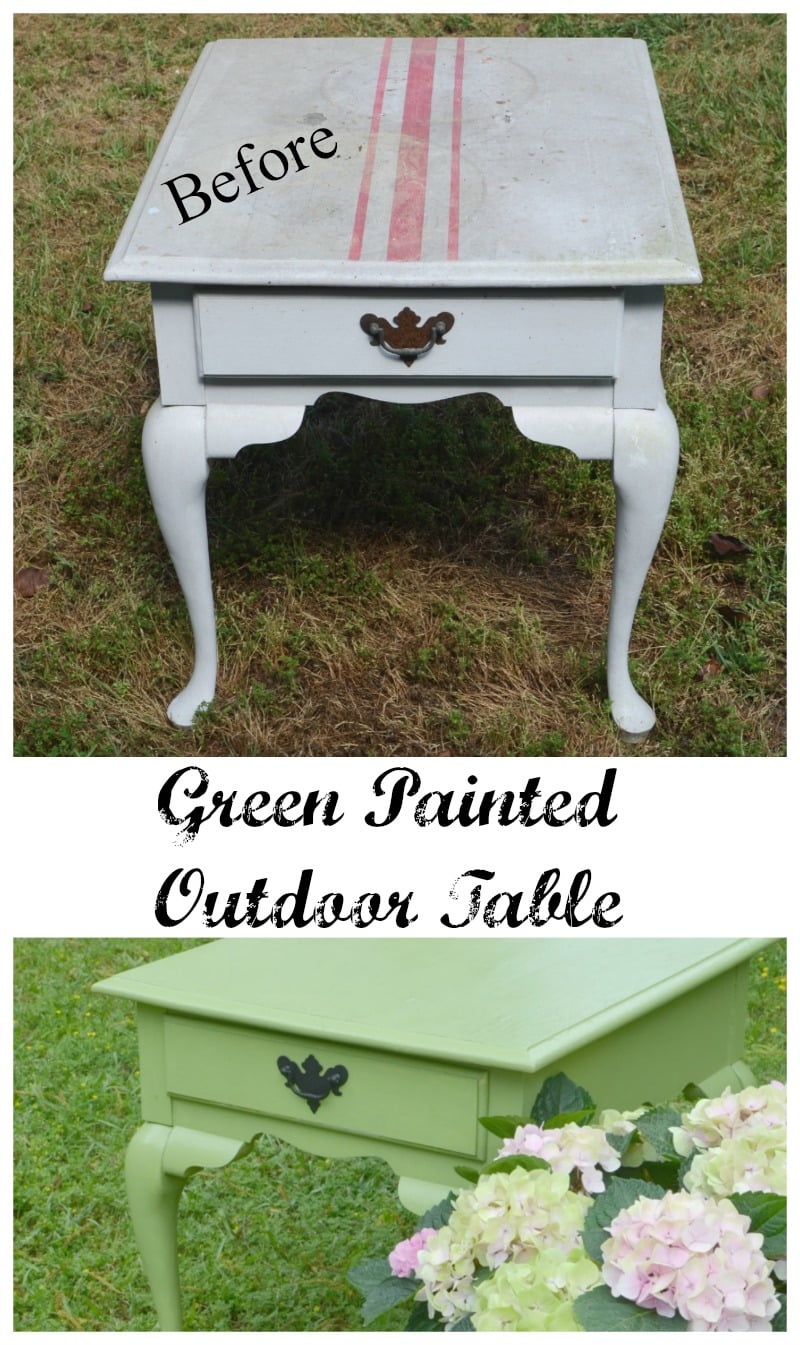 See, it really isn't so hard to revive a piece of furniture that you would normally think of only using indoors and repurpose it as an outdoor table. If you don't have a small table, you can easily find one at thrift stores or garage sales.
Here are a few shots of the green painted table on the deck. I'm not quite ready to do a full reveal of any of our remodeled spaces but I'll give you a few peeks at the deck.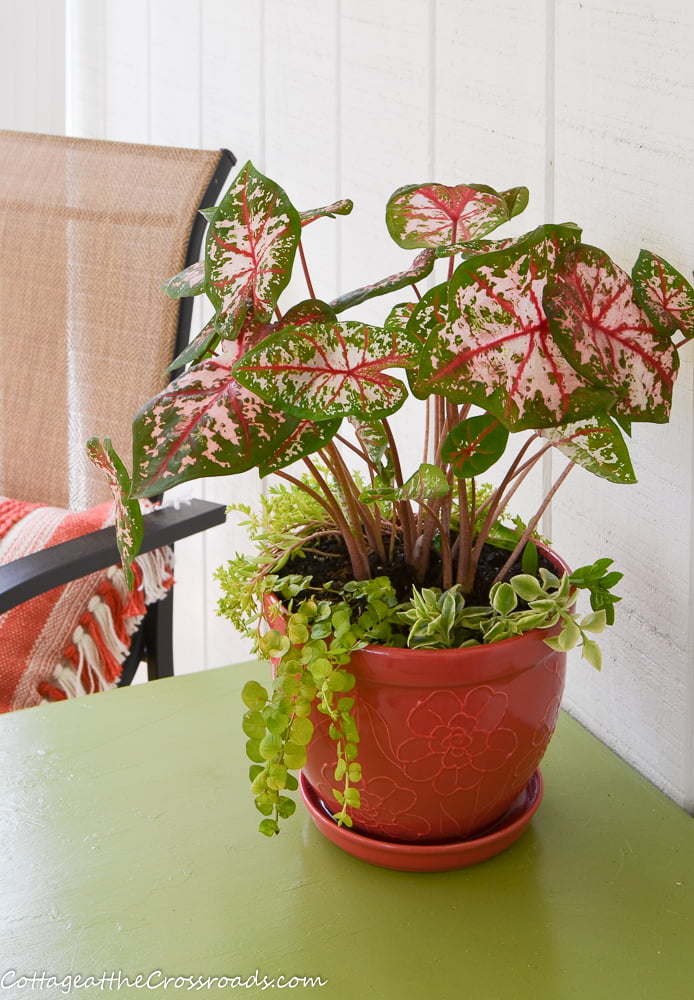 The colors that I'm using on the deck are coral, green, and black.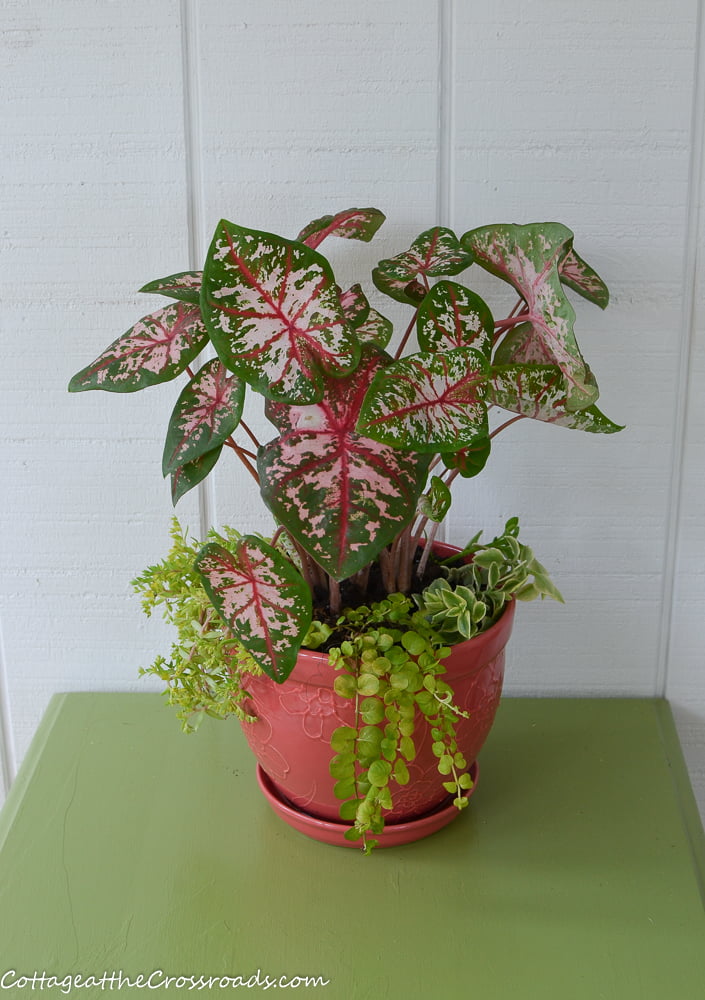 And my green painted outdoor table is making the whole space feel more like a room rather than just a deck.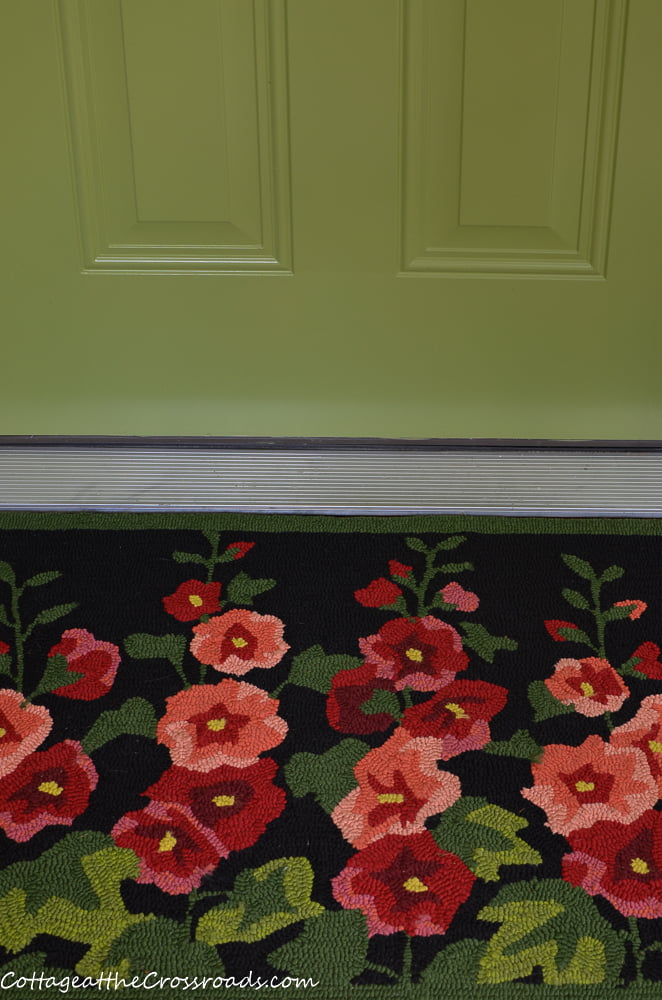 This new rug in front of the door is driving the whole color scheme, including the plants! Can't wait to get it all pulled together!
If you are looking for more thrifty decorating projects, check out these projects from the Thrifty Style Team. You'll find the list of projects and links under this graphic.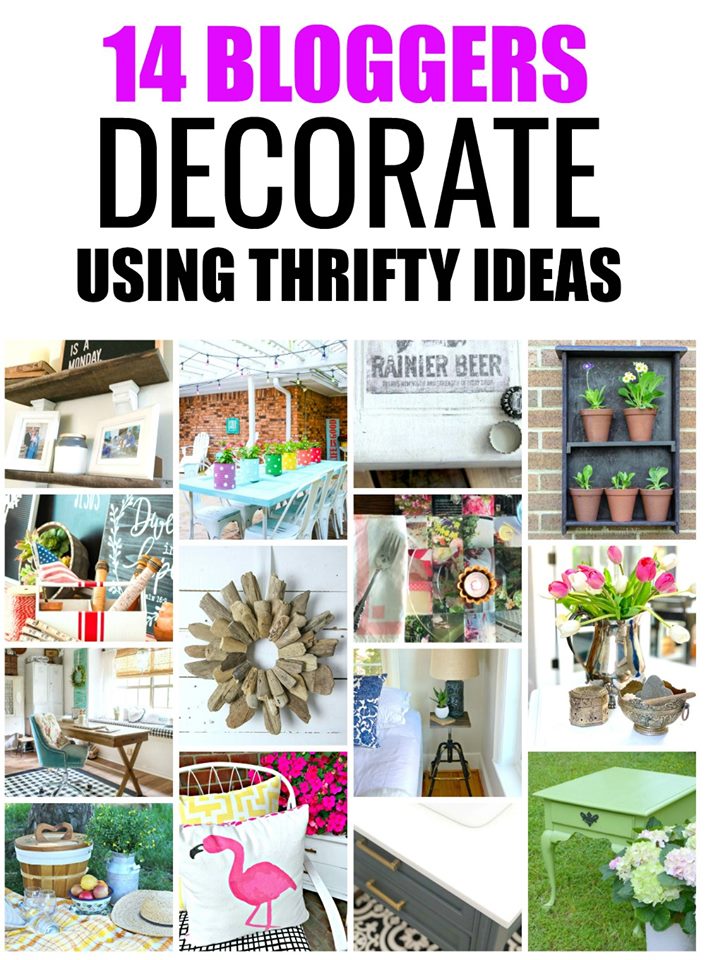 Thrifty Yellow and Pink Spring Porch by Redhead Can Decorate
Rustic Shiplap-Inspired Wall Art by The Creek Line House
Ideas on How to Update a 15 Year Old Bathroom Vanity by Duke Manor Farm
Make an Auricula Theatre – Thrifty Style by Heart and Vine
Window Seat Refresh by DIY Beautify
Green Painted Outdoor Table by Cottage at the Crossroads
Patio Decorating Ideas on a Budget by I Should Be Mopping the Floor
Vintage Box Makeover by Bliss Ranch
Easy DIY Nightstand From a Thrift Store Stool by Chatfield Court
Decorating with Thrifted Silver by 2 Bees in a Pod
DIY Grain Sack Striped Farmhouse Tote by The How-To How
Thrifted Picnic Basket Makeover by Salvage Sister & Mister
DIY Magazine Page Place Mats by What Meegan Makes
100 Year Old Barnwood Shelves by The DIY Village