In this post, I'm sharing our new Lifeproof Petproof carpet that was recently installed along with some new area rugs that we've purchased.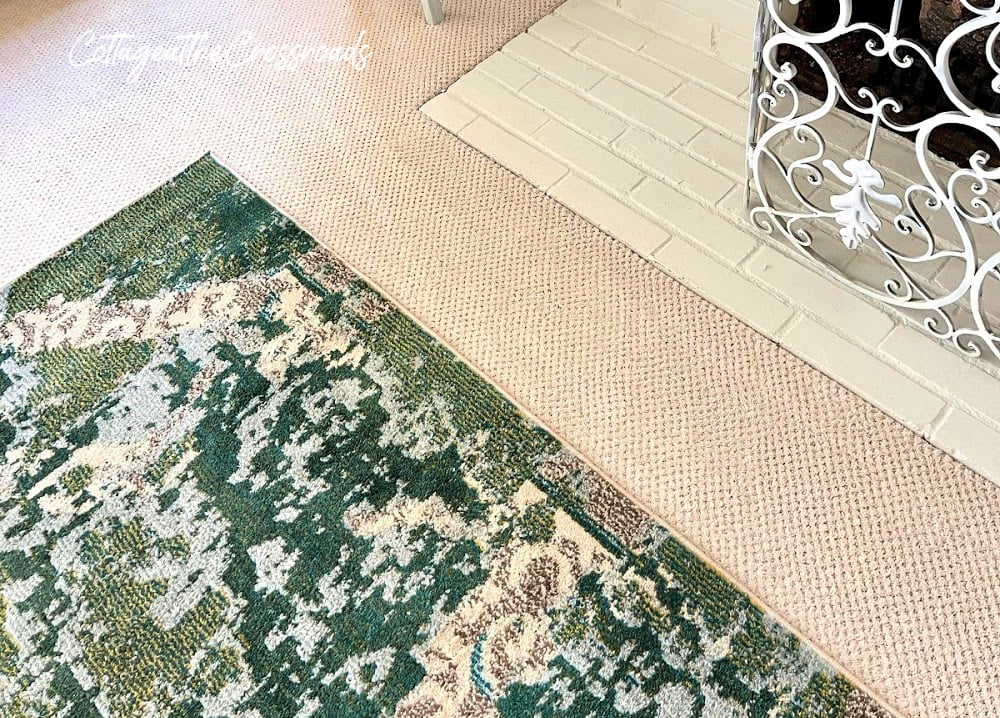 Hello friends! It's been a while since I posted but I wanted to share with you our new petproof carpet and area rugs that we've purchased and installed.
Yes, that's right. We installed carpet over our wood floors in several areas of our home. If you missed knowing why, you can catch up by reading this post: REPAIRING OUR OLD SOUTHERN PINE FLOORS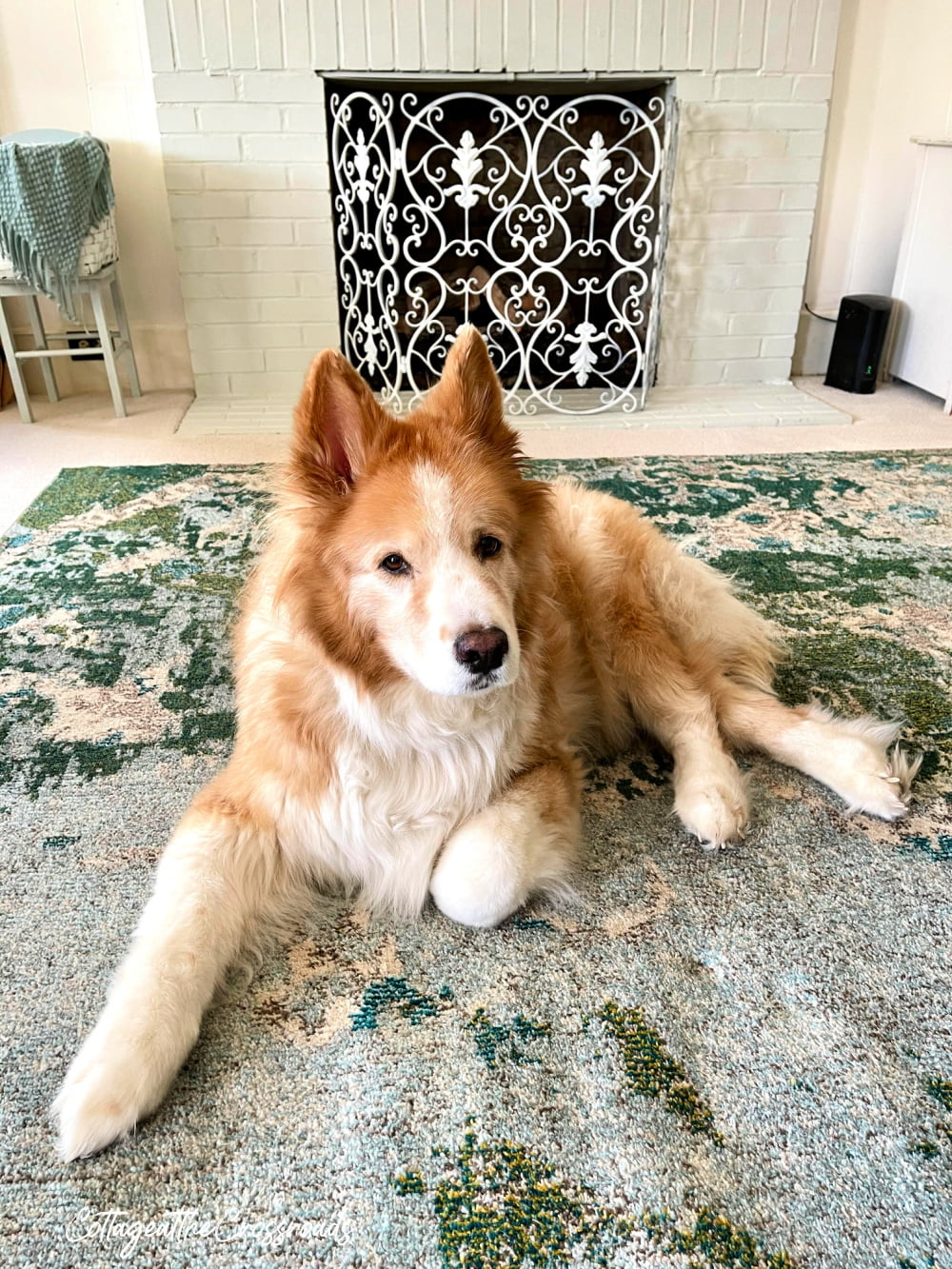 There were several reasons why we went with carpet but this is the main reason right here. This is our dog, Lucy.
Lucy is 11 years old and has arthritis in her hips. A few months she became afraid to walk on the bare wood floors after she had a few incidents where she lost her grip.
Nothing is more heart-wrenching than seeing your dog all spread-eagle on the floor and the look of panic in her eyes because she can't get up.
So when we started tackling our floor issues and realized that the damage was more extensive than we thought, we made the decision to carpet.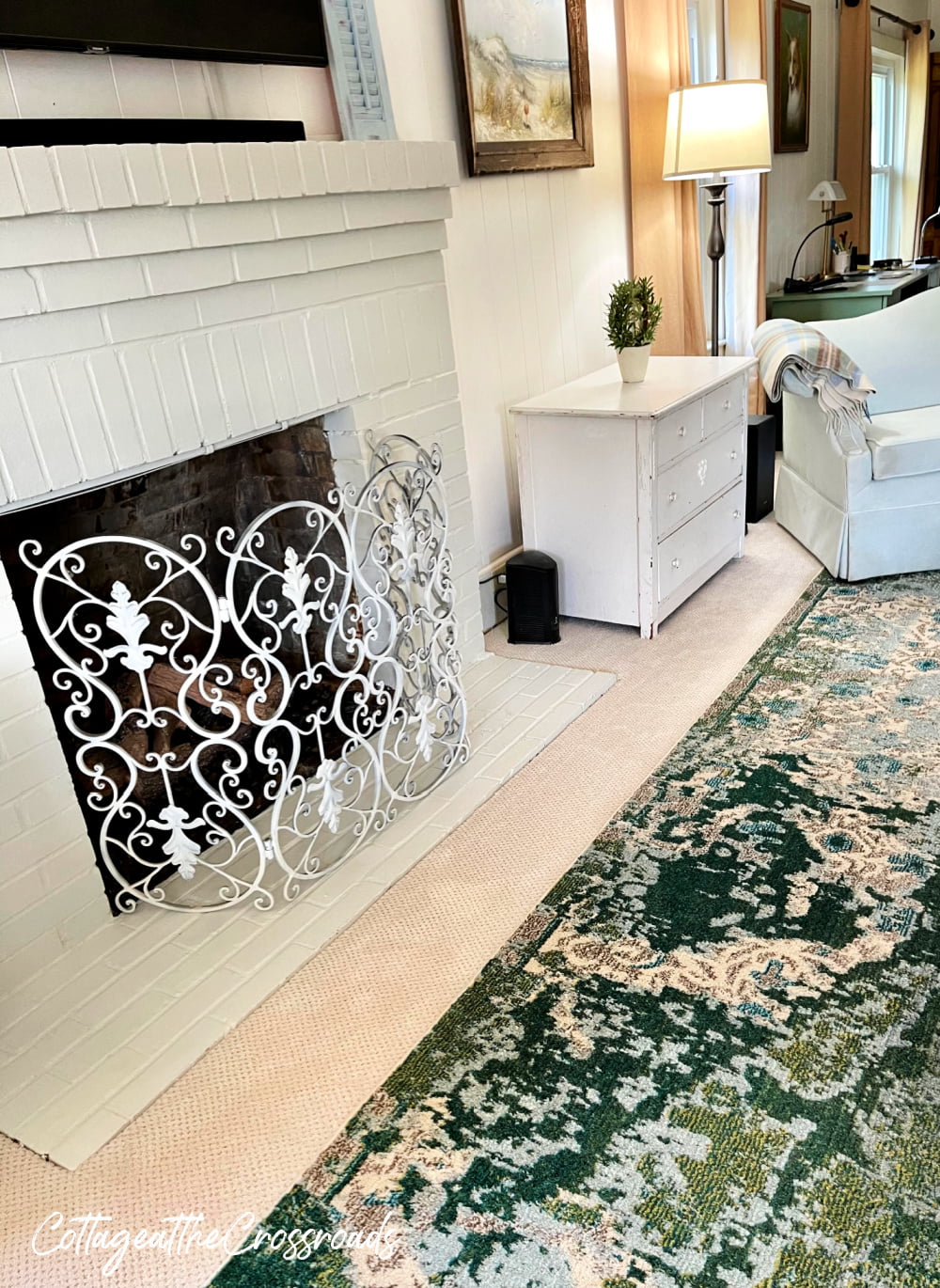 Do I miss the wood floors? Well, yes, but I also love the new carpet.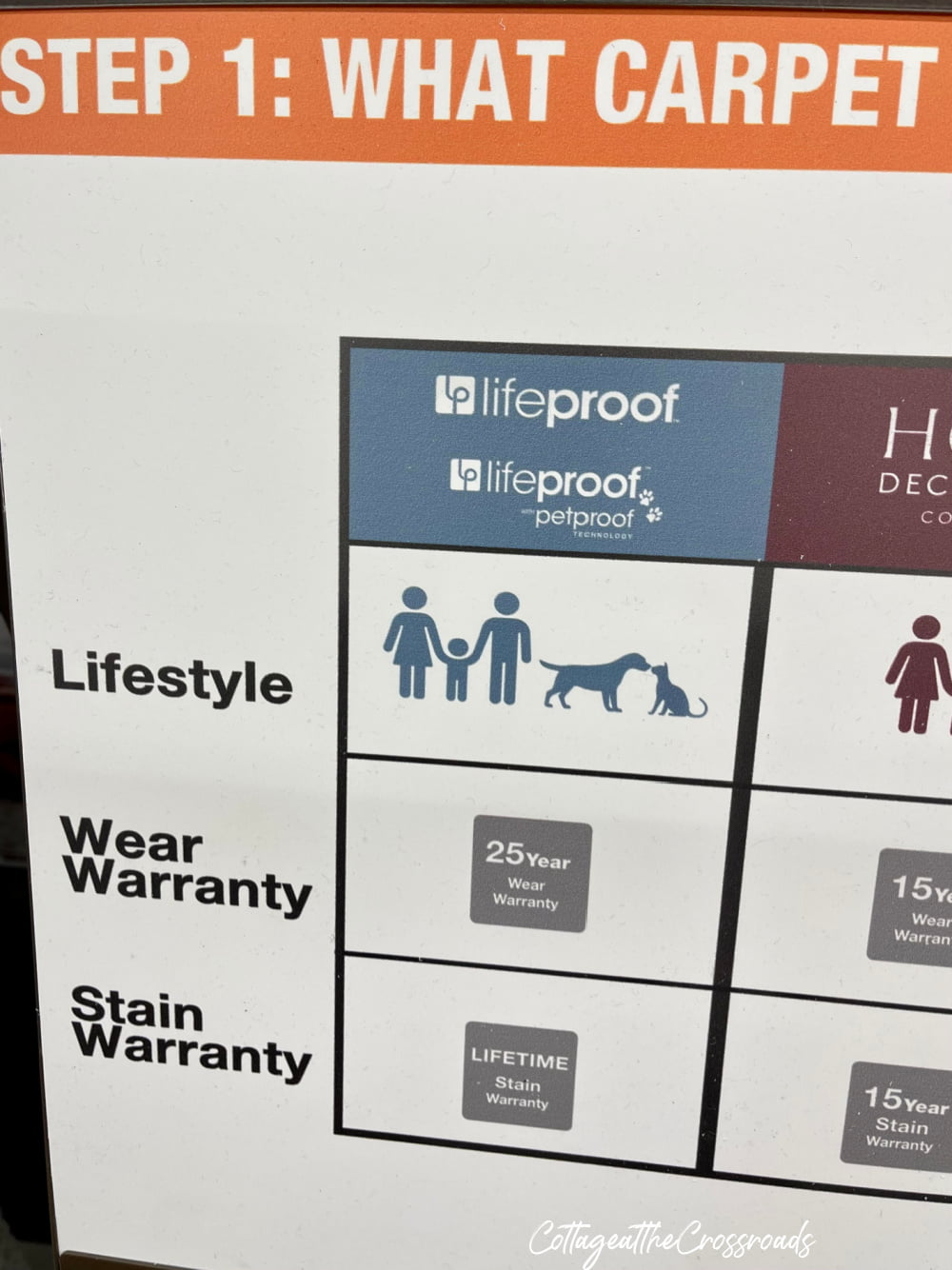 First, let me tell you that this is NOT a sponsored post but we decided to shop for carpet at Home Depot because they support DIY bloggers. And, after doing a bit of research, I found out that they had some Petproof carpet.
How in the world can carpet be pet proof??? Well, it seems that it has some built-in stain and soil protection that is not removed even if you have your carpet professionally cleaned. Supposedly, liquids are not absorbed by the fibers.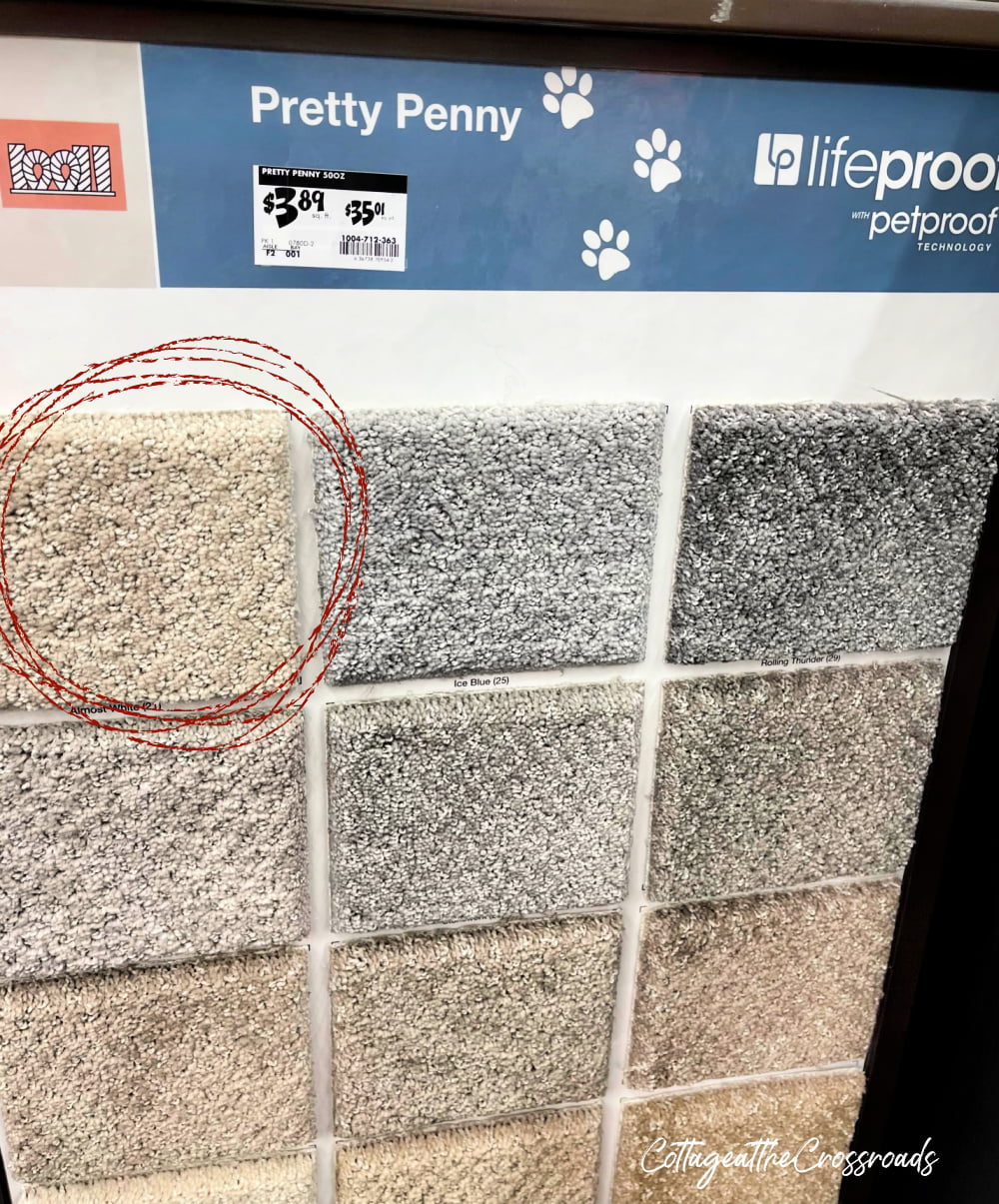 We chose this particular carpet because it has a subtle texture and I circled the color "Almost White." It is really a light, warm beige.
It is amazing how that color really brightened up our living and dining room!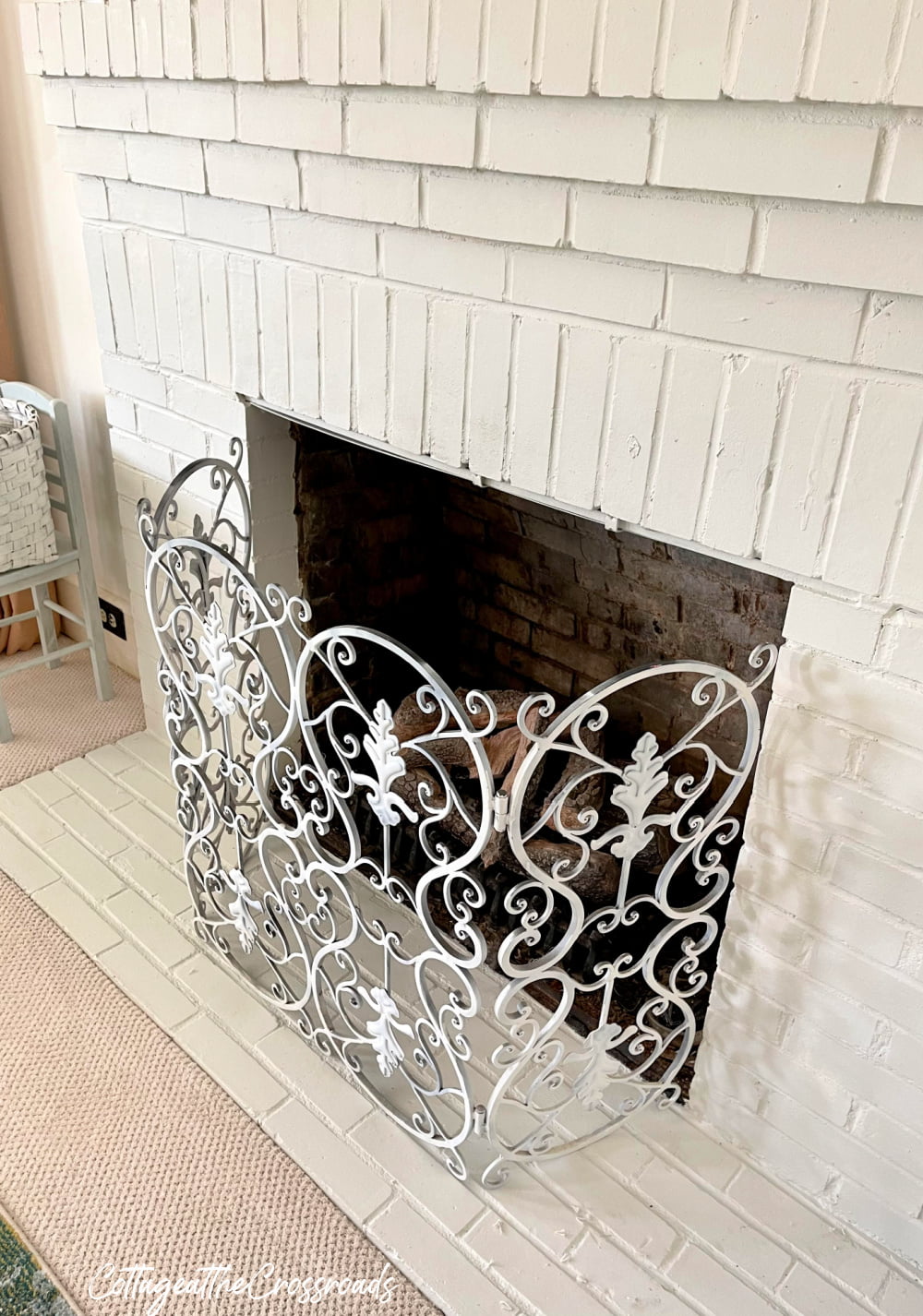 Before the carpet could be installed, there was a lot of work that had to be done.
First, the paint was peeling on the fireplace so I had to scrape it off and repaint it. I had some masonry paint matched to the old color by taking a chip of the old paint to Lowe's.
I also painted a section of the wall beside it where some water damage had occurred and was repaired recently. I really didn't want to paint the whole wall or room but luckily I had some Dove White paint by Sherwin Williams on hand that matched perfectly.
I also had to repair the wall where one of the dividers had been taken out which involved a lot of puttying and sanding.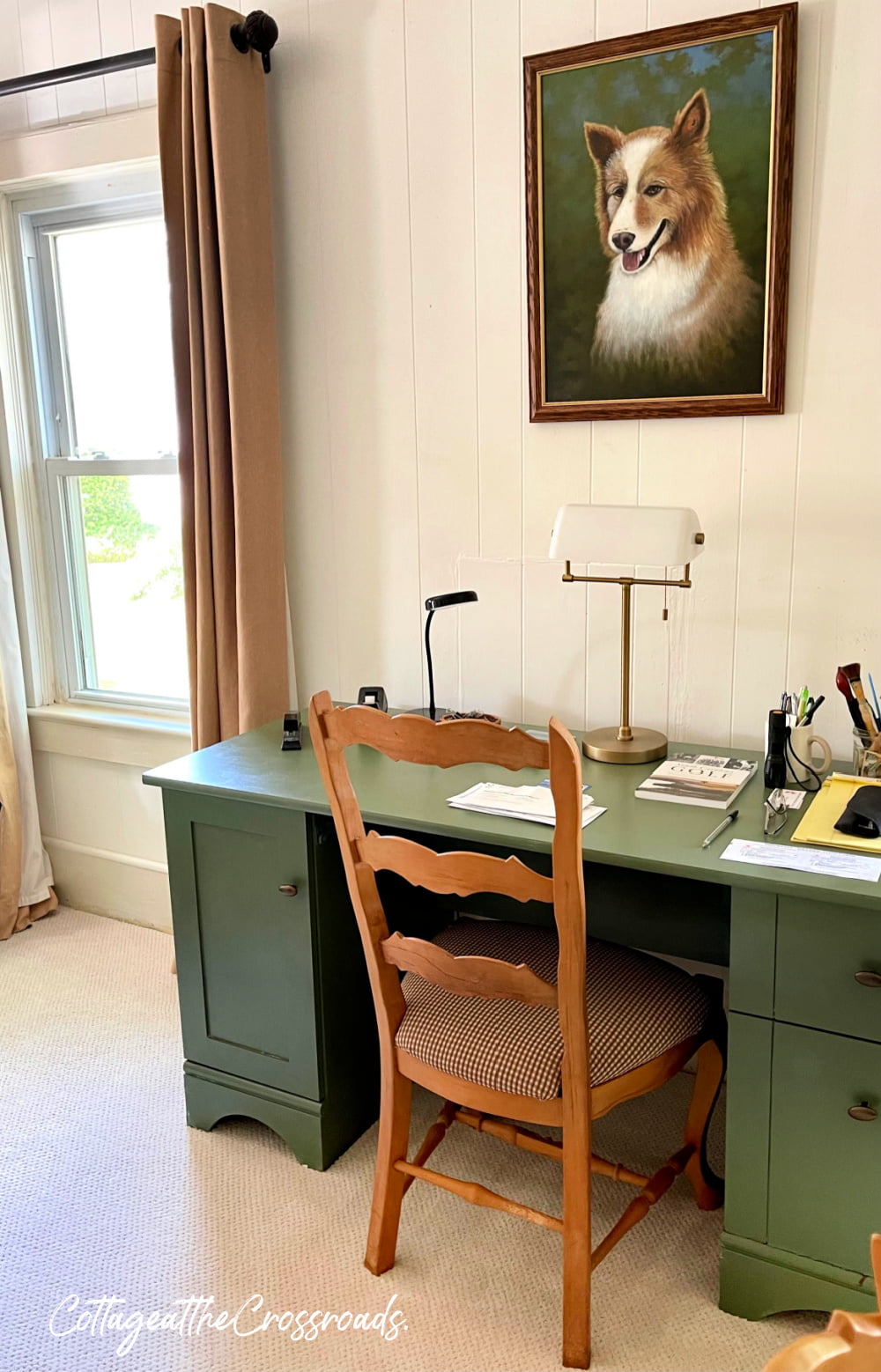 The area that was repaired is behind the desk and you can hardly see it. I painted the desk green. Don't ask me the color because I mixed in some colors to get the just right shade to match the back of the corner cabinet and the cupboard.
The dog portrait of Lucy is new. It was painted by one of Leo's golfing buddies. If you're interested in having a portrait done, you can email Jim Statton at [email protected]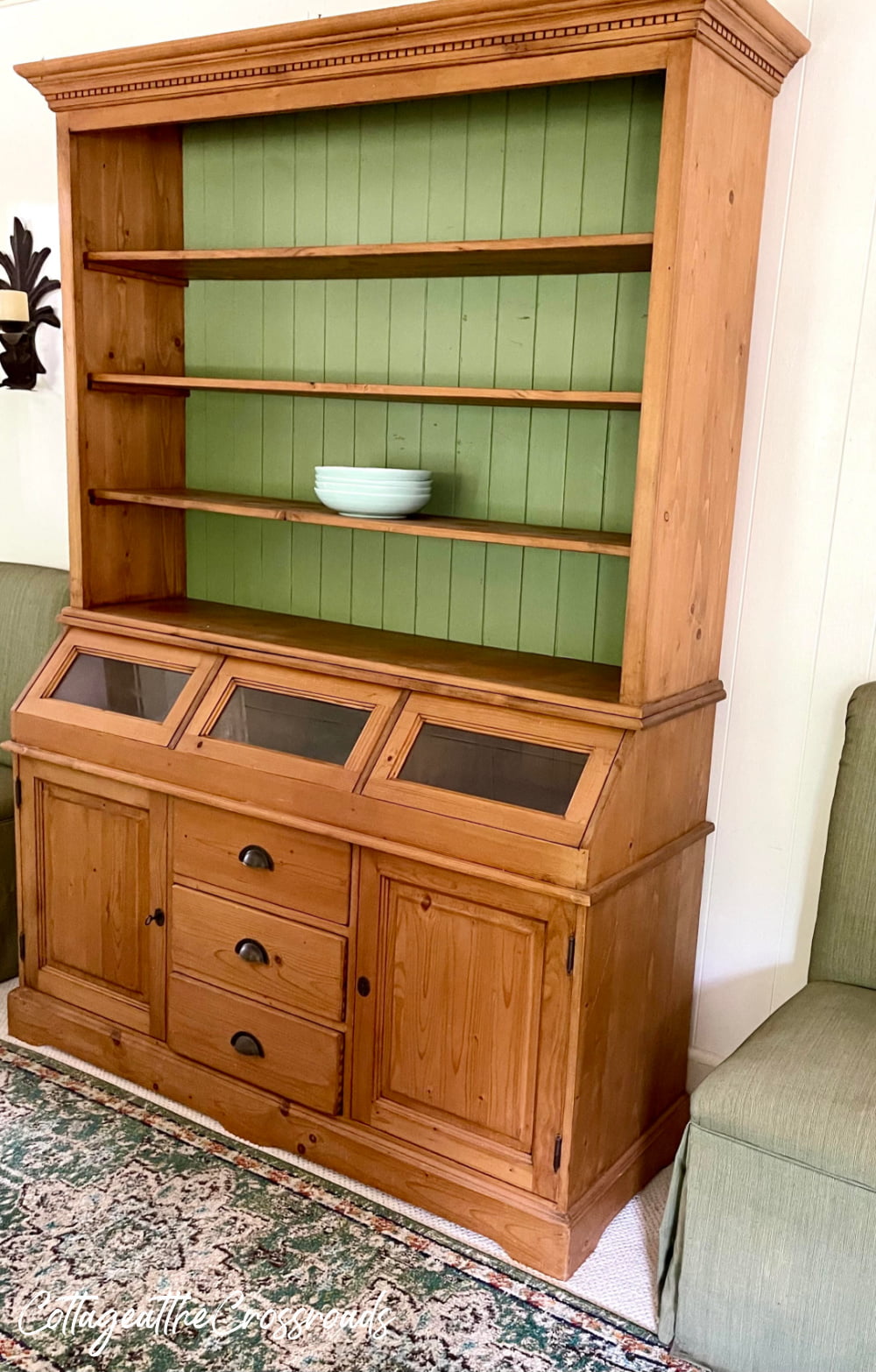 This whole process of getting carpet installed was almost like moving. Everything had to be packed up but the installers did move all the heavy furniture for us.
Right now the cupboard is still bare because we need to have new quarter round installed and we are waiting on that to happen before we put our things back.
The green paint in the back of the cupboard looks like a different shade of green but that's because the light was shining on it.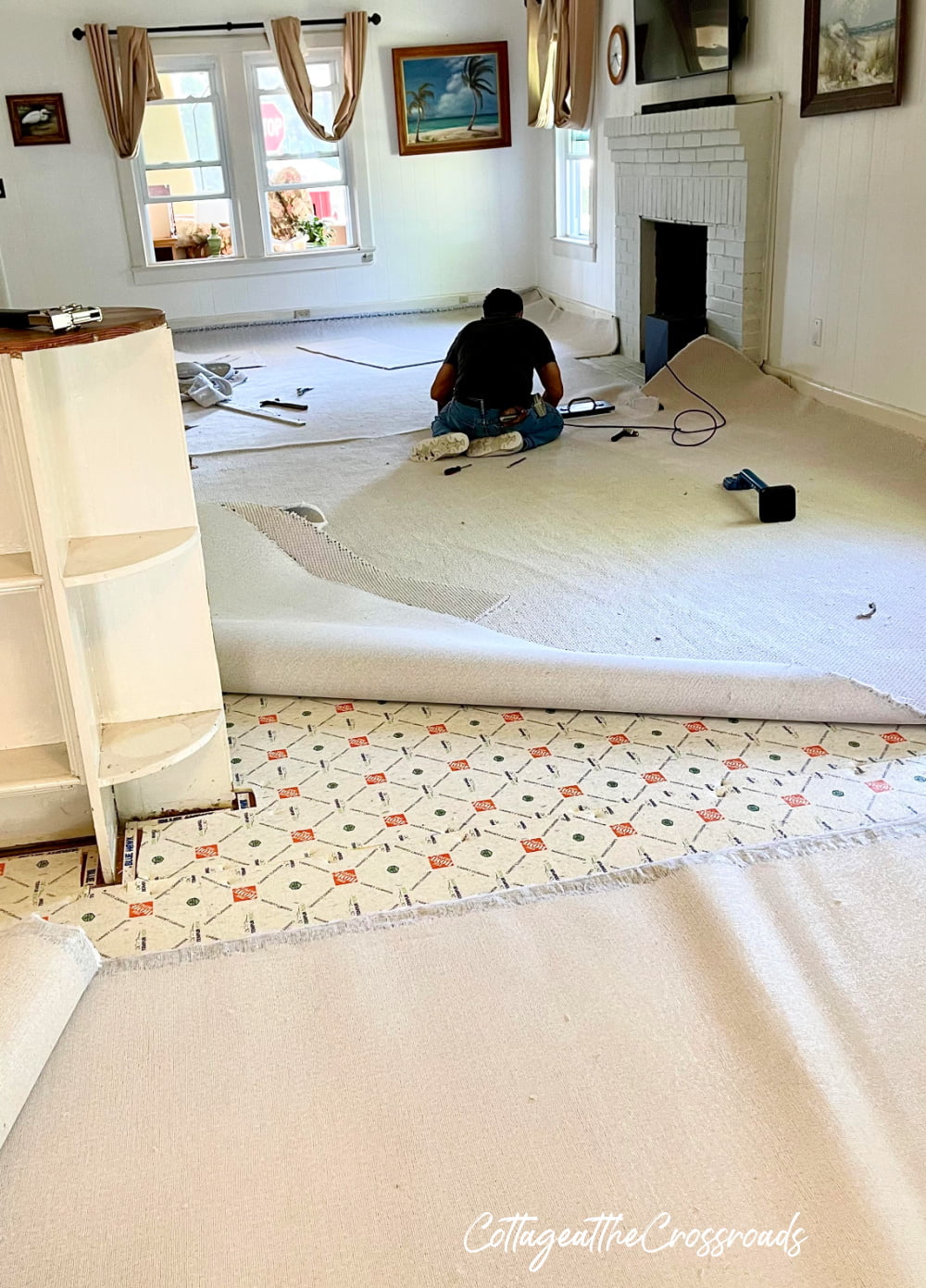 The installers did a great job and we cannot see a single seam.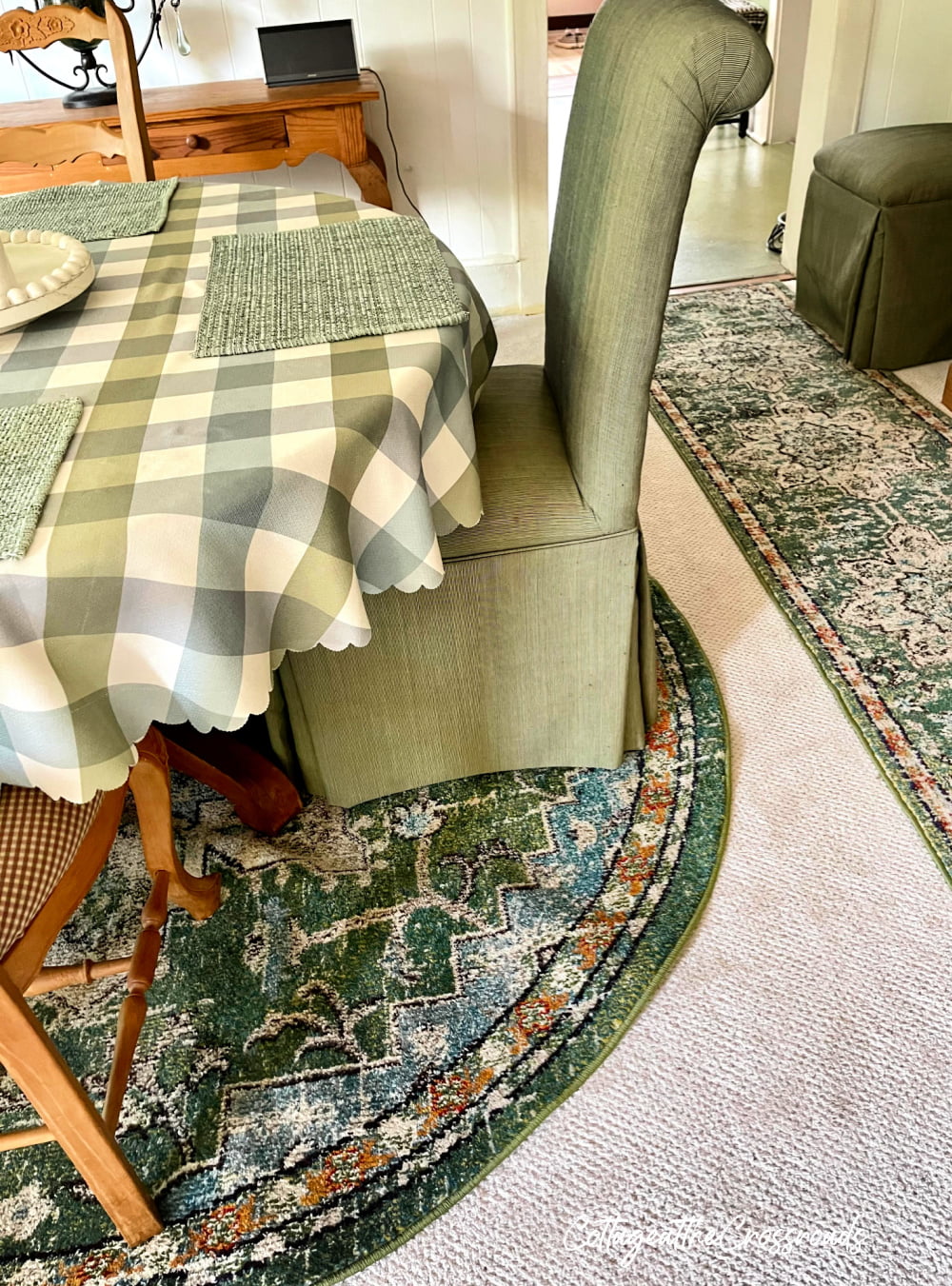 In front of the cupboard is a runner that I ordered several months ago when Lucy first started having trouble with the wood floors. I ordered it from Amazon here (affiliate link): SAFAVIEH MADISON BOHO CHIC MEDALLION DISTRESSED RUNNER IN GREEN AND TURQUOISE
I don't think I've shown a photo of our new (old) round table. Previously we had a large farmhouse style table here but we moved that out to the craft studio last fall and replaced it with a round table.
So I ordered the ROUND SAFAVIEH MADISON BOHO CHIC RUG to go under it.
In person, the colors are not quite as bright in the photo above but I do love the blue and green combo.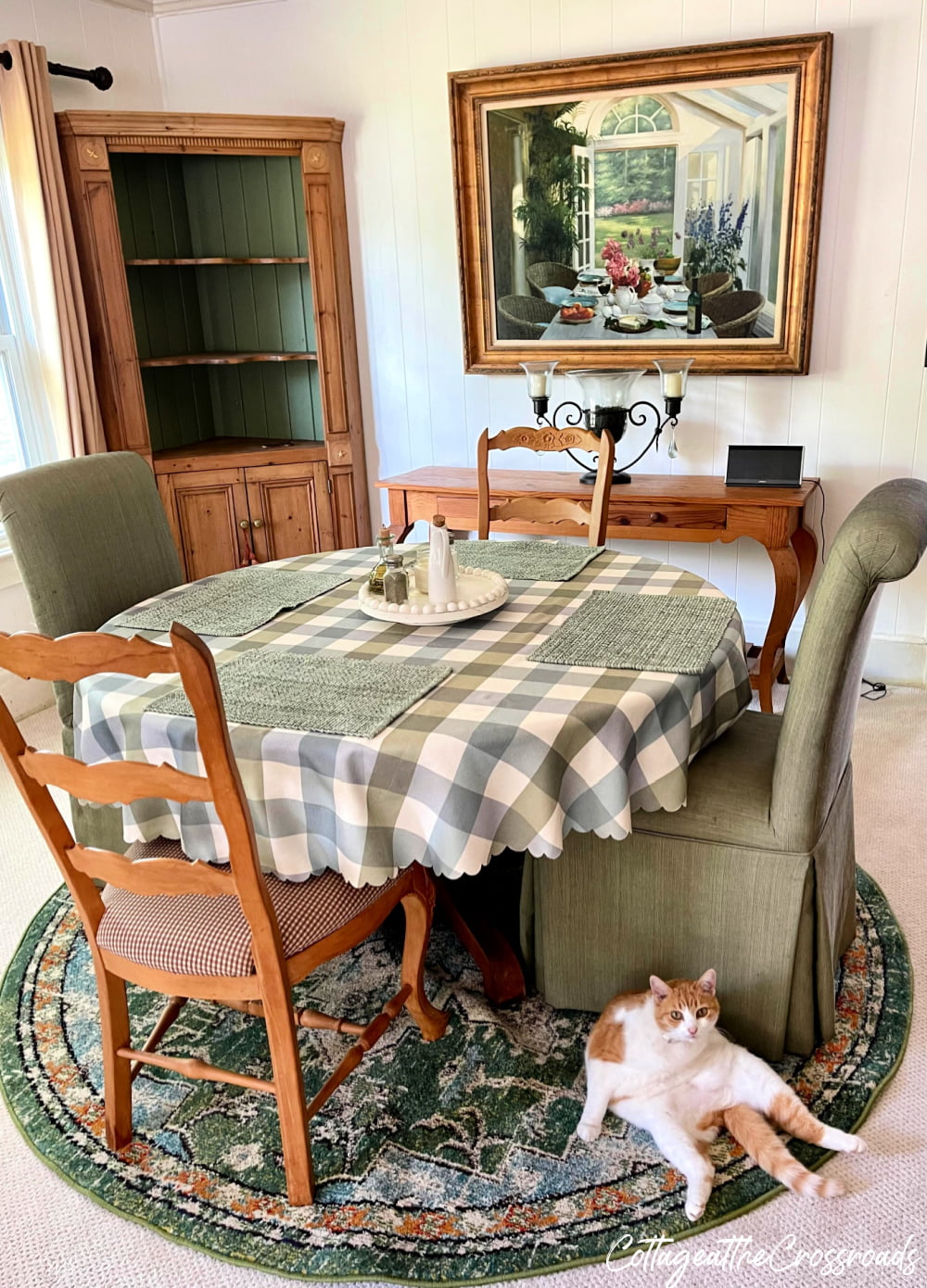 Juicy, our cat, seems to like the new area rug, too!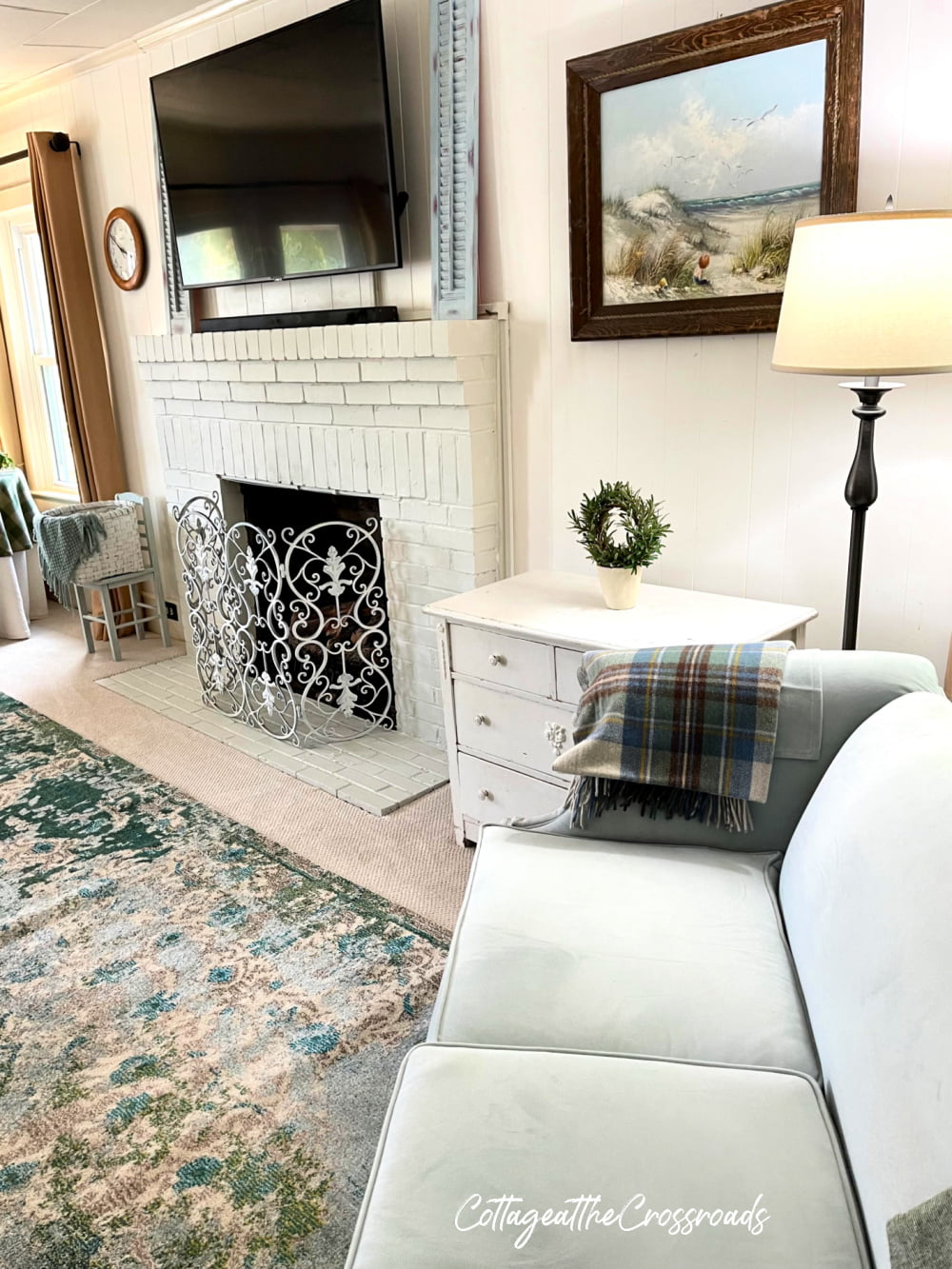 In the living area, we have a new rug, too, which looks great with the light blue loveseat. The wrinkles from where it was rolled up are still visible but they should flatten out in a few days.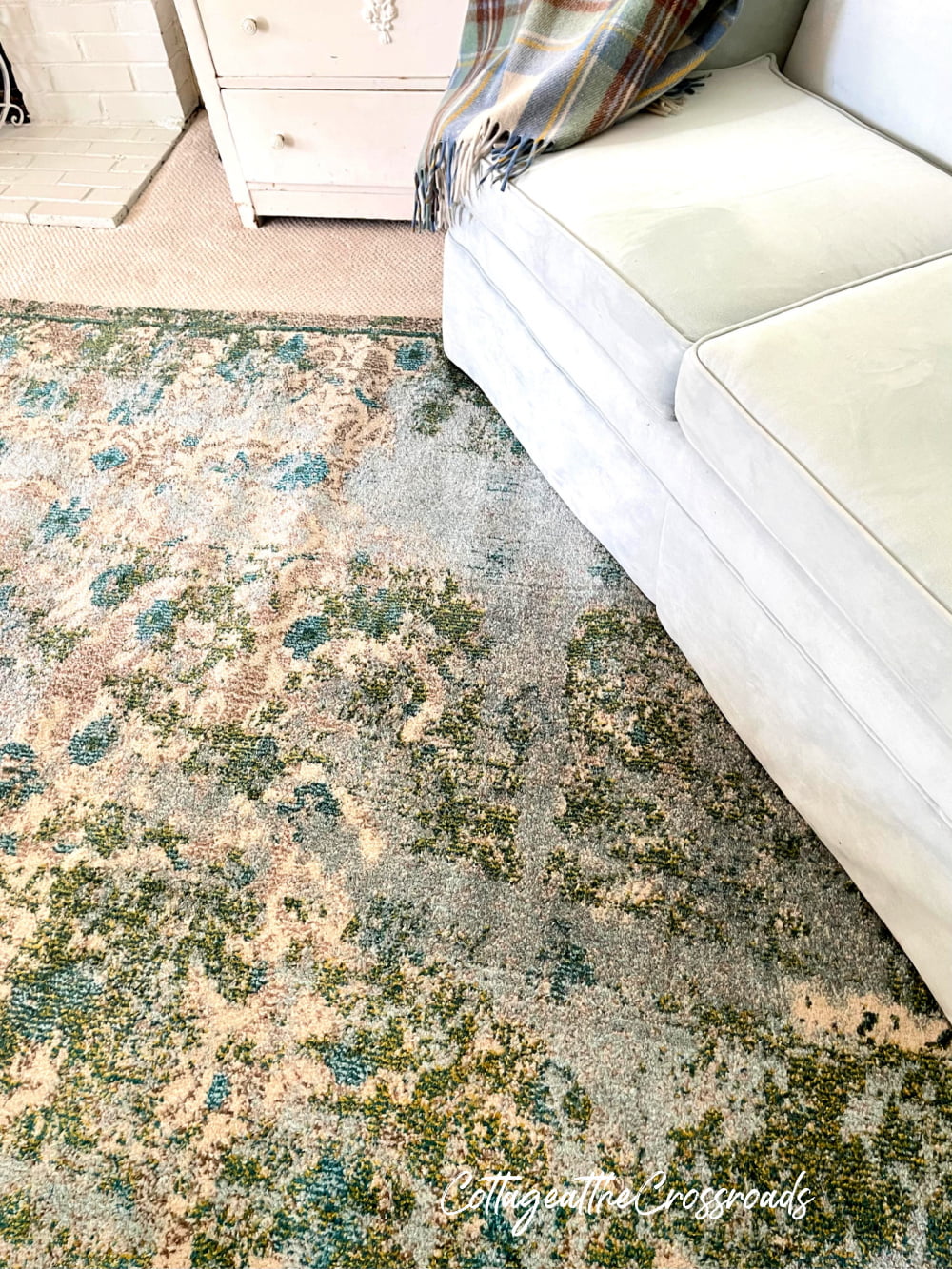 Here is a closer look at the variation of shades of blue and green. In this room, I did not want a definite pattern so I was happy to find this (affiliate link) SAFAVIEH MADISON MODERN ABSTRACT RUG on Amazon.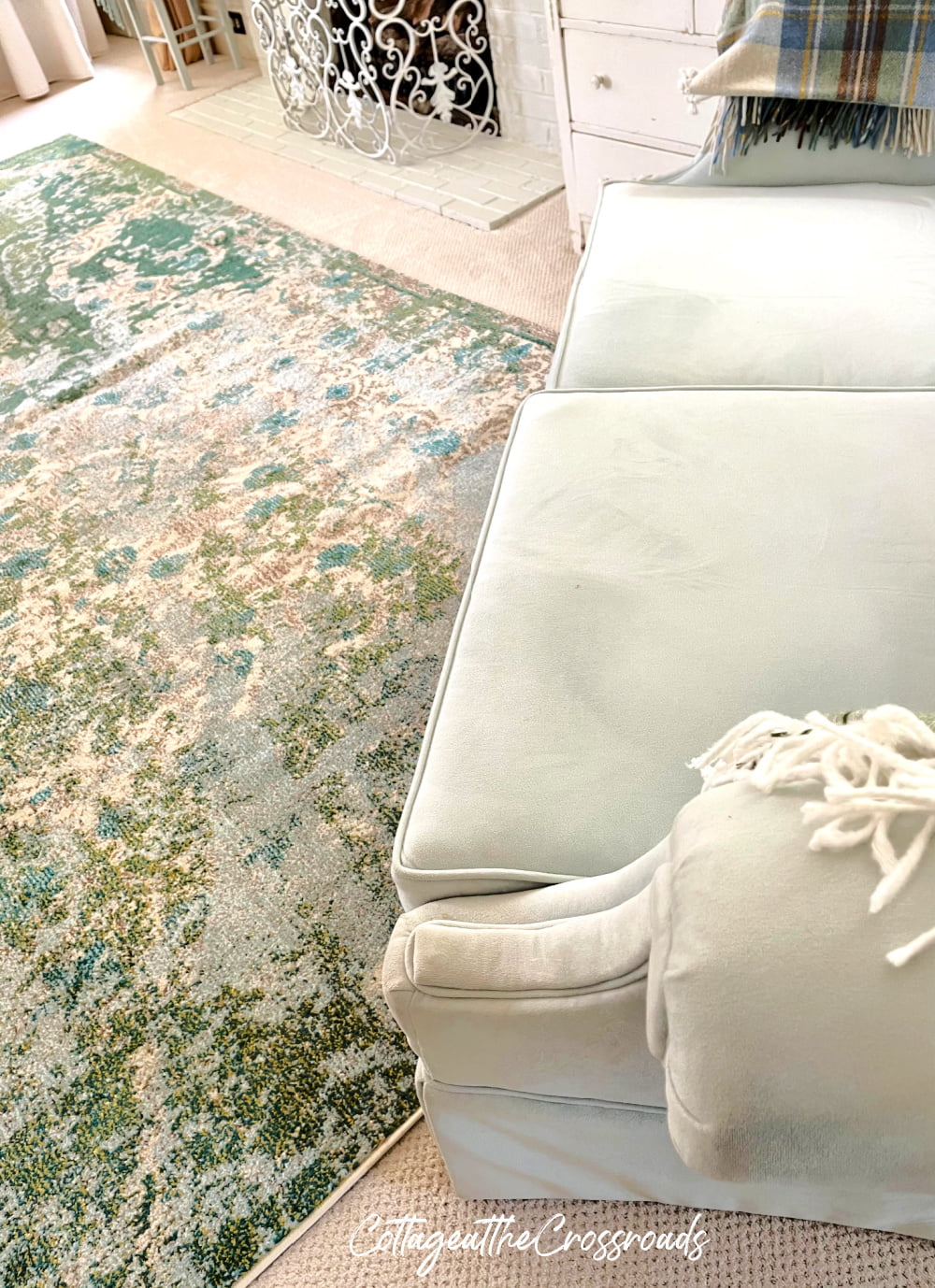 I just love all the beautiful colors in this new area rug and I think it will help protect the new carpet.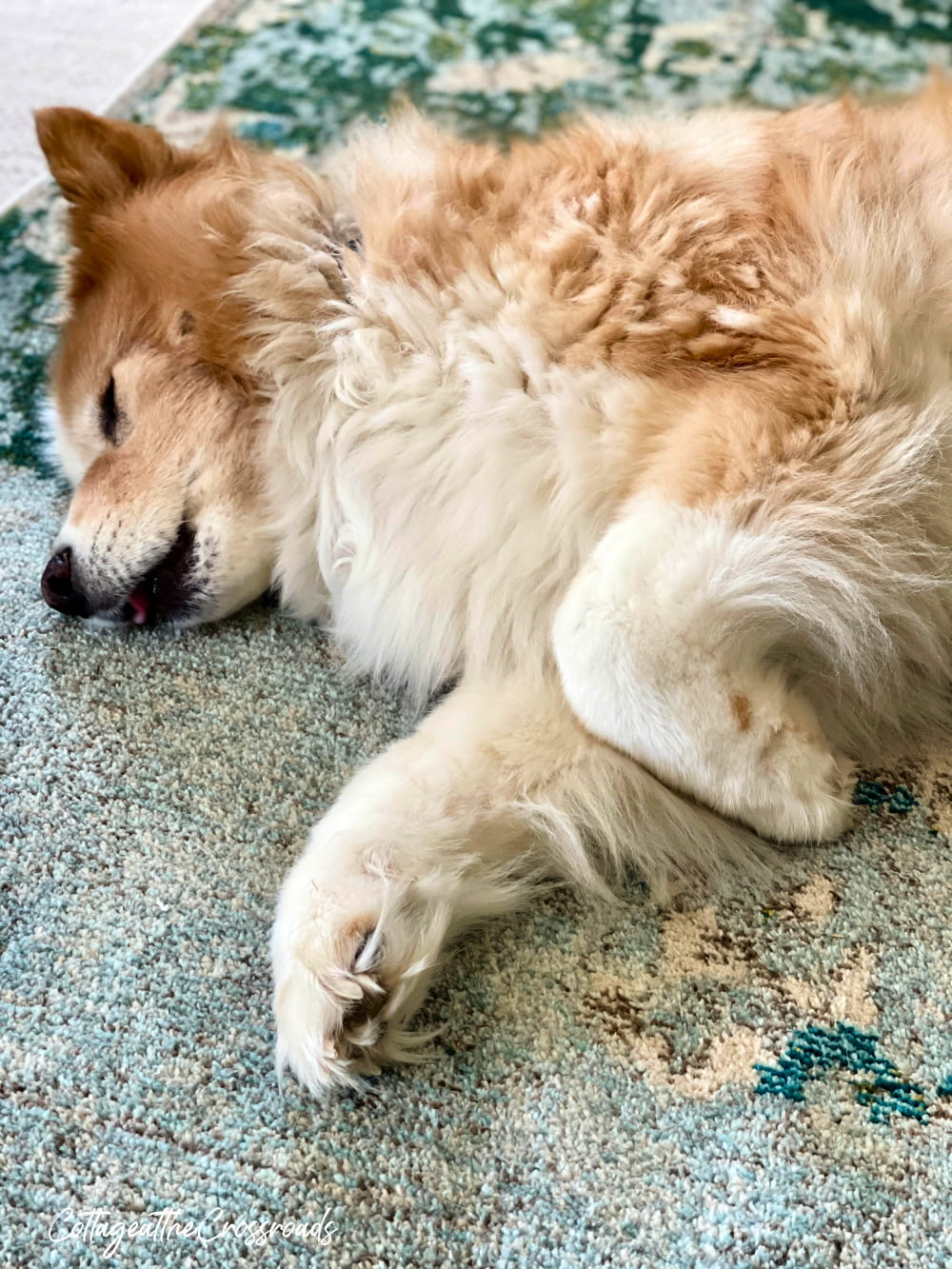 The new Petproof carpet and area rug are Lucy approved, for sure!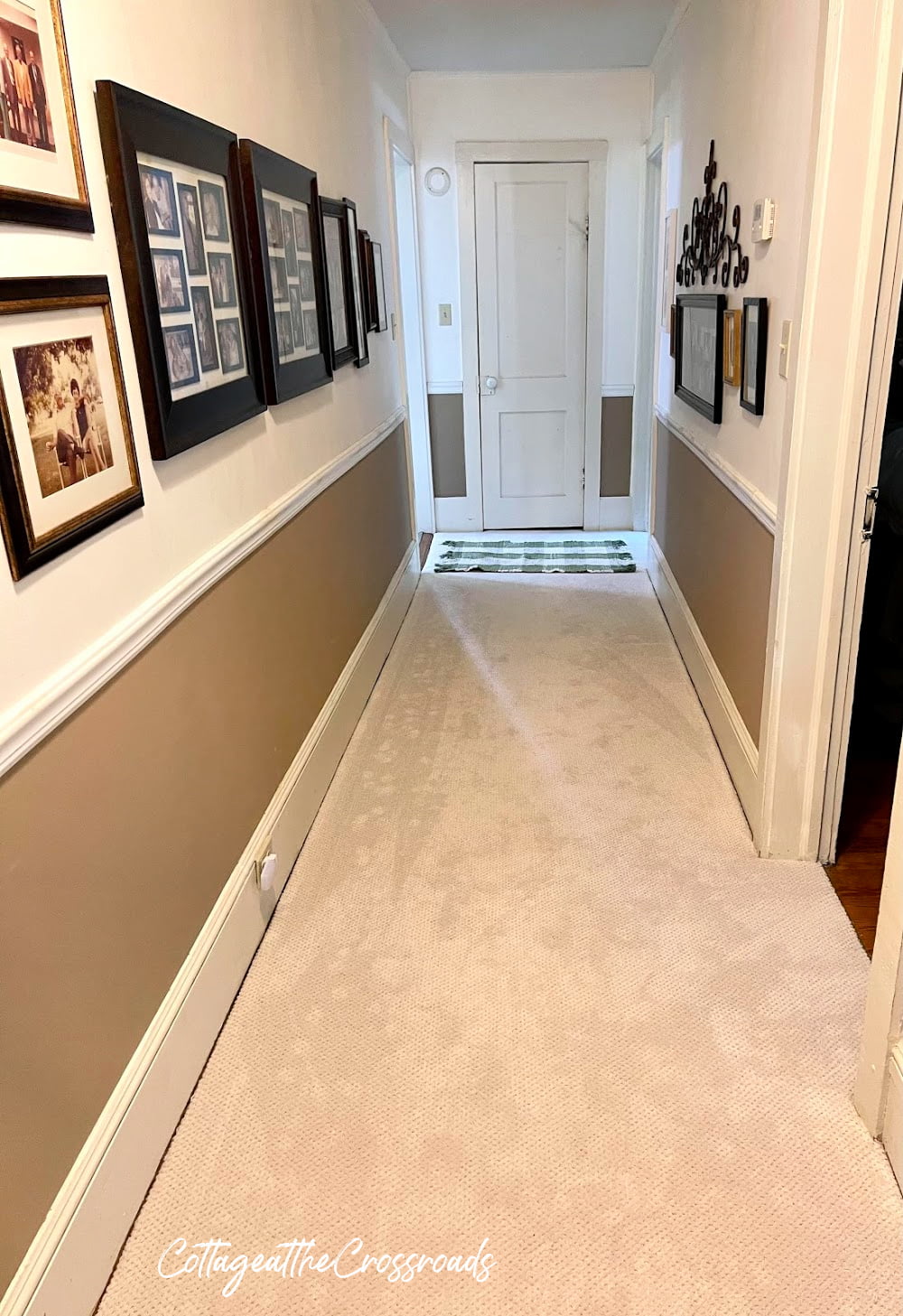 We did put carpet down the hallway but left the hardwood floors in the bedrooms and half bath. Two of the doors did have to be shortened a bit and we're still waiting on the quarter round trim.
It's so hard to get a decent photo of this hallway because it is so long and dark but I have plans for it, too.
If you have a question about the new carpet or the rugs just leave it in the comments below.