Hello friends! In less than a week Christmas will be here. Are you ready? As for me, I'm getting closer since I finished decorating the dining room. Today I'm sharing my red barn Christmas tablescape.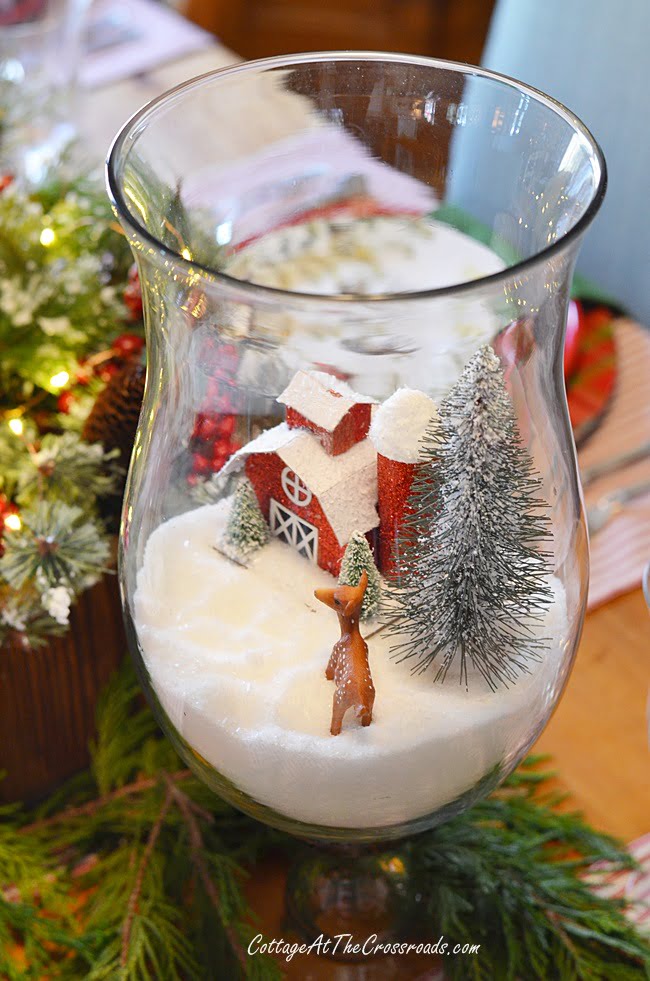 I've always had a thing for red barns, mainly because we had a red barn at the farmhouse where I grew up. I have lots of memories surrounding that old red barn so you can understand why I'm all nostalgic.
I really wasn't planning on centering my Christmas tablescape around red barns but one day I was at the supermarket and saw these in a magazine.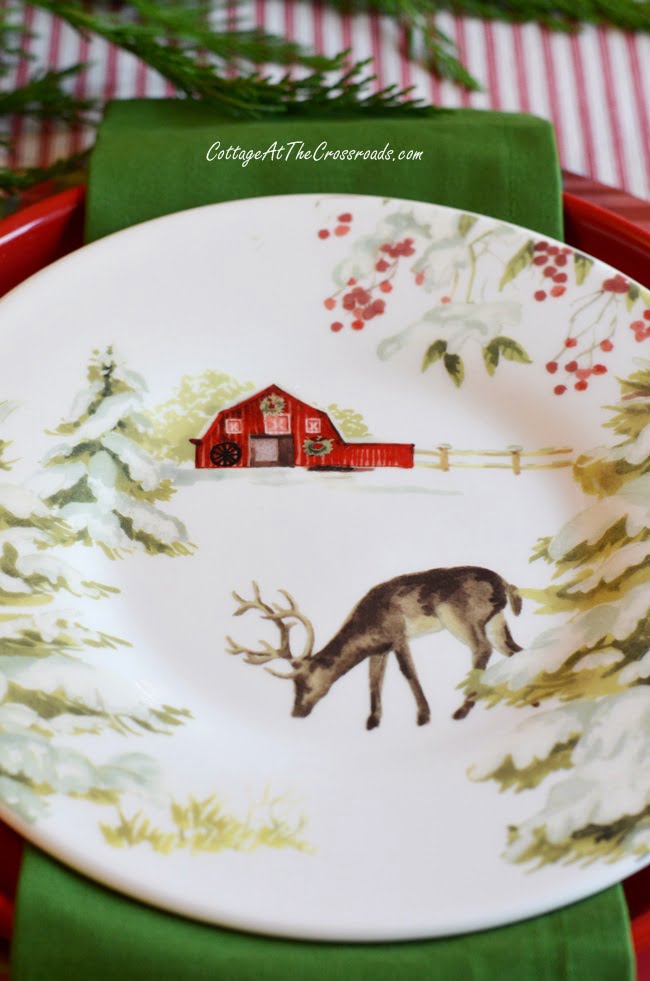 The plates had a red barn on them and I instantly fell in love! The accent plates are part of the Southern Living line sold exclusively at Dillards and before I knew it, I was in Dillards purchasing 8 of them!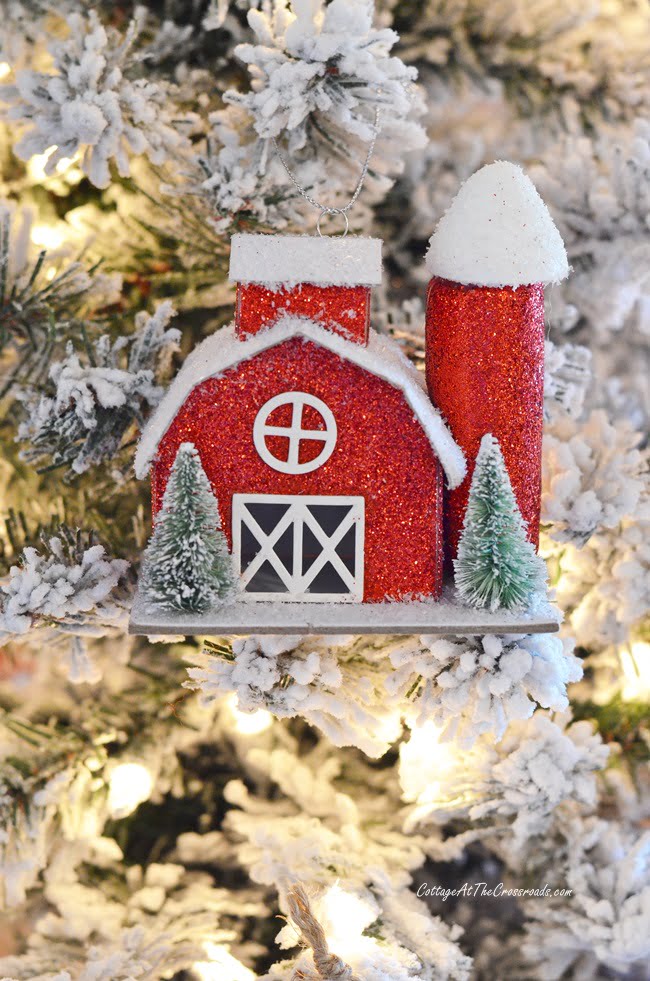 After I purchased the plates, I found these adorable red barn Christmas ornaments at Walmart. I bought all that my local store had.
And they led to getting a new, skinny flocked tree to put them on!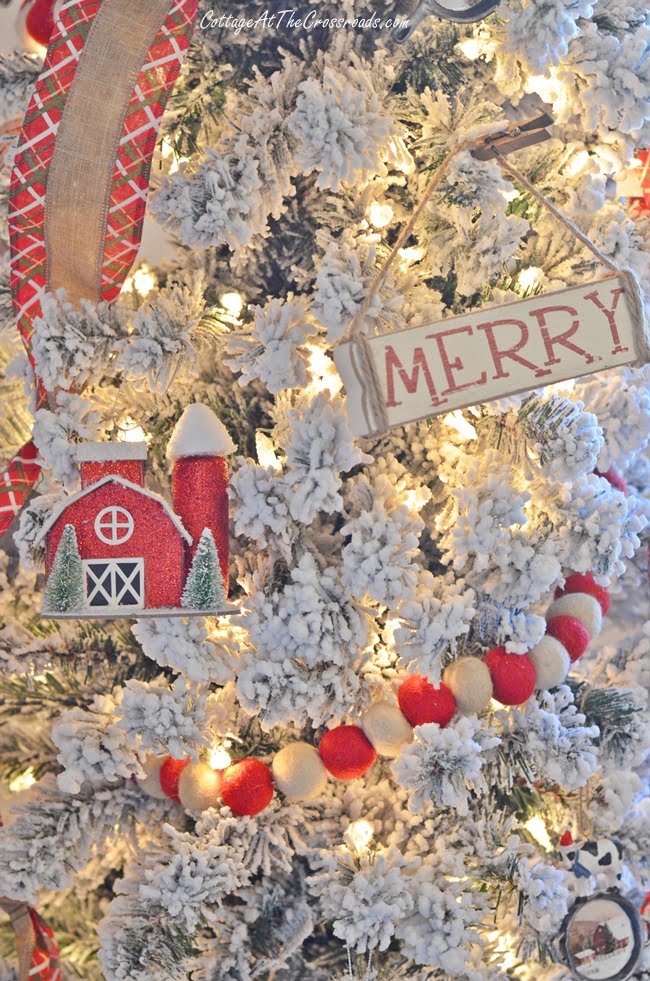 For quite a few years, I have been wanting a small tree for our dining room.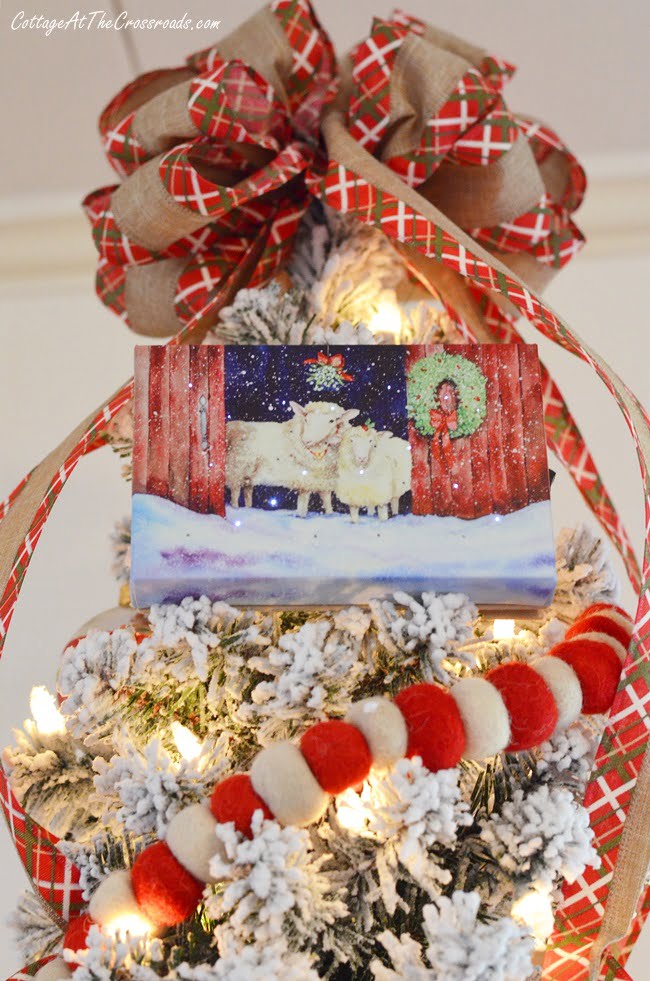 At the top is a red barn lighted picture that was gifted to me by the owner of Taylor's Garden Center where we purchased the new tree.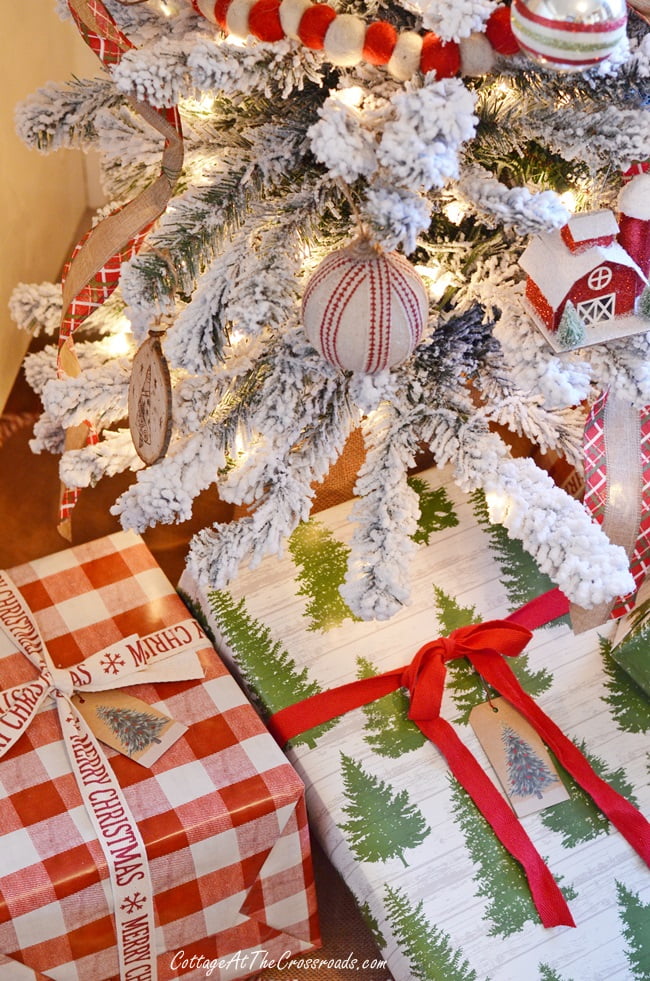 The packages under the tree match the traditional red and green colors that I used in the dining room with the red barn Christmas tablescape.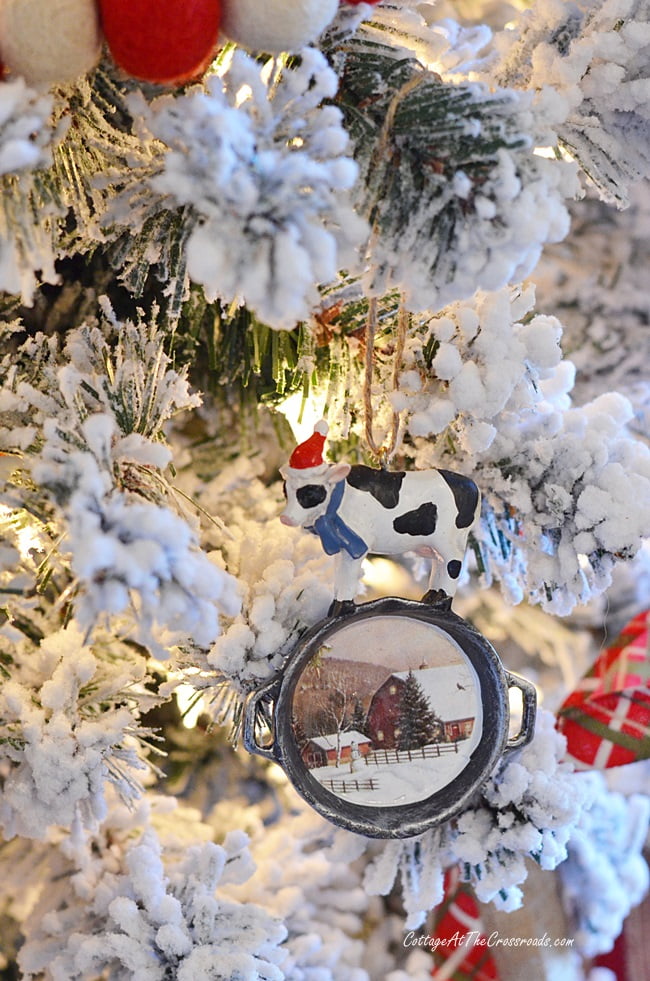 I couldn't believe my good luck one day when I was scrolling on the online site Zulily when I spied these farmhouse Christmas ornaments with farm animals and cast iron skillets that had photos of red barns inside the skillets!
At this point, I knew I was getting quite obsessed with red barns. Have you even gotten that way?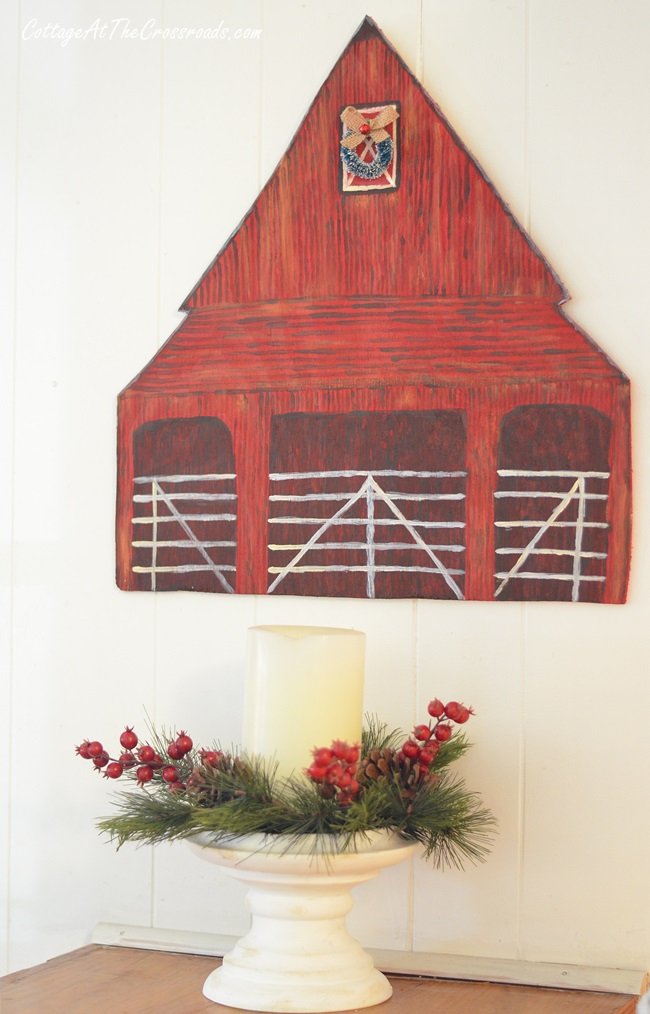 So one day I sketched out the red barn from the farm where I grew up and had Leo cut it out to create a wall hanging. I know it's quite amateurish but working on it brought back many happy memories of my childhood.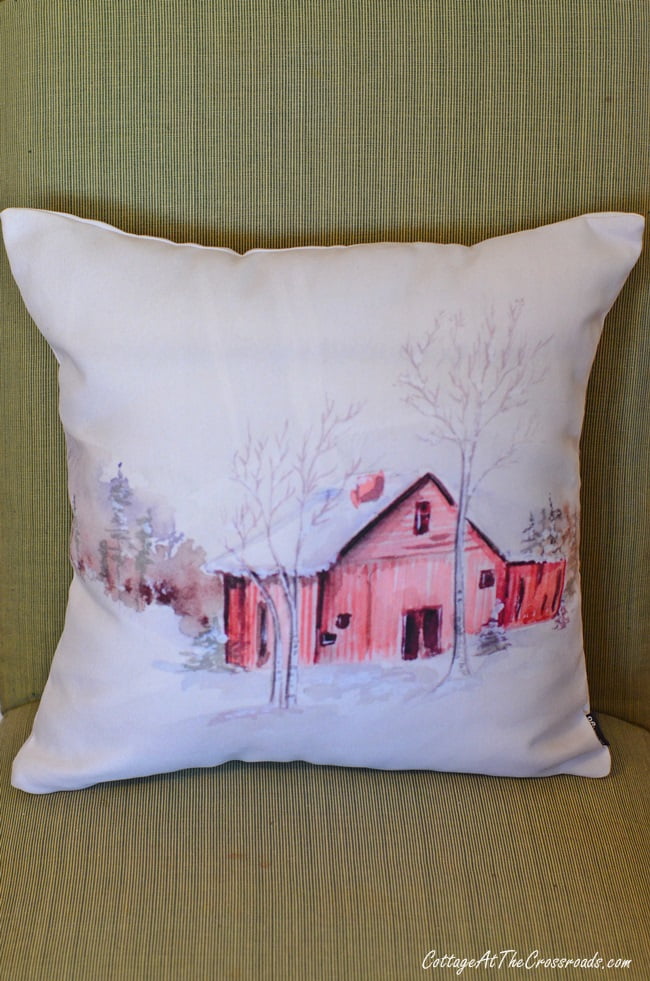 And before I knew it, I had 2 red barn pillows featuring the art work by Lucy from Craftberry Bush.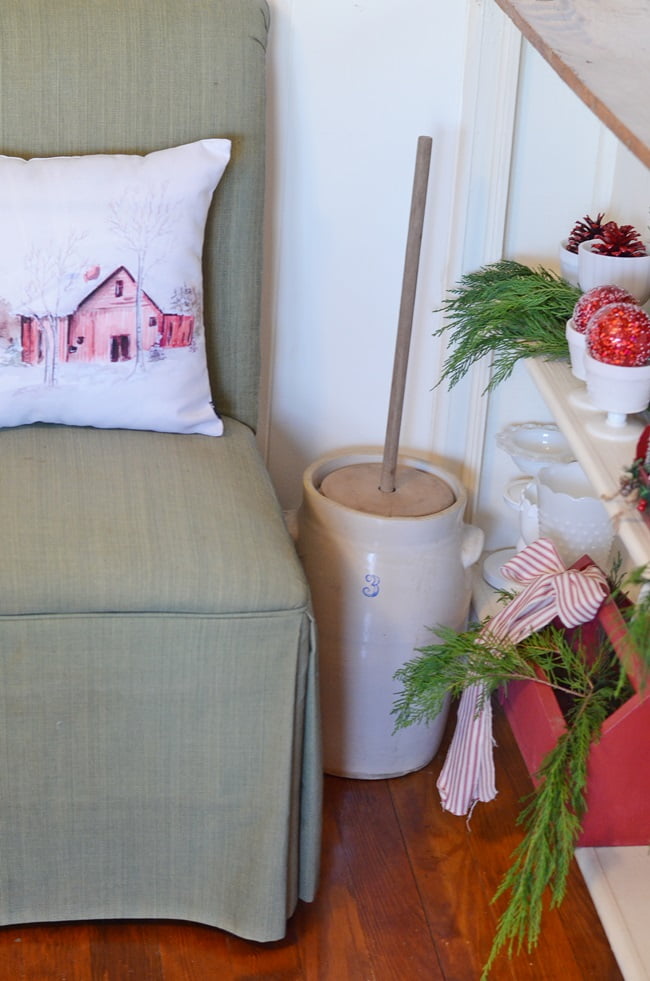 The 2 pillows are in the green chairs that flank our cupboard in the dining room.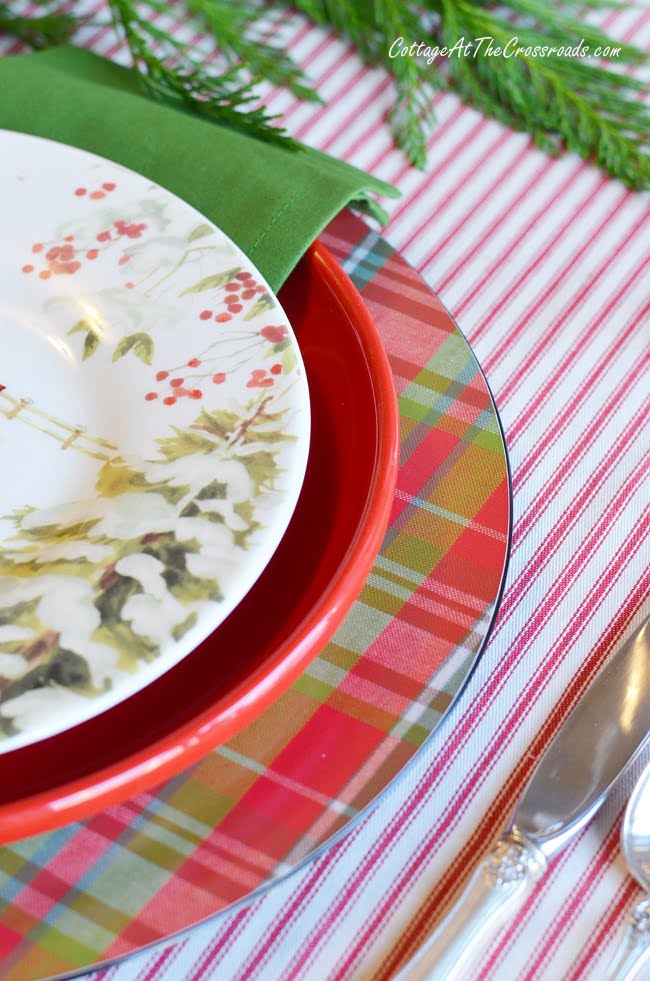 For my tablescape, I pulled out some red ticking runners that I've had for several years. Nothing is more farmhouse-y than ticking and plaid but I don't think most people put them together!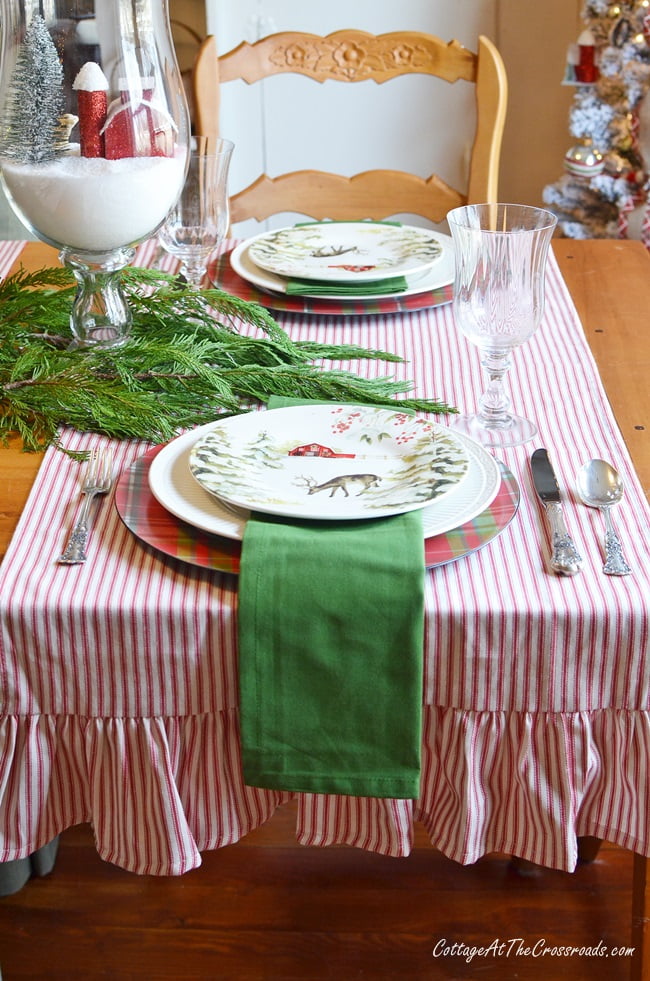 The three runners were placed across the table. Here you can see that I was experimenting with using white plates rather than red. Really can't decide which I like better!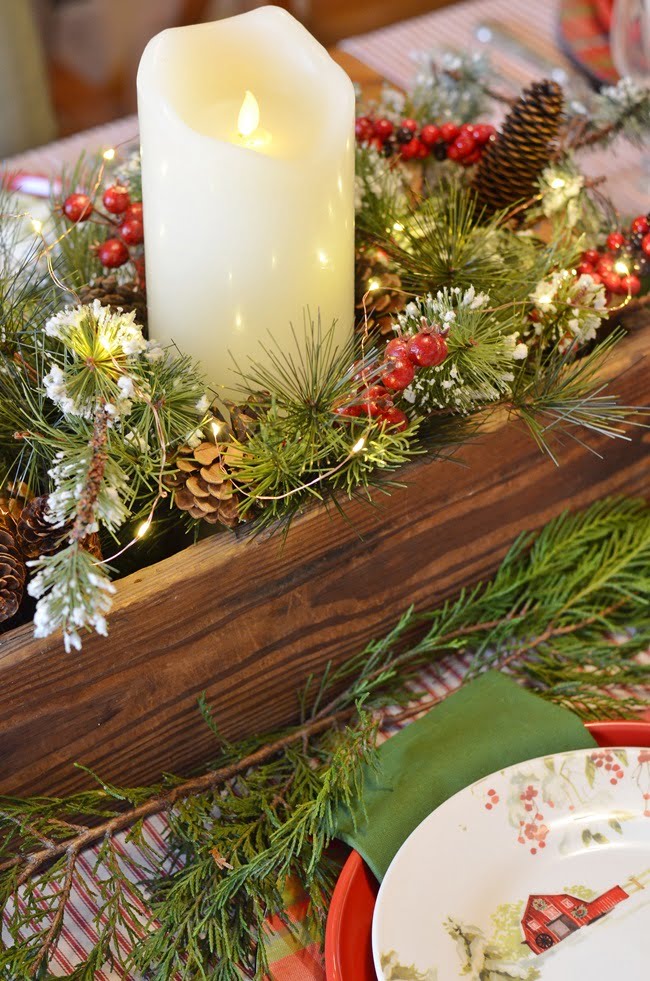 The centerpiece was created in an old pine box that you would definitely find around an old barn.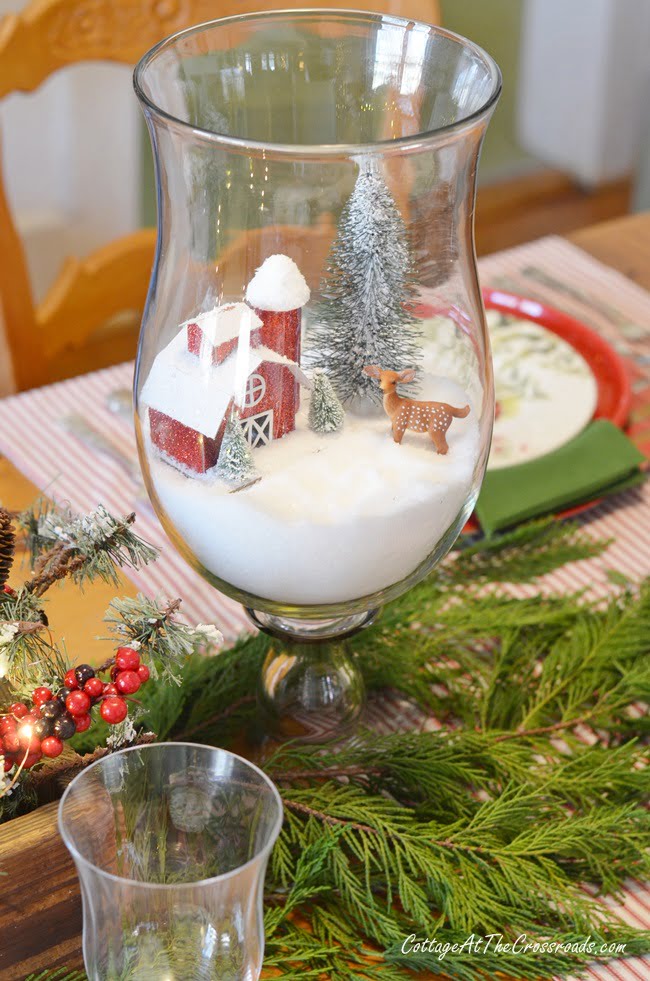 And I created these winter red barn scenes in 2 large candle holders that I have had for many years. The shape of the stemware echoes the shape of the candle holders.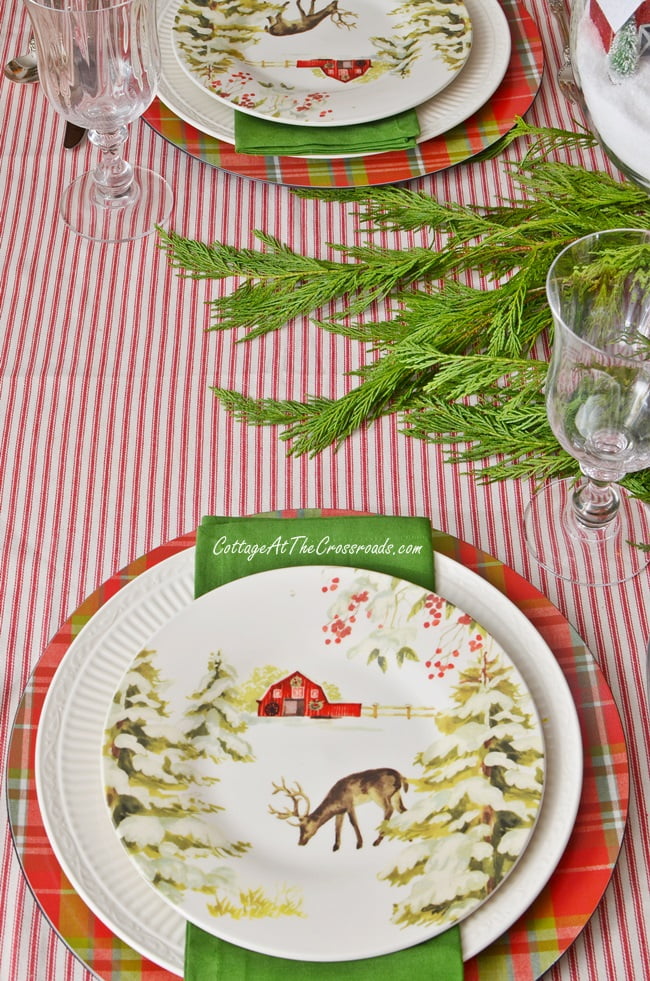 Although I used some faux greenery in the centerpiece, I laid some fresh Leyland cypress cuttings on the table and other areas of the dining room. There's nothing like fresh greenery on a Christmas table!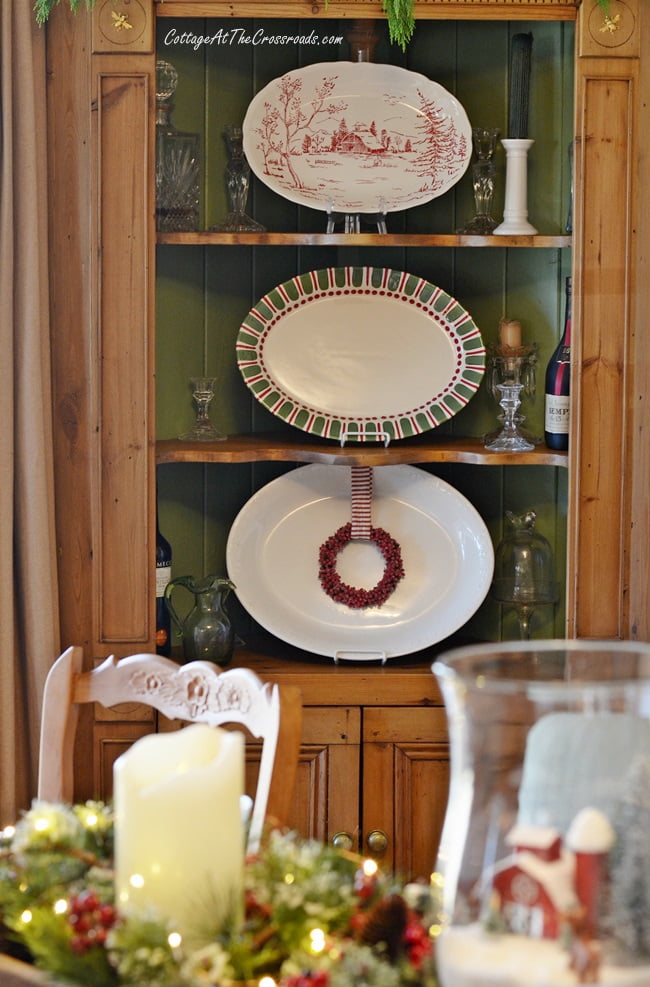 The pine corner cabinet has a display of platters. I had totally forgotten that the red one on top had a red barn scene until I pulled it out of storage!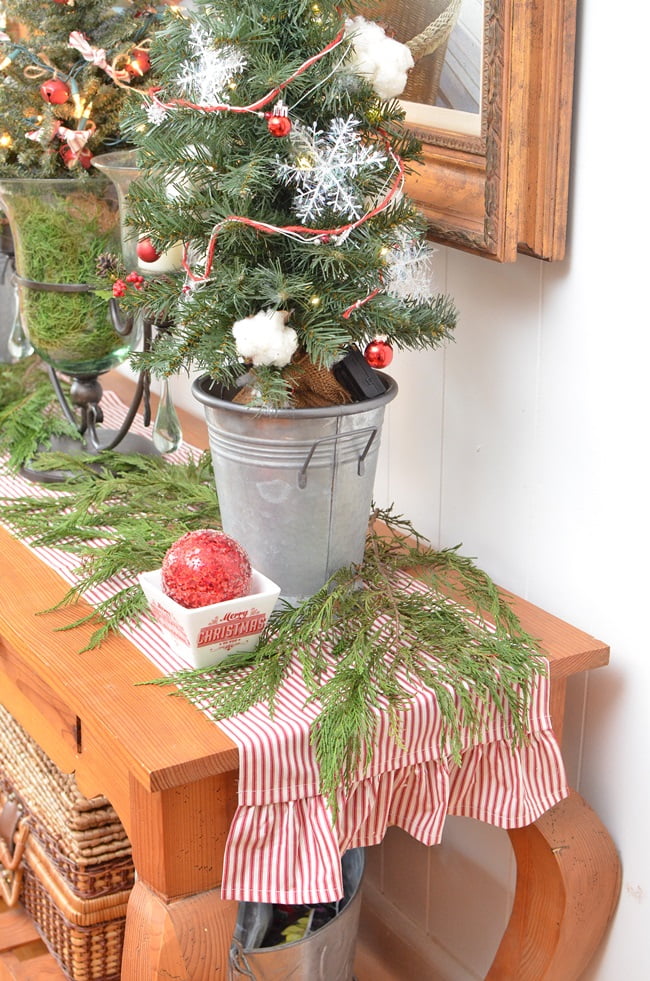 Last week I whipped out this matching red ticking runner from some scraps that I had. Three trees grace the sideboard with 2 of them tucked down inside galvanized buckets.
And yes, that's cotton on my little trees!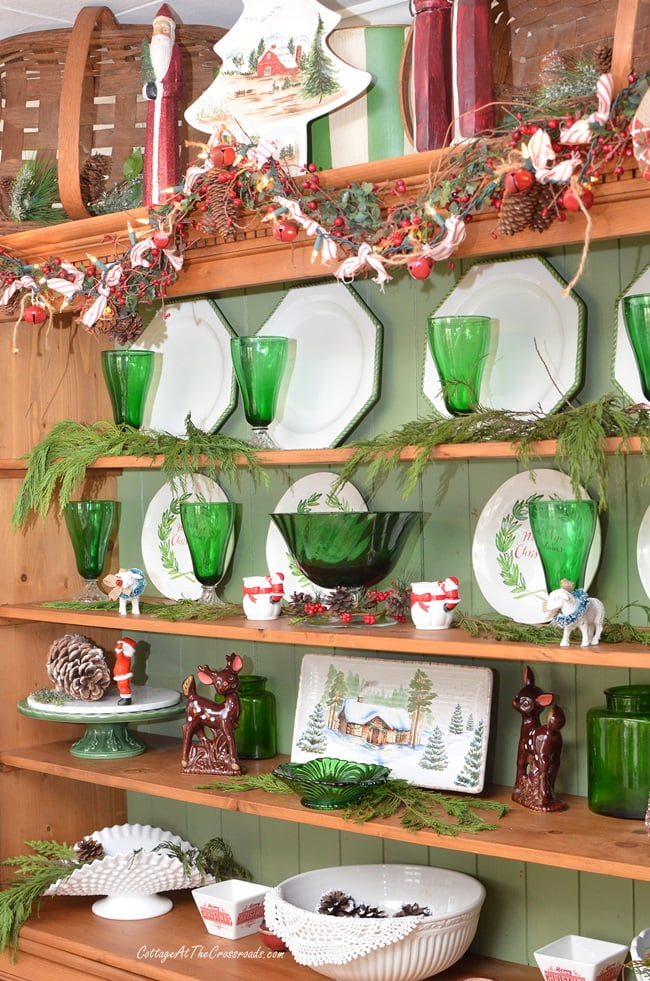 The pine cupboard has a mixture of new and vintage items on display. But look on the top! Yes, it's a tree shaped platter with a red barn on it. (I told you that I became obsessed!)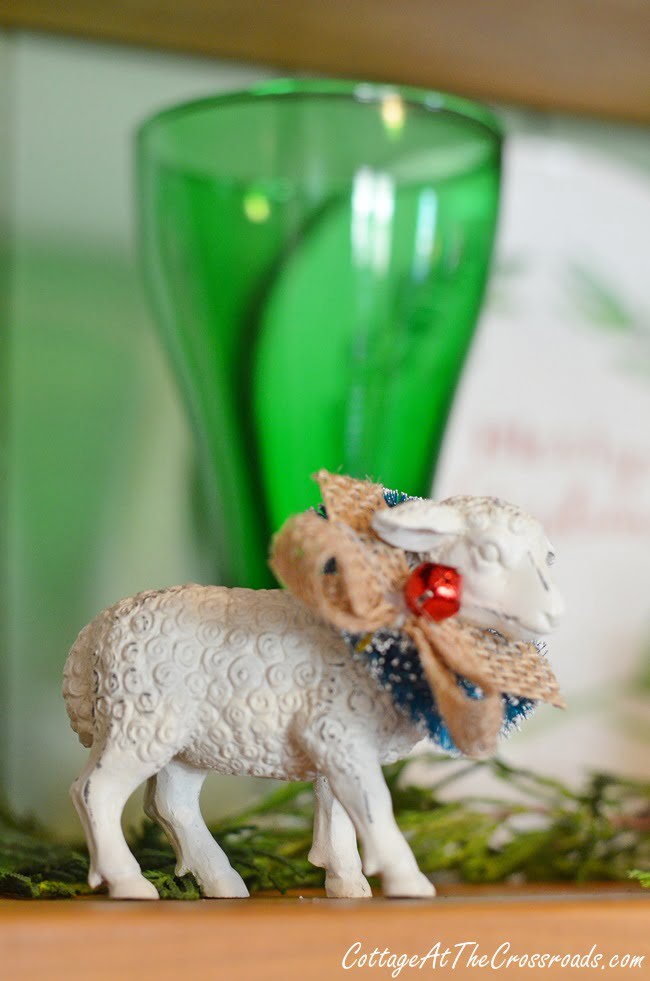 Some farmhouse sheep help to create the scene.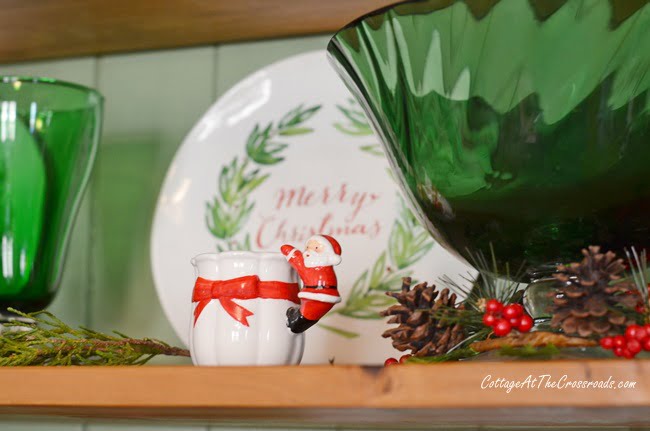 These little vintage Santa candle holders add some festive flair as well.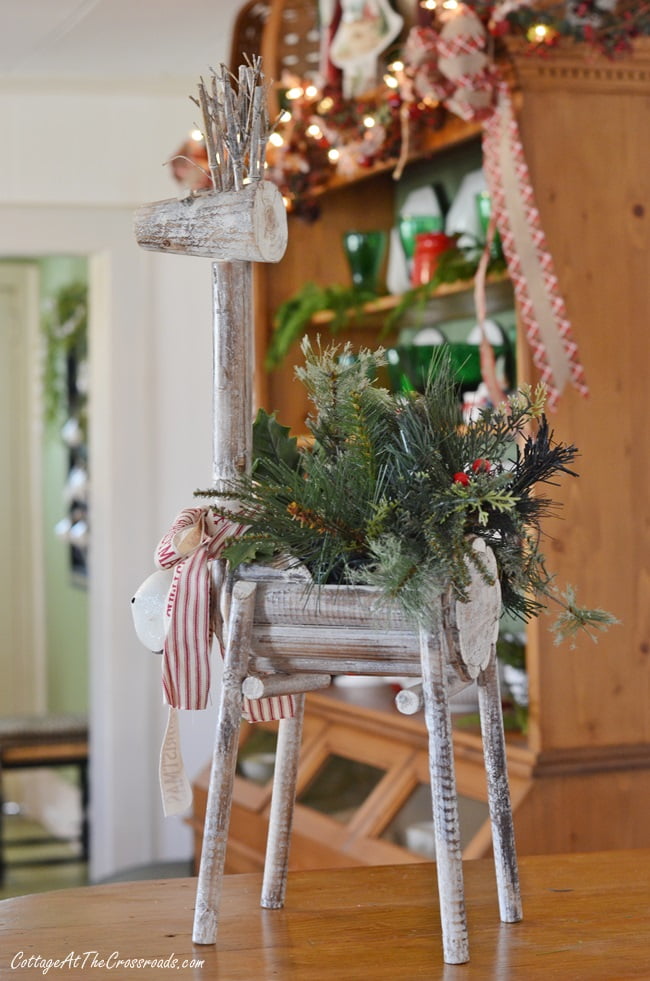 I placed these large wooden deer on the 2 dividers that separate our dining room from the living area.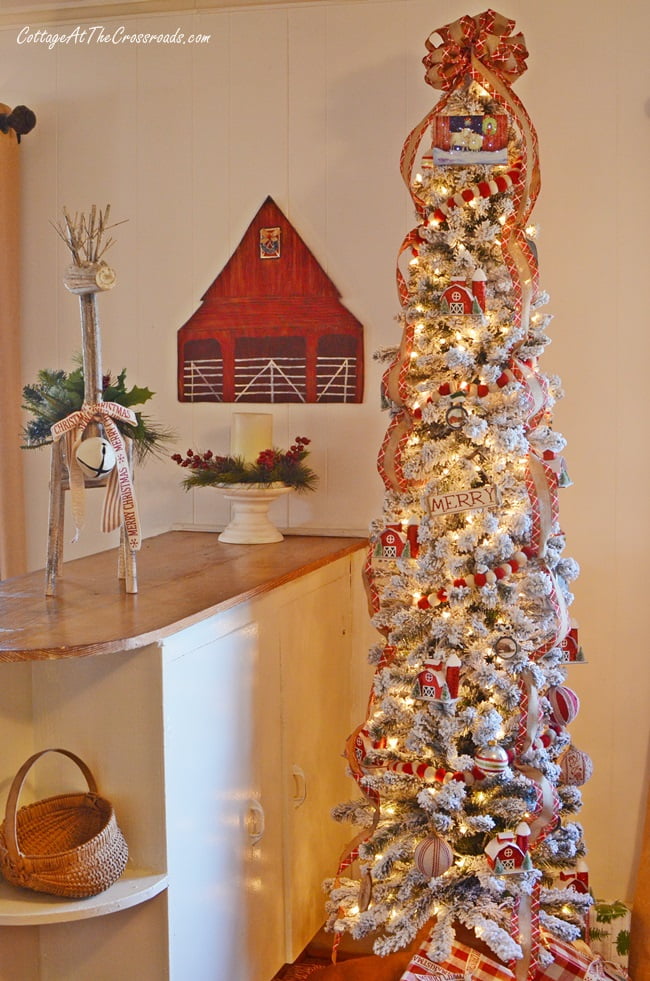 I just love having the new flocked tree in this corner of the dining room.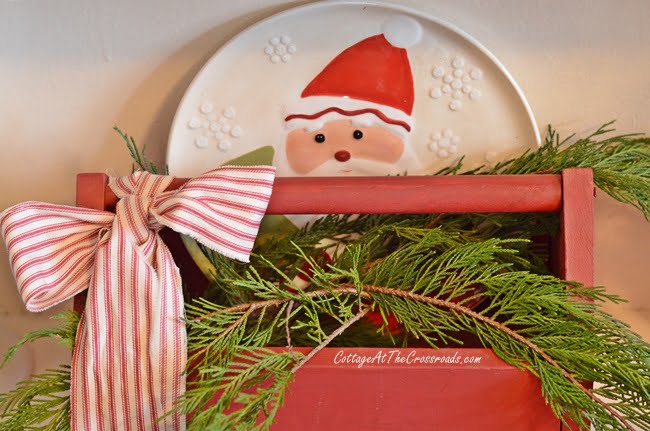 Santa's peeking out from behind the red tool box that's on one side of a divider.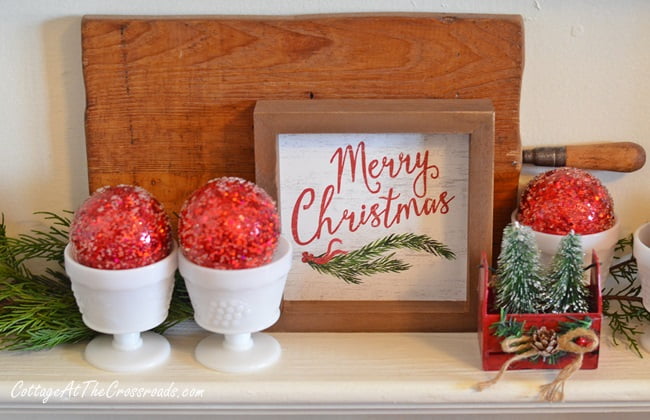 And more decorations are on some of the shelves.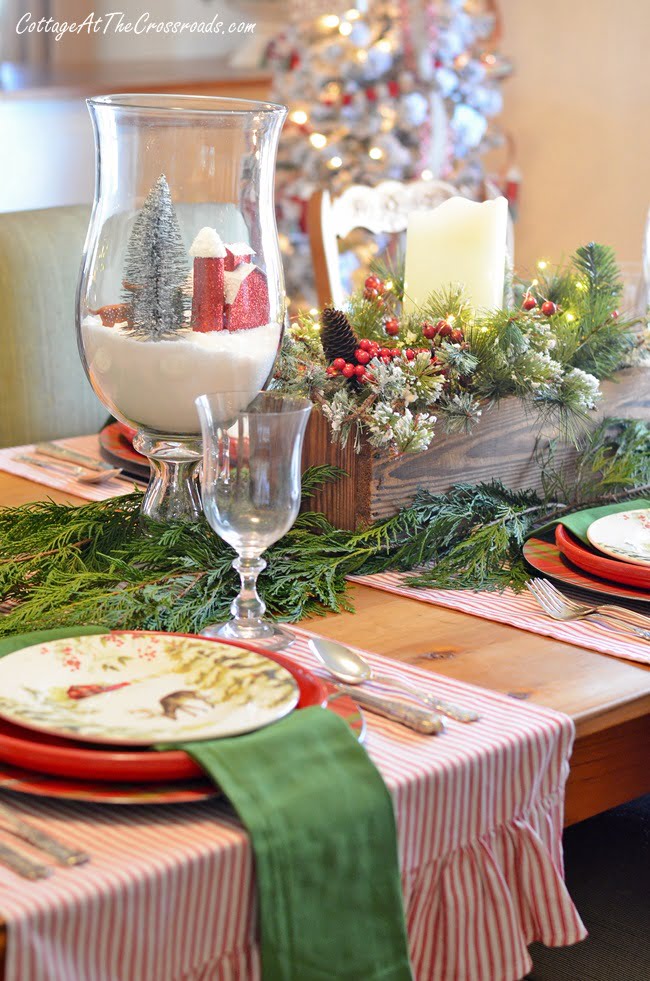 I'm so glad that I had the tablescape all done this weekend. My niece and her family visited us on Saturday. She got a big kick out of this tablescape because she grew up in the same farmhouse that I did with the red barn!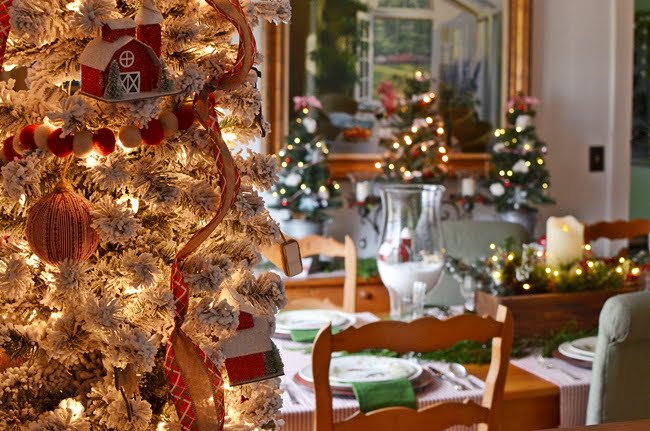 I really appreciate you stopping by to see my red barn Christmas tablescape and indulging me with my latest decorating obsession!
Wishing you all the magic that this Christmas season has to offer!