Hooray! today I'm showing my upcycled vintage magazine rack that I just painted. I love how it turned out and hope you like it.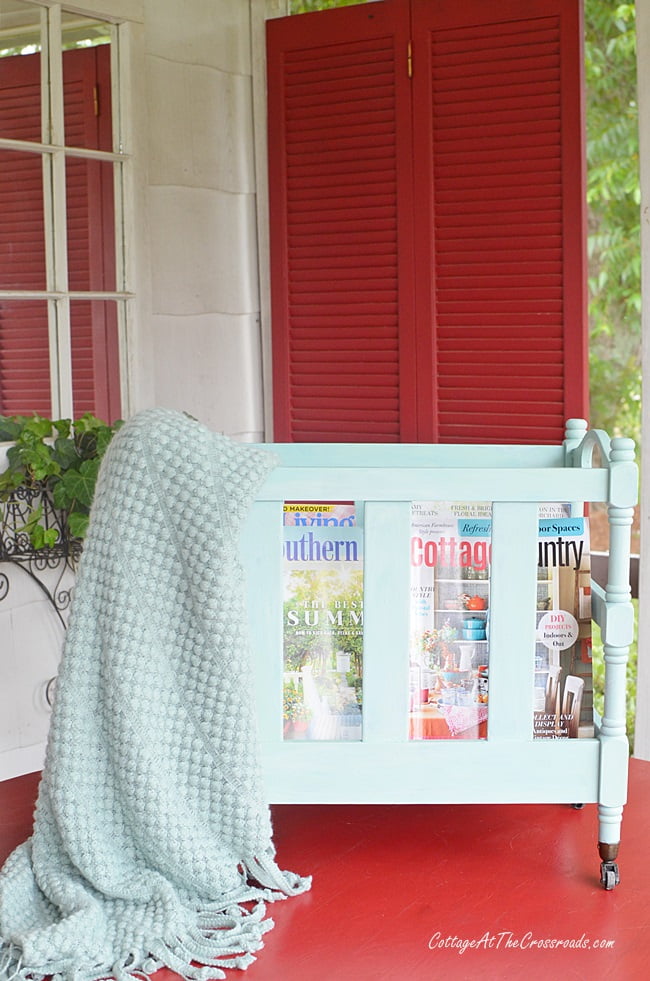 It's so pretty painted this light aqua blue color. It's filled with summer editions of my favorite magazines.
Most members of the Thrifty Style Team find their items to redo in thrift stores but I just walked out to my storage building to find mine.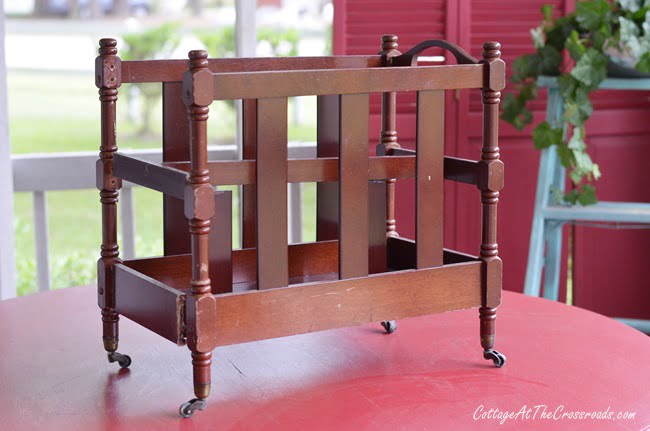 You've probably seen magazine racks similar to this, right? Well, I cannot tell you how many times I've seen this particular rack because it belonged to my mother. I know for a fact that she has had it since the 1980s so that makes it vintage.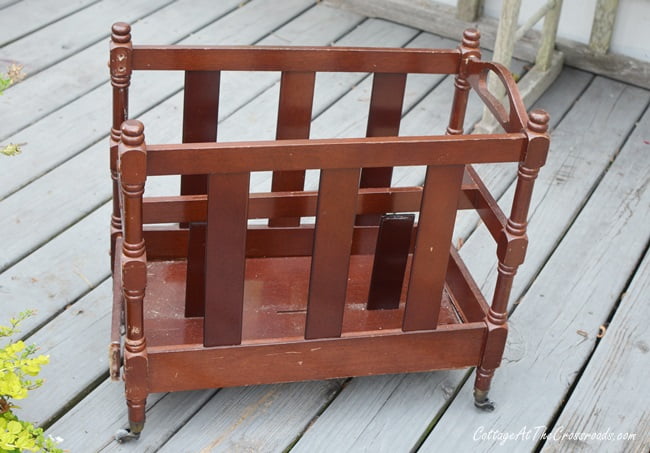 She certainly got her money's worth out of the magazine rack. Last fall when we were having a gas stove installed in her apartment, she had to make some room so the magazine rack had to go.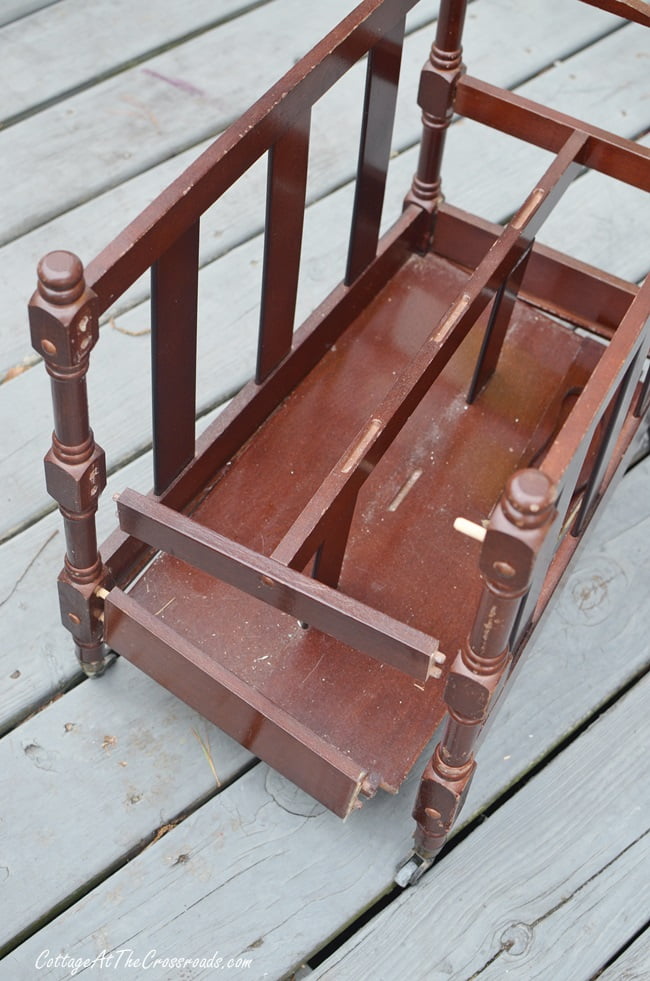 I didn't realize that it was in such bad shape, but when I went to move it to the storage building, it just about fell apart. But I am not one to just throw something away especially if I think that it can be fixed and painted.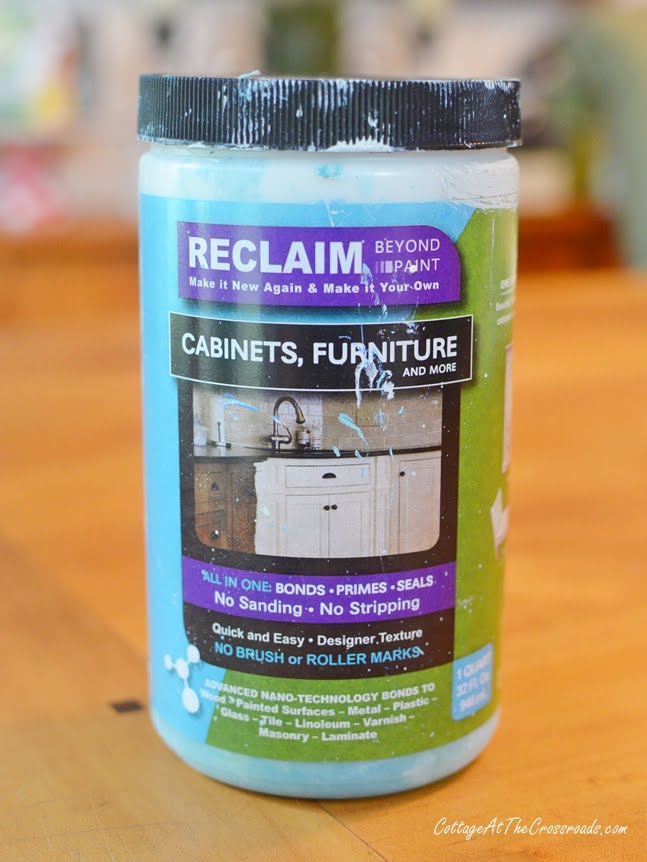 So this week I got the magazine rack out of the storage building along with some leftover (affiliate link) Reclaim paint from another project. Reclaim paint will cover dark stained furniture without prep work.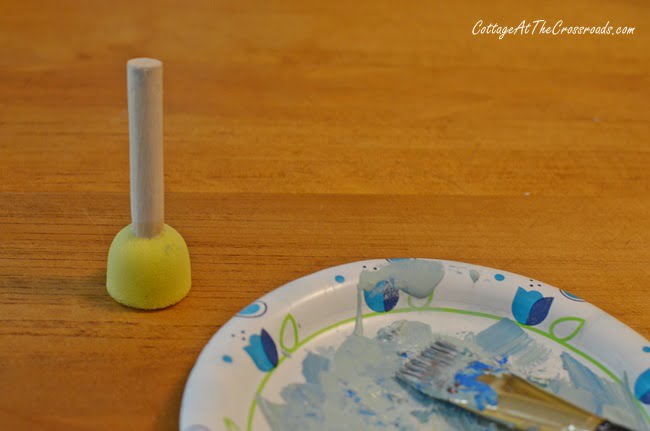 After cleaning the magazine rack and putting the pieces back together, I got out this pouncer sponge brush along with a craft brush and commenced to painting.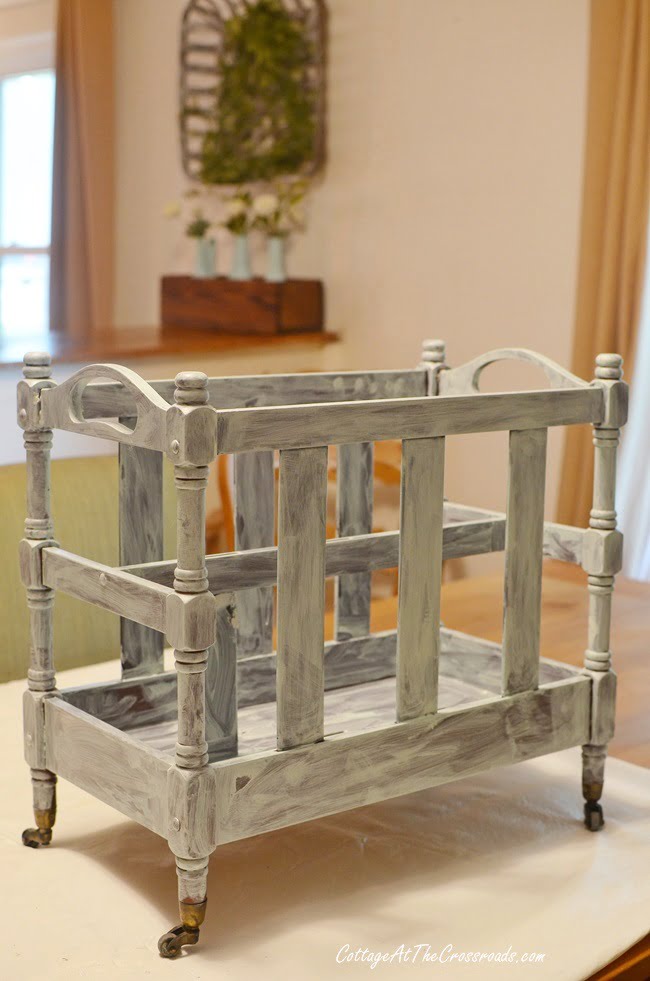 Using the pouncer brush to apply the first coat of paint was a genius tip I picked up from Lisa at The Purple Hydrangea.
It's a quick way to spread some color on a project in a hurry.
I need to explain that by using this Reclaim paint (which adhers easily to prefinished furniture) I didn't have to sand or strip off the previous finish.
Nope, I just smeared on the first coat very quickly.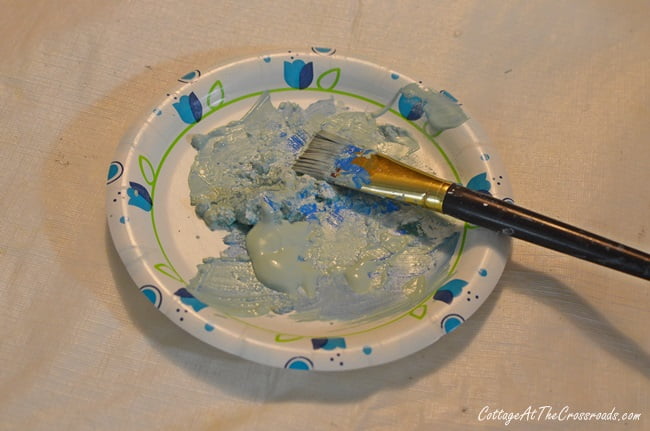 I also need to explain that the paint I was using was a very pale blue so I just dropped in some darker blue acrylic paint. I don't really bother thoroughly mixing it.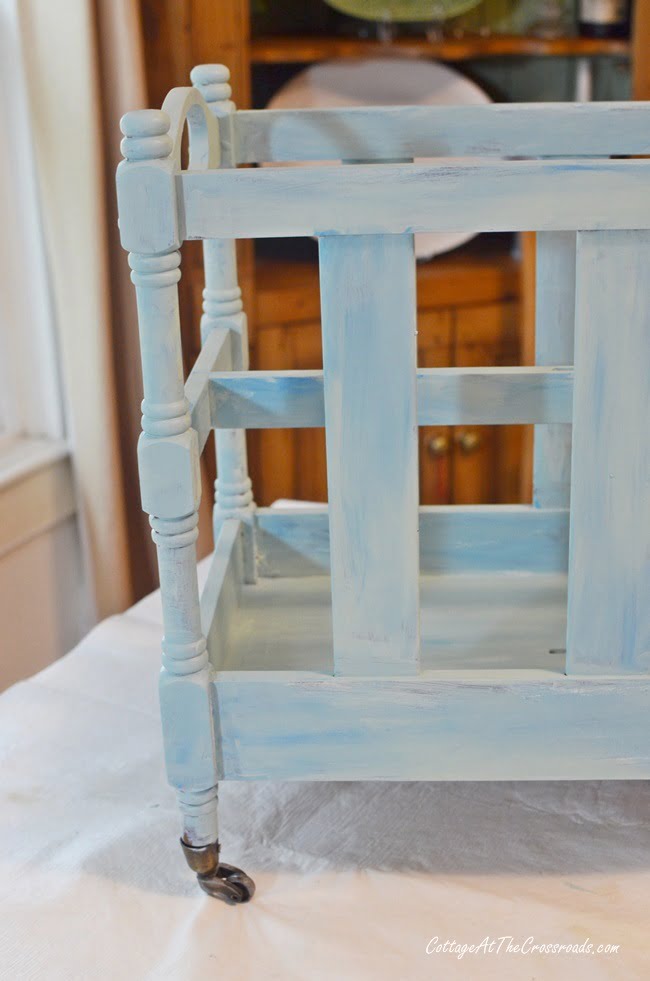 In the above photo, you can see the mix of colors on the piece. I don't even try to blend it much while I'm painting because it gives a more layered look to it.
If you want to experiment with painting furniture, starting with a small project like this is perfect.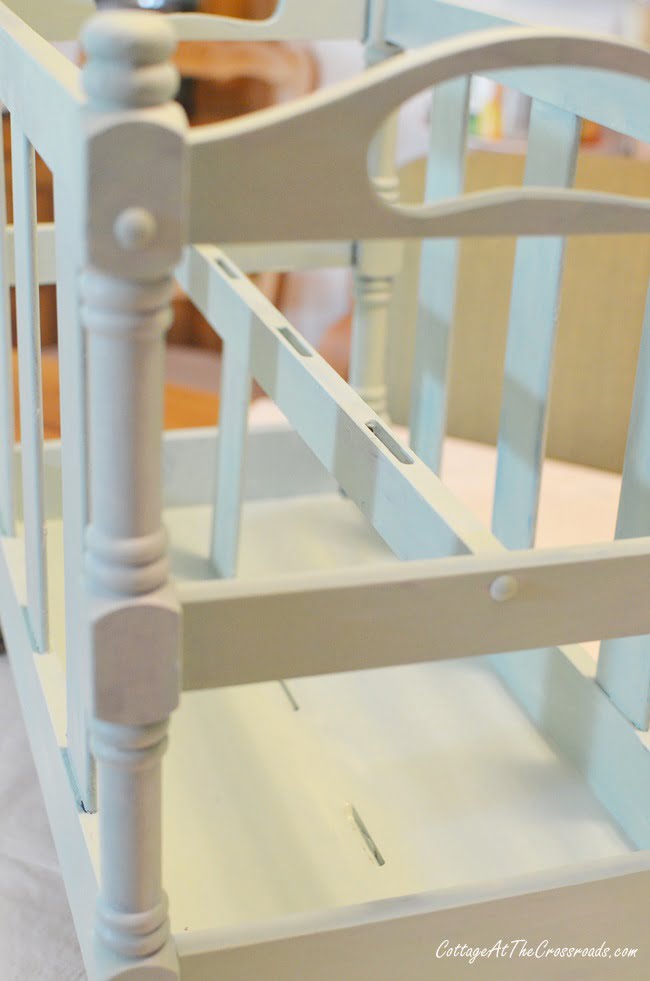 It all blends in by the final coat.
I was wondering why the magazine rack was coming apart and discovered that someone had put the middle piece in upside down!
But I just left it that way because it has lasted for over thirty years or more in this position!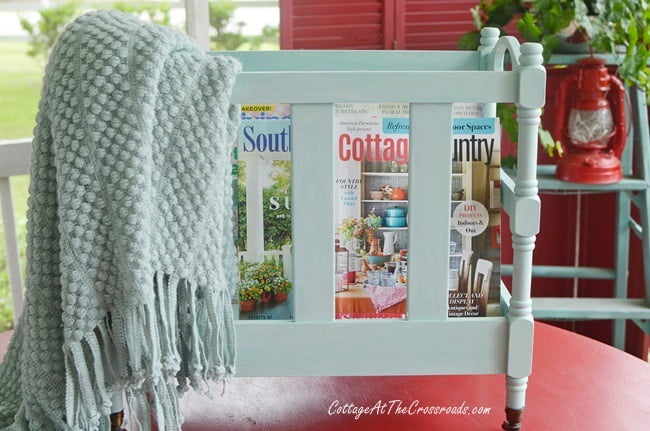 Within a few hours, I had an upcycled vintage magazine rack! Now it looks all summery especially with a light throw tucked into it for chilly air-conditioned rooms.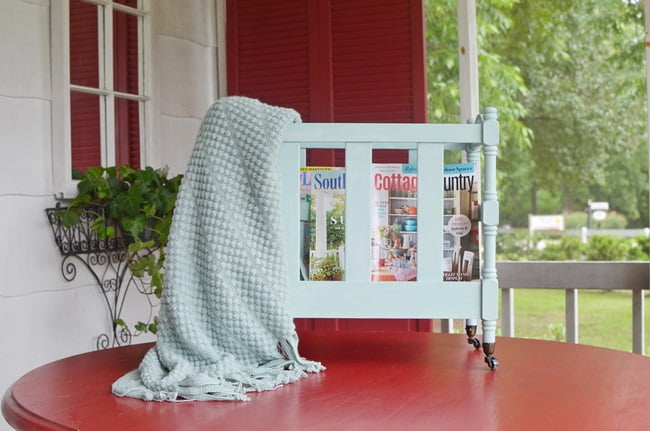 The light aqua blue color is my absolute favorite. I have slowly been adding more of that color into our home.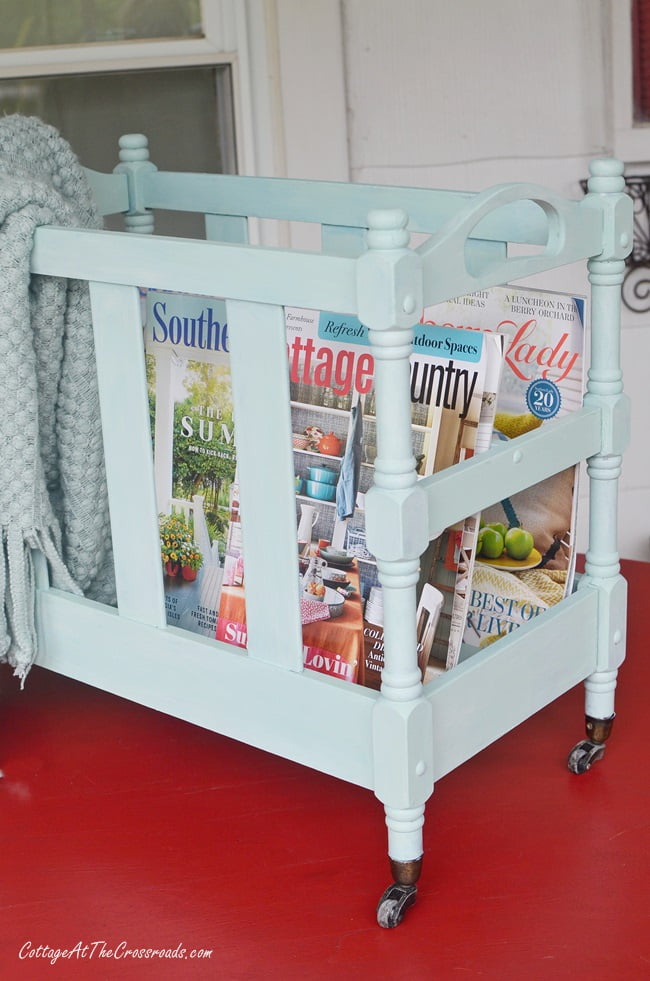 Here's a side view of the painted magazine rack.
It just goes to show how a little bit of paint can upcycle something once destined for the trash.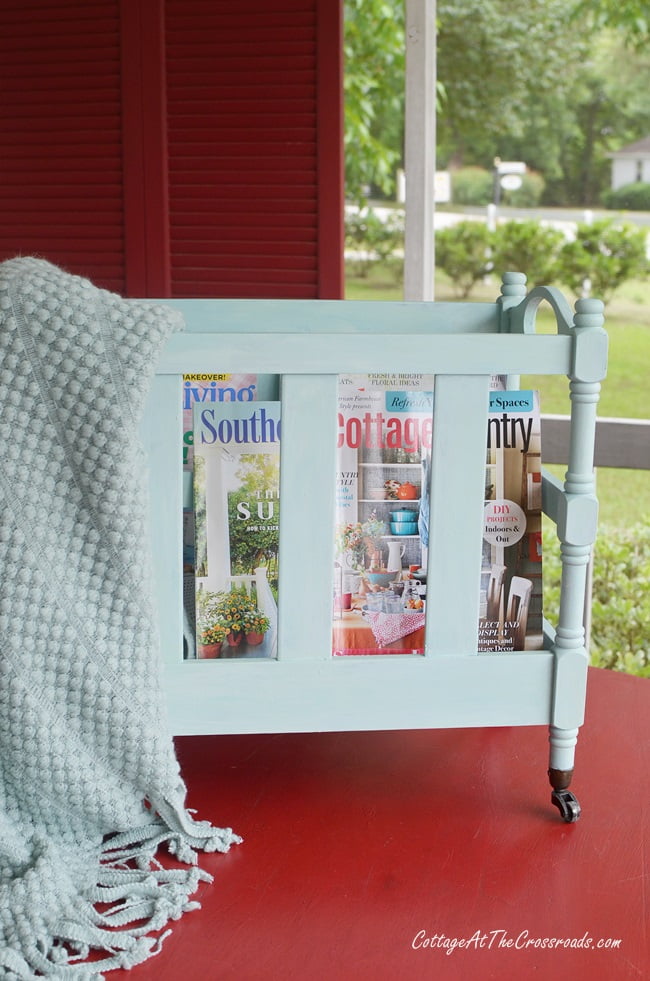 Ain't she purdy?
If you happen to run across one of these wooden magazine racks at a thrift store or a garage sale, be sure to snap it up. There's always a place for an upcycled vintage magazine rack in your home, I'm sure!