If you're ready to start some Christmas crafting, I have the most adorable, handmade canning ring snowman for you to make!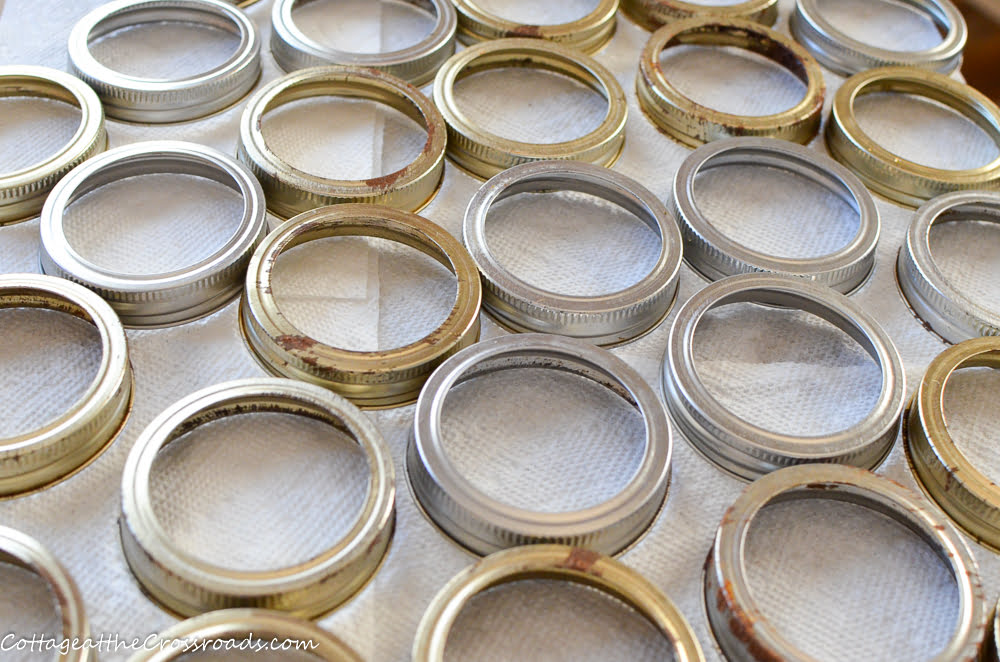 Do you have any rusty canning jar rings just lying around? Then let's use them to create a thrifty handmade Christmas decoration!
This post may contain Amazon or other affiliate links. As an Amazon associate, I earn from qualifying purchases. If you purchase anything through any affiliate link, I may earn a small commission at no extra charge to you. All opinions are my own.
If you've been following me for very long, then you know that I love to make something from nothing.
Not that canning rings are nothing, but when the rings get rusty, I don't know what to do with them!
For a long while, I was holding onto them thinking I'd make one of those cute canning ring pumpkins that we've seen all over the internet.
But one day, I was on Pinterest and I saw a snowman made from them! I just adore snowmen and have a collection of them.
So I knew what I was going to make for our Christmas Edition of the Thrifty Style Team!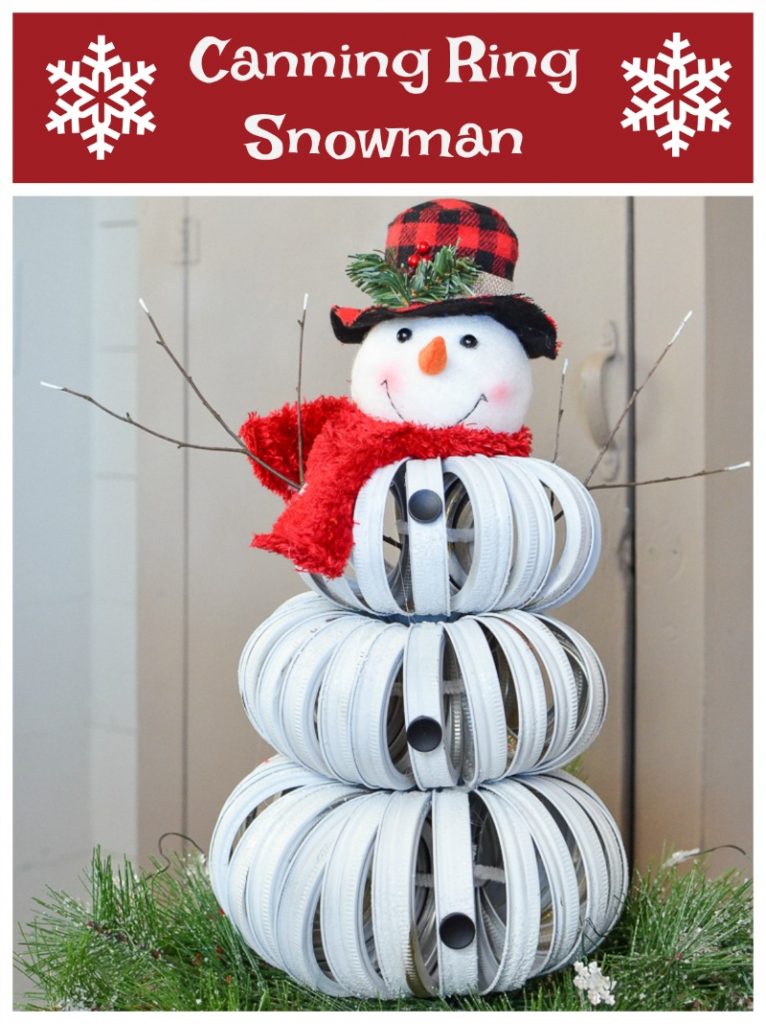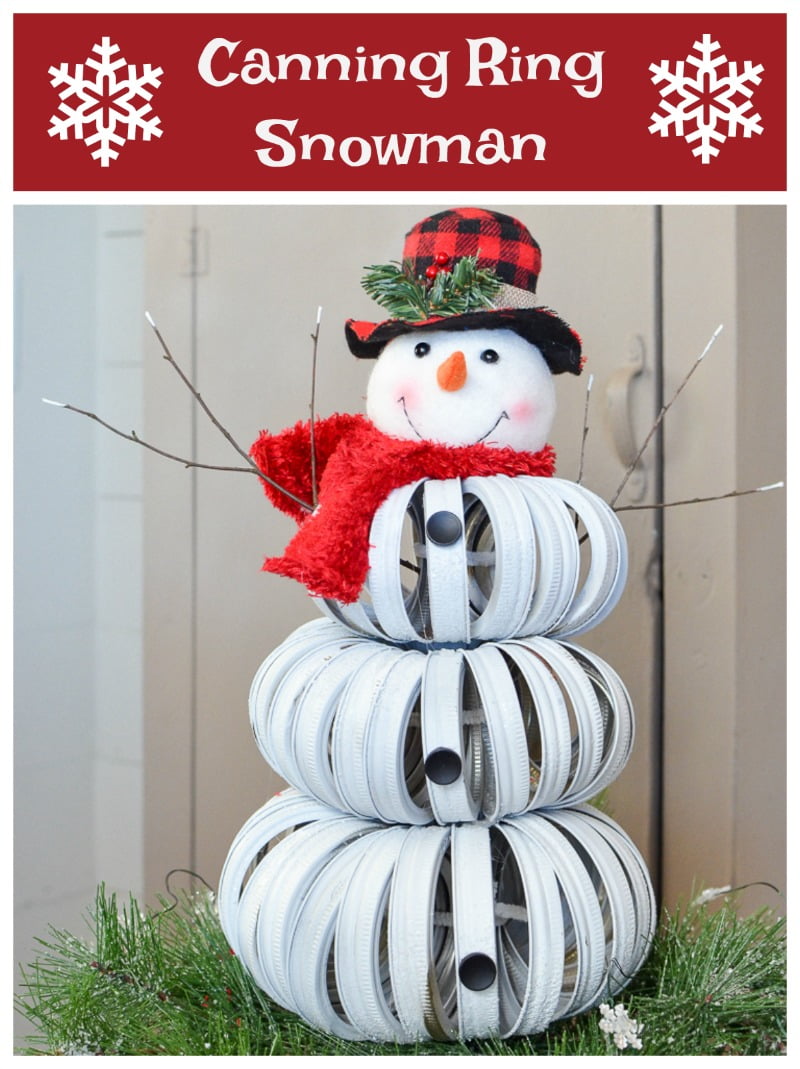 Isn't he just darling? I'm so excited about him and how quickly I was able to put him together.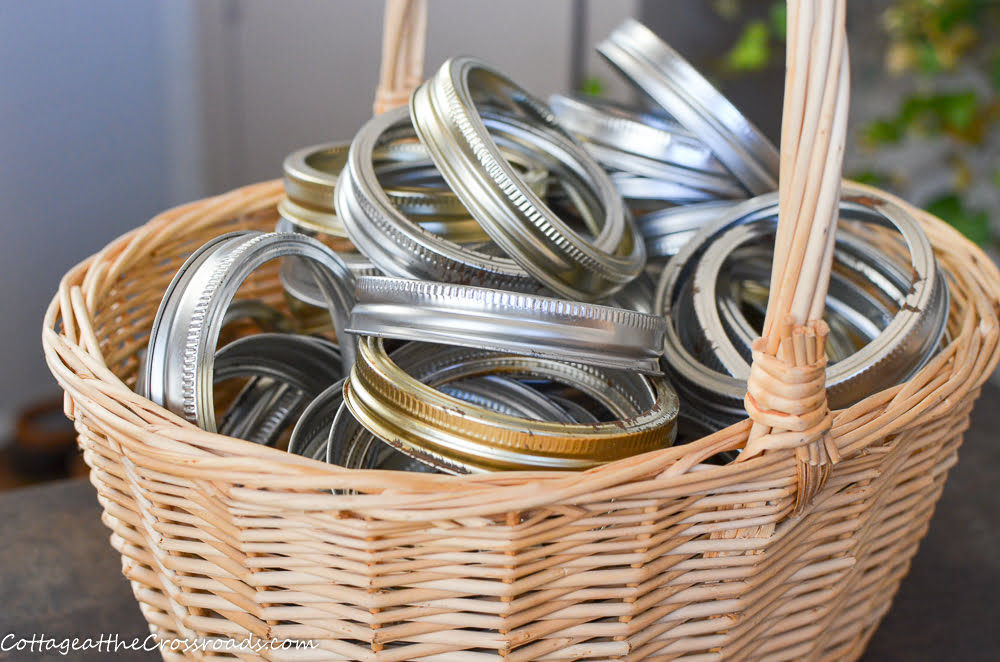 This project was very thrifty for me because I already had a ton of canning jar rings, but you can find boxes of 12 of them at discount stores or on Amazon for a very good price.
Or perhaps you have a family member or friend who is into canning, and you can beg them for all of their canning jar rings!
Once you have your canning rings along with a few more craft supplies, you're good to go.
SUPPLIES NEEDED TO MAKE A CANNING RING SNOWMAN
*Some of the links below may be affiliate links. That means, if you click on the links and make a purchase, I will make a teeny-tiny bit of commission! To see more of our full disclosure statement, click HERE.
DIRECTIONS FOR MAKING A CANNING RING SNOWMAN
Once you have gathered your supplies, the first step is to make the bottom layer of the snowman. Take 2 pipe cleaners and join them together by making a knot.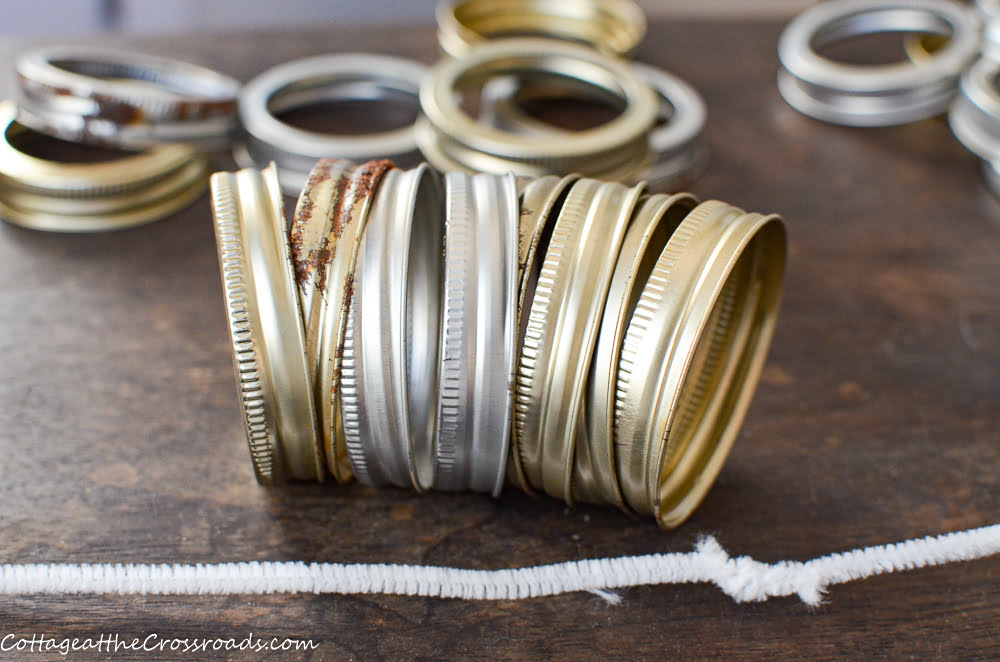 Thread all of the wide mouth rings onto the long, making sure you turn them in the same direction.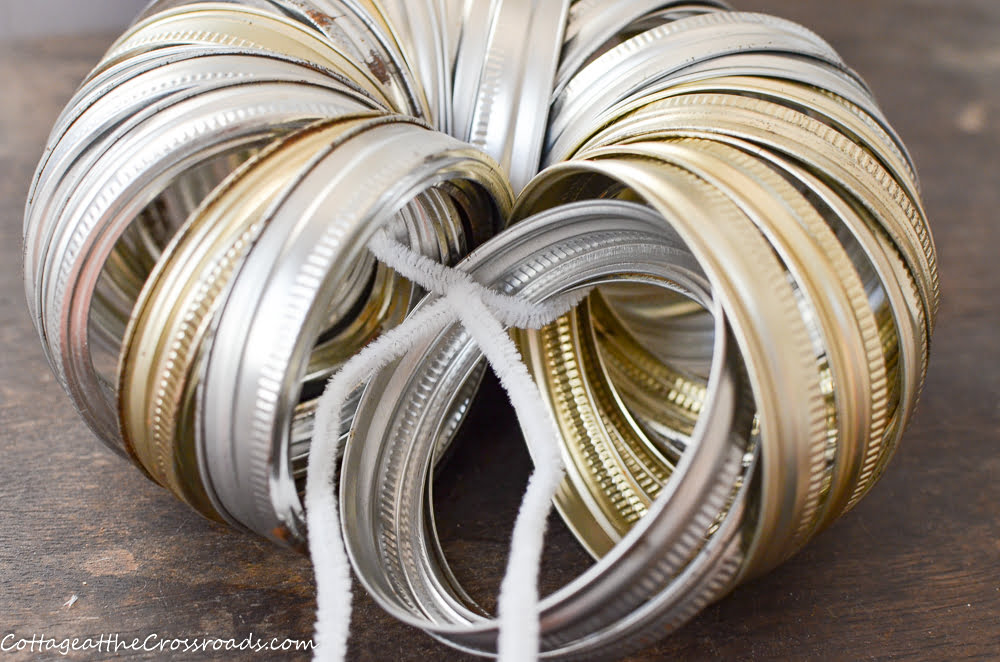 Pull the pipe cleaner until it is taut and then twist and knot it. Cut off the excess with scissors.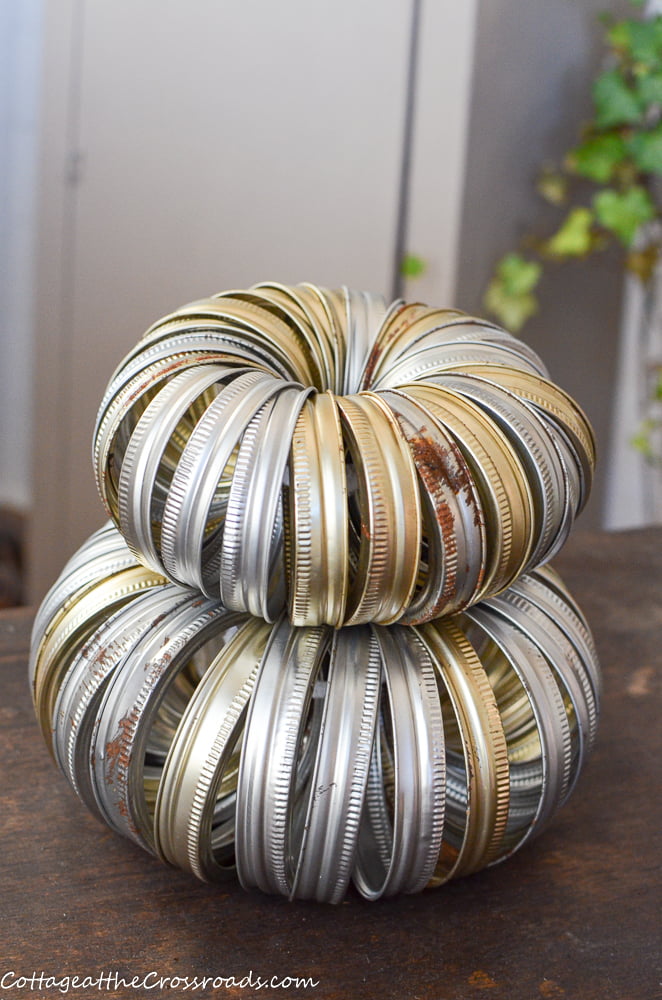 Spread out the rings evenly to make a circle. Using the regular size rings, repeat the procedure to make the second layer of the body.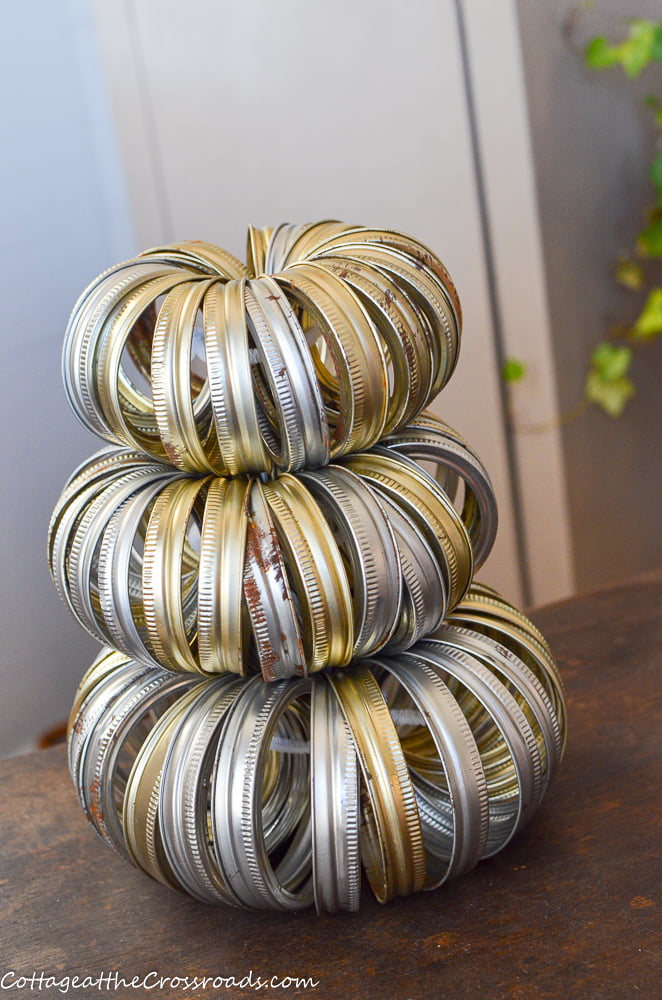 And do the same to make the third layer.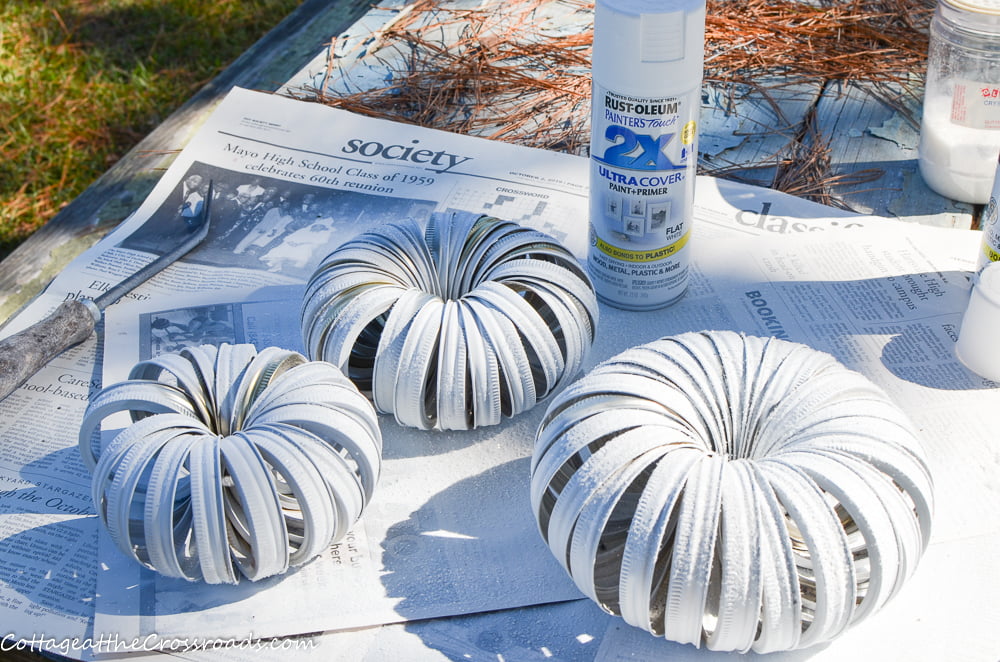 Spray paint the 3 layers of rings with white spray paint.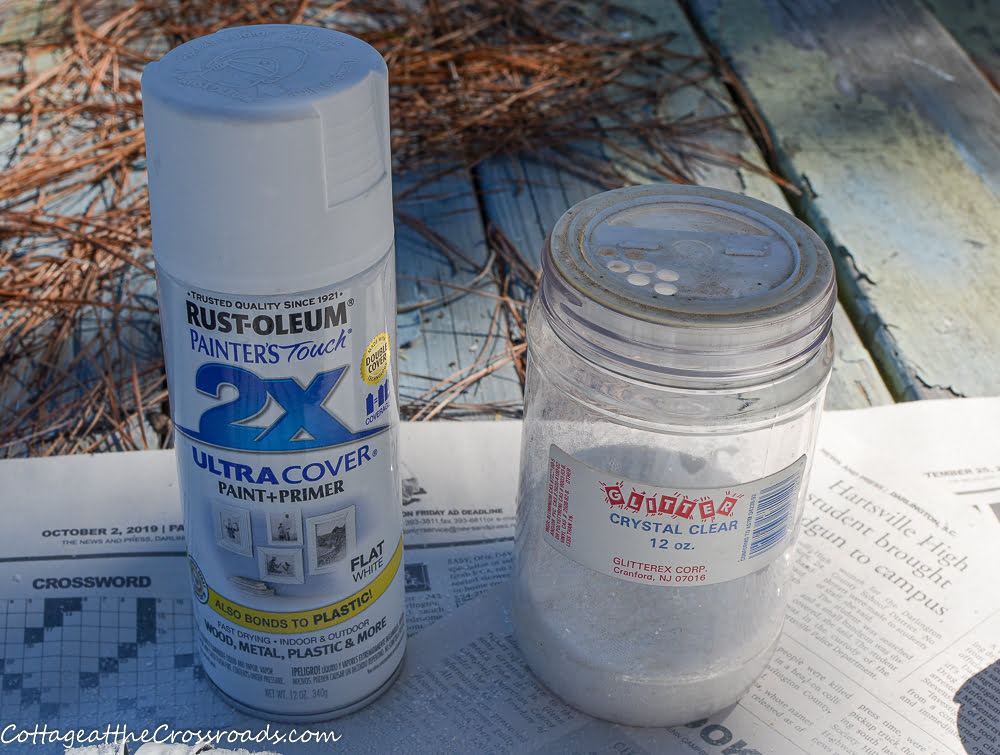 This is the spray paint that I used and while the paint was wet, I sprinkled some clear glitter on the paint to give it a snow effect.
I did two coats of each on the layers, but I didn't worry about getting the rings painted on the inside.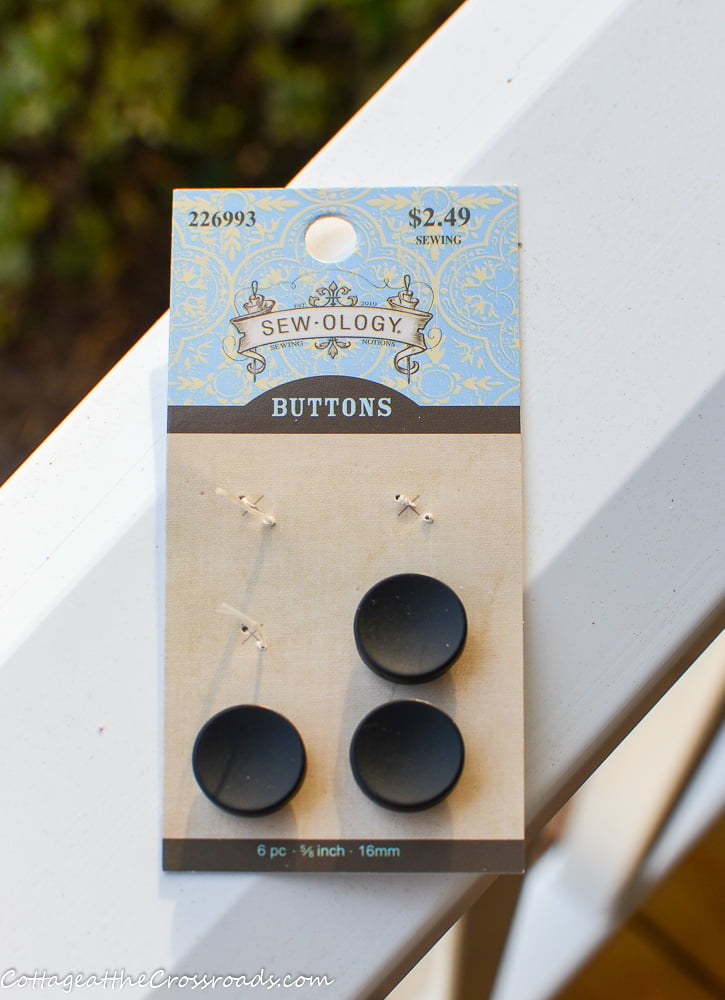 After the paint was dry, I stacked the layers to form the body. I added just a bit of hot glue to each layer so they wouldn't move around. Next, I hot glued 3 buttons onto each layer. I really like these buttons from Hobby Lobby because they have a flat back.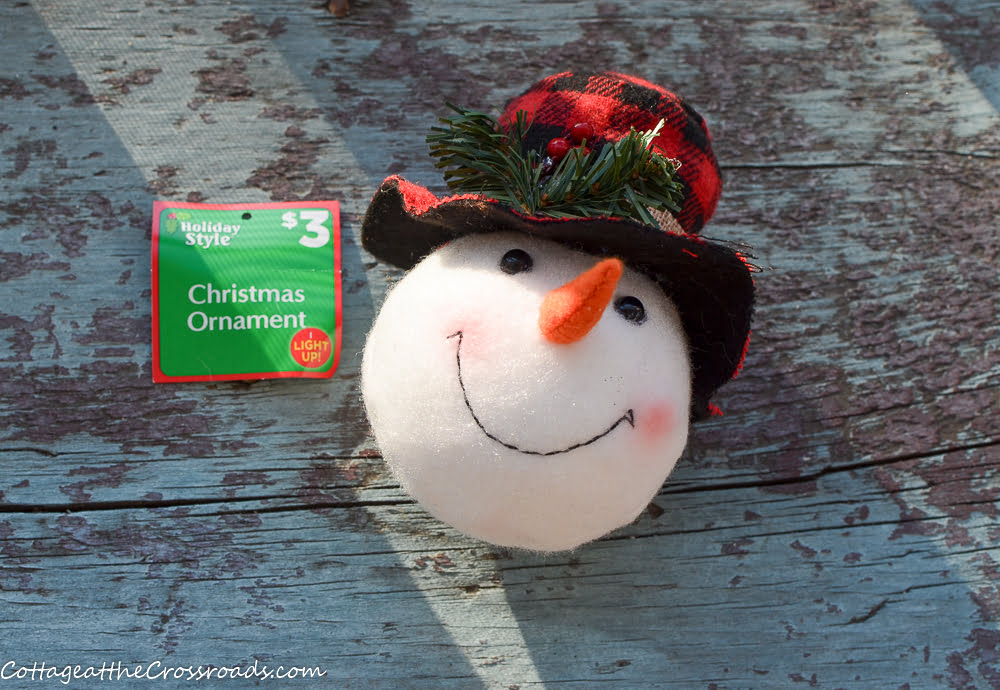 The next step was to hot glue a head to my snowman. I found this one at Dollar General, and his head lights up!
A few twigs from the yard for arms and a scarf made from an old fuzzy sock completed my handsome man!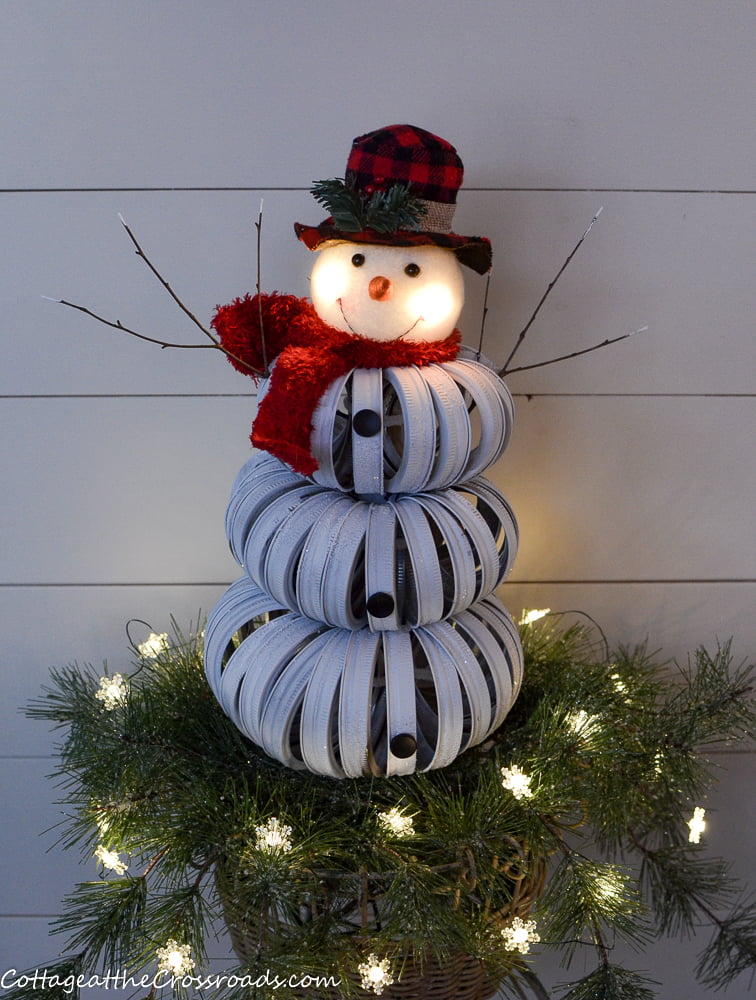 Doesn't he look adorable? I took this photo near dusk so that you could see how he looks at night!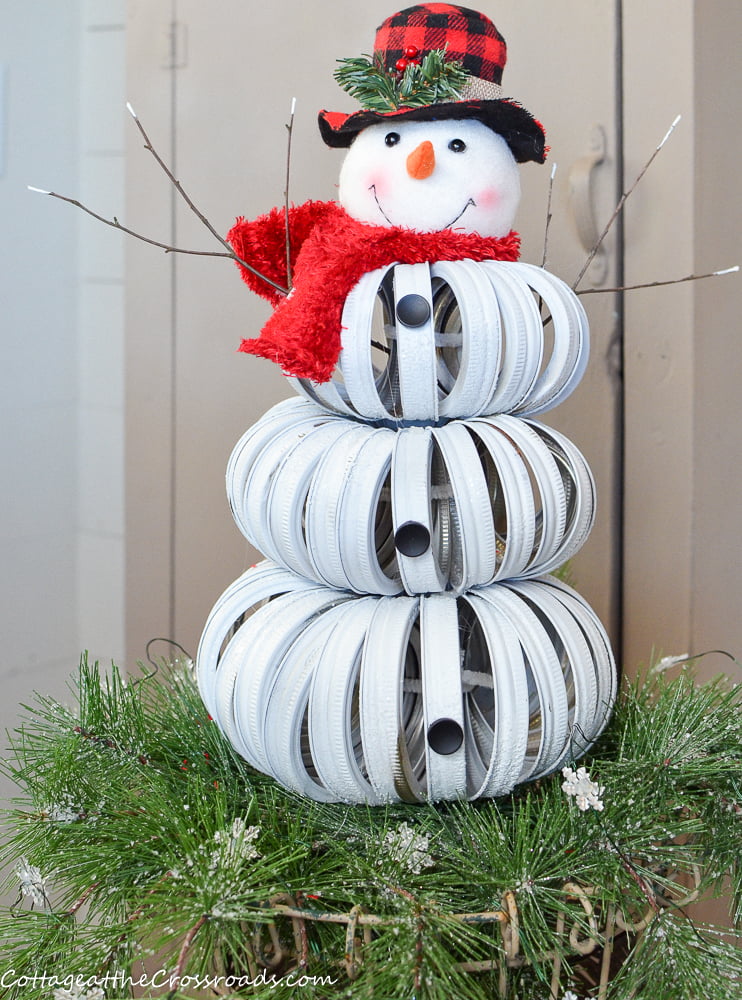 And he's mighty cute during the day, too! After making him, all I want to do is decorate for Christmas!
And if you're looking for more thrifty crafting projects, you'll find the links to 14 more projects below the graphic.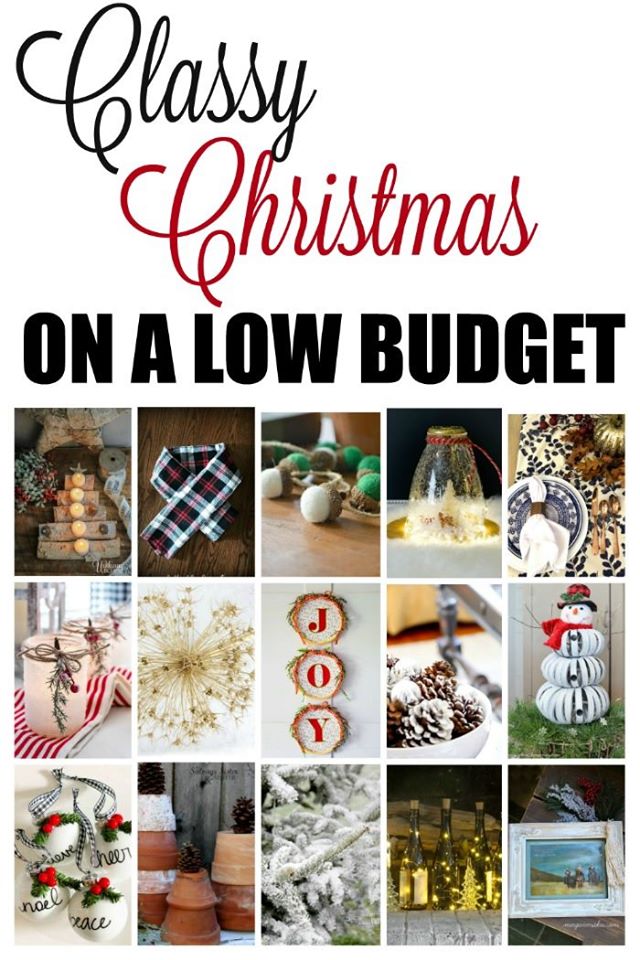 DIY FELTED ACORN GARLAND from Chatfield Court
DRIED ALLIUM CHRISTMAS ORNAMENTS from The Creek Line House
DIY UPCYCLED SNOW GLOBE from The How-To Home
DIY WINE BOTTLE LUMINARIES from Postcards from the Ridge
FROSTED CHRISTMAS LUMINARIES from DIY Beautify
EASY DIY PERSONALIZED CHRISTMAS ORNAMENTS from 2 Bees in a Pod
THRIFTY HOLIDAY DECORATING IDEAS from Bliss Ranch
REPURPOSED PILLOWCASE SCARF from Redhead Can Decorate
EASY HOLIDAY HOOPS from I Should Be Mopping the Floor
DECOUPAGE AND FRAMED CHRISTMAS CARD ON CANVAS from What Meegan Makes
DIY BIRCH LOG CHRISTMAS TREE CANDLE HOLDER from Unskinny Boppy
PERFECTLY FLOCKED PINE CONES from Duke Manor Farm
MERCURY GLASS PUMPKIN TABLESCAPE from Jennifer Rizzo
TERRACOTTA CHRISTMAS TREES from Salvage Sister and Mister
CANNING RING SNOWMAN from Cottage at the Crossroads