Today I'm sharing how I took our old media cabinet and repurposed it into a vanity for our new half bath. It's truly one-of-a-kind with character galore!
Hi friends! We are in the midst of some home renovations, and a lot of them are nearing completion. I can't wait to share all of them with you but today I'm joining the Thrifty Style Team and sharing the repurposed vanity that I've been working on lately.
I'm not sure if I've mentioned this but we are converting the room that used to be our office into a half bath. It's a tiny room near the kitchen and it's undergoing a drastic change. As you may know, we only have one bathroom and one closet in our home, and we are adding both of those in this small space.
My first thought was to simply purchase a small vanity for this room, but it occurred to me that I could transform our old media cabinet into a vanity.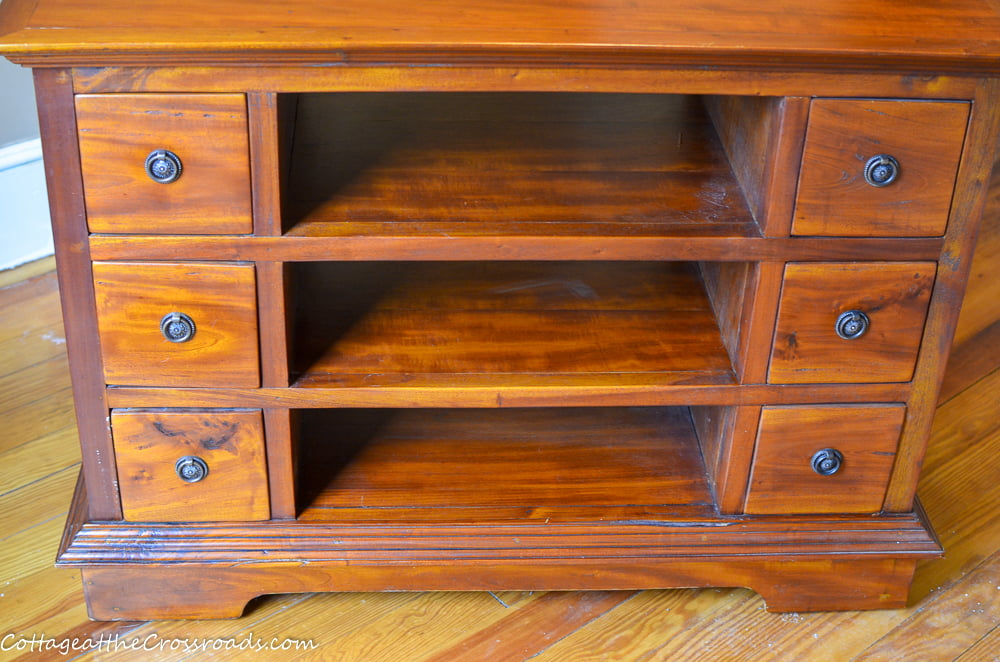 We purchased this media cabinet when we moved to the Crossroads almost 10 years ago. It sat in our family room and held all the equipment but once we got a SmartTV, we didn't need all that equipment any more. So it sat empty for a few months.
As we were making our renovation plans, I decided to paint this piece to use as the vanity in our new half bath. After all, it was an inexpensive reproduction piece made in Indonesia. Because we are using a vessel sink, the height was perfect.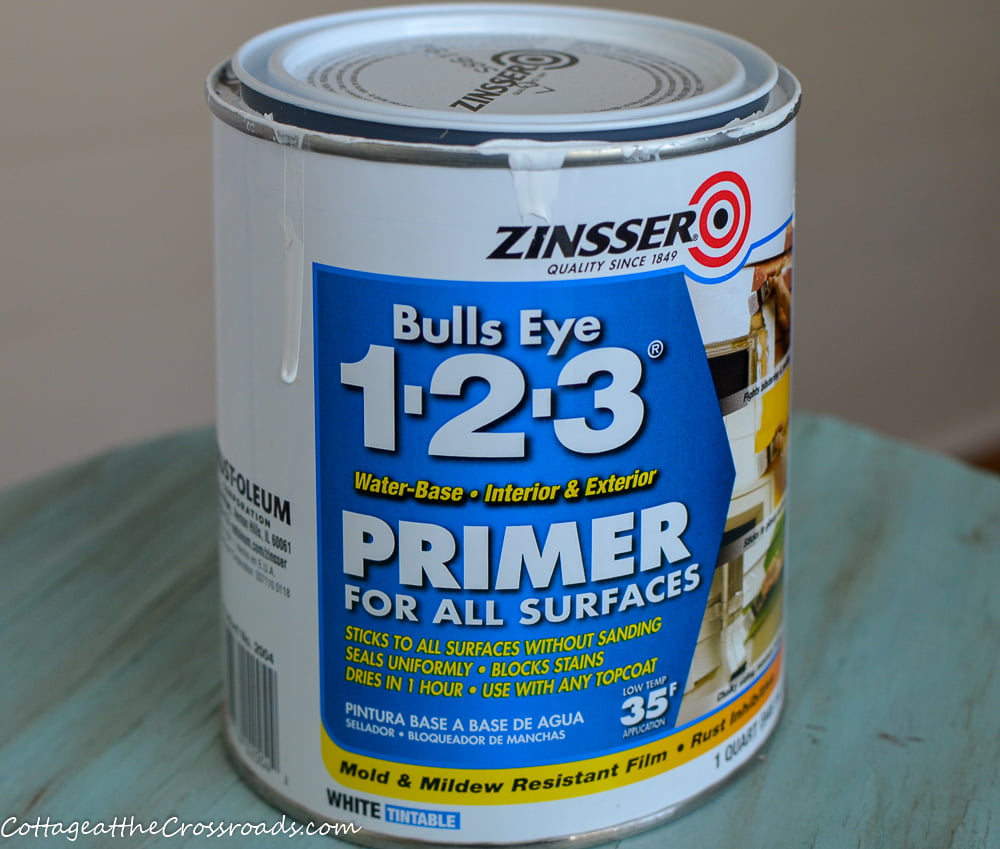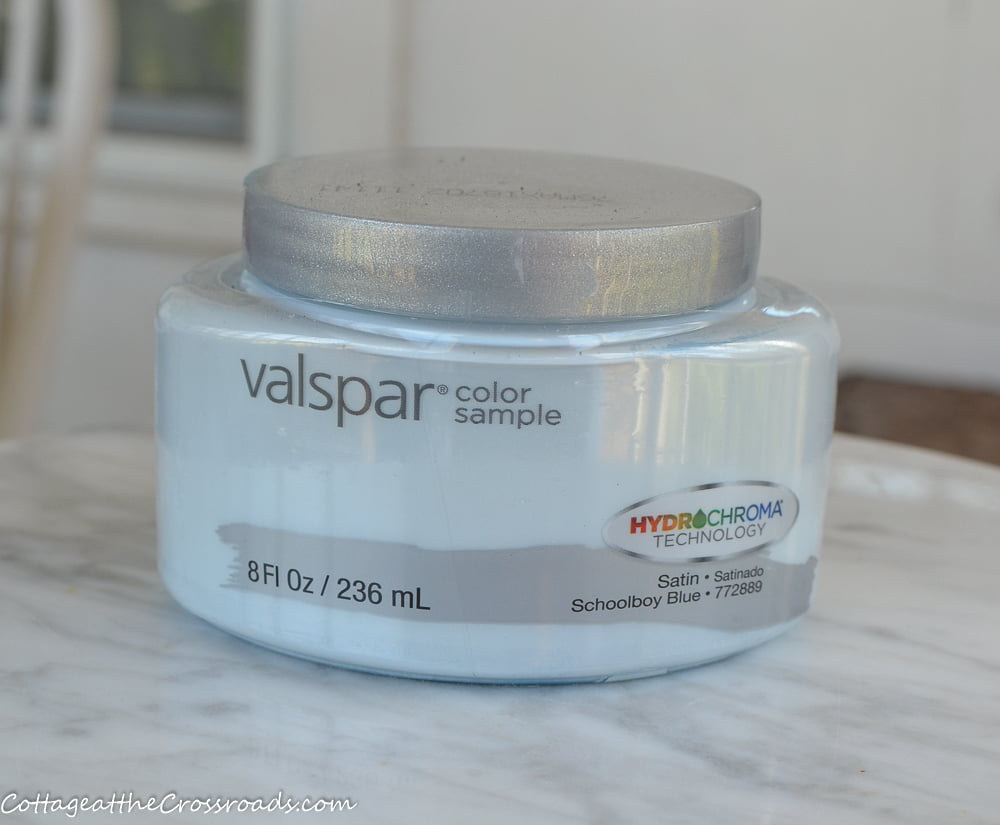 To avoid any of the stained wood from bleeding through my paint, I first used this primer on the entire piece and allowed it to dry overnight.For my paint, I chose this soft shade of blue that I've used in previous projects, and I purchased 2 sample pots of this from Lowe's.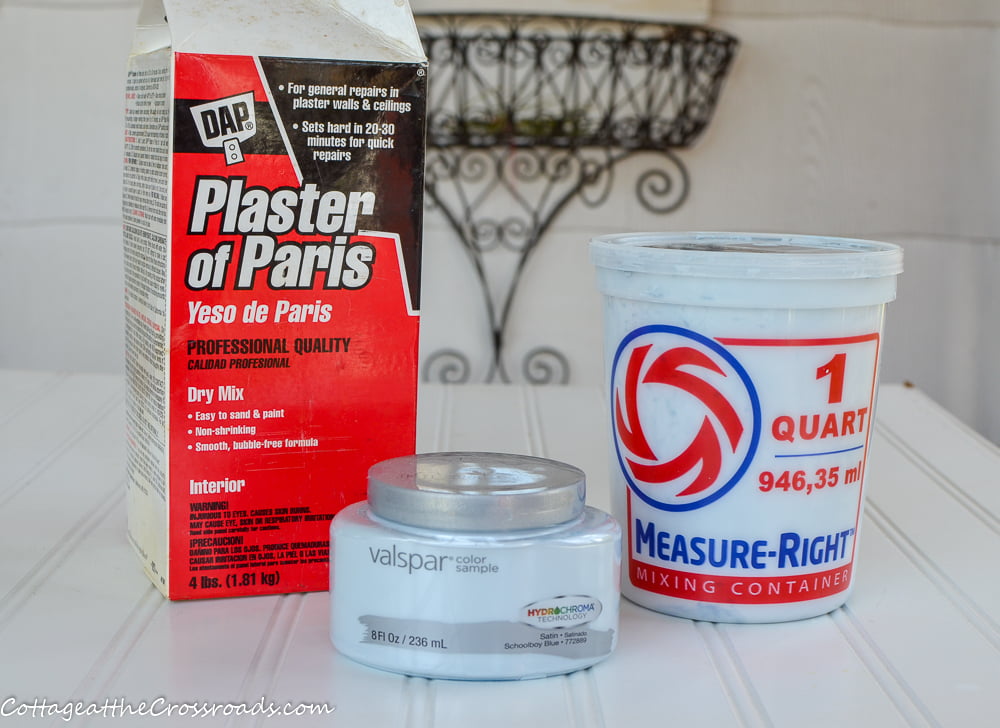 Along with the sample pots of paint, I purchased the plastic mixing container that you see in the above photo to use in making my own chalky paint.
DIY Chalk-like Paint Recipe
I place about 3 ounces of Plaster of Paris in the plastic mixing container. Then I add a small amount of very warm water and stir it together, making sure all lumps are dissolved and it is completely smooth. Next I add the entire contents of one sample pot of paint into the same container and stir it all together until it was well mixed.
If you make some of your own and the mixture seems thick, add a bit more water.
I did mix up more of the chalky paint the next day when I started with the second coat.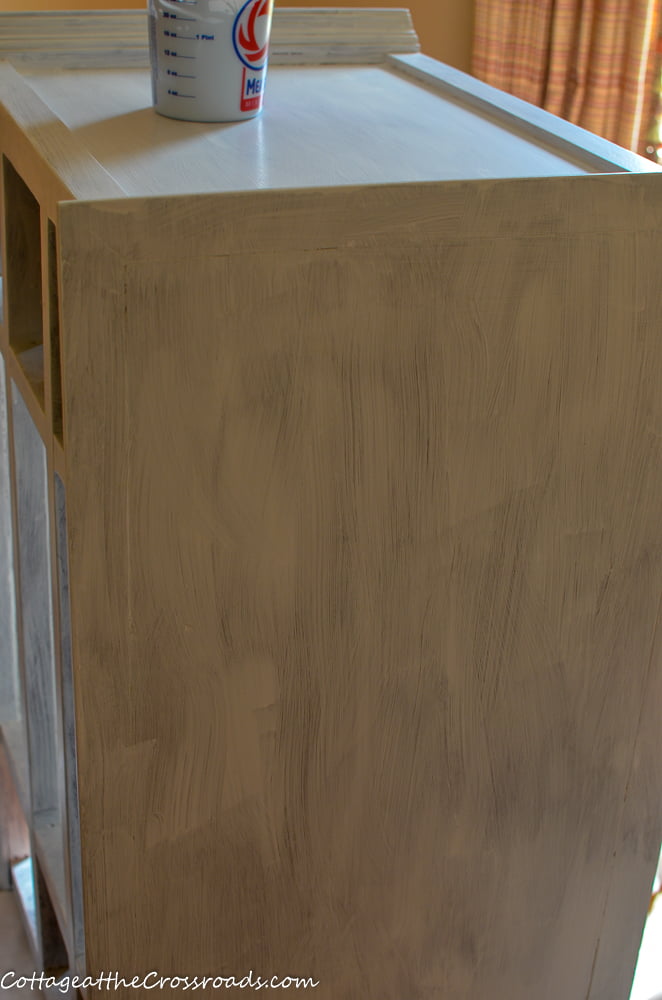 I can't remember if this photo is showing the coat of primer or one coat of the DIY chalk paint, but I definitely needed 2 coats of paint on this piece!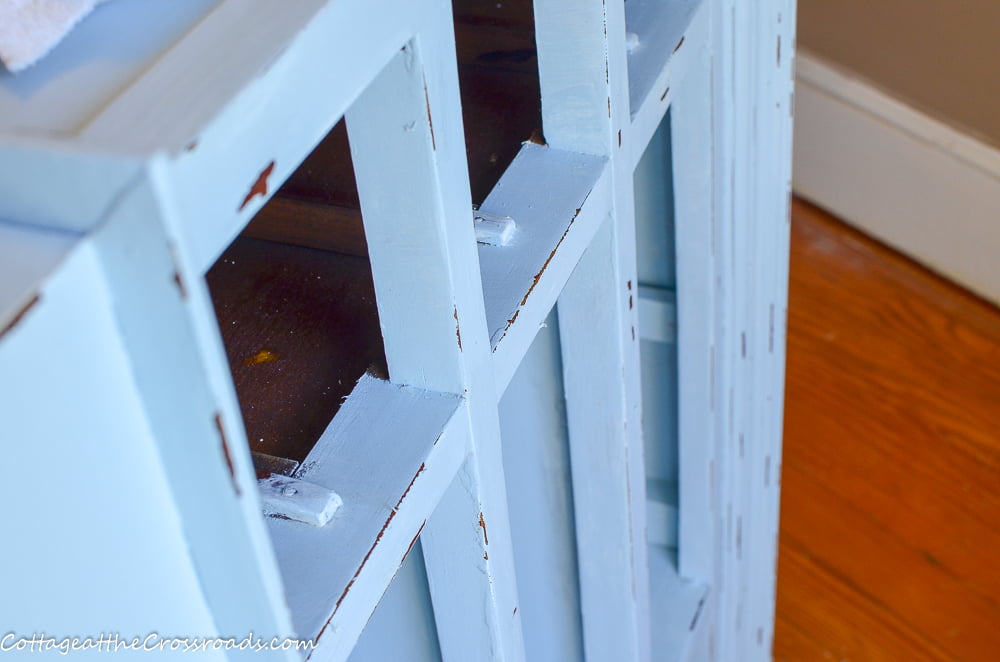 The next step was to lightly distress the piece by sanding and chipping away some of the paint.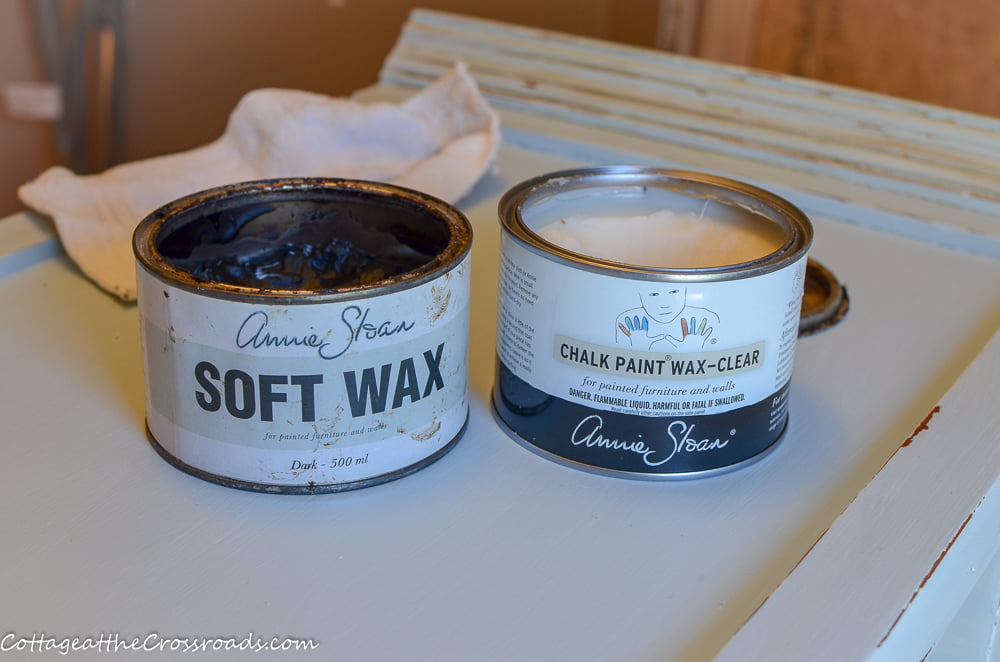 Then I used clear Annie Sloan wax on the entire piece and then went back with the dark wax in the crevices.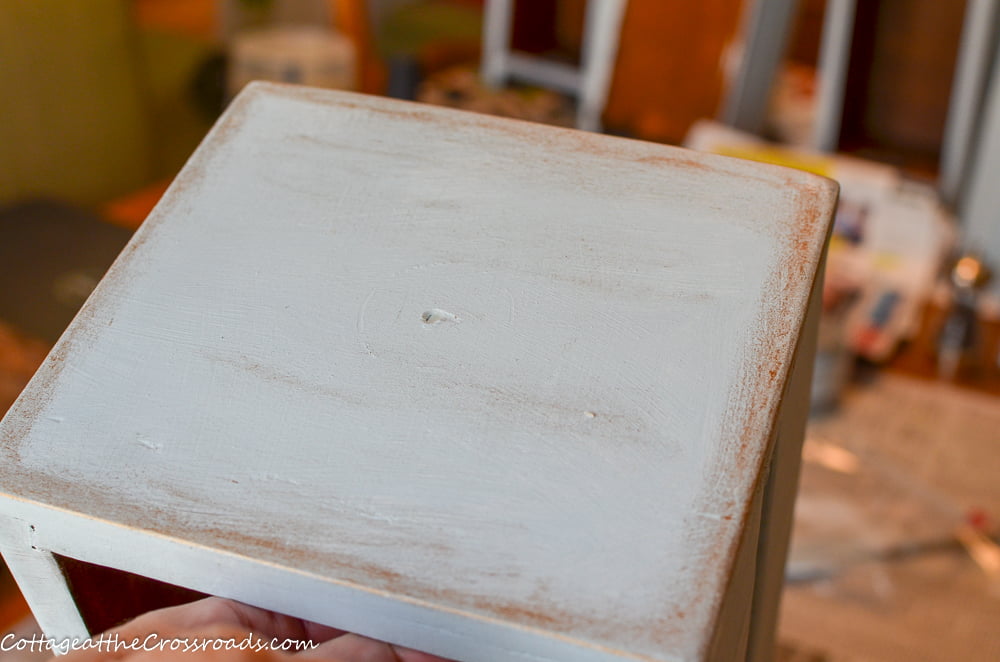 On the drawers, I used both of the waxes in addition to a tiny bit of Annie Sloan gilding wax.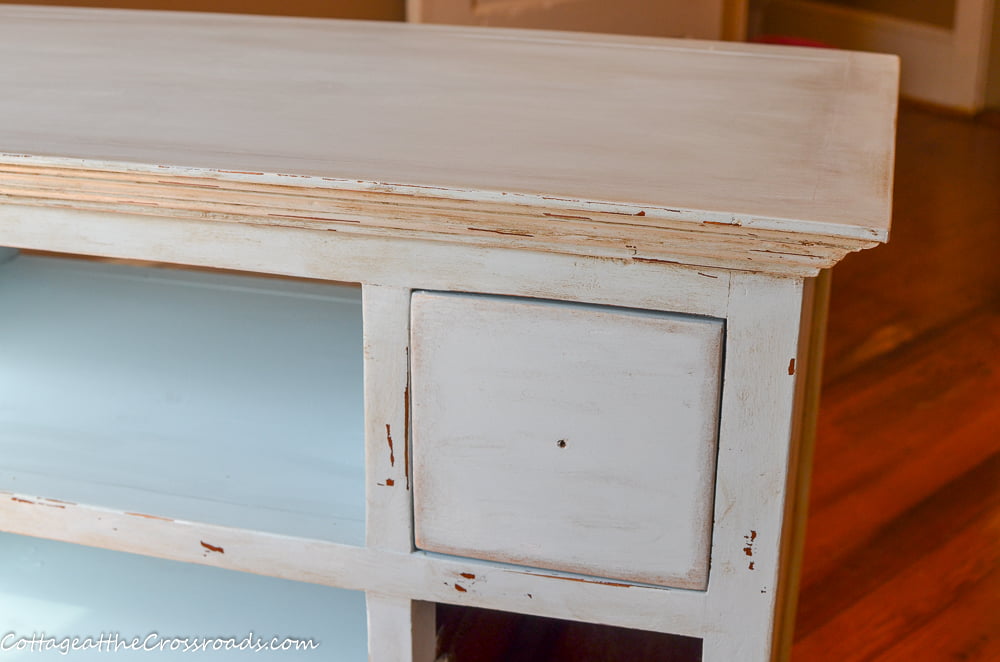 Here you can see how the gilding wax looks up close. It added just a hint of metallic shine.
The waxes got well-buffed the next day. (I use a shower cleaning brush with a handle to buff!)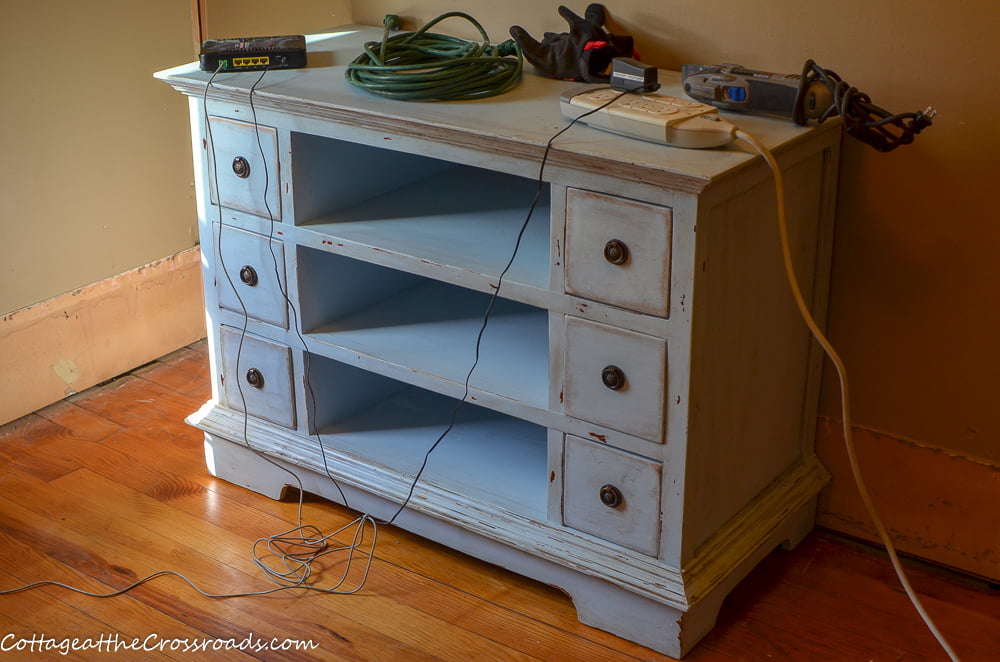 Here it is all finished and waiting for the sink. The wires that you see in the photo are keeping us hooked up to the Internet. One of the workers accidentally pulled out the wires when removing the baseboards. Luckily he was able to repair it!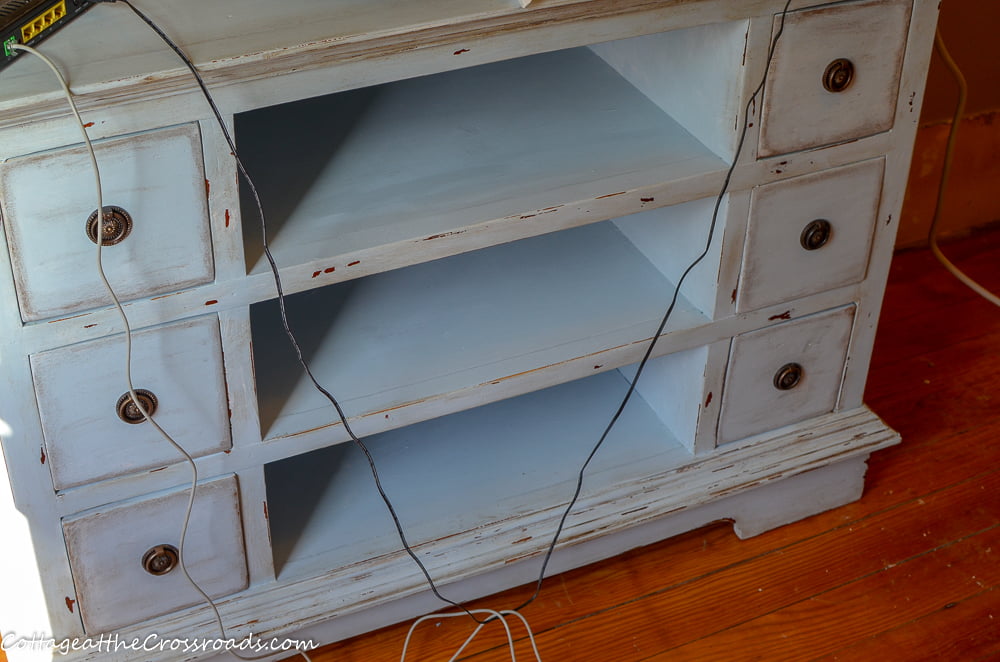 I will probably lose one or two of the shelves when everything is hooked up so I will either add some baskets or create a little skirt for the opening.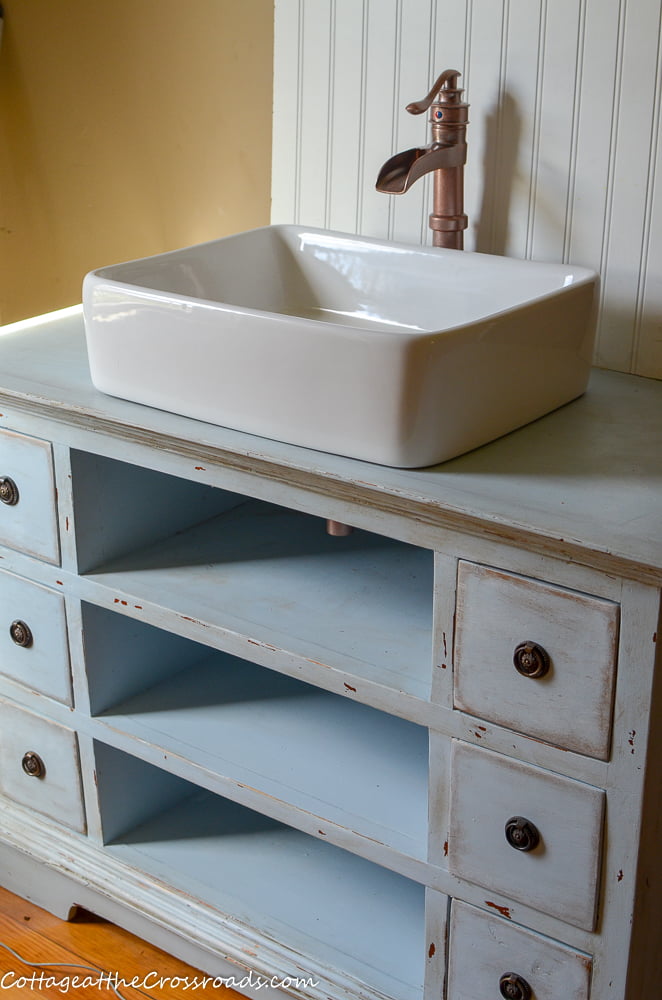 But look what was added today! The sink and the faucet!!! I expect that it will all get hooked up tomorrow.
I propped up a sheet of white beadboard because that's what's going on the walls. I cannot wait to see it all come together!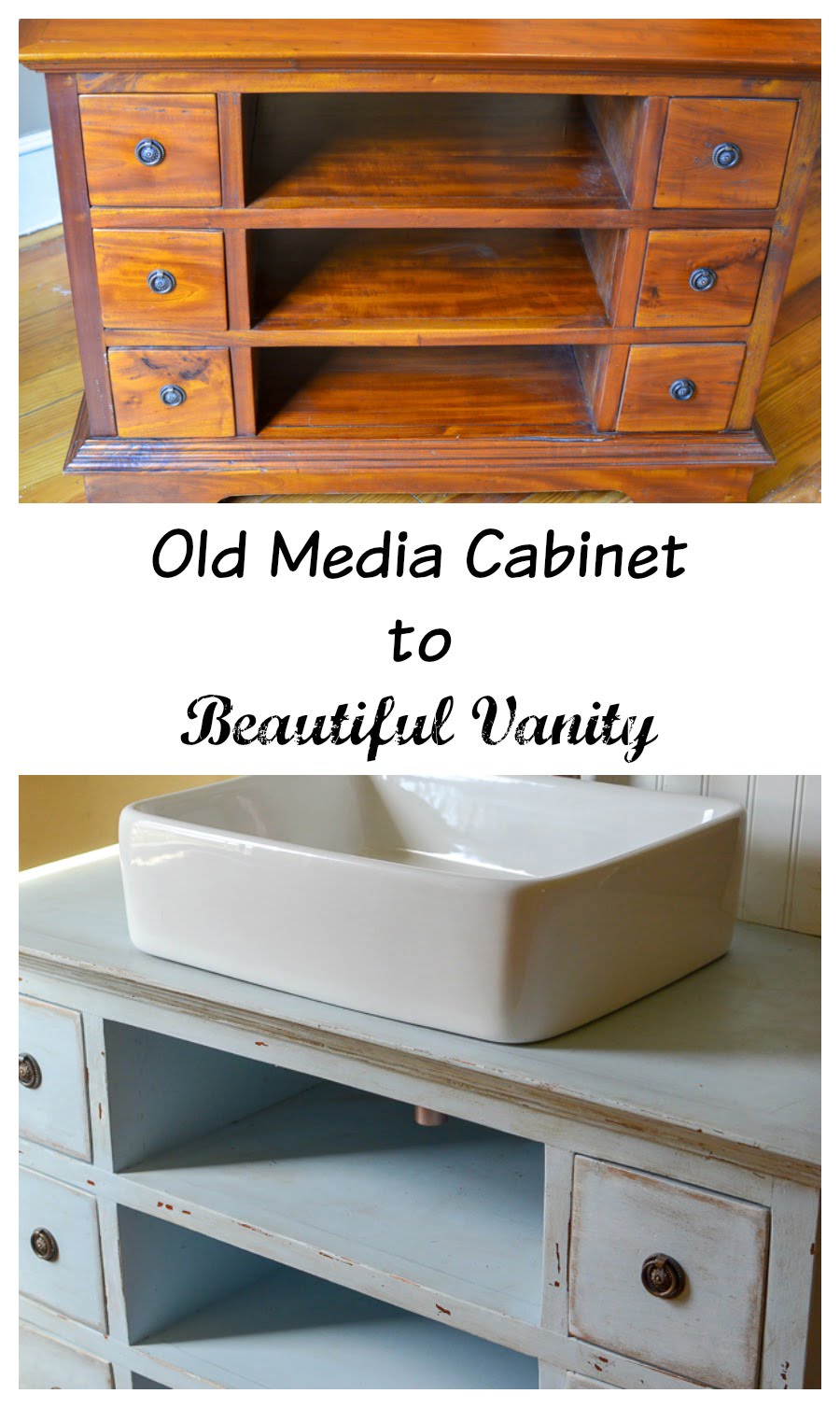 I'm real pleased with how the repurposed vanity turned out. By using something that I already had, I was able to spend a little more on the vessel sink and the faucet. When I do a reveal post on this room, I'll list the sources for those.