In this post, I'm sharing my secret way to paint a piece of furniture quickly and inexpensively. My country cottage cubby makeover may inspire you to redo a piece soon!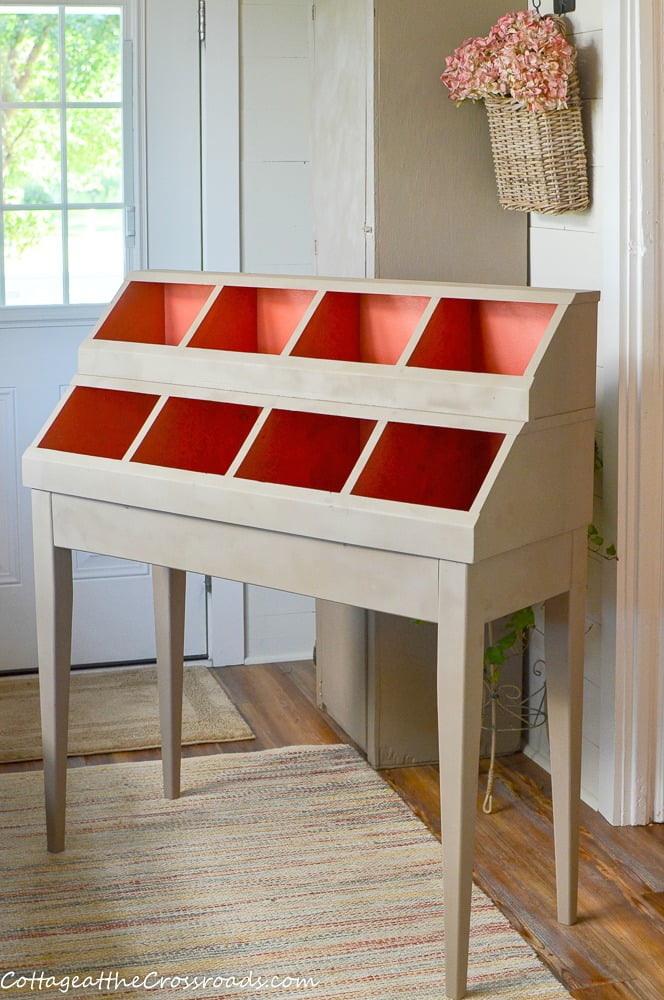 Country Cottage Cubby Makeover
Hey! Hey! Hey! Today is Thrifty Style Day and I'm going to spill the beans on how I redid this unusual piece of furniture to go in our new laundry/mudroom space.
First, I wasn't sure what to call this piece of furniture. It's a piece that I purchased at the auction that is located about 5 miles from where we live. I didn't pay much for it at all, and I was attracted to the cubbies or storage bins on the piece.
Although I didn't have a space for it at the time, I put it in my storage building thinking that if we ever redid our kitchen that I would create a space for it.
I mean, wouldn't those cubbies be great for storing potatoes and onions?
Perfect for a farmhouse or country cottage kitchen, huh?
But the piece stayed in storage for a number of years because I just didn't have a space for it, but I didn't want to sell it because I loved its uniqueness.
I've searched all over the internet to find a similar one to no avail. It's hard to even describe it. What would you call it? Vintage storage unit? Organizer? Hutch? Cupboard? Sorter?
The best word I could think of was cubby. (I think I became a teacher so that I could be surrounded by cubbies all day!)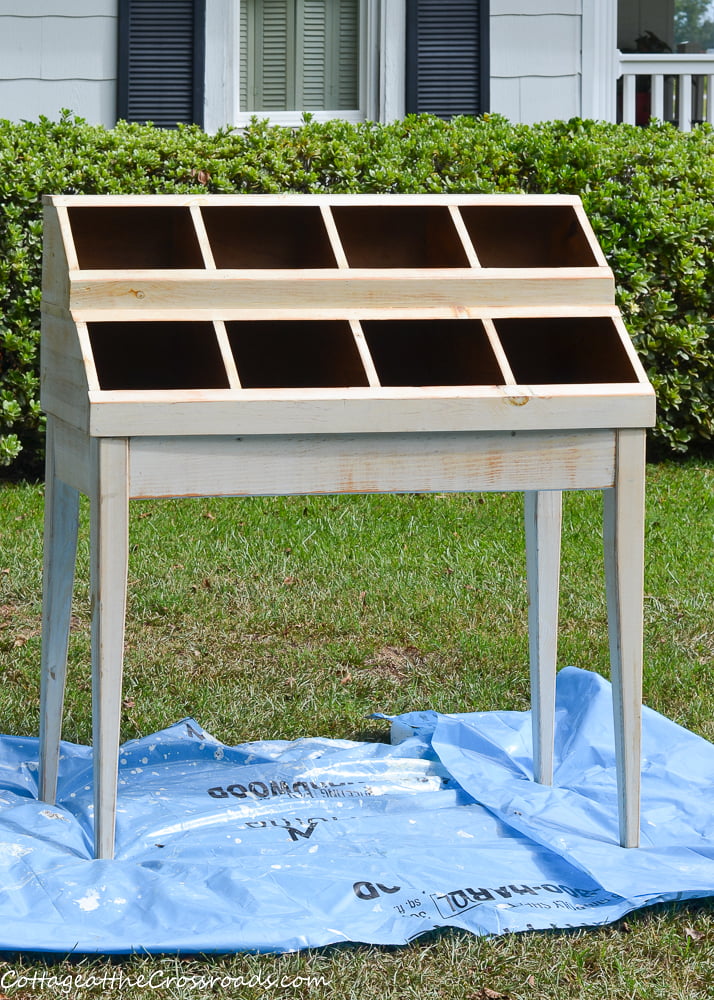 Here is how it looked with its original finish.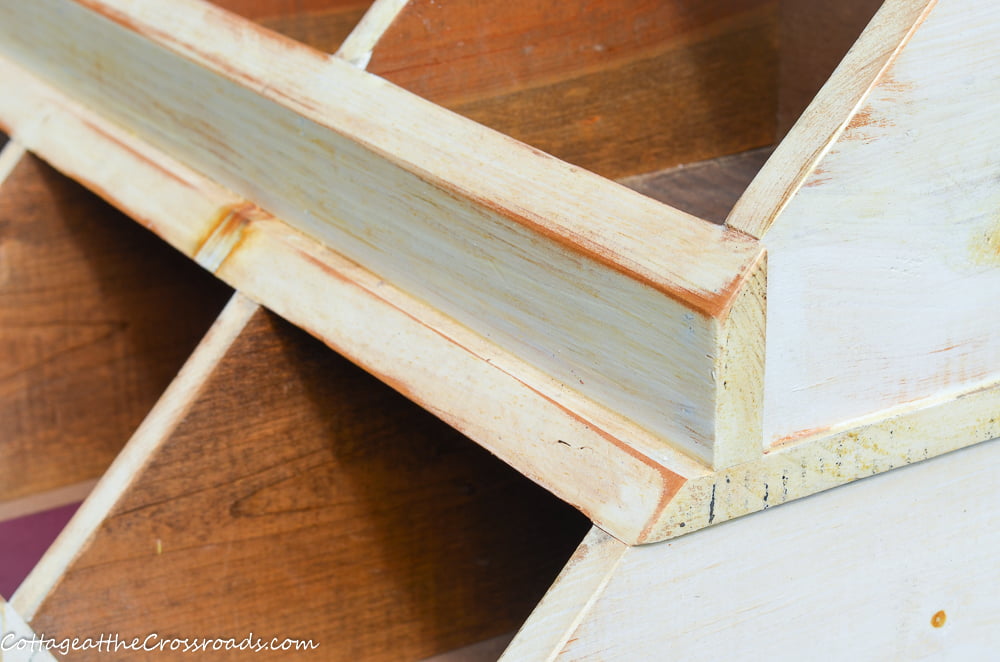 I just didn't like the yellowish color, the stain bleed-through, and the distressing.
My New Favorite Spray Paint!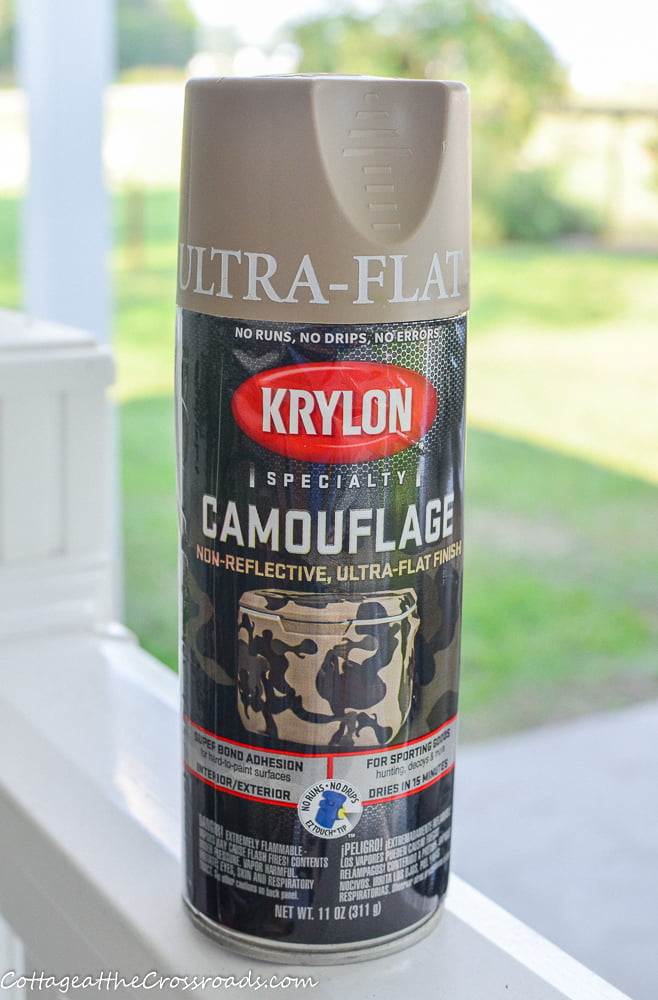 So out came my new favorite spray paint! A few months ago, I was looking for a spray paint to paint some stained curtain rings a taupe color when I discovered this. When I bought it, I really was taking a chance, but the color on the top was exactly what I wanted!
Y'all! This is a true FIND!!! If you are looking for a flat finish (like chalk paint) in a taupe color, this is it! The color on the label says #4291 camouflage khaki, and I purchased it at Lowe's.
The curtain rings turned out great so I immediately painted a storage cabinet and a plant stand with this paint.
And just recently, I painted the cubby with it.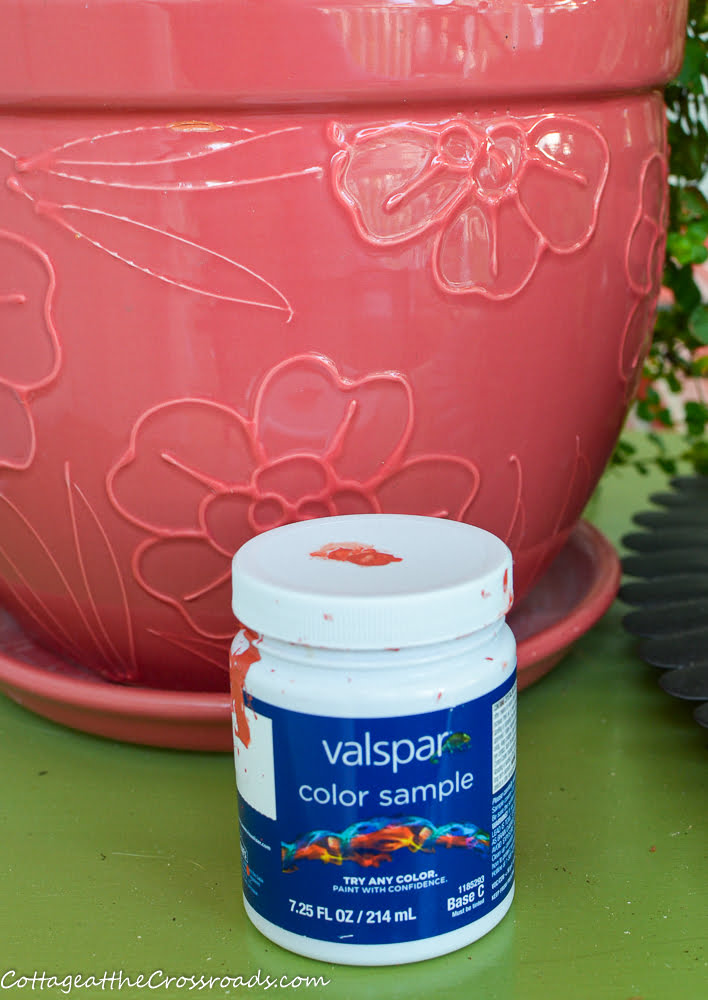 Once I got it spray painted, I thought the interior of the stained bins looked too dark so I proceeded to paint the inside with this sample size of Valspar in Island Spice.
It's almost the same shade of this planter that's on the back porch.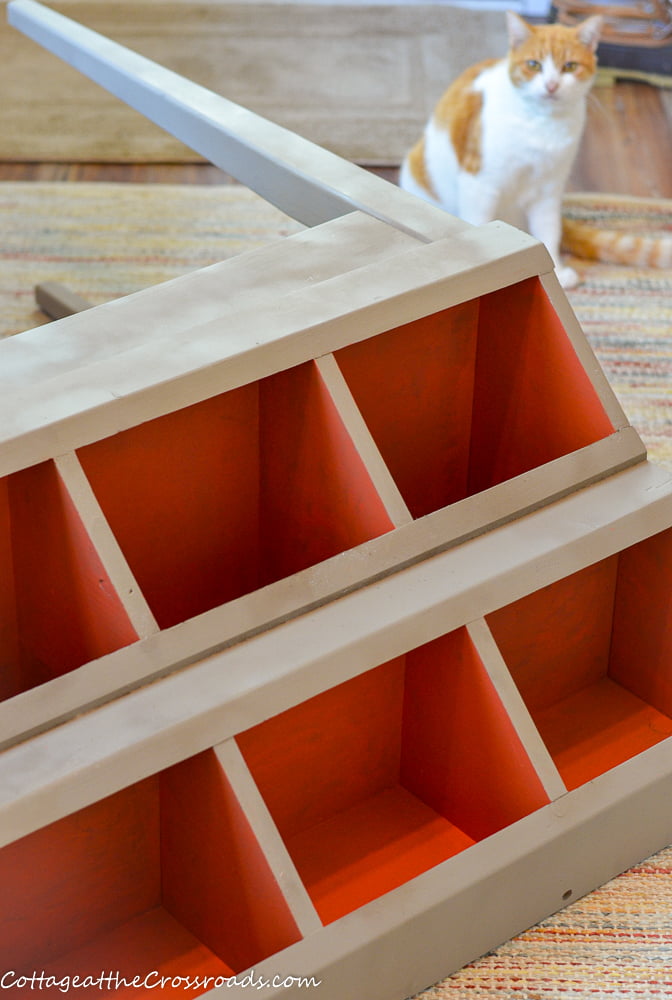 Painting the inside of the storage bins proved to be much harder. It took 2 coats to cover the dark stain that was inside.
I probably need to give it one more coat, but for now, I'm too eager to get some fall decor inside the bins!
Yes, I'm turning it into a pumpkin holder! Hehe!
I can't wait to show it to you all decorated for fall and to show you our new laundry/mudroom.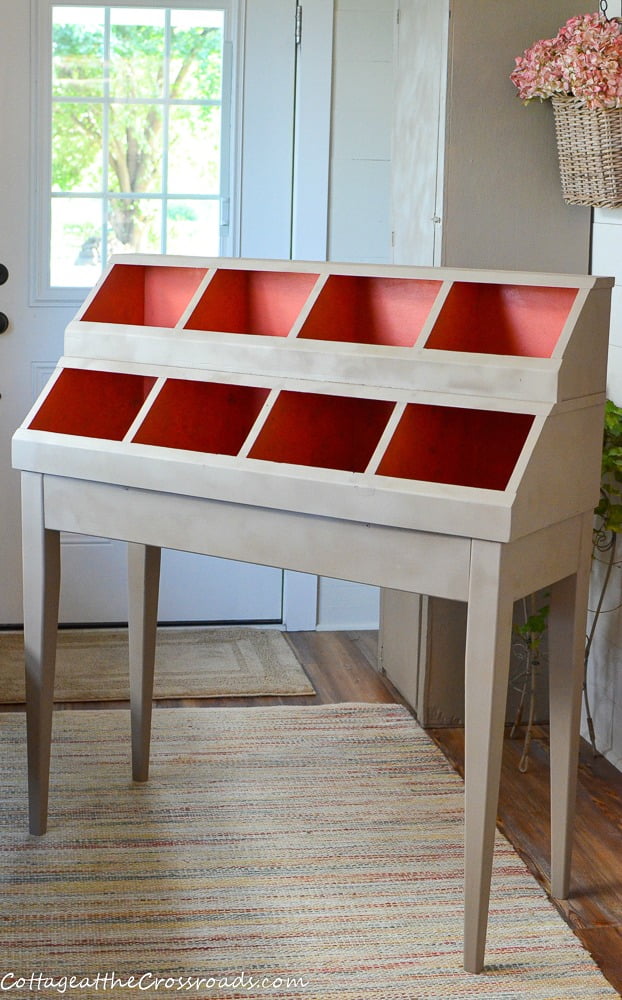 This is not where the cubby goes! I just pulled it out so I could photograph it better!
Because I already had this piece of furniture, I was able to do this country cottage cubby makeover for less than $10. Spray painting furniture is a very thrifty way of giving something a new look!