Hello everyone! I hope you had a wonderful Thanksgiving holiday. I've been decking the halls here at the Crossroads. What? You, too! Today I'm ready to show you our front porch Christmas decorations. So without further adieu, here's our …
Vintage Camper Christmas Porch!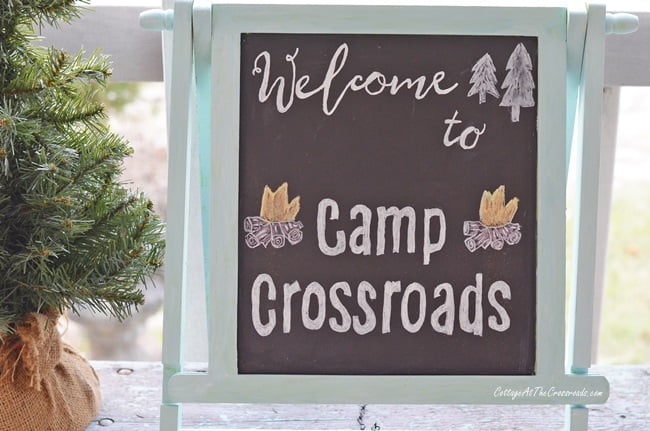 Yes, I've gone all vintage camper crazy ever since we purchased our mini motorhome this past June! For the past few summers, we have jokingly called our home "Camp Crossroads" whenever the grandgirls have come to stay with us. So our vintage camper Christmas porch has been dubbed the same name.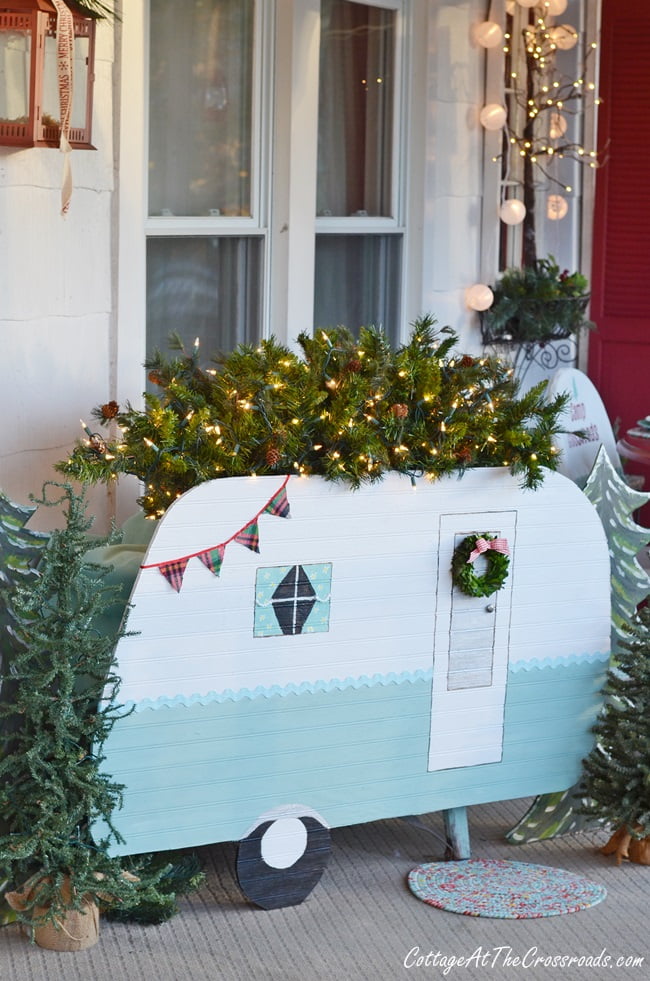 The feature of our Christmas front porch is this wooden vintage camper cutout. We had a piece of beadboard left over from our bathroom renovation this past fall that I saved because when we turned it sideways, the grooves reminded me of the metal siding on vintage campers.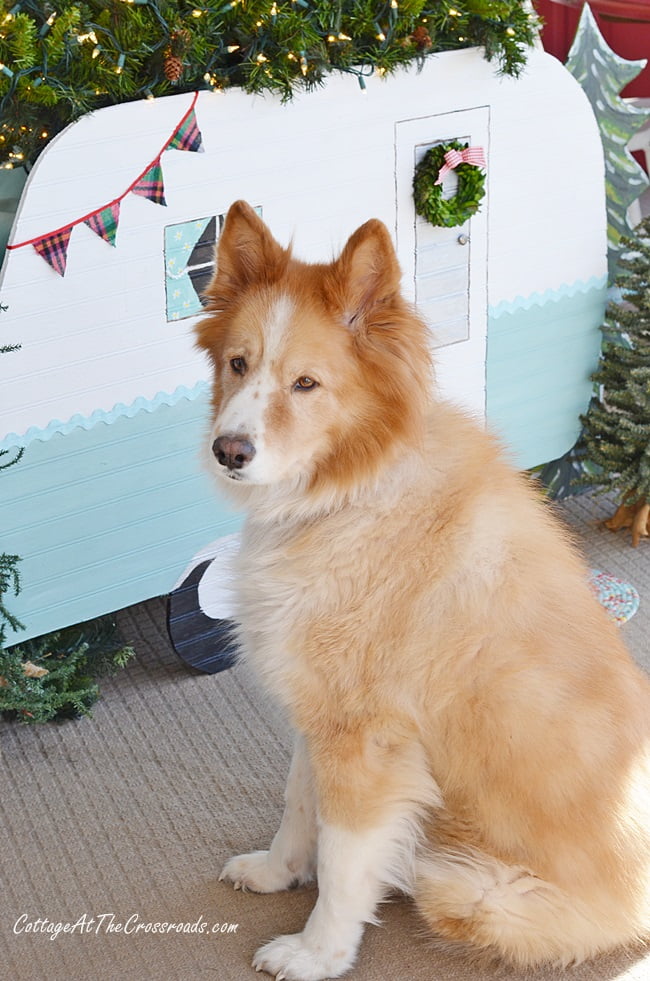 Lucy, our dog, seems to love the camper.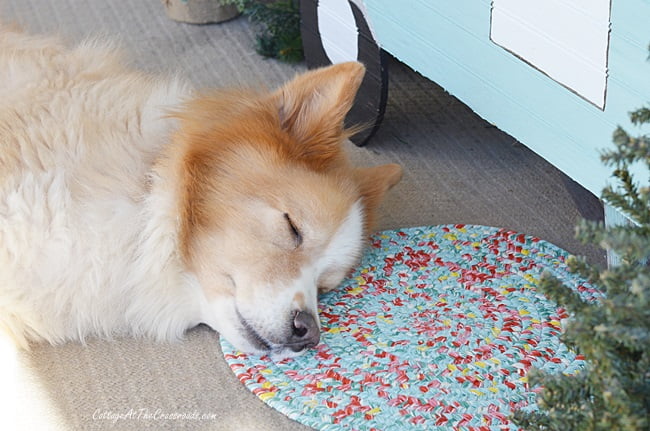 I even caught her snoozing in front of it with her head on the little "rug" that I put in front of the door!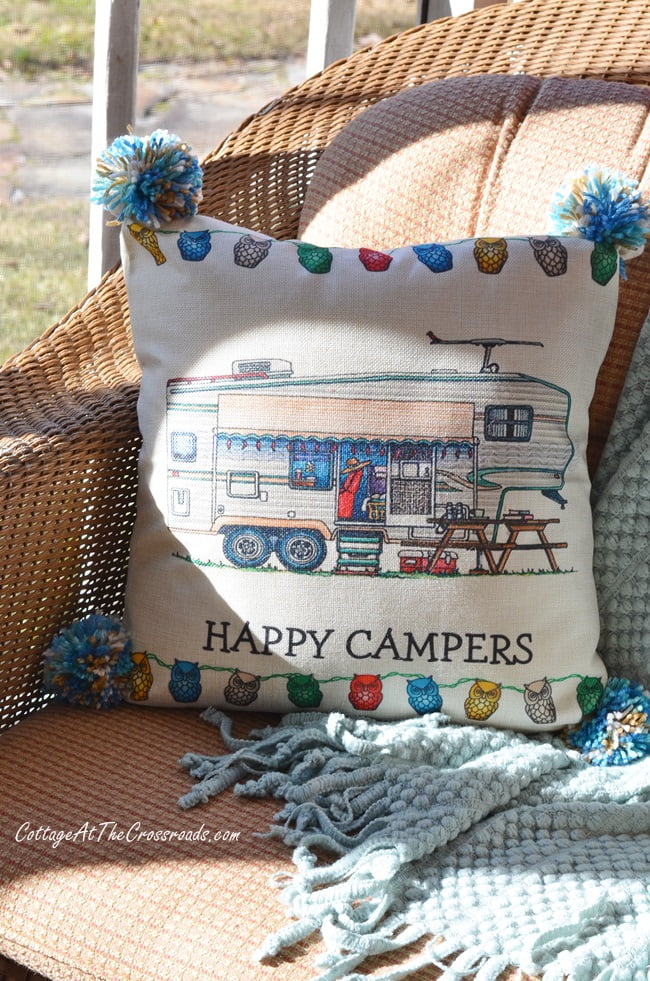 Ever since we got our motorhome, I have been collecting or people have been giving me camping related items. This sweet pillow was a birthday gift from a friend. My sister-in-law made the pom poms to adorn it.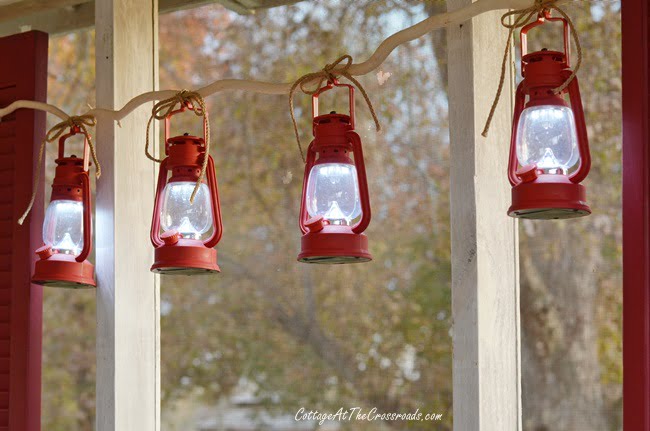 After deciding to decorate the front porch with a camping theme, I knew I was going to hang these red lanterns that we used on our outdoor Christmas wreaths a few years ago.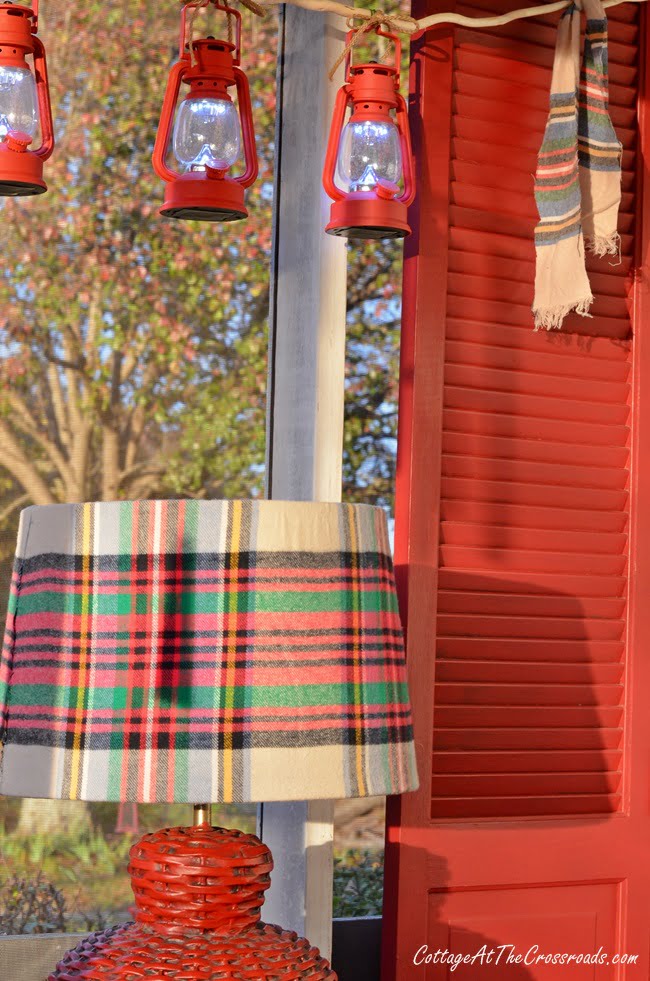 Here are more of them on the other end of the porch where my plaid lampshade is.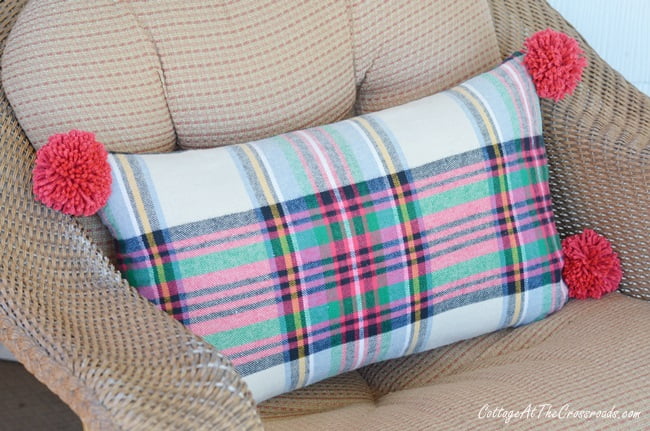 And I made a matching pillow out of the same plaid fabric. These pom poms were also made by my sweet SIL. Are you as crazy about pom poms as I am?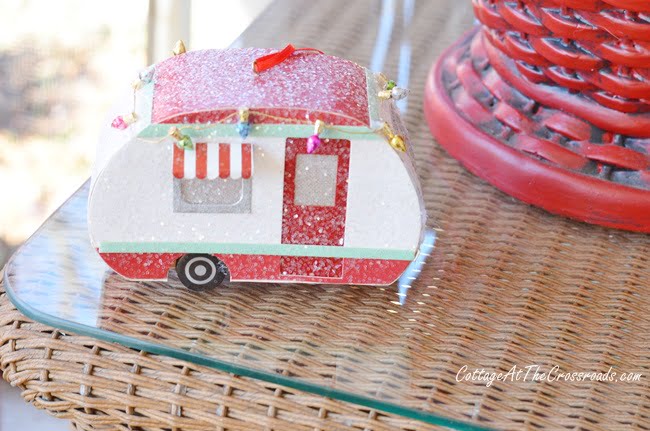 Down on this end of the porch are also some vintage camper ornaments on the table. They are so adorable because they light up!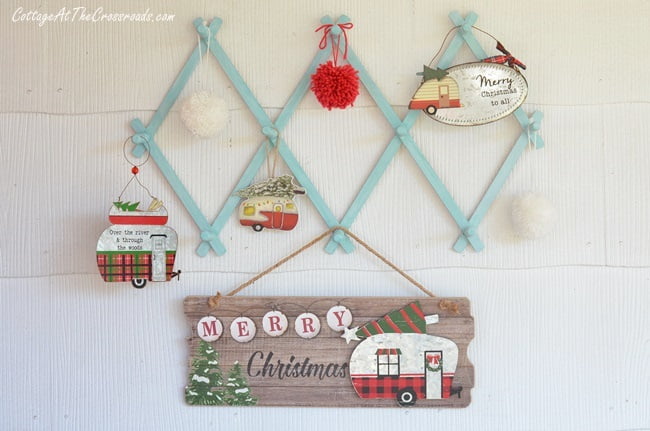 More vintage camper ornaments and a sign are hanging on the recently painted vintage wooden rack.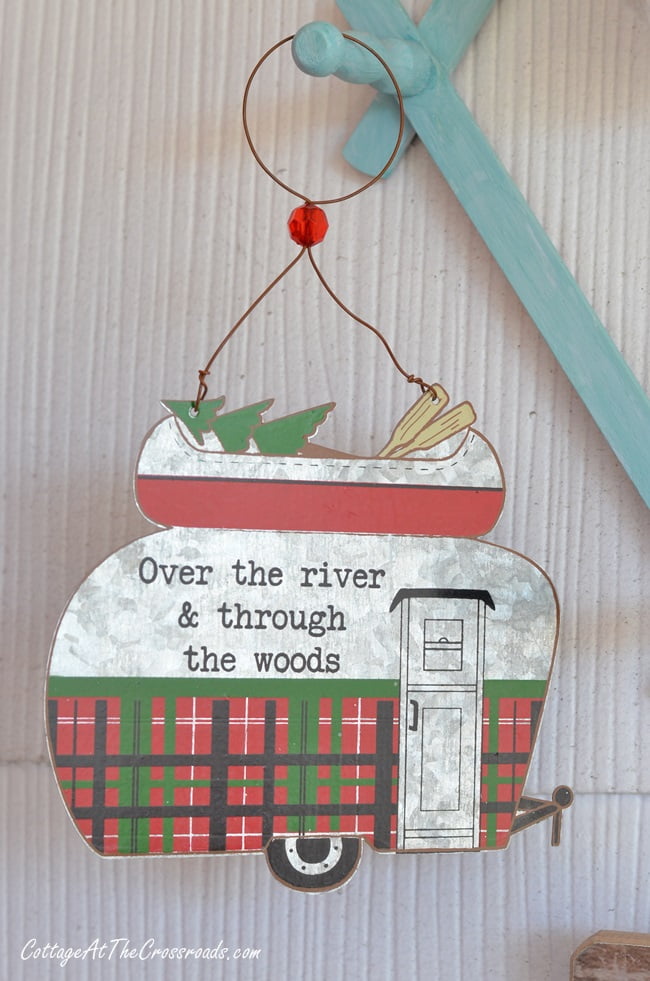 It has been more fun collecting these vintage camper ornaments this fall. They are everywhere!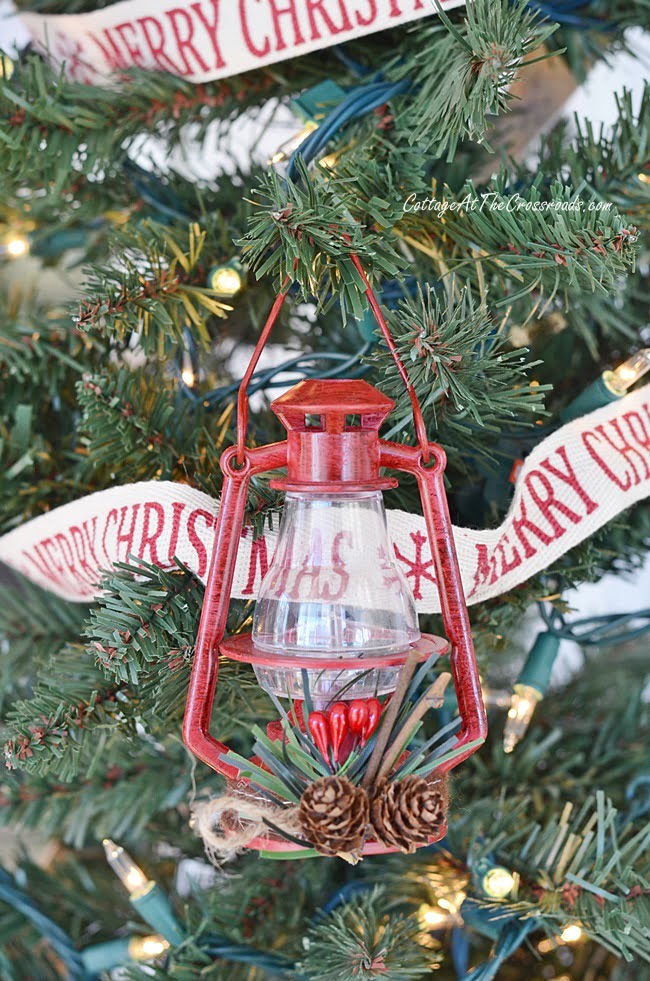 On the table near the seating area is a Christmas tree with red lantern ornaments that I found at Walmart.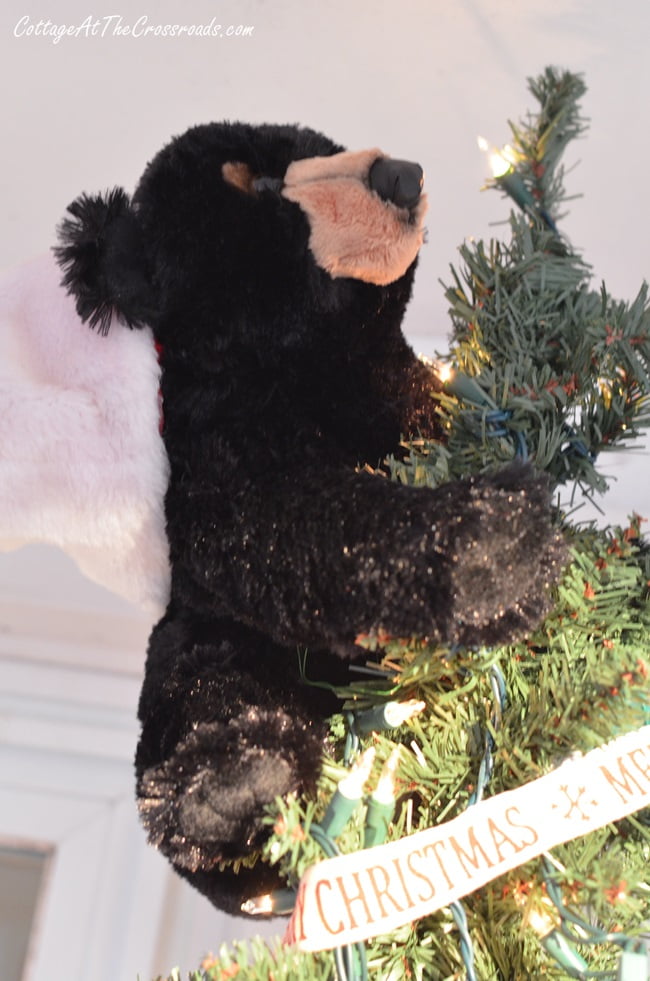 A black bear serves as a tree topper! He has on a stocking cap but you can't see all of it in the photo.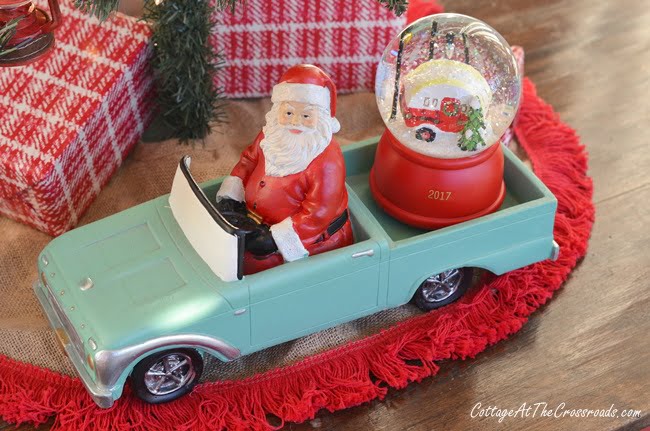 Santa has rolled into Camp Crossroads in his vintage car carrying a camper snow globe.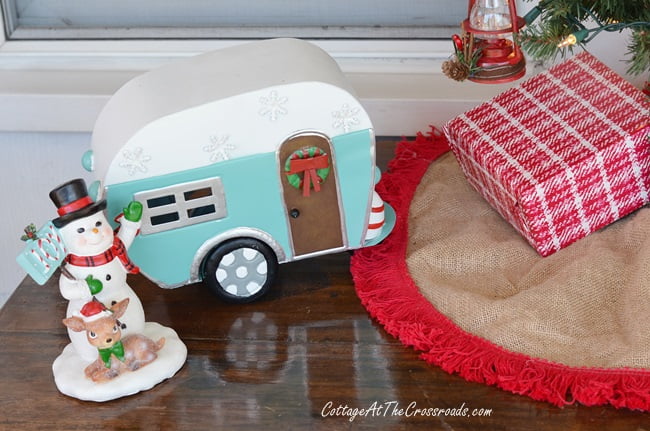 He's going to spend the night in his matching vintage camper!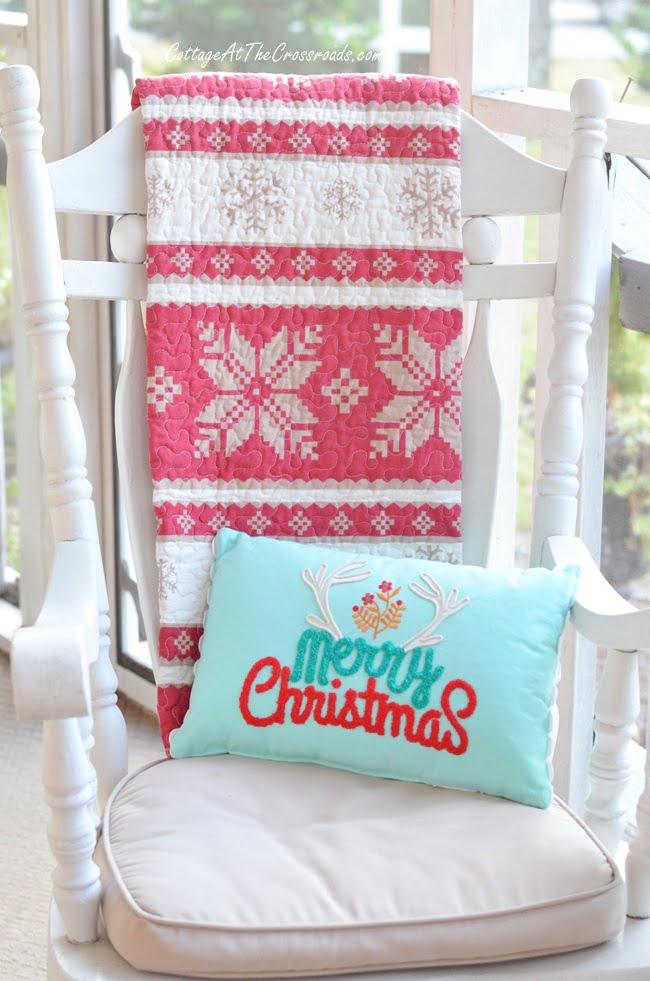 And I couldn't resist putting this aqua and red Christmas pillow on my vintage camper Christmas porch!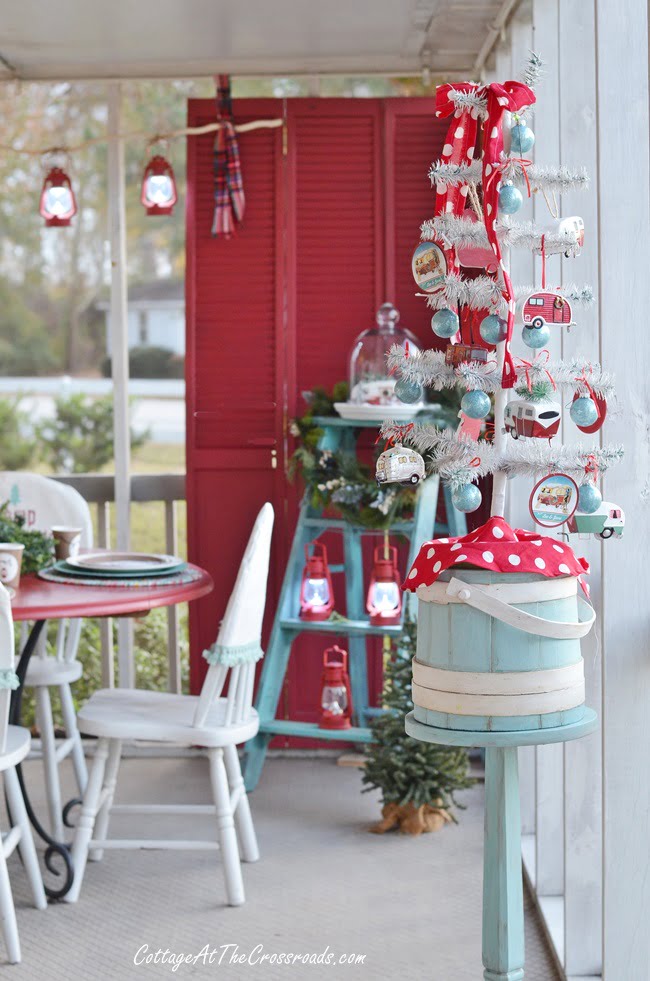 Midway down the porch is the reproduction feather tree loaded with……vintage camper ornaments! Yes, I told you I went crazy!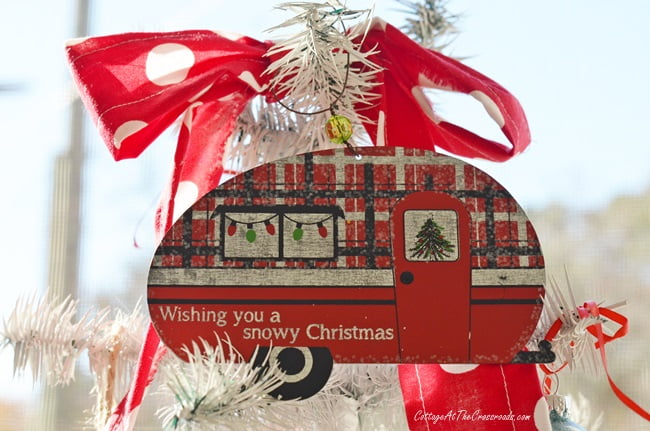 At the top is a cute metal ornament. I know some of you don't like snow, but here in South Carolina we yearn for a white Christmas.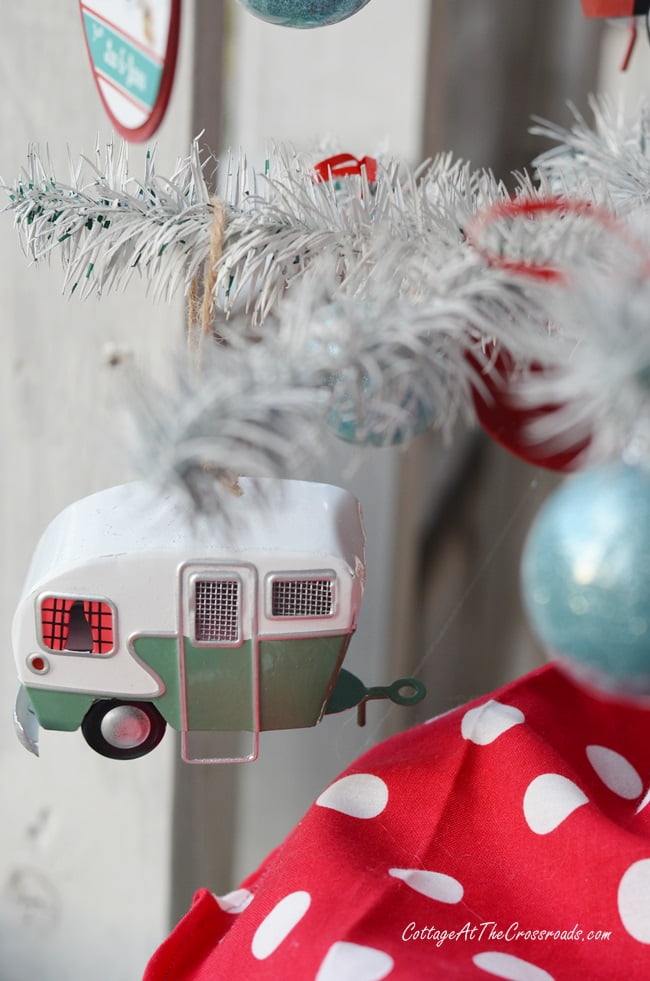 Another camper ornament hangs on the tree.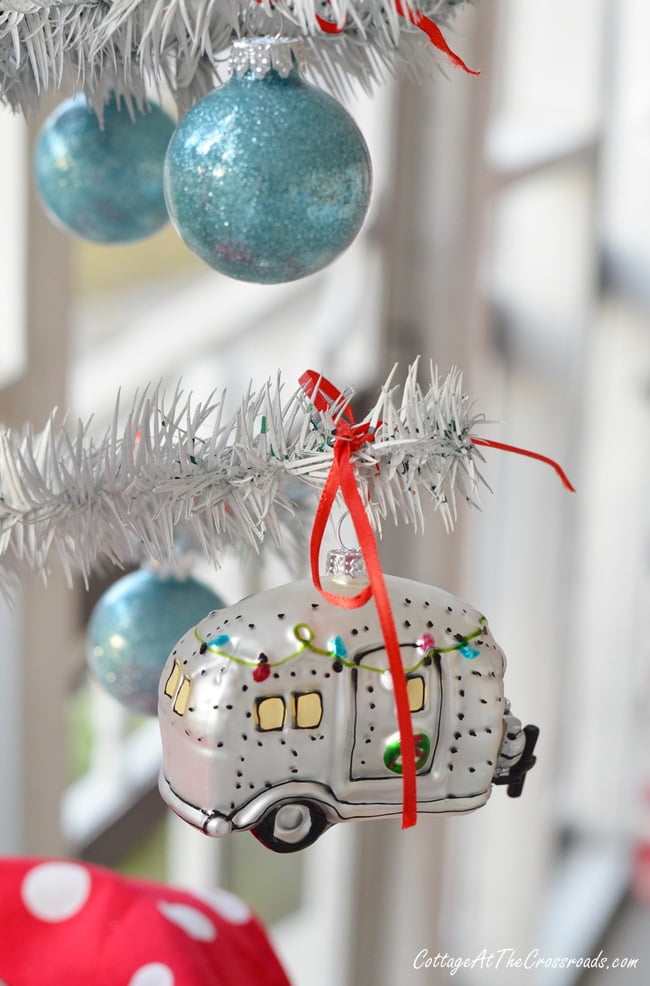 And look at this one!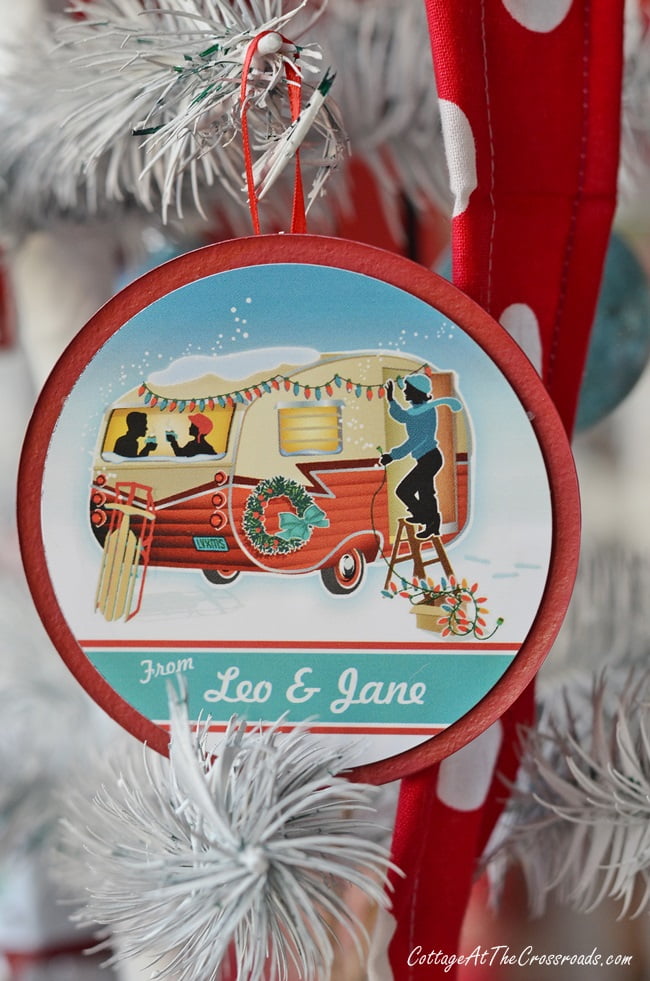 I made a few of these round ornaments using gift tags with our names on them. A mason jar lid serves as a base.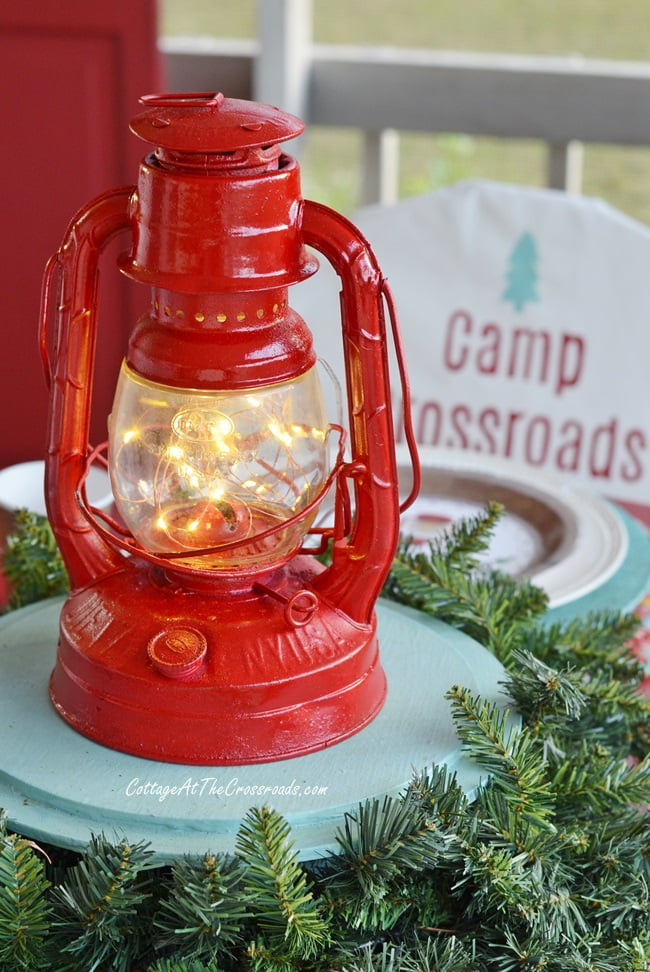 The centerpiece on the table is a vintage lantern that we found here at the Crossroads when we moved in. I gave it a new coat of red paint and placed fairy lights inside.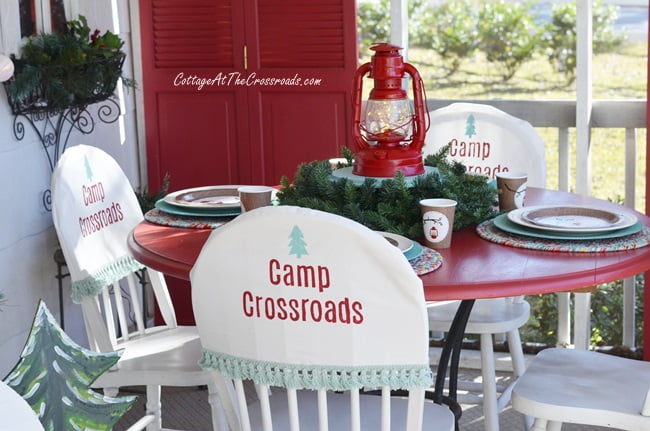 I couldn't resist making more chair covers with the words "Camp Crossroads" painted on them.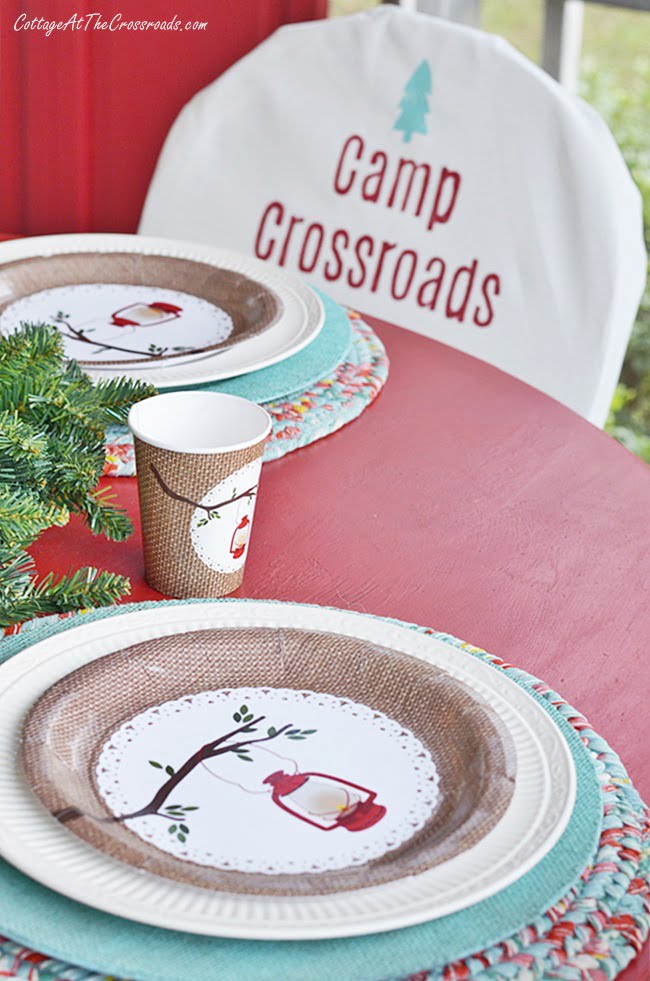 On the table are red lantern paper plates and cups that I found to complete my camping theme. You can see how I painted the burlap chargers here: Painted Burlap Charger Plates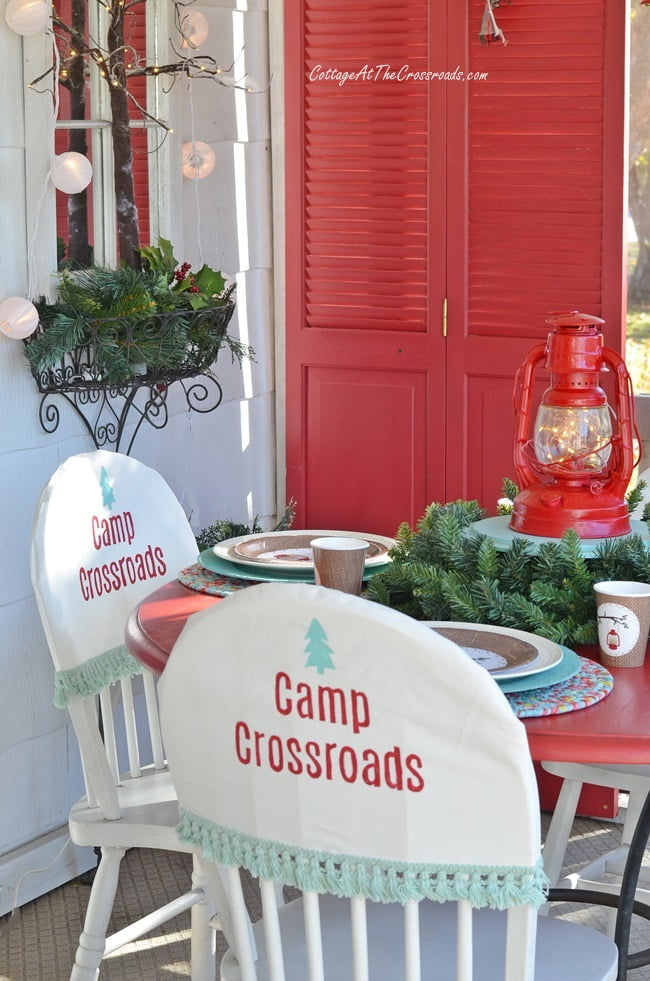 We actually use paper plates at Christmas when we have our large family gathering.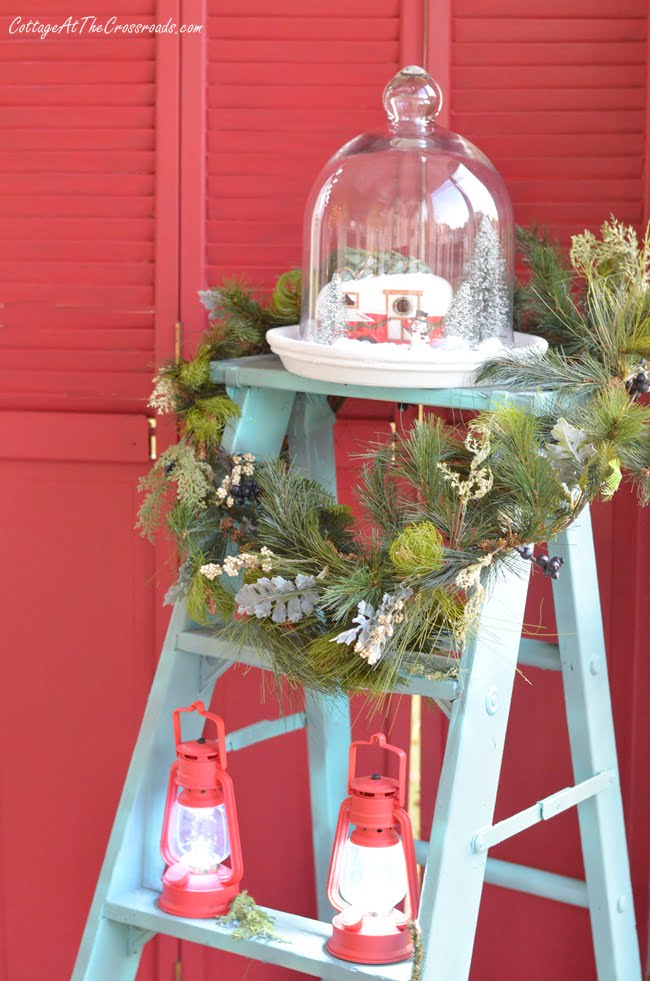 The old ladder that is in the corner got decorated with more red lanterns and a vintage camper under a cloche.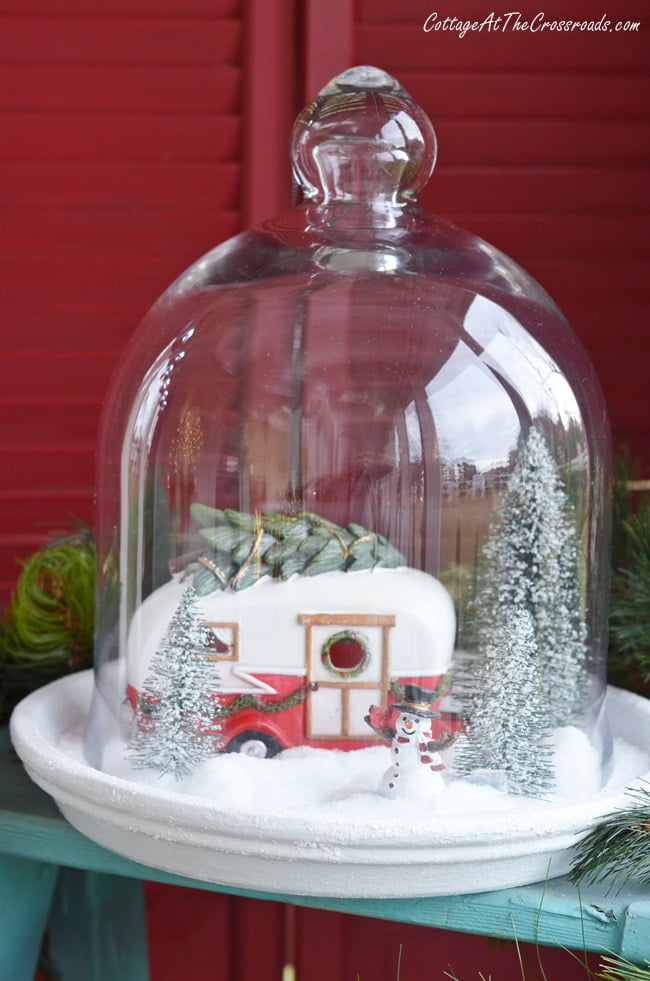 You can't see it in the photo but the camper lights up, too, and reflects on the Epsom salt snow.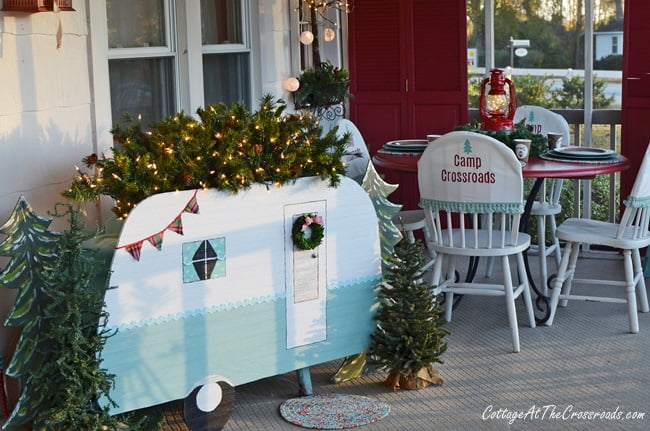 I hope you've enjoyed seeing our vintage camper Christmas porch! I had so much fun putting it all together, and I can't wait until the grandgirls see it in person.
Today I'm joining some of my blogging friends who are sharing their Christmas decorated porches. Click on any of the links below to see more porch tours today and come back tomorrow to see even more!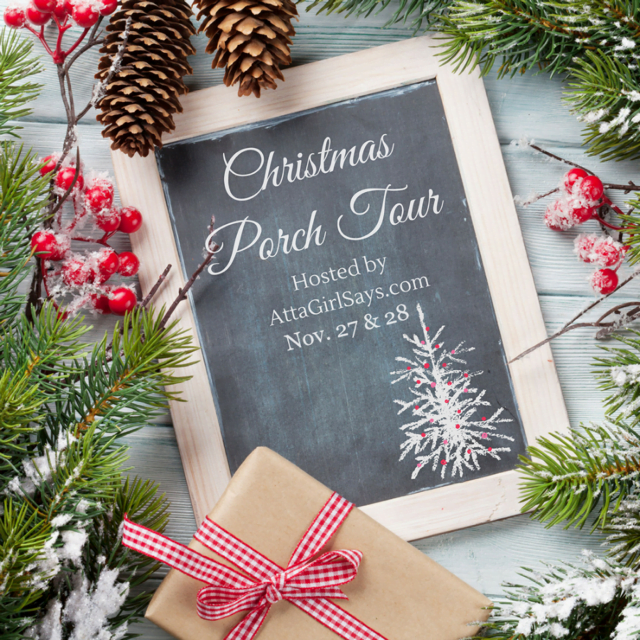 Prepared to be inspired with these festive Christmas decorating ideas for your front porch, sunroom, screened-in porch or gazebo.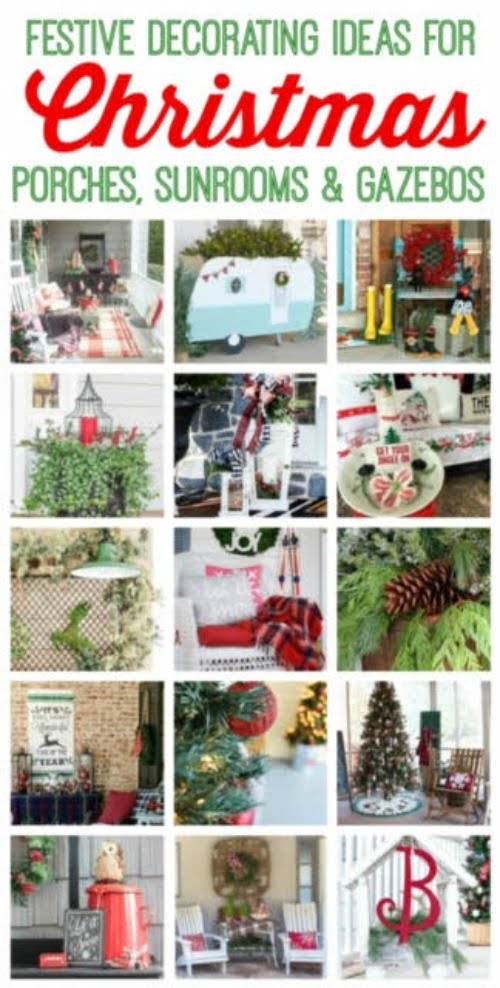 Monday, Nov. 27
Atta Girl Says
My Thrift Store Addiction
House of Hawthornes
Sweet Pea
Cottage at the Crossroads
Worthing Court
Tuesday, Nov. 28
Petticoat Junktion
Postcards from the Ridge
Robb Restyle
Our Southern Home
My Creative Days
2 Bees in a Pod
StoneGable