In this post, you'll find the directions on how to make an inexpensive but super cute rag wreath.
Earlier this year, my sister-in-law and I made some red and white rag wreaths that we used as centerpieces at our local Civitan golf tournament fundraiser. A few of you had asked if I would provide the directions on how to make a rag wreath.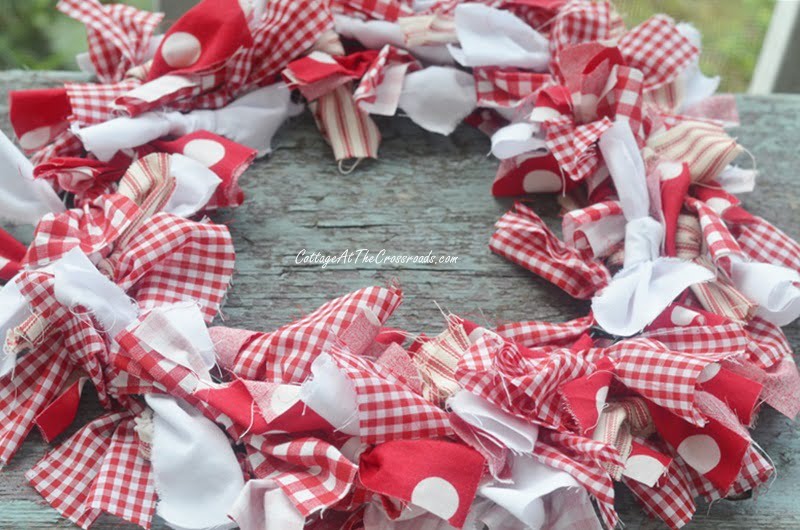 A rag wreath is very easy to make. Once you get your supplies together, you can put one together fairly quickly. You can actually watch TV while making your wreath.
I'm going to show you how to make a rag wreath by using one of the red and white ones as an example, but I recently changed it up to serve as a fall wreath for our porch. You'll soon see what I mean.
To make a rag wreath, you will need:
a wire wreath form that can be found at craft stores or the Dollar Tree-they come in different sizes
fabric scraps cut into strips-I made mine 3 inches wide and 8 inches long. Medium weight cotton fabric such as quilting fabric works well but this is also a great way to use up old sheets or pillowcases-the amount of fabric that you will need will depend on the size of your wreath form but 1/4 of a yard of each color or pattern is a good start.
scissors
ruler
Steps in making a rag wreath:
Step 1: Using scissors, cut your strips of fabric. Your measurements do not need to be exact nor do your cuts. I created a 3″ x 8″ template out of cardboard.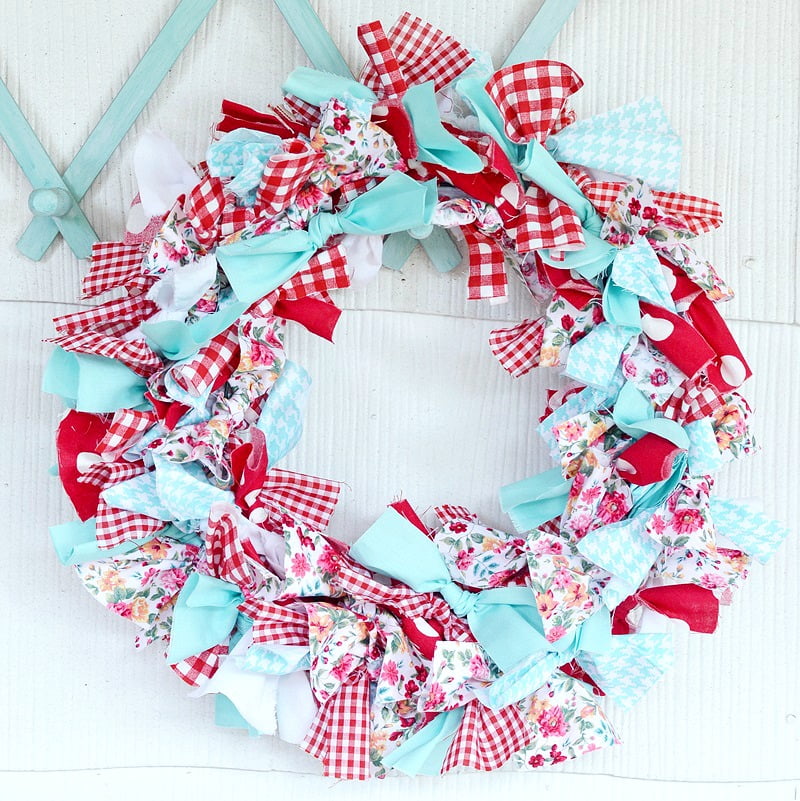 If you don't want your fabric to fray, then you will need to cut your fabric on a bias. But if you don't mind the frayed look, then just cut across the fabric. Personally, I love the frayed look and think that's part of what makes it a rag wreath!
Step 2: Once you get your strips cut, put them in stacks on your work surface.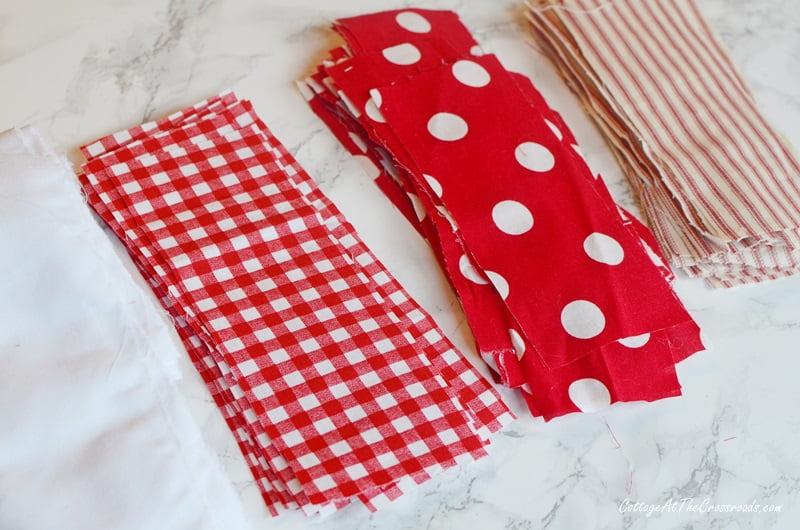 Step 3: Place your wire wreath form on your work surface.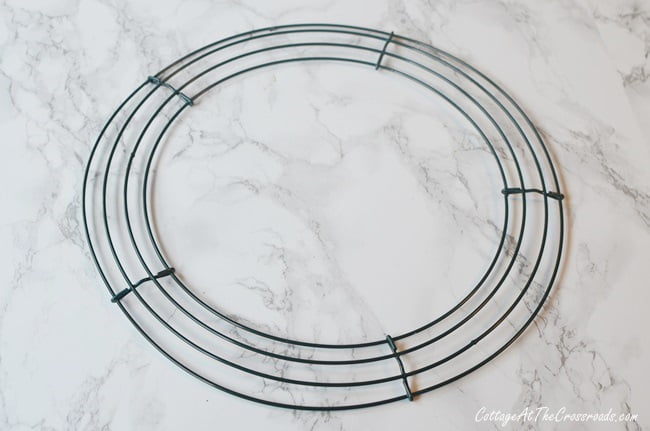 Step 4: Take one strip, fold it in half, and place it under one wire. Pull the ends through and tie a knot.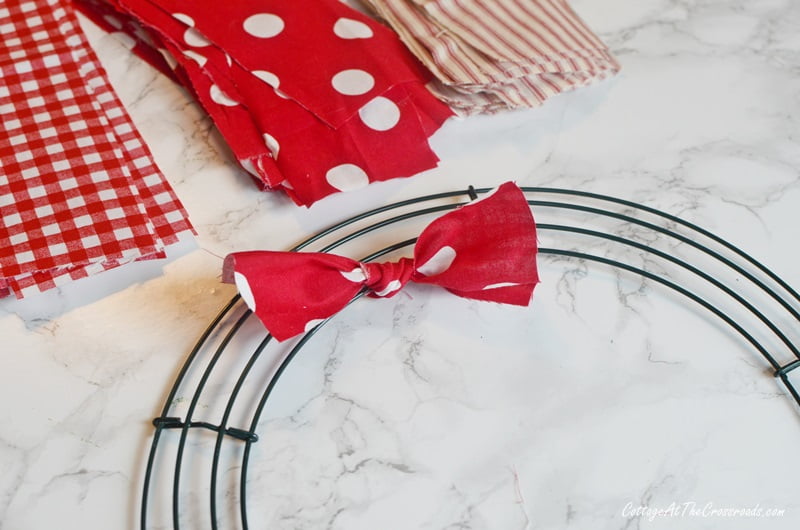 Step 5: Repeat the process (over and over) and push the knotted strips together as you are working to create a full look.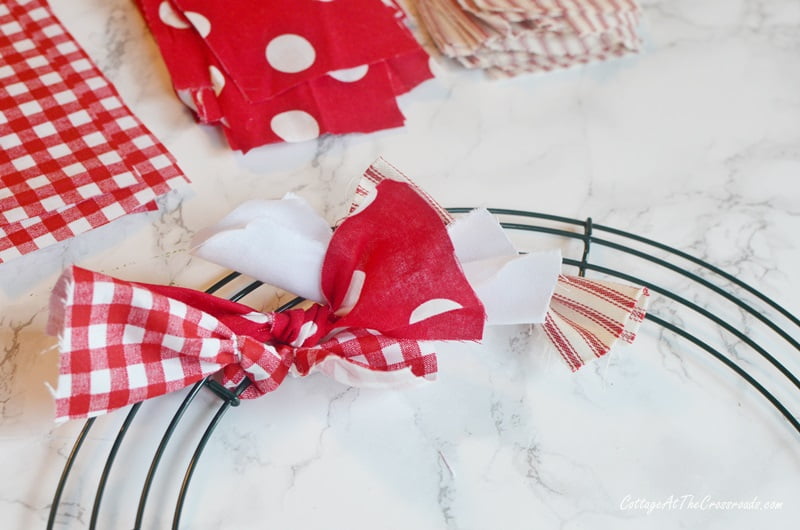 And that's it! I told you it was super easy to create a rag wreath! The hardest part is deciding what fabrics and colors to use in making one.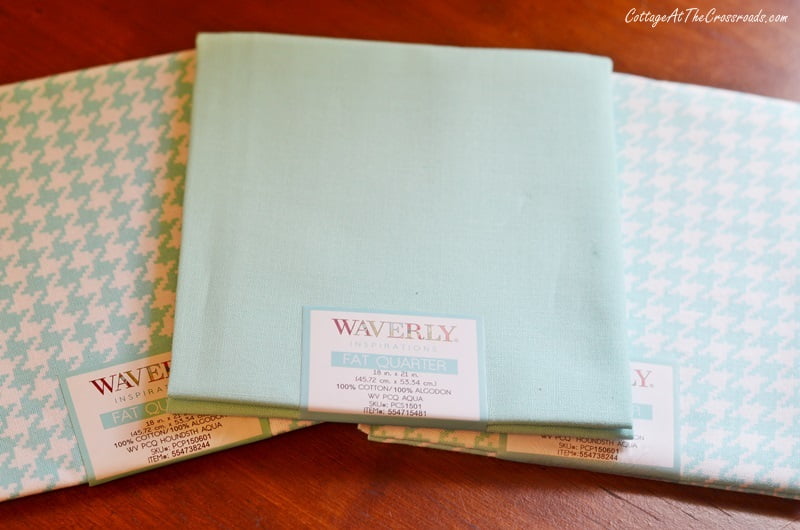 So this week, I decided that I was going to take one of the red and white wreaths and add some aqua fabrics into it to create a base for an early fall wreath. I purchased these 3 fat quarters from Walmart.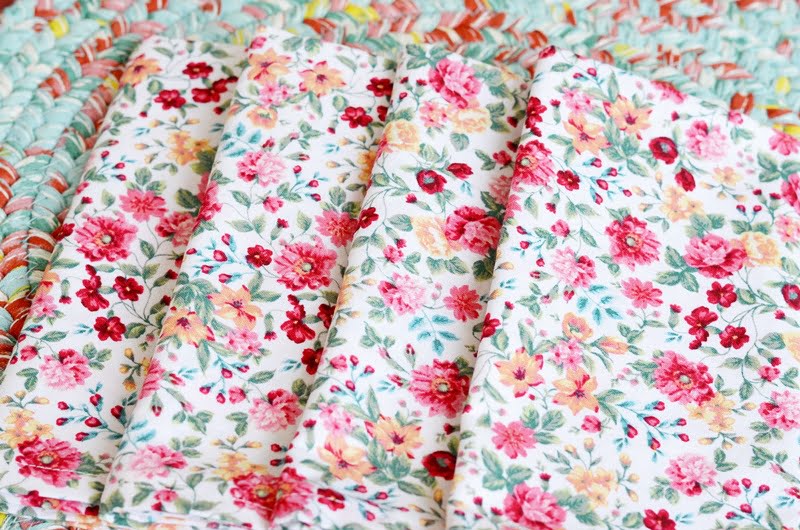 And I used some fabric that I had left over from these fabric napkins.
If you are a regular reader, then you know that one of my thrifty ways of decorating is to use an object one season and then change it up to use during the next season.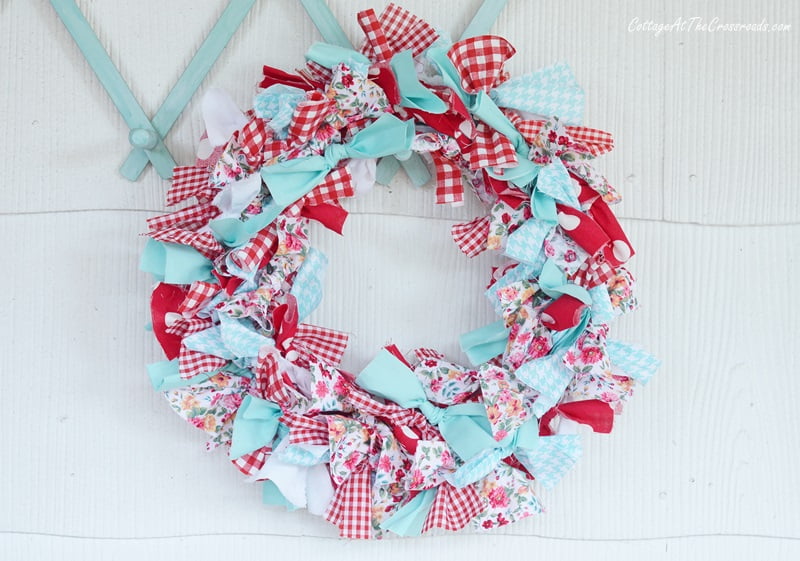 Look! Now I have an aqua and red rag wreath for the front porch! I haven't quite finished with it but it will serve as the base of my fall wreath. And who knows? It may hang around for Christmas!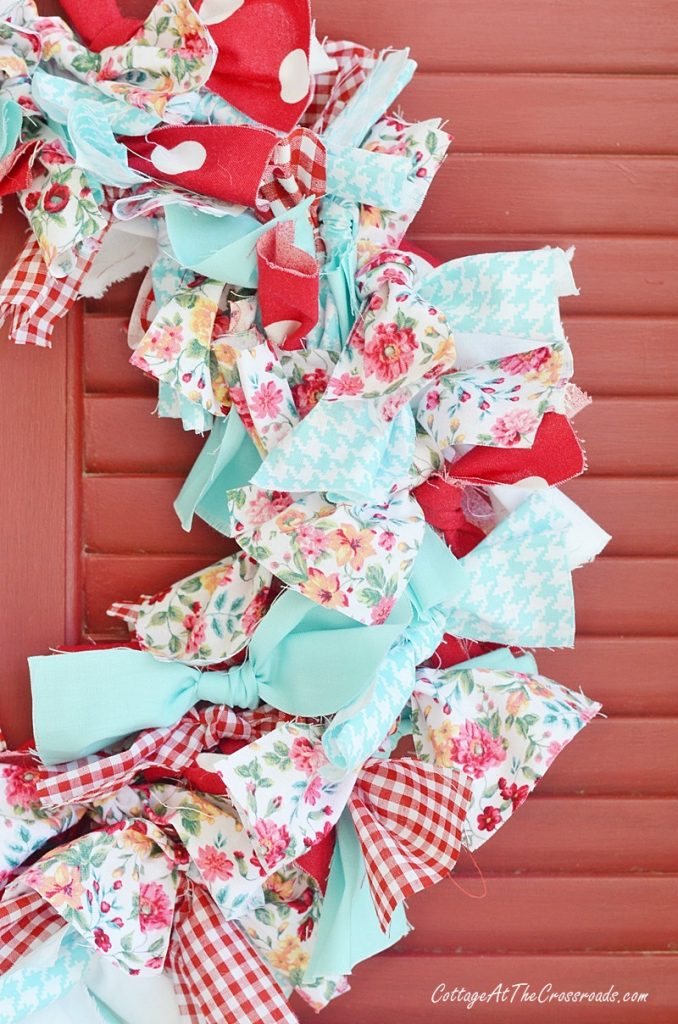 Here you can see the combination of fabrics a little better.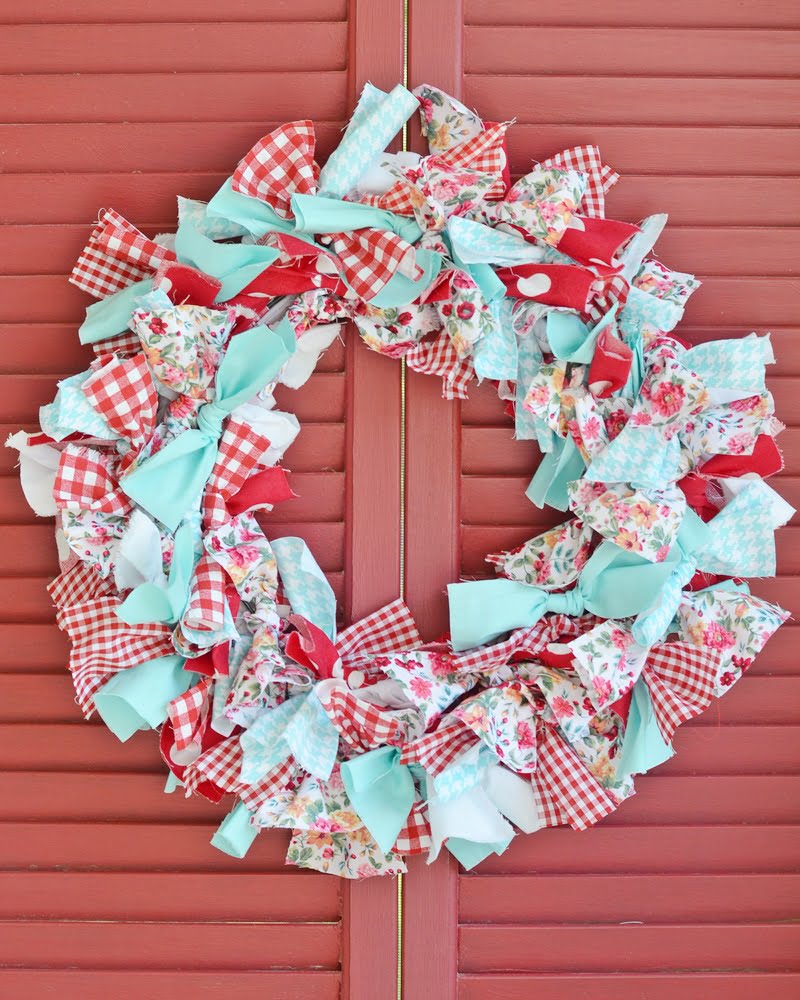 Such a fun, inexpensive, early fall craft.
It's so easy that you can even get older kids involved, and it would make a great gift for someone who loves a farmhouse or country cottage look!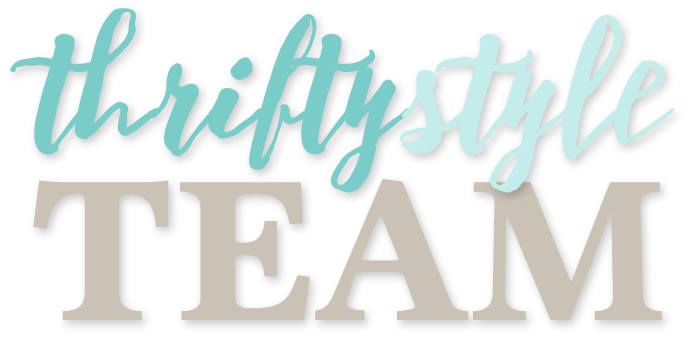 And I have more thrifty home decor ideas for you today from the Thrifty Style Team. Grab a cuppa and check them out!