You'll find lots more tablesetting ideas in this second post about our church's tablescape fundraiser.
I'm back, as promised, with part 2 of our 2018 tablescape fundraiser post! I was so delighted that so many of you said that you enjoyed seeing the beautifully decorated tables in part 1. If you missed that post, you can see it here: Our 2018 Tablescape Fundraiser.
Today I'm continuing to show the tables in numerical order. The next one up is Table #9.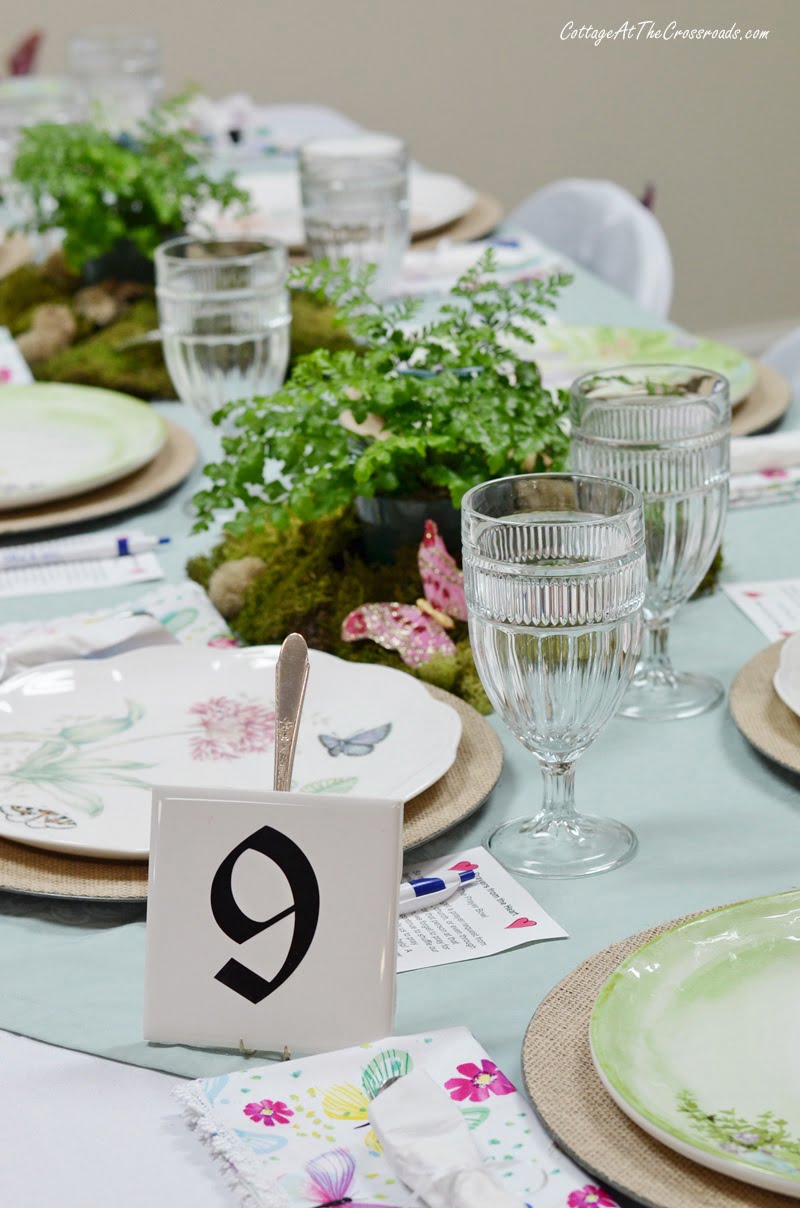 The theme of this tablescape was a butterfly meadow.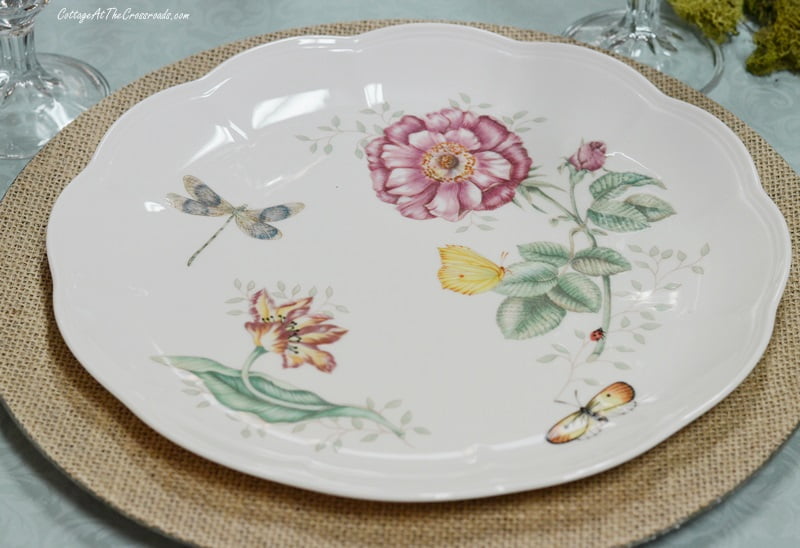 The theme was inspired by the name of the china used in the tablescape which is Butterfly Meadow by Lenox.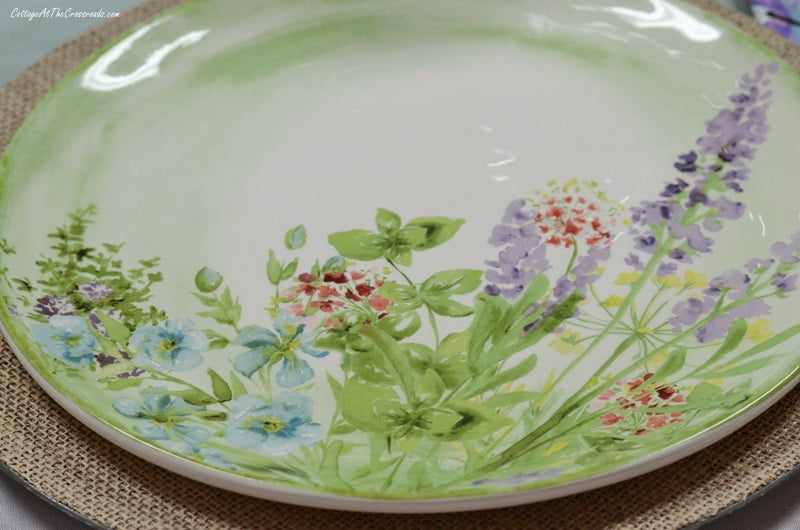 What was interesting is how these floral plates were alternated with the Butterfly Meadow plates on the table.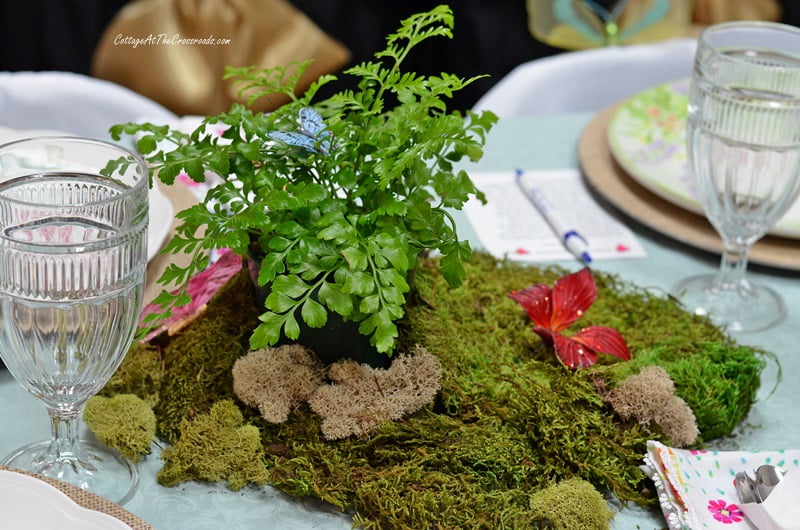 Two "meadows" were created with moss and ferns.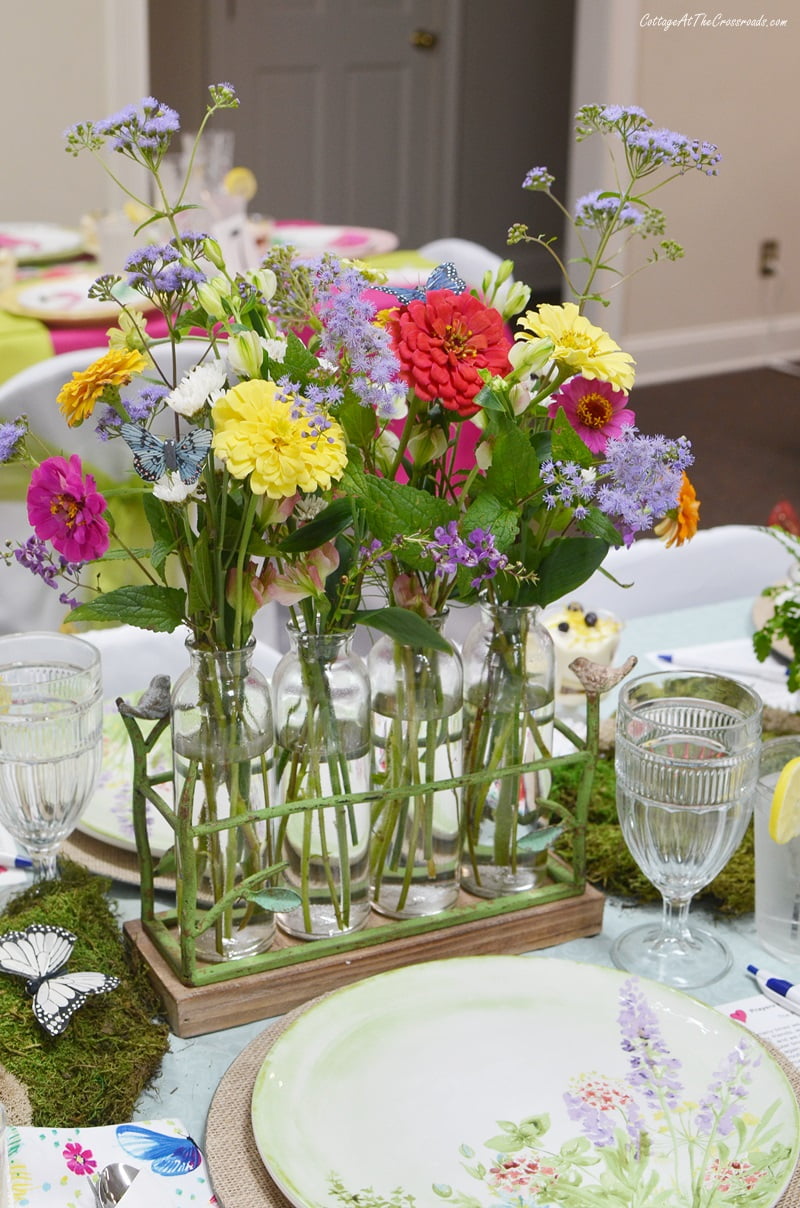 The flowers used in the centerpiece were ones that would be found in a meadow.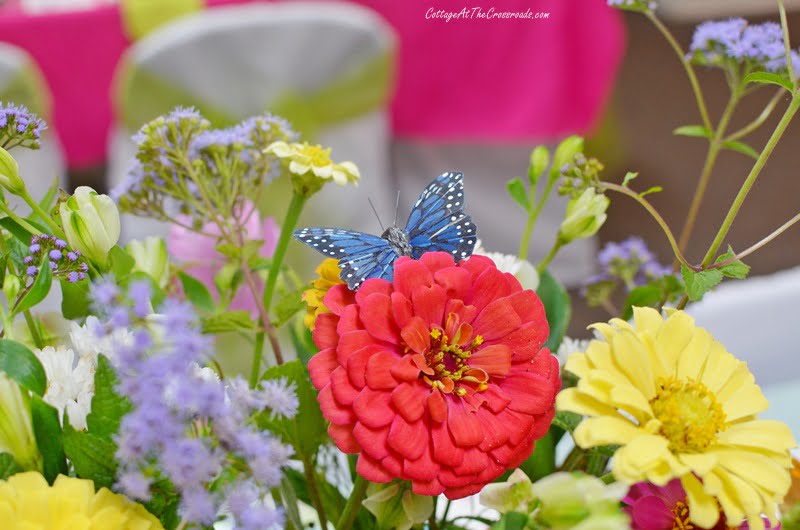 A pretty butterfly landed on that red zinnia!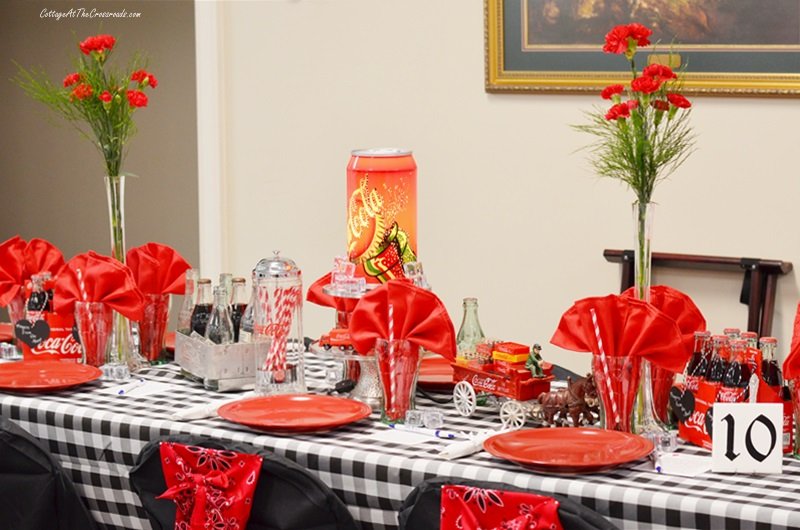 Table 10 had a fun Coca-Cola theme done in a red and black color scheme.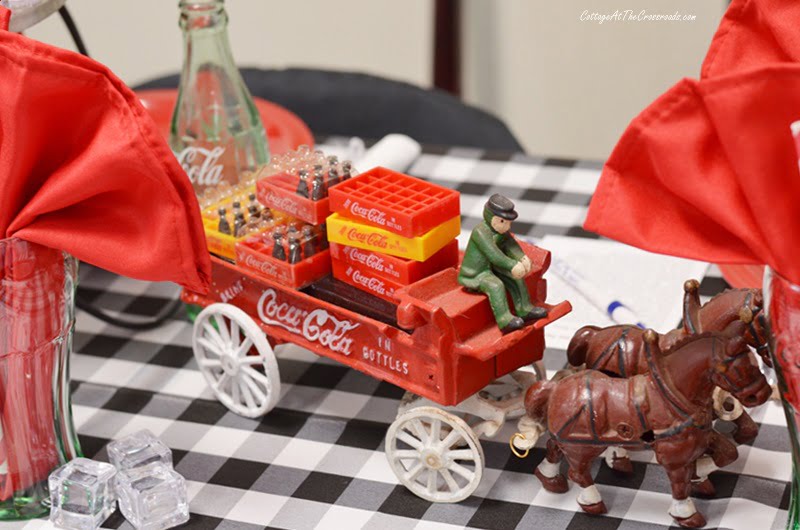 Featured on this table were Coca-Cola collectibles such as this cast iron horse drawn wagon carrying cases of the world famous soft drink!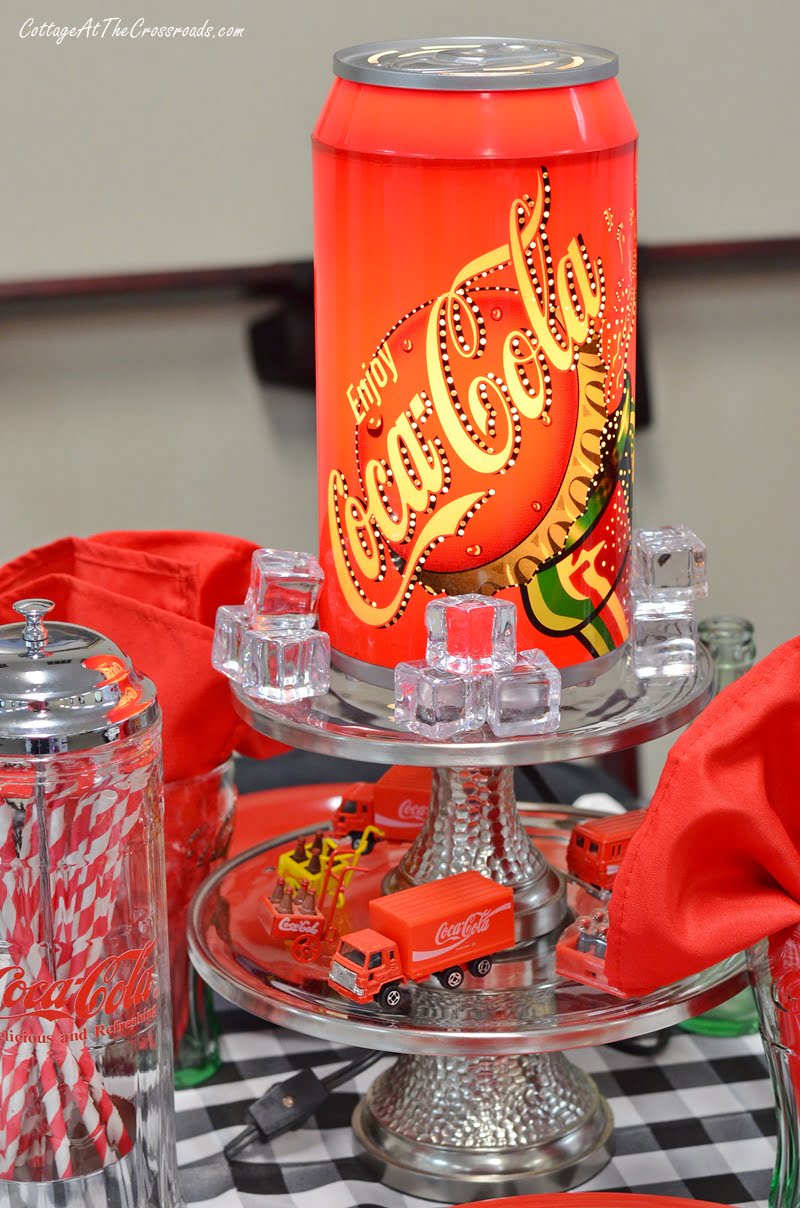 The centerpiece was very eye-catching with this lighted lamp that rotated on the inside.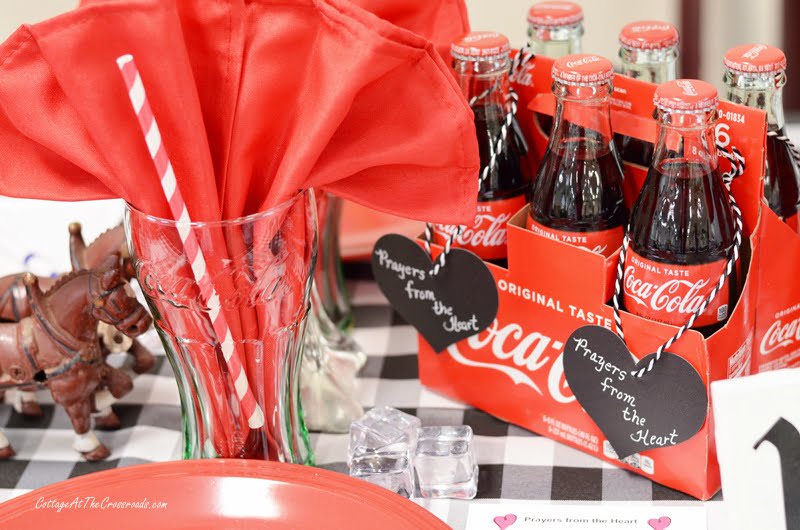 Who doesn't love a six pack of the small bottles of classic Coca-Cola?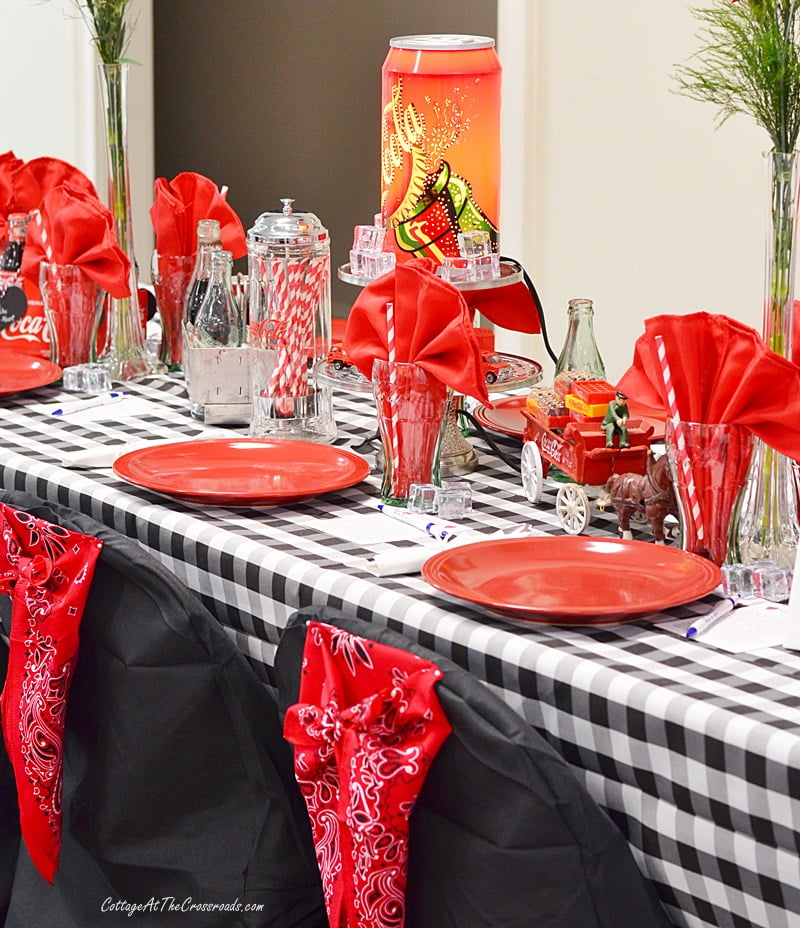 Red bandanas were creatively tied onto the back of the black chair covers.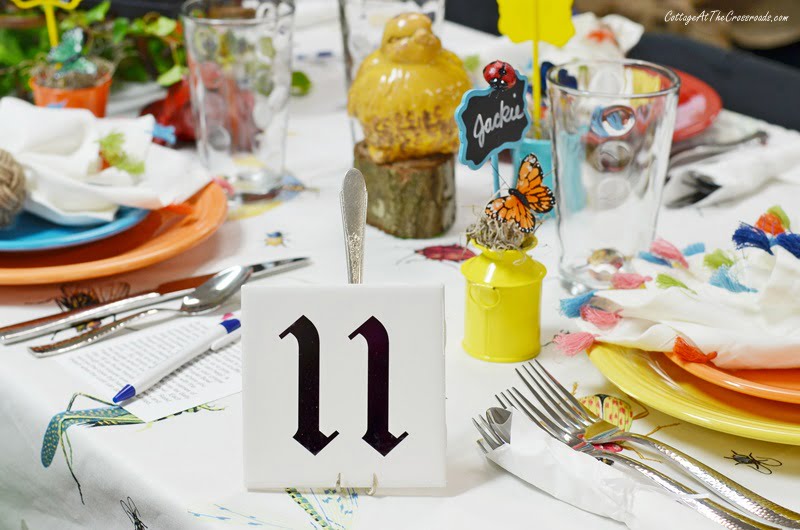 Table 11 had a cute and colorful insect theme.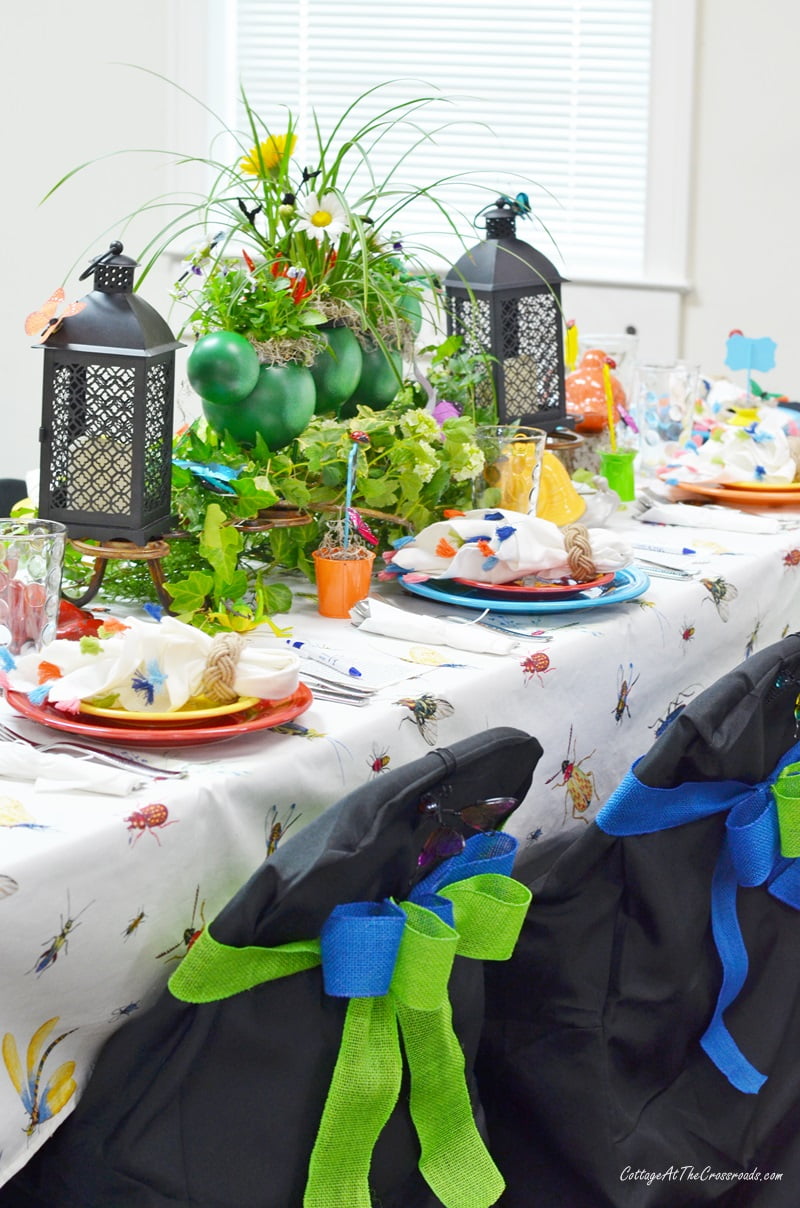 The inspiration for this tablescape came from this unique tablecloth that was given to the person that decorated the table. Fiestaware complimented the colorful bugs.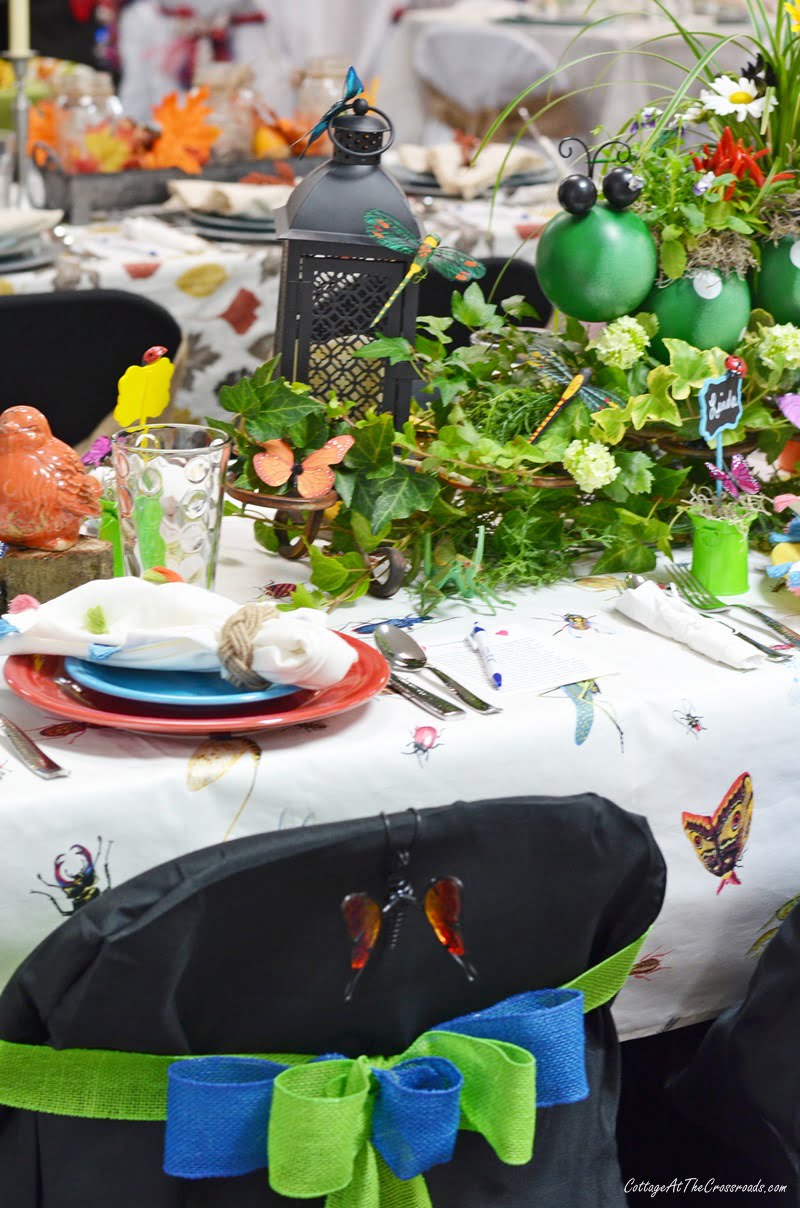 Plenty of insects and colorful sashes made such an interesting table.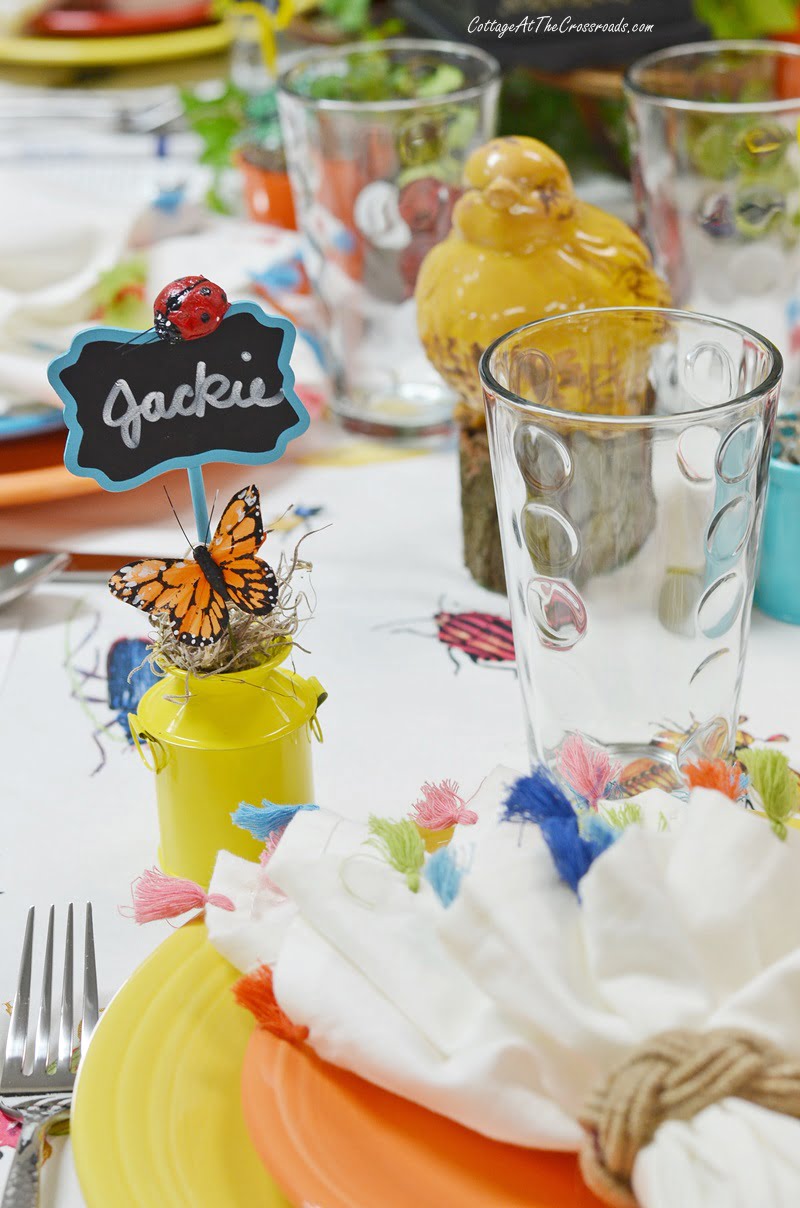 Ladybugs and butterflies adorned these place cards.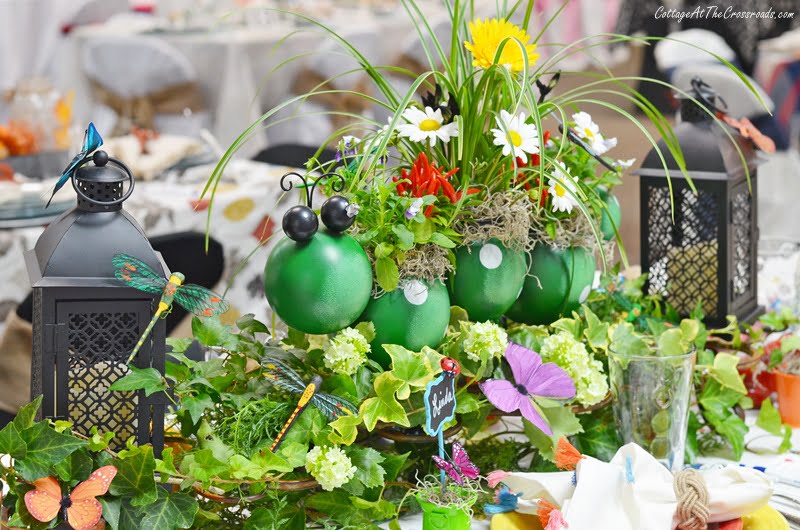 And I don't think you can get much cuter that this floral centerpiece placed in the catepillar planter!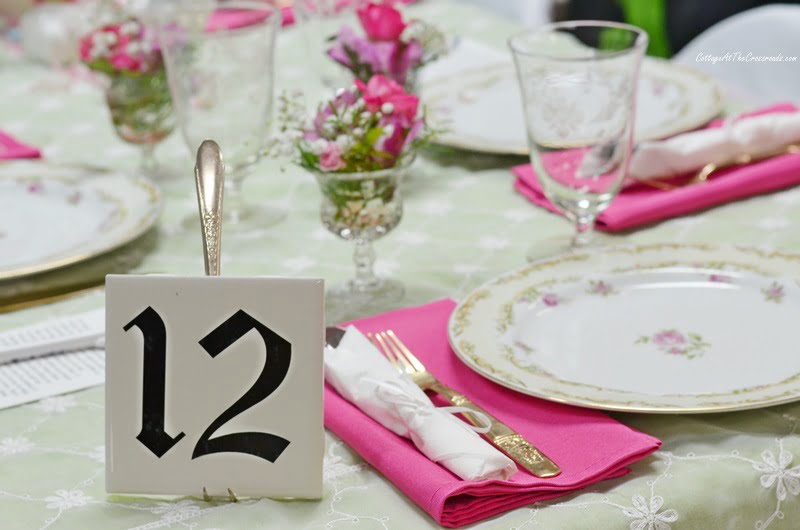 Easter was the theme for Table 12.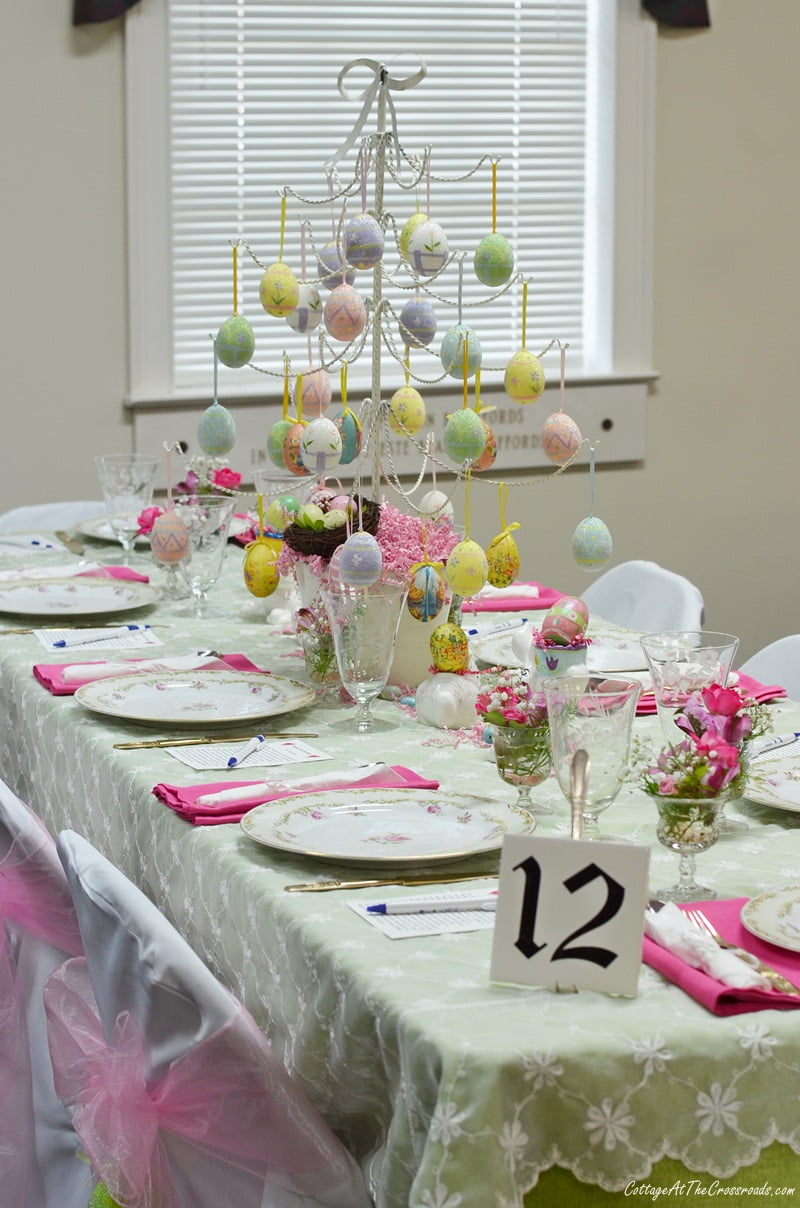 A beautiful Easter tree with pretty pastel eggs was used for the centerpiece. I wish I'd gotten the name of this delicate looking china that was used on the table. And that lacy overlay was so pretty over the green tablecloth.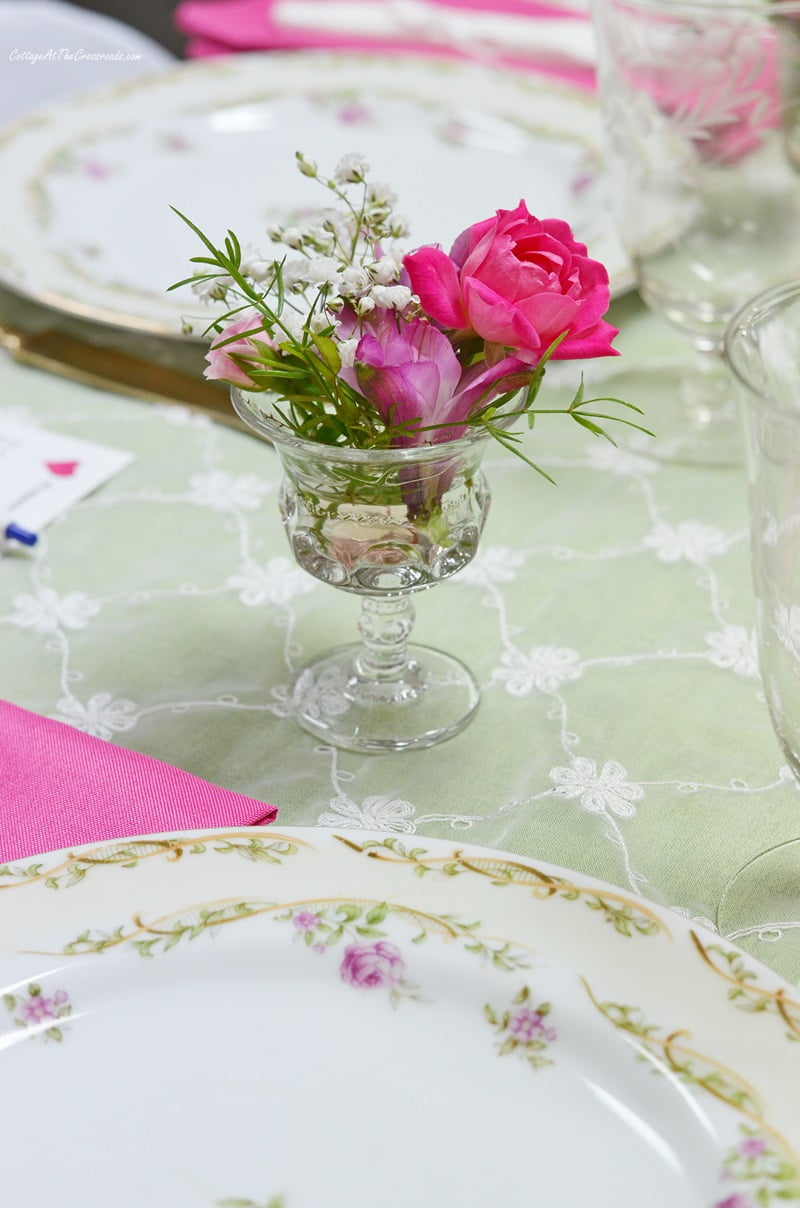 At each place setting were coordinating tiny floral arrangements in cordial glasses.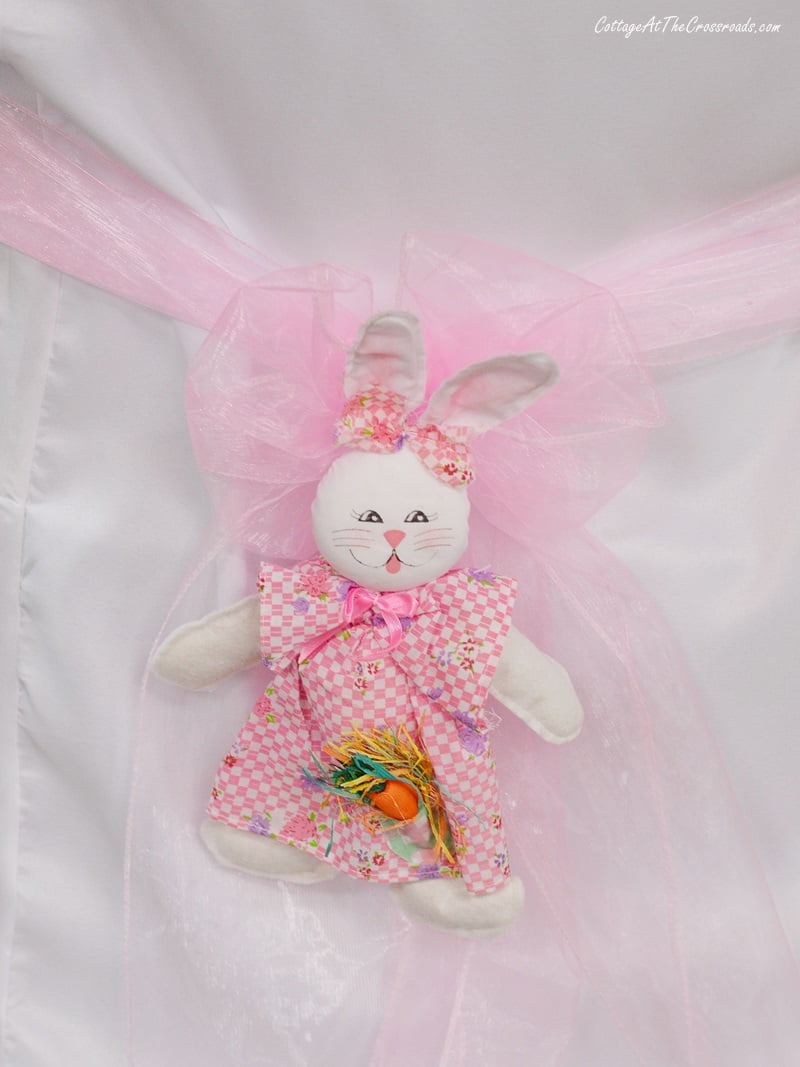 Each chair cover was decorated with Easter items such as this adorable bunny.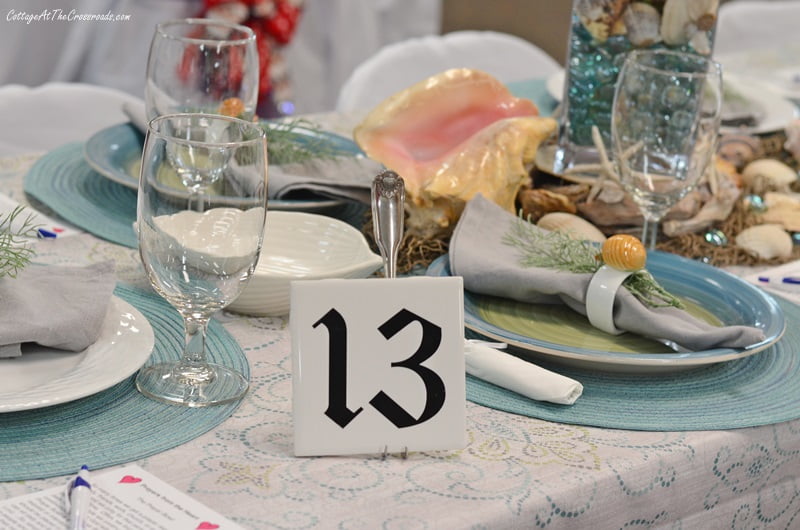 Table 13 had a coastal theme done in shades of blue and natural.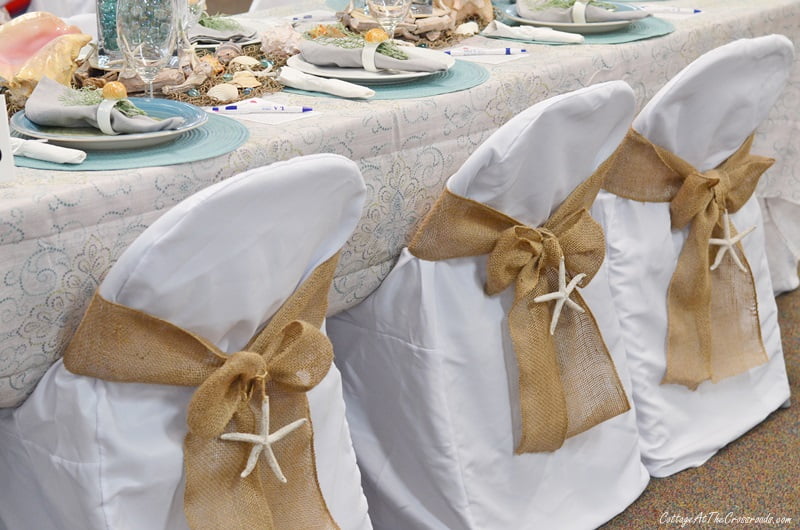 Each chair cover was simply decorated with a starfish.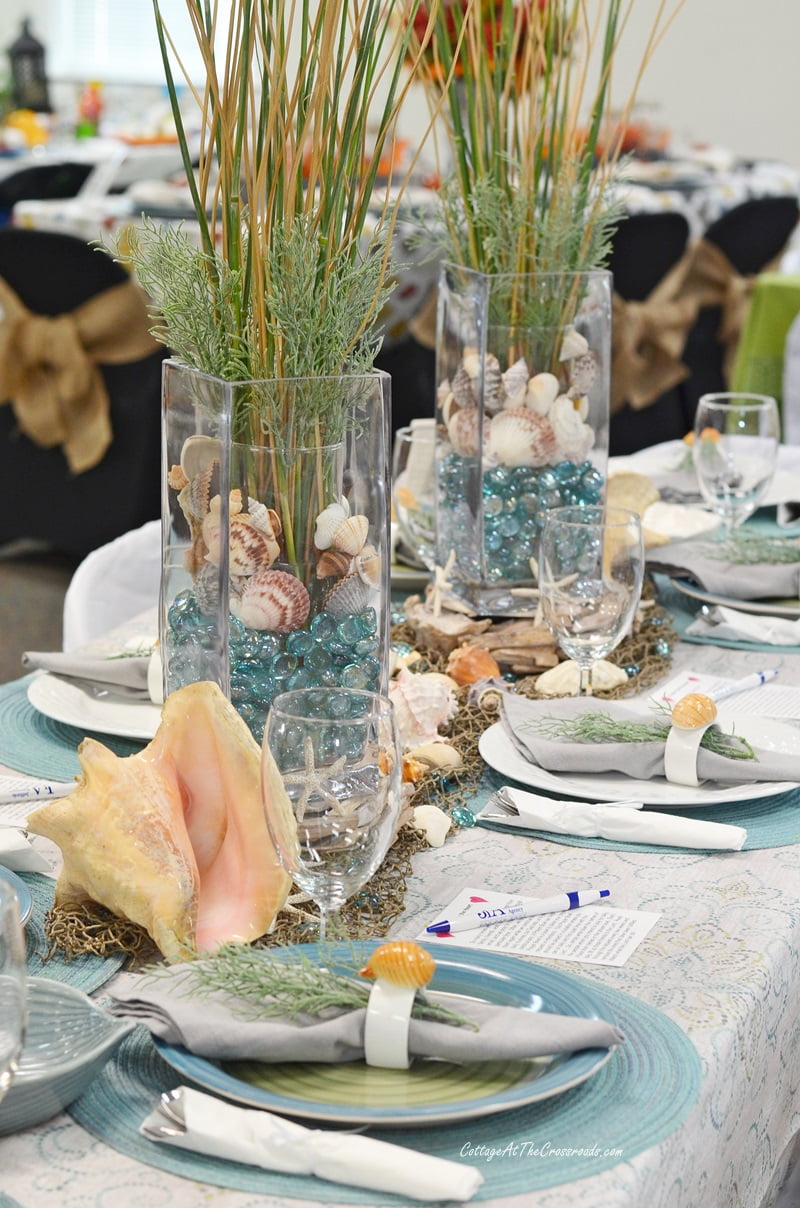 Two large glass containers served as centerpieces along with a fish net covered with seashells.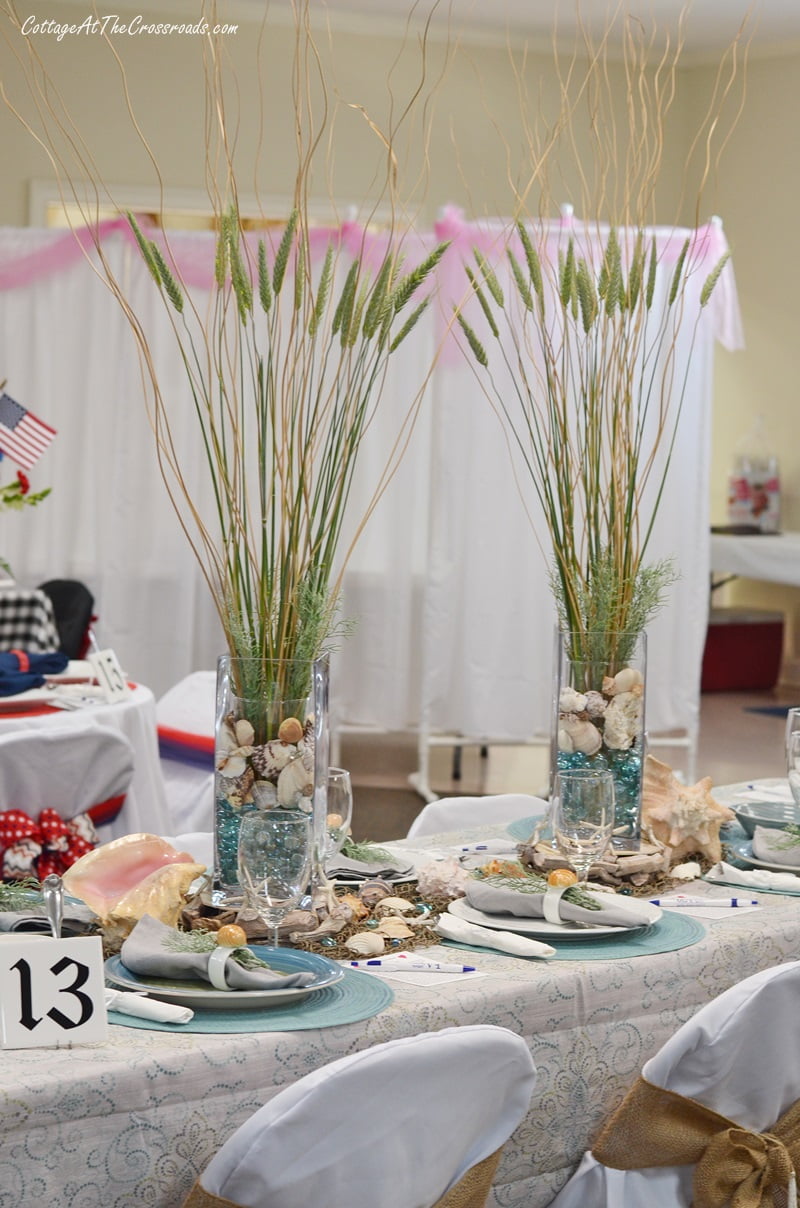 The tall grasses and branches were striking in the glass containers.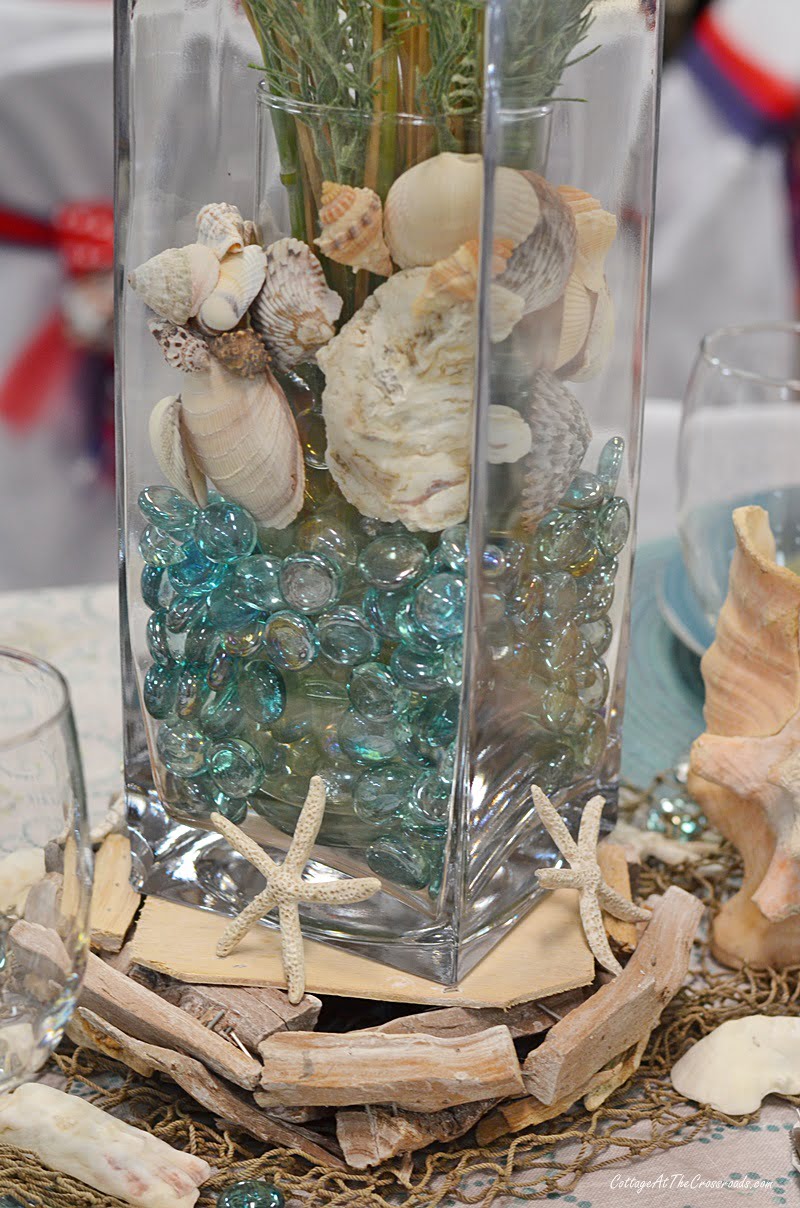 Driftwood bases for the centerpieces elevated them even more in such a good way.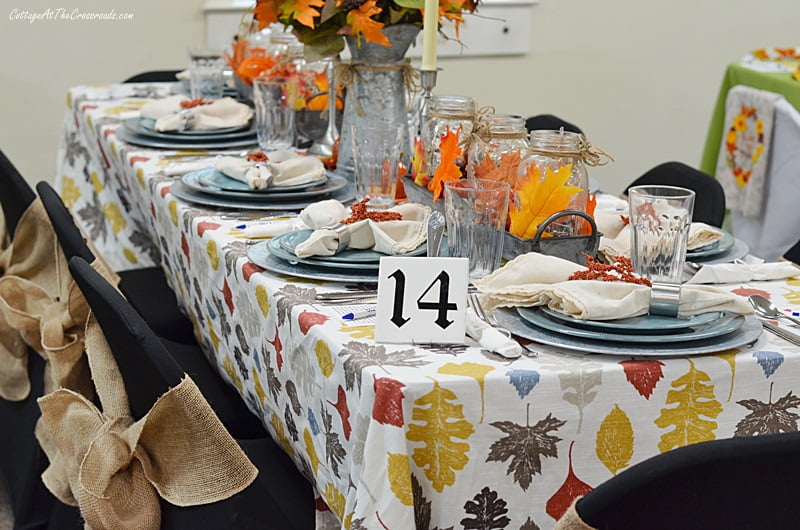 Table 14 had a farmhouse fall theme.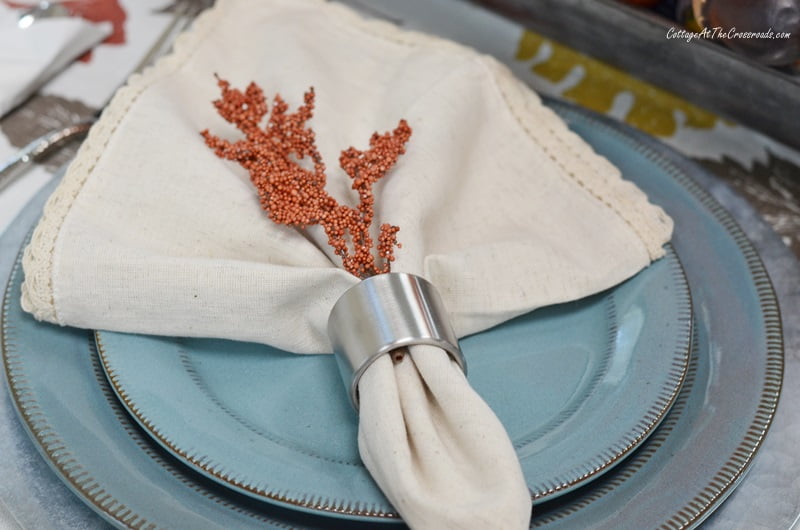 Although you cannot see them very well, galvanized chargers were underneath the casual blue plates. A little autumn accent was tucked into the napkin.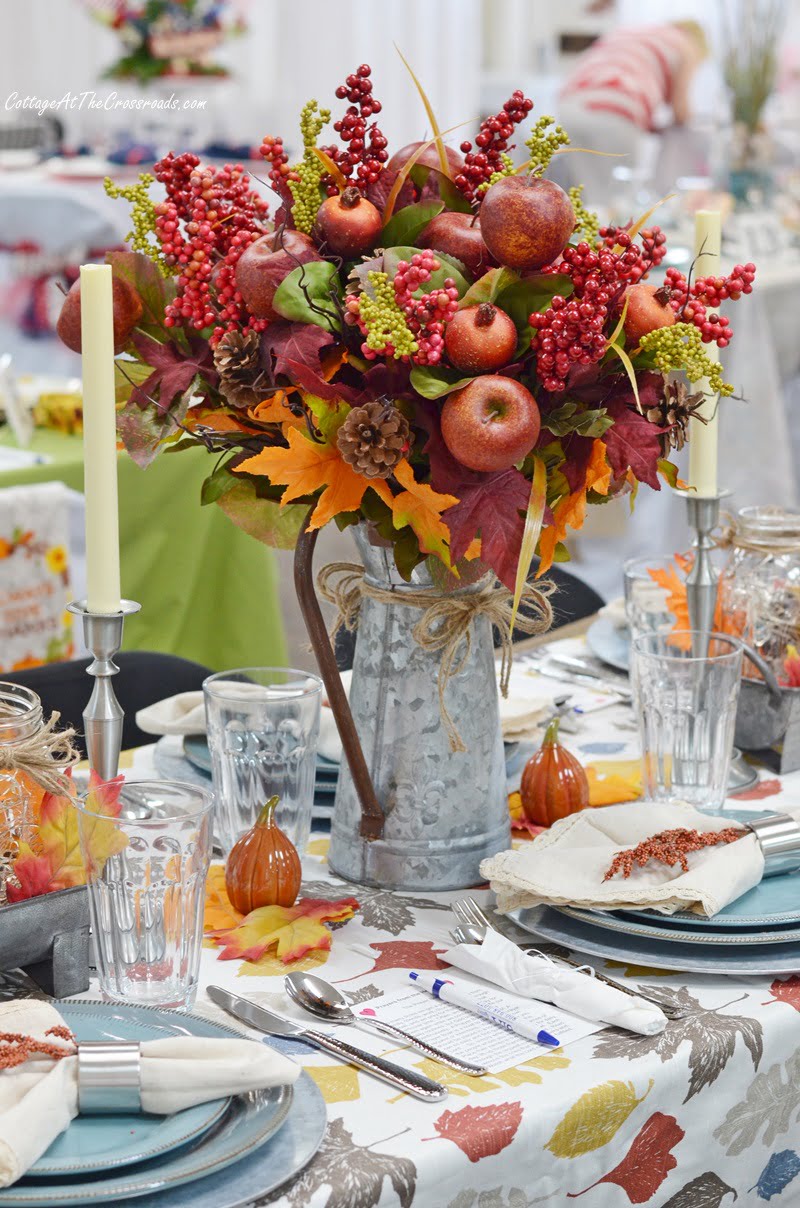 A floral and apple centerpiece in a galvanized pitcher echoed the beautiful fall colors in the tablecloth.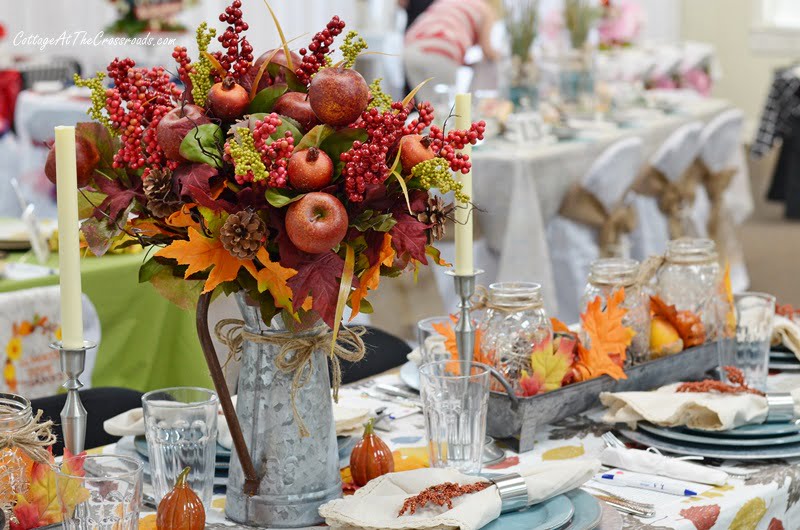 On either side were galvanized containers with light filled mason jars that added to the farmhouse flair.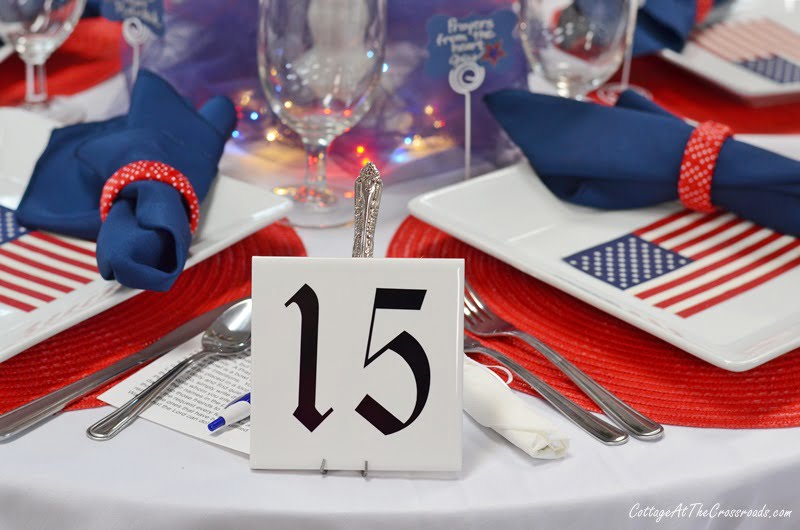 Table 15 had a red, white, and blue patriotic theme.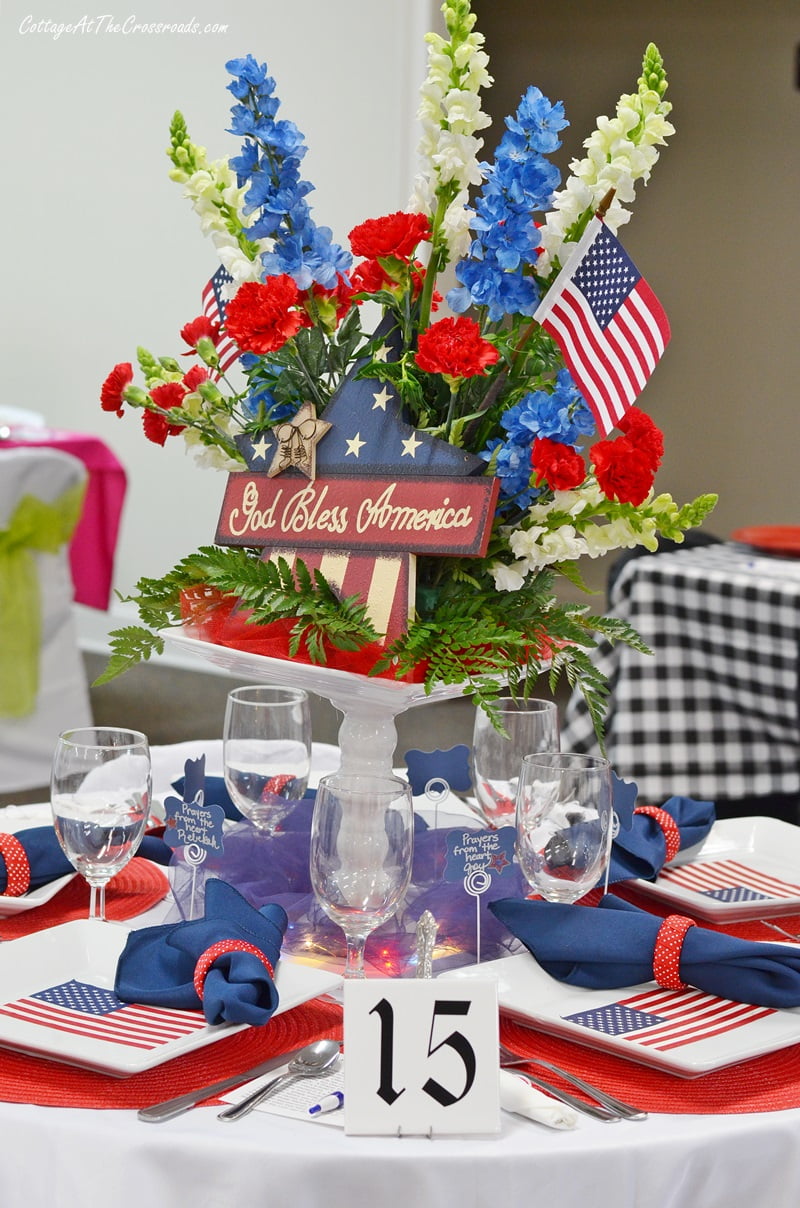 The tall floral centerpiece even held red, white, and blue flowers.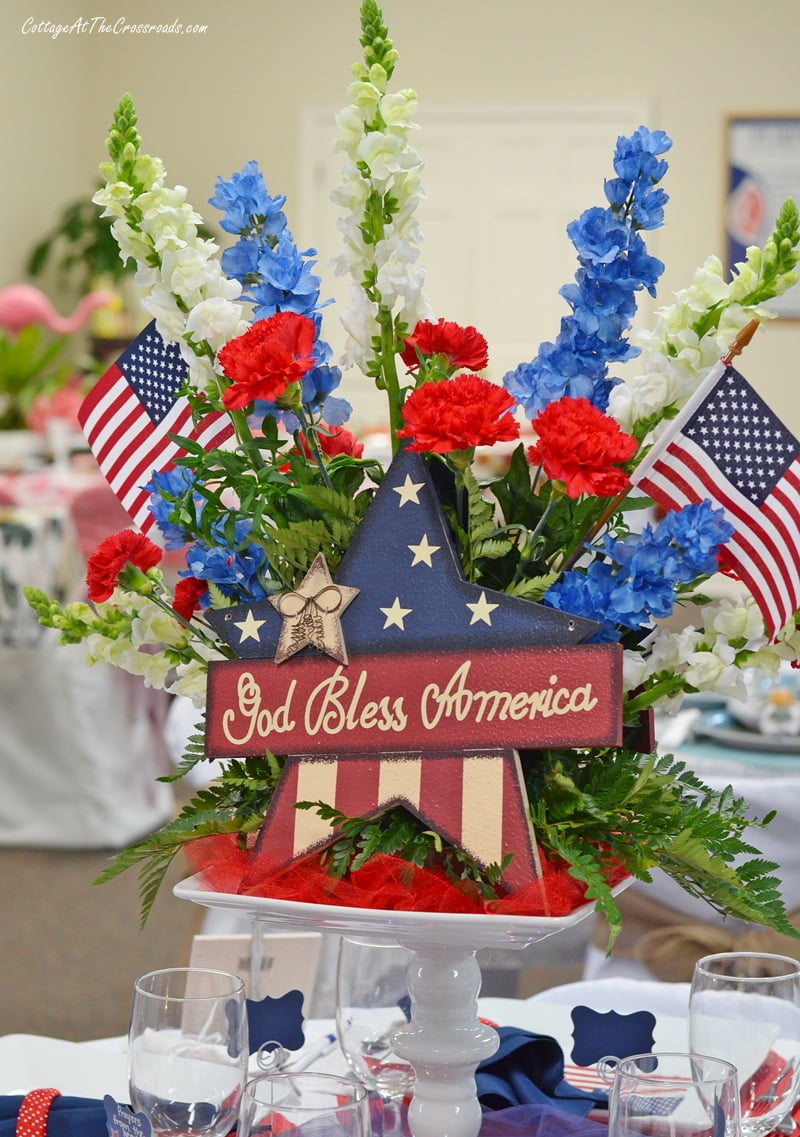 American flags in the centerpiece as well as on the plates contributed to the patriotic theme.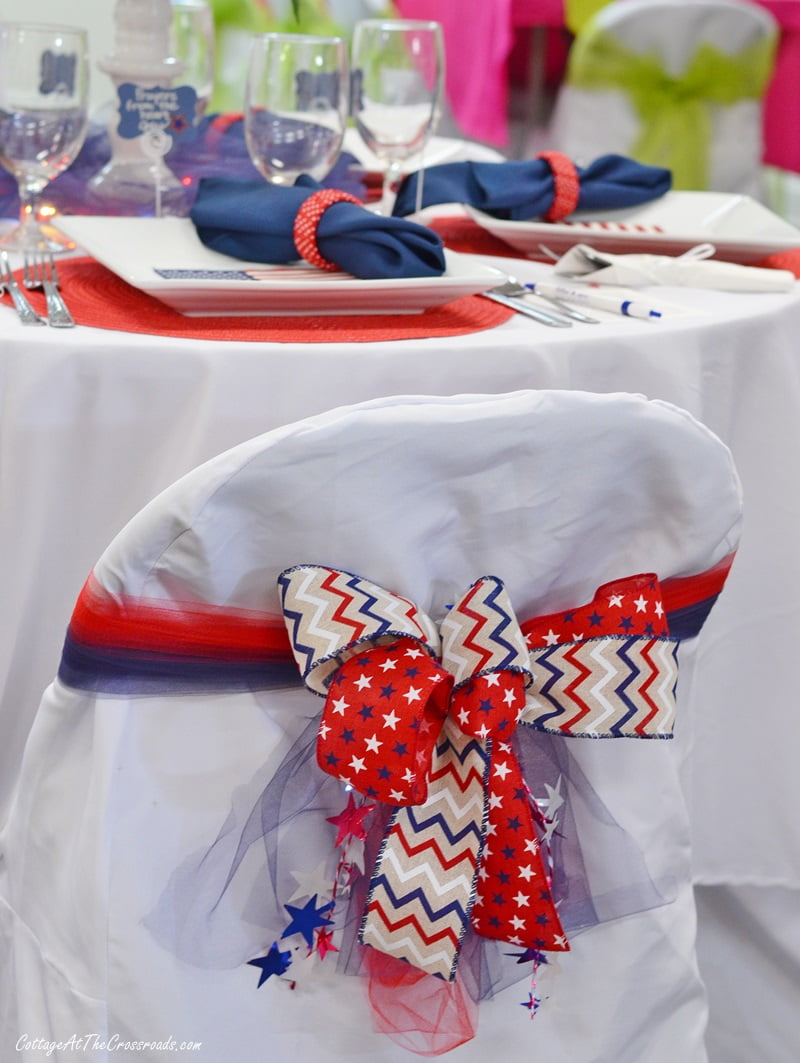 And the chair cover decorations were celebratory and eye-catching.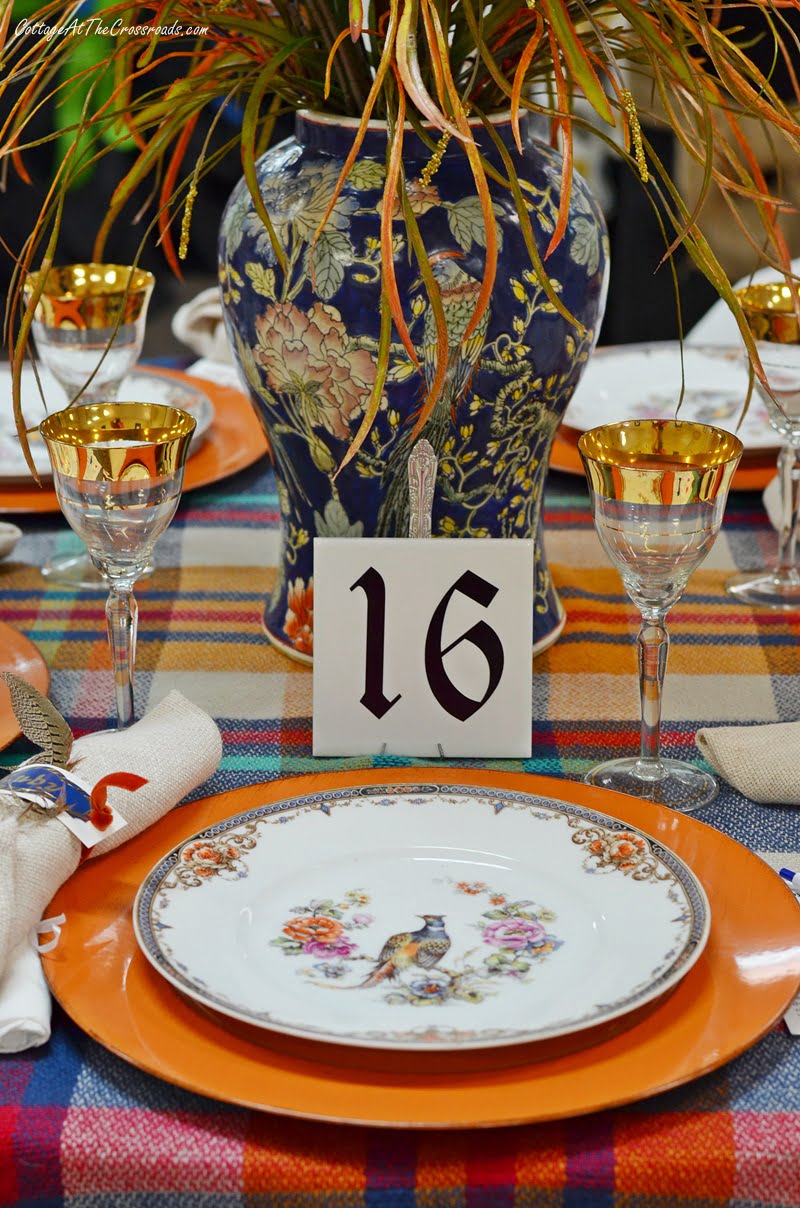 Table 16 was the other table that my sisters-in-law and I did. It had an orange and navy autumn theme.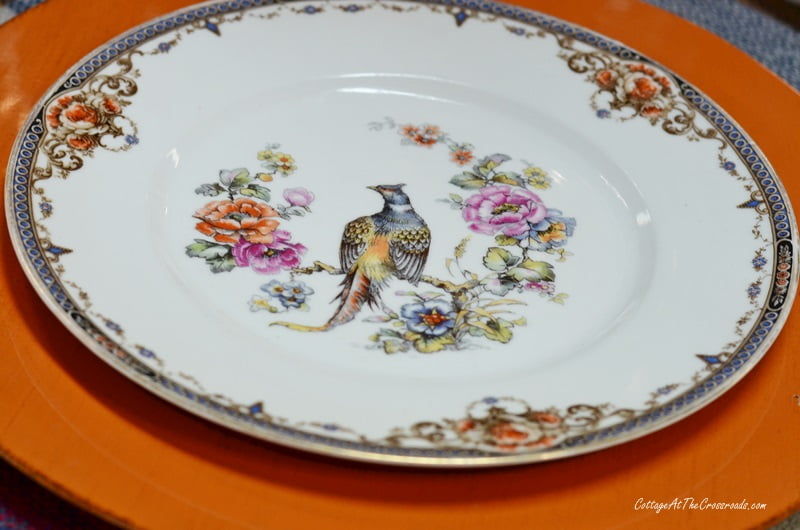 The inspiration for the table was this vintage china called Pheasant by Sommer & Matschak that my SIL Jean has been collecting. We didn't even know she had it until she pulled it out one day this summer when we were deciding on themes for our tables.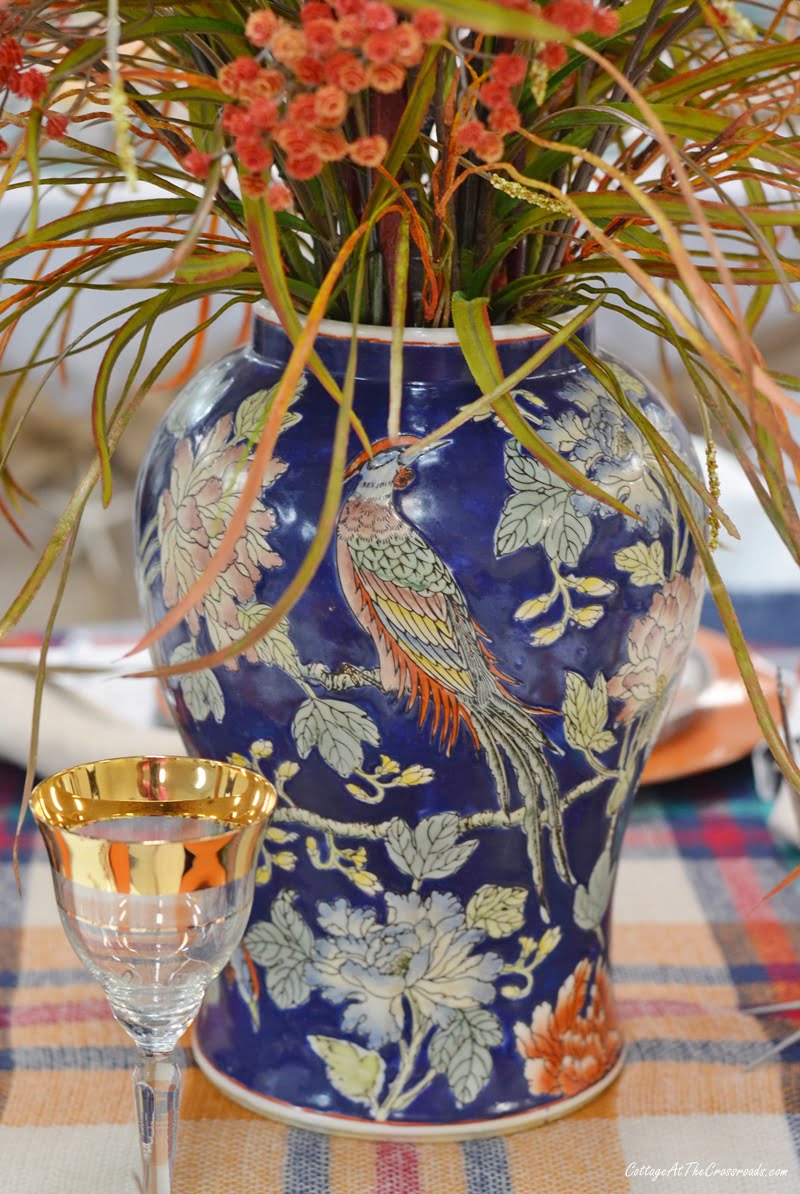 We were going to use two stuffed pheasants on this table but they didn't fit. So I happened to spy this vase in Jean's house with the same colors and a.....pheasant!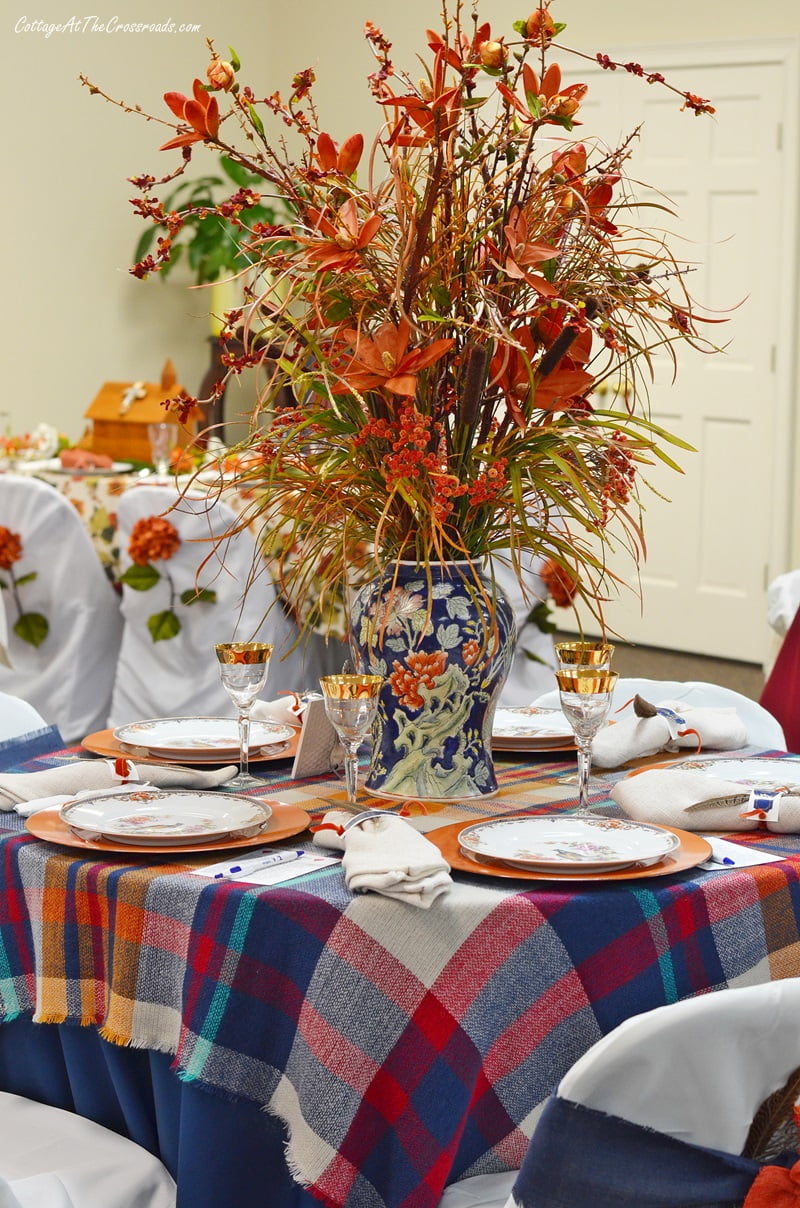 The plaid table cover is actually a blanket scarf that gives a warm, cozy feel to the table.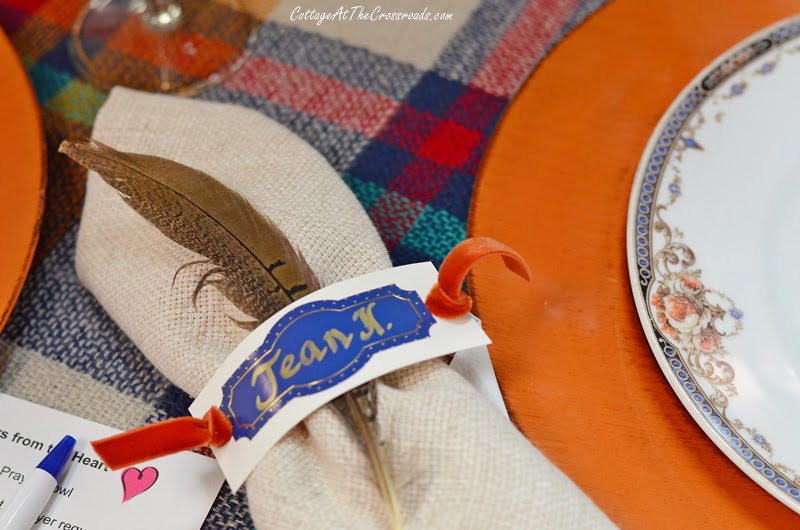 Pheasant feathers were tucked into the place card napkin rings.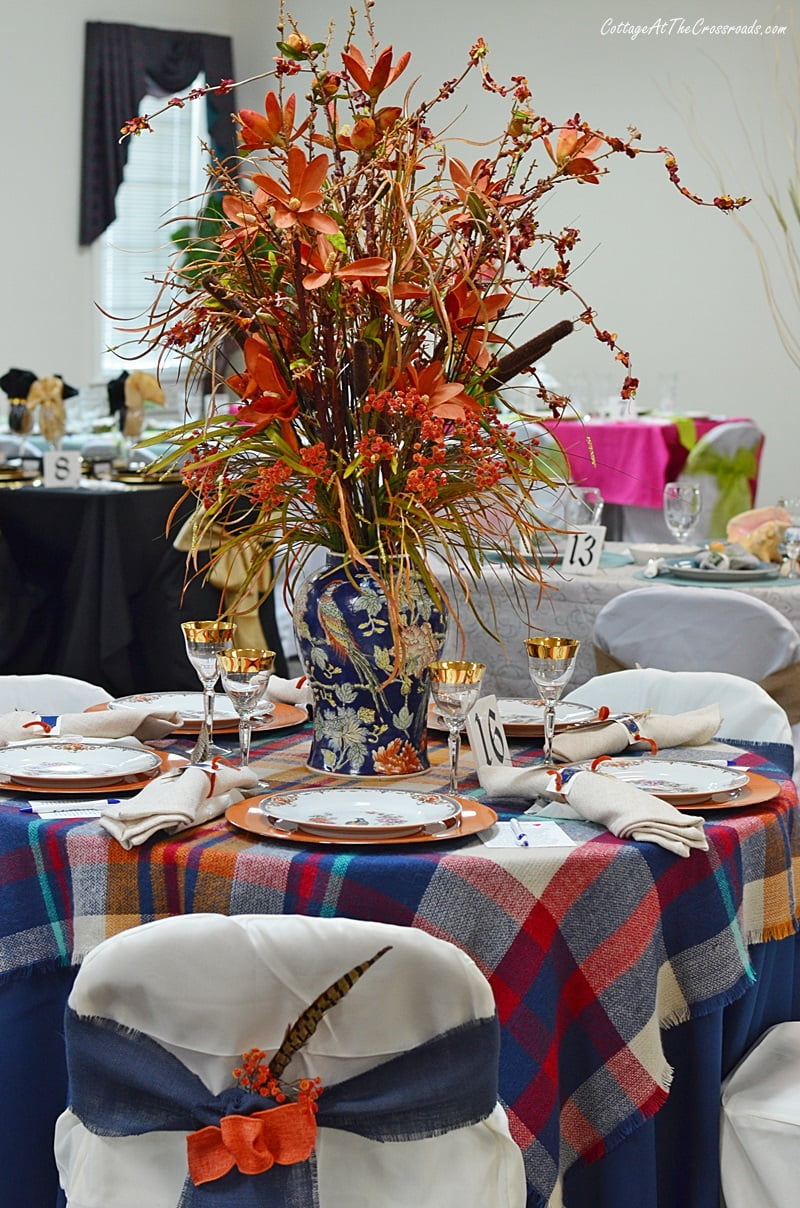 And the chair covers had pheasant feathers tucked into the decorations as well.
I'll be back soon with the guest table, and I'll try to put together some guidelines for having a tablescape fundraiser. Many of you have asked for more details about how to put such an event together so I'll get those to you soon.