If you're searching for some new holiday china, then you must see my Balsam Lane tablescape!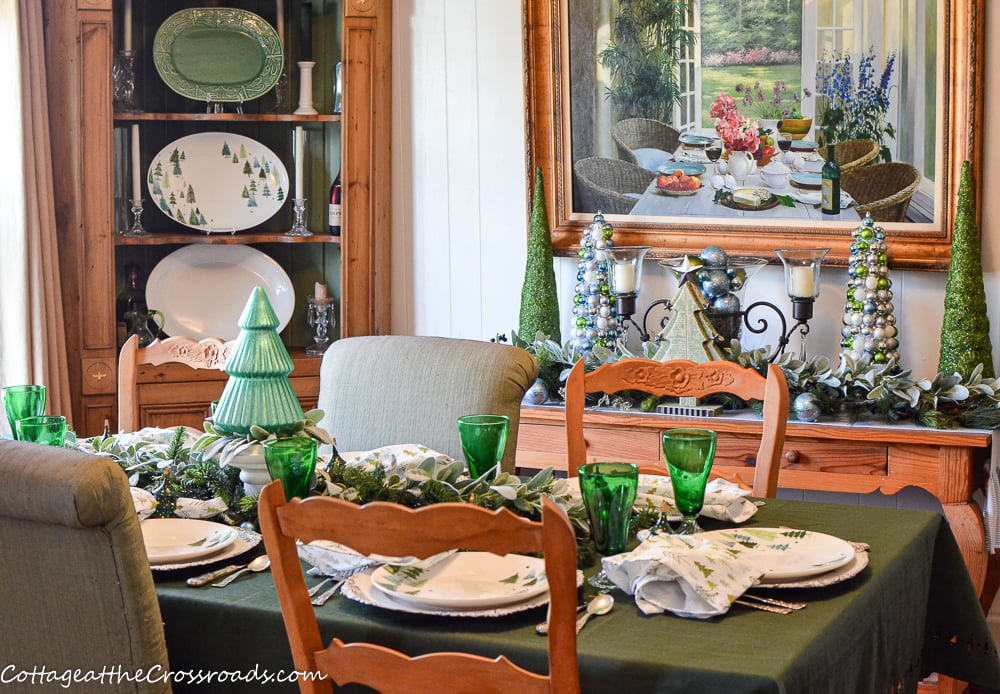 Hello friends! Have you finished your Christmas decorating yet or are you like me, still tweaking? I just had to stop and show you my Lenox Balsam Lane tablescape that I created this past weekend.
Are you familiar with this pattern? I was not until last year, Leo and I stopped in a Lenox outlet in Myrtle Beach and that's when I saw it.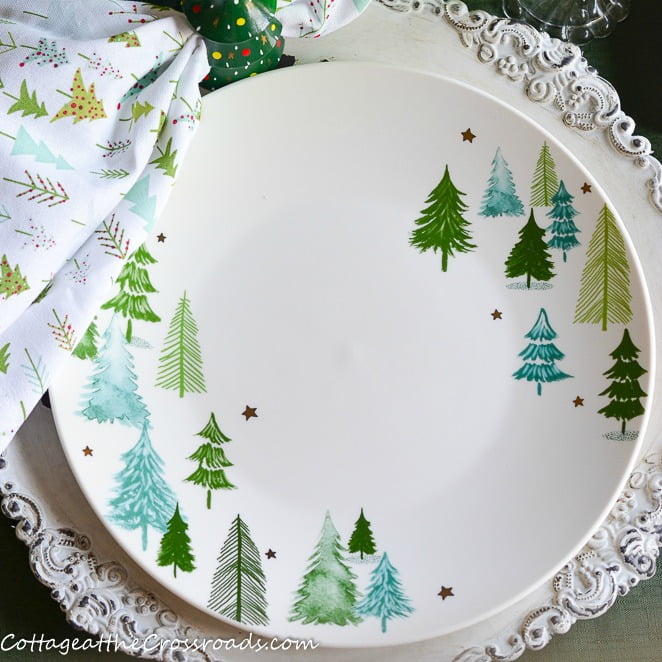 It is a fun, festive pattern with green and aqua trees on it. I just couldn't resist getting 4 accent plates in this pattern to display on our cupboard during the holidays.
After getting home from that trip, I ordered the large platter to display in our pine corner cabinet in the dining room.
Even though it is a holiday pattern, I left the plates and platter on display throughout last winter and never tired of the design.
So this year, I ordered 8 dinner plates and 4 mugs to add to my collection.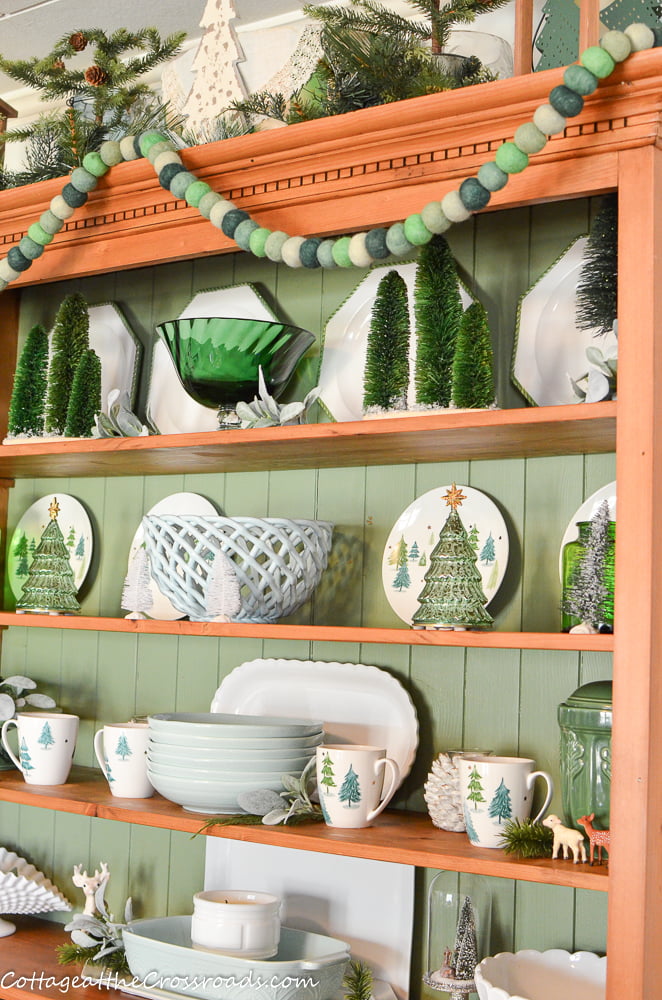 Since the china has trees on it, I naturally went with a tree motif in the dining room this year. I even ordered 2 of the lighted mercury glass trees from Amazon but they are out of stock right now.
The Lenox Balsam Lane pattern can be purchased at all major department stores, but I found the best deal on the Belk website when I used their special coupons and free shipping. 
Balsam Lane can be ordered directly from the Lenox website and from Amazon.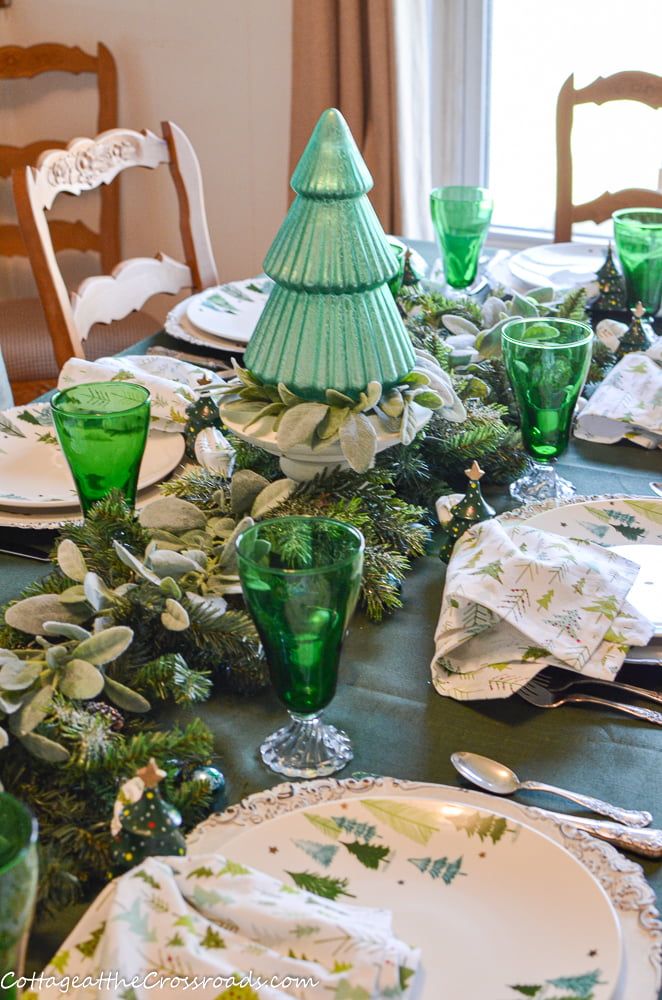 I used a dark green tablecloth as the base for my tablescape. The centerpiece is a lighted mercury glass tree that I found at HomeGoods this year. Under it is a lambs' ear candle ring and white candle holder that I already had.
Pieces of faux garland accented with lambs' ear garland covers the middle of the table.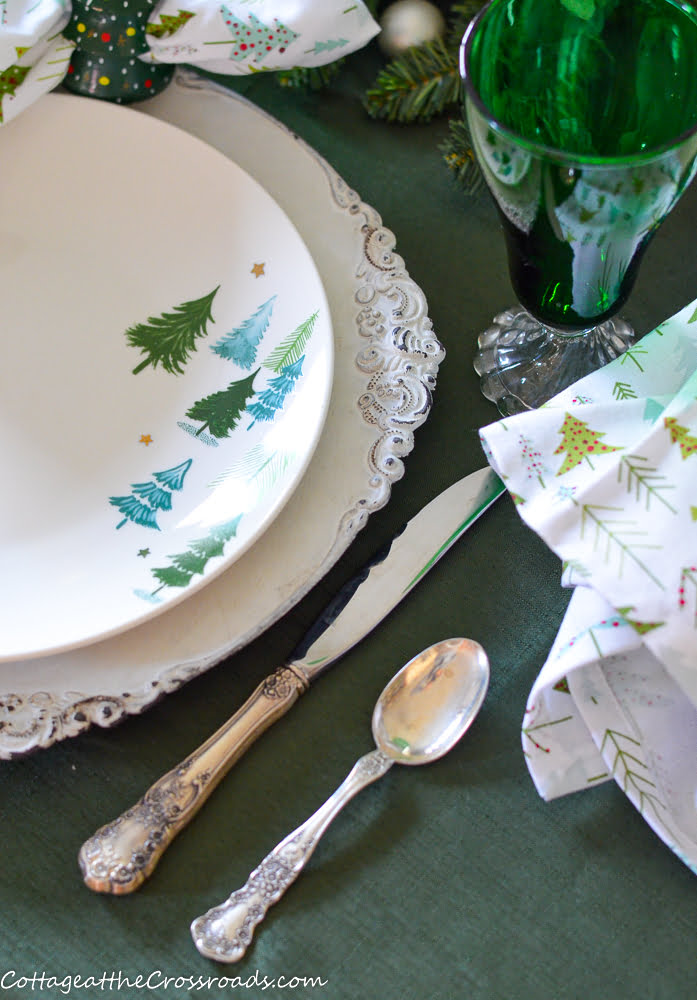 The green goblets are vintage boopie glasses that my sister-in-law Jean gave me as a gift. I pulled out my Buttercup sterling and also used some white chargers that I already had.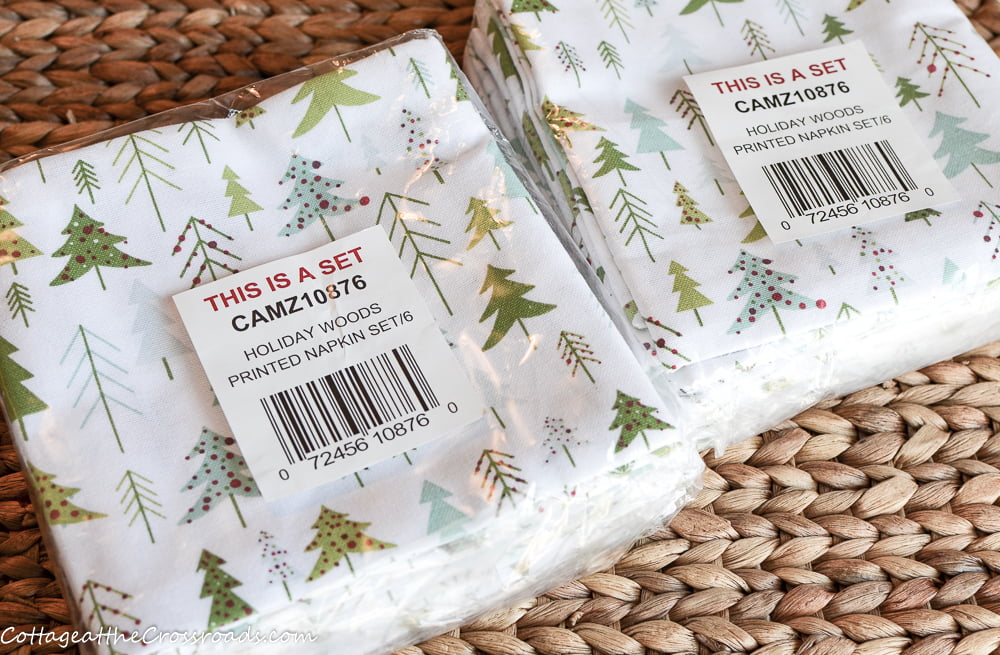 There is a story behind the napkins. I found and purchased one of these napkins last year because I thought they'd go with the Balsam Lane pattern. I sent Leo on a mission to find more while he was on a golf trip to Myrtle Beach this fall.
Just imagine the ribbing that he got from the guys when he told them that he needed to stop at the store to see if they had more napkins.
A little ribbing didn't stop him from making his baby back home happy!
But they didn't have the napkins in stock but I eventually found them on the Wayfair website.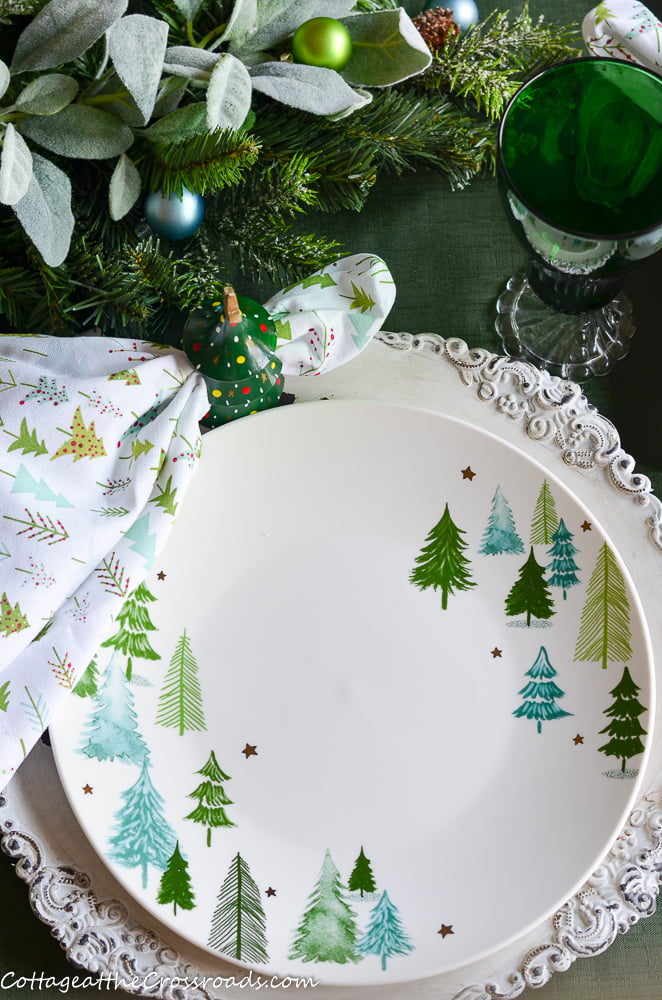 The tree-shaped napkin rings are vintage wooden ones that I found on eBay.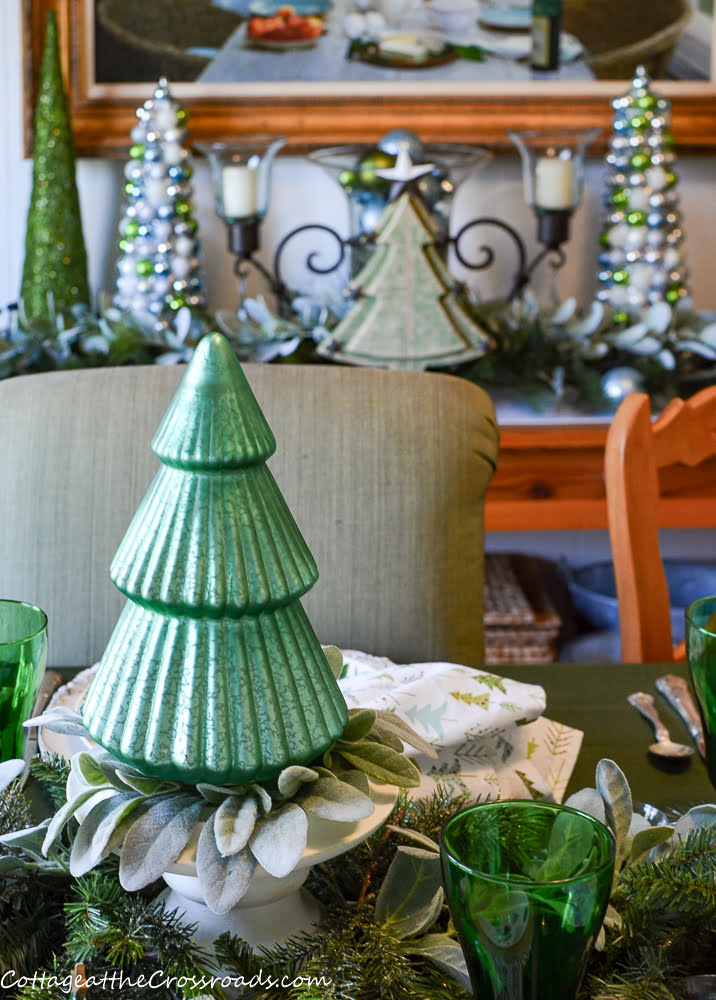 In keeping with the tree theme, I loaded up the server in the background with more trees.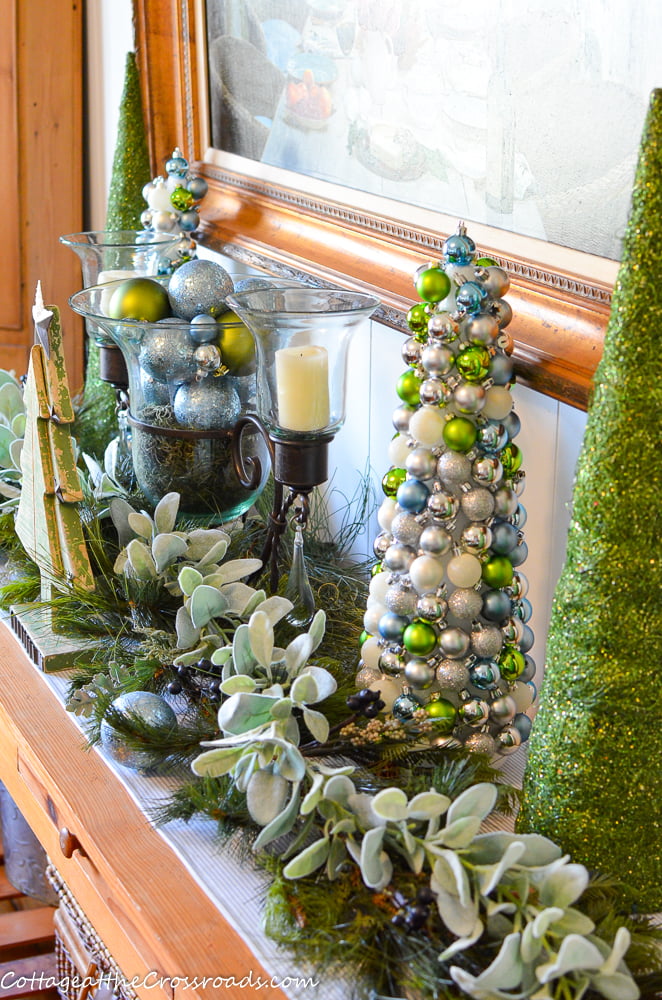 Another faux garland with lambs' ear on top of it was added to the grouping of trees.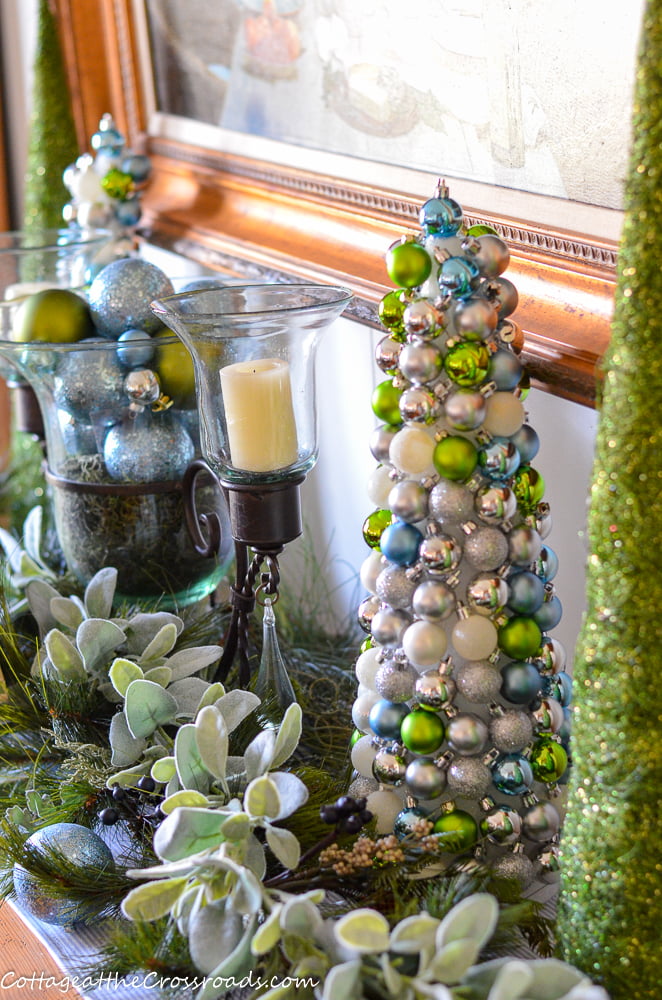 You may remember that I made the ornament trees last year to go on the mantel to match my ornament garland.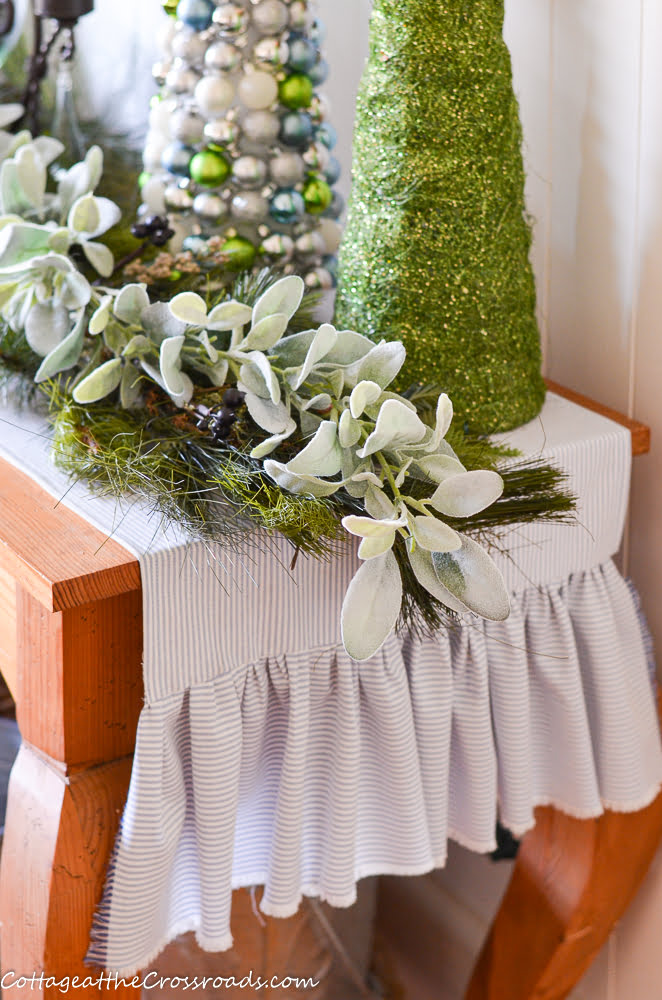 And the blue ruffled table runner was made last year, too.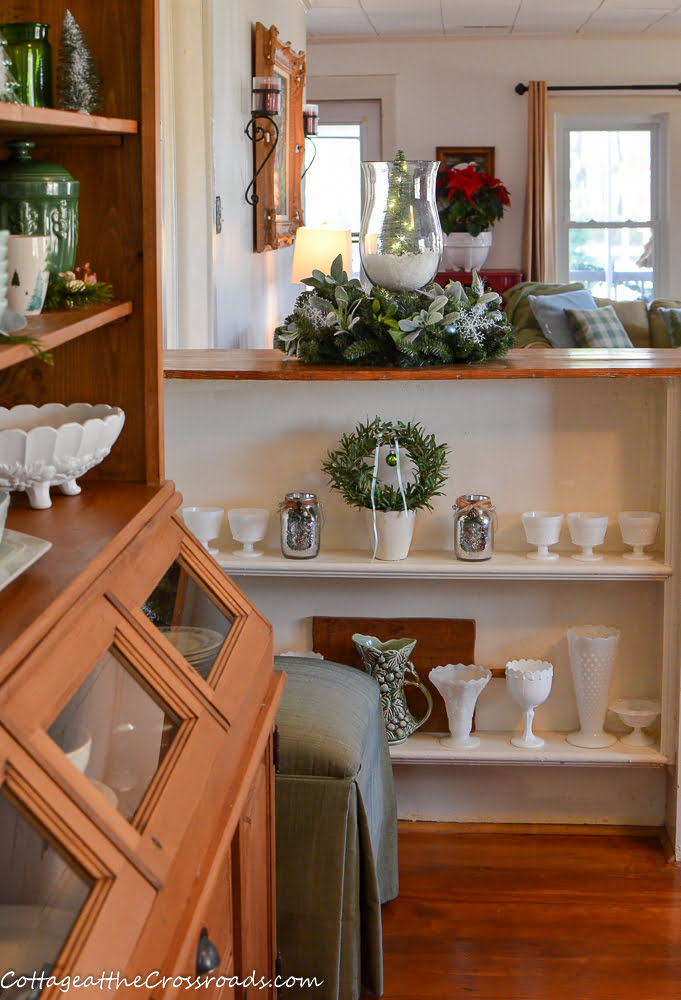 Our dining room has two wooden dividers that separate the dining area from the living area. To decorate the top, I used an old wreath and placed a glass candle holder down inside.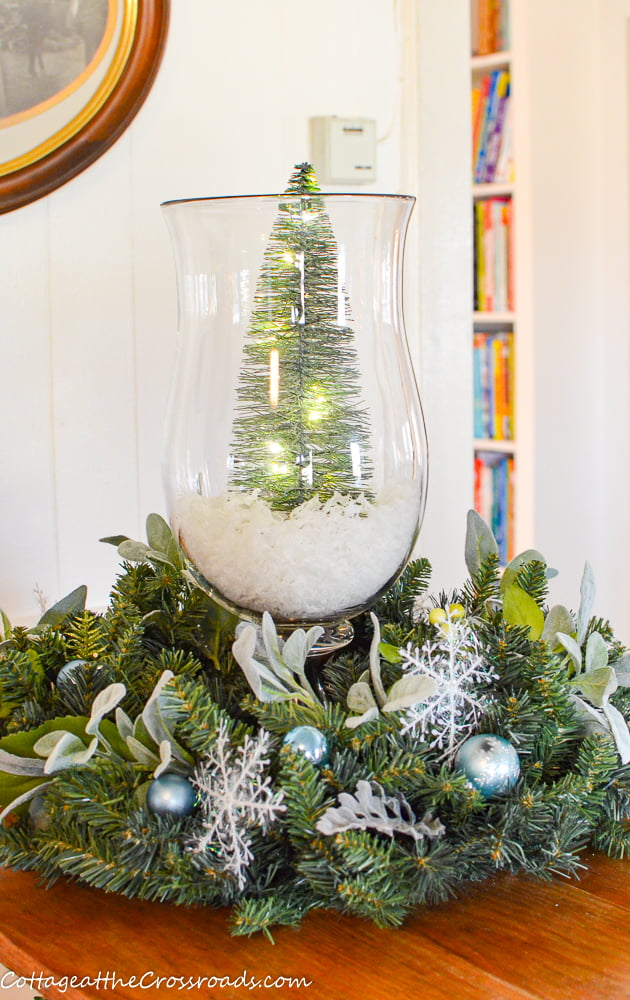 I placed a lighted tree down inside the candle holder along with a little fake snow.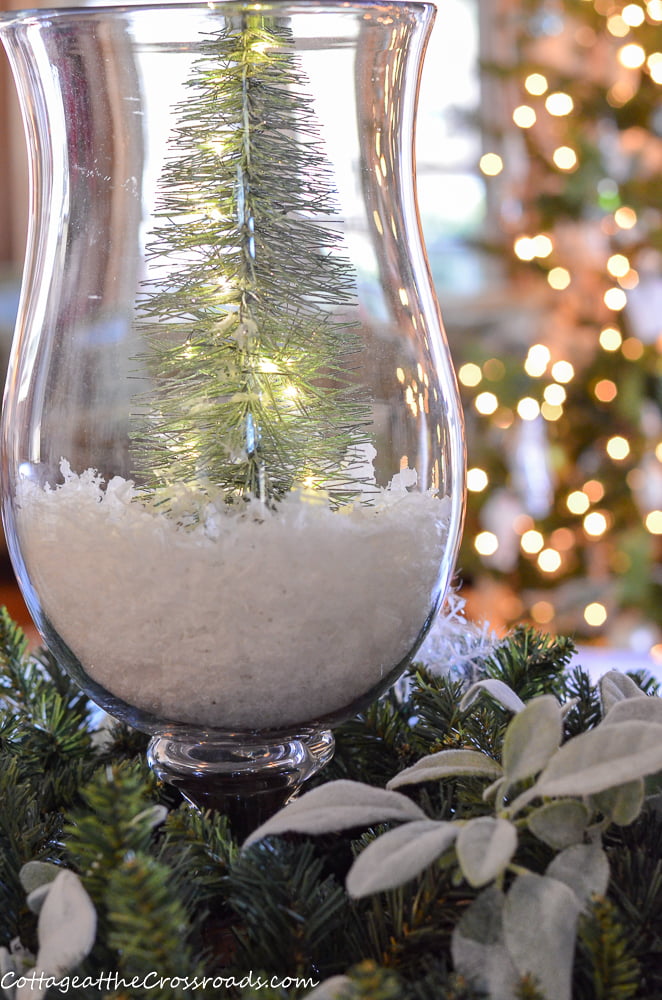 Here's the one on the other divider.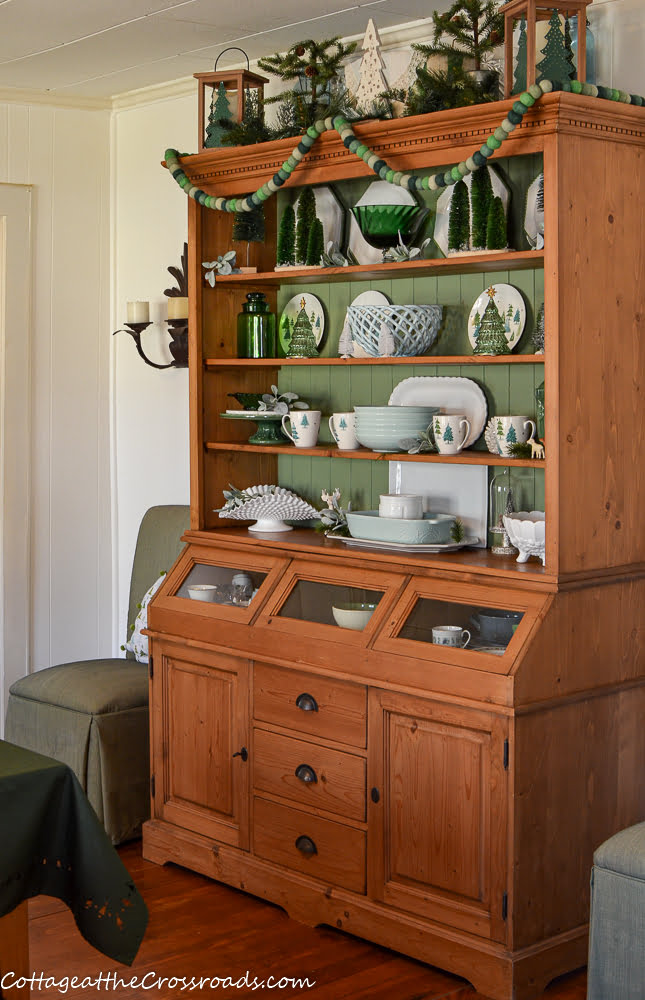 What I love about the Balsam Lane china is that the colors blend with some other pieces that I already had.
The green felt garland is from a shop in Summerville, SC called Cotton Down South. It can be ordered on their website.
More trees can be found on top of the pine cupboard.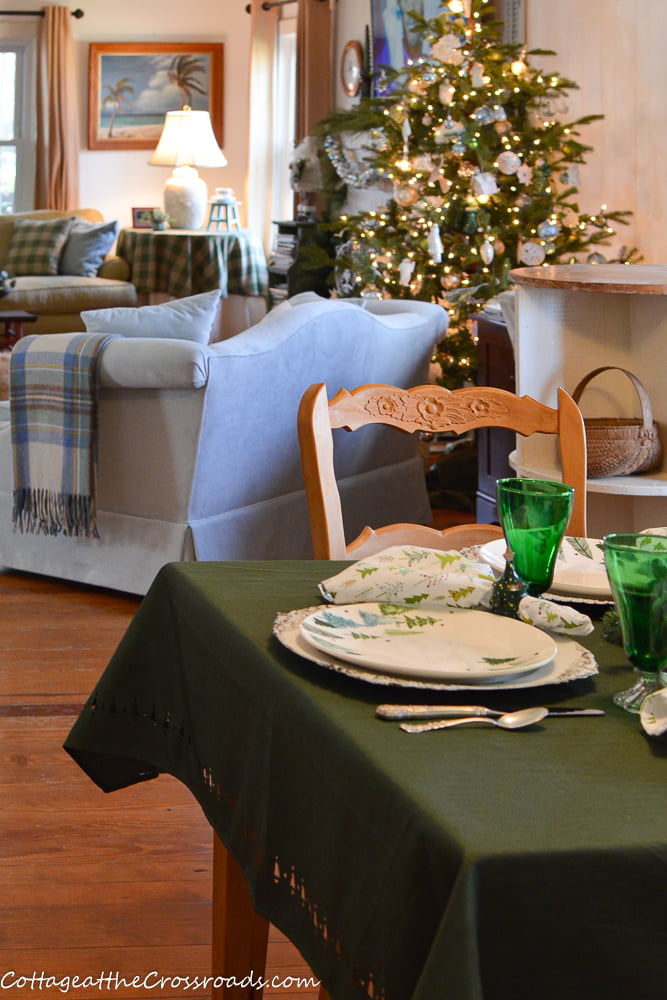 I just love the mix of the blues and greens in the Balsam Lane holiday china. It goes well with the same colors that I'm using in our living area. There is something new in this photo which you may spot if you're a regular reader of our blog!
I'll get it all photographed soon so that you can see our living area and Christmas tree from the other side.