If you're thinking about hosting a tablescape fundraiser for your church or civic organization, check out my tablescape fundraiser tips in this post.
I find it so hard to believe that it's the end of October. Time is flying by and I wanted to wrap up these tablescape fundraiser posts by showing your our guest table and sharing some tips for hosting such a fundraiser.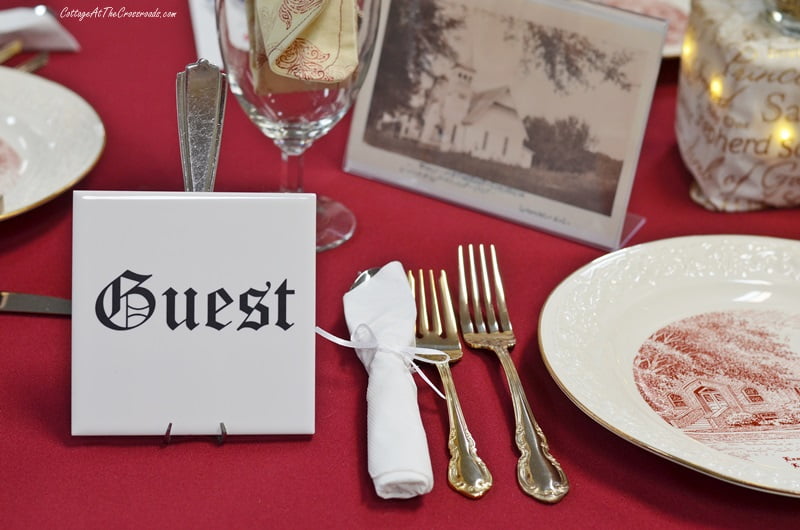 The guest table provided a place for our guest speaker to sit along with other honorees such as a former pastor's wife, the current and past chairpersons of our event, and several others. The table was done by an extremely talented and creative gentleman. He also did the patriotic table and the music themed table, and I did not want you thinking that only women from our church worked on this fundraiser!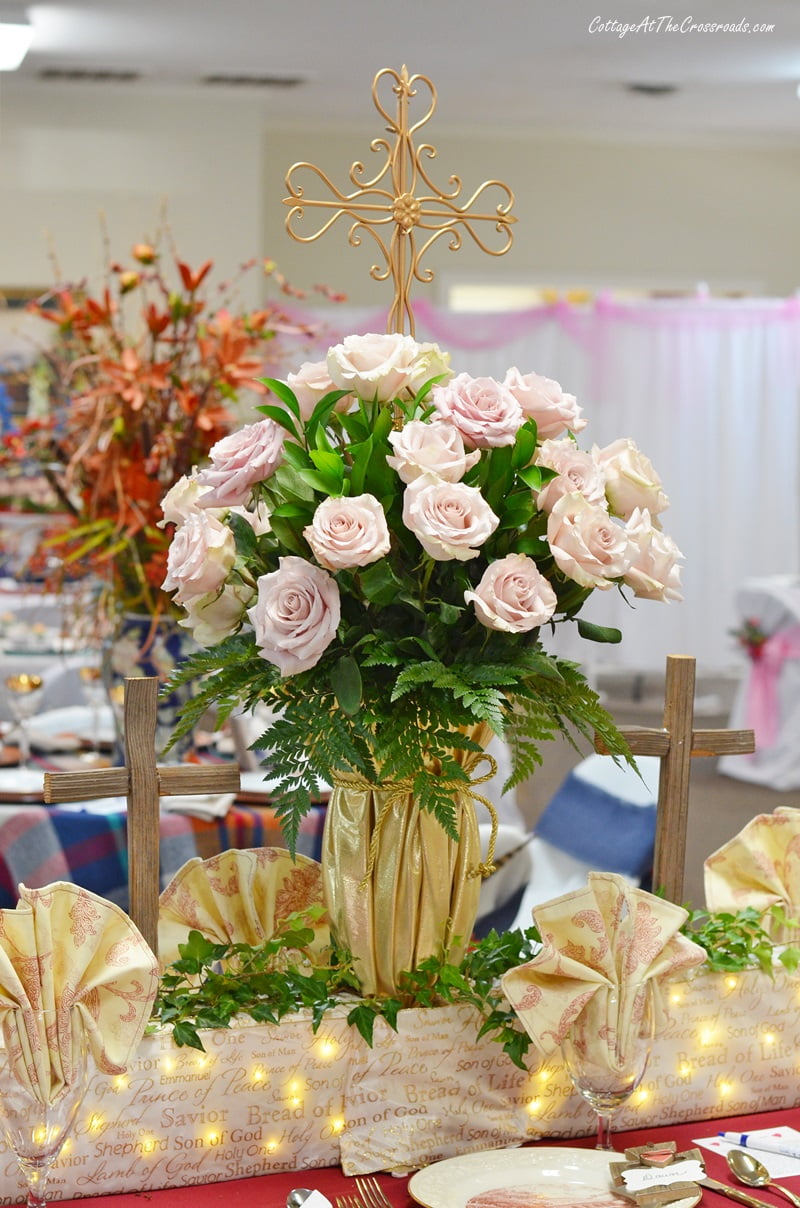 Beautiful shades of red, pink, white and gold complimented the special plates used on this table.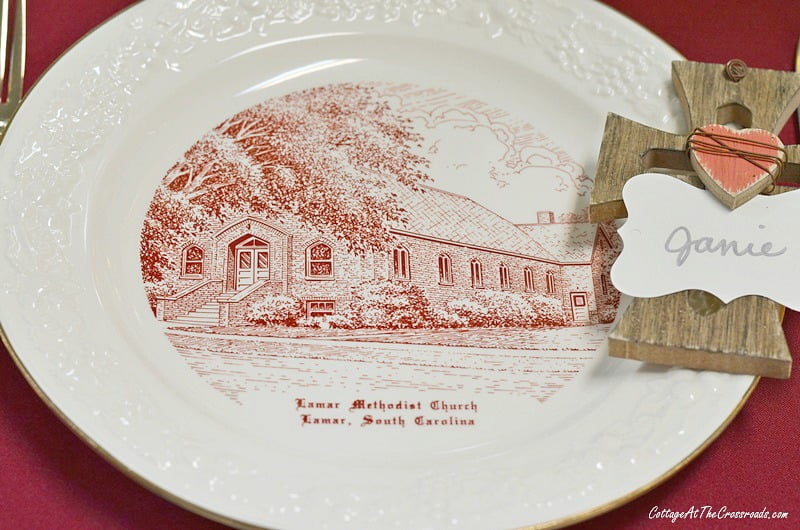 The guest table honored our church's history by using these commemorative plates of our church that were made many, many years ago. Luckily there were enough church members who had one of the vintage plates in order for these plates to be used on this table. The front of the plate depicts how our church looked prior to its most recent renovation.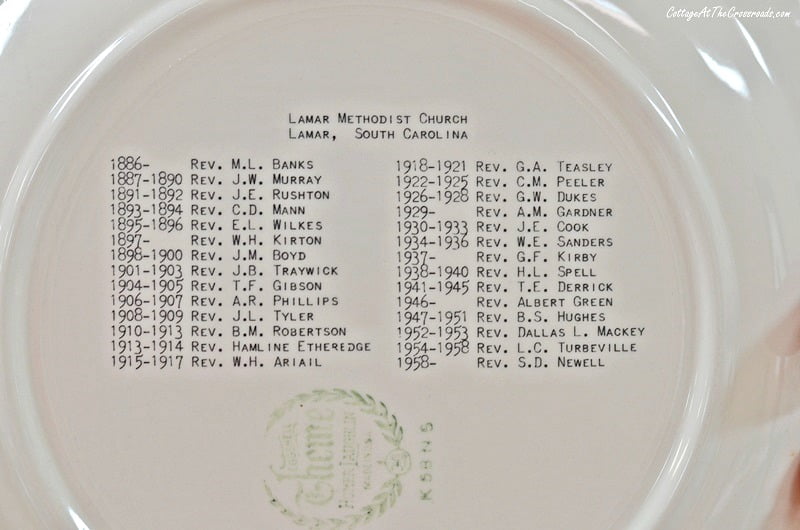 The back of the plates honored former ministers. Even the minister of the church while Leo was a youth was not listed!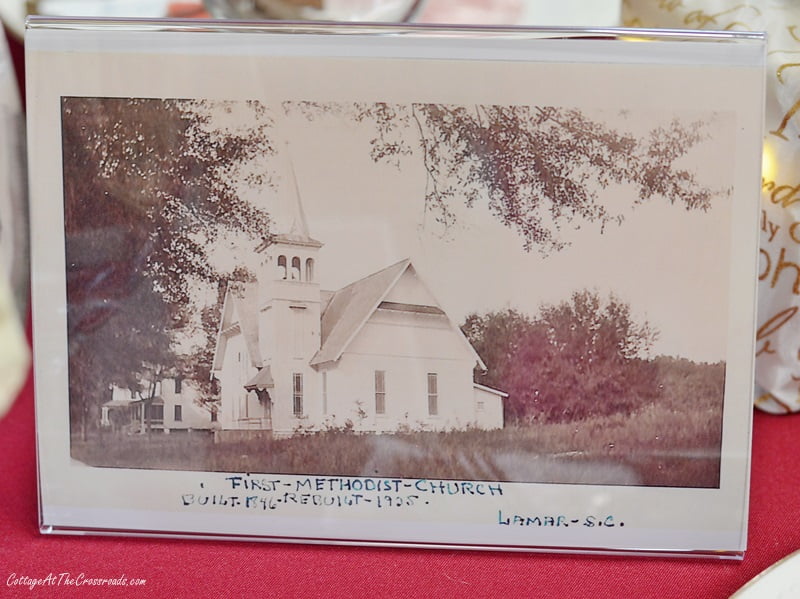 Also on this table was a photo of the original Lamar Methodist Church built in 1846. As a fairly new member of this church, I was very interested in learning more of its history.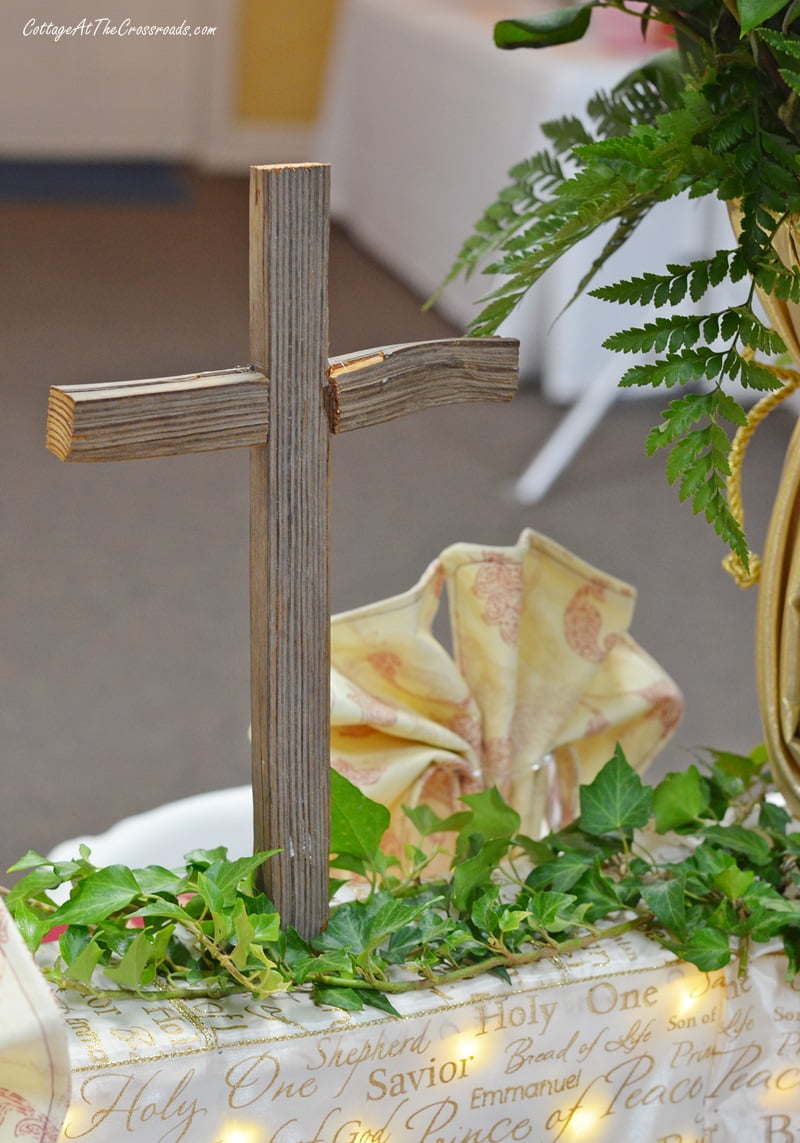 Bobby, the man who put this guest table together, made these wooden crosses from tobacco sticks, once used in our agricultural area to hang tobacco leaves from tobacco barn rafters to dry.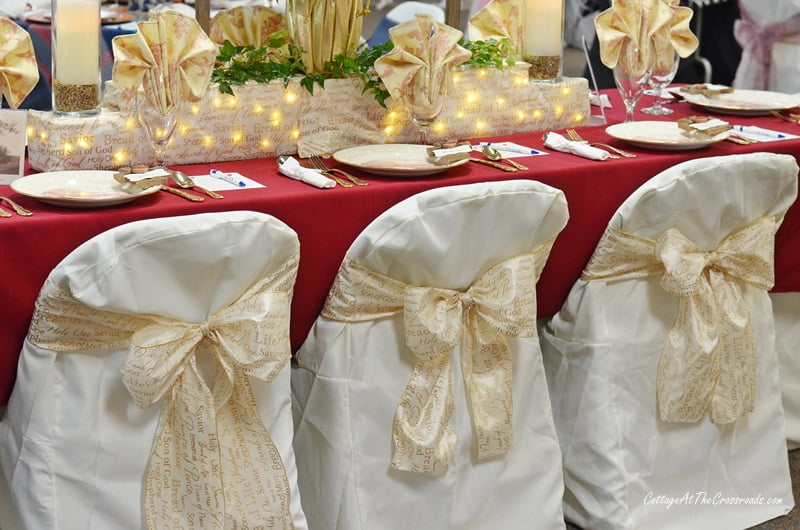 Large bows tied with gold and white ribbon completed our elegant and historical guest table.
If you missed seeing the previous posts about our tablescape fundraiser, you can click here to see them: OUR 2018 TABLESCAPE FUNDRAISER and PART 2 of OUR 2018 TABLESCAPE FUNDRAISER

Tablescape Fundraiser Tips
I have had a number of people who have asked for more details about how to host a tablescape fundraiser. So I have put together some basic information to help you. This type of fundraiser is a wonderful event but it takes many, many months of preparation on the part of many people.
Appoint a steering committee and a chairperson for the event.
Set a date and secure a venue at least 8-12 months prior to the event. We used our church fellowship hall and we always use the 1st Saturday in October for this event or our bazaar.
Select a theme. Our theme for the 2018 fundraiser was "Prayers from the Heart" and the theme of our 2016 fundraiser was "Angels Among Us."
Book a guest speaker and/or entertainment early.
Appoint committees for the following: food, tickets and promotion, gift bags, and silent auction (if having)
Solicit volunteers to decorate a table(s). They will need several months to gather the supplies.
Additional Notes
Remember to take notes and keep detailed records to pass along to the next chairperson.
Factor in costs of renting a venue, catering the food, and speaker fees into the cost of your ticket. In our case, there was no venue rental and church members prepared the food so we were able to keep the ticket price down to $20. We also used volunteers to serve the food and clean up.
Order and purchase all serveware early. We used clear plastic plates, plastic utensils and cups, plastic dessert dishes and paper napkins.
We gave each attendee a gift bag filled with a canned good and other items donated by local businesses.
Silent auction items were donated by church members or local businesses.
Determine early how many tables you can fit in your venue. We had 15 eight foot long rectangular tables that sat 8 people and 2 round tables that seated 5. Make a diagram and number the tables. Designate someone to make table numbers for each table.
I will continue to add notes to this list as I think of them, but if you have additional questions, just leave a comment or get in contact with me HERE.