This simple and thrifty farmhouse wreath in a tobacco basket is a perfect transitional DIY home decor item.
Hi friends. How is your new year going? After I got all the Christmas decorations removed and packed away, I felt that the house looked bare. What? You, too?
Today I'm sharing a simple DIY farmhouse wreath that I quickly put together that helps to fill that void.
This post may contain Amazon or other affiliate links. As an Amazon associate, I earn from qualifying purchases. If you purchase anything through any affiliate link, I may earn a small commission at no extra charge to you. All opinions are my own.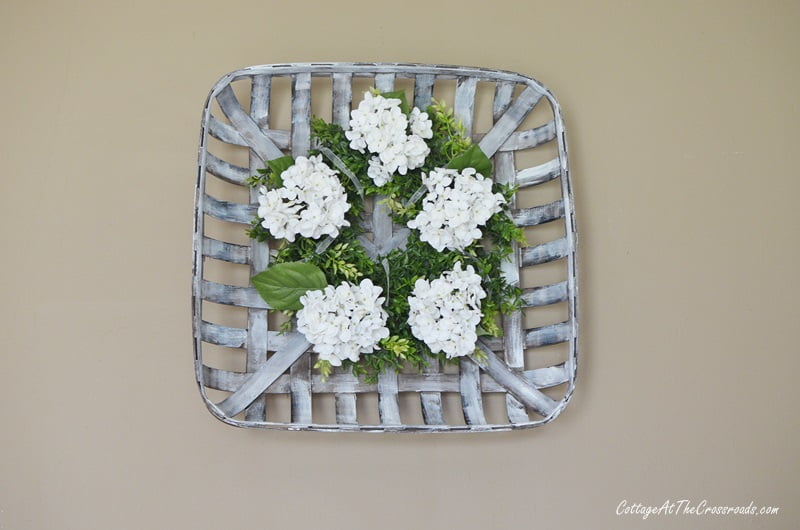 If you remember, at Christmas time, I had a wreath in this same tobacco basket.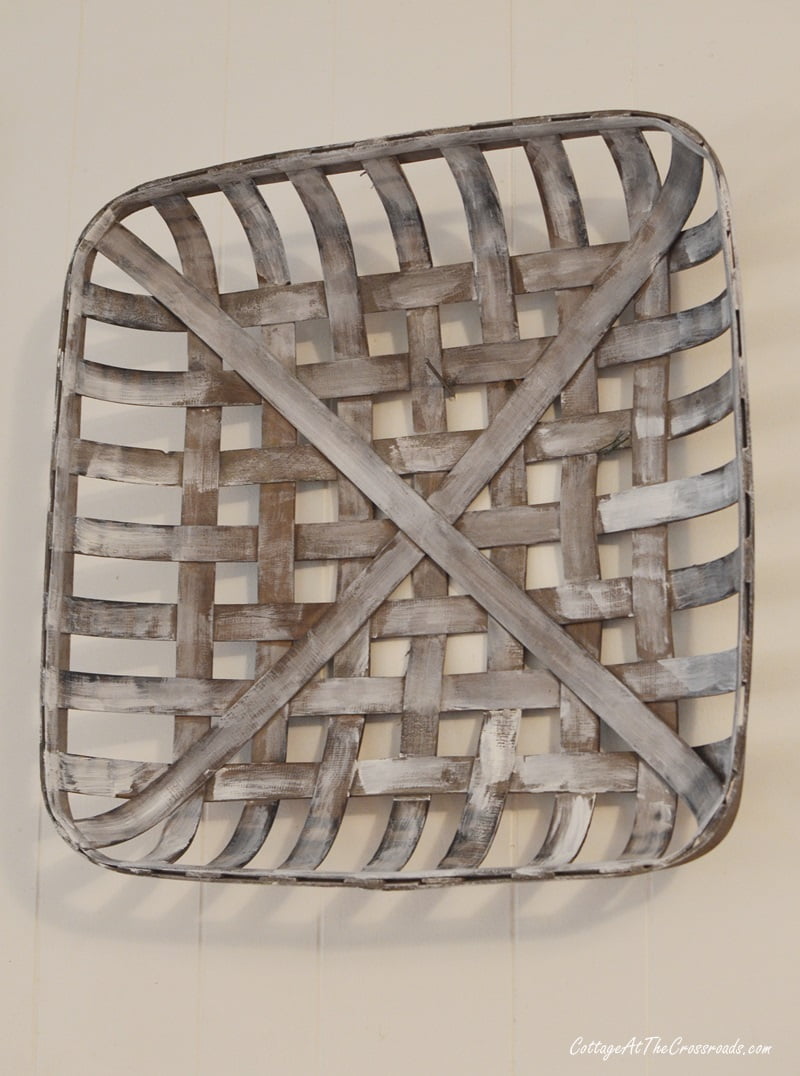 I've had this reproduction tobacco basket for several years. It's a great piece to give your home a little farmhouse flair.
At some point, I thought it was a little dark so I gave it a "white washing" with some watered down acrylic paint.
Where we live, real tobacco baskets are easily found since we live in an agricultural area that once grew a lot of tobacco.
I asked Leo how they were used and he said that once tobacco leaves were harvested, they were sorted and graded and then placed on the large flat baskets.
Then the tobacco was taken to market on the baskets where the baskets would be flipped over onto croaker (burlap) sacks on the floor.
My tobacco basket is much smaller than the original ones and since I liked how a wreath looked inside it at Christmas time, I decided to place another one inside.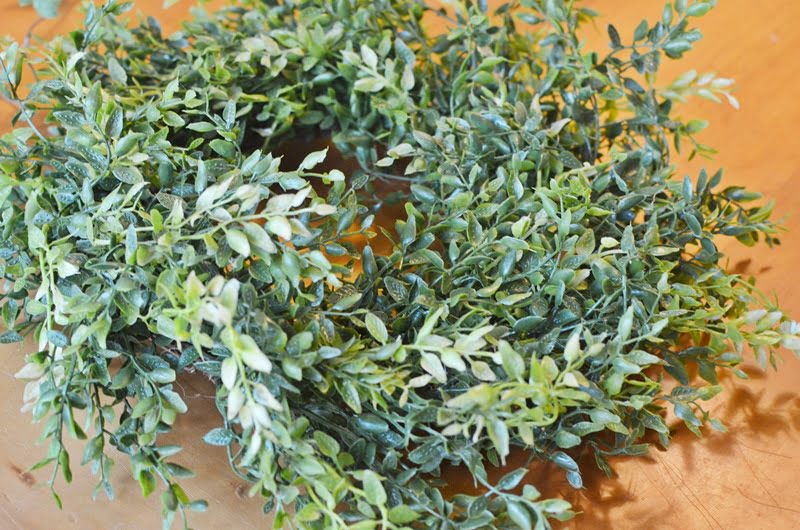 I found this faux boxwood wreath at Hobby Lobby. This week their wreaths and garlands are 50% off regular price so I paid $10 for this one.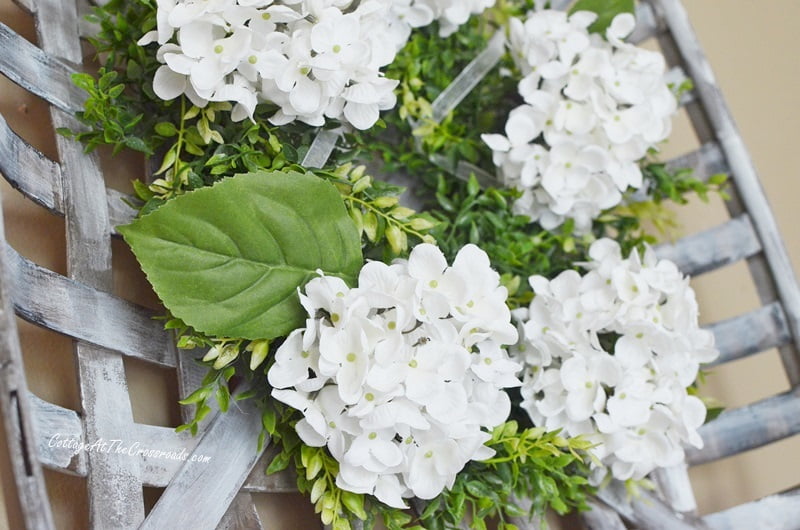 I used these white hydrangeas on our mantel and trees at Christmas and had not put them away thinking that I would use them in some way.
So after attaching the wreath to the tobacco basket with some wire, I added 5 of the white hydrangeas to the wreath.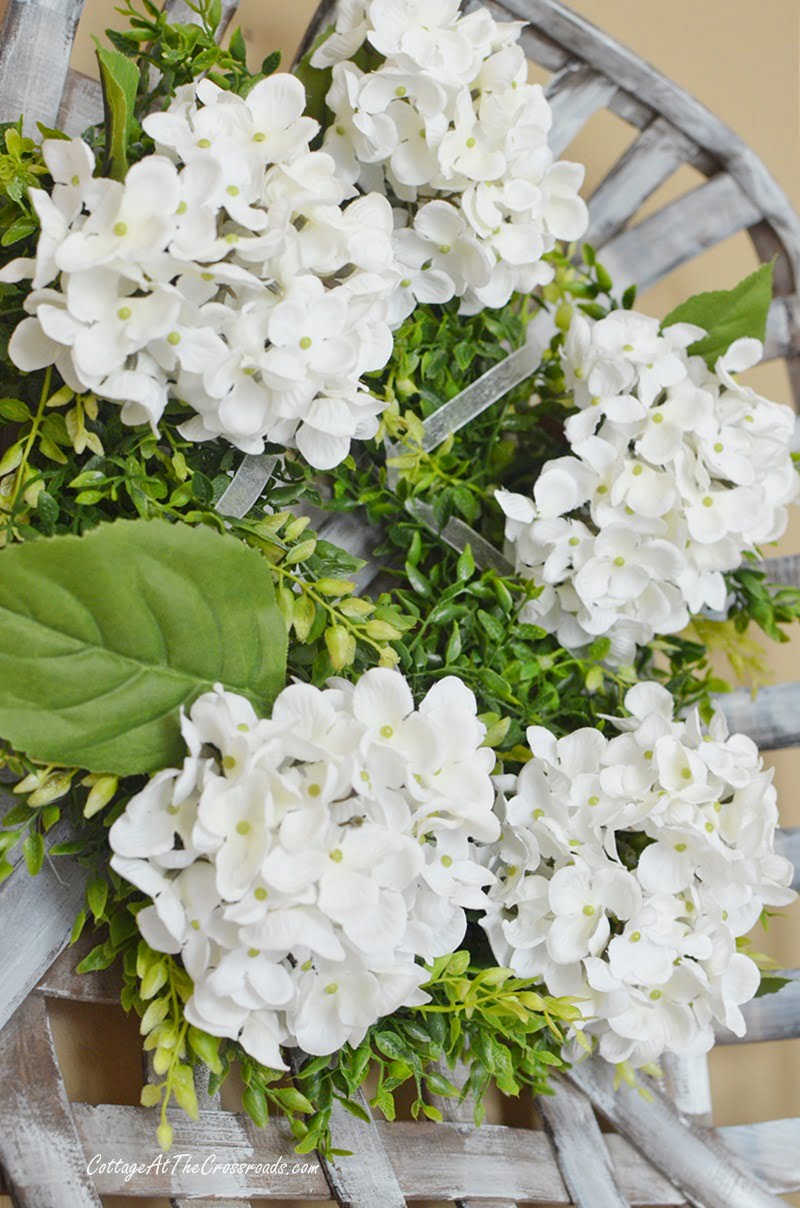 And I added a little shimmery ribbon that I had used at Christmas to the wreath.
The tobacco basket farmhouse wreath certainly fills the after Christmas void!
The rest of the white hydrangeas landed on the mantel and the dough bowl, and they remind me of snowballs!
If you like my quick and easy wreath idea, please pin it to one of your boards on Pinterest so you can find it when you're ready to make one.
The Thrifty Style Team has more thrifty home decor ideas for you today. Let's see what everyone else has to share!