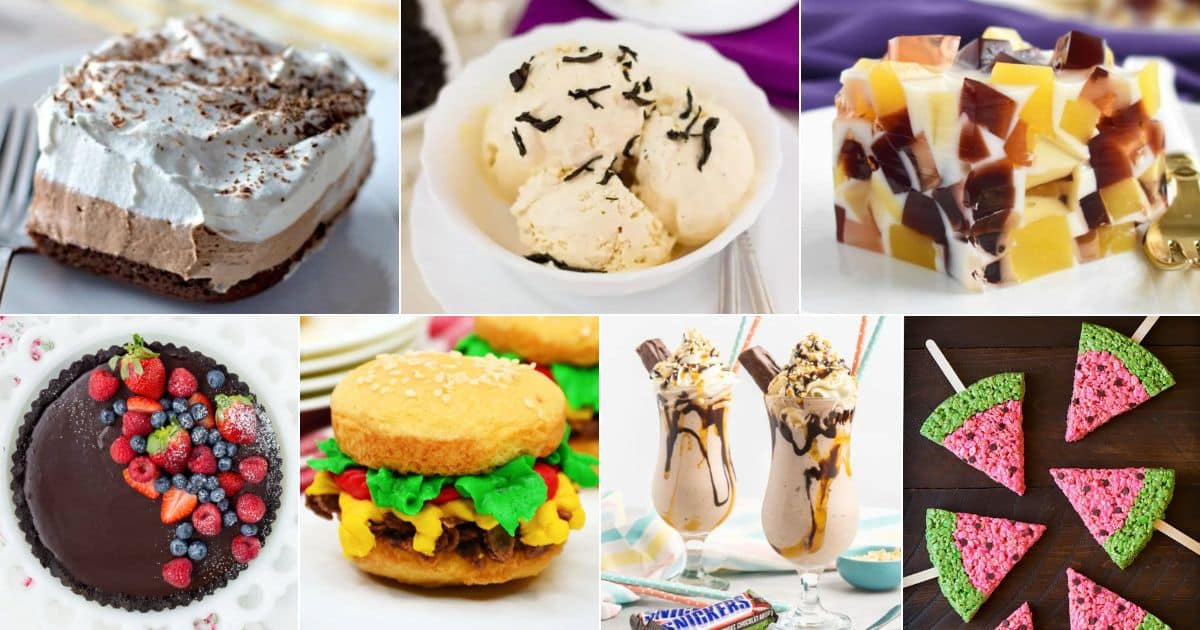 Looking for a way to spice up your dessert game? Look no further than these 27 unique and easy-to-make desserts that are sure to add excitement to any meal. Say goodbye to boring sweets and hello to delicious, unconventional treats!
Contents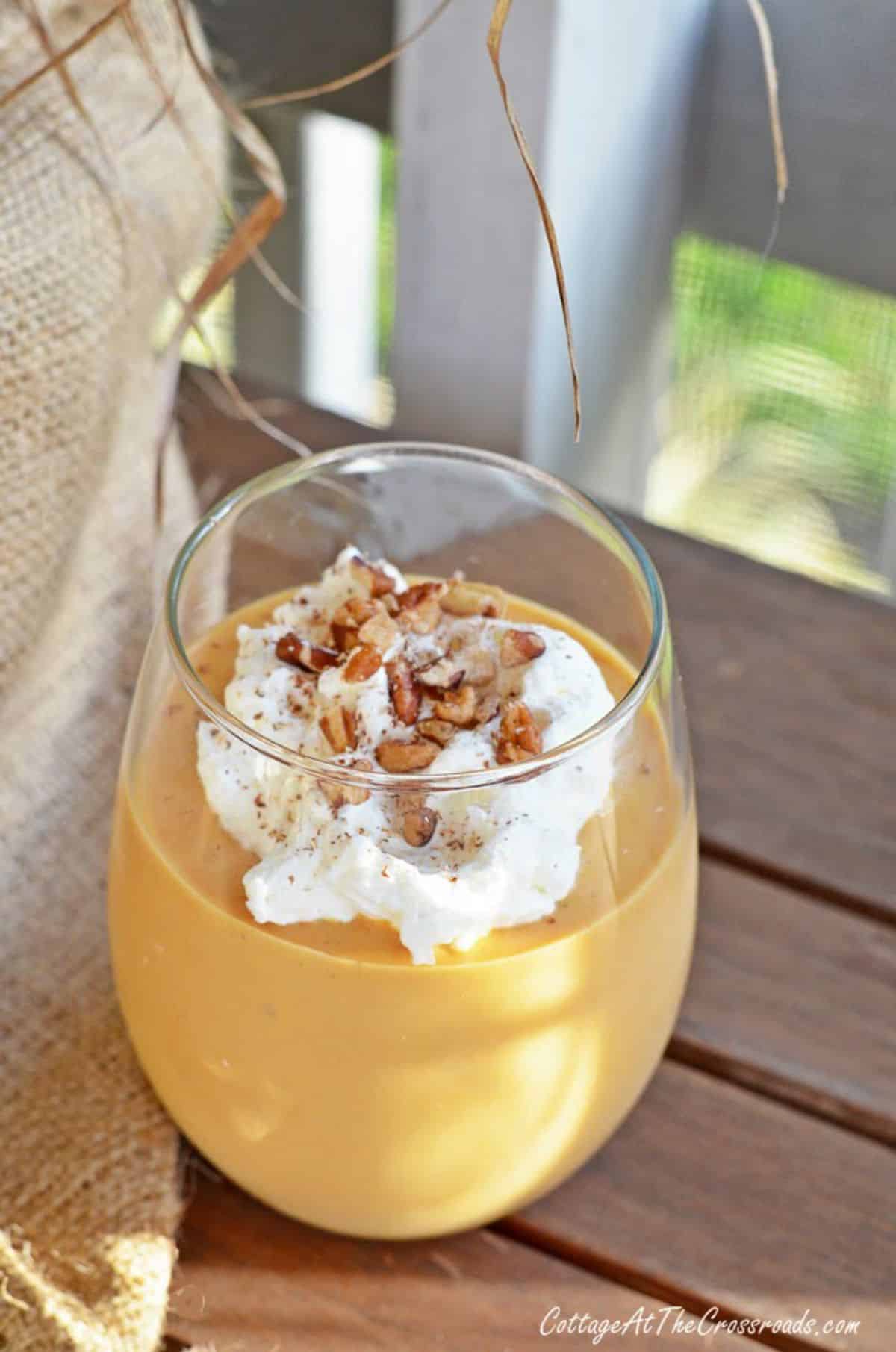 Turn your favorite holiday treat into a summer delight with this sweet potato pie smoothie! All you need are fresh sweet potatoes, frozen bananas, vanilla protein powder, and almond coconut milk to create this ideal summer drink.
Just think about it. What could be better than the warmth and deliciousness of a sweet potato pie in the form of a refreshing smoothie? Nothing, of course!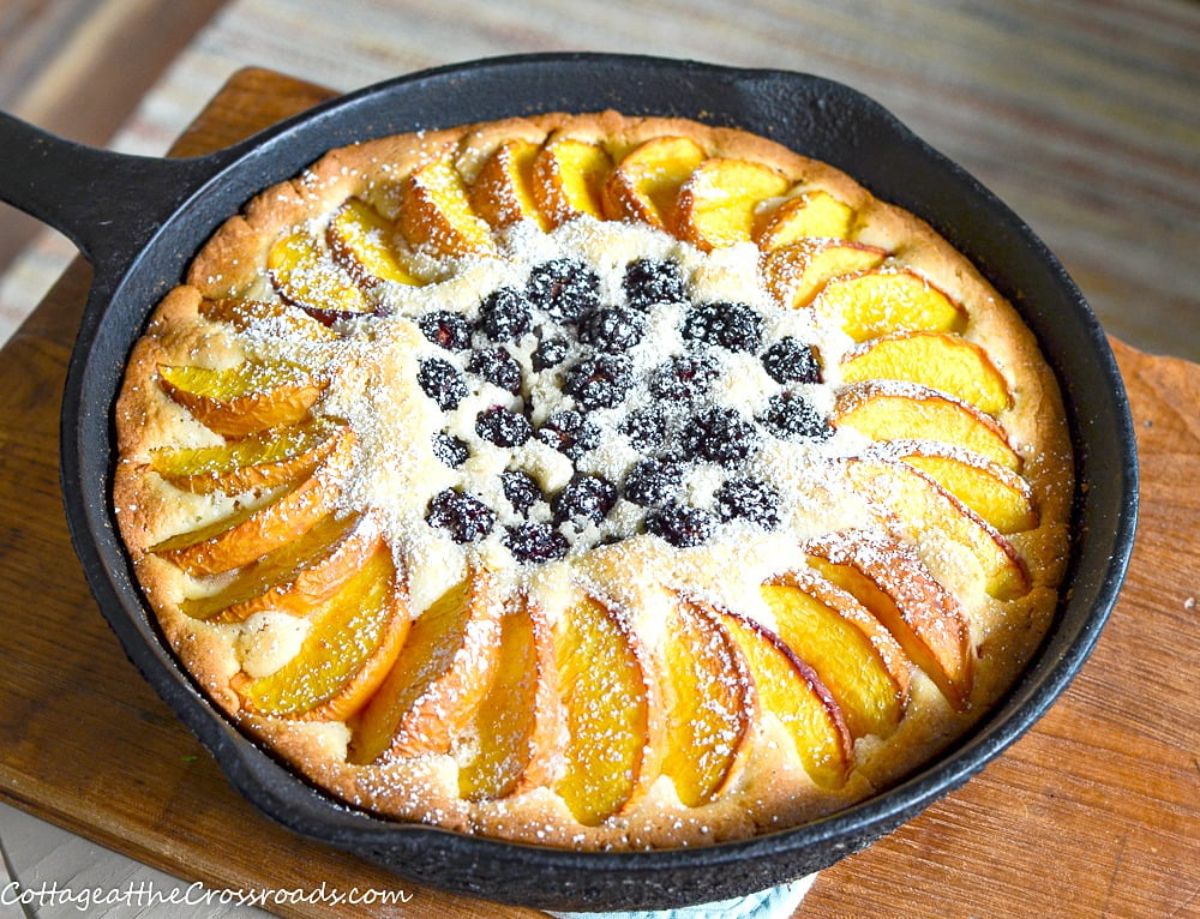 Blackberries and peaches are a strange combination, but we promise it works! The sweetness of the peaches and the tartness of the blackberries, coupled with a hint of cardamom and confectioners' sugar for garnishing, come together to create this fun and unusual dessert.
The pie crust is incredibly easy to make, and there's nothing more enjoyable than arranging the fruit for presentation. Pop the pie in the oven for an hour, let it cool, and enjoy!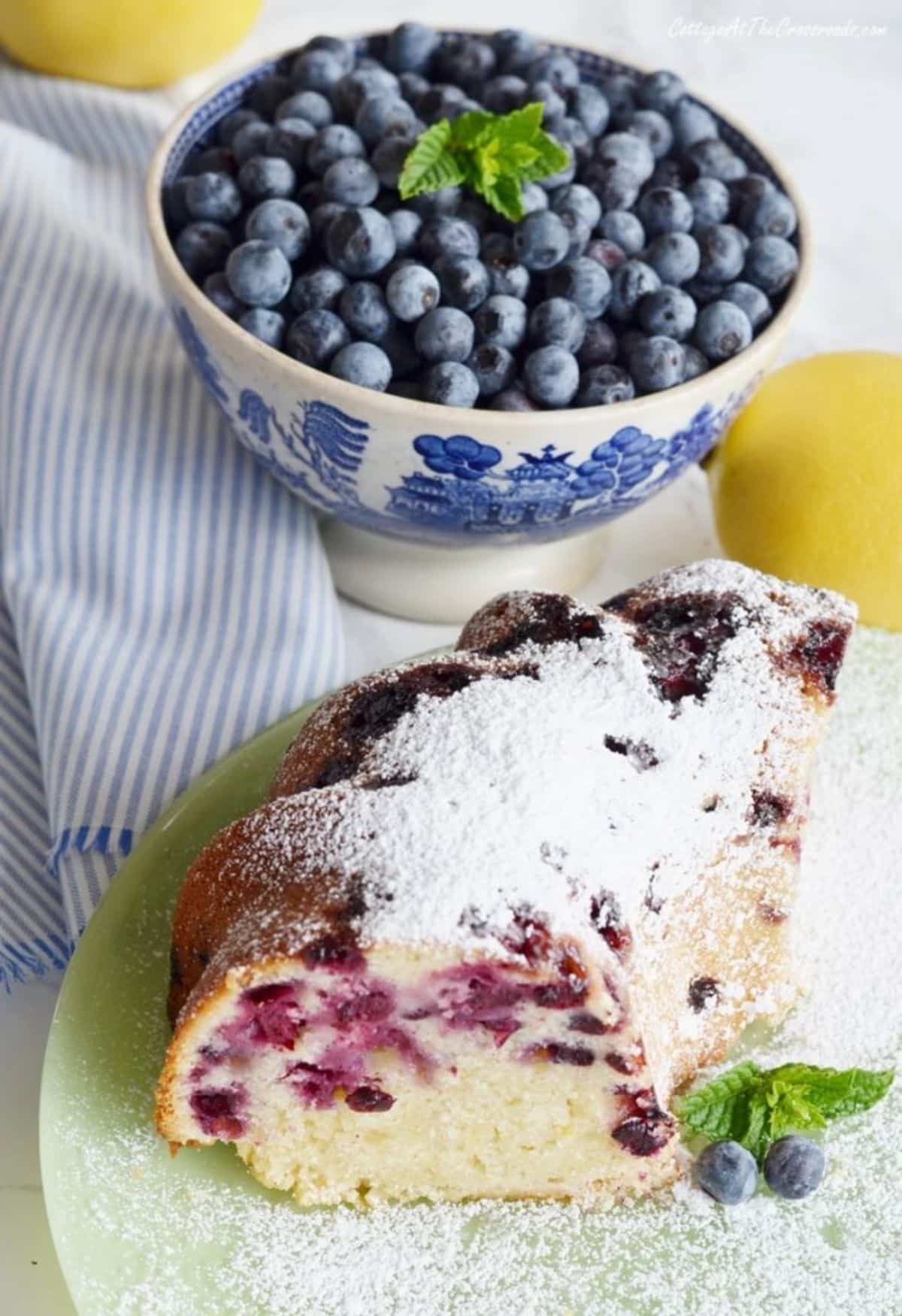 When you want a tart, zesty, and refreshing dessert, you can't go wrong with this pound cake! While frozen blueberries work just as well for this recipe, we recommend picking your blueberries during the summer for extra fresh seasonal flavors.
The secret to bringing out that delightful lemony flavor, aside from using the juice and zest, is splashing in some lemon oil. It'll make all the difference in the world.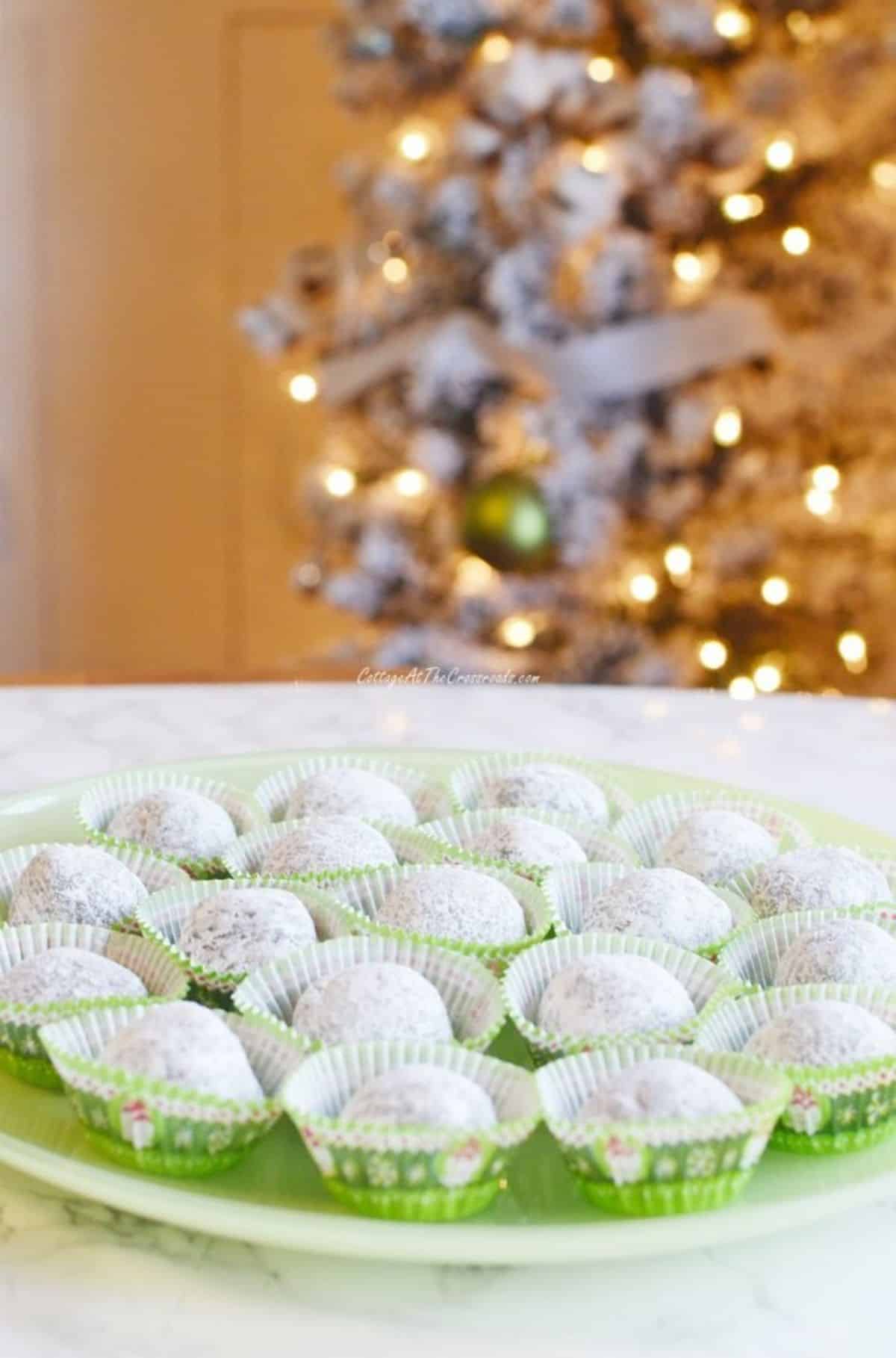 It's time to have some spiked dessert fun with mom's rum balls! Combine vanilla wafers, dark cocoa, confectioners' sugar, rum, and chopped pecans for a sweet and crunchy treat.
If you've got a big sweet tooth, as we do, you can use pancake syrup or real maple syrup for that perfect finishing touch.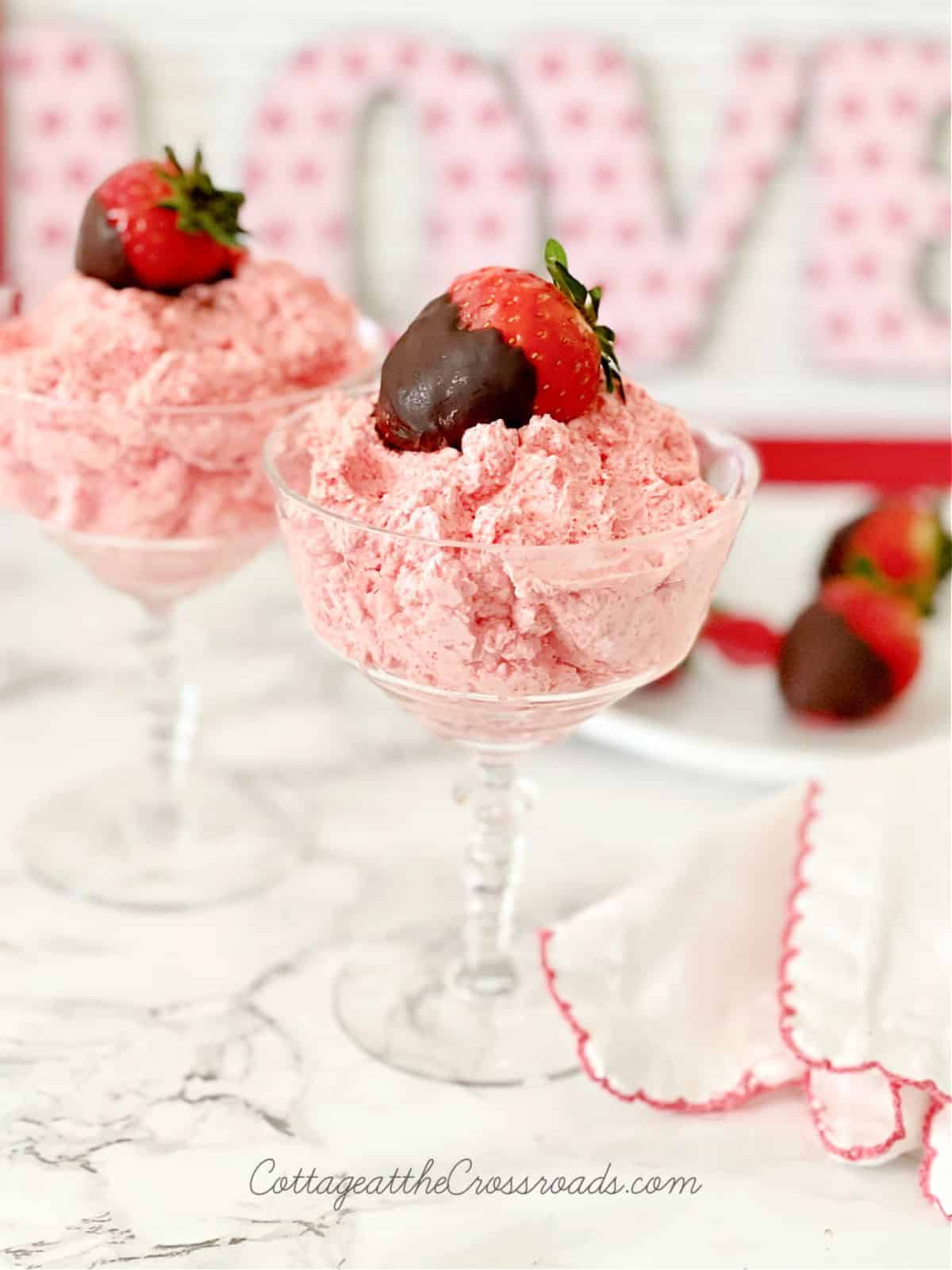 Have your strawberries and eat your fluff, that too without piling on the carbs! The key is to combine a large box of sugar-free strawberry Jello mix with cream cheese and heavy cream. What you'll get as a result is the experience of a lifetime.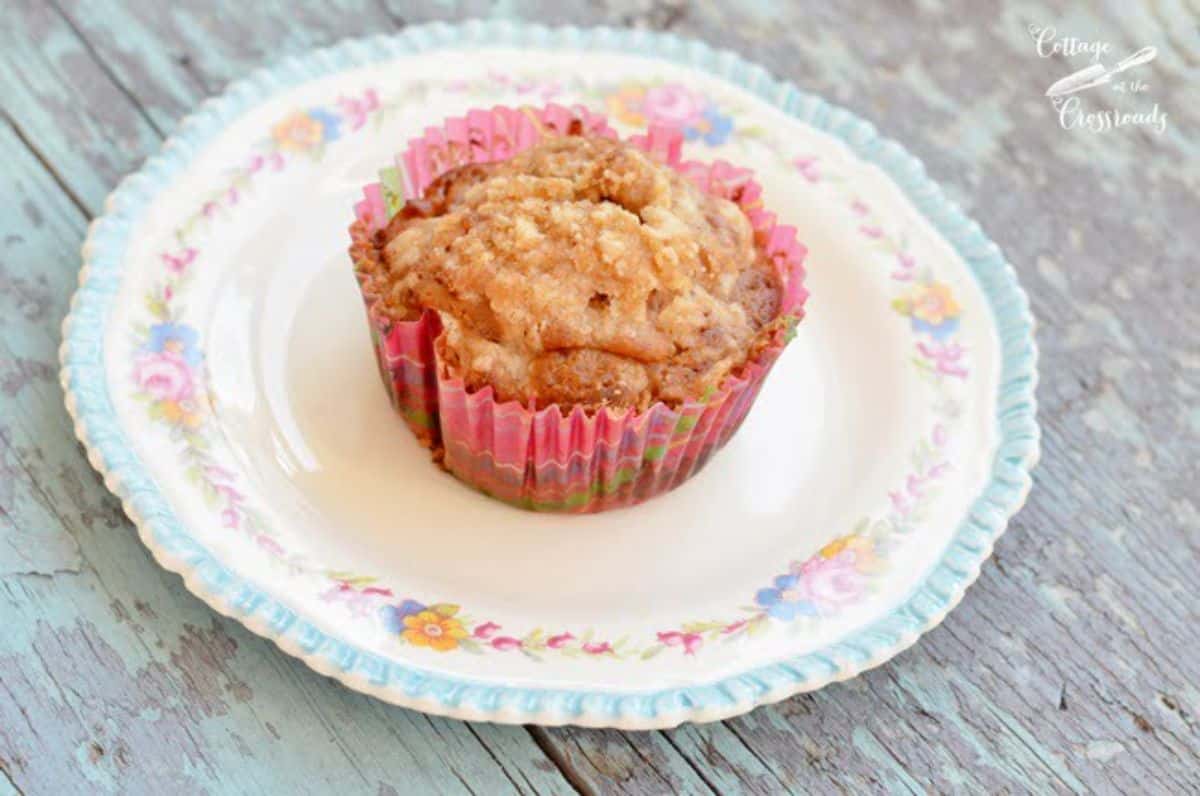 You've heard of banana muffins and apple muffins, but have you ever mashed the two flavors together? This is your sign to do so! Our delicious muffin recipe features crunchy pecans and a sweet streusel topping that will 100% blow your mind.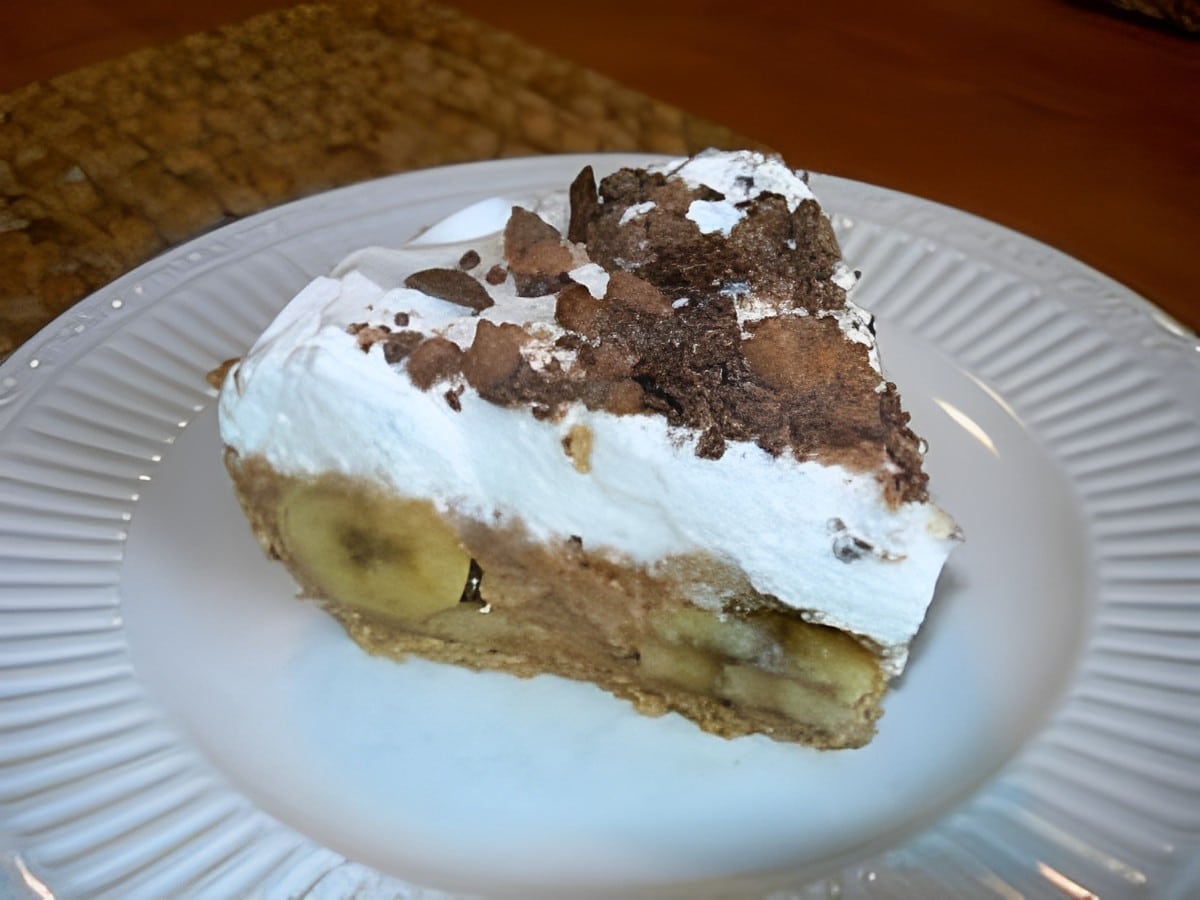 As you may already know, Heath Bars are caramel toffee candies covered in milk chocolate. What you may not know is that you can also make a delicious pie out of them.
Grab a premade graham cracker crust to save time, and use the ripest bananas you can find to add more flavor. Then, throw in sugar, whipping cream, and sweetened condensed milk to create the fluffiest, most delicious pie imaginable.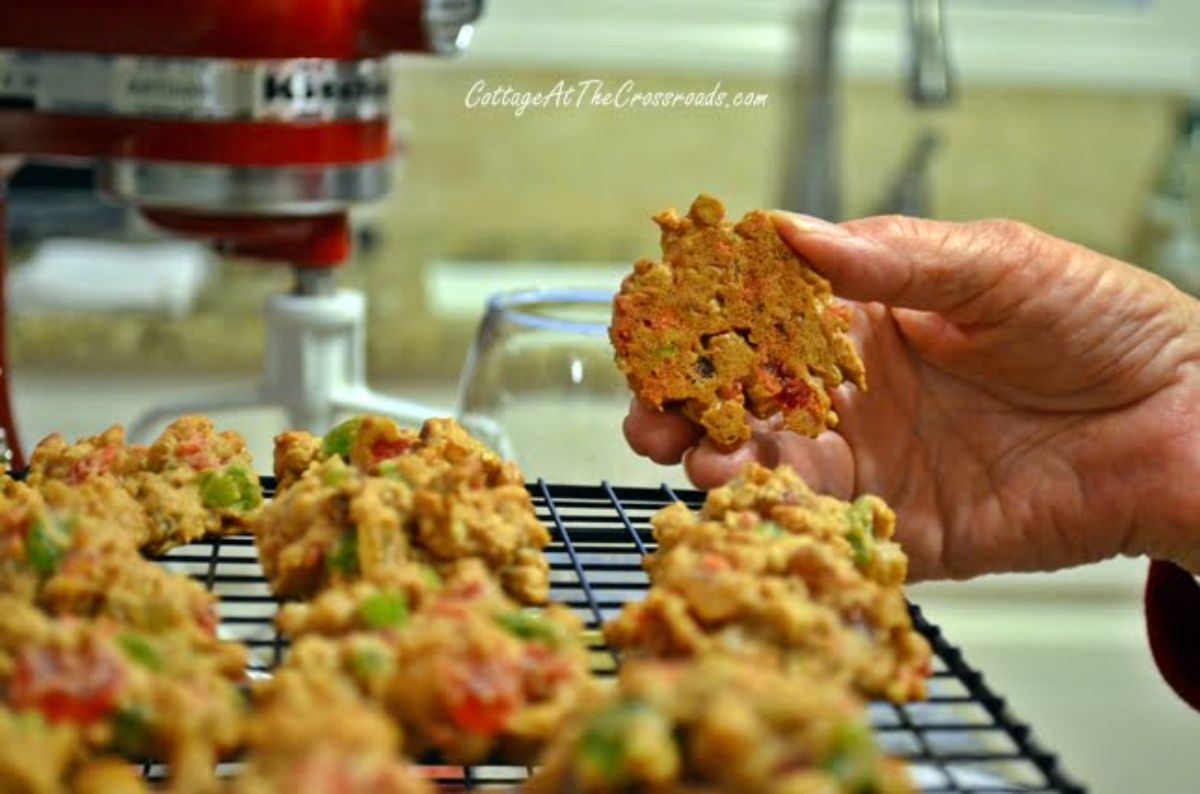 With Jean's fruitcake cookies, you can enjoy a modern take on a holiday classic. To give the confection the taste of a traditional fruitcake, all you need to do is mix golden raisins, red and green candied cherries, candied pineapple, and chopped pecans into the cookie dough. Yes, it really is that simple!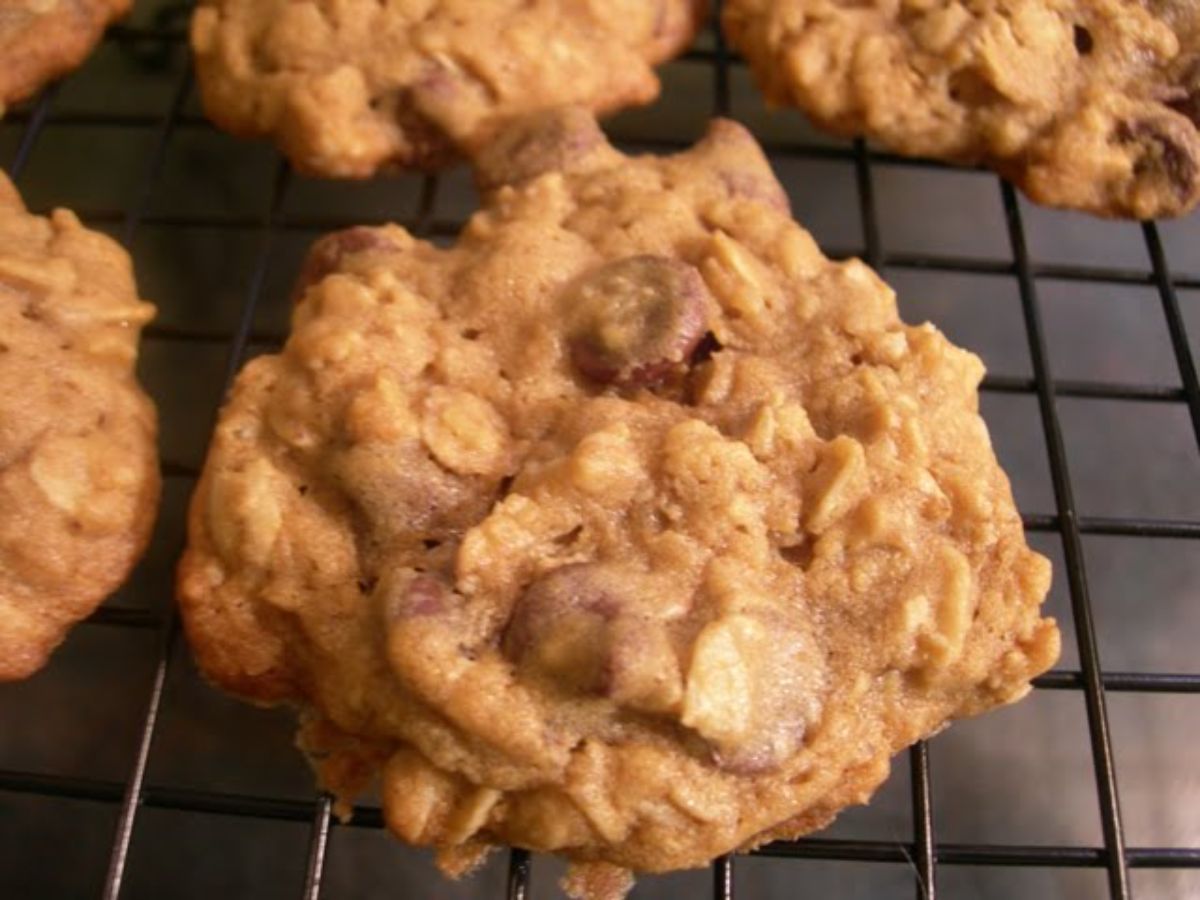 We promise you've never had cookies like these before. The sweet and smoky flavor of the molasses pairs perfectly with the oats and semi-sweet chocolate chips, leading to warm flavors that can be enjoyed at any time of the year.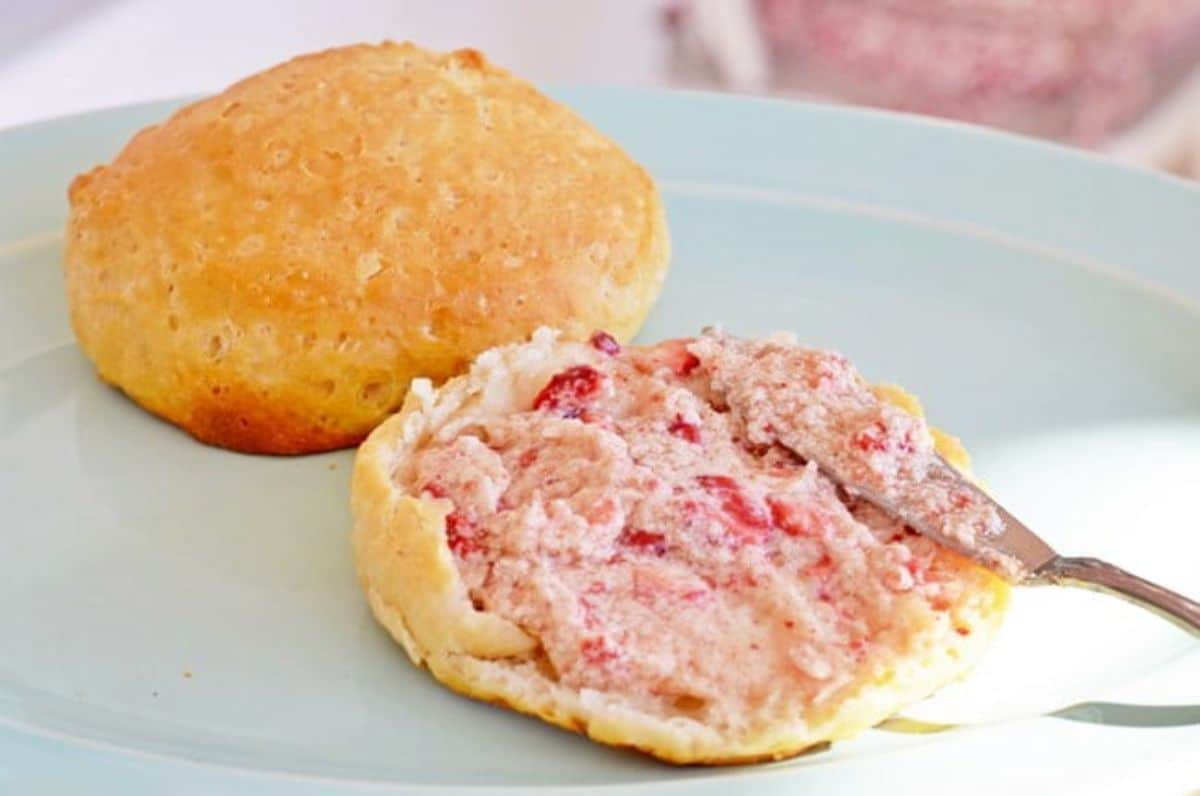 This simple four-ingredient spread is the perfect companion to bagels, biscuits, sugar cookies, muffins, or any other confection. Simply combine softened butter, honey, vanilla extract, and Crunchies freeze-dried strawberries to enjoy the perfect breakfast or dessert.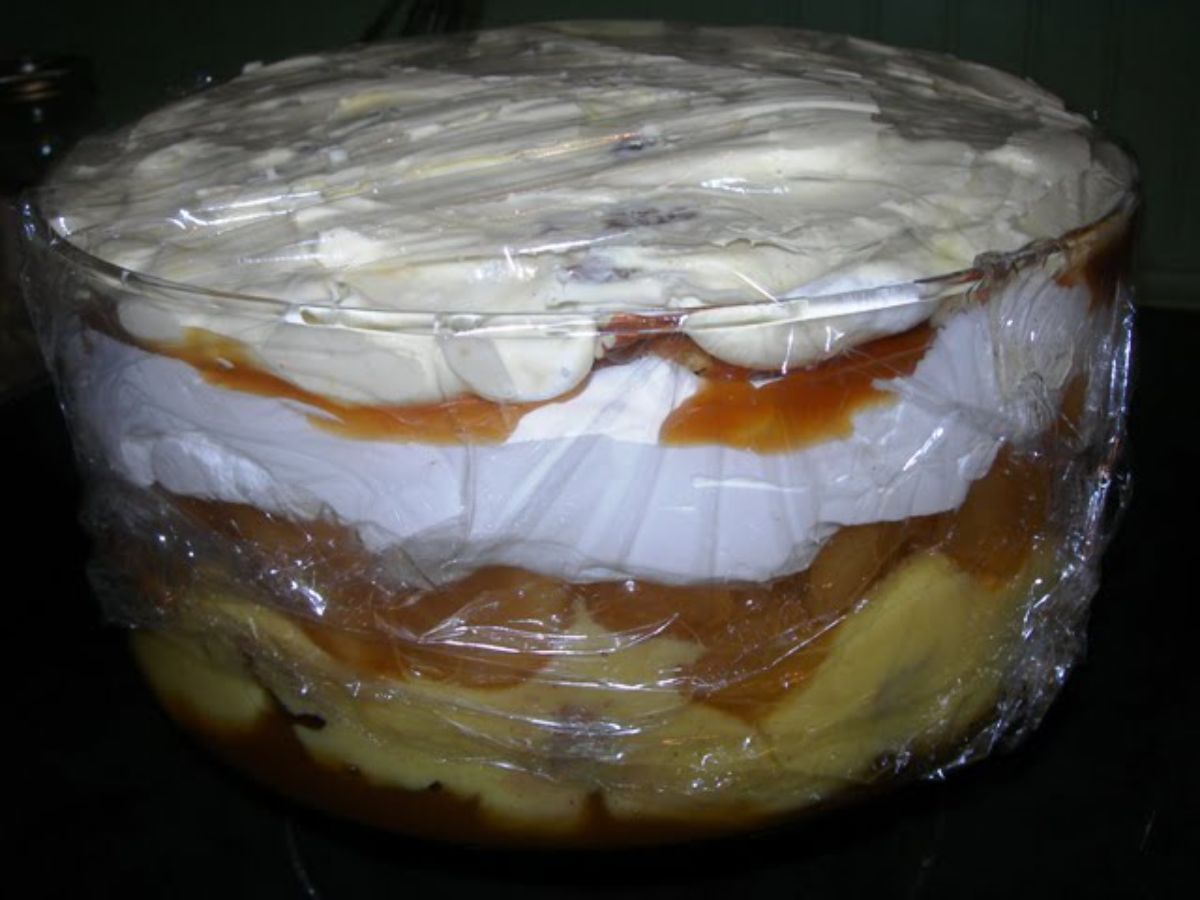 Caramel and apples are a delicious flavor combination, but have you ever had the pair in a trifle? If not, today is your lucky day!
Begin by placing the yellow cake mix into two 9-inch round pans. Then, warm up the apple pie filling, prepare vanilla pudding, and have a caramel ice cream topping ready.
Layer the different ingredients in a large trifle bowl, and repeat the process until the bowl is filled. And voilà! There's the dessert of your dreams.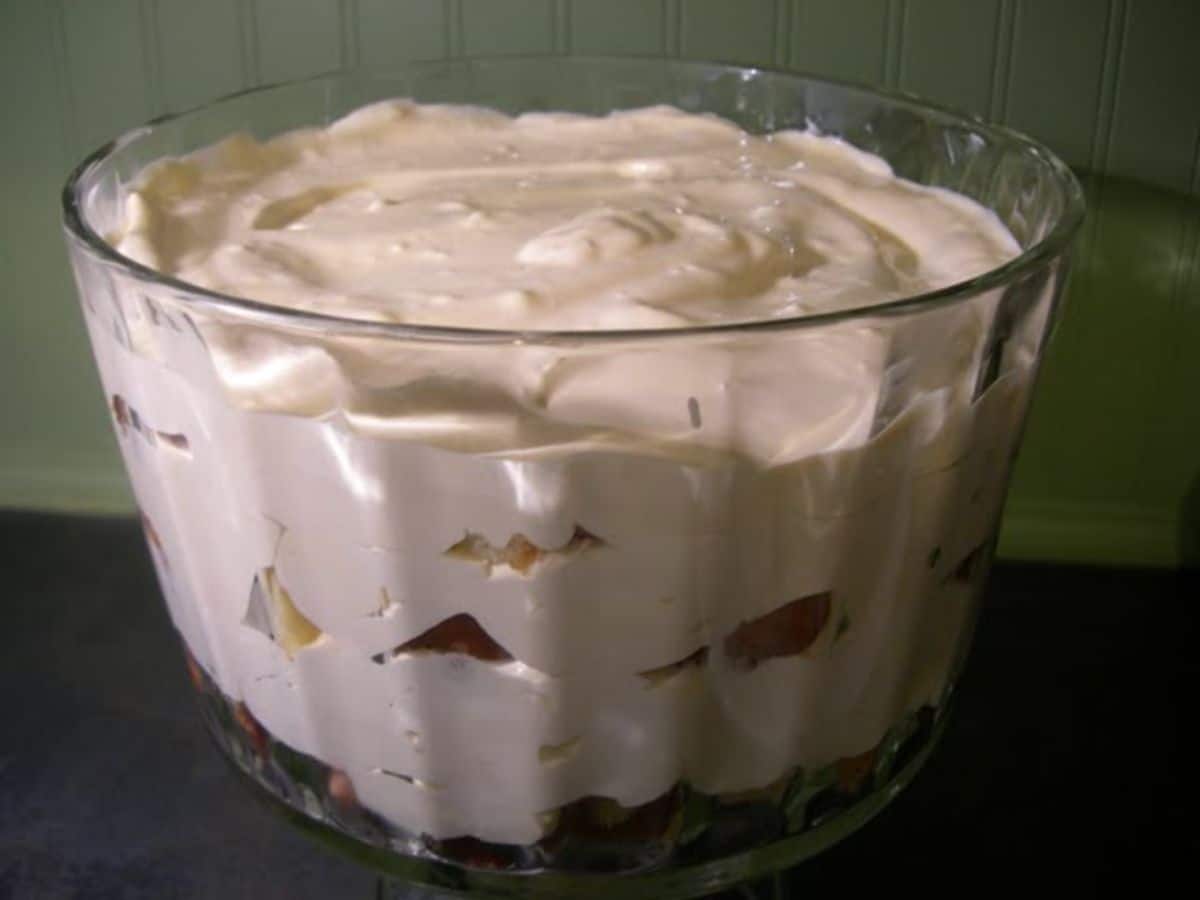 Cool and refreshing lemon silk is the perfect addition to a parfait or trifle with pound cake and fruit. Garnish the confection with a lemon slice and fresh lemon zest for an extra kick of that delightful tartness.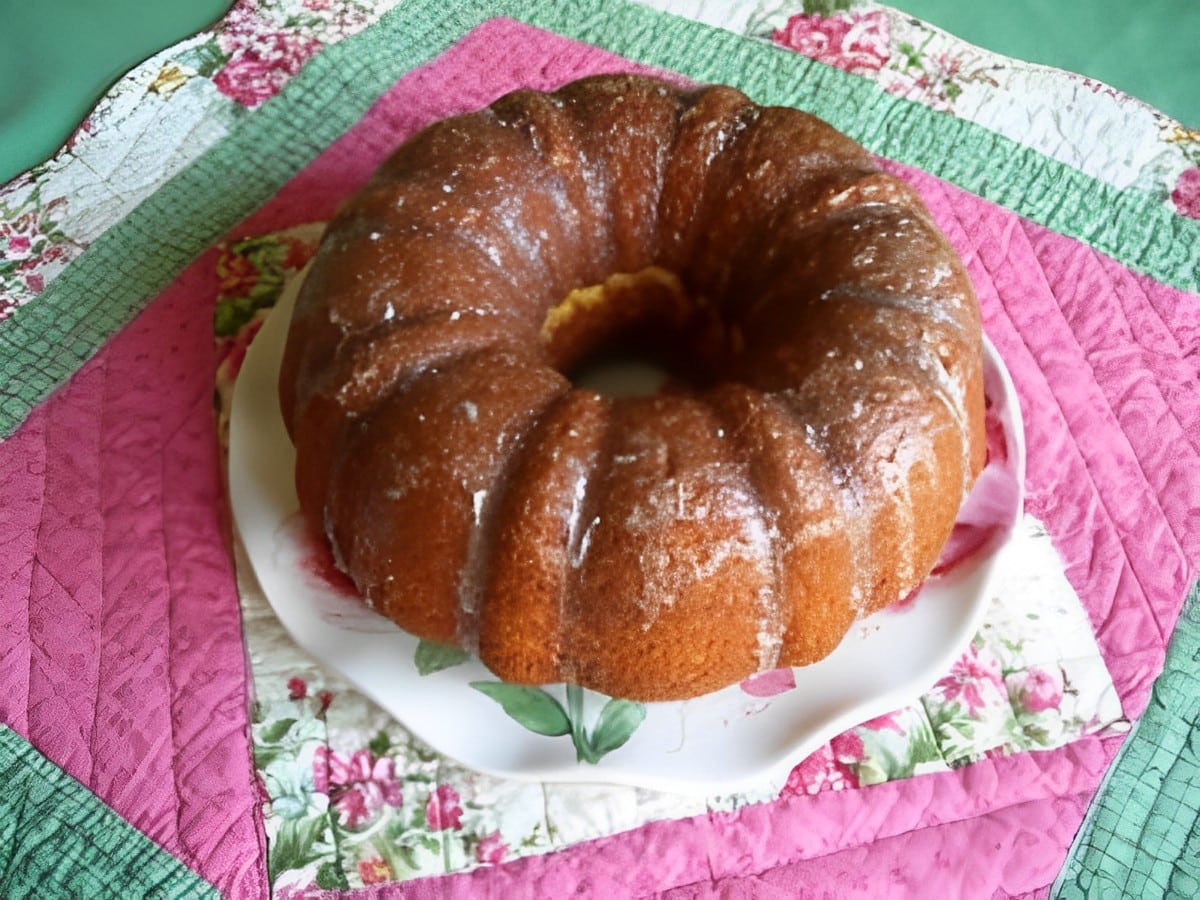 Storytime! The Harvey Wallbanger cake was first introduced when a surfer with the given name drank vodka and orange juice cocktails to cheer himself up after losing a contest. In the 1970s, the cake became famous as an advertising mechanism for the new Sunbeam frypan.
If you'd like to see what the hype is about yourself, simply combine yellow cake mix, orange juice, vodka, and Galliano. Bake the cake in a bundt pan until it is fluffy, and enjoy your luscious treat!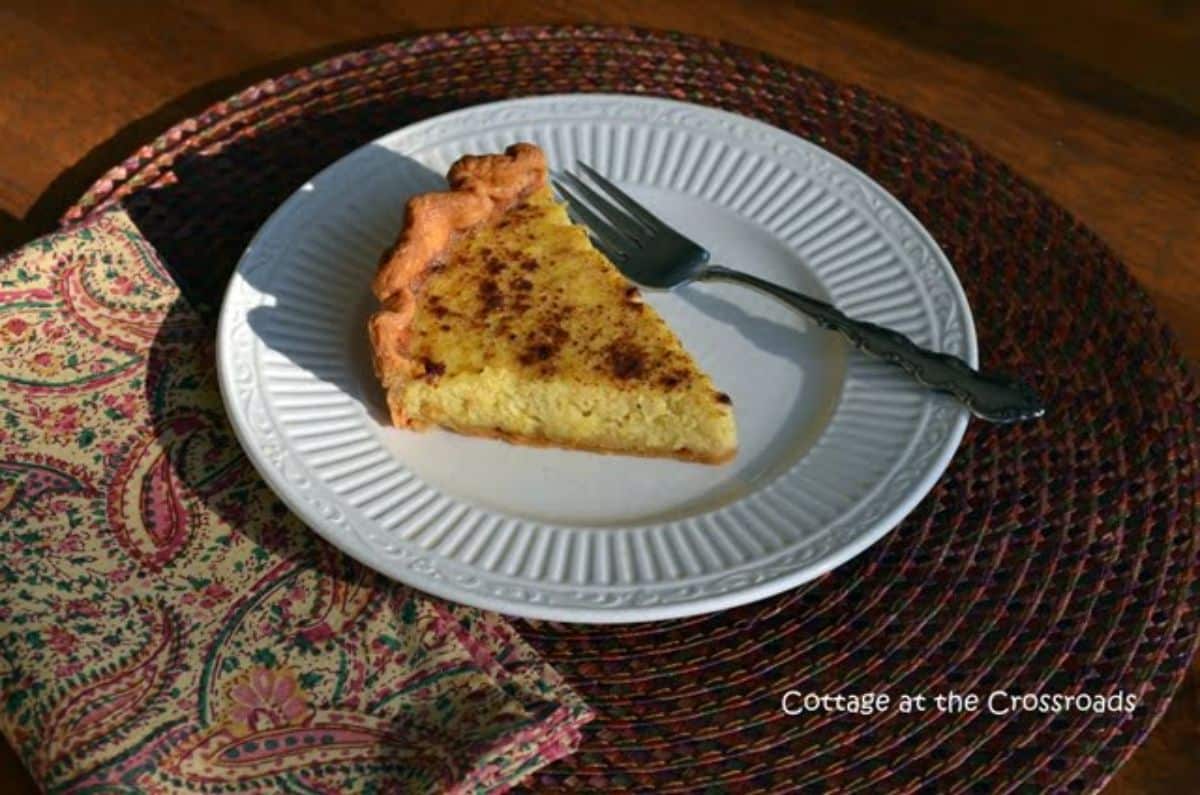 Spaghetti squash inside a sweet pie? Sign us up! Begin by cooking the spaghetti squash and harvesting its flesh. Then, combine it with coconut flavoring, nutmeg, butter, sugar, cinnamon, and lemon zest before filling it into a baked pie shell.
Bake the treat for 45 minutes, and add a dollop of whipped cream on top for additional sweetness. Sounds like heaven, doesn't it?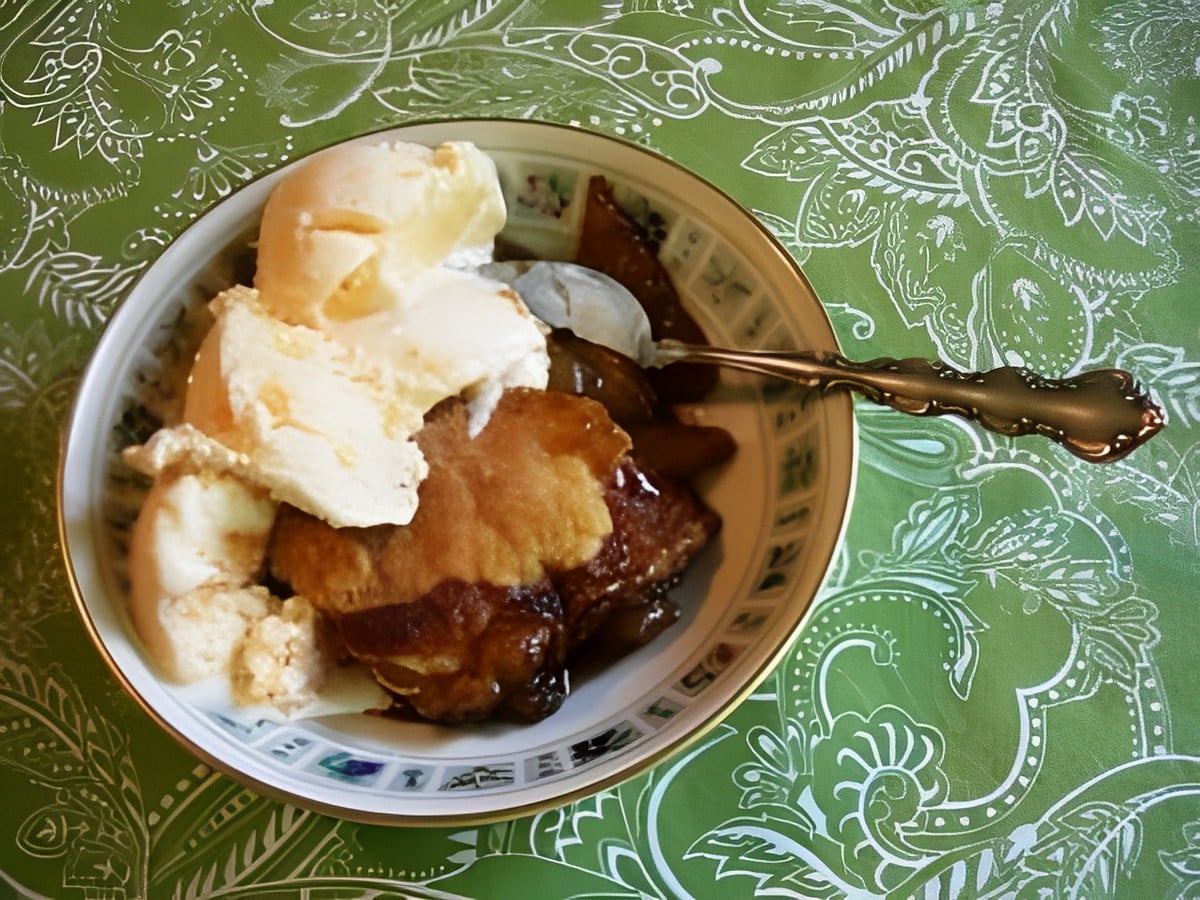 Pears, brown sugar, and balsamic glaze mesh like magic in this warm and delicious pear puff recipe. The secret to faster preparation is simple: use a premade puff pastry.
Not only will the pastry puff up like a pear-filled balloon, but it will also give you a satisfying crunch when serving. Feel free to top your portion with whipped cream if you want more sweetness.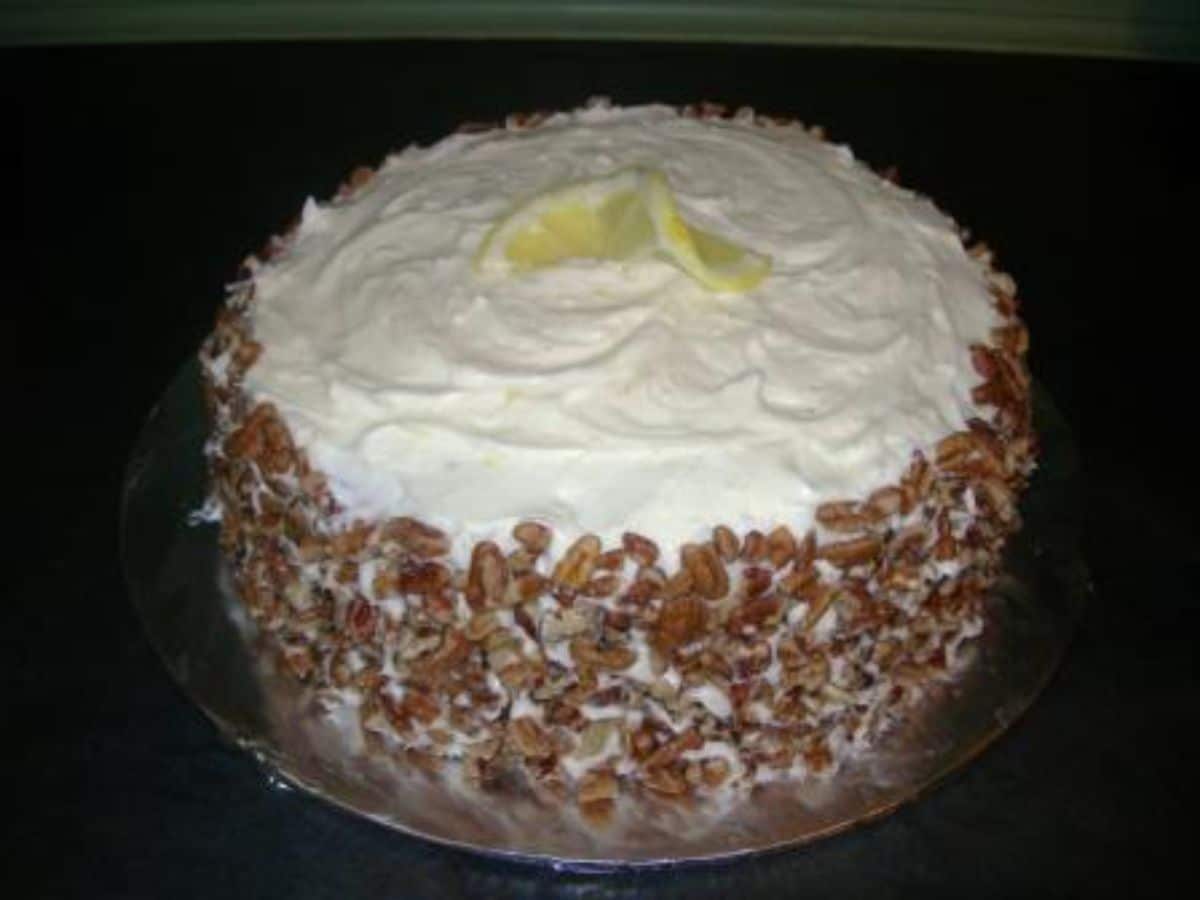 Simply put, this isn't your usual carrot cake recipe. What sets it apart is the delicious lemon zest in the batter for some added flavor.
On top of that, the entire cake is covered in pecans and then garnished with lemon zest. Even the cream cheese frosting features lemon juice to bring out the dessert's light citrusy notes. How's that for a unique carrot cake?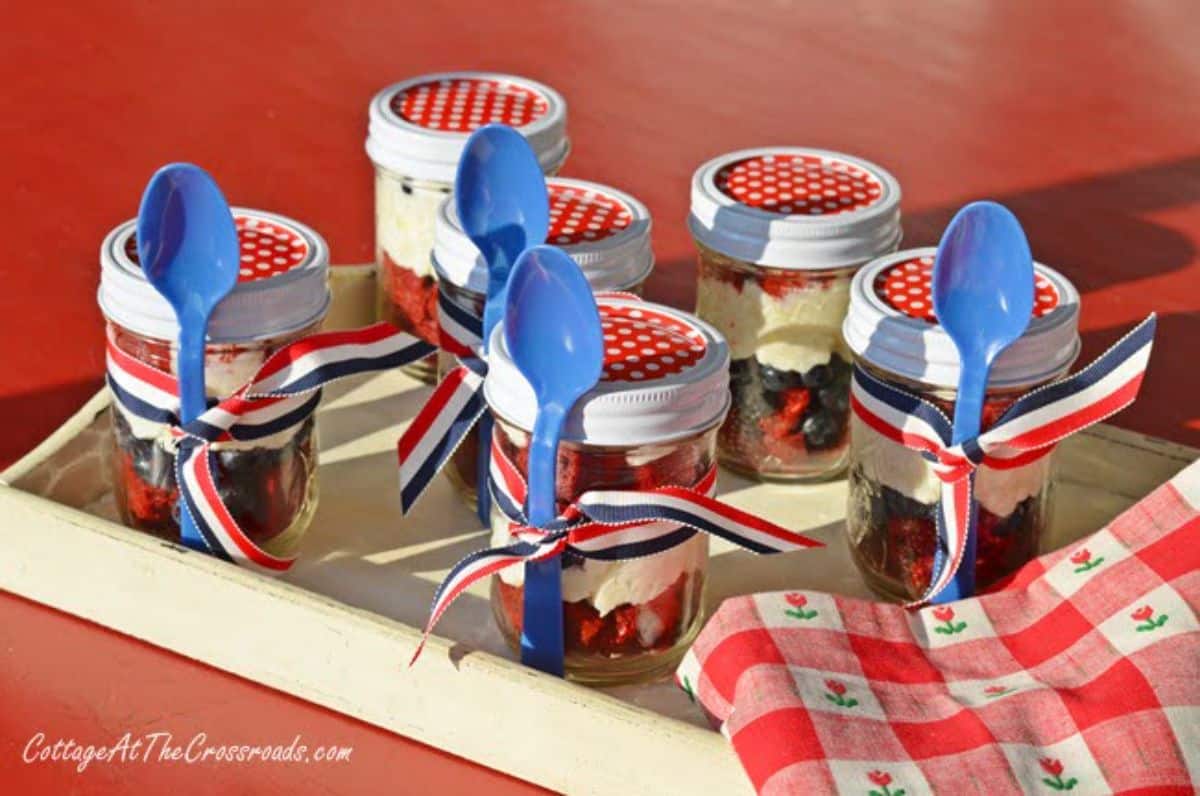 Ready to celebrate Memorial Day or the Fourth of July with a sweet parfait? This delicious dessert features blueberries, red velvet cake, and white icing, all of which are reminiscent of the American flag's colors.
To make the delectable icing, all you need to do is grab some heavy whipping cream, powdered sugar, and cream cheese. Then, gather some red velvet cake, and layer the ingredients in your mason jars. Repeat the process until the jars are filled, and enjoy!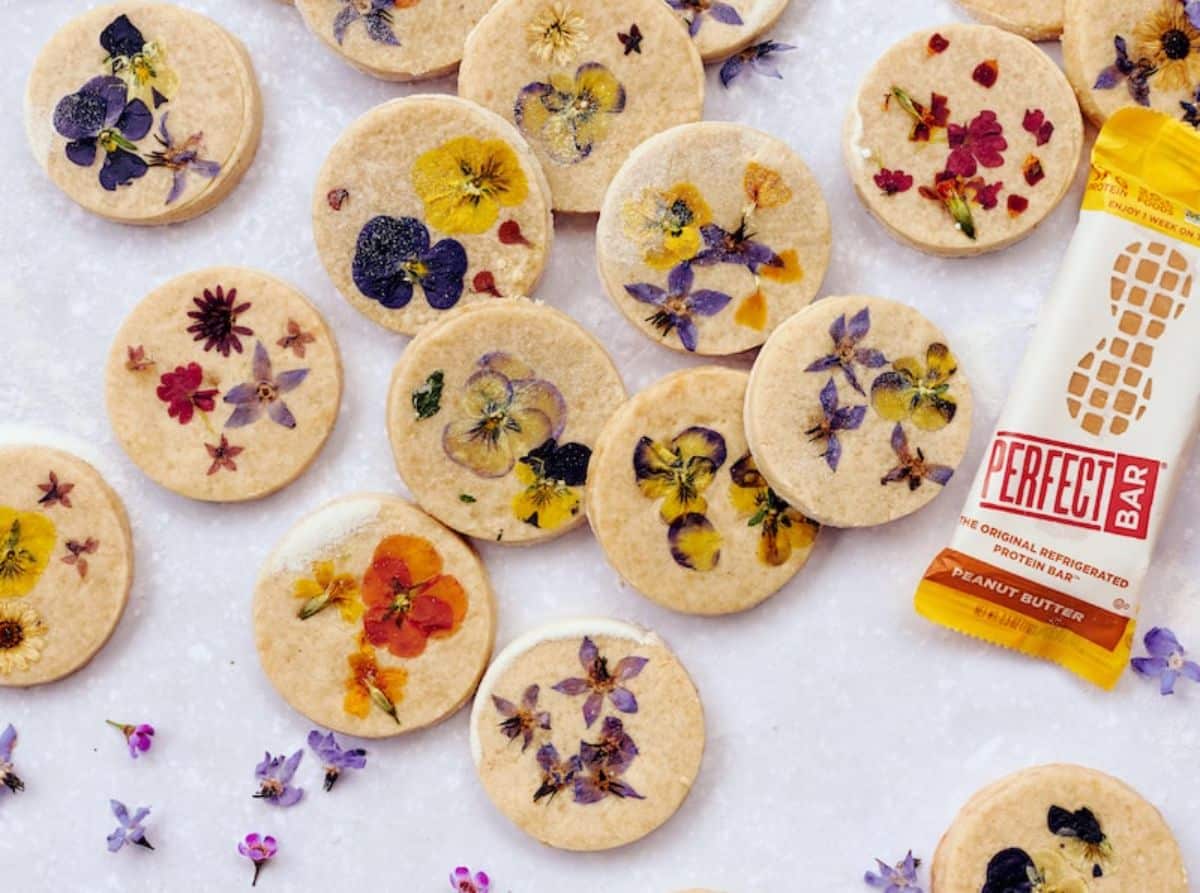 Picture real pressed flowers on top of a buttery, peanut-flavored cookie. Beautiful, right? This cookie recipe is ideal for your next birthday party or family get-together.
The secret ingredient is the peanut butter-flavored Perfect Bar, which contains so much peanut butter that you won't even need to buy a jar! Pansies, blue borage, and violas are a few examples of edible flowers you can purchase to finish off this delectable and unique cookie recipe.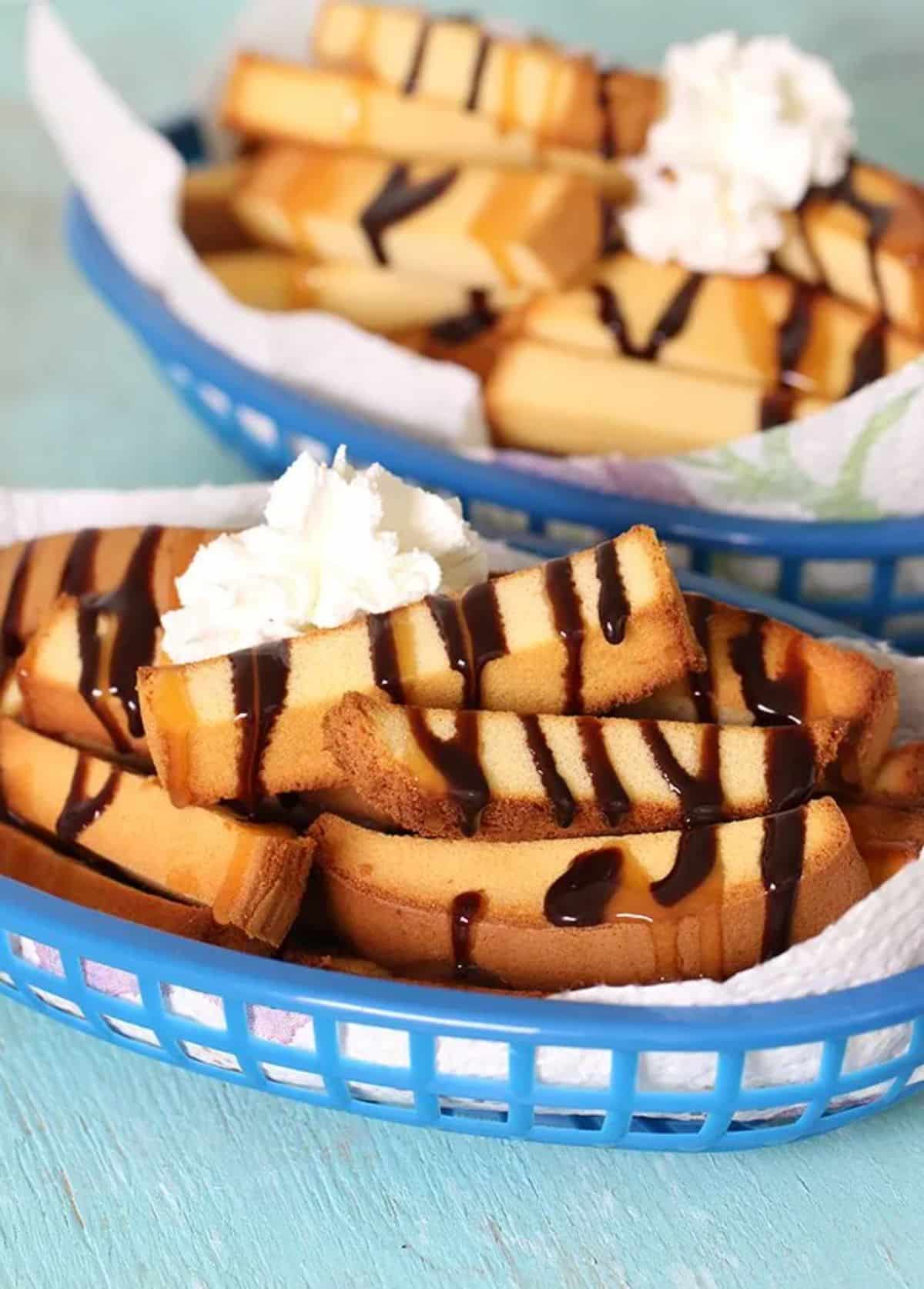 It's one thing to put chocolate and caramel on top of a pound cake, but it's another to turn them into cake fries. Yes, you heard that right!
Start by cutting a pound cake into long, fry-like shapes. Then, line oval-shaped plastic baskets with paper towels and place the pound cake fries on top. For the finishing touch, gather some chocolate syrup, caramel syrup, and whipped cream. Ta-da!
Believe us when we say these edible teacups look almost too good to eat! And the best part? They're a lot easier to make than you might think. Cut the tops off ice cream sugar cones, and create a cup stand by attaching the cone to a vanilla cookie with melted chocolate.
Then, place a mini Reese's peanut butter cup inside the sugar cone, and decorate it with melted milk chocolate and a pretzel. And there you have it: deliciously crunchy edible teacups!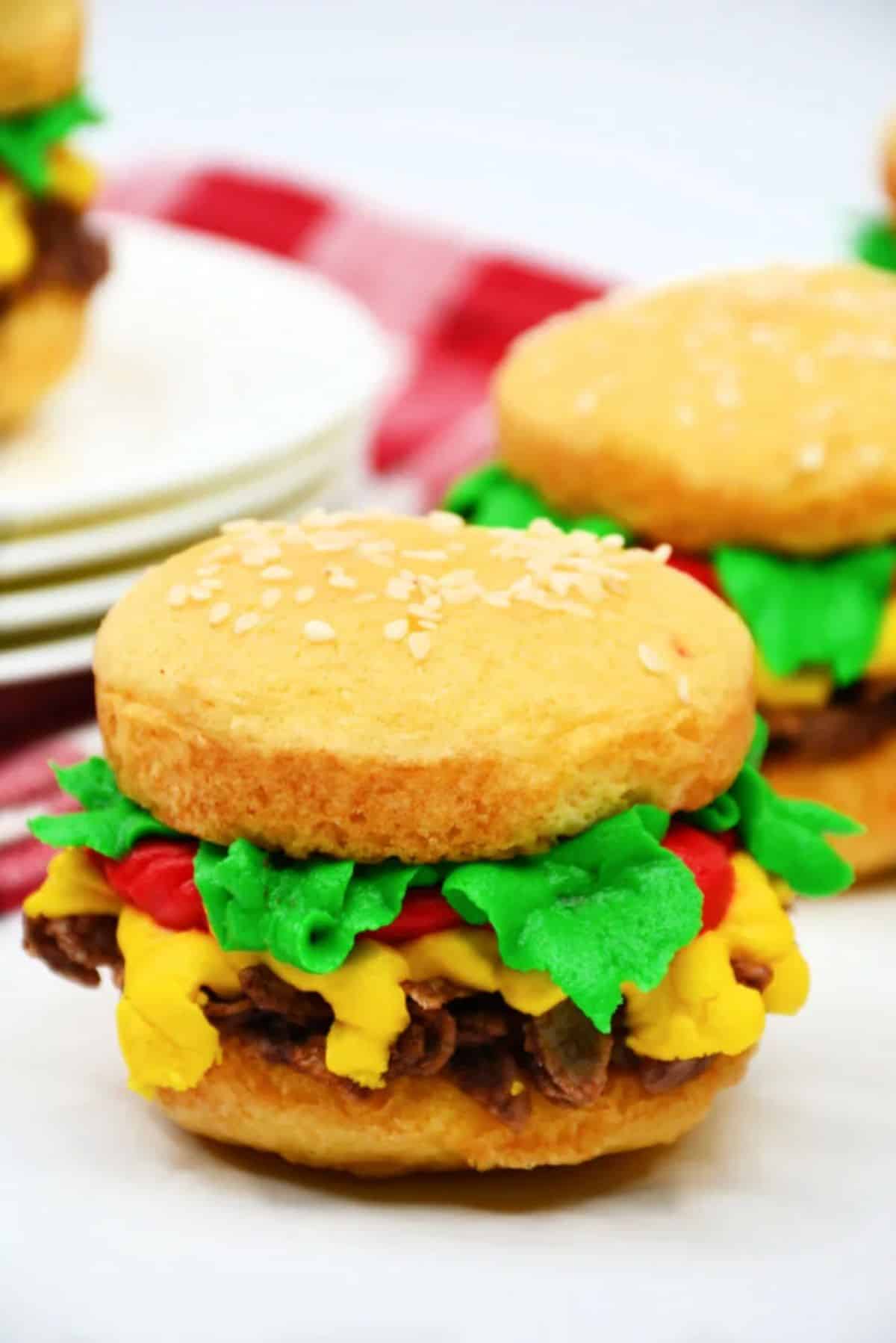 Say hello to this fun, decorative take on everyone's favorite whoopie pie! Yellow cake mix makes the "hamburger buns" of this pie, while the colored icing acts like cheese. Doesn't that sound delightful?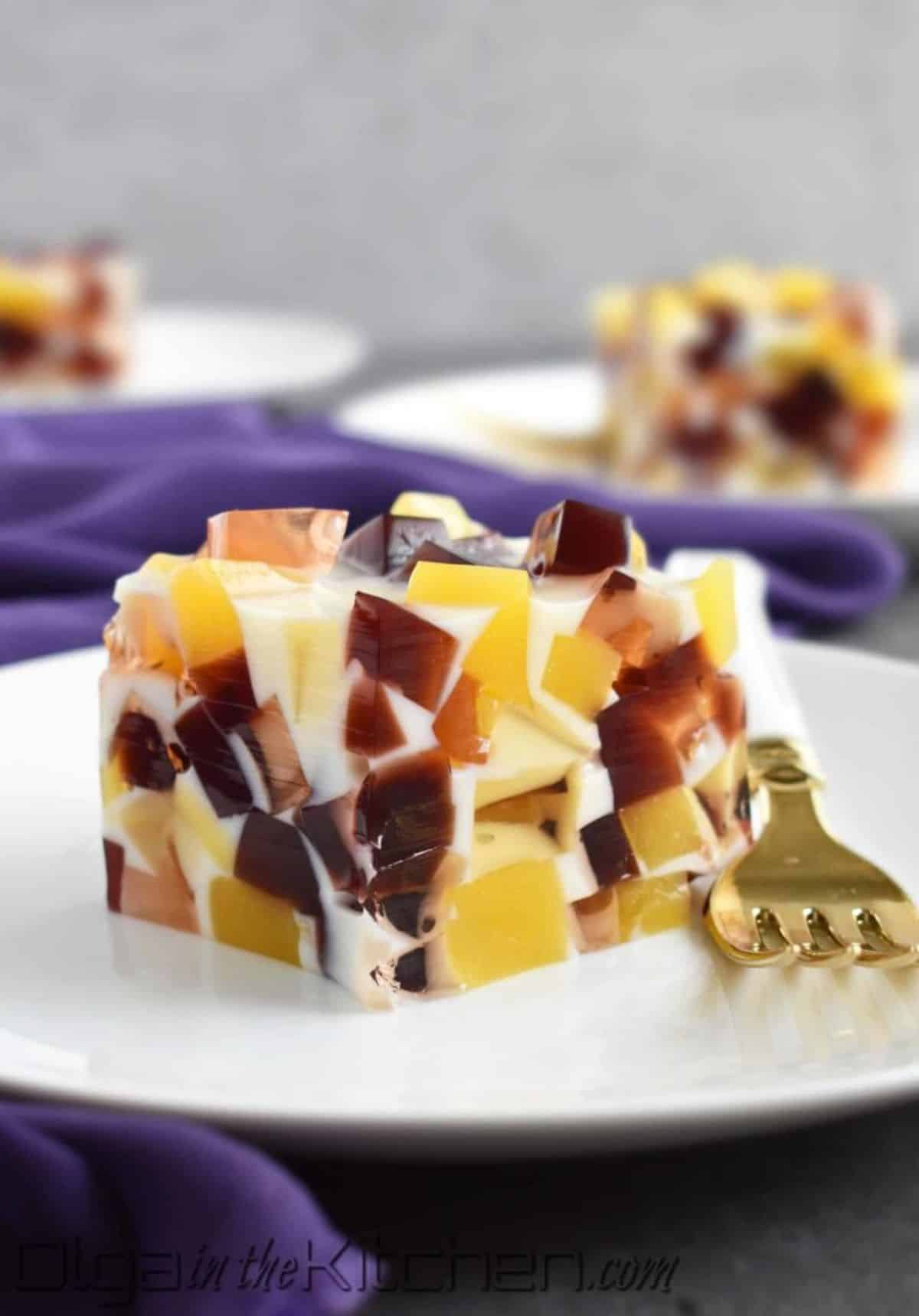 Don't be alarmed by the title! This recipe is 100% safe to consume and a tantalizing treat for your taste buds.
All you need to do is combine different juice flavors with a box of gelatin to create that broken glass effect. From apple to orange to grape, the flavor possibilities are endless!
Follow the measurements for the gelatin-to-juice ratio, prepare each flavor separately, cube them all up, and mix them with sweetened condensed milk. We promise the result will be more than worth it.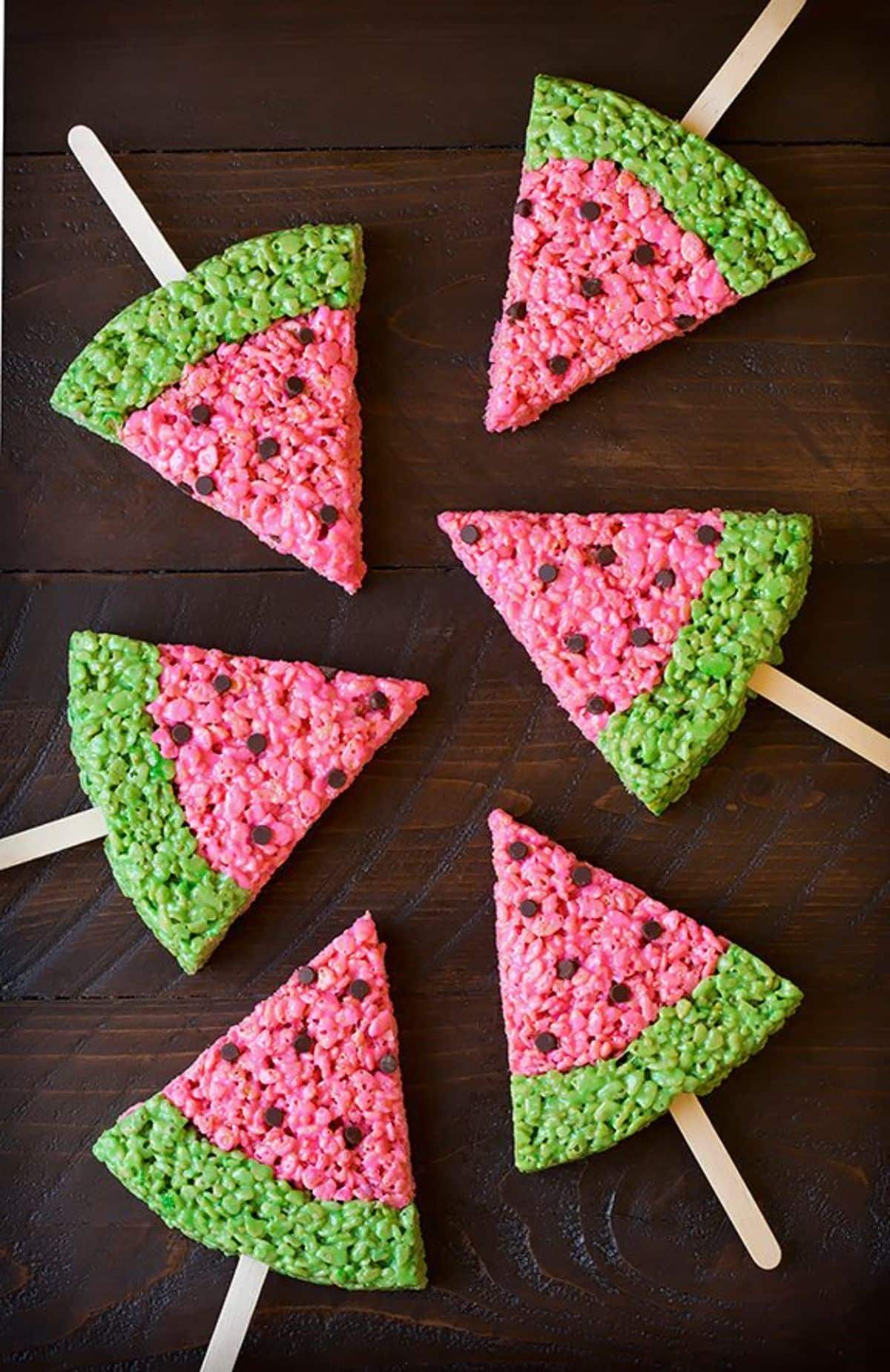 Who doesn't love a good ol' Rice Krispy? You can prepare these irresistible treats by mixing cereal, butter, and some marshmallows. Then, separate the mixture into two bowls and dye one green and the other red. Finally, mold the rind and place it on a popsicle stick before garnishing the treat with some semi-sweet chocolate chips. Yum.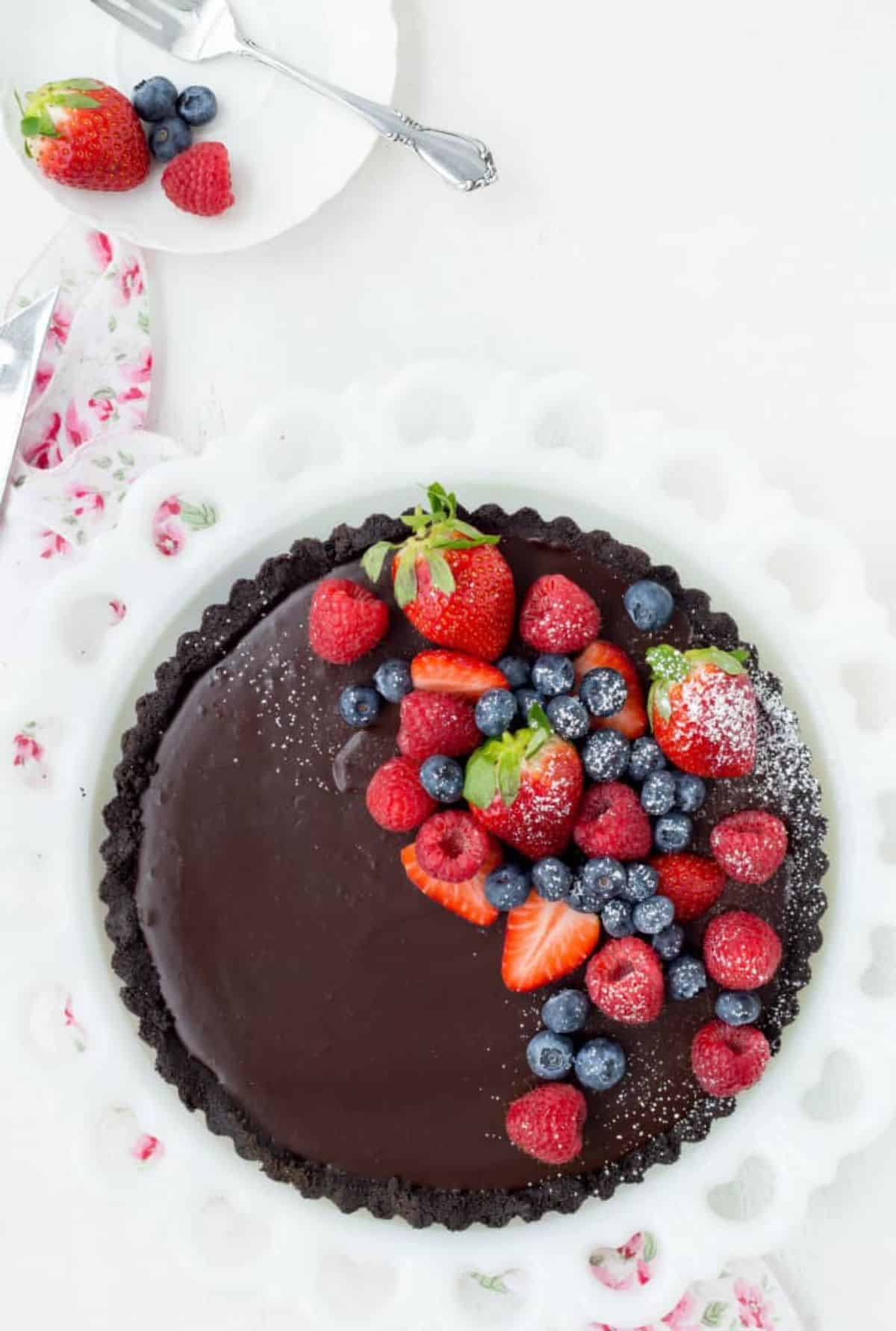 The best thing about this delicious summer treat is that it's effortless to make. It is so easy, in fact, that it doesn't even require an oven!
All you have to do is mix melted butter into some Oreo cookie crumbles and shape it into your tart pan. Then, melt some chocolate chips into heavy cream for the filling, let them harden, and bring out your favorite berries to garnish.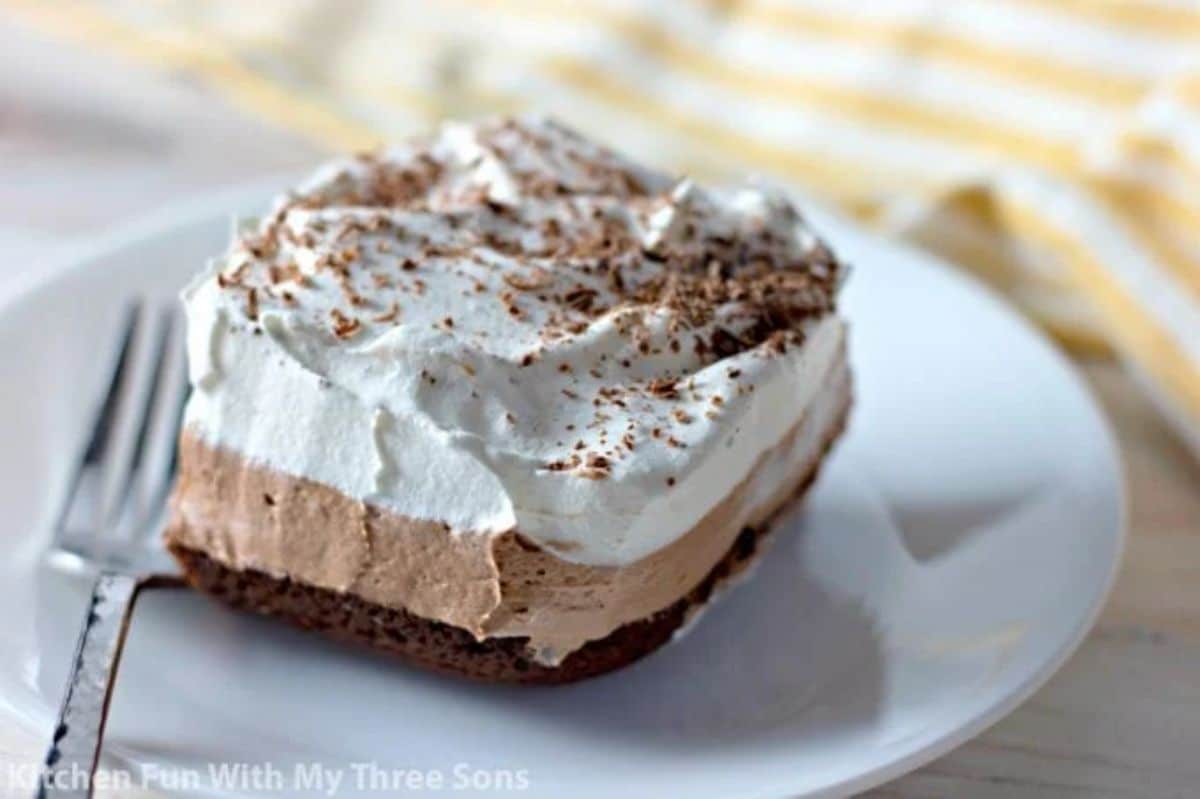 Are you ready for a modern twist on your favorite brownies and French silk pie? We know we sure are! Once you're done preparing the brownies, top them with French silk and serve. Both the kiddos and adults won't be able to resist these.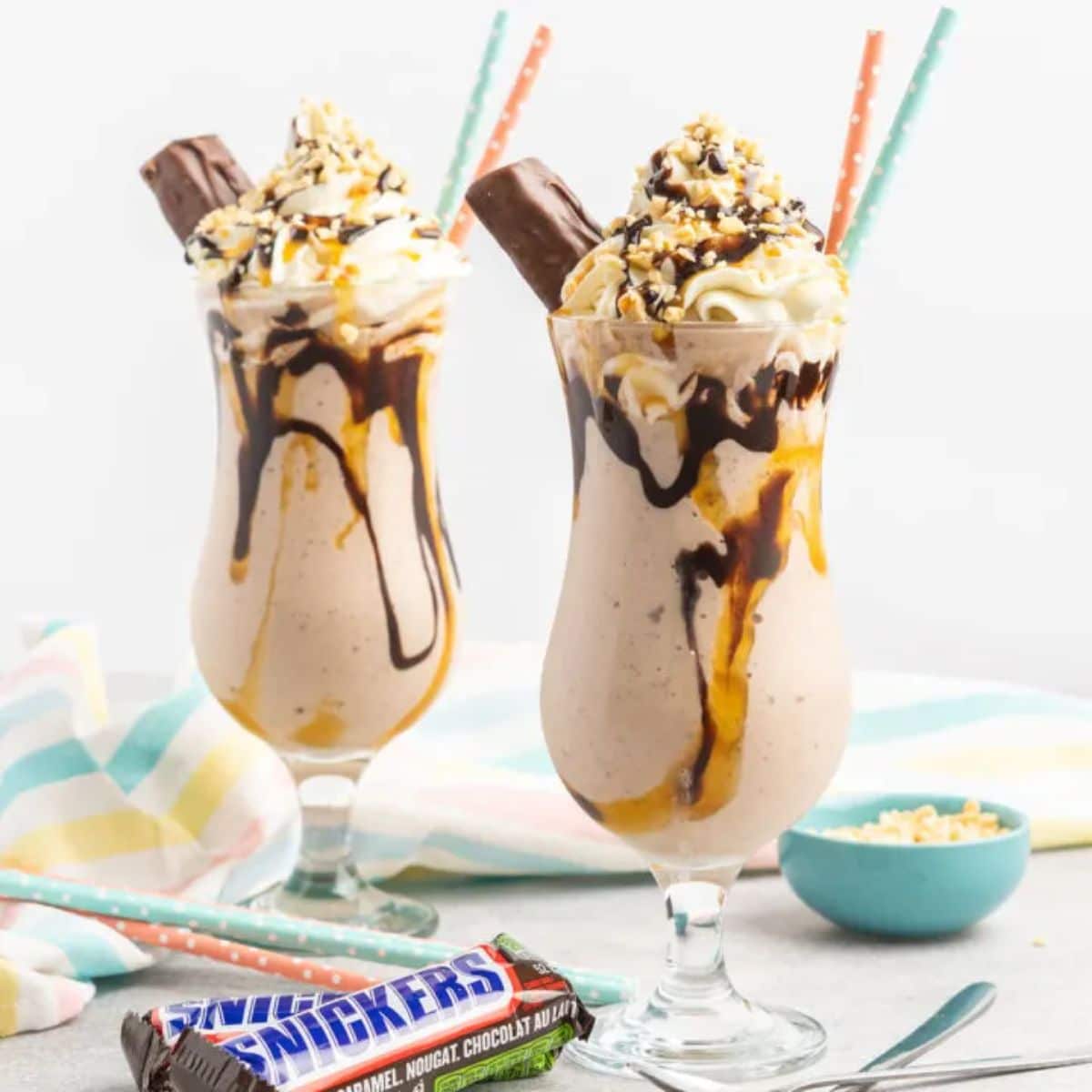 Raise your hand if you're a Snickers fan! To make this delectable milkshake, combine ice cream, chocolate syrup, caramel syrup, milk, Snickers, chopped peanuts, and whipped cream. There can't be a better ending to your weeknight dinner than this.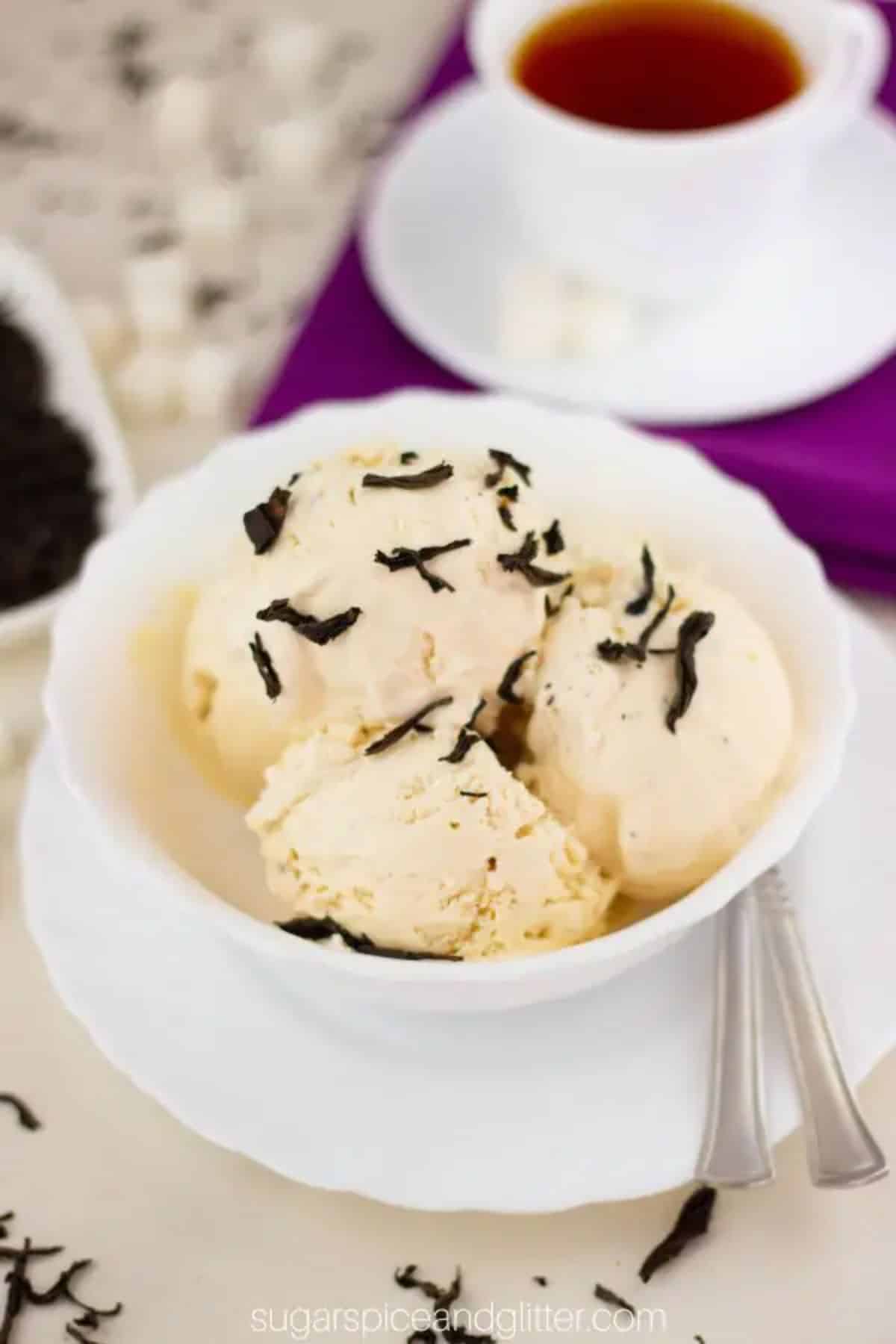 Believe it or not, you don't need an ice cream machine to make some ice cream. All you really need to do is mix cooled Earl Grey tea, sweetened condensed milk, whipping cream, and vanilla extract with an electric mixer. Then, place it in your freezer until there's an ice cream-like consistency, and enjoy your new favorite dessert!
Conclusion
We hope you enjoyed our list of easy unusual desserts! From edible teacups to pound cake fries, these creative recipes are the perfect way to up your dessert game. Be sure to try them, and let us know your favorite.