Sometimes the best recipes come about by accident or experimentation, and that's how I came up with these delicious apple banana pecan muffins!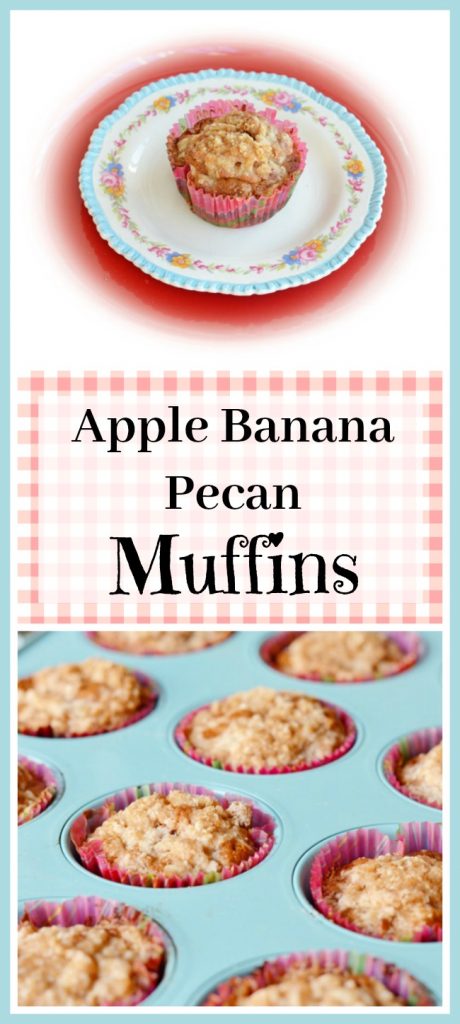 Yesterday I had 3 apples and one overripe banana in our fruit bowl which I keep out on the counter. Normally, we like to eat most of our fruit plain, but I was in the mood to do some baking. And these delicious "appley" moist muffins were the result of some experimentation.
This post may contain Amazon or other affiliate links. As an Amazon associate, I earn from qualifying purchases. If you purchase anything through any affiliate link, I may earn a small commission at no extra charge to you. All opinions are my own.
First, I peeled and rough chopped the apples. I left some of the pieces a little larger than the others because I wanted some chunks of apple in the muffins to give them plenty of texture. These went into a bowl and I microwaved them on high for 3-4 minutes, stopping at the end of each minute to give the apples a stir. I didn't want to turn the apples into applesauce, but I wanted the apples to release some of their juices. Next I mashed up my one overripe banana and added it to the apple mixture.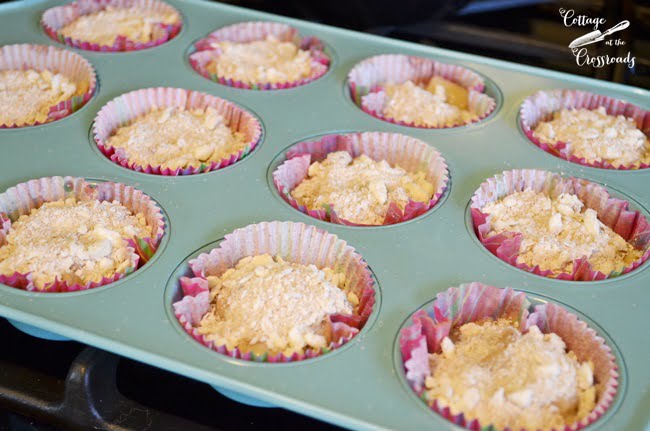 After mixing up the rest of the ingredients (which you can see in the printable recipe below) I put some paper liners into my muffin pan. Here's a tip when making muffins. Spray the inside of the paper liners with cooking spray so that whatever you put inside will release easily. I filled the liners about half full of the muffin mixture and then added a streusel topping. If you make these yourself, promise me you won't leave off the streusel topping. That's what makes these muffins so darn good!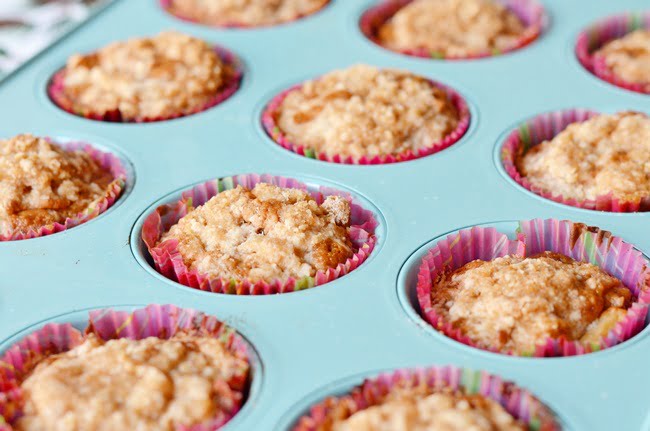 The kitchen smelled so wonderful while these were baking. As you can see, they didn't rise very much because the apples make them more dense. They are a bit crumbly when you eat them warm from the oven, but they firm up after cooling a bit. And they are just as good the next day and make a great snack.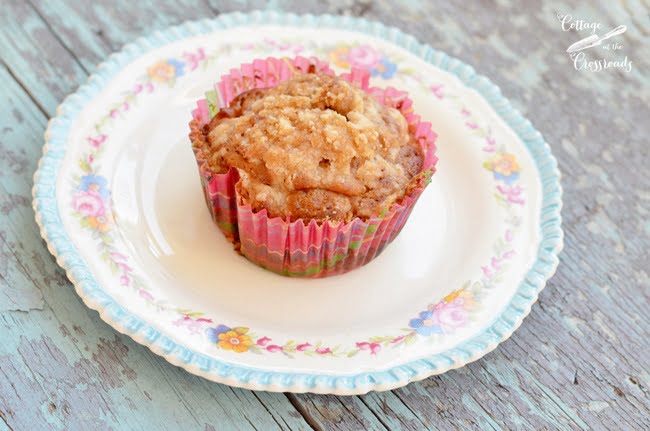 Leo and I have been having one with our coffee in the afternoons. It's kinda like having your own miniature coffee cake! I shared some with my mom, and of course, Lucy gets her fair share, too!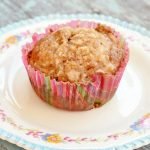 Apple Banana Pecan Muffins with Streusel Topping
A delicious "applely" muffin that's just as good cold as a snack as it it warm out of the oven
Ingredients
For the muffins
3

apples

peeled and chopped

1

ripe banana

mashed

1/2

cup

1 stick butter, softened

1/2

cup

sugar

1

egg

1

teaspoon

vanilla flavoring

1

cup

all purpose flour

3/4

teaspoon

baking powder

1/4

teaspoon

baking soda

1/4

teaspoon

salt

1/2

teaspoon

ground cinnamon

1/4

teaspoon

ground nutmeg

1/2

cup

chopped pecans
For the streusel topping
1/2

cup

flour

1/2

teaspoon

cinnamon

3

tablespoons

cold butter

cut into small pieces

1/4

cup

brown sugar
Instructions
For the muffins
Cook the chopped apples in the microwave for 3-4 minutes, stopping at the end of each minute to stir. (You want them somewhat cooked but not mushy!)

Add the mashed banana to the cooked apples, mix thoroughly, and set aside.

In a medium sized bowl, mix together the flour, baking powder, baking soda, salt, cinnamon, and nutmeg.

Using a hand or stand mixer, cream together the butter and the sugar.

Beat in the egg and the vanilla flavoring.

Add the flour mixture to the creamed butter mixture and mix until combined.

Fold in the pecans and the cooked apple mixture.

Spray paper liners with cooking spray and fill them 1/2 to 2/3 full of the muffin batter.

Sprinkle 2 tablespoons of the streusel mixture onto each muffin batter.

Bake in a preheated 350 degree oven for 25-28 minutes or until a toothpick comes out clean.

Cool 5 minutes before removing from the muffin pan.
For the streusel topping
In a small bowl, combine the flour and the cinnamon and cut the butter into the mixture until it resembles coarse crumbs.

Stir in brown sugar.
Recipe Notes
Serve these warm or cold.