I made these oatmeal molasses cookies this afternoon, and they are delicious!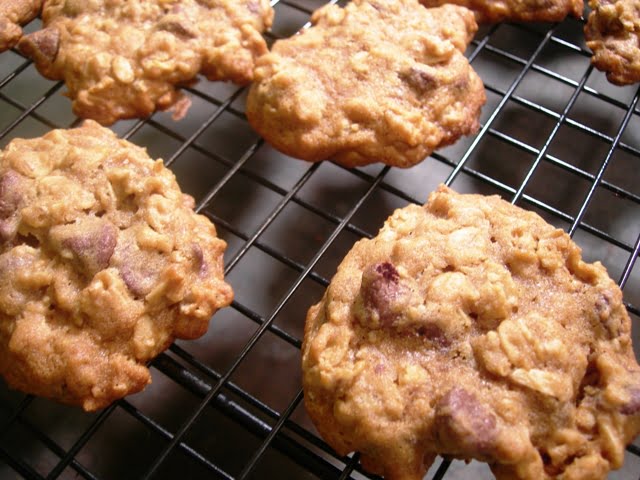 I spent some time this afternoon preparing my lesson, which was more time-consuming that usual. I don't teach a lesson every week. A group of us rotate, so my turn only comes around about every 8 weeks. But I let the date slip up on me, and I didn't pick up the teaching materials at church, so I planned a lesson from scratch.
I chose to do a lesson on Ruth and Naomi, which is one of my favorite bible stories. Are you familiar with the story?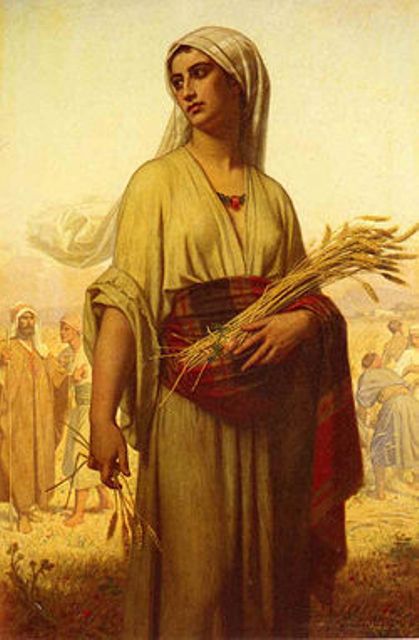 Ruth was Naomi's daughter-in-law, and they were both widows. Ruth accompanied Naomi back to Israel, and Ruth provided for them by gleaning barley. It is a wonderful story about friendship and family loyalty.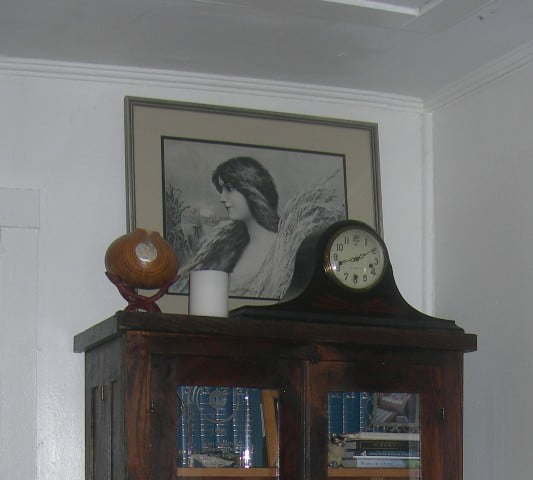 I've often thought this print that we have is of Ruth. It was given to Leo by his uncle many years ago. Isn't she beautiful?
The story of Ruth and Naomi got me to thinking about my mother-in-law, Sarah Windham. It was 2 years ago today that she passed.
Here is a picture of her with Woody, my husband's brother, on her last visit to the Crossroads. This photo was taken near the end of July 2009. She may be gone, but she will never be forgotten. She was one fantastic lady, mother, and mother-in-law.
So you're probably wondering why I made the cookies, aren't you? Well, I have told the boys and girls that I will always bring something to eat when I do a lesson. And part of the lesson will be on barley and the definition of gleaning. Now, I didn't put any barley in these cookies, but I thought about it. I just didn't have any barley flour on hand (do you?), and I knew our grocery store in our small town wouldn't have it either, so I substituted oats. Makes a teachable moment to explain the difference between barley and other grains.
What you'll need to make these cookies
1 ½ cups Splenda Brown Sugar Blend
1 ½ sticks butter, softened
½ cup molasses
1 teaspoon vanilla
1 egg
2 cups quick-cooking oats
1 ½ cups all purpose flour
1 teaspoon baking soda
¼ teaspoon salt
1 cup semi-sweet chocolate chips
How to make
Heat oven to 350 degrees.
Using a stand mixer, combine the Brown Sugar Blend and the butter. Add the molasses, vanilla, and egg. Blend until light and fluffy.
In another bowl, combine the flour, baking soda, and salt and add to the other mixture ½ cup at a time.
Blend after each addition. Take the bowl off the stand mixture and add the oats and chocolate chips and mix by hand.
Drop dough by rounded tablespoons about two inches apart onto ungreased cookie sheets.
Bake 9 to 11 minutes or until golden brown.
Cool slightly and remove from cookie sheet to a wire rack. Makes 3 ½ dozen cookies.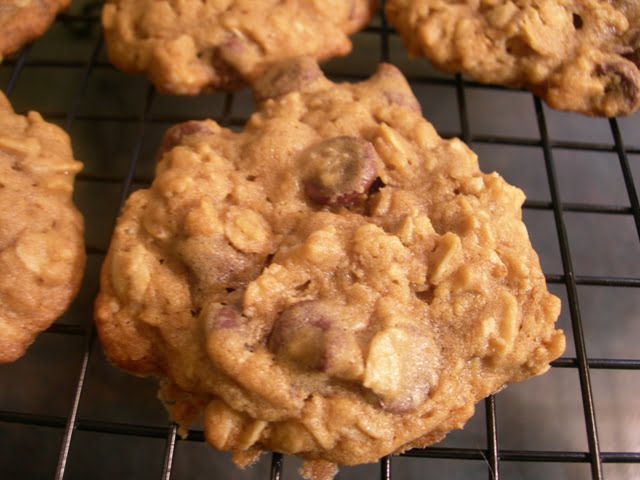 Guess I'll have to explain what molasses is, too! But chocolate chips need no explanation!
And if I have any adults who decide to come to Children's Church tomorrow, I'll know who's reading the blog!
If you'd like a printable copy of this recipe, click here.