Are you looking for a sweet treat to indulge in? Look no further! I've got some delicious recipe ideas that will satisfy your sweet tooth. Today, I want to talk about recipes with mini marshmallows.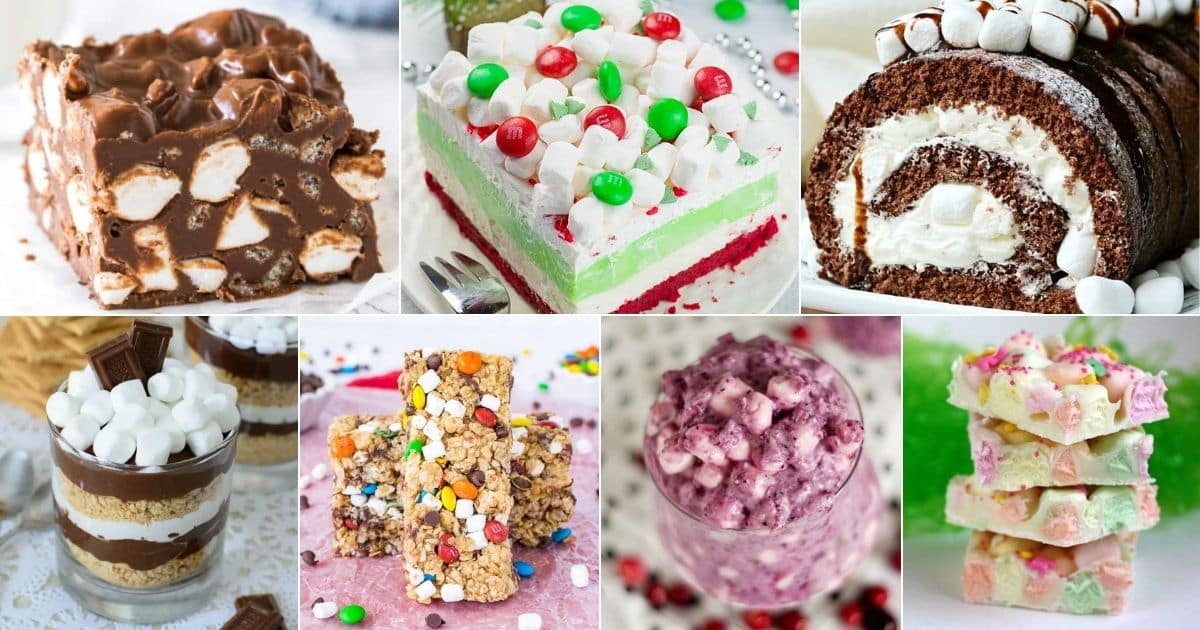 These fluffy little sweets are versatile ingredients that can add a touch of sweetness and texture to many desserts and snacks.
Whether you're in the mood for a classic s'more or something a bit more adventurous, I've got 31 recipes sure to delight your taste buds. So, let's get started and discover some fantastic ways to use mini marshmallows in your next sweet treat!
Contents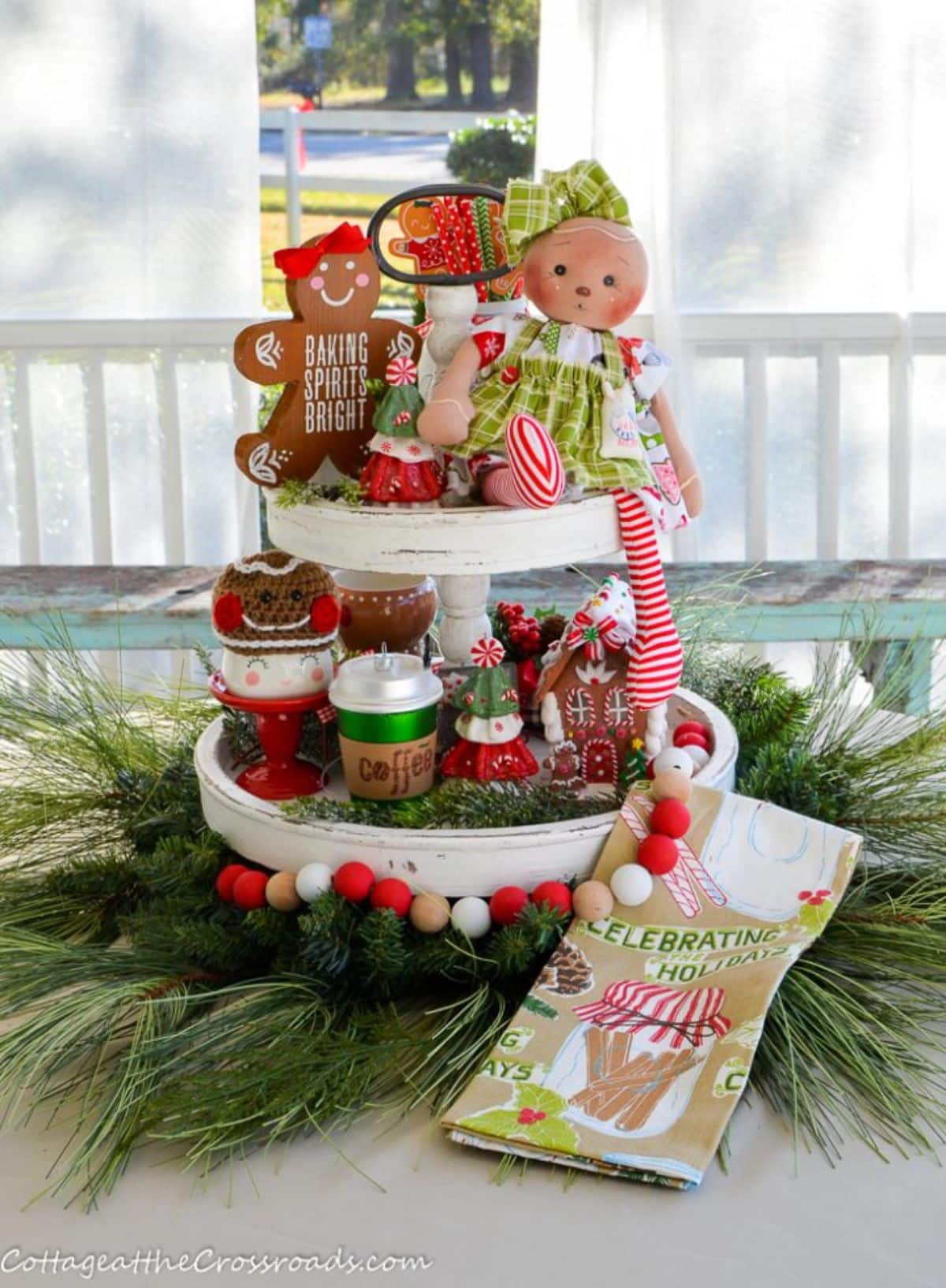 The Gingerbread Tiered Tray is the perfect centerpiece for any holiday gathering. With its delicate tiers and charming gingerbread design, it's sure to impress your guests. Adorned with mini marshmallows, it's not only beautiful but also delicious.
Fill it with your favorite holiday treats, and watch as it becomes the centerpiece of your sweet table.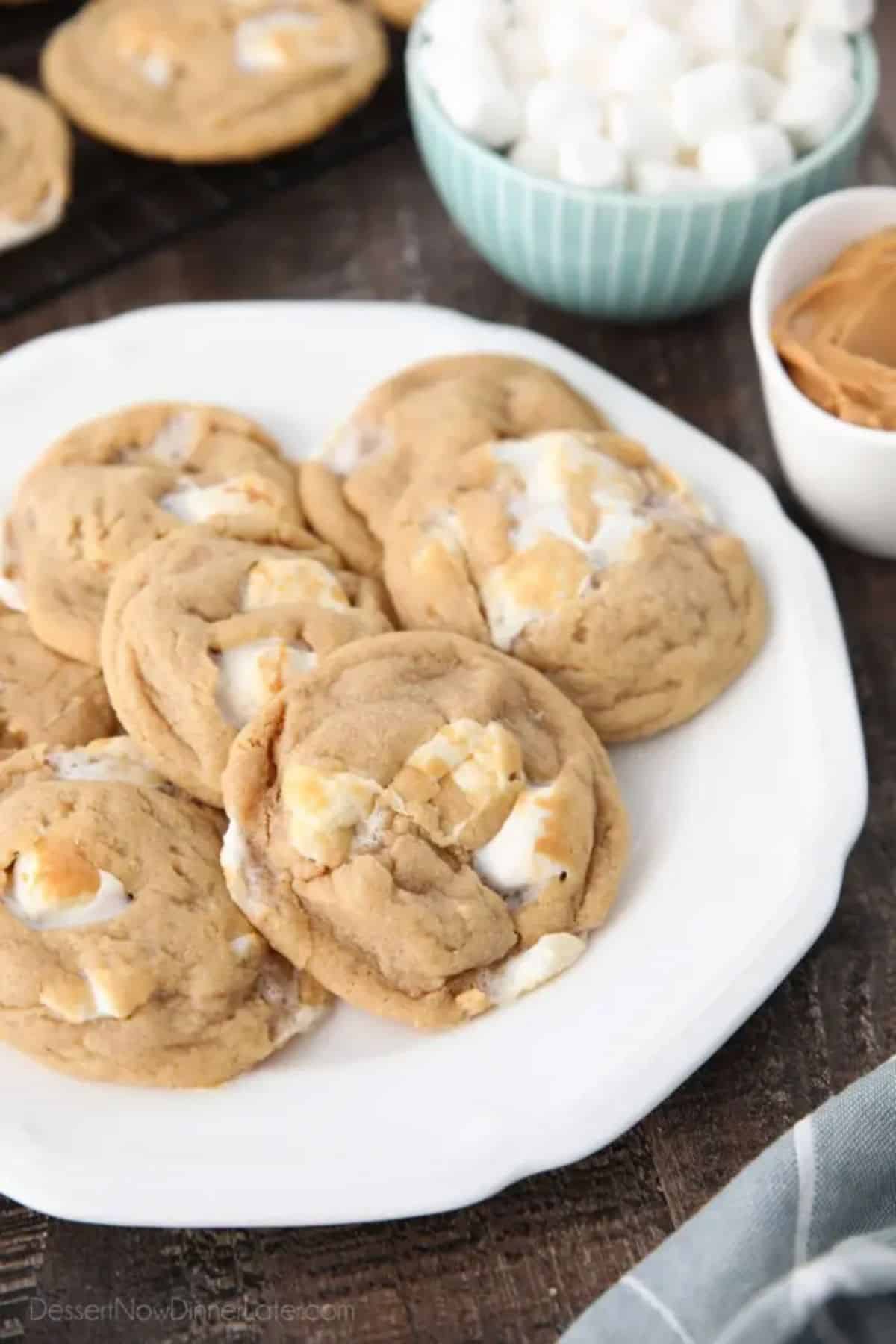 These Fluffernutter Cookies are a delightful twist on a classic favorite. Made with peanut butter and mini marshmallows, they're chewy, gooey, and downright irresistible.
Perfect for an after-school snack or a sweet treat with your afternoon coffee, these cookies will become a family favorite in no time.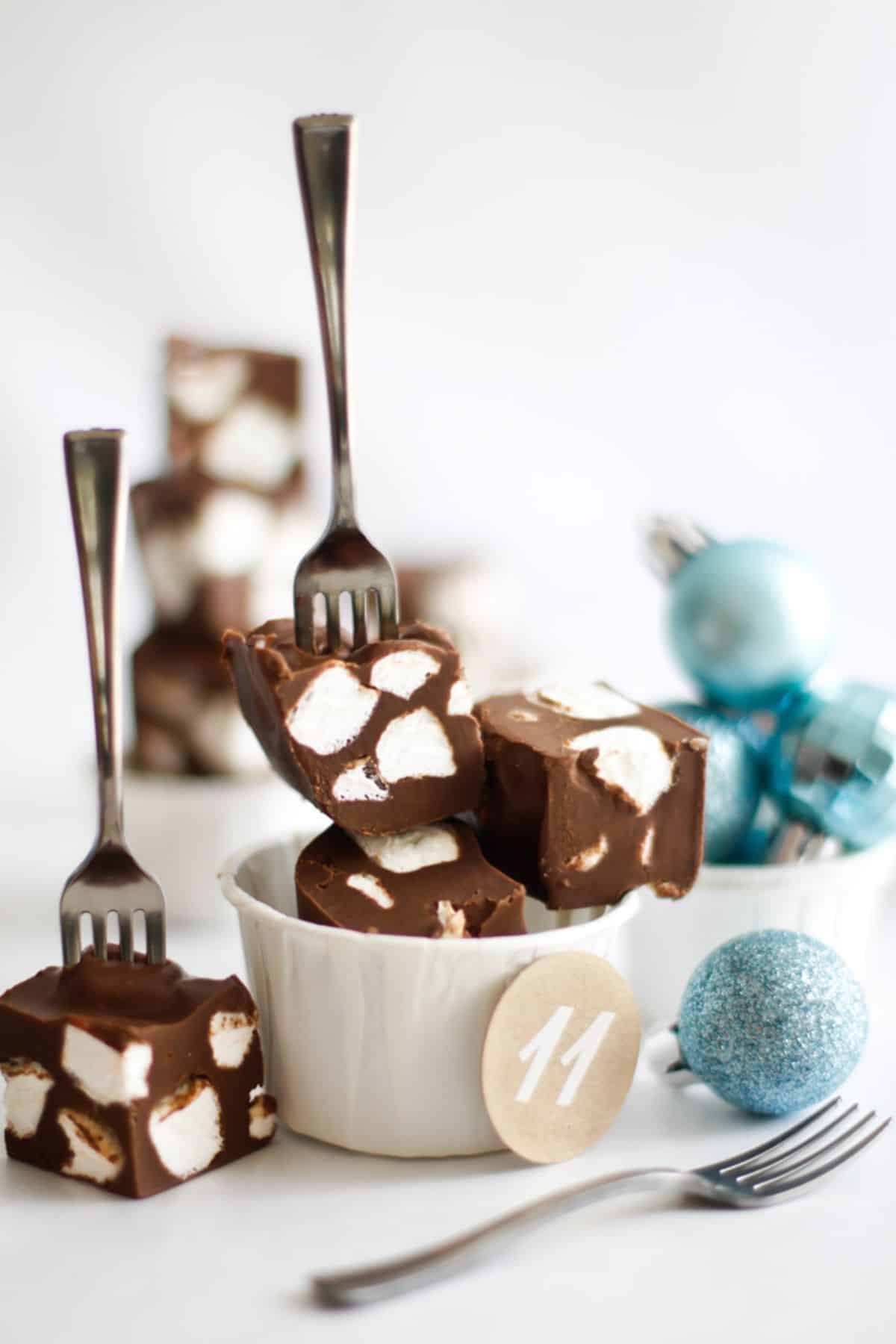 Sometimes less is more, and this simple three-ingredient recipe is a testament to that. With just three simple ingredients – peanut butter, powdered sugar, and mini marshmallows – you can create a delicious candy that's sweet, chewy, and downright addictive.
This recipe is perfect for busy weeknights when you need a quick and easy treat or unexpected guests pop in, and you need to whip up something sweet in a hurry.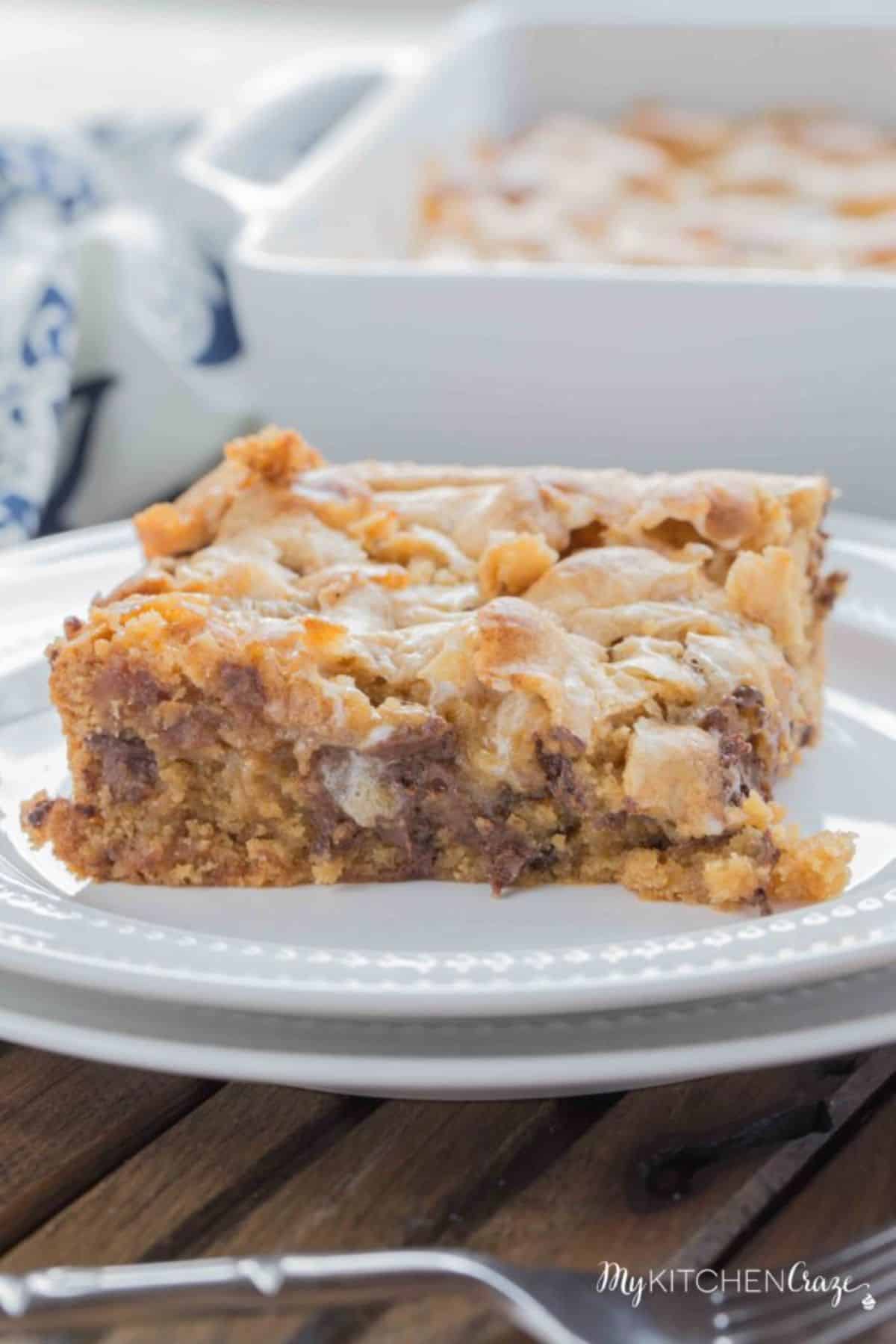 These Marshmallow Blondies are the perfect dessert for any occasion. Their sweet, chewy texture and deliciously rich flavor will surely be a hit with everyone at your table.
Loaded with mini marshmallows, these blondies add a gooey sweetness that takes them to the next level. Perfect for a party, a family gathering, or a sweet treat after dinner.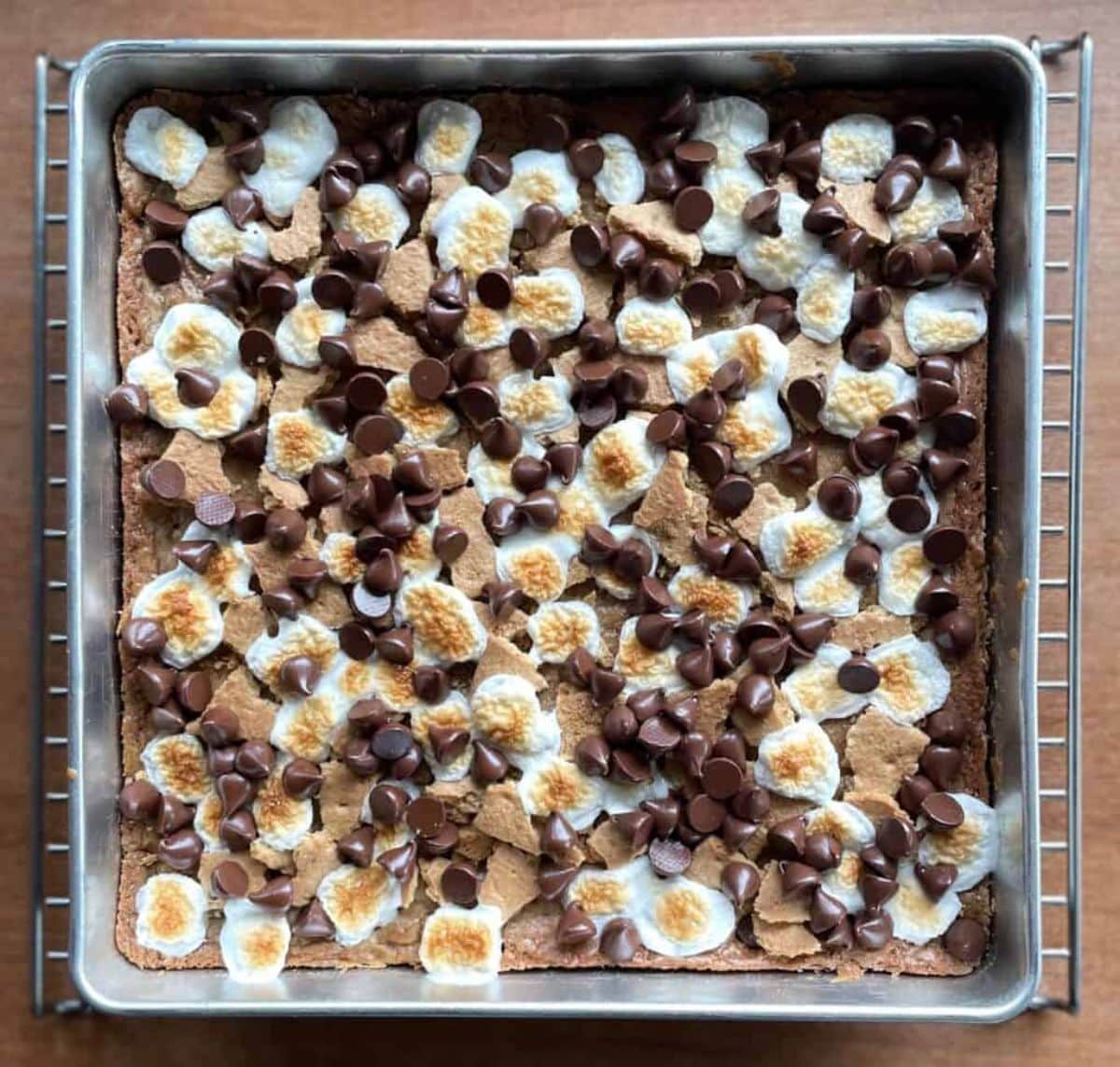 Just reading the name of this dessert has my mouth watering. These bars satisfy any sweet tooth with their rich, chocolatey flavor and gooey marshmallow center. Perfect for a party, a potluck, or a sweet snack with your afternoon coffee.
The combination of chocolate chips and mini marshmallows makes these bars irresistible, and they're sure to become a new favorite in your recipe collection.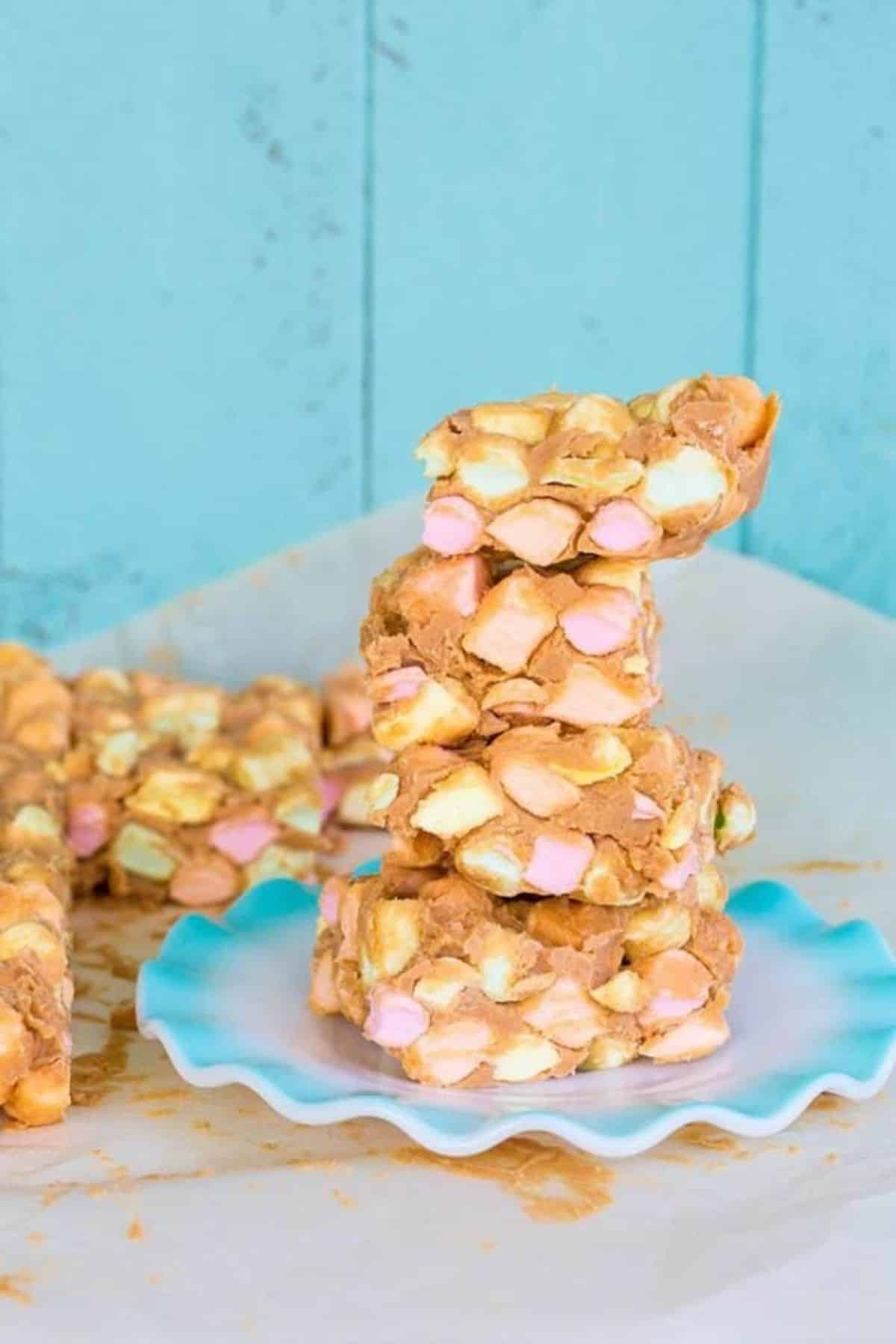 In my entire life, I have tried a few combinations better than peanut butter and marshmallows.
These Peanut Butter Marshmallow Squares are a deliciously decadent treat perfect for any peanut butter lover, with their sweet, creamy texture and irresistible peanut butter flavor. Loaded with mini marshmallows, they're the perfect combination of sweet and savory.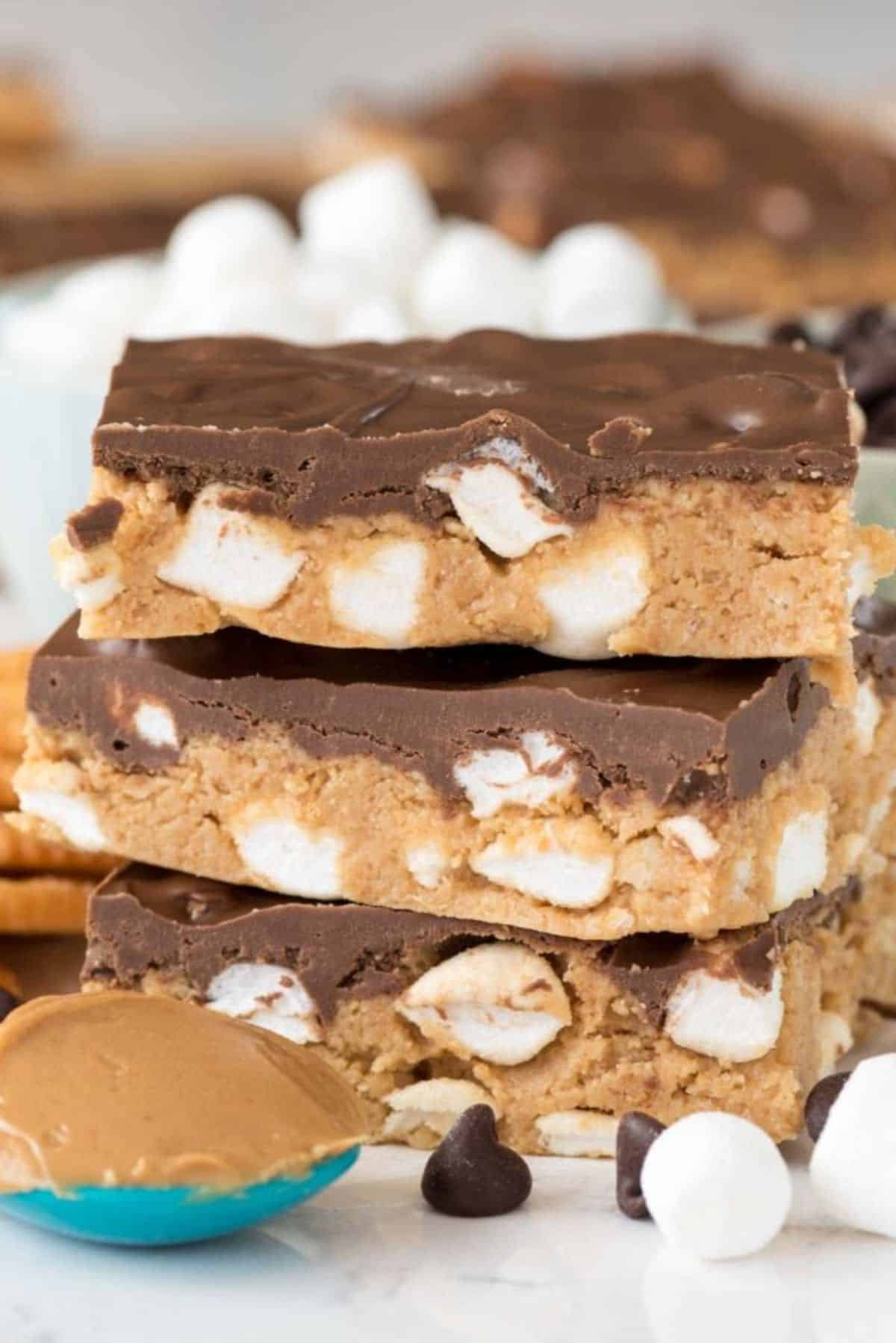 If you want a simple and fun dessert to make with your kids, check out this no-bake recipe. Not only will your kids get to make a tasty treat, but the minimal effort is involved. The kids will do all the work!
They will satisfy sugar cravings with their rich, peanut buttery flavor and gooey marshmallow center. Topped with a layer of chocolate and graham cracker crumbs, these bars have classic s'more flavors in a convenient and easy-to-make bar.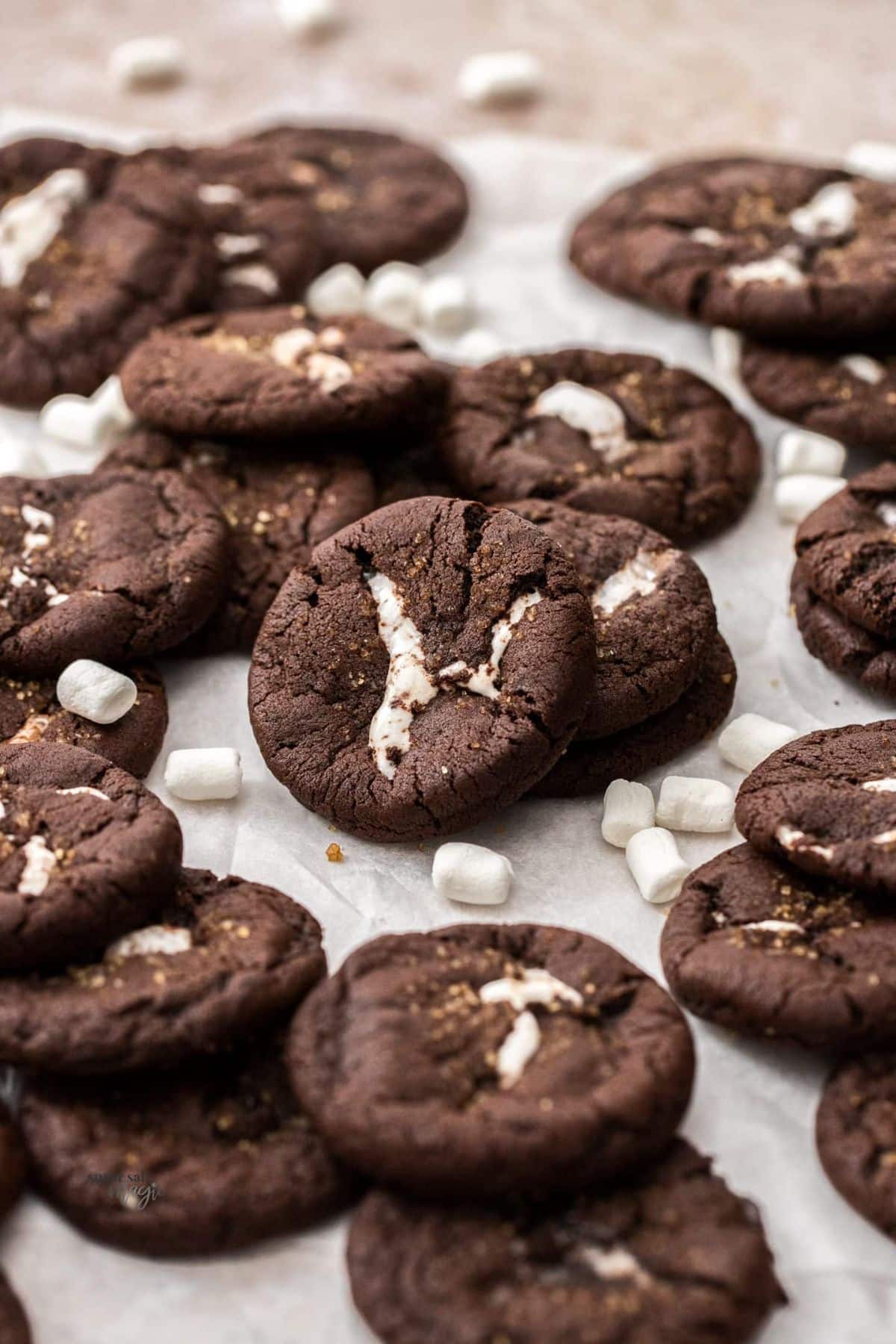 These Chocolate Marshmallow Cookies are a deliciously indulgent treat for any chocolate lover. I highly recommend making a large batch of these cookies because they will go quickly, and I guarantee you will want to have some for later in the week.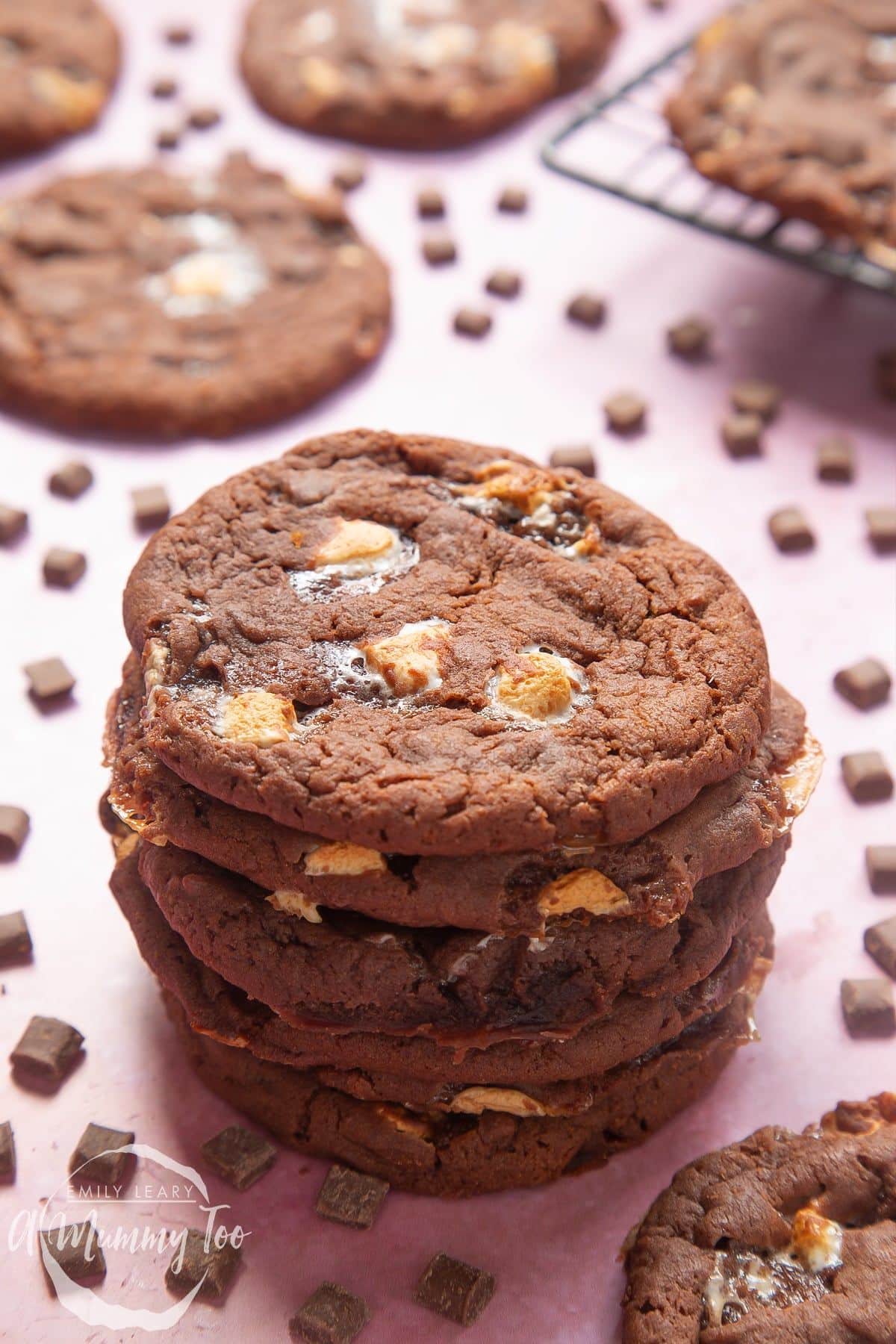 This cookie is the real deal, loaded with all the fixings - mini marshmallows, chocolate chips, and graham cracker crumbs. It's got that perfect balance of crispy and chewy, with just the right amount of sweetness.
So grab a cold glass of milk and prepare to take your taste buds on a wild ride with The Ultimate Marshmallow Cookie!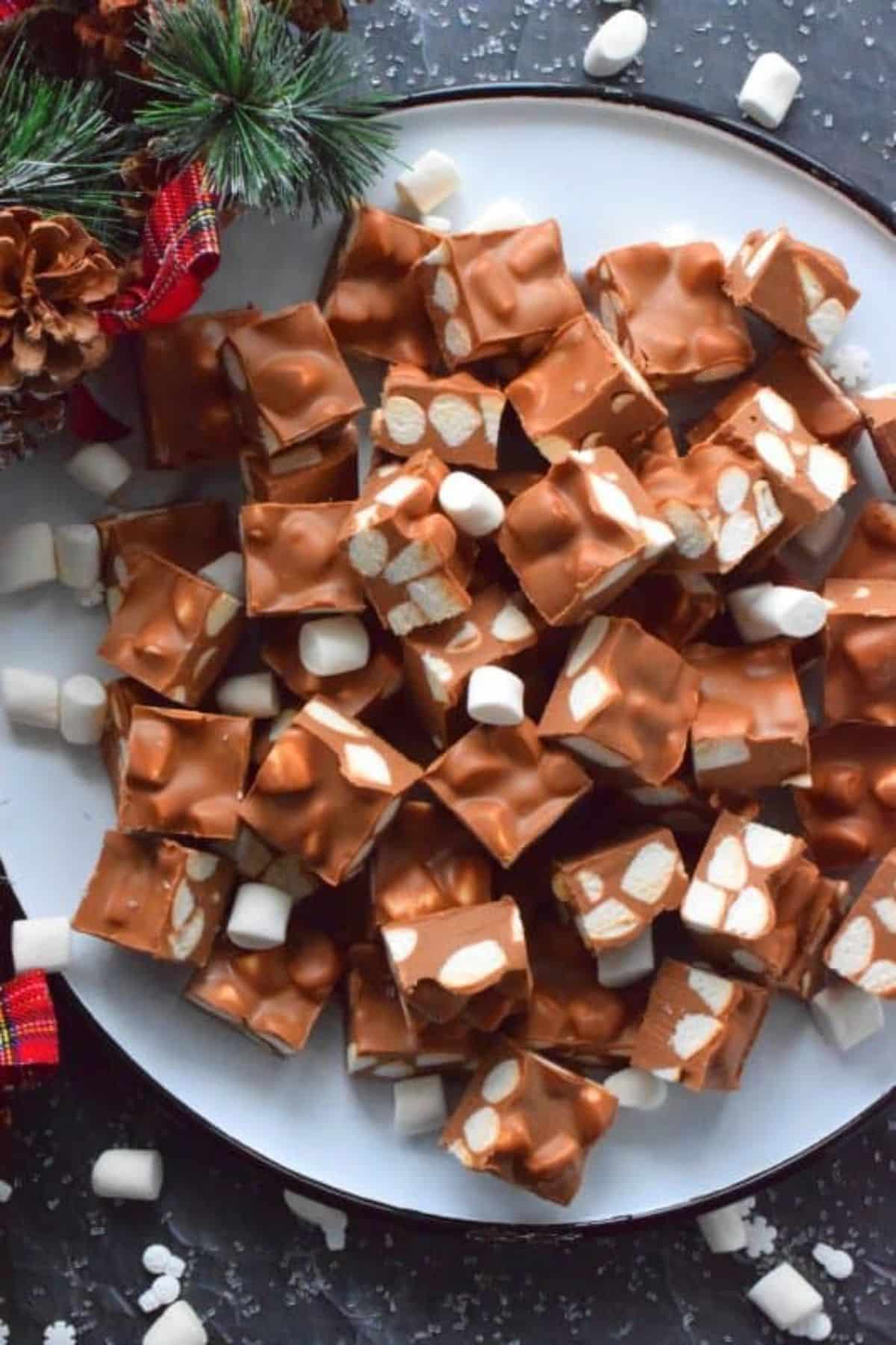 Buckle up, folks, because we're riding to chocolate heaven with these No Bake Chocolate Marshmallow Squares! These bad boys are rich, creamy, and oh-so-decadent.
The mini marshmallows give it that gooey, chewy texture we all know and love, while the chocolate adds that irresistible sweetness.
And the best part? You don't even need to turn on the oven! So if you're looking for a quick and easy treat that's sure to impress, these No Bake Chocolate Marshmallow Squares are the way to go!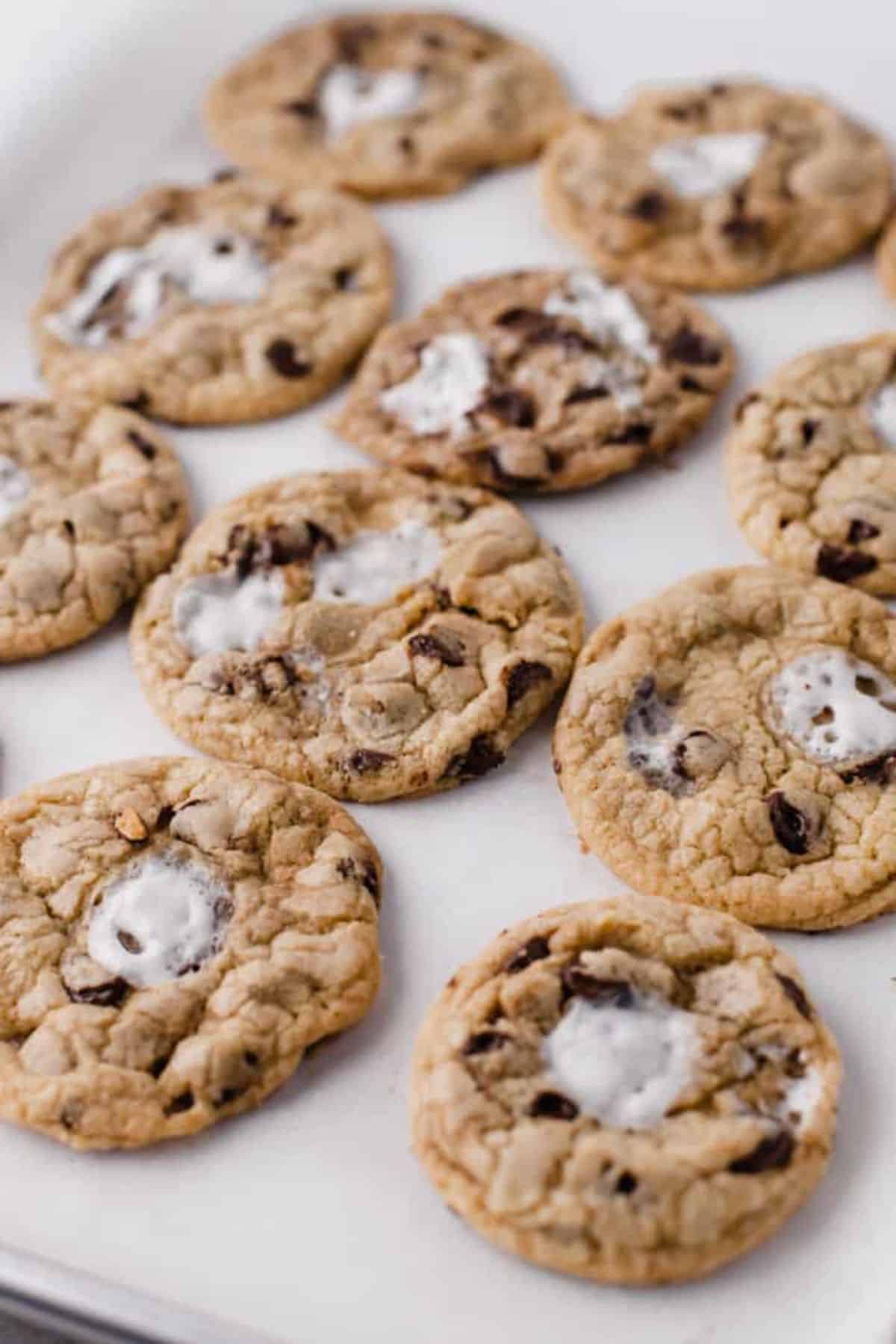 These cookies are loaded with all the classic S'mores fixings - graham crackers, chocolate, and mini marshmallows - and are baked to perfection.
They have that perfect balance of crunch and chewiness, with a rich chocolatey flavor that'll make your taste buds sing. So if you're looking for a new way to enjoy your favorite campfire treat, these S'mores Cookies are the way to go!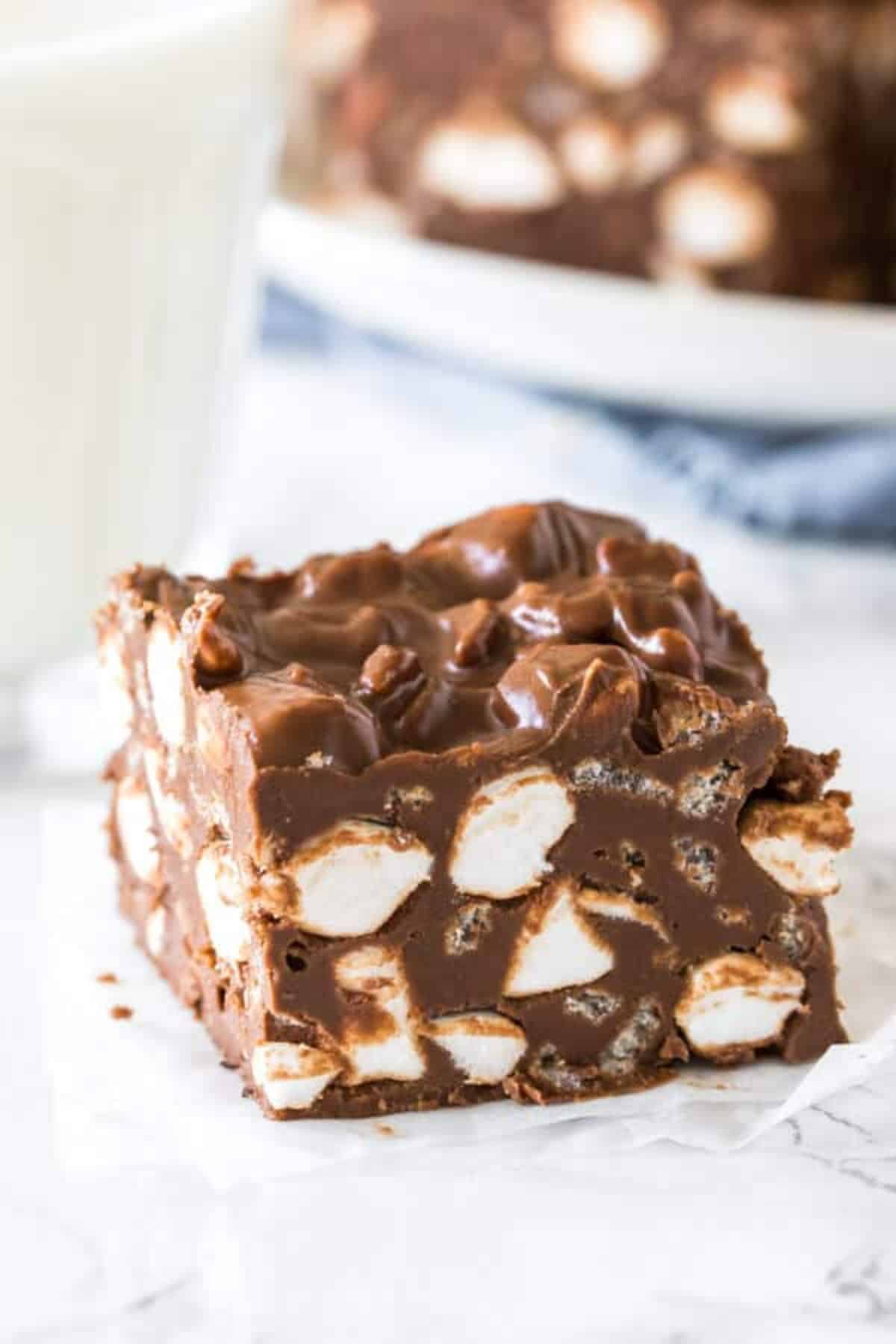 Hold onto your hats, folks, because we're about to take a ride on the wild side with these No Bake Rocky Road Bars!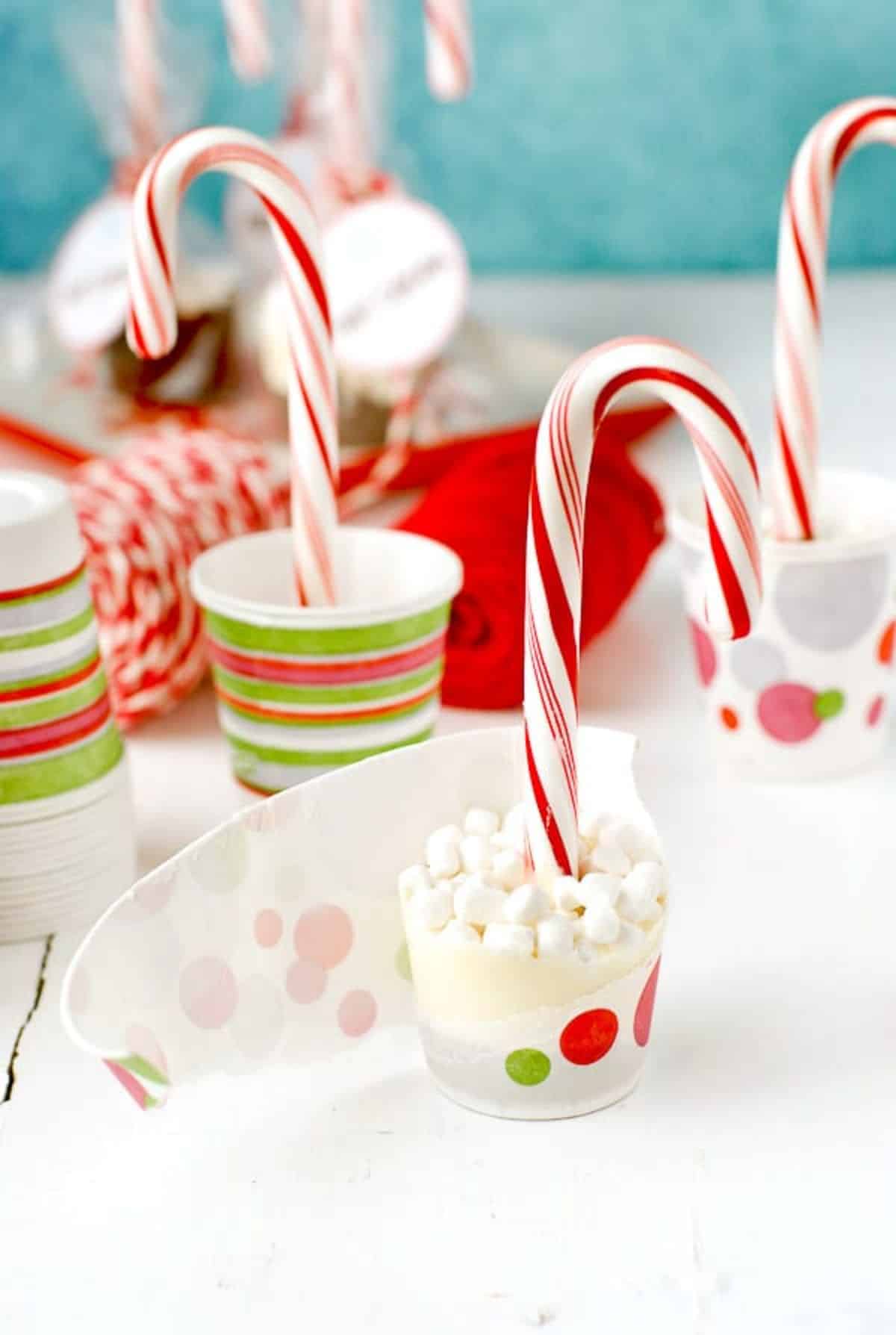 Alright, guys, prepare for a flavor explosion because these Candy Cane Hot Cocoa Pops are no joke! Imagine a creamy, rich hot cocoa with a hint of peppermint mixed with mini marshmallows and topped with a crunchy candy cane crust. It's like drinking a warm hug from your taste buds.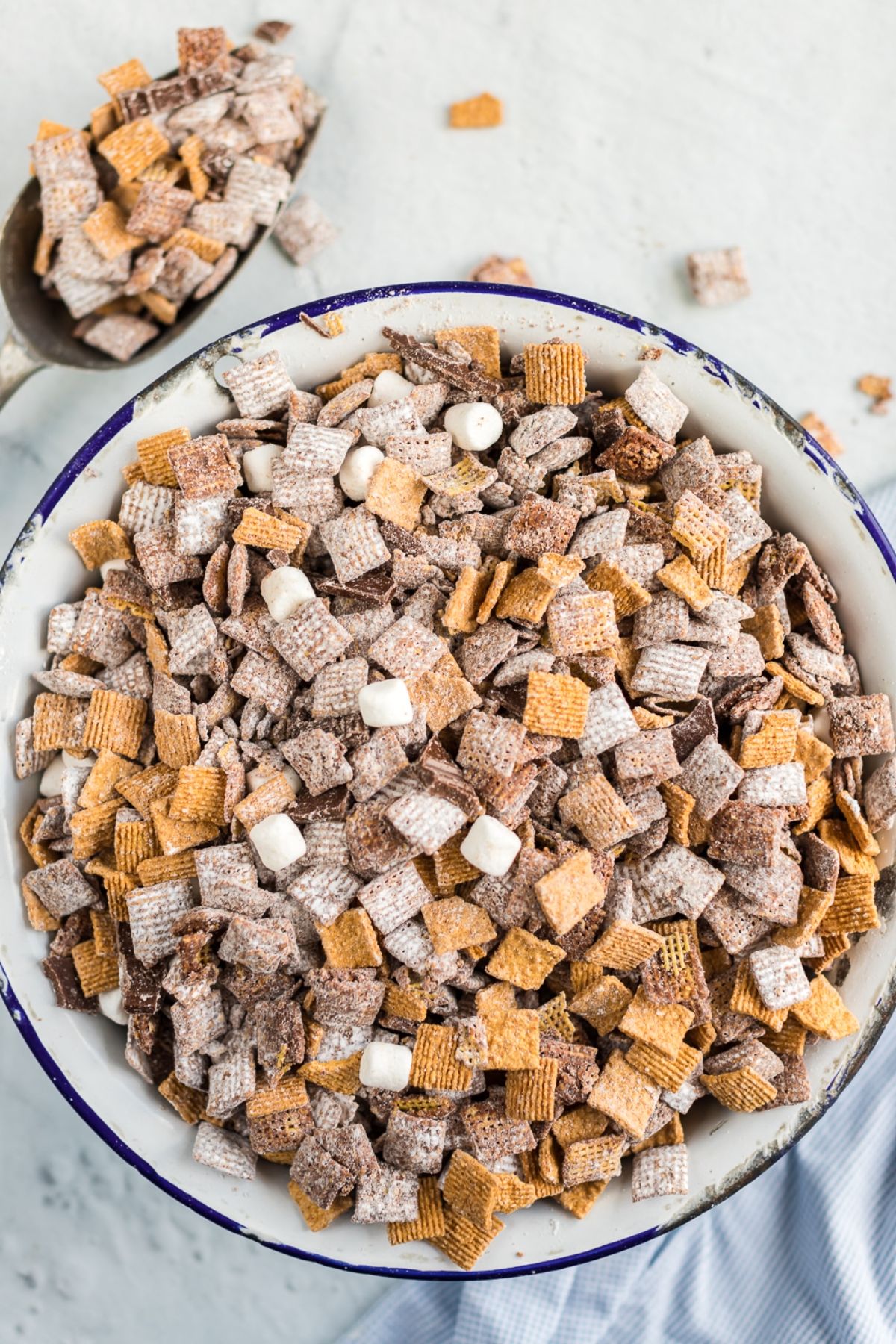 Puppy Chow is one of my favorite childhood snacks. It's a crunchy, chocolaty, and marshmallowy snack mix perfect for any sweet tooth. It's easy to make and even easier to eat. Trust me. You'll go back for seconds, thirds, and maybe even fourths!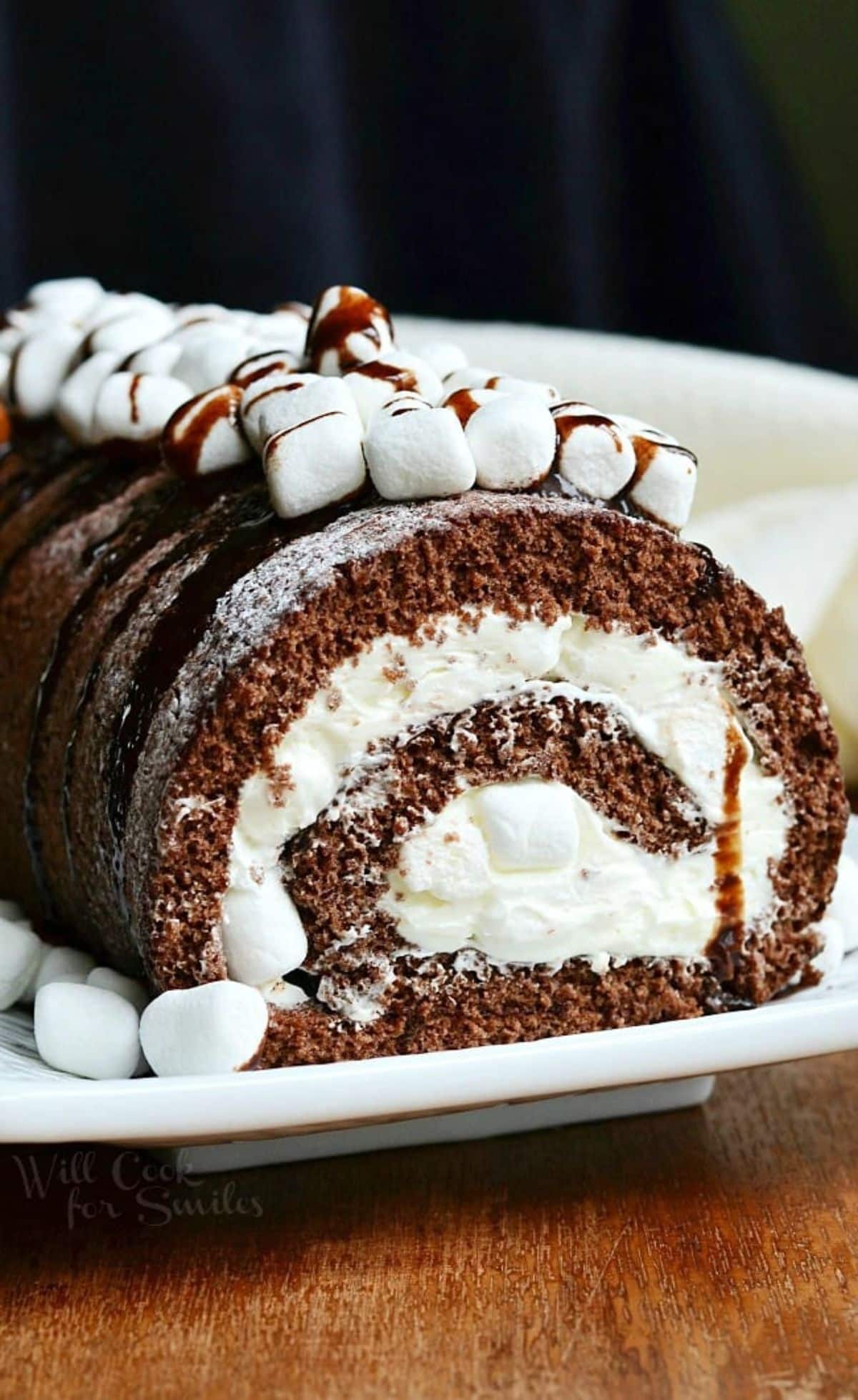 Get ready for a flavor explosion with this Hot Chocolate Cake Roll! Rich chocolate cake rolled up with a marshmallow filling, drizzled with hot fudge sauce, and topped with mini marshmallows. It's like a gourmet hot cocoa in dessert form.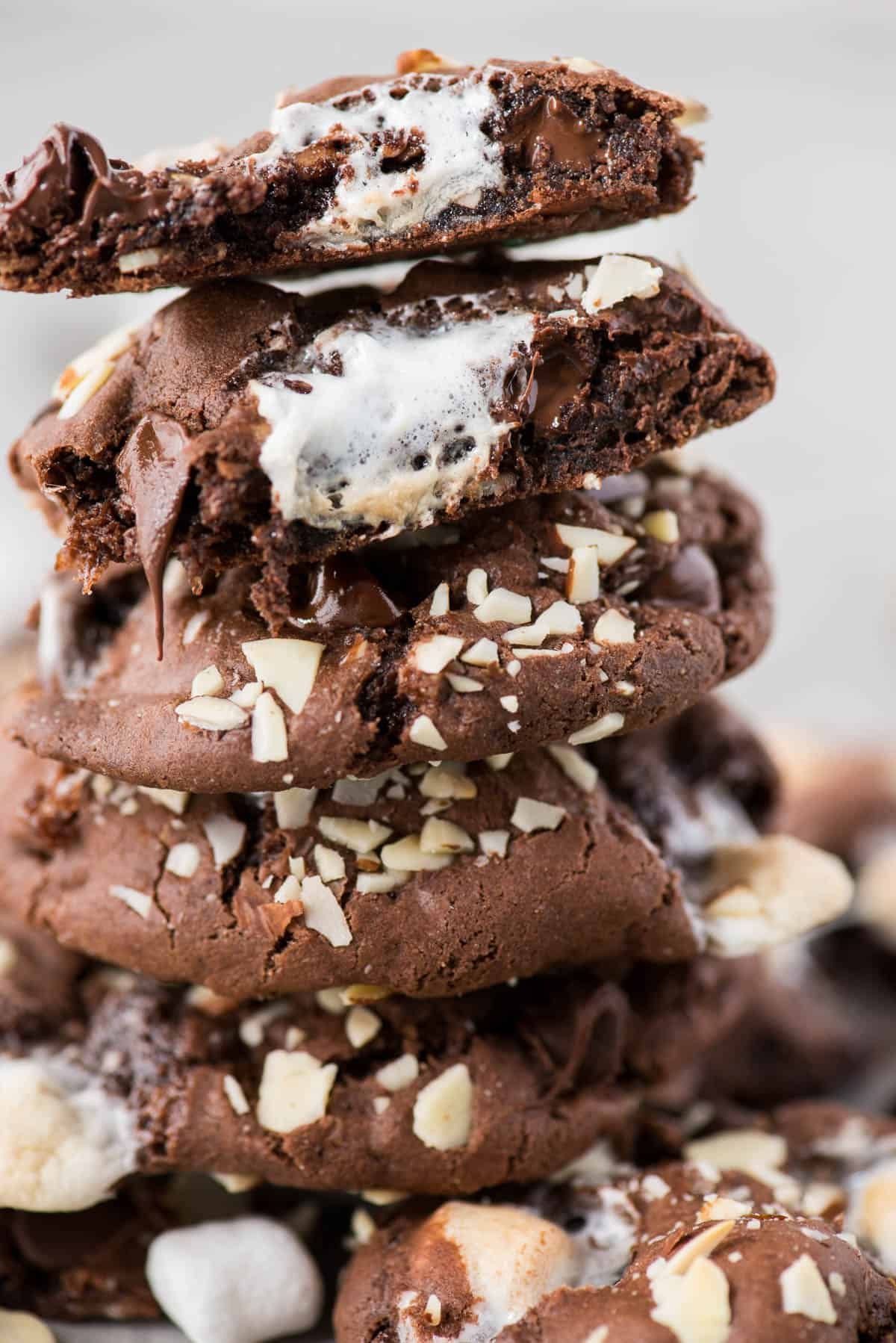 These Rocky Road Cookies are like a flavor explosion in your mouth. With chunks of chocolate, bits of crunchy nuts, and mini marshmallows, these cookies are the things dreams are made of. Take a bite and be transported to cookie paradise.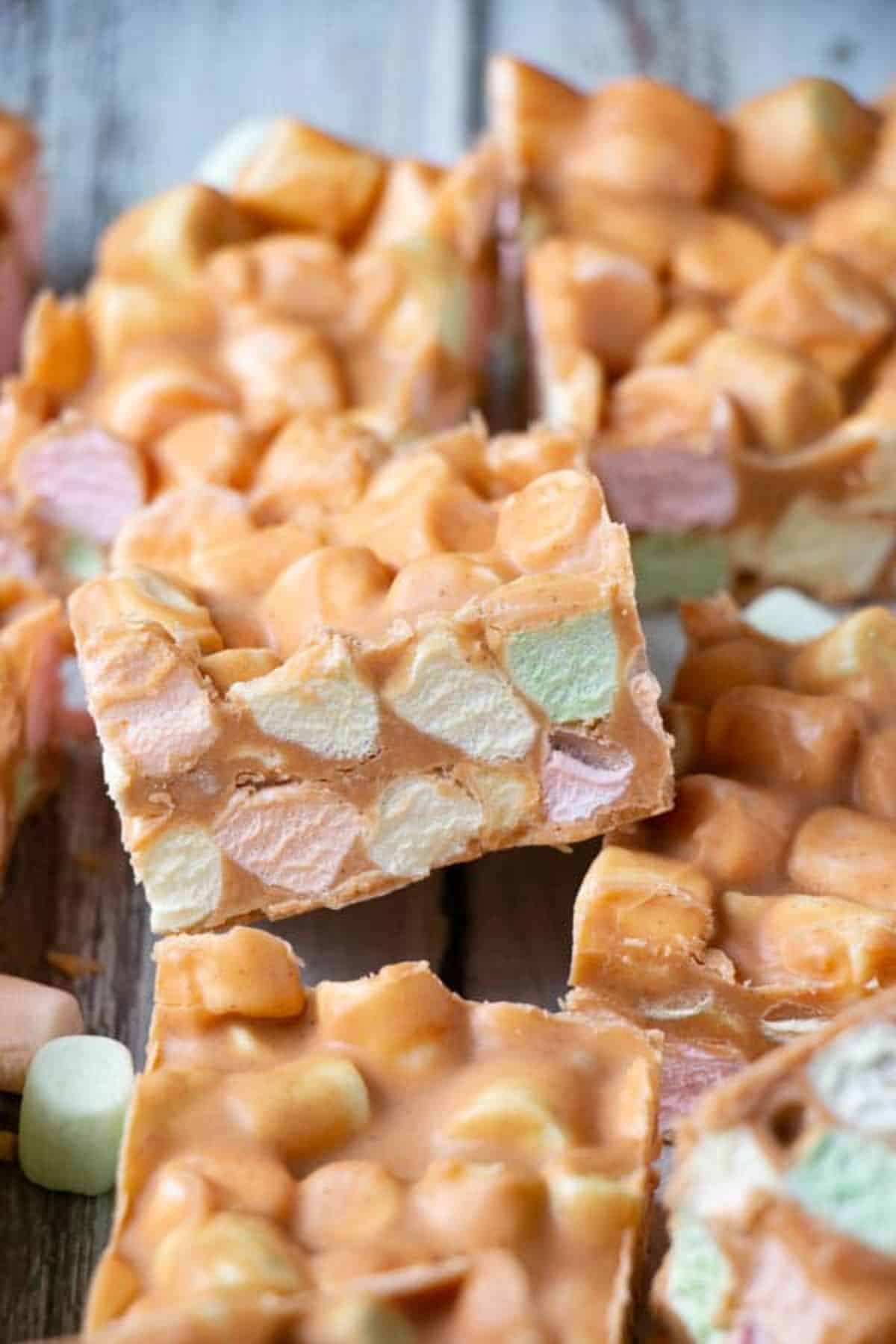 You must check out these Butterscotch Peanut Butter Marshmallow Confetti Squares. They're like a party in your mouth! Each bite is full of all kinds of sweet flavors and textures.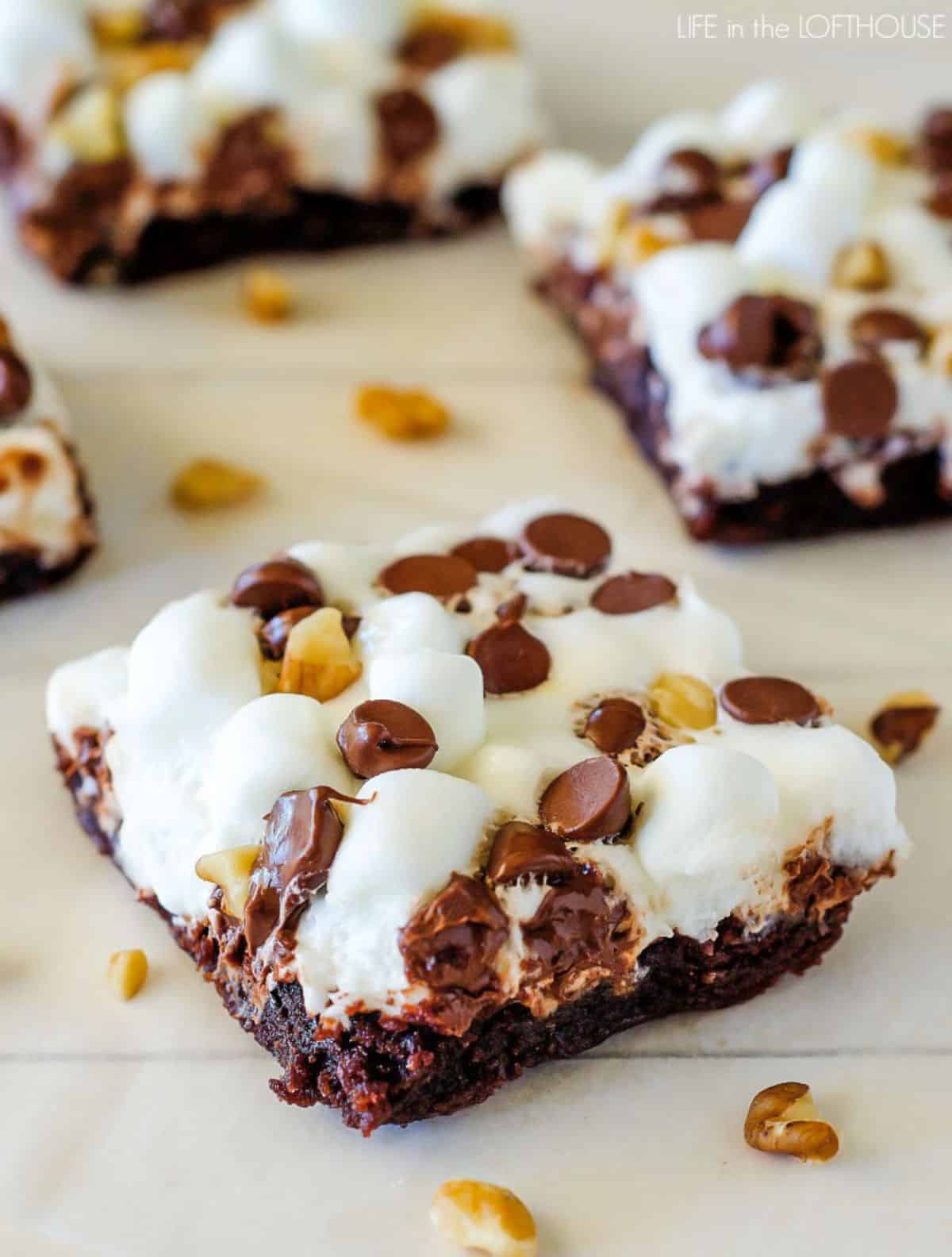 Prepare yourself for the ultimate indulgence with these Rocky Road Brownies! Fudgy, chocolatey, and loaded with gooey marshmallows, crunchy nuts, and chewy chocolate chunks.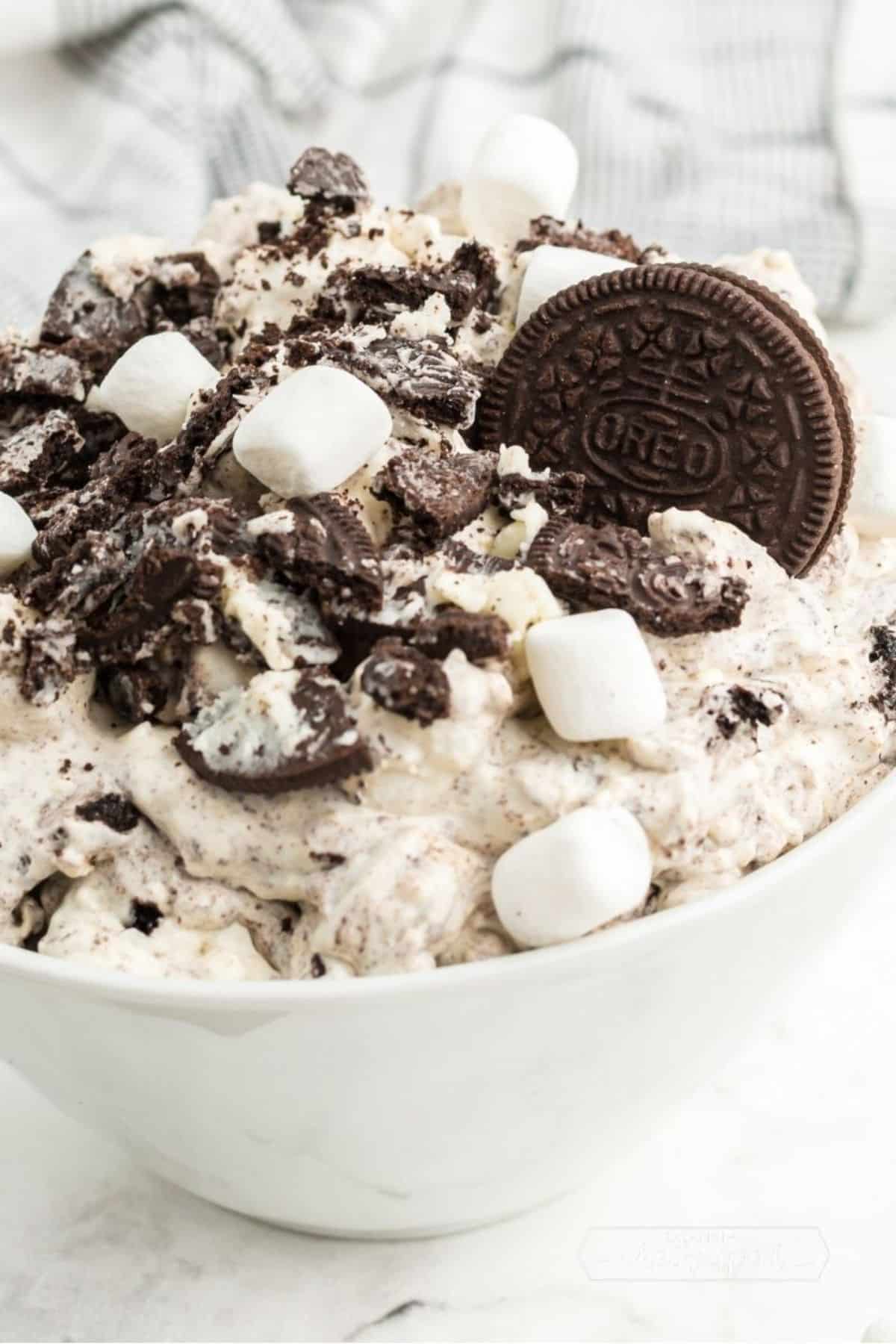 Oreo Fluff is a creamy, fluffy dessert filled with crushed Oreos and mini marshmallows. It's super easy to make and just as fun to eat.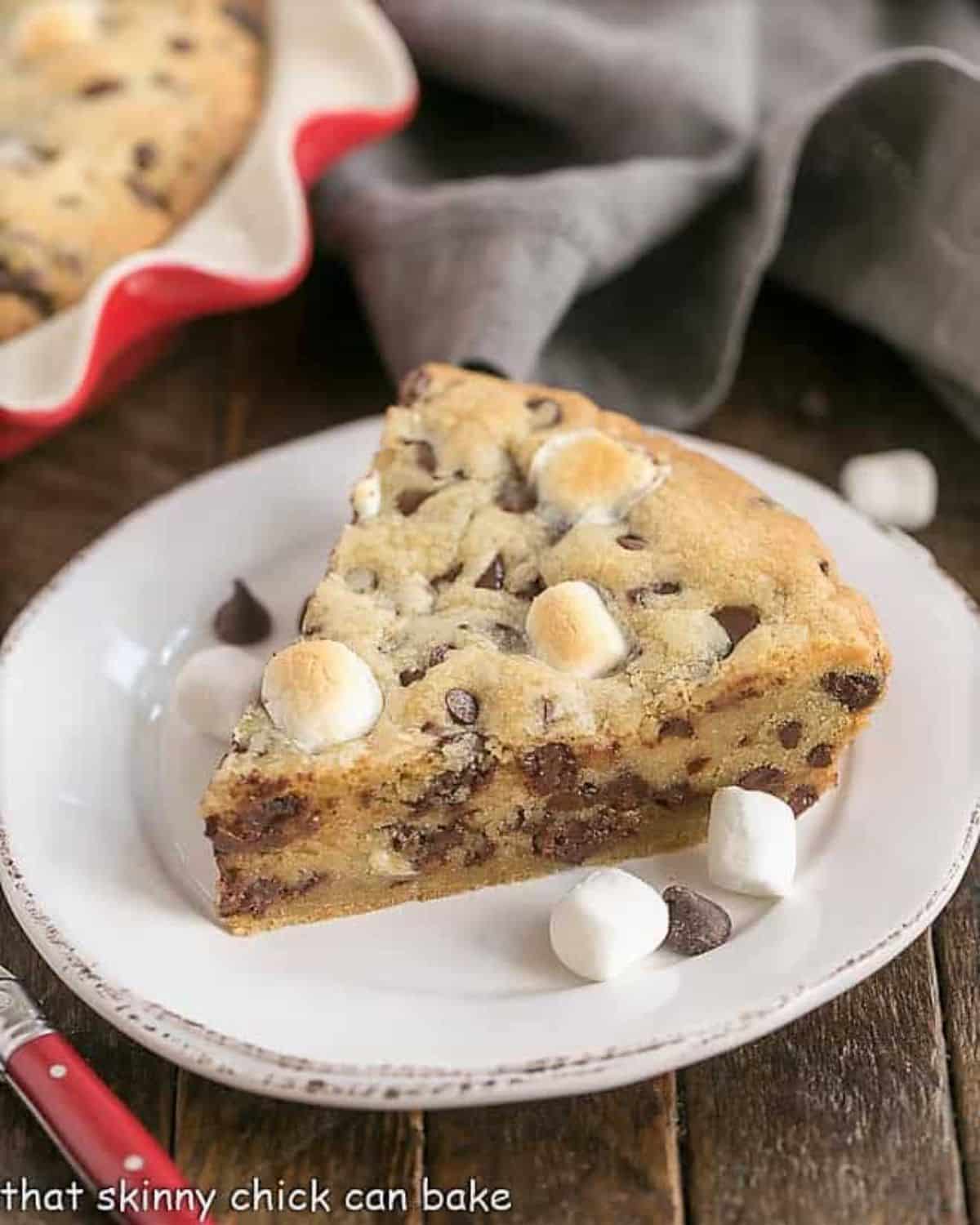 This Gooey Chocolate Chip Pie is an absolute delight! It perfectly combines crispy crust, oozy chocolate chips, and fluffy marshmallows. However, the real magic lies in the balance of flavors and textures. The pie is beautifully rich and decadent, yet not too sweet.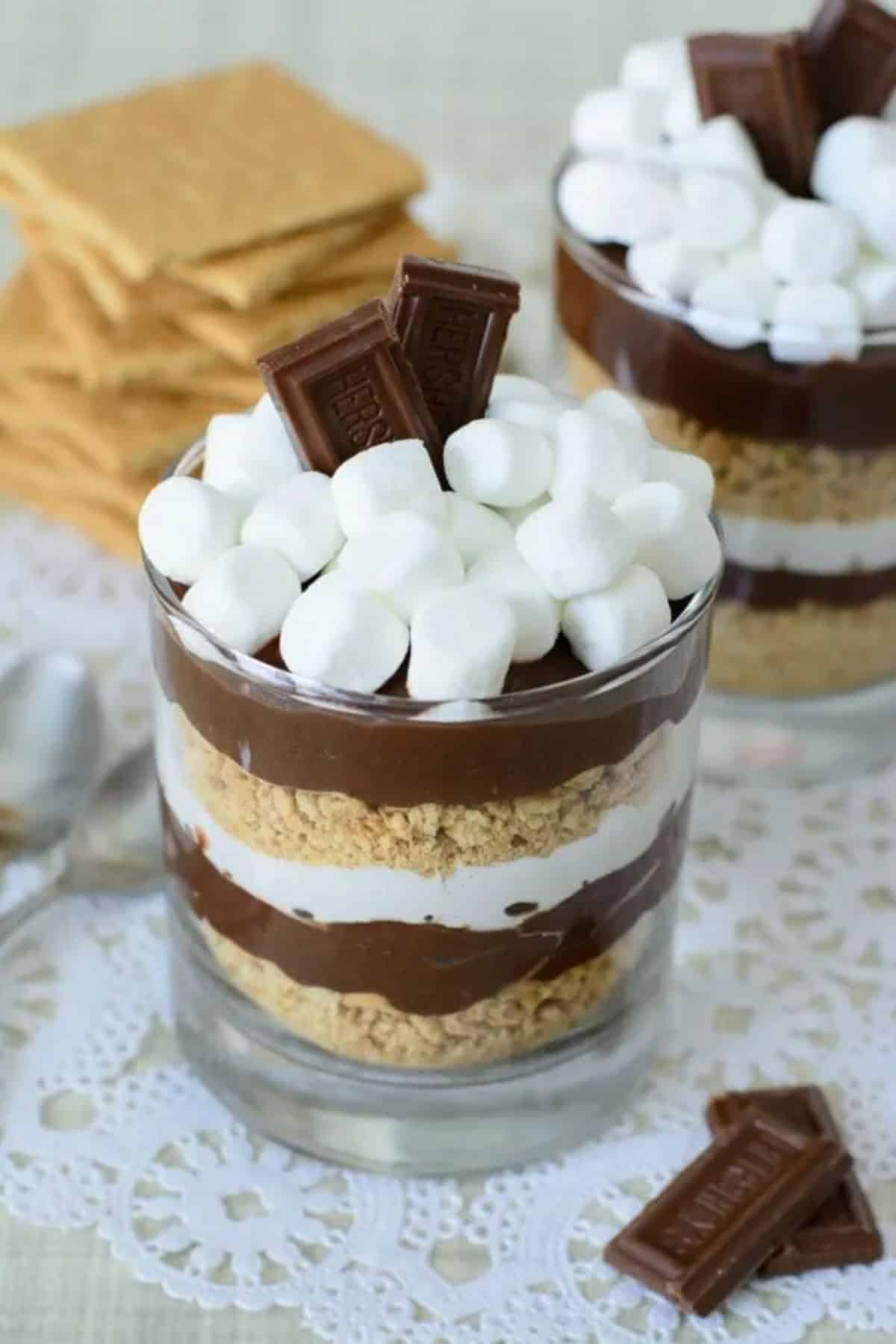 The Easy No Cook S'mores Parfait is a simple and indulgent dessert that layers graham cracker crumbs and creamy chocolate pudding to recreate the classic S'mores flavors without any cooking. This delightful treat is then topped with mini marshmallows for an extra touch of gooey sweetness and reminiscent texture.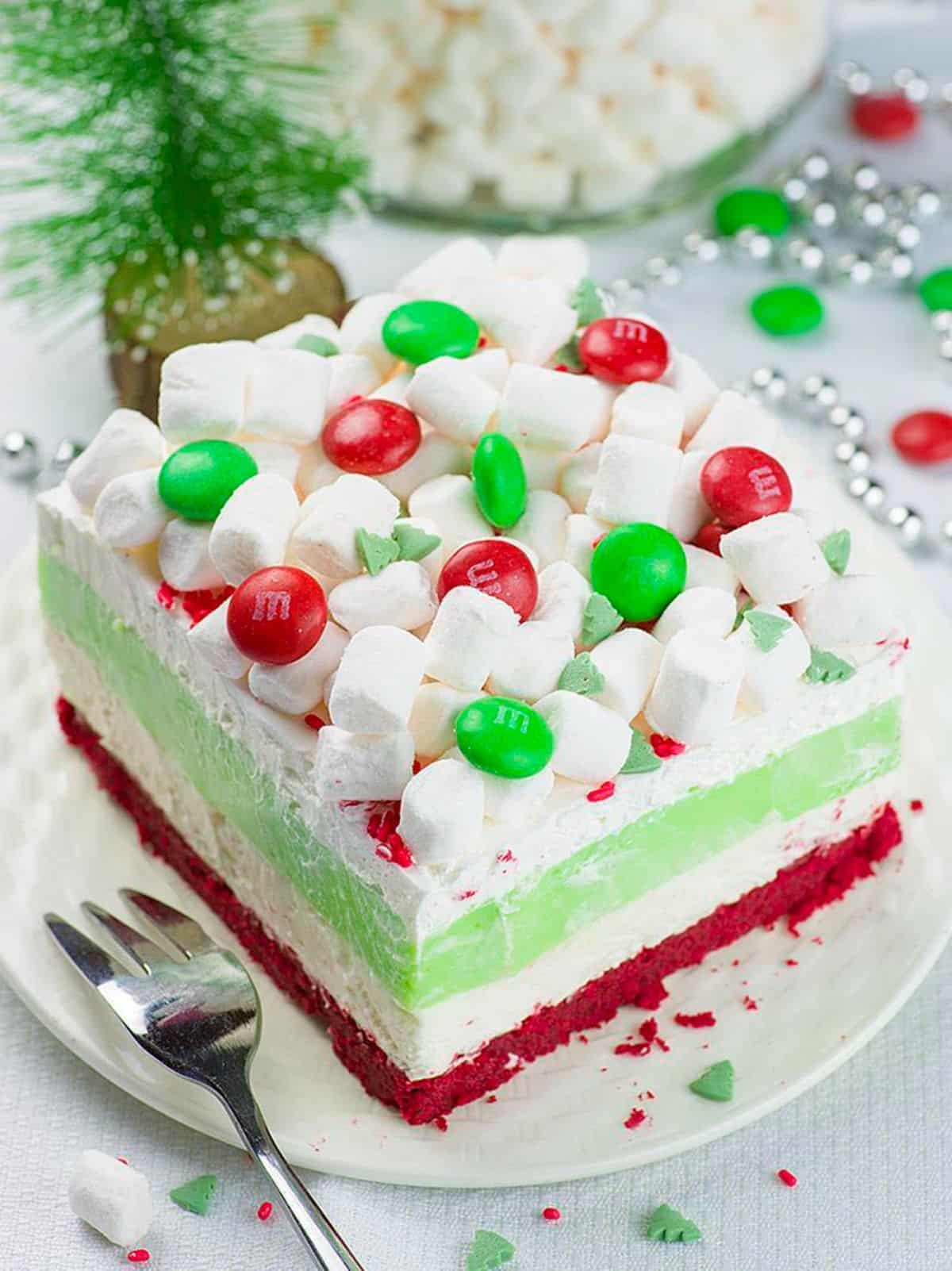 This Christmas Lasagna Dessert is like nothing you've ever seen! Layers of crushed cookies, creamy ricotta filling, chocolate chips, and marshmallows are topped with whipped cream and sprinkles for a show-stopping sweet treat that will leave everyone begging for the recipe.
It's a dessert that's so good. It will make you forget all about that holiday ham!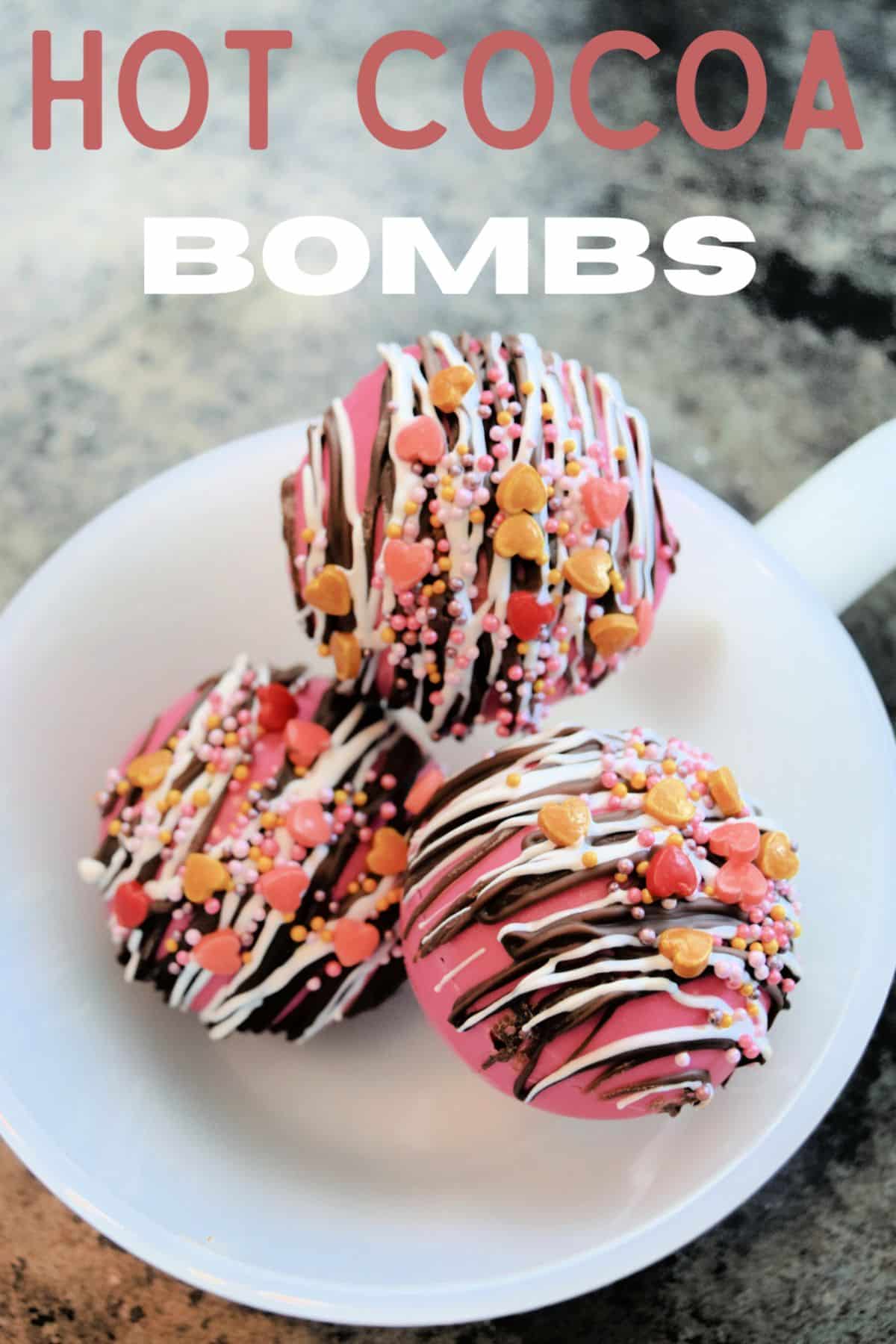 Rich chocolate spheres filled with mini marshmallows and cocoa powder; pour hot milk on top and watch the magic happen. Simply sensational!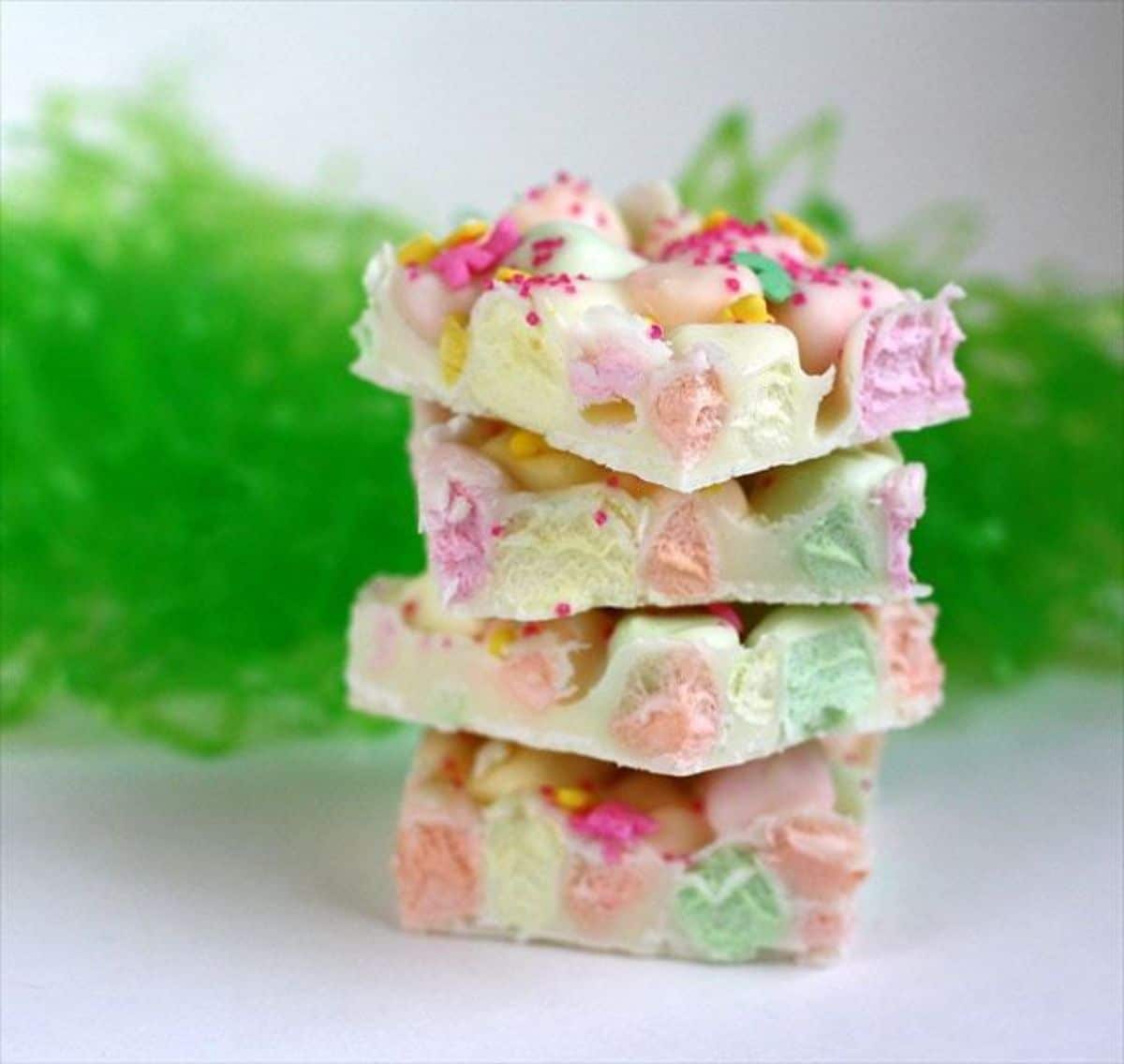 This Easter Marshmallow Dessert may be easy, but it's not lacking in flavor. Layers of marshmallow goodness combined with crunchy graham crackers and creamy whipped cream make for a heavenly treat.
Just make sure you don't overdo it on the sugar. Otherwise, you'll bounce off the walls like a marshmallow on a trampoline.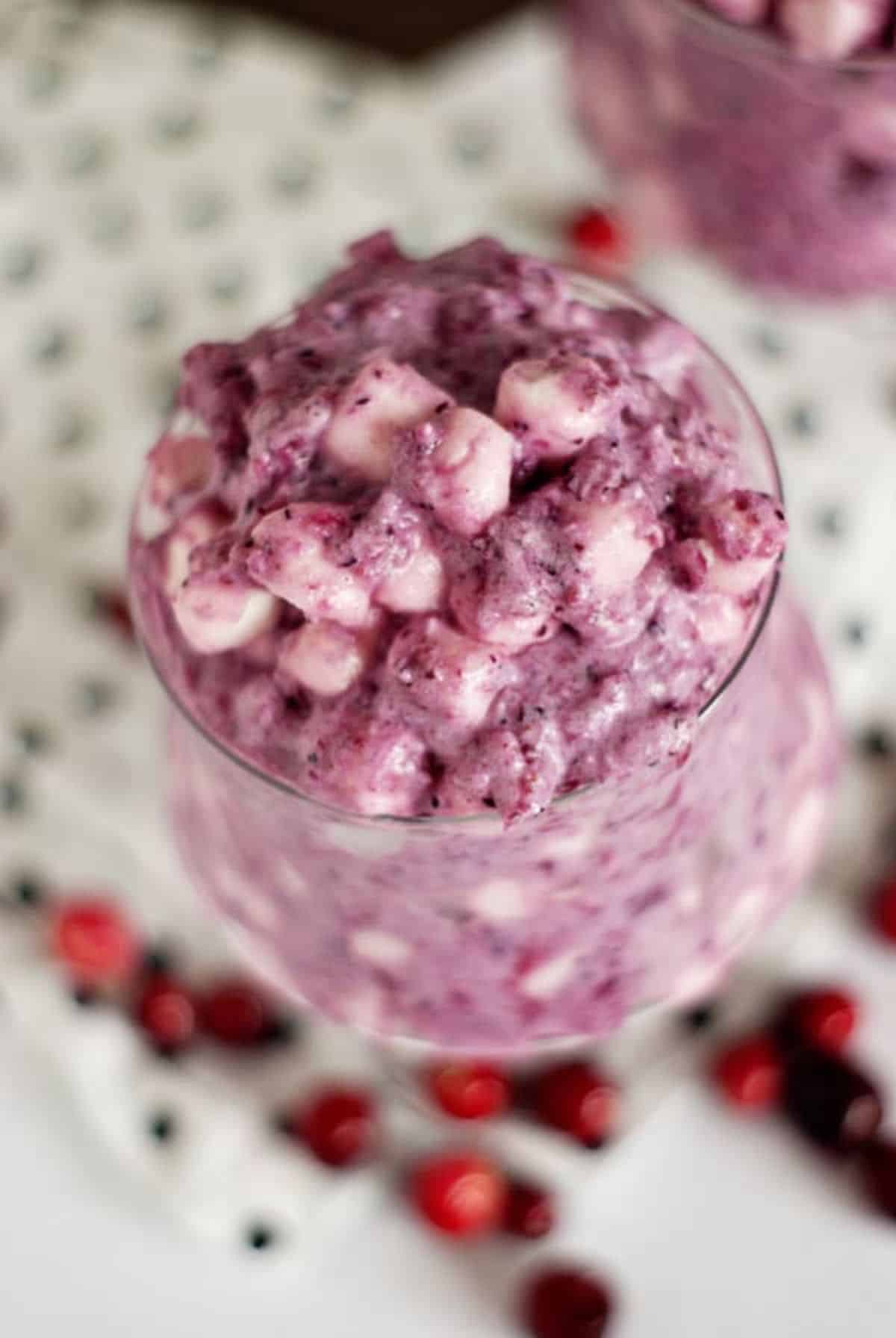 Cranberry Fluff Salad is a delightful dessert dish that combines tart cranberries, sweet pineapple, and whipped cream into a luscious, airy mixture, featuring the playful addition of mini marshmallows for a touch of sweetness and texture.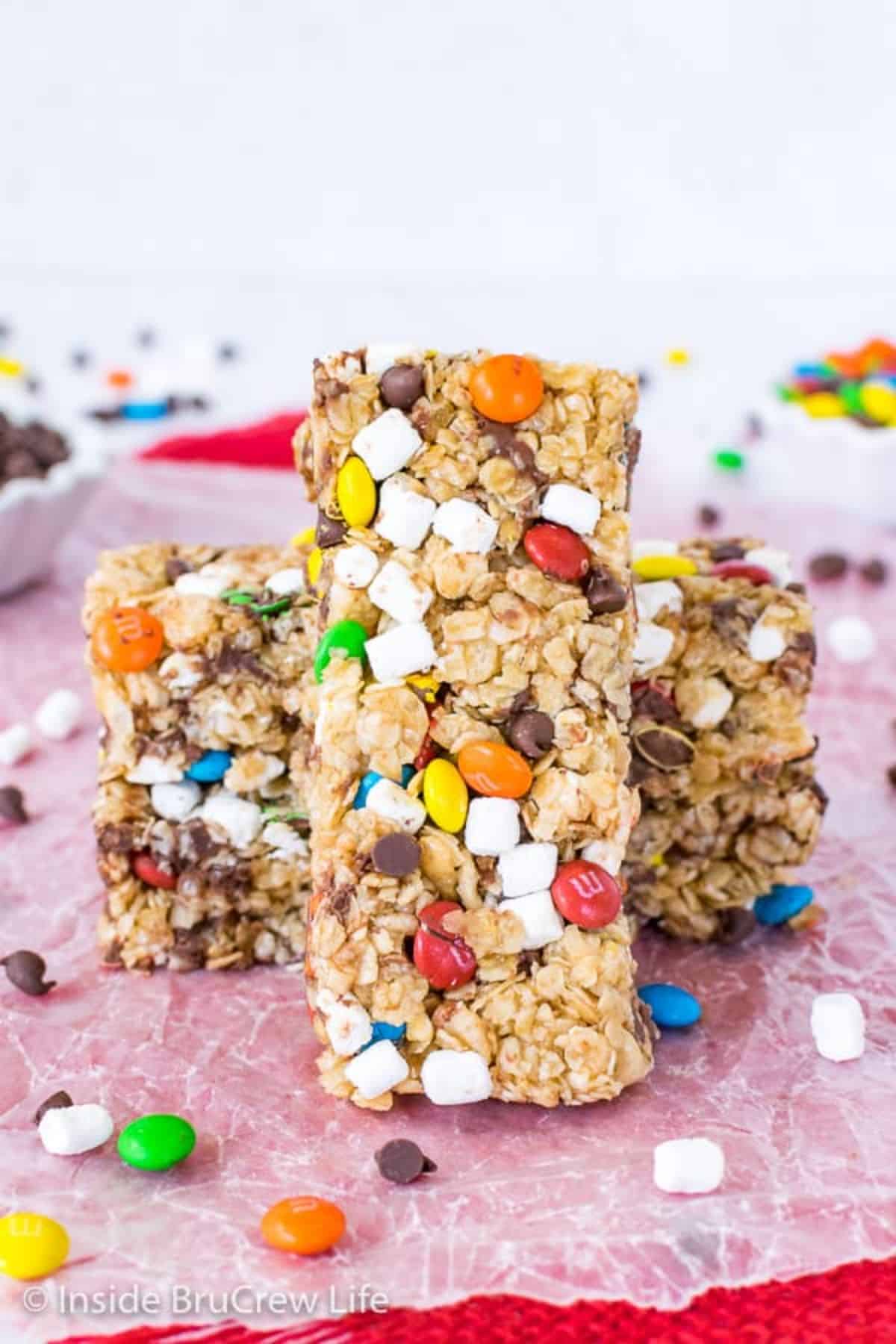 The mini marshmallows add a sweet and gooey twist to the granola, and the M&Ms give them a colorful pop that'll make them irresistible.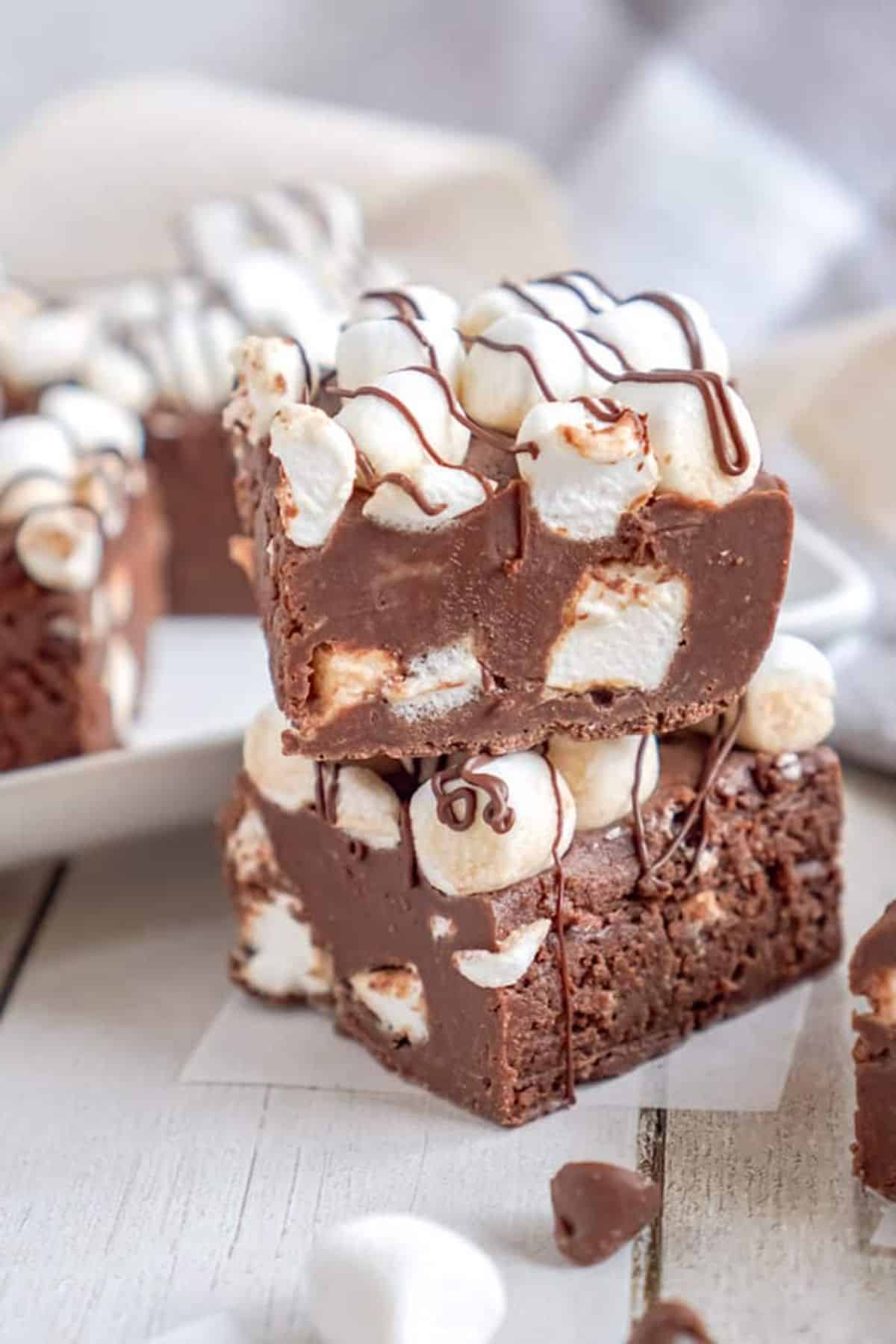 Hot Chocolate Fudge is a delightful treat that will make you melt with happiness. The rich chocolate flavor mixed with marshmallows creates a mouthwatering explosion of flavors that will satisfy you.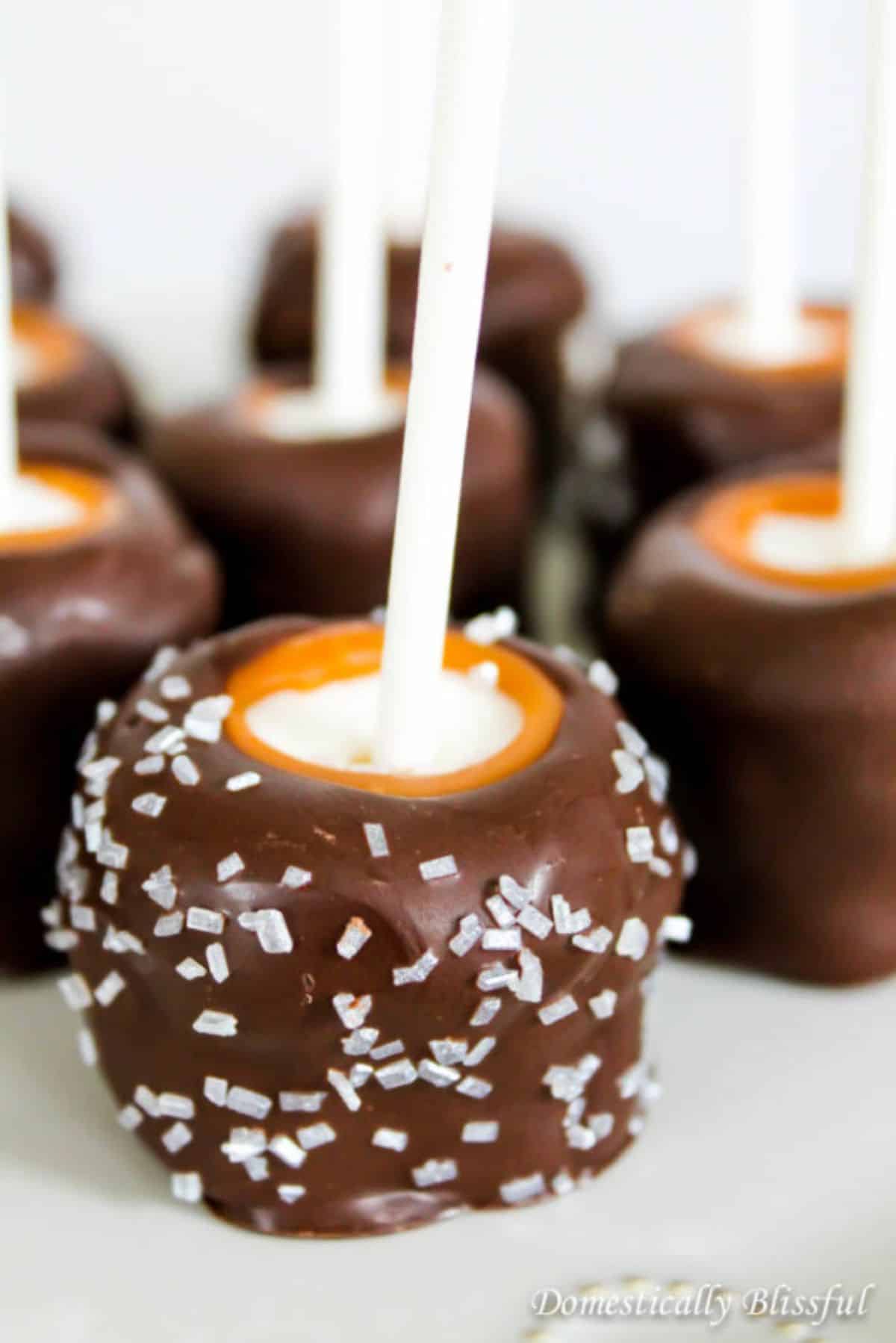 These chocolate caramel marshmallows may seem simple, but don't let that fool you. The combination of rich chocolate and buttery caramel with the fluffy marshmallows creates a complex flavor profile that's truly divine.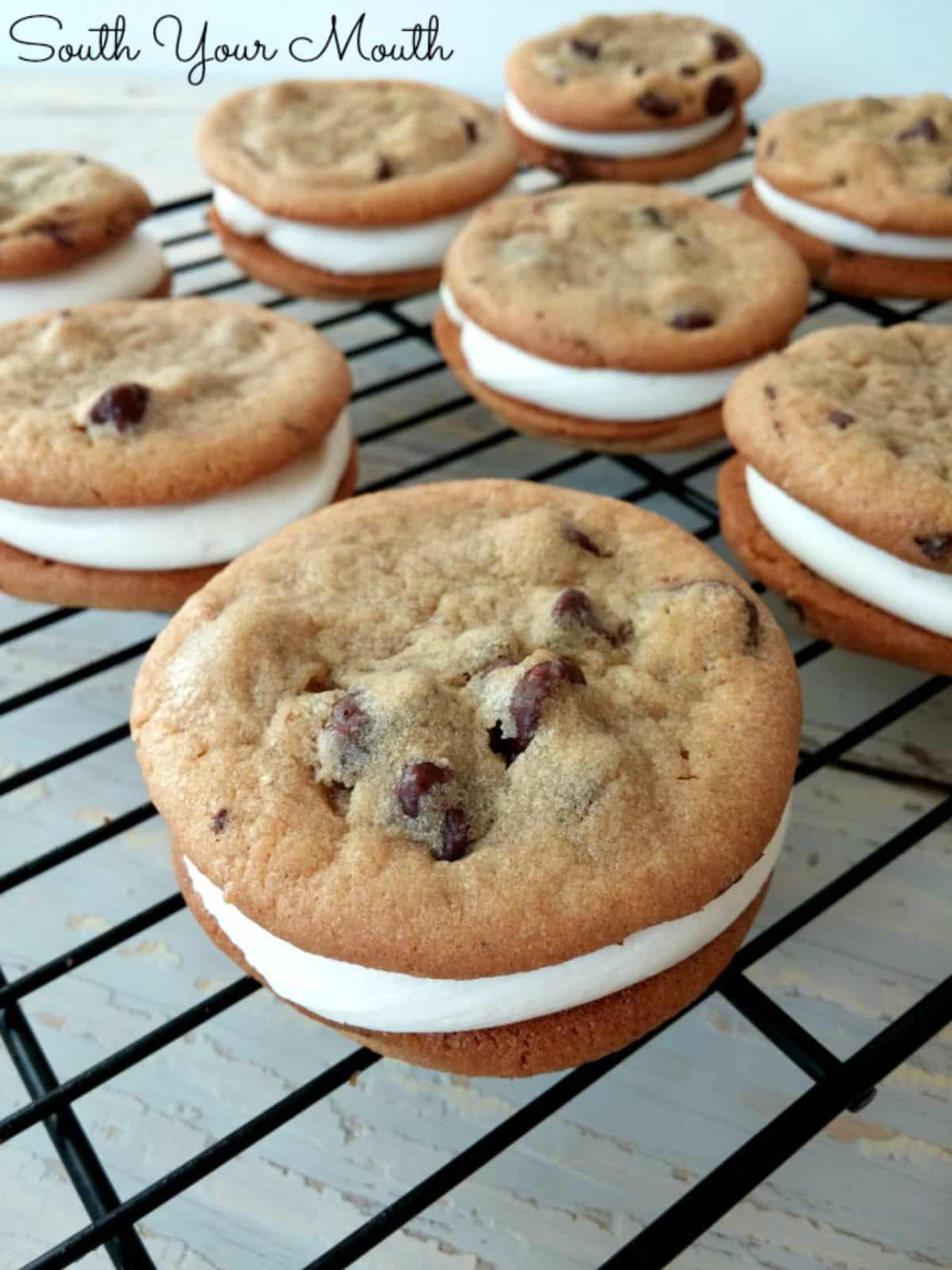 These cookie sandwiches may look like your dessert, but take one bite, and you'll be blown away. The combination of crunchy cookies with creamy marshmallow filling is truly heavenly. I can't get enough of these little guys!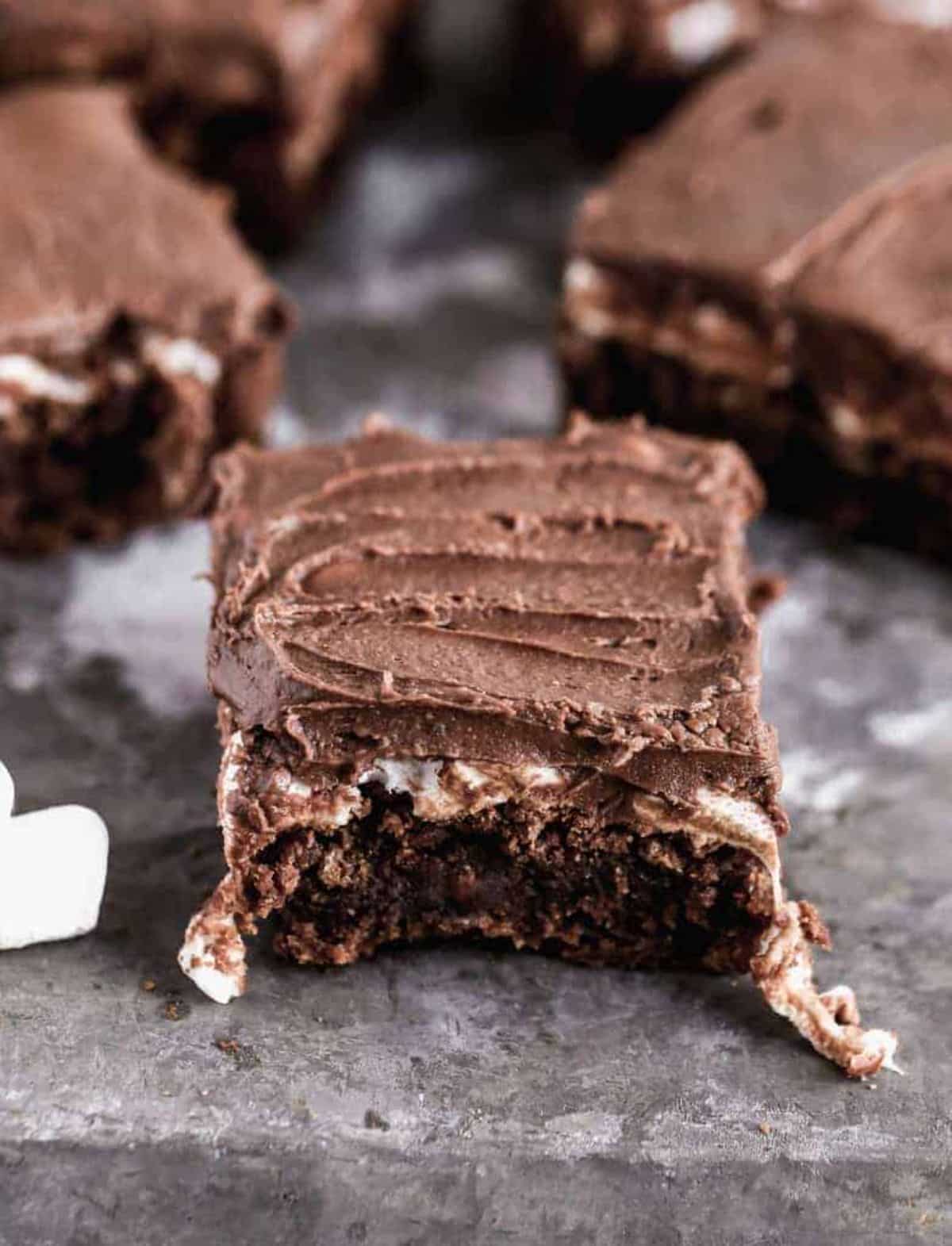 These Mississippi Mud Brownies are brilliant! A rich, fudgy brownie base you top with fluffy marshmallows and a chocolate frosting.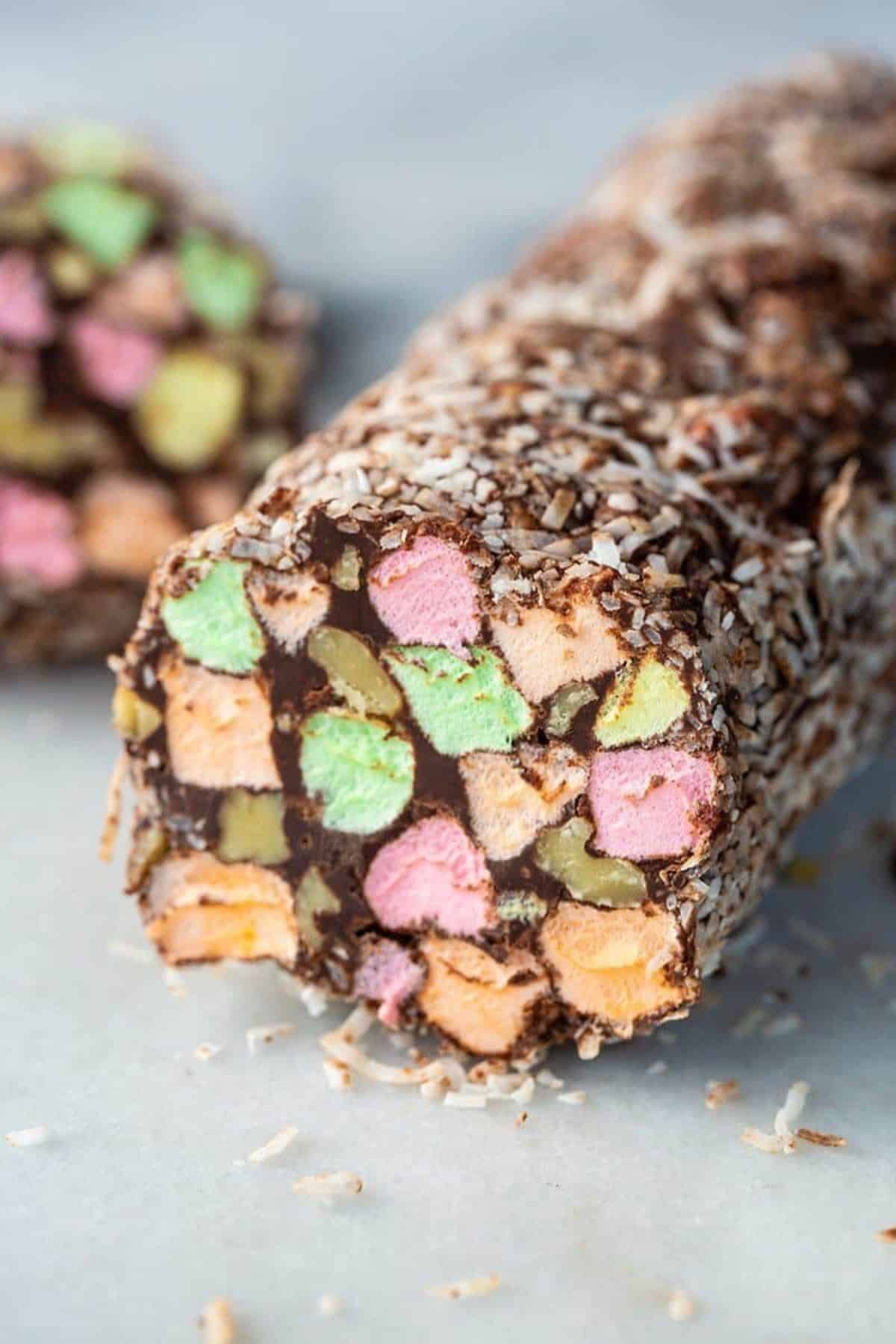 This Marshmallow Yule Log is a classic holiday dessert for sharing with family and friends. The fluffy marshmallow filling complements the chocolatey sponge cake perfectly, making for an irresistible treat.
Final Thoughts
From classic treats like s'mores and hot cocoa to creative desserts like rocky road brownies and s'mores dip, there's something here for everyone to enjoy.
Mini marshmallows are a versatile ingredient that you can use in various sweet treats, and I hope these recipe ideas have inspired you to get creative in the kitchen. So grab some mini marshmallows and start cooking up some sweet treats that will make you smile. Happy cooking!