This post contains our family's holiday favorite-Jean's fruitcake cookies!
Hello friends! Today I'm bringing you one of our family's favorite cookie recipes. Well, actually it's my sister-in-law Jean's recipe, and before you think that these cookies are anything like the much maligned fruitcake, then you are sooooo wrong! These are fantastic and all those folks that swear that they won't eat fruitcake can't stop eating these!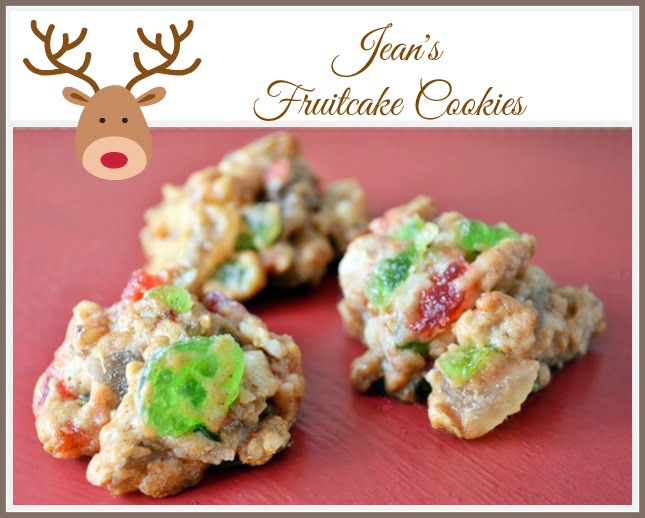 You've heard about the Great Fruitcake Toss, haven' t you, where people toss those dry bricks of cake into oblivion? Well, the only place I'll toss these cookies is into my mouth!  Which I have been doing all week since Jean and I baked these for the virtual cookie exchange hosted by the lovely Barb at The Everyday Home.
All this week 29 other bloggers and I are bringing you our favorite cookie recipes. You can click on the list at the end of this post to check out everybody's recipes.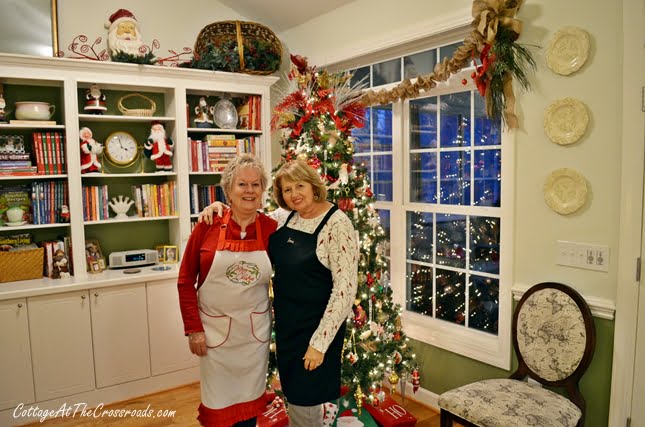 This is my sister-in-law Jean. Ever since she and I have been coming to the Crossroads for Christmas Eve, Jean has been bringing her fruitcake cookies. And she would always make extras and put them into pretty packages for us to enjoy later, too.
Jean has been making these cookies for years. When Jean was growing up, her mother always made one of the best homemade fruitcakes for as long as she can remember. As an adult, Jean used her mother's recipe and started making fruitcakes herself. But one year her neighbor made some fruitcake cookies, and ever since she tasted them, she has never made another fruitcake again. Everybody, even Jean's children and grandchildren eat them and always look forward to Christmas because they know that Jean will always bake these fruitcake cookies.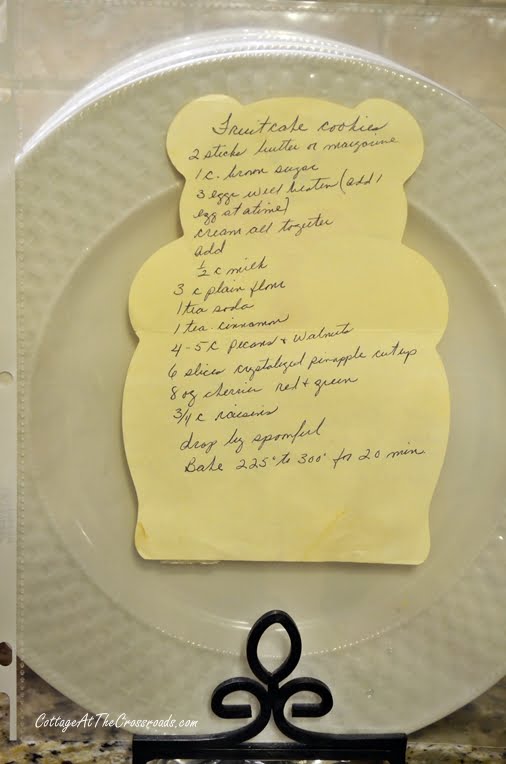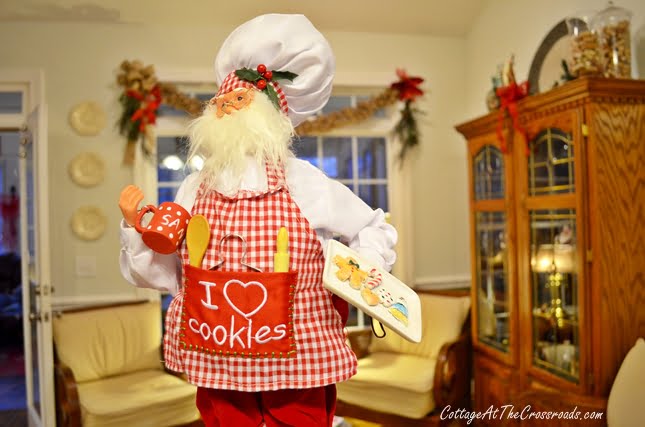 The year that Jean and her husband Jim moved to the Crossroads, she lost the original recipe. She tried another recipe, but it just. wasn't. the. same. But luckily her sister had a copy of the recipe and wrote it down and sent it to Jean. So Jean and I got into her kitchen this past Saturday and baked a batch of these cookies-just so we could bring you this recipe in time for you to make some this year!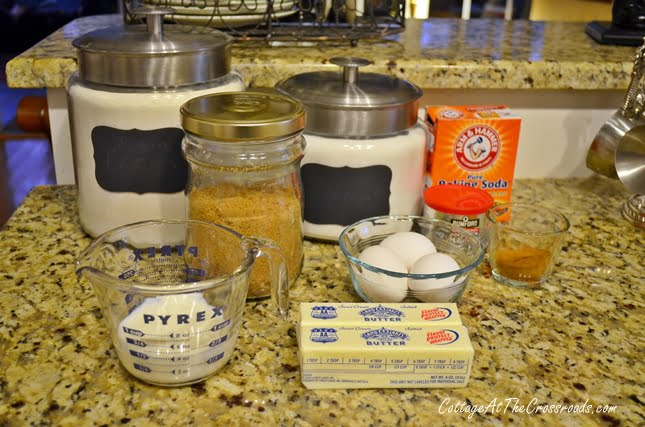 To make these cookies, you will need 2 sticks of softened butter, 3 eggs, 1 cup brown sugar, 3 cups all-purpose flour, 1 teaspoon baking soda, 1 teaspoon cinnamon, and ½ cup milk.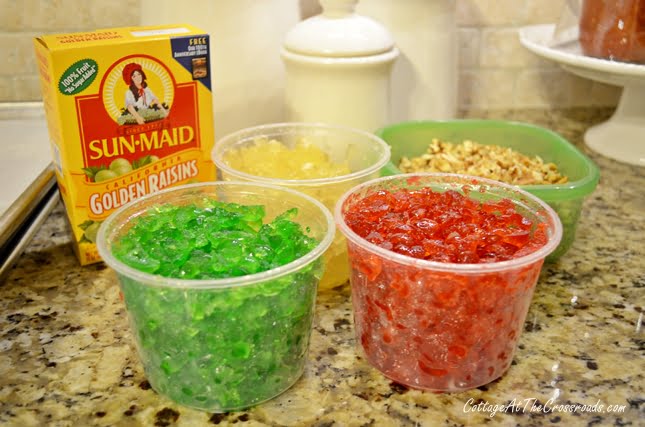 You will also need 8 ounces each of red and green candied cherries and 6 slices of candied pineapple, all cut up into bite-size pieces. And you will need 4-5 cups of chopped pecans and ¾ cup golden raisins. With these ingredients, this is an expensive cookie, but the recipe makes at least 90-100 cookies. Plenty for gift giving and some for yourself.
Don't worry about writing down this recipe! I've made a printable version for ya! (It's near the end of this post.)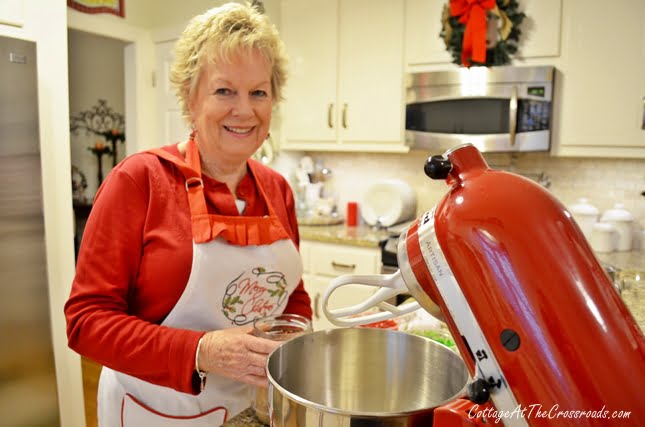 The first thing you will need to do is to cream the butter and brown sugar with a mixer and preheat your oven to 300 degrees.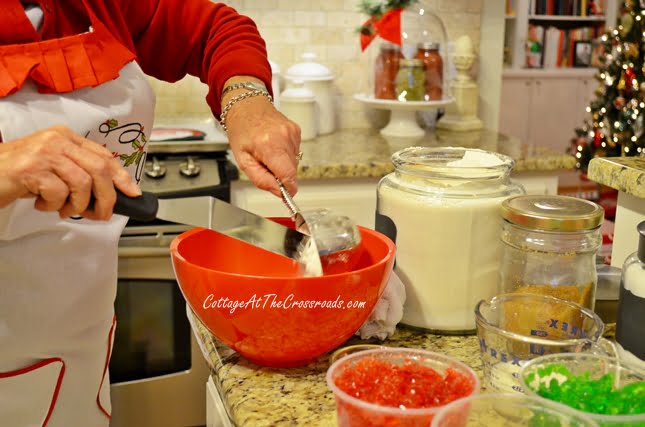 In another bowl, mix together the flour, baking soda, and cinnamon.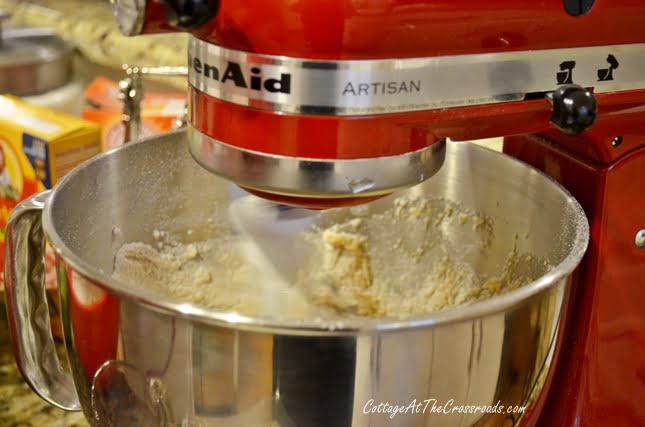 Alternate adding the flour mixture and the milk to the creamed butter and sugar.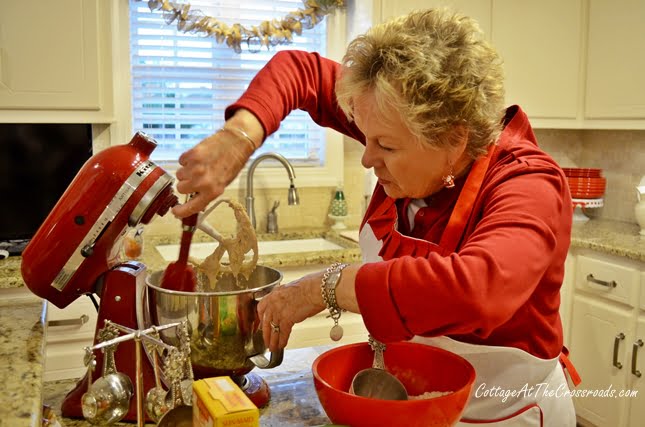 Mix all this together for several minutes, scraping down the sides of the bowl to make sure the flour is all mixed in.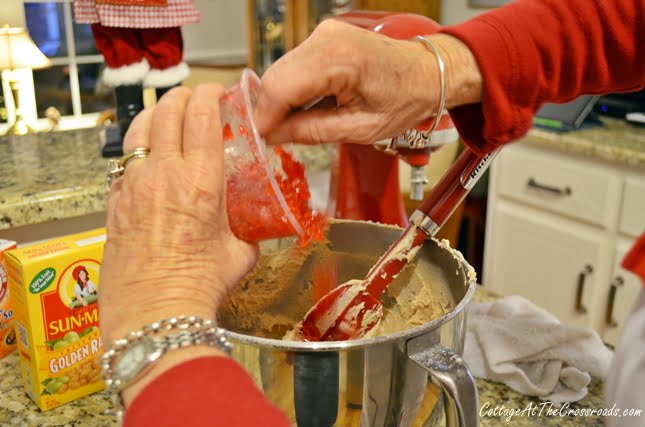 Stir in the cherries, pineapple, and golden raisins to the mixture.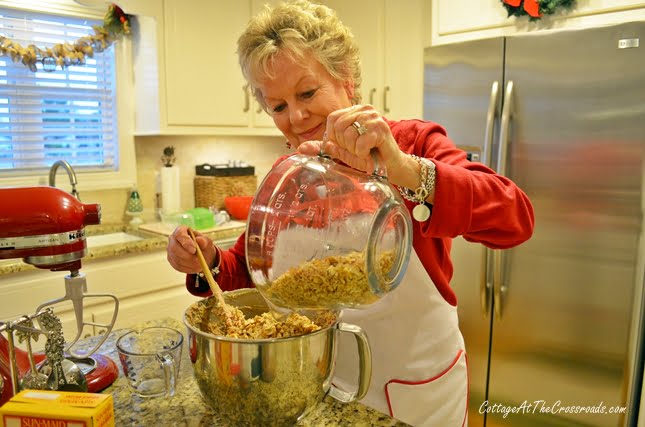 Last, you will add the nuts. The mixture will become very thick.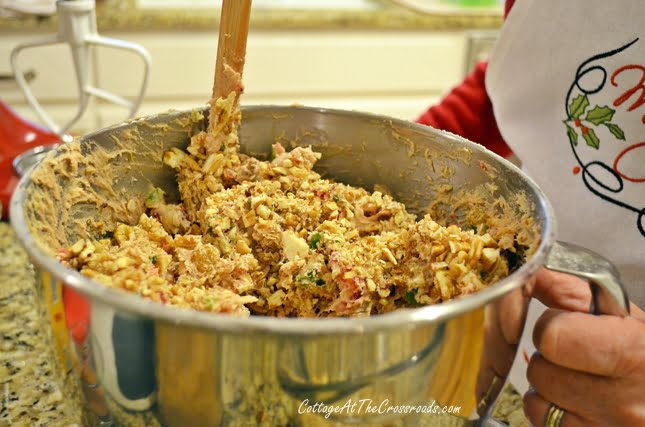 Your arm muscles will get a workout mixing this!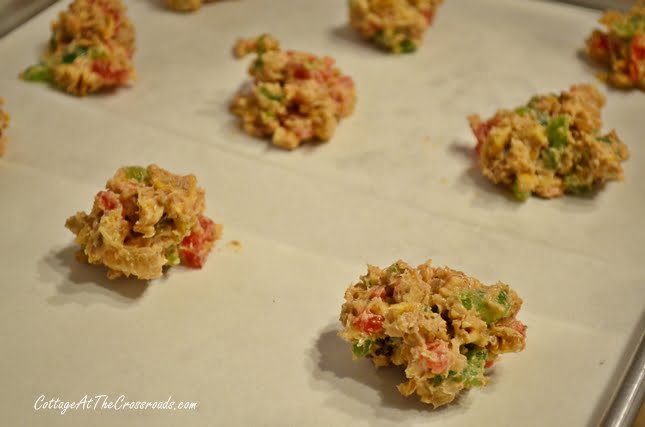 Drop by spoonfuls onto a parchment covered baking sheet.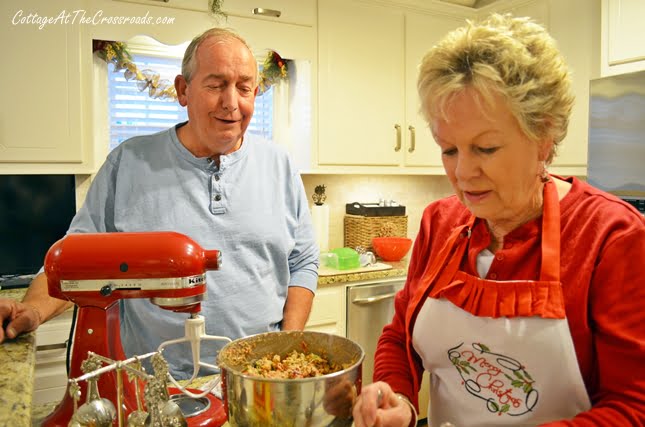 Jim, Jean's husband and Leo's brother, was asking when the cookies would be ready.
Bake the cookies at 300 degrees for 20 minutes. Cool for about 5 minutes on the baking sheet before transferring them to a cooling rack.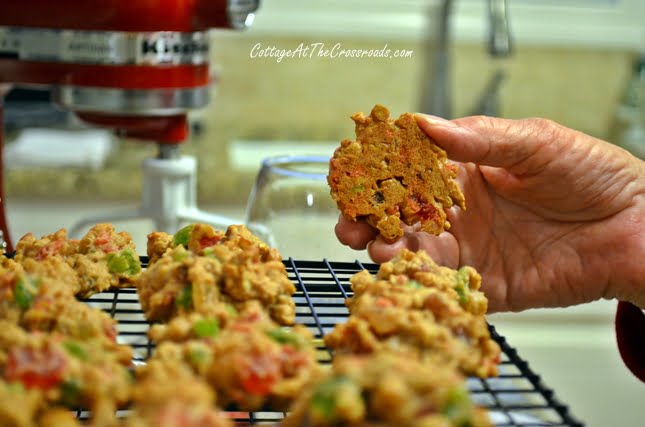 The cookies are just perfect when they are lightly browned on the bottom.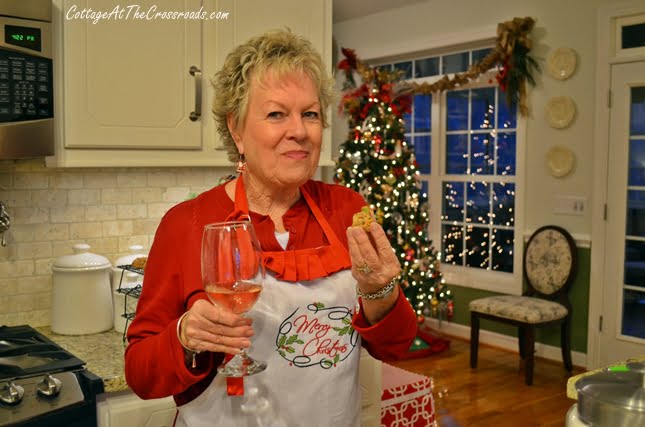 Of course, we couldn't wait until the cookies cooled. They are wonderful warm, but they crisp up and even improve in flavor over time.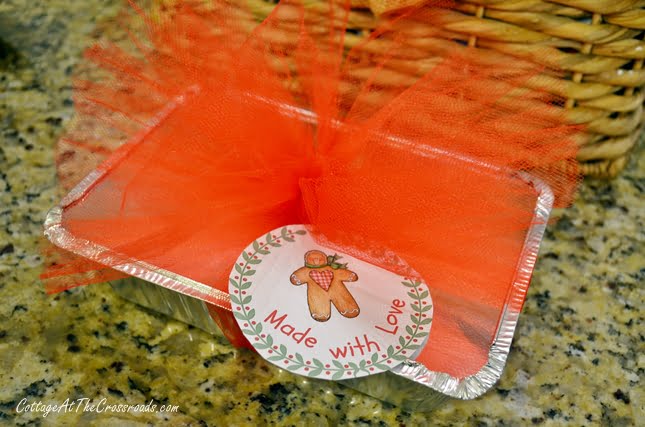 For gifts, Jean likes to put the cookies in these disposable tins from the Dollar Tree garnished with a tulle bow. I added the Made with Love tags.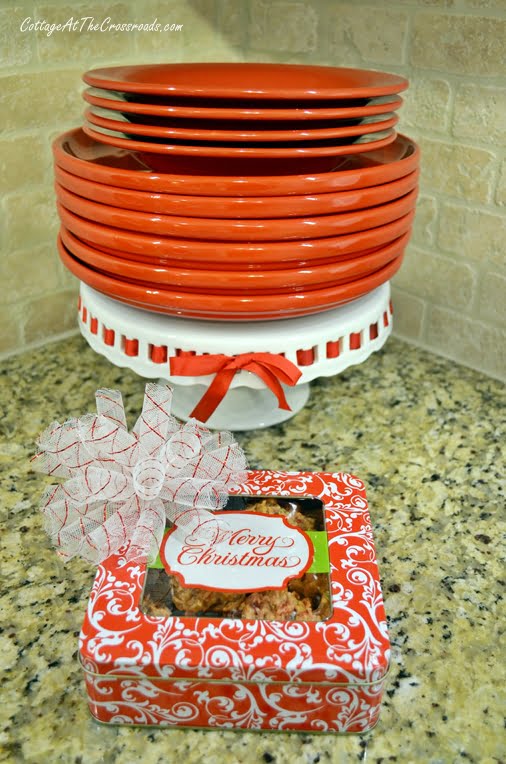 Your friends and family will love a tin of these, and the cookies will keep in a covered container for 2-3 weeks. Perfect for getting a head start on your baking!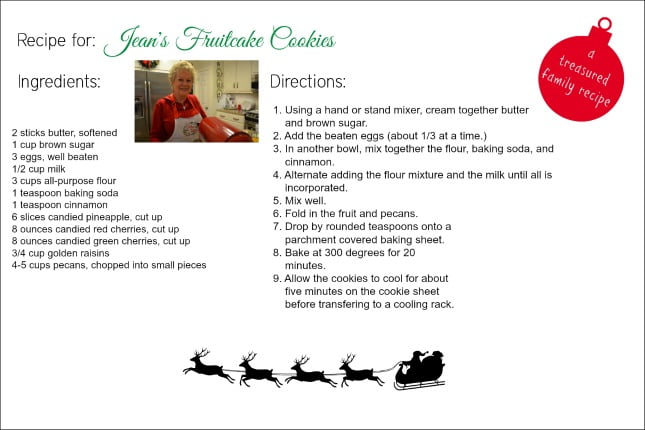 I'd like to thank Jean for sharing her recipe with us. Here's a recipe card that you can right click and download to your computer, or you can click HERE for a printable version of the recipe.