Today I'm sharing a recipe for a blackberry-peach buckle from the beautiful new cookbook Just Peachy by Belinda Smith-Sullivan.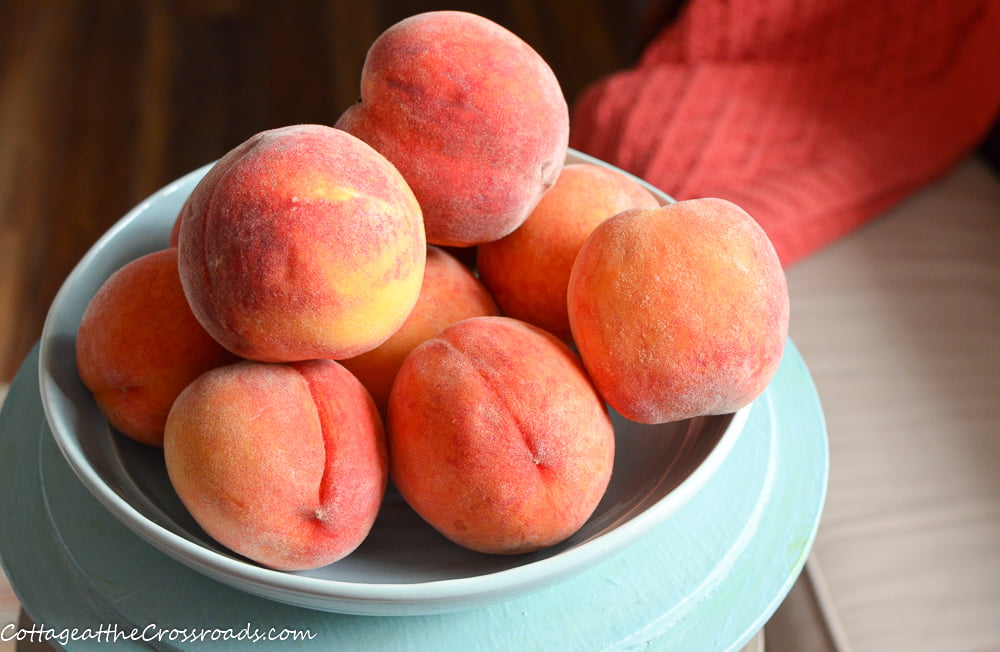 It is officially summer when the fresh peaches begin rolling into the markets! And if you can't get enough of this delicious fruit, then I have good news for you! There is a new cookbook that's just been released that celebrates this fruit in all its glory!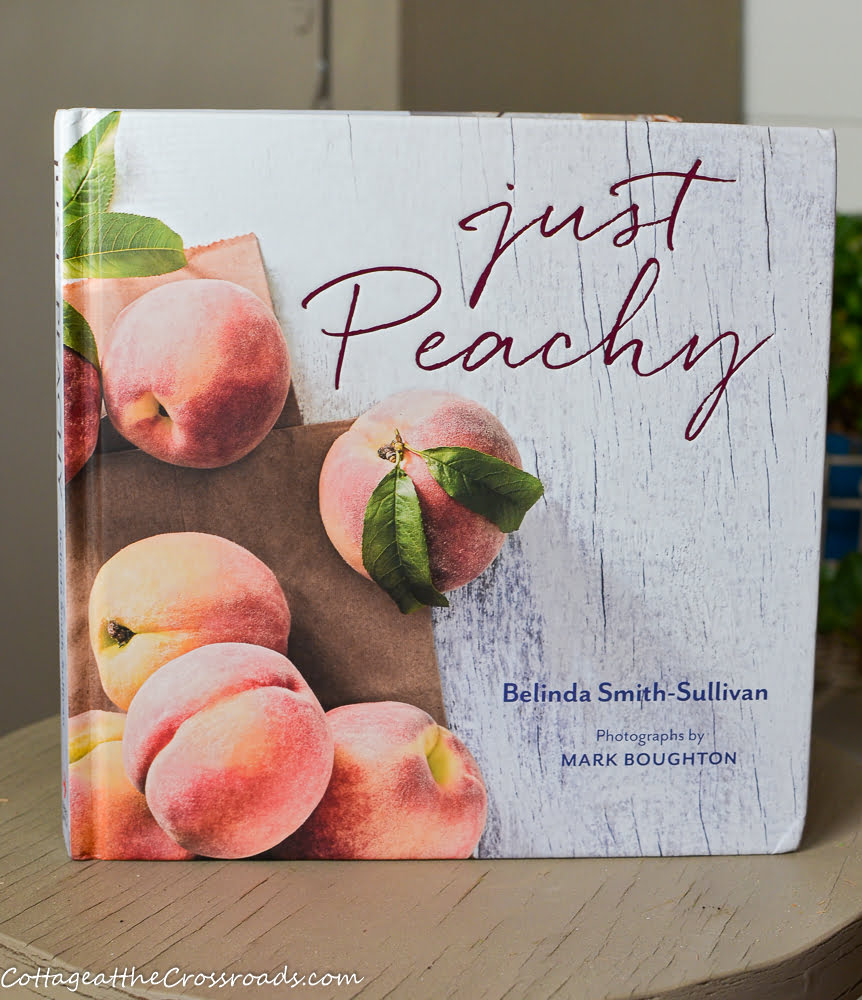 The cookbook is called Just Peachy by Belinda Smith-Sullivan, and it is filled with mouth-watering recipes beautifully photographed by Mark Boughton. (Gibbs-Smith/May 2019)
Not only are there about 70 recipes included in the book, but you will also find information about the history of peaches, varieties, festivals, and preservation methods.
The author, Belinda Smith-Sullivan lives in my home state of South Carolina which produces many, many peaches. I was already familiar with her as I had noticed her recipes in South Carolina Living (a magazine and website provided to all electrical co-op members.)
The author, who goes by the name Chef Belinda, received her culinary arts degree from Johnson & Wales University and is a chef, food writer, spice blends entrepreneur, and a commercially rated pilot.
But after reading her cookbook Just Peachy, I feel like I know her personally through her stories and family photos in the book.
Y'all know that I collect cookbooks, right? I read them from front to back like a novel!
Some recipes from Just Peachy that I want to try:
Peach-Pecan Breakfast Muffins
Cast Iron Peach Cornbread with Honey Butter
Crab Cakes with Peach-Jalapeno Salsa
Chilled Peach-Mint Soup
Blackened Cod Tacos with Peach Salsa
Peachy Strawberry-Kiwi Sangria
Don't those all sound utterly delicious?
Today, I'm sharing the recipe for Blackberry-Peach Buckle from the cookbook (with the publisher's permission, of course!)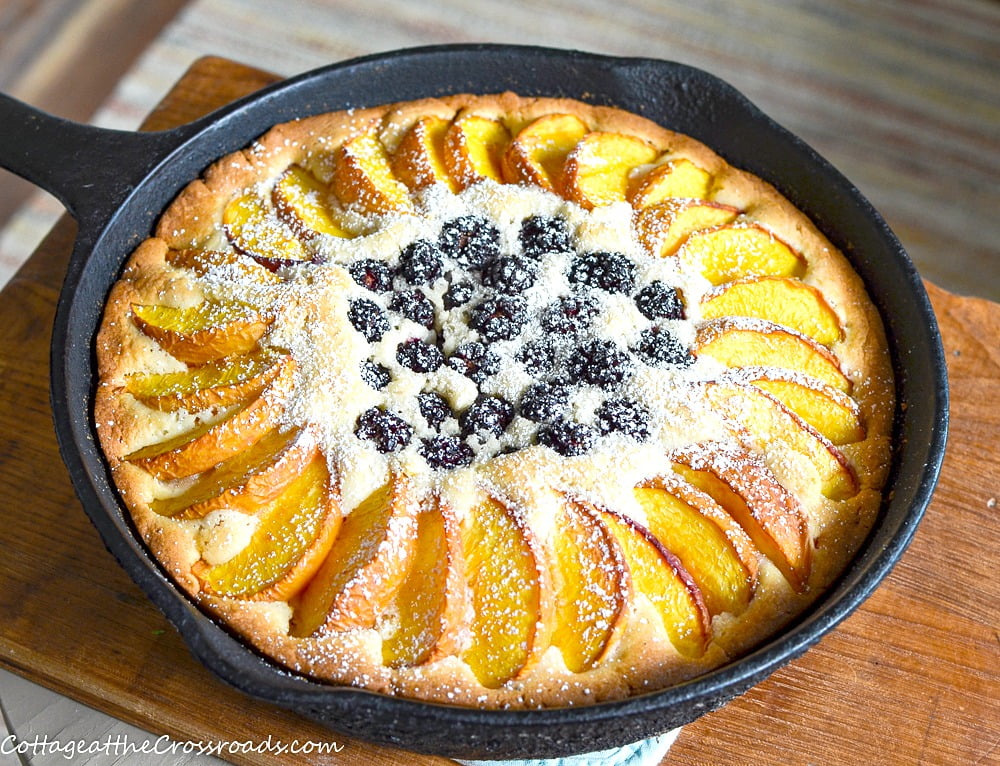 Just what is a buckle, you ask?
It's a rather old fashioned term but the word comes from the way the dessert looks after it has been baked. The cake batter rises up around fruit which has been placed on top giving it a "buckled" look. It is similar to a coffee cake but without the streusel top.
The buckle can be baked in a springform pan but I chose to cook it in a cast iron skillet. The skillet browns the outer edge beautifully.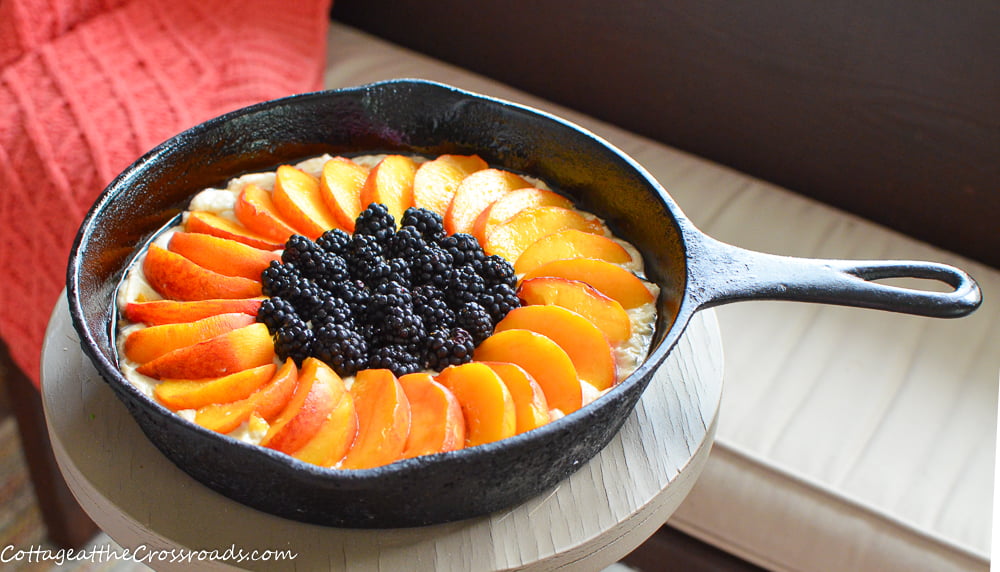 Here it is all assembled before baking. You can see how the batter rises up during baking by looking at the prior photo.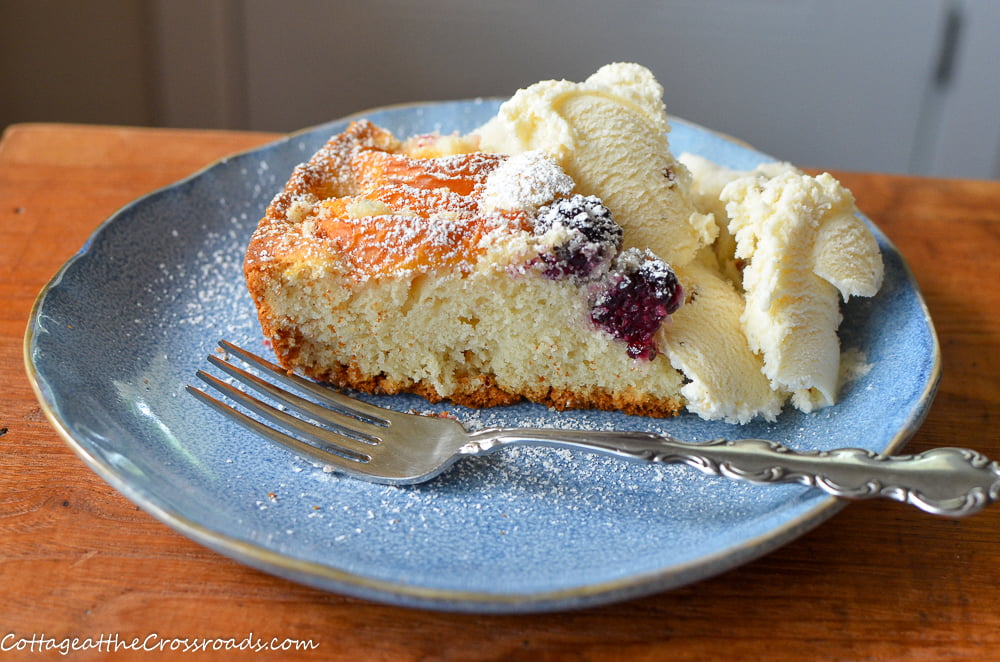 And here it is all sliced and ready to go in my tummy!
This is a perfect recipe if you like dessert that's not too sweet and a wonderful accompaniment is butter pecan ice cream!
📋 Recipe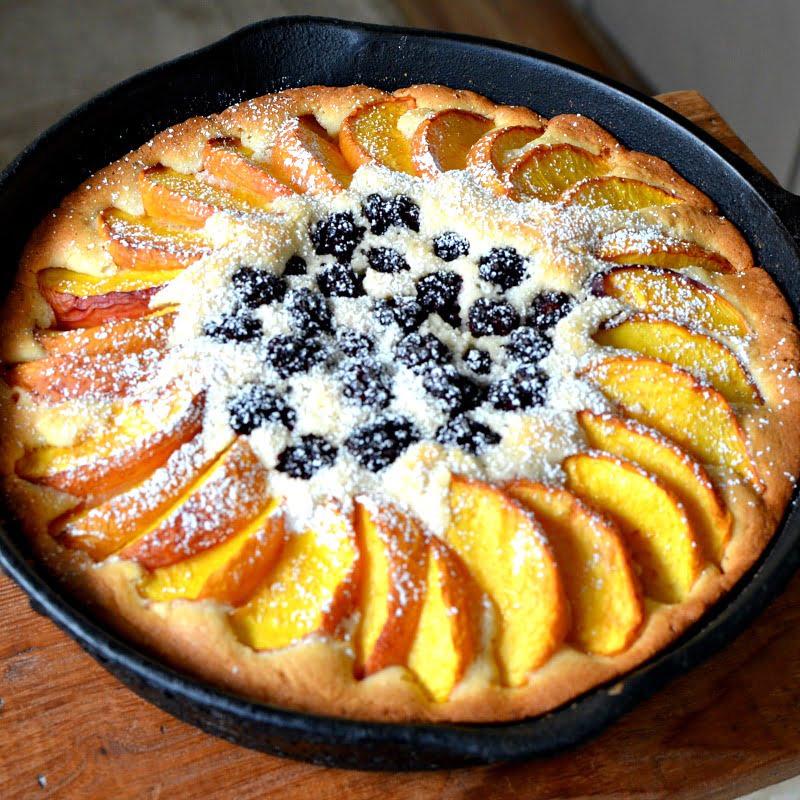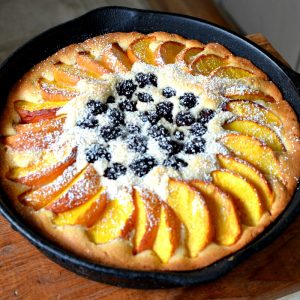 Blackberry-Peach Buckle
A simple, old-fashioned buckle recipe that is more like a coffee cake with fruit layered on top
Instructions
Preheat oven to 350 degrees F. Spray a 9-inch springform pan with baking spray.

In a medium bowl, combine the flour, baking powder, salt, and cardamom.

In the bowl of a stand mixer, cream the butter until it is a pale yellow. Add the sugar and continue beating until thoroughly mixed. Add the egg and the vanilla. Add flour mixture, alternating with the milk, until well-mixed.

Pour the batter into the prepared pan and add the peaches and blackberries, spreading evenly in a pretty design. Bake for 1 hour, or until golden brown and a cake tester inserted into the center comes out clean.

Let cool completely in pan. Remove sides and dust with confectioners' sugar. Serve at room temperature
Notes
This recipe is spectacular when cooked in a cast iron skillet which causes the edges to crisp.
Serve with ice cream or whipped cream, as desired.
Nutrition
Serving:
1
slice
Calories:
325
kcal
Carbohydrates:
55
g
Protein:
5
g
Fat:
10
g
Saturated Fat:
6
g
Cholesterol:
44
mg
Sodium:
219
mg
Fiber:
3
g
Sugar:
33
g
So run out and get some fresh peaches and make this recipe. Order a copy of Just Peachy by Belinda Smith-Sullivan for yourself and get one as a gift for any of your peach lovin' friends!
It's a keeper!